Hiking, sliding and swimming 27 Waterfalls in Dominican Republic Damajagua is one of the best things to do in the Dominican Republic.
Our first hand experience is 27 Waterfalls is safe if you follow your guide's instructions and wear a life jacket.
If you want to know more then we've looked into incidents and deaths at 27 Waterfalls and reported about it below.
27 Waterfalls Dominican Republic
The trek up to reach the start of the 27 waterfalls is fairly strenuous and takes between 45 – 1 hour depending on your fitness level.
If you are of a decent fitness level, it is possible to partake in the 27 falls as there are frequent breaks to the top of the mountain.
You can select to do the whole 27 waterfalls or just part of the waterfalls. If you have the time, I would recommend completing the entire 27 waterfalls as it only costs a little extra and you get to enjoy double the amount of waterfalls.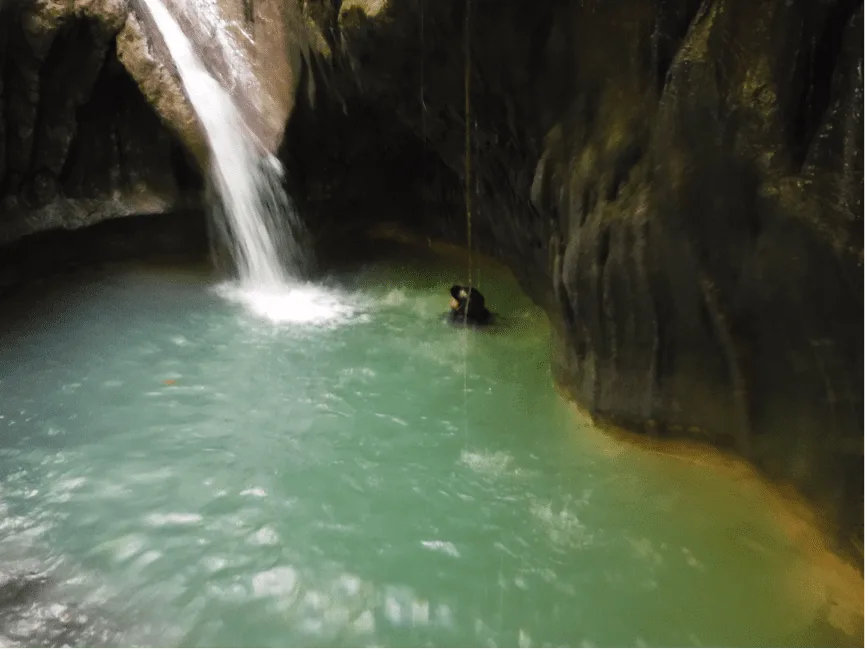 Sometimes, certain waterfalls are not able to be accessed due to water levels at the time so ask at reception before buying your ticket how many of the waterfalls are able to be accessed. We were only precluded from 2 falls during our time so it was still worthwhile to purchase a ticket to the entire 27 Waterfalls.
Once you reach the start of the waterfalls, you slide & jump down 27 waterfalls (if all are available at the time) to reach a large pool at the bottom of the trail.
If you don't want to complete any hikes, jumps or slides, it is possible to be given access to only the main waterfall at the end of the trail.
The last waterfall – you can jump from various levels of the waterfall The waterfalls ranged in height and adrenaline levels. Some of the waterfalls were very easy and didn't require a lot of courage whereas one or two required you to jump from around 25 feet.
I am a little afraid of heights and I was able to complete the waterfalls without too much difficulty. A lot of the waterfalls you can elect whether to jump or slide in.
On our cruise ship, there were many older people partaking in the activity so provided you are in reasonably good shape age shouldn't be too much of a factor.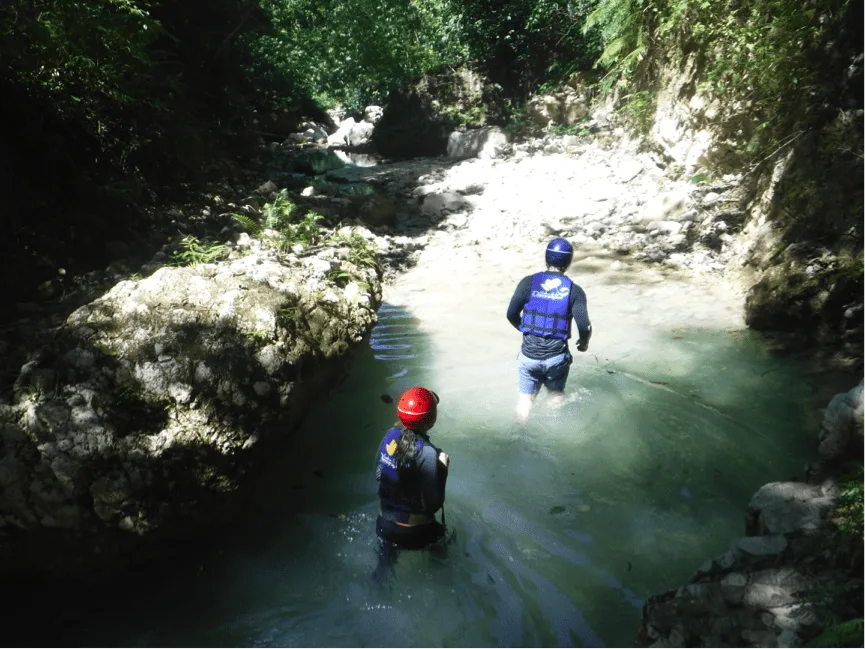 Is the 27 Charcos Dangerous?
Is the 27 waterfalls (otherwise known as 27 Charcos) possible to visit without risk of injury?
In short no, there is always a possibility of injury as you are jumping & sliding past rocks into natural waterfalls so there is always a possibility you could hit something on your way down and injure yourself.
However, the guides that are included in the tour were fantastic & ensure your safety at all times – they did a brilliant job.
For (fairly) small people they were extremely strong. We saw a rather large man almost slip while preparing for a jump and the guides caught him before he slipped and fell.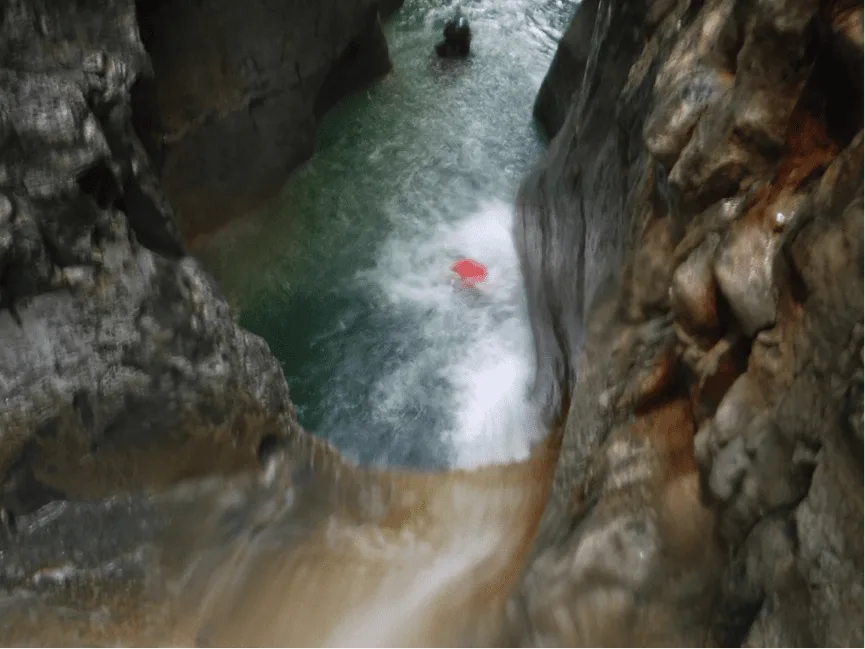 27 Waterfalls Dominican Republic Deaths
Several people have sadly died at 27 Waterfalls.
Update: In 2005, 11 year old Adam, passed away after becoming caught by the undercurrent after sliding down one of the falls. More recently a couple from Florida died after visiting the falls after strong rainfall.
The greatest danger posed by the falls is strong undertows particularly prevalent after heavy rainfall. Adam's family have kindly visited this page and left a comment with more details below.
As Adam's family have pointed out, safety precautions have now been added including life jackets which may have prevented the tragedy.
We did not feel unsafe completing the falls and we completed the course with another young family. We were visiting in dry season and there had not been significant recent rainfall.
If you are visiting 27 Falls with a family, we encourage you to read the comment below from Adam's father Andrew.
We encourage you to reconsider visiting the falls if there has recently been heavy rainfall in the region.
27 Waterfalls Photographs
What about photography? You have a few options with regards to getting photographs.
The most economic option would be to bring your own underwater camera. Your guide will take this from you & take pictures for you at no extra cost. I think if you had a good underwater camera this would be the best option.
Unfortunately, we didn't bring with us an underwater camera for fear of losing it.
In hindsight, I doubt this would have been a problem. While I absolutely loved the waterfalls, photography company at the waterfall are dodgy dealers.
You have a few options with them if you didn't bring your camera:
Option1 – Buy a non-digital water camera ($20 USD)
Option 2 – Hire a digital water camera ($35 USD) or
Option 3 – Hire a photographer ($50 USD).
We opted for option 2 and hired a relatively basic non-digital water camera. The camera was relatively basic and didn't take the best images (as can be seen).
To make matters worse it died while completing the waterfalls which meant we weren't able to capture all of the footage.
Upon telling the photography people about the camera dying (to which our guide confirmed) they proceeded to call us liars and did not seem to care in the slightest hence, bring your own camera and don't get ripped off by the dodgy camera business at the falls.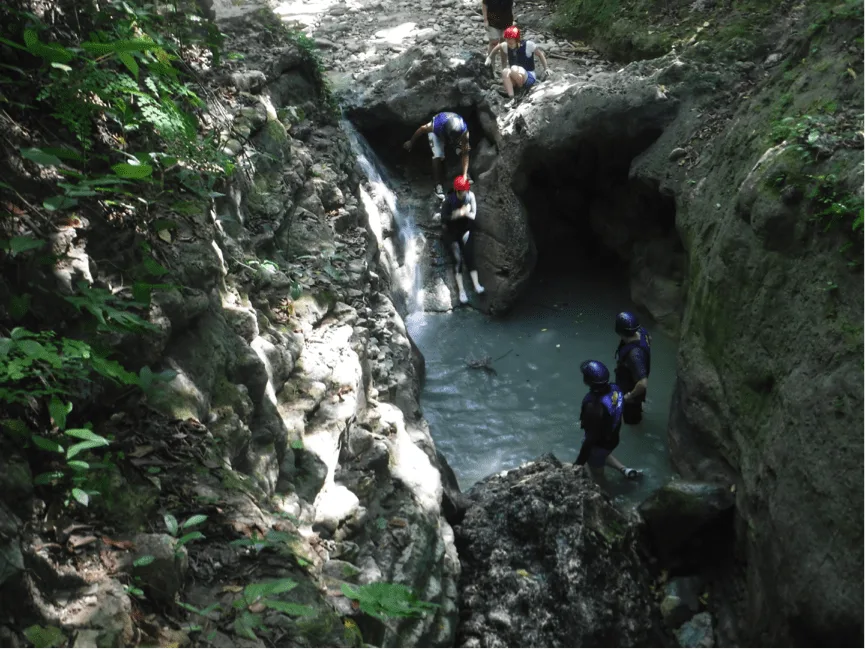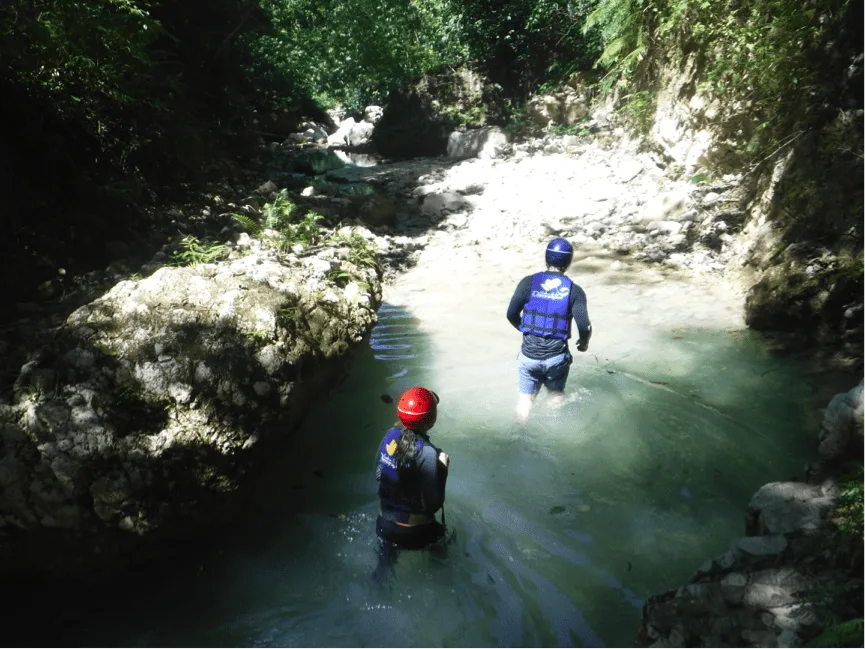 Tips for 27 Falls
We recommend purchasing a GoPro or similar waterproof camera to bring with you.
Waterproof cameras are available for hire at >$30 a go but you face risks the camera is of poor quality, the SD card has little storage space for photos or the unreliable staff fail to provide a fully-charged charged camera.
We found this out the hard way – our hired camera died after only 2 falls!
The staff were completely unhelpful and refused to accept responsibility.
Don't risk not making your holiday a wonderful experience by relying on 27 Falls for your camera!
Here are some other tips:
1. Don't bring a lot of valuables with you. There are no lockers. You are able to store your bags under a cupboard at reception however, this isn't entirely safe and people have reported having items go missing from their bags before.
2. In order to partake in the activity, the use of water shoes or own sneaker are necessary. You can bring your own or hire some (not so great) water shoes from the facility. I wore a pair of sandshoes & totally wrecked them so probably not a great idea.
3. At the end of the activity, the guides expect/ask for a tip so have a little bit of money ready to tip your guides.
4. Bring a small wet bag to store money so it doesn't get wet.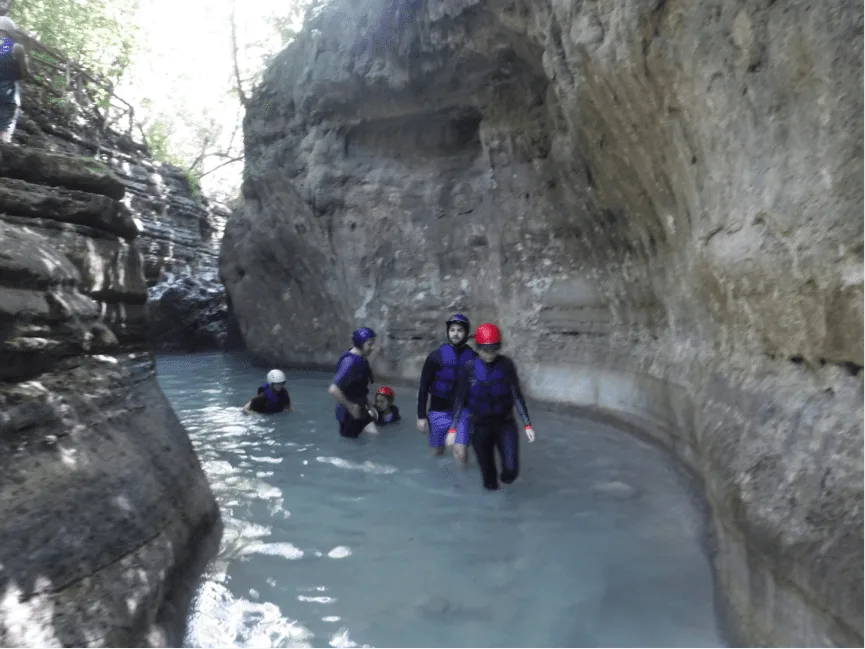 27 Waterfalls from Amber Cove (for Cruisers)
A visit to 27 Waterfalls from Amber Cove is simple (and inexpensive if you're willing to spend an extra 5 minutes walking and talking to the local taxi drivers).
Hire the taxi from outside the port terminal. For the cheapest taxis do not hire a taxi from inside the cruise terminal. Walk outside and hire one from there. It should cost you around 10USD-15USD one way to the falls.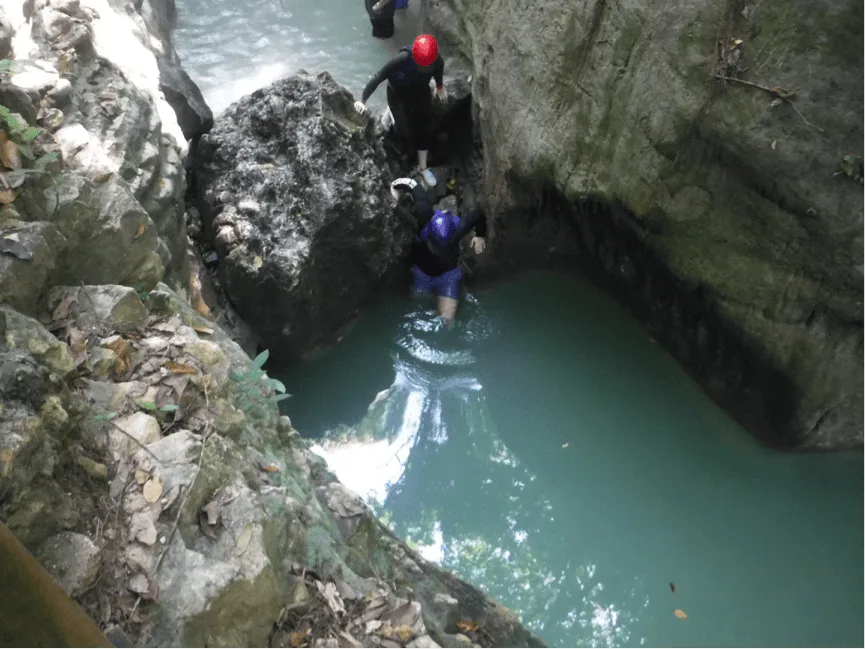 Save this 27 Waterfalls Dominican Republic Guide to Pinterest (so you can find it again later!)