Looking for instagrammable things to do in Kyoto?
There are tonnes of fun things to do in Kyoto but what about if you are focused on the 'gram. Here are 5 instagram-worthy attractions photo spots in Kyoto that you simply can't miss!
After you capture a cool shot, you may like to caption your pics with some fun Japan Quotes!
5 Instagrammable Things to do in Kyoto: Best Photo Spots in Kyoto
In a city with 1600 temples and 400 shrines, Kyoto is not short on things to do to keep yourself occupied on romantic getaways in Japan. However, in a city with attractions in abundance, it is hard to know what are the 'must see' attractions to prioritise. Here are what we thought were the 5 Best (And Most Instagrammable) Things to do in Kyoto.
1. Visit Arashiyama
In our opinion, Arashiyama (嵐山) is one of the best 5 things to do in Kyoto as you could easily spend a full day walking around the Arashiyama area and not get bored.
The area is particularly popular in Fall & during the cherry blossom season in early April, however, due to the gorgeous surrounding nature, Arashiyama is picturesque year round.
In the summer months, you can rent a paddle boat for 1500 Yen and enjoy scenic nature views as you paddle around the Hozu River.
In Arashiyama, don't miss the Togetsukyo Bridge, arguably Arashiyama's most iconic landmark and the Bamboo Grove, one of the most instagrammed areas in Kyoto.
A top tip is to visit the Bamboo Grove in the early morning (before 9am) or in the late afternoon (after 4pm) to avoid completing for photographs with hoards of other tourists.
In true Kyoto fashion, there is also a lot of temples in the Arashiyama area including the Nison-in Temple, Jojako-ji Temple, Gio-ji Temple.
While the Tenryu-ji Temple is the most well known temple in Arashiyama, don't overlook the Adashino-Nembutsu-ji temple for the mystical 8000 Buddhist statues. Great for some gorgeous instagram shots!
Also, If you are a monkey fan, you will be pleased to know that the Iwatayama Monkey Park is located in the Arashiyama area.
If you would like to stay in a scenic area of Kyoto, Arashiyama would be a great choice. For accommodation in Arashiyama during your dates click here.
2. Go Geisha Hunting in Gion
In our opinion, Gion (祇園) is one of the best things to do in Kyoto as it is a neighbourhood with a very traditional ambience due to the wooden machiya merchant houses that line the streets.
We noticed that a lot of people chose to wear the traditional Kimono in Gion, adding to the old-world ambience of the neighbourhood.
The area is also a particularly famous as a Geisha neighbourhood and you can still see Geishas walking around in Gion to this day.
While in Gion, be sure to see the Yasaka Shrine. It is an absolutely gorgeous Shrine with some great photo opportunities. It is also absolutely free.
If you are not totally exhausted by Shrines & Temples at this point, in close proximity to Yasaka Shrine is Chion-in Temple.
We particularly enjoyed Chion-in Temple as the atmosphere was very tranquil and provided a great opportunity to enjoy a landmark without the masses of tourists who favour the more popular Shrines & Temples in Kyoto.
As a general rule in Kyoto, Shrines are free to enter and Temples come with an entrance fee. This is not always the case as evidenced by the fact that Chion-in Temple was free to enter.
While the area is great to explore by daylight, Gion comes alive at night as one of the most popular night life areas in Kyoto.
After drinking some Asahi beer, head to our favourite budget food chain, Matsuya in Gion, for the perfect hangover cure.
Matsuya offers a plate of beef with rice plus miso soup for only 290 Yen! Who ever said Japan was expensive! You can even wash it down with an Asahi beer for only 150 Yen.
Gion is a central and very interesting area Kyoto which makes it a great choice for accommodation. For accommodation in Gion during your dates click here.
3. Explore the Fushi Inari-taisha Shrine – the best Shrine in Kyoto
It is not without reason that the Fushi Inari-taisha Shrine (伏見稲荷大社) is the best rated attraction on tripadvisor in Kyoto.
The Fushi Inari-taisha Shrine is without doubt one of the best (and most instagrammable) things to do in Kyoto.
Fushi Inari-taisha Shrine has thousands of orange vermilion torii gates that lead as a trail into the forest of the sacred Mount Inari.
In my opinion, the Fushi Inari-taisha Shrine is the best shrine in Kyoto. If you only have time to see one Shrine during your stay in Kyoto, this is the Shrine that you don't want to miss.
Like most Shrines in Kyoto, the Fushi Inari-taisha Shrine is completely free to enter.
The only slight drawback of the Fushi Inari-taisha Shrine is the hoards of tourists that flock from around the world to see this iconic Kyoto landmark.
To get the best photographs for instagram, it is advisable to visit the Shrine early morning, before 10am.
4. Visit the best temple in Kyoto – Kinkakuji Temple
If you are looking for the best temple in Kyoto then you cant go past Kinkakuji Temple (金閣寺).
Otherwise known as the Golden Pavilion, if you only want to visit one temple in Kyoto then the Kinkakuji Temple would have to be it.
The gorgeous scenery at Kinkakuji Temple makes it one of the best (and most instagramable) things to do in Kyoto.
To enter the temple, there is a entrance fee of 400 Yen.
It only takes around an hour to visit the temple however, as it is the best temple in Kyoto, you need to battle a large number of tourists for the money shot.
If you are alternatively looking for a more isolated temple, we would recommend Sekizanzenin.
Sekizanzenin is a gorgeous, transquil temple, not overrun by hoards of tourists, that is located on the outskirts of Kyoto.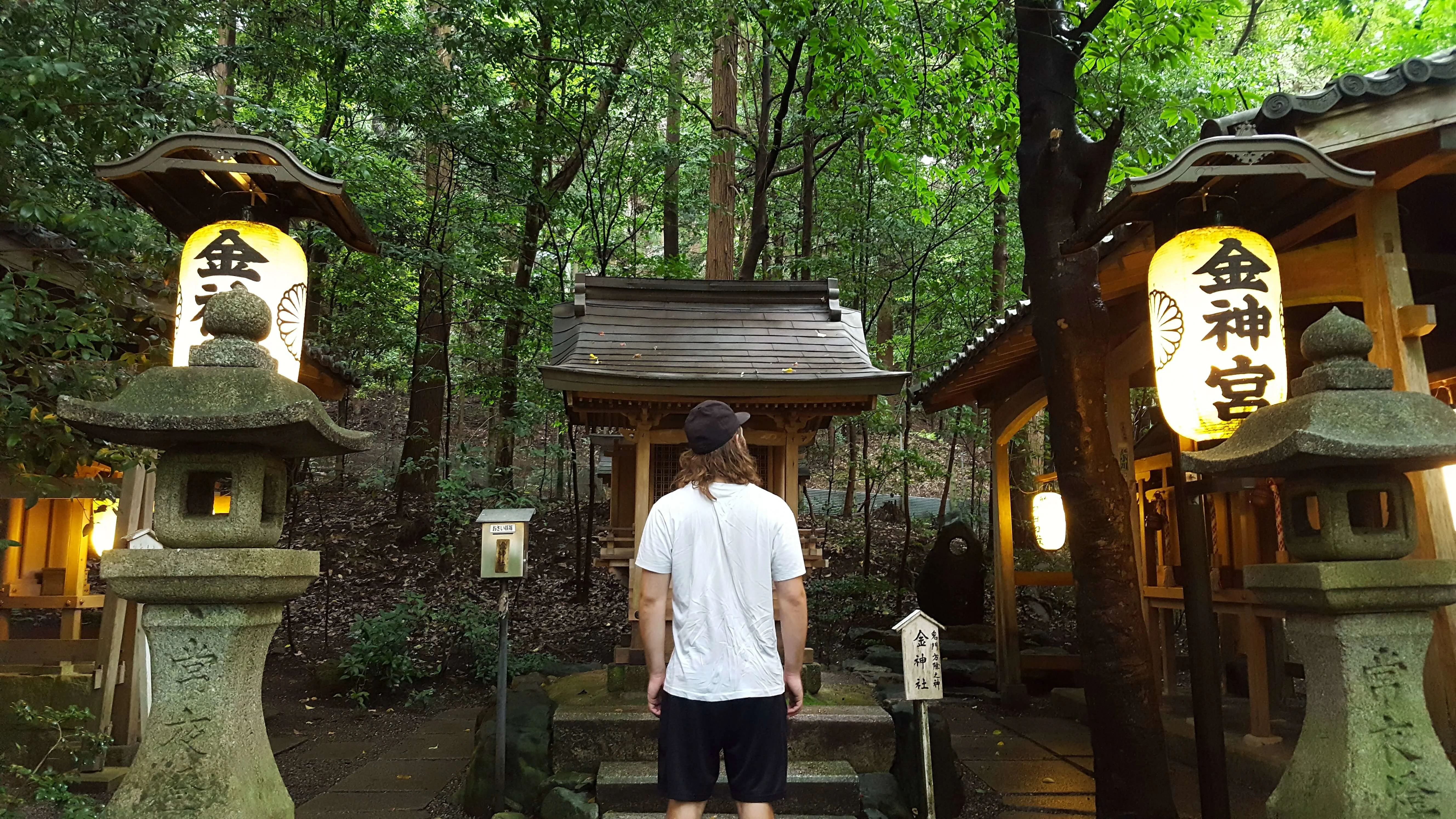 5. Go for a Scenic Walk at the Philosopher's Path
Kyoto is a very scenic area of Japan. One of the most scenic walks in Kyoto is known as the Philosopher's Path (哲学の道) located near another famous temple in Kyoto, Ginkaku-ji Temple.
While Ginkaku-ji Temple costs 500 Yen to enter, you can stroll along the Philosopher's Path as often as you like as this scenic walk is 100% free.
Along the Philosopher's Path there are quite a number of interesting shops and cafes to enjoy including a shop where you take a quick coarse in pottery.
For the best scenery, visit the path in early April when the cherry blossoms are in full bloom. This is one of kyoto's top instagram spots for cherry blossoms as the canal is lined with hundreds of cherry blossom trees.
Despite cherry blossom season being the best time to visit the Philosopher's Path, it is a scenic walkway year round.
The Philosopher's Path gained its name as one of Japan's famous philosophers, Nishida Kitaro, meditated on the path during his daily commute to Kyoto University.
Where to stay in Kyoto?
We imagined Kyoto to be a small town. To our surprise, it is a relatively large city with a number of different neighbourhoods.
Here are the three areas we would recommend staying in Kyoto and here's why:
Accommodation near Kyoto Station – Accommodation near Kyoto Station is a good option as it is a great central location with lots of shopping and restaurant options available. Also, good public transport connections are available from near Kyoto Station to anywhere you want to travel in Kyoto.
Accommodation in Gion – Accommodation in Gion is also a smart choice as it is a very interesting and central area of Kyoto with temples, geishas and abundant nightlife.
Accommodation in Arashiyama – The most scenic area of Kyoto for nature lovers is without doubt Arashiyama. This area has many temples, a bamboo forest and a monkey park to explore.
For a full list of all accommodation in Kyoto during your dates click here.
Getting around Kyoto by Public Transport
Getting around Kyoto by public transport was relatively easy. All of the aforementioned attractions are easily reached by public bus in Kyoto.
Each bus ticket costs 230 Yen. However, you can buy a day travel pass for only 500 Yen for unlimited transport by bus in Kyoto.
The bus pass can be purchased directly from the driver when you wish to make your first journey.
Traveling to Kyoto
The best way to reach Kyoto is by flying into Osaka.
From Osaka, it is a short train ride from Yodoyabashi Station to Kyoto. It takes around an hour on the limited express and costs 410 Yen per ticket.
Skyscanner is our favourite price comparison tool to get the best price on flights to Osaka. We also love how there are no extra fees in booking a flight through Skyscanner (like an agent commission).
We hope this post helped you plan the best things to do in Kyoto. If you are traveling to Kyoto and need some help, drop us a comment below.
Save this guide to Pinterest!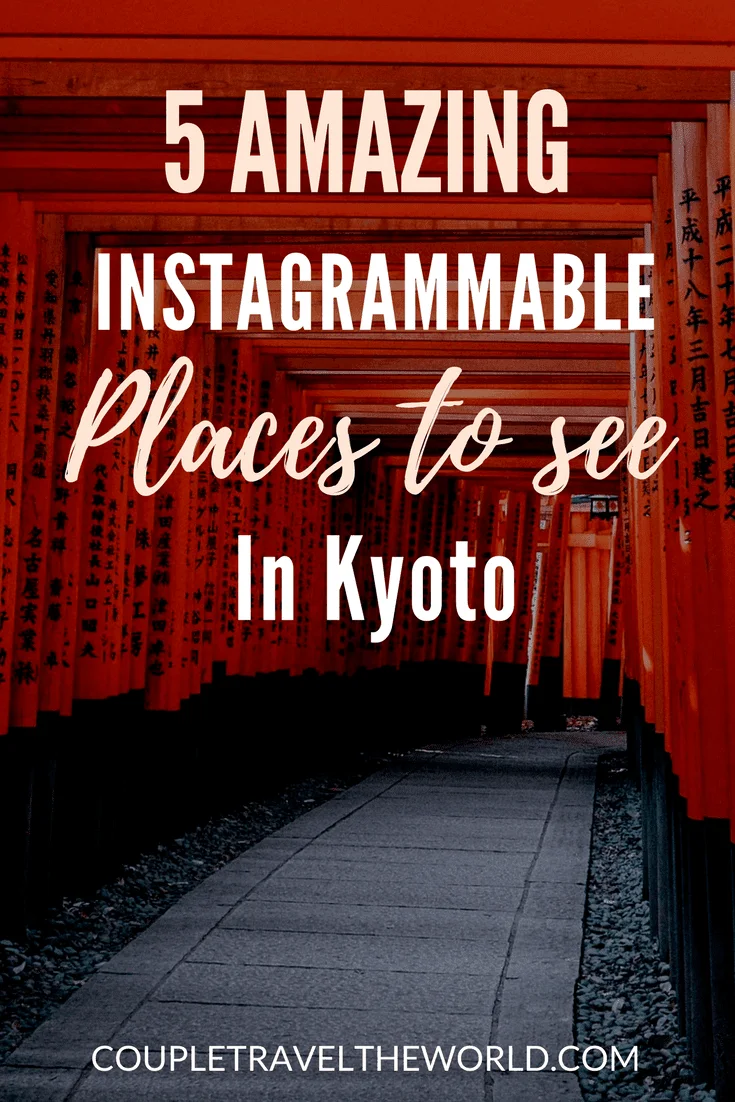 Disclaimer – This post contains affiliate links. This means that if you purchase an item through our links we will receive a small commission at no extra cost to you. If you found this post helpful, we would appreciate you using our links to help keep our site running!