We have been to some pretty impressive five star resorts in our time but none to date have lived up to the amazing hotel premises we found at Dream Phuket Hotel & Spa.
From the incredible swimming pools to the hotel bed which feels like you are floating on a cloud, we now understand why its called Dream Hotel as our 3 days at the hotel were a dream vacation.
Check out our video review of our stay at the Dream Phuket Hotel & Spa and keep reading for a full review of our experience!
Dream Phuket Hotel & Spa Review
Whenever we think rest & relaxation in an amazing setting, Dream Phuket will definitely spring to mind.
Dream Phuket provides the best of both worlds in a vacation – a luxury resort with incredible facilities with frequent shuttles to transport you to any of the main attractions in Phuket in addition to an incredible private beach club – what more could you ask for?!
Dream Phuket Hotel & Spa t is the absolute essence of luxury. From the moment we set foot through the door, we knew we were in for a treat.
When we say the hotel grounds at Dream are amazing, it is most definitely not an overstatement. They were A-maz-ing!
Dream Phuket boasts not one incredible pool but two, a well stocked gym, a first class restaurant, 3 bars including one swim up bar and luxurious hotel rooms.
We think it is the perfect choice for a romantic couples getaway in Phuket. It is secluded, luxurious & has incredible facilities.
The Deluxe Double Room
Dream Phuket offers a number of different rooms depending on your budget and the size of room you require.
We stayed in a deluxe double room which suited our needs perfectly. It was spacious, modern, clean and very luxurious.
If we were visiting for a special occasion such as a honeymoon or anniversary we would choose one of Dream Phuket's luxury suites which provides exclusive private pool access. But for our regular couples getaway, the deluxe double room was ideal!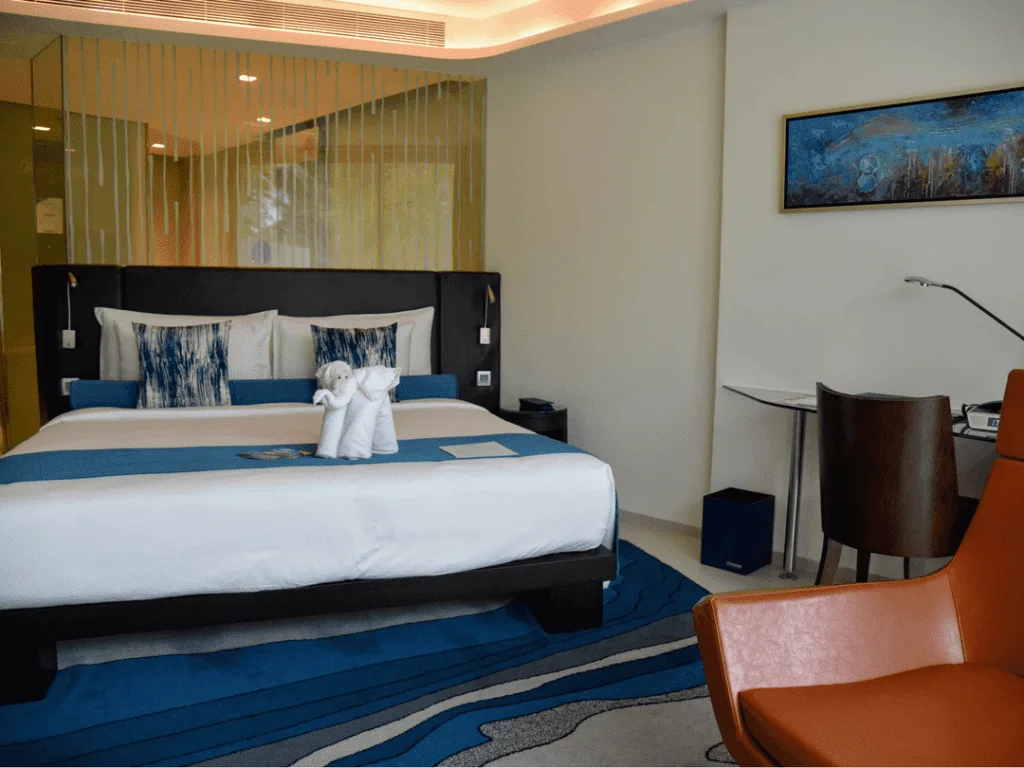 The room included a desk, a leather arm chair, a balcony with two reclined seats and a bathroom with a large bathtub and walk in shower.
The decor of the rooms was gorgeous. We loved the blue and white modern theme of the rooms combined with some retro and sophisticated leather chairs. We also appreciated that everything in the room was crisp and new – exactly what you want in 5 star luxury hotel. The hotel even offers pillow service so you can choose a pillow exactly to your individual liking.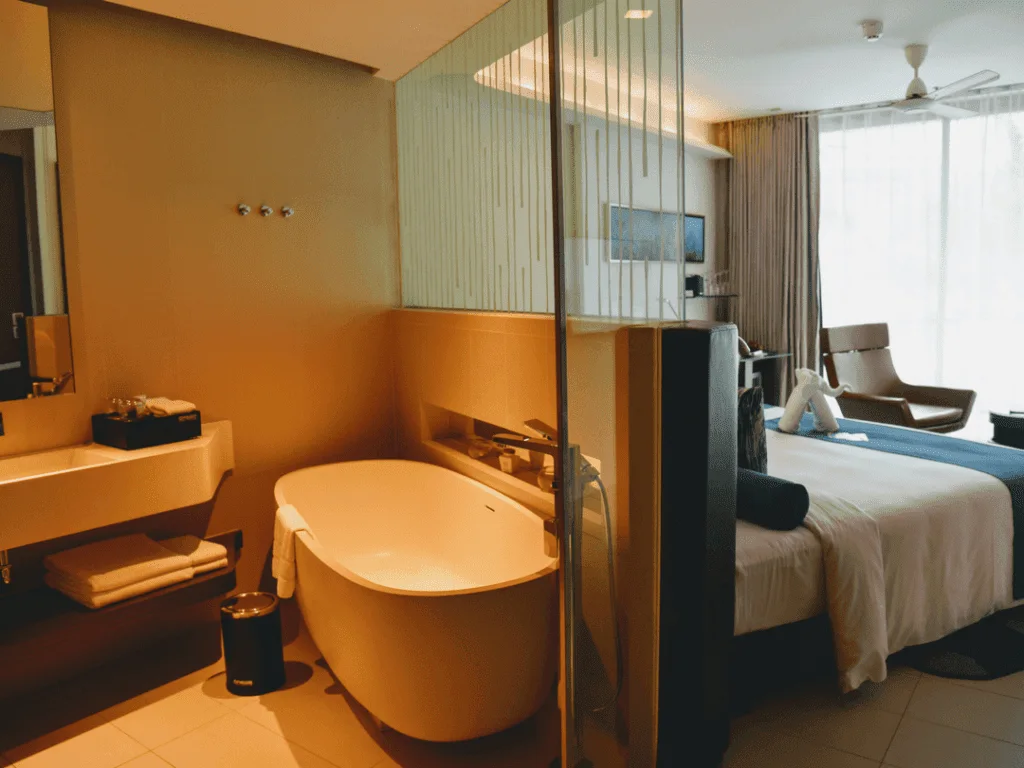 We also appreciated the little extras that Dream Phuket provided in-room.
When we first entered the room, we found an exotic fruit welcome platter with two little plates waiting for us.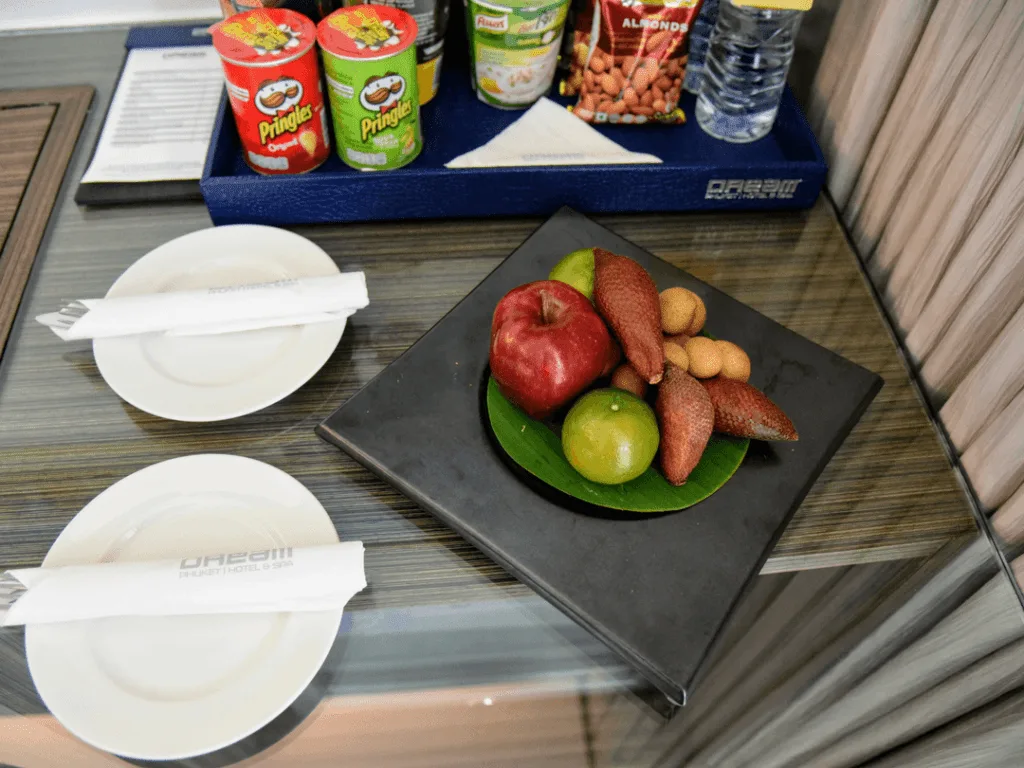 About 10 minutes later, we heard a knock on the door with a member of staff delivering the latest English newspaper and two little Hershey's chocolates.
We felt this was a very nice touch & enjoyed the newspaper & chocolates while kicking back on the absolutely gorgeous balcony overlooking the main pool.
The bathroom at Dream Phuket was also well, a dream.
It was a good size and had both a large bathtub and a separate walk in rainfall shower. As expected in a five star facility, the hotel provided ample delicious smelling amenities including soap, shampoo and body wash to use during your stay.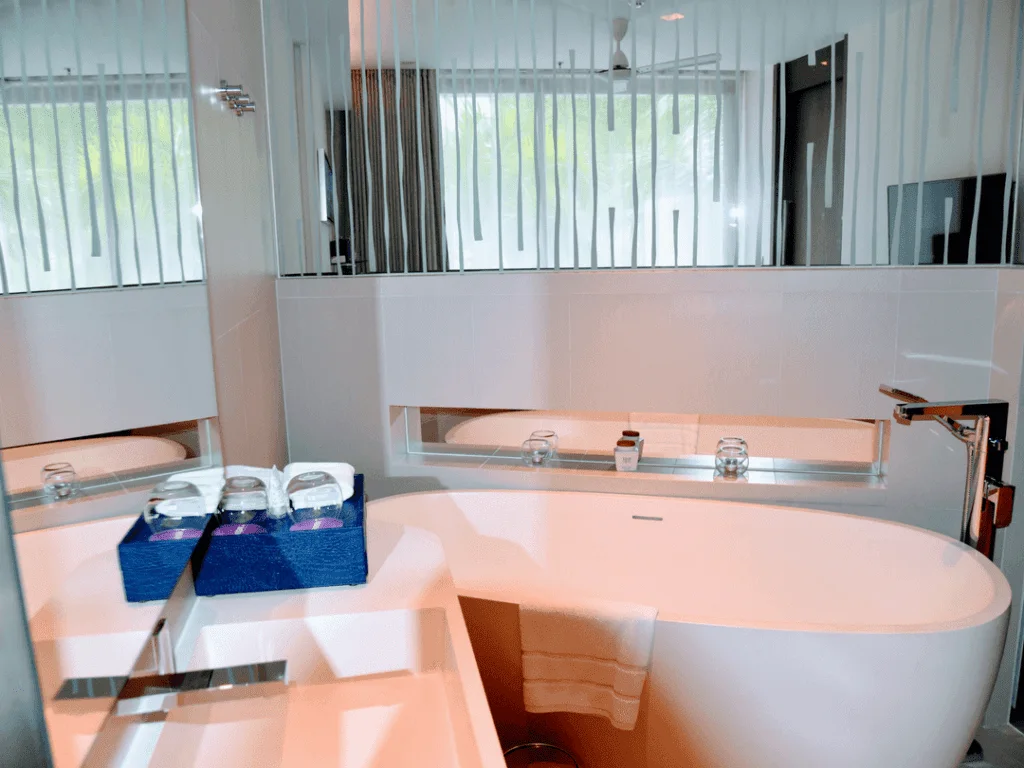 Pool & Recreation Areas
In our opinion, the highlight of the resort were the pools. They were outstanding!
Dream Phuket Hotel & Spa has two pools – one main pool with luxurious day beds, sun loungers and a swim up bar and a second infinity pool with an incredible view of the countryside and main pool.
You could sit all day at the main pool – it is one of the best pools we have seen in our lives. Lined with white sun beds and gorgeous gardens, waking up and looking out the window to the main pool feels like you are in a dream – the setting is simply that gorgeous.
At night, the pool is also gorgeous and lights up in different shades of blue and purple. You can make use of the main pool until 7.30pm if you feel like a night dip after a long day at the beach. You can also dine by the pool at night at the hotel's main restaurant.
While the main pool was our personal favourite, the second infinity pool wasn't far behind in awesomeness.
On a day with no cloud cover, the rooftop pool is a fantastic place to watch the sunset! It was a little cloudy on our day but we have seen pictures with no cloud cover and it is sensational! There is also a rooftop bar where you can enjoy a cold beverage as the sun goes down.
For the gym junkies out there, the hotel has a spacious gym area with everything you need to get a good sweat going from weights to cardio machines. The hotel provides water bottles at the gym for your convenience.
If you are feeling a little tense after some heavy workouts or just want a little extra pampering, there is also an on site spa where you can get many different services including massages or facials.
The Restaurants & Bars
The hotel has two restaurants and two bars available to guests. We loved that there were multiple restaurants and bars to explore during our stay.
Trilogy Restaurant
The main restaurant, Trilogy, is in a gorgeous setting overlooking the main pool. This is where you enjoy breakfast in the morning (which is included in the room rate).
The buffet breakfast at Dream Phuket was fantastic. It was on par to the best 5 star hotel breakfasts we have sampled. It was large, plentiful and had everything you could want on a breakfast buffet from eggs any way to waffles to fresh fruit to delicious bircher muesli & yogurt. On top of all this, we were very happy that the breakfast also included nutella, a personal favourite.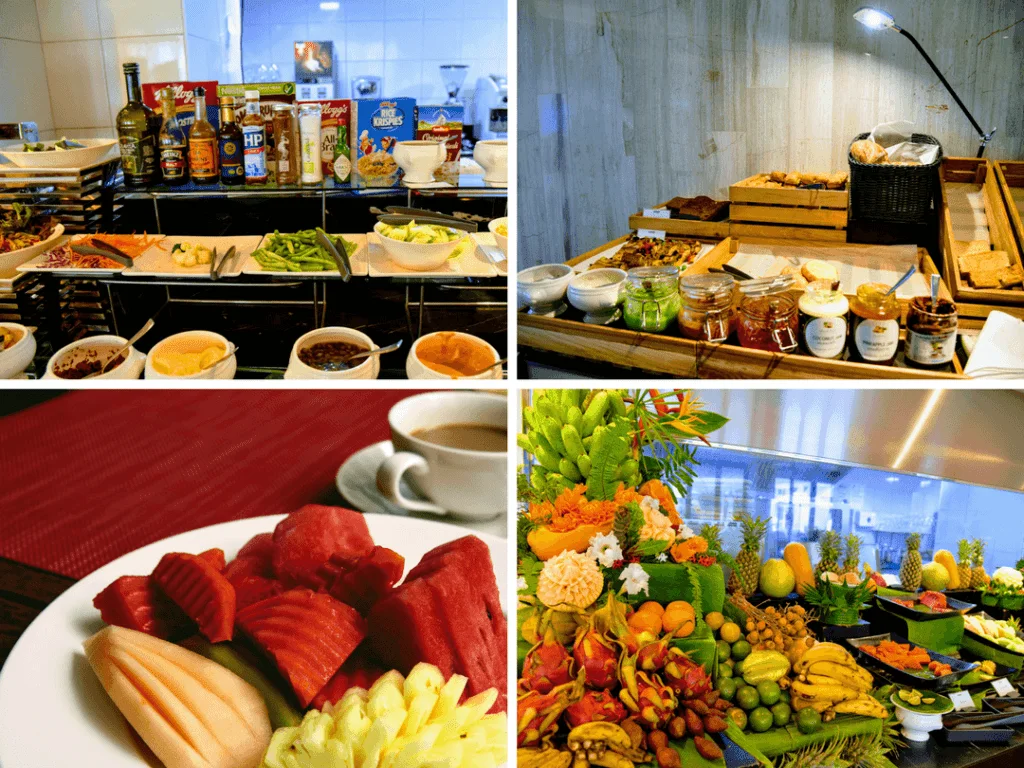 We found the staff to be very attentive at breakfast and continually offered guests tea & coffee refills.
Aside from the main restaurant, Dream has a second smaller restaurant, Indulge, which doubles as a wine bar. We loved the modern retro theme of this restaurant with tan leather lounges. Absolutely stunning.
We dined at Indulge during our stay and the food was incredible. We tried the pizzas – they were were thin & crunchy Italian style with a delicious tomatoes base – highly recommended!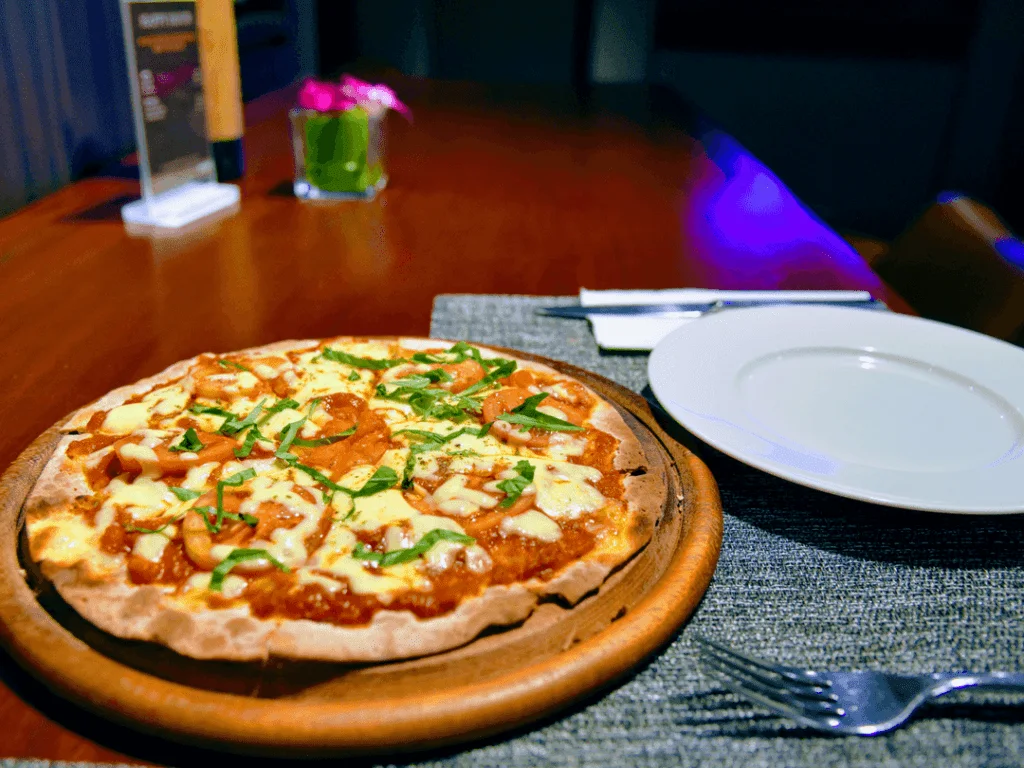 The bars
We felt the hotel bars were located in the perfect settings – one dive in the main pool & one bar located at the rooftop pool. We thoroughly enjoyed drinking at the rooftop bar as the gorgeous view of the main pool never gets old.
Things to do Nearby
Dream Phuket is perfect for travelers who want a tranquil vacation away from the hustle and bustle of Phuket Town or Patong while still having the ability to see and experience all that Phuket has to offer.
The hotel offers very reasonably priced shuttle services to all the main attractions in Phuket including:
Patong Town – 500 Baht pp return;
Phuket Old Town – 500 Baht pp return;
Naka Night Market – 500 Baht pp return; and
Boat Avenue & Fun Friday Market – 100 Baht pp return.
Check out our guide to things to do in Patong Beach for more ideas.
If you haven't seen a traditional Thai market before, we would highly recommend a visit to the local night market during your stay to get a taste of Thai culture.
Dream Beach Club
We also loved that Dream Phuket has its own private beach club that we thoroughly made the most of during our stay. Dream Beach Club is a gorgeous setting right on the beach with plush day beds, a restaurant and a pool with a dive in bar. Towels are provided complimentary at the beach club so there is no need to bring towels with you from the hotel.
The hotel provides complimentary shuttles to Dream Beach Club (located just five minutes down the road) hourly.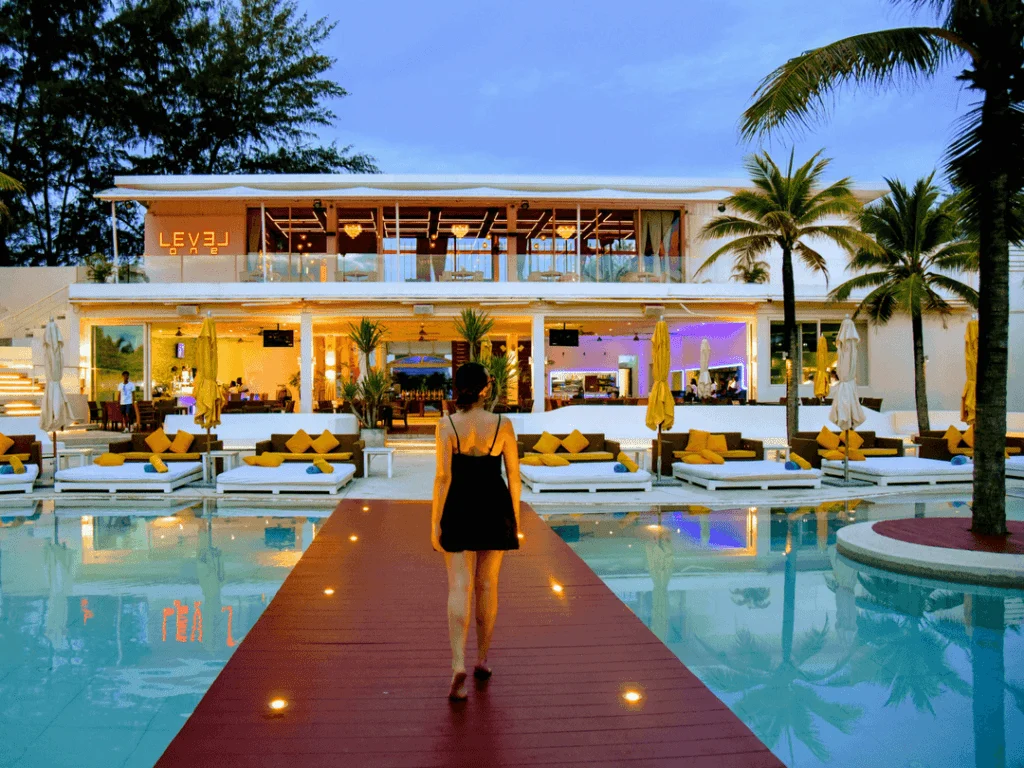 The beach also is well known for providing sensational sunsets. We stayed for the sunset one night & were not at all disappointed.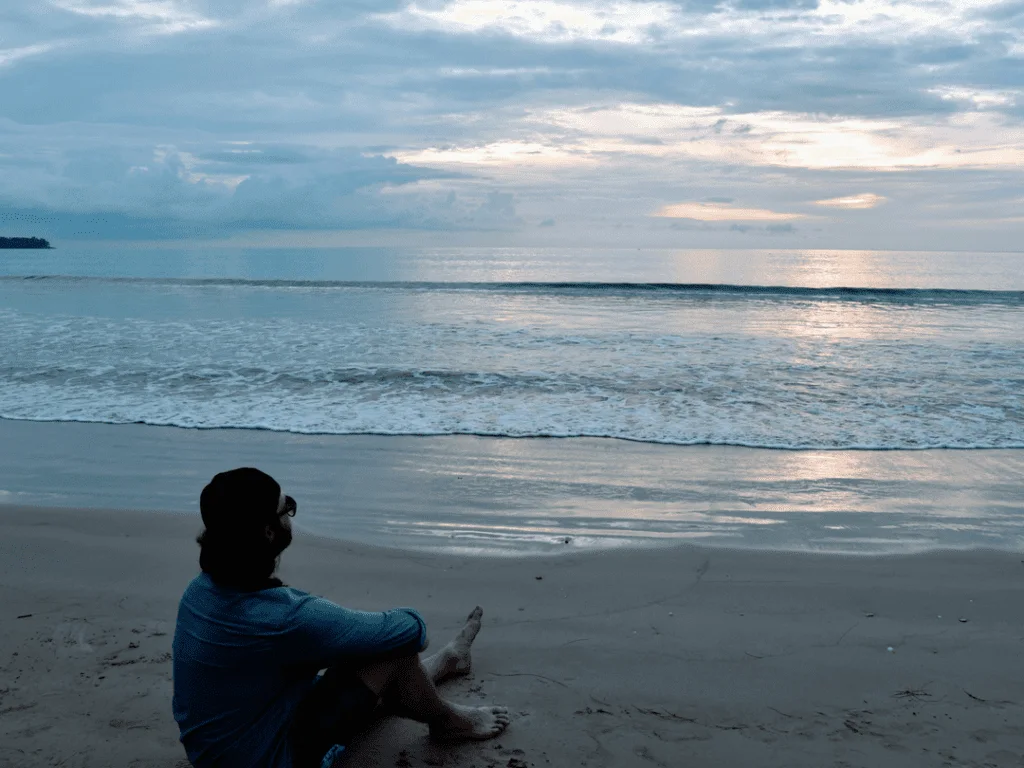 If you would like an elephant experience in Phuket, the hotel has connections with an ethical elephant sanctuary. We loved that Dream Phuket is a strong supporter of ethical animal treatment and does not condone visiting attractions in Phuket that involve the abuse of animals.
Note: If you want to try a different restaurant during your stay, the Project Artisan restaurant is just 5 minutes down the road and serves a wide range of Western & Thai food at affordable prices.
How to Book
We absolutely loved our stay in Phuket! We would recommend the hotel to anyone (especially couples) looking for a little 5 star luxury.
Click here to see the best prices and Dream Phuket Hotel & Spa deals
The contact details of the hotel are as follows:
If you have any questions about staying at this hotel or visiting Phuket in general, we would be happy to help – leave us a comment below!
Save this to Pinterest!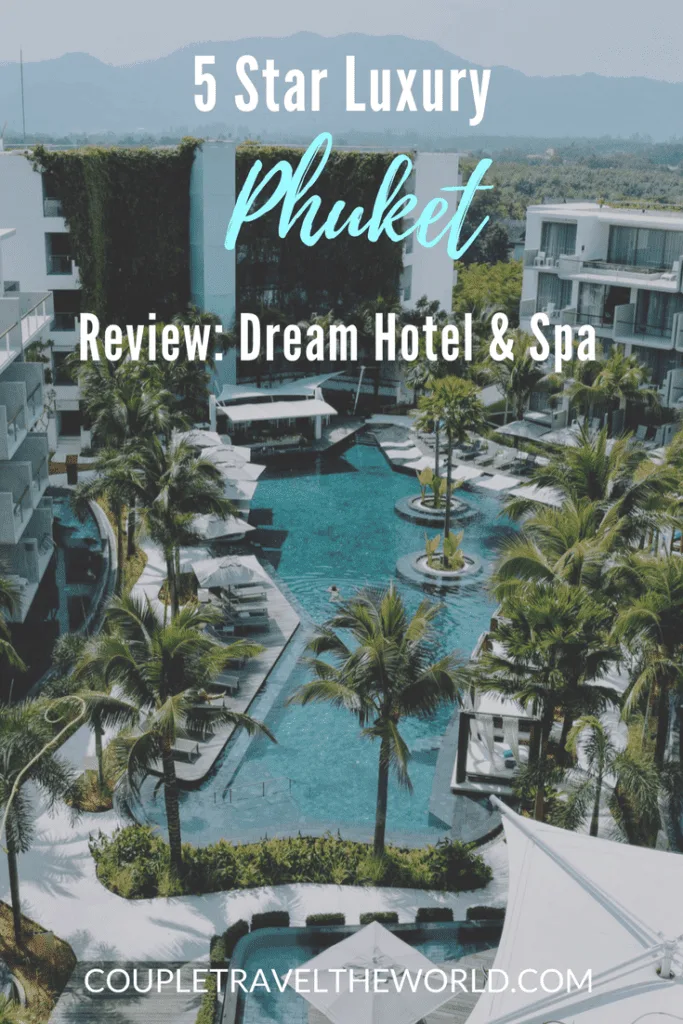 Disclaimer – We were guests at this hotel. However, it does not in any way influence our views or opinions of the experience. Our review is 100% honest and a true reflection of our experience.