We went to the town of Bury St Edmunds in hunt of the smallest pub in England. Little did we know, around the corner from the smallest pub we would find the Abbey Gardens – a stunning park in Bury St Edmunds.
Abbey Gardens Bury St Edmunds
In the very heart of St Edmunds you will find the Abbey Gardens.
Once one of the most powerful Benedictine monasteries in England, it is now a stunning park with a series of impressive ruins.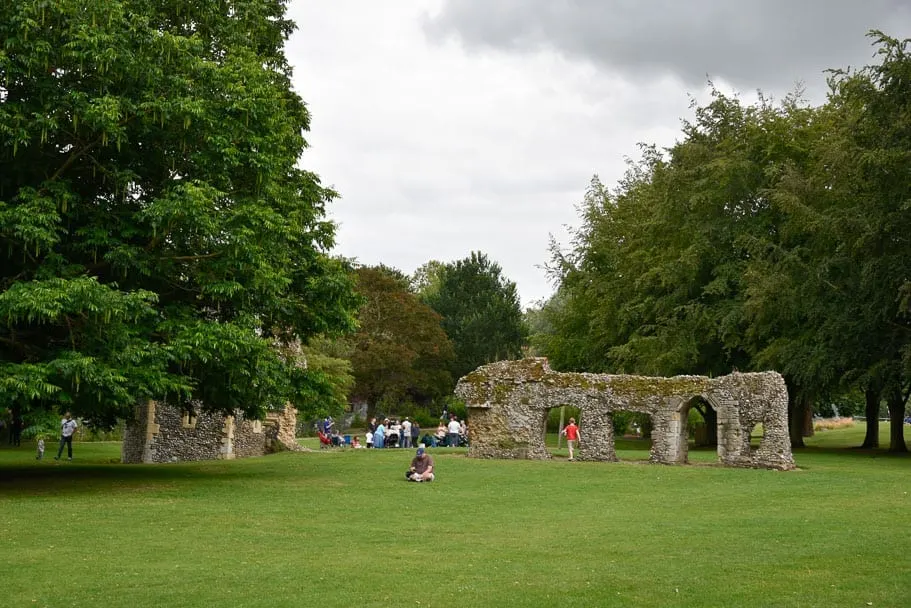 Brief History of the Abbey Gardens
One of the major points of significance of the Abbey Gardens is that it is the home of the martyred King Edmund in 903. By 1020, the Benedictine abbey was established.
A significant historical event occurred at the Abbey Gardens in 1214. King John's discontented earls and barons assembled to insist the the king grant them a number of rights. This rebellion resulted in the sealing of the Magna Carta.
In 1539 the abbey was surrounded to King Henry VIII and stripped of valuable building material.
Abbey Gardens Activities
The Abbey Gardens is a great place to take a leisurely stroll through.
In Spring time there are the most amazing flowers in bloom at the gardens. There are small signs requesting tourists to keep off the grass. We didn't see these signs at first and took photos on the grass. Opps!
The ruins of the benedictine monastery are also particularly interesting to admire.
For families, this is a great place to visit on a weekend as there is ample space for children to play. It is also a great area for a picnic.
If you are looking for food, there are snacks and ice-cream available within the park grounds.
Parking & Entrance
It is free to access the park year round.
Parking is metered in the direct city centre of Bury St Edmunds. It costs 2 pounds for 1 hour of parking.
Outside the city centre you can park for free and for an unlimited time.
Other things to do in Bury St Edmunds
We stumbled across the Abbey Gardens by chance.
We ventured to the town of Bury St Edmunds from Cambridge to visit the smallest pub in England.
The nutshell pub is just a small walk from The Abbey and highly worthwhile for a visit while in Bury St Edmunds.
The pub has a rich history including being home to a mummified cat!
About 4-500 years ago live cats were bricked into buildings to ward off evil spirits. As a cat lover, I am horrified at this ritual.
Nethertheless, from a historical point of view it is very interesting to see.
At the entrance of the gardens is a town map you can purchase for just 1 pound which provides information on the town and the attractions.
Save The Abbey Bury St Edmunds to Pinterest (so you can find it again later!)