We were lucky enough to have recently spent an incredible weekend paddle boarding and drinking gin in Scotland with Red Paddle Co & Daffy's Gin.
If you have previously read our Scotland road trip itinerary, we recommend a stop at Daffy's after the Isle of Skye.
No action packed Scotland adventure weekend itinerary is complete without these fun activities.
As we have never been Stand Up Paddle Boarding ('SUP') before we were a little apprehensive as to whether we would enjoy the activity.
As it turns out, SUP with Red Paddle Co (and actually the entire weekend at Daffy's) completely exceeded our expectations and left us hanging for more paddle boarding & gin making fun!
https://www.instagram.com/p/Bkc_mY5DBds/?taken-by=coupletraveltheworld
Unmissable Scotland Adventure featuring Paddle Boarding & Gin Making
After about a 2 hour drive from Edinburgh we arrived at Daffy's Gin, a family run gin distillery in Strathmashie, Scotland.
We were greeted by the owner, Chris, a passionate distiller who started as a young man working in a vineyard in France and has since tried his hand at everything alcoholic from wine, whisky and even Bundaberg rum until he found his absolute passion & love – distilling gin.
We were given a brief tour of Strathmashie house, a Victorian shooting lodge which occasionally housed Queen Victoria and Prince Albert (which you can actually rent on airbnb) before trying Daffy's Gin.
Lindsay, one of the distillers at Daffy's, made us a 'D&T' the best gin and tonic we have ever tried (no joke)!
From that point on, we were totally sold on the Daffy's product.
Daffy's gin not only has an extremely smooth taste (you can't taste the alcohol which we love) but the packaging and story behind the bottle gives the brand even more likability and character.
When designing the bottle, called the Goddess of Gin, Chris asked famous artist Robert McGinnis, best known for his James Bond film posters, to create the Daffy's logo.
Despite being an elderly man with his best working years behind him, he took an interest in the project and requested Chris' wife Mignonne fly to New York so that he could base the image of the Goddess of Gin around her.
Like the bottle (which has carefully been designed by Chris to make a crisp POP noise when opened) every little detail of Daffy's gin is carefully thought out and planned. Even the word 'Daffys' is an old Charles Dickens terminology for gin.
After hearing about the amazing beginnings of Daffy's, the Red Paddle Co Team arrived at Strathmashie house.
As we have never stand up paddle boarded before, we were very interested to hear more about it.
We were surprised to discover that Red Paddle Co does not use hard boards but instead uses inflatable SUP boards.
After hearing this, we were a little apprehensive as to whether the boards would be sturdy & stable for a beginner SUP boarder.
However, the Red Paddle Co girls explained that Red has developed a unique double layered inflatable board using MSL technology so the boards are not only extremely stable & durable but very practical too as you can easily transport them around on adventures (an element that hard boards struggle with).
In fact, Red Paddle Co are so confident in the quality of their boards that they have tested the endurance of the boards through such extreme measures as running over a board with bulldozer and throwing it off a building.
Even after such vigorous testing, the board remained standing & in usable condition.
The board is kept with pride in the Red Paddle Co offices where the team still use it to paddle board to this day.
As Red Paddle Co & Daffy's team were talking we realised that these companies had a lot more in common than we initially realised. Both Chris and John (the owner of Red Paddle Co) are extremely passionate about their respective brands and bringing the best possible product to market.
This passion for the products flowed right through their respective tight-knit teams – every member of the Red & Daffy's team truly believed in their product and spoke about it with a sparkle in their eye.
After some good conversation, delicious home cooking from Mignonne and numerous D&T's crafted by Lindsay, the teams retired to bed at Strathmashie house to rest for an early morning paddle boarding expedition in the stunning Scottish countryside.
As we headed to bed, we were delighted to find the Red Paddle Co team generously left a few of their Red Originals products for us to try on the bed including insulated drink bottles & quick dry MicroFibre towels which proved extremely handy on our paddle boarding adventure the following day.
Paddle Boarding Scotland
The following morning we headed off early for a 3 hour paddle boarding adventure down the Spey River in Scotland.
We had previously wondered how difficult it would be to transport the paddle boards to the water.
However, due to the awesome Red Paddle Co bags, it made it extremely easy to transport the boards.
Here, the Red team demonstrated how simple and easy it is to pump up the boards (taking only about 5-10 minutes to pump a Red SUP).
Boards pumped & ready to go, we embarked on a 3 hour easy paddle board expedition down the river.
As first time paddle boarders we were a little apprehensive of our ability to remain on the board. However, we managed to stay out of (the slightly chilly) Scottish water until near the end of our expedition when Mike met his fate eventually falling in during a rapid.
During the entire journey, the Red Paddle Co boards felt very stable & secure and we were able to SUP with the assistance of the instructor, Barry.
While we were unsure if we would even enjoy paddle boarding prior, after our time paddle boarding, we would absolutely love to SUP board again.
SUP boarding is really a sport anyone can enjoy as it is not nearly as difficult or strenuous as other water sports such as surfing or windsurfing.
Scotland is also a perfect place to embark on a paddle boarding adventure as the countryside is just stunning.
We passed the most incredible scenery during our journey including mountains with sheep & cows on the hills (including one sheep which needed to be rescued).
As we paddled along, Chris introduced us to one of his gin making skills – foraging for herbs and wildflowers to include in the gin to give it distinct flavours. Daffy's actually has its very own botanist hired for this exact duty.
This was extremely interesting as Chris taught us about different flowers/herbs and flavourings which can be used in gin.
We returned to Strathmashie house with a basket full of foraged goods to include in our very own gin! Yes, we couldn't believe our ears when we heard that we would be making our very own version of Daffy's gin.
In the original Daffy's gin, Chris mastered the exact combination of botanicals to make the smooth, fresh Daffy's flavour.
Along with foraging botanicals from his own backyard, Chris has sourced the finest botanicals from around the world including angelica from Belgium, cassia from Malaysia, orris from Morocco, juniper and coriander from the Balkans and orange and lemon peel from Spain. And, bringing in a home grown touch, the Lebanese mint is donated by Mignonne's father.
Best Gin Making Experience Scotland
Creating our own gin with our unique combination of flavours was a very exciting experience.
Chris invited us into his distillery – a Willy Wonka's factory for adults – featuring the 200L stills used to distill Daffy's gin and a fake bookshelf leading to a hidden cigar room (to be completed).
But it was upstairs for us into the Chris' cozy, photogenic workshop.
Sitting on a vintage table inherited from Strathmashie's previous owners – rumoured to have once been used as a dance floor by Prince Albert – were 6 2L alembic stills which Chris uses to try new formulas before scaling up to the 200L stills used in the distillery.
The workshop in itself was fascinating. Adorning the back wall was a vintage apothecary cabinet housing hundreds of bottles of every botanical imaginable sourced & foraged by Chris including dried wild Scottish raspberries, rose petals & meadowsweet.
Gin Distillery Scotland
The incredible mini-distillery is imposing but Chris walked us through the process to create our own bespoke gin.
In our gin making workshop, Chris asked us to rank on a scale of 1-5 how much flavour and scent we wanted from 6 key elements.
The ingredients included juniper (the original gin flavour), floral, herbs, spice & fruit.
We decided to make a raspberry gin and a meadowsweet & melon gin.
It is very important for a gin to be well balanced and Chris tutored us through various combinations to ensure our creations would be tasty.
The entire gin distilling process took 1-2 hours and was an extremely fun & educational experience.
At the end of the experience, we even had a bottle of our very own home brewed gin to take home with us!
It was so much fun we thought the gin making course would be a very cool idea for a hens or bucks night as you could create your very own gin to enjoy on your wedding.
After another night of delicious gin drinking and a BBQ from Mignoone, we retreated for the night to conclude a fantastic weekend.
Would you like to go on a gin making & paddle boarding adventure in Scotland? Let us know in the comments!
Save this to Pinterest (so you can find it again later)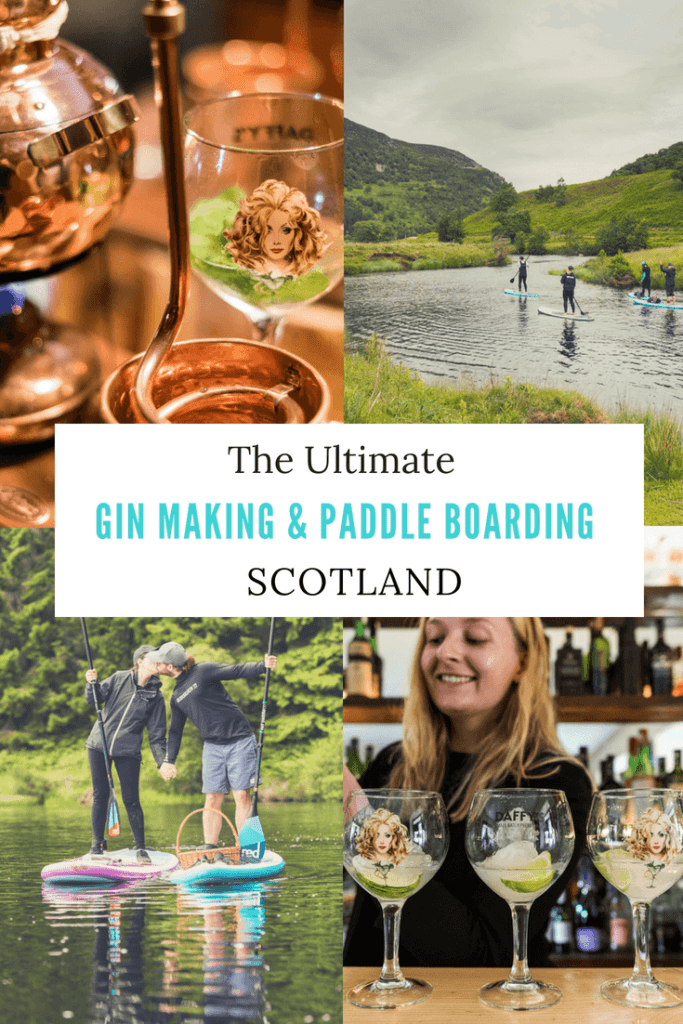 This review was made possible by Daffys and Red Paddle Co however, this does not affect our views and opinions.