If you are looking for a great city break then look no further than the beautiful city of Lviv. It is one of our favourite cities in Europe and due to new airline routes it is now more accessible than ever before!
Deciding where to stay in Lviv is no easy feat – we've written a whole guide to all the best options – but for a shortcut you should consider this lovely hotel.
In this city you can't beat a relaxing & rejuvenating stay at Astoria Hotel Lviv, which we think is one of the best 4 star hotels in Lviv. What makes the Astoria Hotel Lviv special is that it is designed beautifully and located right in the heart of the Lviv.
Note: If you are Krakow to Lviv, the bus is also a great way to travel
Astoria Hotel Lviv Review: An honest insight
The Astoria Hotel is a boutique hotel providing a laid-back luxury experience in the very heart of Lviv city centre.
The hotel is particularly special because it boasts a rich history in Lviv. It was contracted by a Polish architect Tadeusz Hartel in 1914. The hotel managed to survive both World Wars, operating previously as Hotel Kyiv.
After a complete renovation, the Hotel was renamed 'the Astoria Hotel' and is designed in a beautiful elegant theme which gives you old world charm with modern conveniences.
There is a stunning staircase that runs down the centre of the hotel which gives it a very luxurious old world vibe.
We think the Astoria Hotel Lviv is the perfect cozy romantic vacation in Europe! Lviv is the city of chocolate & coffee (two of our favourite things in life) so it is the ideal place for couples to go!
We have visited Lviv in the past and in our opinion, this really is one of the best 4 star hotels in Lviv.
Location
The hotel is also situated in a perfect location for exploring the surrounding area and all that Lviv has to offer.
Located just a few minutes walk from Rynok Square (the main city Square of Lviv), Lviv is the perfect city for those who love to walk. Every attraction in Lviv is located by foot from the Astoria Hotel.
Our favourite spots in Lviv are all in walking distance of Astoria Hotel:
Lviv Handmade Chocolate – Best chocolate in the city!
Kredens Cafe – Best coffee in the city
The National Opera
Rynok Square – The main square of Lviv where all the action happens
Lviv Coffee Mining Manufacture – get flaming coffee here
Kryivka – If you would like to shoot at Putin's head go to this bar. Password is 'Glory to the Ukraine!'
Town Hall – Climb to the top for an epic view!
Rooms
The Astoria Hotel is a boutique hotel with only 41 rooms so it is necessary to book in advance. These include:
32 Classic rooms
6 Superior rooms
3 deluxe apartments
The limited amount of rooms creates a very warm cozy vibe to the hotel.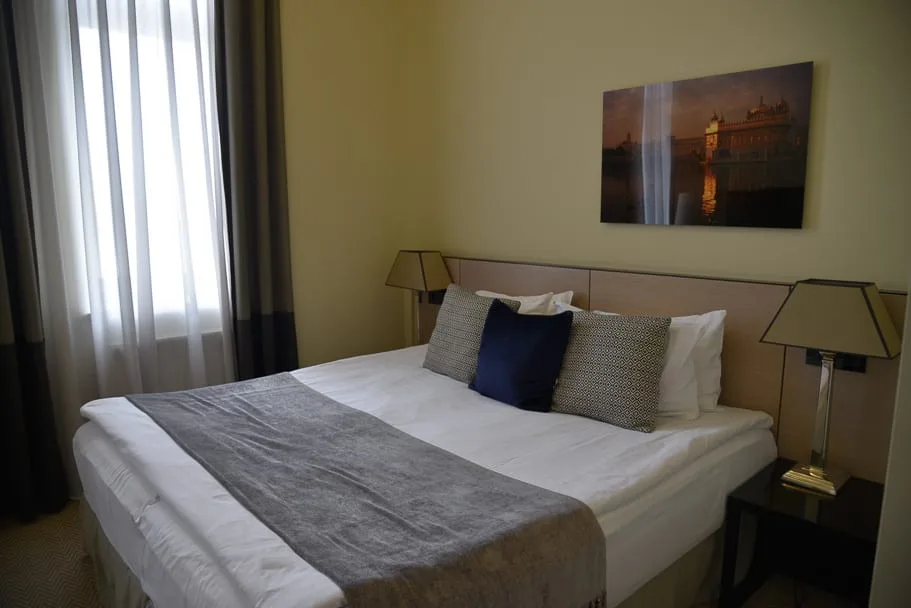 The strategy of the Astoria Hotel is to have a very high level of customer service. We really felt this while staying at the hotel. The staff were warm and friendly and couldn't do more to help you!
We asked for some new towels late at night and they were very happy to oblige.
Classic rooms
While at the Astoria Hotel we stayed in a Classic Room.
The Classic Rooms are very quaint, cosy and comfortable. Our room included everything we needed for a comfortable stay.
The bed was extremely comfortable and felt like we were floating on air! Perfect for a restful night's sleep
Also included in the classic room was bathroom robes, complimentary water and a stocked mini bar in case you get peckish during the night.
We loved that the bathroom had an eco-friendly attitude with bathroom amenities like conditioner available upon request rather than freely available in the room.
Wondering what to expect of a toilet in Ukraine? If you answered 'high-tech, button operated like in Japan or Korea' then you're right!
Our brand new robo-toilet was a very interesting surprise.
The shower was powerful and warm, which is a welcome relief in colder months.
Breakfast
We were excited to try a true Ukrainian breakfast while staying at the Astoria Hotel.
I am pleased to report we were not at all disappointed by the breakfast at the Astoria Hotel.
As we had hoped, it was a little different to a usual hotel buffet breakfast. It included some Ukrainian specialties including a yogurt drink we have grown to love here, Kefir, as well as delicious organic yogurt, eggs made to order, cheeses and meats, cereal, tea and coffee.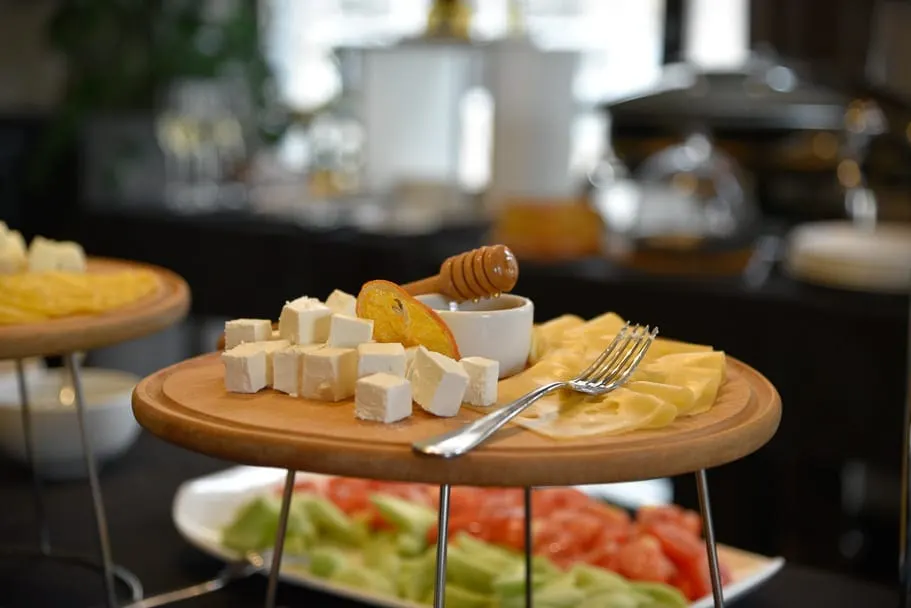 Also, to our absolute delight – complimentary champagne was provided on the buffet breakfast at the Astoria Hotel. We have not seen this anywhere else in our entire travels.
If you are coming to Lviv on a romantic getaway, a champagne breakfast is the perfect addition and a very luxurious way to start the day!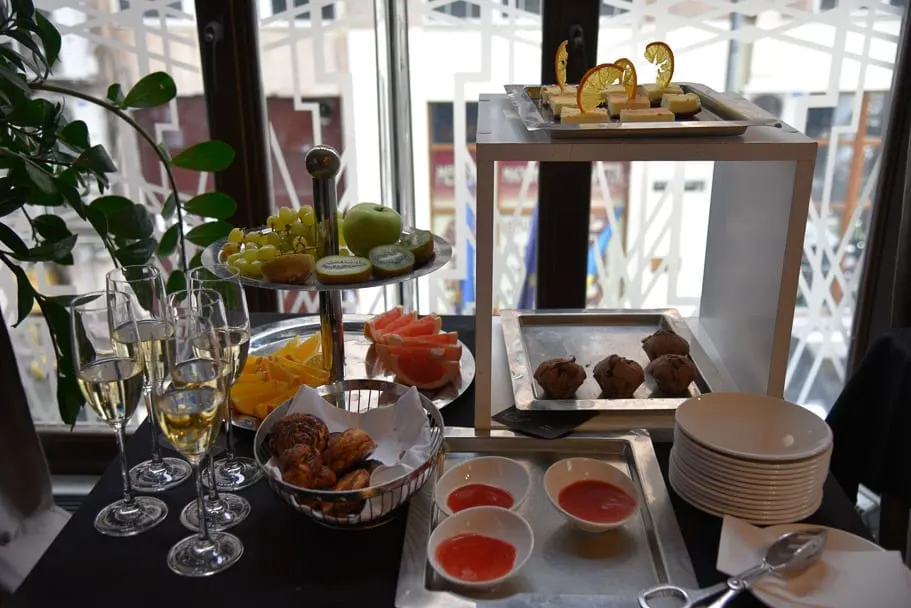 Other Hotel Amenities
Astoria Hotel also has all the extra facilities you would expect in a 4 Star Hotel in the city including:
55 seat Mon Chef restaurant
55 pax conference room with state of art audio/visual
24h lobby bar
Our favourite extra feature of the hotel however was the 'romantic table' with a view of Lviv on the top level of the hotel.
We thought this extra seating area was just so special!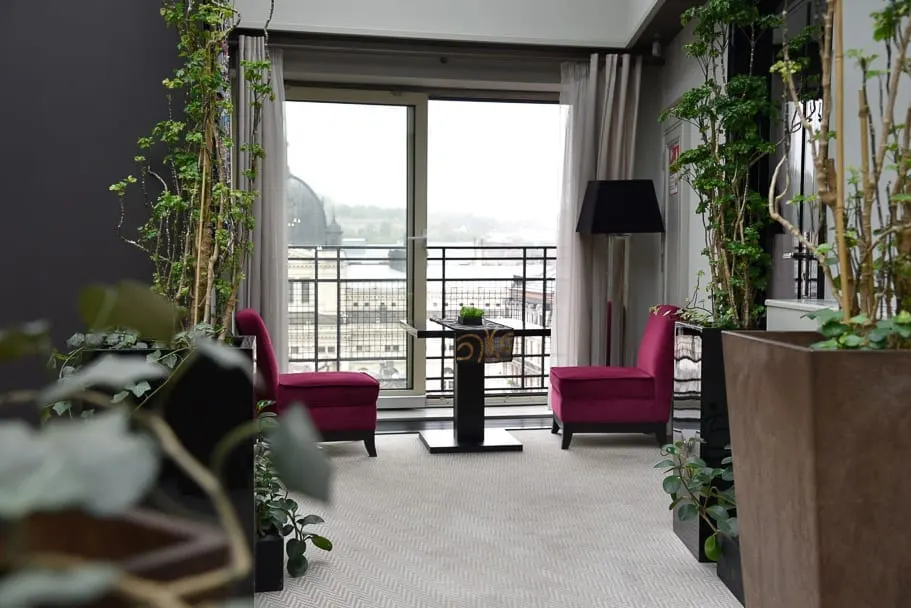 Want to stay at the Astoria Hotel?
We absolutely loved our stay at the Astoria Hotel. We would recommend it to anyone (especially couples) looking for a 4 star boutique hotel in Lviv. With many affordable flights into the city, it is the absolute perfect place for a romantic city break.
If you would like to book a room click here to search dates and book instantly.
Alternatively, you can book direct on Astoria hotel's website.
If you have any questions about staying at this hotel or visiting Lviv in general, we would be happy to help. Leave us a comment below!
Save this Astoria Hotel Review to Pinterest (so you can find it again later!)
Disclaimer: We were guests at Astoria Hotel. However, as always, all opinions are our own.