Athabasca Falls is a must hike trail on any Jasper National Park itinerary.
Alberta is blessed with some of Canada's best hikes. From the little known Mistaya Canyon on the Icyfields Parkway to Two Jack Lake near Banff, Albertan's are spoiled for choice.
A scenic, 30 minute drive south of Jasper you will find Athabasca falls, the undisputed top hike of Jasper National Park.
Athabasca Falls Hikes
There are a number of trails around Athabasca Falls which are clearly marked and offer different vantage points for spectacular views of the falls.
We spent about 1 hour walking backwards and forwards along all of the paths getting different views along the way.
In winter months the Athabasca Falls trail can be icy and despite it being liberally salted and maintained the path can be slippery.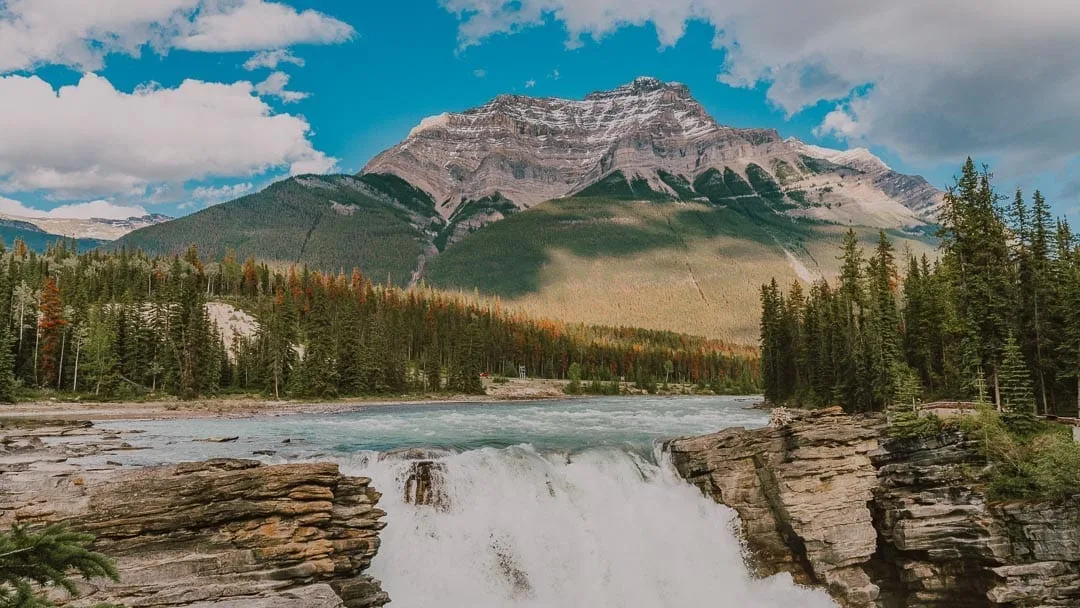 Athabasca Falls
Athabasca Falls is a stunning Class 5 Waterfall near Jasper, Canada. The falls drop 24 metres (80 feet) and are 18 metres (60 feet) width at its widest point.
A few reasons why Athabasca Falls is rated #1 on Tripadvisor:
The falls are perfect for everyone: families, children and the elderly can all experience a great view
Fun fact: a staggering 15 million cubic metres of water crashes over the falls every second!
Free parking and easy access to the falls from car park.
The waterfalls are accessible year round
Wildlife is in abundance in the surrounding area: beavers, moose, and of course bears. The trail will be closed if there is a bear in the area.
Parking: Free Parking | Facilities: Bathrooms available
Winter Walk
In winter and much of spring you will find Athabasca Falls frozen. When we visited Athabasca falls in April we found the falls partially frozen. They were still impressive.
How to Get to Athabasca Falls
Athabasca falls is 32 kilometres south of Jasper (30 minutes drive or 2 hours cycling).
From Jasper take Icyfields Parkway south until you reach the intersection of Route 93 / 93A.
Banff is 3 hours drive south of Athabasca Falls.
On your drive to Banff along Icyfields Parkway make sure you stop at Mistaya Canyon. The hike is epic, can walked in 10 minutes from the car park and best of all – you'll find very few tourists at this hidden gem.
Athabasca Falls from Jasper Map

Where to Stay near Athabasca Falls
Hi-Athabasca Falls is the nearest accommodation. You can walk to the falls – how about that for location.
Astoria Chalet and Fairmont Jasper Park Lodge are two incredible accommodation options in Jasper town. Seriously wow.
Sunwapta Falls Lodge 30 minutes south of Athabasca falls is a perfect option if you plan to continue driving south along the Icyfields Parkway towards Banff.
Banff is 3 hours drive south of Athabasca Falls. If you plan to drive to Banff, make sure you check out our Mistaya Canyon post which includes some unbelievable accommodation options along the road to Banff.
In Banff National Park, don't miss out on the hidden gem locals would prefer you not to know about: Two Jack Lake.
Let us know if you have any questions about the Athabasca Falls hike, trail, or what to do in Jasper National Park. Leave a comment below and we'll get back to you!
Pin this Athabasca Falls Hike Guide to Pinterest