Looking for the best bay of islands luxury accommodation? We have you covered!
If we can help it, these days we usually choose to stay in luxury hotels, airbnbs, b&bs or guest houses when we travel as honestly it just makes the experience SO much better!
There is honestly nothing worse than going on a holiday, rocking up to your accommodation and finding that it is sub-par. It wrecks a good holiday – we know, we have been there!
So if you are looking for well rated luxury accommodation in NZ's stunning Bay of Islands – look no further. In this article, we recommend 6 hotels you can't go wrong with including one we have personally stayed at and would recommend to our family and friends. A great addition to any 2 weeks in New Zealand itinerary.
6 Best Bay of Islands Luxury Lodges for Couples
We stayed in Treghan Luxury Lodge at the Bay of Islands and would highly recommend it if you are looking for luxury accommodation in the Bay of Islands.
The accommodation here is honestly nothing short of luxurious! The B&B has top reviews but we weren't sure what to expect when booking this lodge. We were blown away and would recommend it to any family or friends visiting the Bay of Islands.
The owners seriously thought of everything at this lodge – from luxury furnishings to the most delicious included breakfast with fresh local NZ produce to try including some of the most delicious yogurt we have had in our life.
If you do want to stay here though you will need to be pretty quick as the luxury lodge only has three apartments available. For couples, there is a small "Owners Cottage" with 1 bedroom and there is also 2 larger apartments "Birdsong" and "Tranquility Retreat" with 2 bedrooms available for families or larger groups.
Note that the "Owners Cottage" is attached to the hosts house so you might like to book one of the other choices if you are looking for some more privacy. We booked the Owners Cottage and the hosts were kind enough to give us a complimentary upgrade as there happened to be no-one else staying at the time.
I must say, everything about this accommodation is awesome and it is truly one of the best places we have ever stayed. We arrived at night so we didn't notice the stunning view from the lodge until we woke up the next day and I must say we were WOW-ed!
If you want to save money while staying in the Bay of Islands, while still not roughing it, this is a good choice as each cottage offers guests a chefs kitchen which is very well stocked and has everything you could wish for to cook up a scrumptious meal. You will need the facilities as you breakfast is provided but cook your own including eggs and bacon.
This lodge is located in Kerikeri, which is one of the largest towns in the Bay of Islands. While most travelers choose to stay in Russell, we did not regret our choice at all. Kerikeri is a big town with plenty of great restaurant options including an Italian restaurant we would highly recommend called The Black Olive.
Book your stay here.
If you can afford it or just want to splurge a bit on a honeymoon or romantic getaway, you seriously HAVE to stay here.
There is no doubt that Eagles Nest in Russell is probably the #1 most luxurious place to stay in the Bay of Islands – it is just pretty darn cool.
Again, there are only 5 villas at Eagles Nest, so like Treghan you have to book early if you want the chance to be able to stay in pure luxury. Each villa comes with – wait for it – a private heated infinity pool – which of course is super cool as well as a fully-equipped gourmet kitchen, beautiful art from the area and home threate systems for some Netflix after dark.
If you want to keep fit while on vacation, the lodge can also organise to bring in a personal trainor for you. Talk about celebrity treatment!
I should note, Russell is one of the best attractions in the Bay of Islands as the area is so cute! Whether you choose to stay here or not you definitely should make a visit to Russell while staying on the Bay of Islands. If you decide to stay in Kerikeri and want to visit Russell by car, you will need to catch the short car ferry across to Russell which is a fun experience in itself.
Book your stay here.
Another great town to stay in the Bay of Islands is Paihia and if you are going to stay here, a really nice luxury hotel is the Paihia Beach Resort & Spa Hotel – you really can't go wrong with a stay here.
You can choose between a range of different accommodation including studios, one bed and two bedroom apartments. You really can't go wrong with whatever you pick as all the rooms are very stylish decked out with French oak timber. If you are looking for something a little more romantic, a few select rooms have a spa bath.
If you want a hotel in the area with a spa attached, this is a good choice. The spa is highly rated and includes a wide range of relaxing treatments. You can also enjoy fine dining at the Glasshouse Kitchen & Bar.
Book your stay here.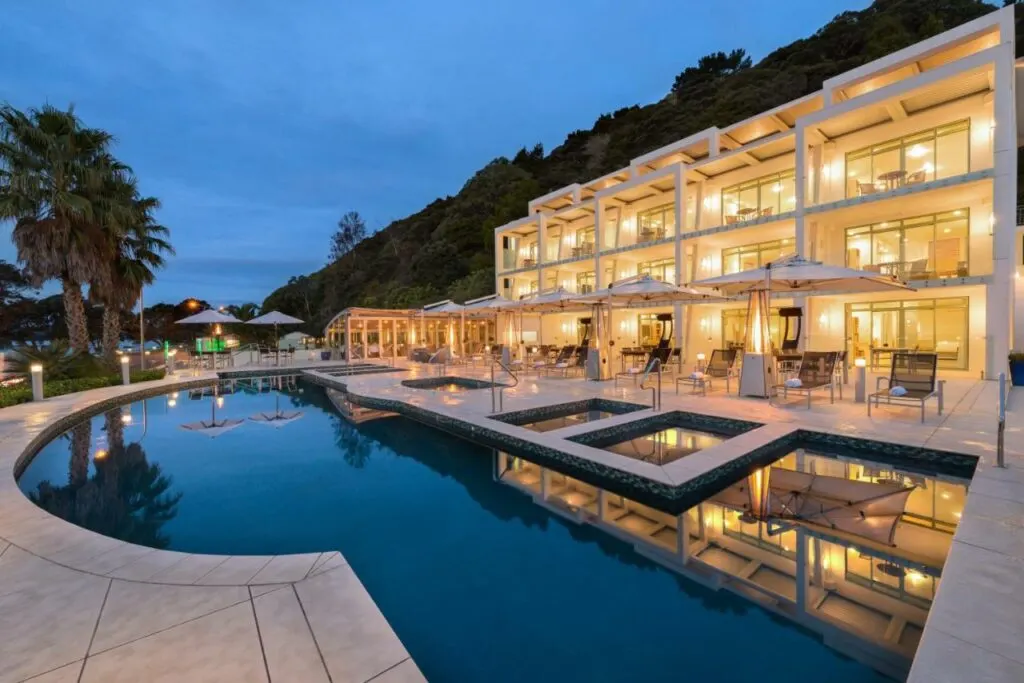 The Bay of Islands offers a lot of apartments but if you prefer staying at a hotel, we would recommend the Copthorne Hotel & Resort, which is a 4 star resort in the Bay of Islands area. The hotel is listed as being in Paihia, but it is actually located in Waitangi, which is just north of Paihia, just so you are aware.
The cool part about staying in hotels as opposed to self contained apartments is they offer a lot of extra features. This hotel offers a pool which is great if you are traveling in summer. There is also a tennis court available for guests use and a great restaurant which offers Kiwi cuisine.
This is also a great place to base yourself if you want to stay within stunning nature as the grounds of the hotel are stunning.
Book your stay here.
Russell is a really nice place to stay in itself so of course staying in Russell is always a good choice and if you can find nice luxury accommodation in Russell while you are at it – even better!
Bellrock Lodge is a beautiful boutique lodge in Russell which is a great place to stay. If you want to stay in stunning accommodation with views over the bay we would recommend staying here.
What we love is that not only does this place provide a 5 star feel but each is self contained with its own kitchenette which makes it perfect for making some meals at home if you feel like it.
Book your stay here.
If you are looking for excellent 5 star accommodation in the Bay of Islands then Sanctuary Palms is a great choice.
This place is really beautifully decorated and is what you would think of as the essence of luxury in the Bay of Islands, it is a really nice choice for a honeymoon, anniversary or other special occasion.
Another really nice thing about this accommodation is that it is self contained, which we always really appreciate. Even if you are not planning to cook, it is nice to have an apartment to have extra space and a fridge to store milk for tea or other goodies you buy another the way.
If you are looking for accommodation in the Bay of Islands with a fireplace or a jacuzzi this is also a nice choice. It is really nice to have those extra features, especially in winter when it is extra cozy. The apartments also offer spacious balconies to relax on when it is a little warmer out.
Book your stay here.
A few noteable things to do in the Bay of Islands
When you are not lounging around at your amazing hotel in the Bay of Islands there are plenty of great things to do and activities in the area to enjoy. We will briefly mention the unmissable things to do in the Bay of Islands here to assist your research:
Probably our favorite activity we did in the beautiful Bay of Islands was take a dolphin boat tour through the stunning bay. We saw so many dolphins on our journey and as we are big animal people, we absolutely loved this!
One of the most iconic things that you will see on this cruise was the Hole in the Rock. A Hole in the Rock Cruise or a Dolphin cruise are one of the same, you see dolphins normally on the way to the Hole in the Rock.
Make sure you don't leave this tour until your last day as sometimes it is cancelled due to bad weather. If you have a few extra days up your sleeve in the Bay of Islands you can simply go the next day if it is cancelled. Whereas if you book the tour on your last day, and it is cancelled you may not get the chance to go on this awesome tour at all! We would also recommend booking in advance as during popular times throughout the year, it can be booked out.

Visit Russell
If you are not staying in Russell, it is definitely a place you should visit during your time in the Bay of Islands.
The town is significant as the first permanent European settlement in New Zealand. It has a lot of cute shops and great bars and restaurants to visit in the town.
Don't miss a chance to visit the Duke of Marlborough Hotel, New Zealand's oldest pub. If it is a warm day you might also like to make a trip to Long Beach, otherwise known as Oneroa Bay, one of Russell's most beautiful beaches.
Rainbow Falls
There are a few great natural waterfalls to check out in the area. One of the best is Rainbow Falls.
The nice part is, the falls are not an all day hike so they are suitable for all ability levels. To see the falls, it is simply an easy walk from the car park.
None of these luxury accommodation in Bay of Islands take your fancy…
If none of these incredible hotels in the bay of islands was right for you, no worries, there are plenty of other great places to stay in the Bay of Islands that may better suit your needs.
You can search all Bay of Islands Accommodation during your Dates here.
****
See more: