Looking for beach date ideas? Awesome – we have 30 of the very best.
An oldie but a goodie, the beach never gets old when it comes to planning a perfect date. If you are taking your significant other to the beach and wondering what kind of romantic things to do at the beach for couples you can plan while you are there – we have you covered!
The perfect beach date ideas for your boyfriend, girlfriend, husband or wife here:
30 Fun Beach Date Ideas For Couples
1. Have a beach bonfire
There is something to be said for a bonfire. It can keep you warm on a cool winter's night, or jazz up a hot summer one. You can make s'mores, sing time-honored campfire songs, and become hypnotized by the flames.
After making sure that your beach allows bonfires, pick the right spot, which may be a pre-made fire ring, or just somewhere out of the way of other people.
If building your own, dig down to wet sand, for safety, and then create a ring made of rock, anywhere from 12" to 24" wide. Use dry wood to build a cone shape, with smaller kindling on the inside, and in the spaces, then use a long lighter to create the flame. Vwalla! One of the most romantic beach night ideas.
2. Beach Soccer Game
Who doesn't love a healthy dose of competition? Beach (or sand) soccer, otherwise known as "beasal", is a great way to burn off some energy, while creating a team atmosphere. But the game is not for the faint of heart!
No shoes or shin guards are allowed, and doing anything in sand can be exhausting. You must face off with wind, shifting sands, water, and sun, during intense physical exertion. Yet, there is ritual fun in getting sand between your toes. One of the best beach activities for couples for sure.
3. Go for a picnic at the beach
Fresh air, the tang of the salty sea, and a relaxing meal – sounds like heaven on Earth, right? Having a picnic on the beach can be a special time for two, so long as you plan ahead. For daytime, be sure to bring an umbrella or hat, bug spray, a thick blanket to cover sand, and something to cover the food.
Sunset and night time picnics may require some illumination, like a battery operated lantern. Pack ready to eat, non-messy items, which neither need to be super cooled or heated. Avoid items which attract bugs, such as sugary drinks. Enjoy – one of the best simple beach date ideas.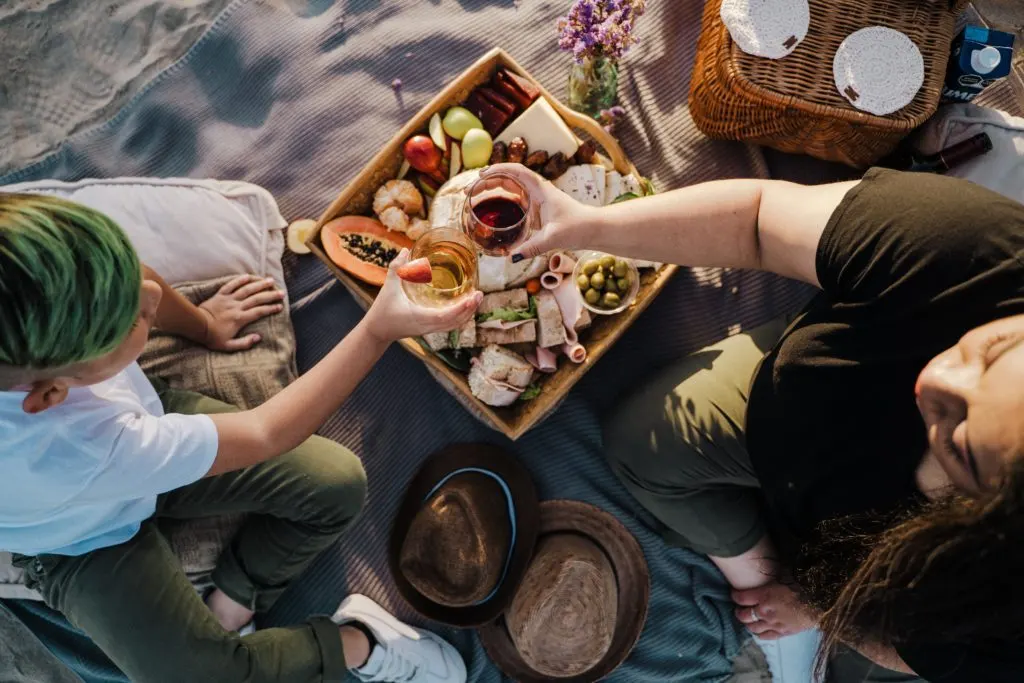 4. Explore a beach pier
There are two kinds of beach piers: the old time "fishing pier", and the modern pier! There's nothing wrong with sitting on the dock of the bay, but when you're on a date, you might be more interested in some adventure.
Piers offer so much more than they used to. You can eat, play games at an arcade, get your photo taken in a tiny booth, enjoy a roller coaster, water parks, or helicopter rides! There are classes, ice skating, live events….the list goes on. Bottom line- if you want to impress your date, and never run out of things to do, check out some local (or not so local) piers in the near future.
5. Visit shops near the beach
Depending on which beach you go to, the shops surrounding it may vary in great detail. While most shop cater to tourists, be prepared for a culture shock if you're traveling the country.
Regardless of all else, you can find an abundance of shops to sell you anything from jewelry, candles, sea-life styled items, art, music, and local flavor clothing. If you're lucky, you'll find specialty shops touting psychics, locally made pottery, and antiques. Now, be a good tourist, and spend some money at the locally owned stores!
6. Surfing at the beach
If you were lucky enough to grow up near an ocean, you may already be into surfing. The hypnotic sound of the waves washing up on the shores is like a lullaby to many. If you've never been surfing, don't despair!
Any major beach will have someone near by willing to give newbies a tutorial. You can likely rent a surf board nearby, or even begin with a boogie board.
Be sure to wear the right attire; even hot beaches can have cold water, so consider wearing a wet suit. Even if you don't catch any waves, the joy of being in nature is a wonderful choice for any date.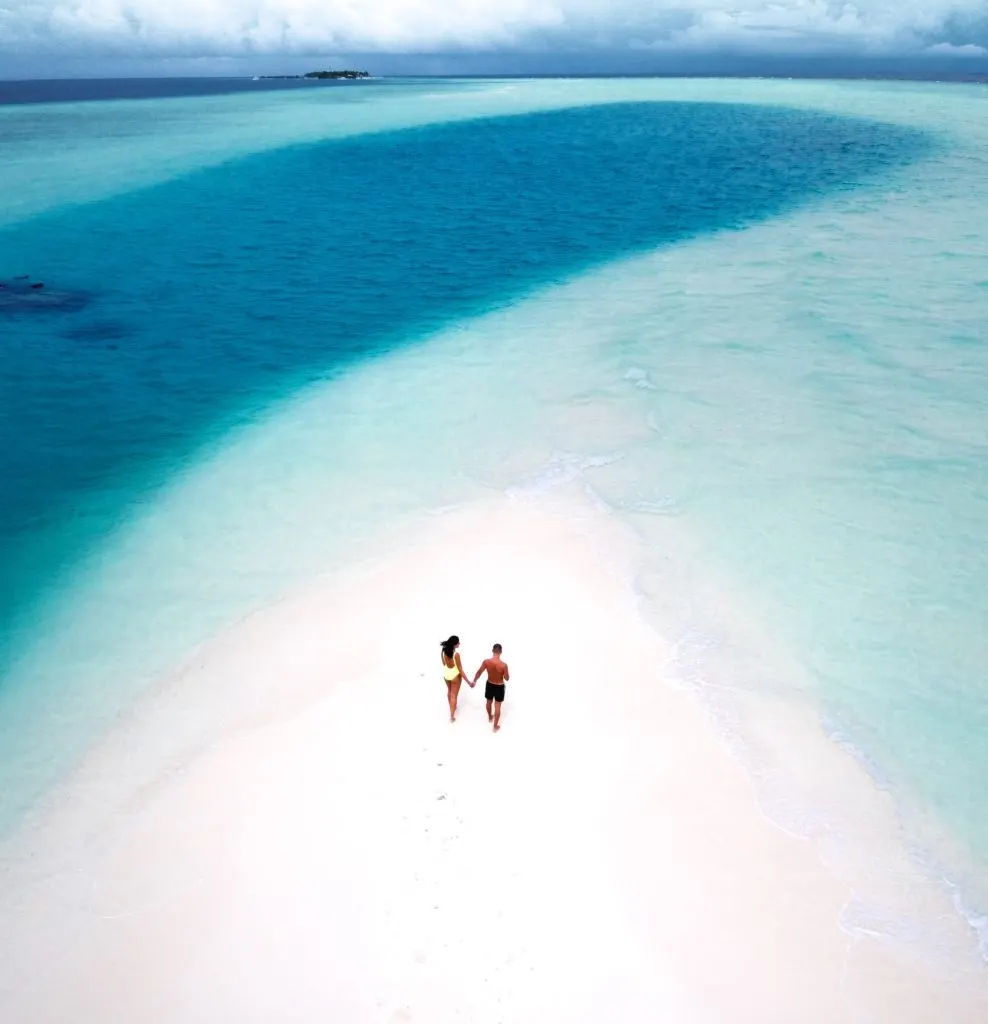 7. Build a sandcastle
As children, our sandcastle building imaginations were endless. There are only a few things you need: a bucket, a shovel, and of course, wet sand! You can make it as big or small, as simple or complicated, as you'd like.
It might have a bridge, a mote, arrow loops, and a spire! If you want to get serious, you can create "castle concrete", meaning you create your own sand, rather than using moist sand. This helps with stability, and designing, as the sand is less moist, thus, more designable.
Either way, have fun unlocking the inner imagination, that's been struggling to get out!
8. Fishing at the beach
For those who love a good fish fry, fishing at the beach can be an all encompassing experience, and there are several options for fishing the ocean. Whether in person or in a movie, you've likely seen the line of folks sitting on the weathered, pier wood, chatting away the hours, while their rod stood at attention. The other option may be "surf fishing".
No, that doesn't mean climbing onto a pink nine-footer and trying to balance your footing, while casting the line. It simply means, standing at the edge of the water for your prey. Regardless of which method you try, be sure to check the city's website to ensure that it's legal, and get a permit, if needed. Then kick back, and let the big waves roll.
9. Try to spot some sea animals like dolphins
It only takes a glance at the ocean to remind us just how small we humans truly are. There is an entire world under the sea, and sometimes, if we're lucky, we can glimpse some of the magnificent creatures that live beyond our "air world".
Given your location, you might spy: sea lions, dolphins, sharks, or whales. There's no limit to the types of animals which might cross your path, while still on the sandy shores.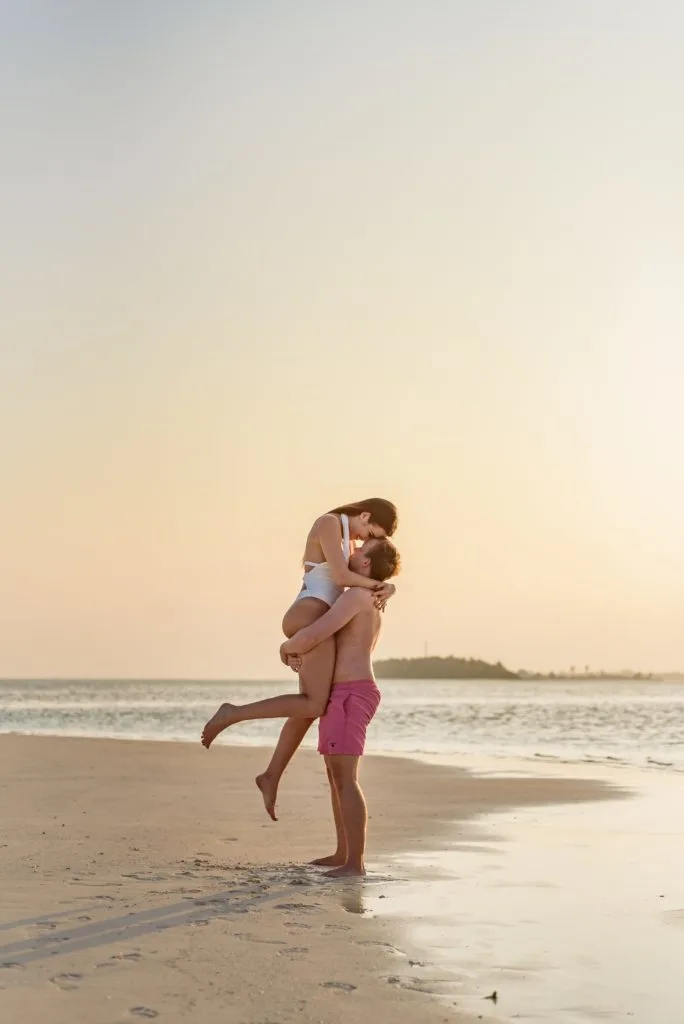 10. Go for a boat cruise
If you're up for a new adventure, a boat cruise may be just the ticket. There are an endless supply of "types" of cruises, including: sunset, animal watching, and themed (Pirates, anyone?), but whatever it is that you and yours enjoy the most, feel certain that there is a cruise to fit your mood.
Some fun stuff you can do on a boat, include: fishing, water skiing, wake boarding, eating, dancing, snorkeling or scuba, spa experiences, gambling, and partying. You would be hard pressed to find yourself disappointed in one of these babies!
11. Visit a beachfront bar or restaurant
You can visit a restaurant or a bar anywhere, so why bother experiencing one on the beachfront? Because those establishments have something the other's will never have: an amazing ocean view!
Obviously, if you're near the beach it's because you have some inner pull to it. Give in to the drive of being with nature, as you sip that scotch rocks, or have a nice pasta primavera. Between the homey brine carried on the breeze, the crying seagulls, and the energetic pulse of the waves reaching shore, you can be certain that it is an escapade unlike any other.
12. Beach concert
Rather than packing in an arena, like stinky sardines, why not enjoy a beach concert instead? Concerts can take place day or night, so you can choose your setting.
Parking may be offered down the ways, with a bus picking up concert-goers, so you don't have to struggle with the stress. Plan a day, visit a few shops and take out eateries, then enjoy a standing-sitting-or laying down concert in outdoor splendor.
13. Go shelling
No, not selling. Shelling! Humans have been collection shells for more than one hundred thousand years. Not only were they cute little things, but they were used in almost every facet of life, as tools, lamps, instruments, jewelry, money, religious objects, and more.
Sure, you can buy any kind of shell you'd like at the local gift shop, but it means so much more to find the "perfect" shell, to save as a keepsake from your amazing date.
14. Go for a jet ski ride
Let's face it, just the idea of jet skiing, is totally exciting! You get to stand on this powerful, motorized gizmo, and literally jet across the ocean waves, in any direction you want.
You are, in that moment, the master of the universe- like the Greek God of the Sea himself, Poseidon! Only you won't need a trident to rule. Just hop on, hold tight, and throttle. And for those who would rather take a more relaxed approach, there's always the seated version. Just as fun, but less stressful on the body.
15. Fly a kite
It used to be an insult when someone told you to go fly a kite, but not anymore! It's a fun pastime, which takes a bit more skill than you might think. Kites come in all shapes, colors, complexities, and sizes, so it's easy to fine just the right one for you.
Find a location on the beach where you won't interfere with walking traffic, and potentially entangle someone. Then, find the right direction for a slight breeze, gently catch the kite in the wind, and slowly release the line, letting it get higher and higher. Then watch your kite dance in the air, with a big, goofy grin on your faces.
One of the most romantic things to do at the beach for couples.
16. Explore the tide pools
Many kids who were lucky enough to grow up by the ocean, have likely already seen the fun filled tide pools. There's a plethora of sea life in those shallows, including: muscles, sea anemones, sponges, snails, crabs and more!
Check the tide charts online, and go at low tide, when the ocean has receded, and lots of life is "trapped" in pockets of water, close to shore. It's like a personal aquarium.
17. Couples yoga on the beach
The basis of any relationship is built on trust. In couple's yoga, you can increase the trust between you two by communicating well, and relying on one another in critical poses. Start in a simple cross-legged, seated position, while facing each other.
Get the giggles out of the way, by making funny faces, then really connect by taking some deep breaths. From here, you can do any number of seated, bending, stretching, and standing positions together. The goal is to feel connected, move in unison, and trust that the other is right where you expect them to be.
18. Go stand up paddle boarding
Okay, it's not surfing, or a balance beam, or canoeing, but an amalgam of those three things! Paddle boarding has been around since the 18th century, and is a great way to improve your focus.
If you've done it before, you're probably not going to have any issues, but as a newbie, take note: wear a board leash; make sure the paddle is facing the right way; as when driving a car, look towards the horizon for stability; stay in calmer seas as you build confidence, and watch the shifting winds and waves; when you fall off, fall away from the board so you don't get injured; be mindful of others on the ocean; finally, use the center of your body (the core) to paddle, rather than just your arms, which will tire quickly.
19. Kayaking
It may be against your principles to consider doing any date activity with the word "yak" in it, but just listen. The great thing about kayaking (giggle) is that you can have separate kayaks, or tandem kayaks. Depending on how Alpha your personalities are, you might consider tandem, in order to get into sync while on your date. Working together, one will lead and the other will follow.
Then you can switch it up! See the world from a new perspective. Find a hidden cove. Spot some scary, and not so scary, wildlife. But always wear your safety vest!
20. Snorkeling
Unlike scuba diving, snorkeling doesn't take training, isn't expensive, and doesn't require a certificate. You can climb into the water from any beach, without breaking a sweat, or the bank. Depending on the area, you may be able to sprinkle some frozen peas into the water to attract an array of colorful fish.
Be as still and silent as you can, and the fish will come. Just remember to be aware of your surroundings, potentially dangerous creatures, or drifting too far from shore. No snuggling while you're snorkeling.
21. Go hiking at a spot with beach views
If you love hiking, and you love the beach, why not combine the two interests? Find a beach with hiking trails nearby. You'll be able to get some exercise, some fresh ocean air, and some quality time (roughing it) together.
Many a memory has been made on short trips just like that. Grab your (Earth friendly) water bottle, your most comfortable hiking boots, some bug spray, and a snack for the (hillside) road. Then go!
22. Have a packed lunch or BBQ at the beach
There's something about eating on the sand that draws up the inner "cave person" within us. It brings us closer to the natural world, before processed and prepackaged everything. You can easily slap some sandwiches together, and toss an apple in for good measure.
Or you can go all out and bring items to BBQ, from burgers, to steak. Whatever you choose, remember to think about, and honor, this: two hundred thousand years ago, another human was doing the same thing, right where you are. (mind exploding emoji here)
23. Watch a sunrise or sunset
When was the last time you stopped to watch a sunrise or sunset? Been a while? You're not alone, but consider it for your next date. The sun is something we take for granted, but when we put our focus on it, even for a few minutes, we're reminded of the vastness of our universe, and it can put a positive spin on our emotions.
More so, you might be tempted to reach for your phone to "capture" the beauty, but don't. Keep your eyes and mind on the event, and create the memory inside your mind. This will be more beneficial to you both, as it's something you shared, that is special between just you.
24. Go for a walk along the beach
Whether or not you typically exercise, walking on the beach is less exercise, than vertical yoga.
You have a plethora of amazing reasons to feel good in this setting: the sound of the ocean; the water lapping at your feet; the change in resistance from wet sand to dry; the sun in front of, or behind you; and the ocean breeze tickling your faces. Good company, and a good environment, make for an excellent date.
25. Go beach camping
While not all beaches allow camping, there should be plenty of beaches within driving distance that do, and you can find them with a simple online search. Decide how long you'll stay, what you'll need, and make sure everything is set at home (your mail is stopped, plants or animals cared for).
Camping is relatively the same regardless of where you're doing it, but know that there are some differences when beach camping. Namely, there may be more people coming and going, at all times of the day and night. Be prepared for anything, but plan on having fun!
26. Wave jump in the ocean
Pop Quiz, hotshot: You and your date are just going into the ocean, when a large wave begins rushing towards you. What do you do!? What… do… you… do…? Answer: Why, you lock arms, and jump, of course!
Wave jumping is an age-old pastime, known for such excitement as, getting knocked off your feet, and swirled into disorientation. The best part is that, depending on your body types, one of you may float, while the other, sinks. Fun! Have a safe word ready, as wave jumping maybe amusing, but it can exhaust even the most athletic person, in no time.
27. Have a movie night at the beach – a totally cute beach date idea
Why not watch a beach or ocean themed film, while at the beach? There are a thousand films that are set on the beach and ocean, so decide which era you want to watch. Maybe a nice black and white film is just the ticket? Or a moody seventies film, with rich Kodachrome colors?
How about a nice documentary about summers that never end? Sky's the limit on this one. Either take a laptop to the sand and set up a mini-theater there, or bring some sort of projection equipment, and let others join in. You could even watch while sitting in the warm car, just facing the beachfront!
28. Play beach volleyball
Whether you're athletic or not, beach volleyball is just plain merriment. Even the misses lead to laughter and cheering (well, from the other team). It's a great way for you and your date to learn to work together as a team, and if you win, you'll have the satisfaction of knowing that you two pulled it off, and have bragging rights.
Just make sure that, no matter if you win or lose, you make and keep a good connection of communication between you.
29. Visit a beach café
It's one thing to walk on the pier, wharf, or nearby beach town to have brunch at a cafe. But having a meal at a beach cafe, which is right on the sand, is an adventure in and of itself!
You will likely have a seating choice of deck, or feet in the sand seating. Like a live television, set on the Nature Channel, you can watch wildlife of all forms (including humans), enjoy the waves coming up to shore, and see the birds dive from sky to ocean, looking for their lunch.
If you're near one of the exciting piers, you can see the neon glow of lights, and hear the playful music riding on the breeze. It's the perfect place to relax, and observe life.
30. Go for a ride along a path near the beach
As towns were created near beaches, it became apparent to some that there are folks who would love nothing more than to hang out and exercise near those beaches.
Rather than driving the highways at high speeds and trying to catch a glimpse of the locale, riding a bike, virtually along the shores, is a wonderful experience, sprinkled with people, animals, and adventure. Some of the paths are smooth concrete, while others are loose dirt, but all of them have something miraculous to offer as you pedal the distance
***
See more Fun Date Ideas: