If you are looking for the best beachside dining in Fort Myers Beach, Florida, look no further than Pink Shell Beach Resort & Marina. For travelers and locals alike, it is the best place in Fort Myers Beach for Dinner on the Beach!
Pink Shell Beach Resort & Marina caters very well for families. However, we think it is also a fabulous place for couples to experience a bit of rest, relaxation and romance. It's just a hop skip and a jump away from the fabulous Sanibel Island beaches.
Best Beachside Dining in Fort Myers Beach, Florida
What we love about Pink Shell Beach Resort & Marina is all the different dining options that are available.
Poolside Bar and Grill – Bongo's Bar & Grill
Bongo's Bar & Grill is the perfect beachside bar and grill. It is located right on the pool deck featuring expansive views of the Gulf of Mexico and unbelievable sunsets at night.
What we love most about Bongo's is that poolside service means you don't even have to leave your chair!
The possible food options include poolside favourites like burgers, salads and wraps and an award-winning Beef Tenderloin and Shrimp recipe! Yummo!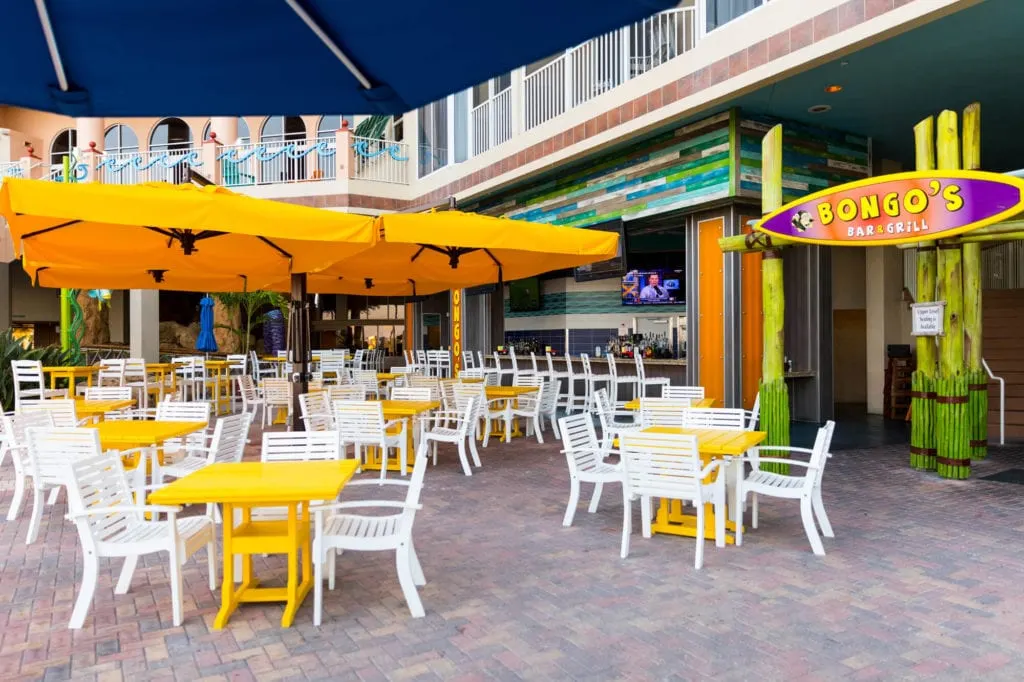 Guest favourites include the huge onion rings served poolside with a very tasty range of dipping sauces.
Bongo's also serves up the most delicious frozen cocktails, beer and wine for adults to enjoy. And, if you are bringing the kiddos along they also have great kid-friendly options available such as juice, soda or massive milk shakes for them to feast on.
Jack's Breakfast
Another of our favourite elements of Pink Shell Beach Resort & Marina is the buffet breakfast for two people which is included daily so you don't have to worry about where you'll eat or finding breakfast elsewhere.
And, this isn't any ordinary breakfast – Jack's breakfast directly overlooks the beach! So, you can bask in magnificent beach views while you entertain your taste buds at Jack's. It's just one reason people visiting the Gulf Coast stop by before visiting Bonita Springs.
We also greatly appreciate that the breakfast at Jack's is a full & plentiful buffet breakfast including made-to-order omelets, waffles with an assortment of toppings, home-fried potatoes, fresh-cut fruit, steel-cut oatmeal, a variety of cold cereals and baked goods.
Many people choose to get married at Pink Shell Beach Resort & Marina as the restaurant caters extremely well for large groups (both weddings and corporate events alike).
It is also extremely convenient that after the wedding, guests can stay the night and enjoy breakfast together the next day.
At my own parent's wedding (who got married when I was 10 years old) all guests stayed at the resort where they were married and enjoyed a buffet breakfast together the next morning, which was a very memorable experience.
Dinner on the Beach
Saving the best for last, Pink Shell Beach Resort & Marina offers the most romantic dining option available in Fort Myers Beach which is absolutely ideal for couples – Dinner on the Beach.
If you are looking for a romantic date night idea (whether you are a Fort Myers Beach local or tourist) it doesn't get much more romantic than beach dining – you'll have white linen service with the sand between your toes, four courses prepared by an award-winning chef and choice of wine from their beachside vintner's list.
Now, how romantic does that sound?
It would also be a great proposal idea in Fort Myers Beach. We got engaged in New York on a little row boat in Central Park however, I would have also been very happy with a beachside dining proposal!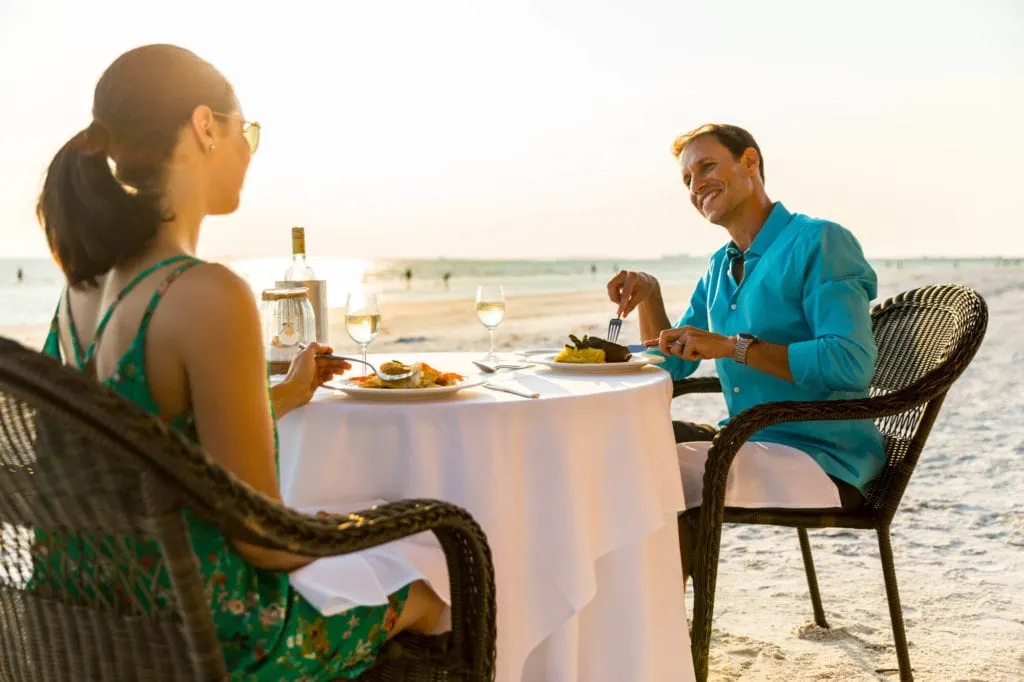 Beachside Dining Menu
The first choice includes a seafood delight brought fresh from the ocean to your plate including a choice of Coastal Shrimp and Crab Cake Chilled Jumbo Florida Pink Shrimp, Cured Meats and Cheeses.
The second course includes a choice of:
Green Salad with Balsamic Stilton Blue Cheese Vinaigrette;
Whole Leaf Caesar Salad with tangy Caesar Dressing; and
House made Crostini Tomato Mozzarella Salad Fresh Mozzarella and local Vine Ripe Tomato, Aged Balsamic and Basil infused Olive Oil.
A very difficult decision between 3 delicious salads indeed!
And, the main courses for Dining on the Beach includes a choice of: Filet Mignon Demi-Glace, house whipped Potato and grilled vegetable; Grouper with Colossal Shrimp Brown Butter Sauce, house blend Rice and Asparagus; and Herb Crusted French Cut Breast of Chicken Lemongrass infused Volute, house whipped Potato and Haricot Verts.
A perfect array of main dished to suit even the pickiest of pallets.
Personally, there is nothing better than a delicious steak cooked medium rare. Which option takes your fancy?
And, if you can fit another bite in at after dinner, desert offers an assorted array of mini delights.
All in all, Pink Shell Beach Resort & Marina offers the best beachside dining in Fort Myers, Florida.
Did this article help you find a dining option in Fort Myers Florida? If you have any questions or comments about the dining options at Pink Shell Beach Resort & Marina we would love to hear from you, leave a comment below.
Pin our Ultimate Guide to Pinterest (so you can find it again later!)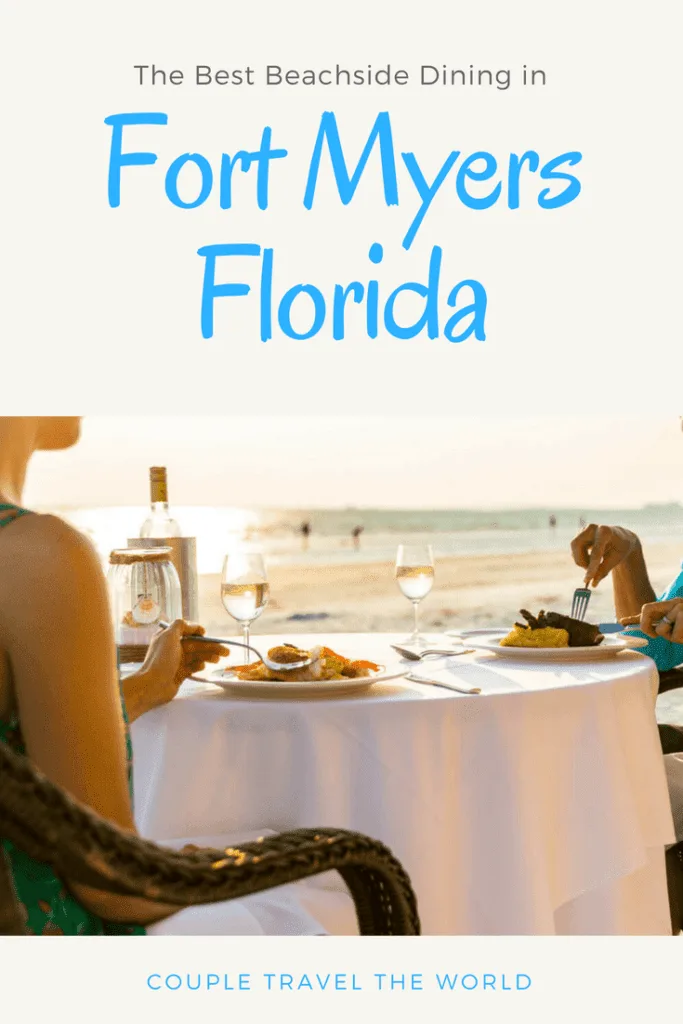 This post was sponsored and made possible by Pink Shell Beach Resort & Marina. However, that does not in any way affect our views & opinions.