If you are looking for a high quality, clean & sanitary dentist in Bangkok, Thailand we would highly recommend paying a visit to Bangkok Smile – we were beyond impressed by the quality of dental services we found at this clinic.
We are coffee and red wine lovers so we felt like our teeth needed a little 'pick me up'. As we were pressed for time while in Bangkok, we decided to try the Zoom Take Home Whitening Treatment.
Due to the amazing prices, we felt that Bangkok was the perfect place to achieve our dream pearly white smile.
Watch our before & after videos of our experience at Bangkok Smile and keep reading for a full account of our experience!
Our before video reviewing Bangkok Smile:
Our after video showing our result!!
Best Dentist Bangkok
We searched the internet and did a lot of research before arriving in Bangkok about what dentist to visit.
As a foreigner, we were a little apprehensive to visit a dentist in a foreign country – what would the service be like, what would the facilities be like & would the practice be clean & sanitary? For this very reason, we wanted to be sure that the dentist we visited was one of the best dental clinics in Bangkok to ensure that our teeth were in very good hands.
During our research, we stumbled across Bangkok Smile, a well reviewed & well respected dental clinic in Bangkok. After reading the positive reviews of the clinic, we knew it was the right dentist for us to visit.
In terms of adequate sanitation, we needn't have worried at all as Bangkok Smile exceeded our expectations on every front. The facilities were even better than what we have seen previously at home and the practice was extremely, clean, modern & sanitary.
We also loved that Bangkok Smile has incredible staff that cannot do enough to help you and answer any of your questions or concerns about the practice and procedures.
Teeth whitening treatment is a relatively non-invasive procedure. However, if we were returning to Bangkok and needed major dental work done, we would not hesitate to get it done at Bangkok Smile.
About the Dental Practice
The practice is located in the Nana district of Bangkok. It is located in a medical building known as the 'MedAsia Clinic' with lots of other medical practices including a natural health clinic & men's health clinic.
We stayed at Pinnacle Bangkok which was a perfect choice for visiting Bangkok Smile as it was located only a 20 minute Uber ride away.
As indicated above, when we first entered the dentistry we were extremely impressed by the extremely modern & fresh dental practice.
We also loved that Bangkok Smile provided a International Patient Guarantee Program. This means, to add an extra "peace of mind" to clients, Bangkok Smile guarantees their work is of such a high quality that if something goes wrong, their clients can access any Malo Clinic (located in 5 continents, 18 countries, and 50 cities around the world) to rectify the problem or fix anything the client isn't happy with free of charge.
Our Treatment – Zoom Take Home Whitening Treatments
Initially, we were interested in getting the Zoom In Chair Whitening Treatment. However, as we were only in Bangkok for 1 full day (and the In Chair Whitening Treatment would have taken up a good part of the day) we instead opted for the take home whitening treatment.
What is the difference in these treatments and which is right for you?
The Zoom In Chair Whitening Treatment is completed in chair at the dentist and provides results instantly.
If you are looking for an instant white result, this is a perfect treatment for you. However, you will need to dedicate at least half a day to getting this treatment done as you spend two hours in chair receiving the treatment. It is also highly advisable to have a dental clean complimented prior to receiving the treatment.
The Zoom Take Home Whitening Treatment is an alternative treatment if you are on a bit of a time crunch in Bangkok and don't want to spend hours in a dental office.
This treatment can be completed in the comfort of your own home. However, it is a gradual treatment which progresses in colour over time. You should be able to see the full effect of this treatment after about a week of wearing retainers with the whitening treatment 1-2 hours a day.
With this treatment, is is necessary to visit the dental office for 30 minutes to 1 hour to get a mould of your teeth made to use with the whitening treatment. It is also highly advisable to have a dental clean complimented prior to receiving the treatment.
What is fabulous about getting this treatment done in Bangkok is that it is far less than what you would pay at home. The price of a Zoom Treatment is 9,000 Baht per person ($276 USD). This is approximately half of what you would expect to pay in most developed countries around the world.
Note: Bangkok Smile occasionally offers special rates on their website so if you are looking to visit the dentist as a couple, keep an eye out for some amazing deals!
Our experience with Zoom Take Home Whitening
The Zoom Take Home Whitening comes in a small, easy to pack container. It is very lightweight and would be very conveniently packed in a carry on bag to take home with you if you are low on baggage weight.
Inside the box is three syringes of the teeth whitening product. You place a small amount of the teeth whitening product into your retainers to whiten your teeth. You leave the treatment on for 1-2 hours a day or night.
In the past, at home teeth whitening took 5-6 hours a day. However, the new cutting edge treatment offered by Zoom means that your teeth can be whitened in just 1-2 hours! 5-6 hours a day would be super grueling but 1-2 hours a day is super easy so there really is no excuses!
We didn't feel like our teeth were in terrible condition prior to completing the treatment. However, after seeing a close up image of our teeth before we started the treatment, we were both shocked as to how yellow they looked! I guess we did need this treatment more than we thought!
Test your own teeth by taking a close up image of your teeth against a white wall to see if you need the treatment!
After only 3-4 days of using the Zoom Whitening take home treatment we noticed a huge difference in the colour of our teeth. No longer were they a tint of yellow but we had a full set of pearly whites to enjoy!
For such little effort, we would highly recommend anyone wanting a whiter smile to try the Zoom Whitening.
We read on the internet that you can experience a little teeth sensitivity with Zoom. However, we both hardly noticed any sensitivity using the take home whitening.
For absolute paper white teeth, the dentist recommends firstly doing the in chair treatment followed by an at home treatment. However, if you are happy with a more subtle whitening treatment we would recommend just doing one treatment or the other.
Now we have tried the take home treatment and are totally in love with our new smile, we would love to try an in chair treatment sometime in the future to maintain or further brighten our amazing white smile.
Also, as you only need to maintain the product every few years, it is a great excuse to take another holiday to Bangkok! Woohoo!
Other Treatments offered at the practice
Bangkok Smile offers a full range of dental services including but not limited to veneers and dental implants.
Veneers and dental implants are two of the most popular dental services foreigners receive at the clinic. Dental implants cost THB 300,000 (9,000 USD) at Bangkok Smile
While in the past we would be apprehensive to receive an invasive treatment at a foreign dentist, after seeing the high quality and professional nature of this practice, we would feel 100% confident to have an extensive procedure done at Bangkok Smile.
To receive a more complicated, lengthy dental procedure, it is necessary to spend around a week in Bangkok.
As stated above, what we absolutely loved about this clinic is that they are partnered with Malo Clinic which is worldwide. This means that Bangkok Smile guarantees that after your treatment, if anything goes wrong or you are unhappy with your service, you can visit any of the Malo Clinics worldwide and receive complimentary services.
In our mind, this takes away a lot of apprehension about using a foreign dentist. You are guaranteed that if anything doesn't go to plan, you can see a local dentist in your country complimentary.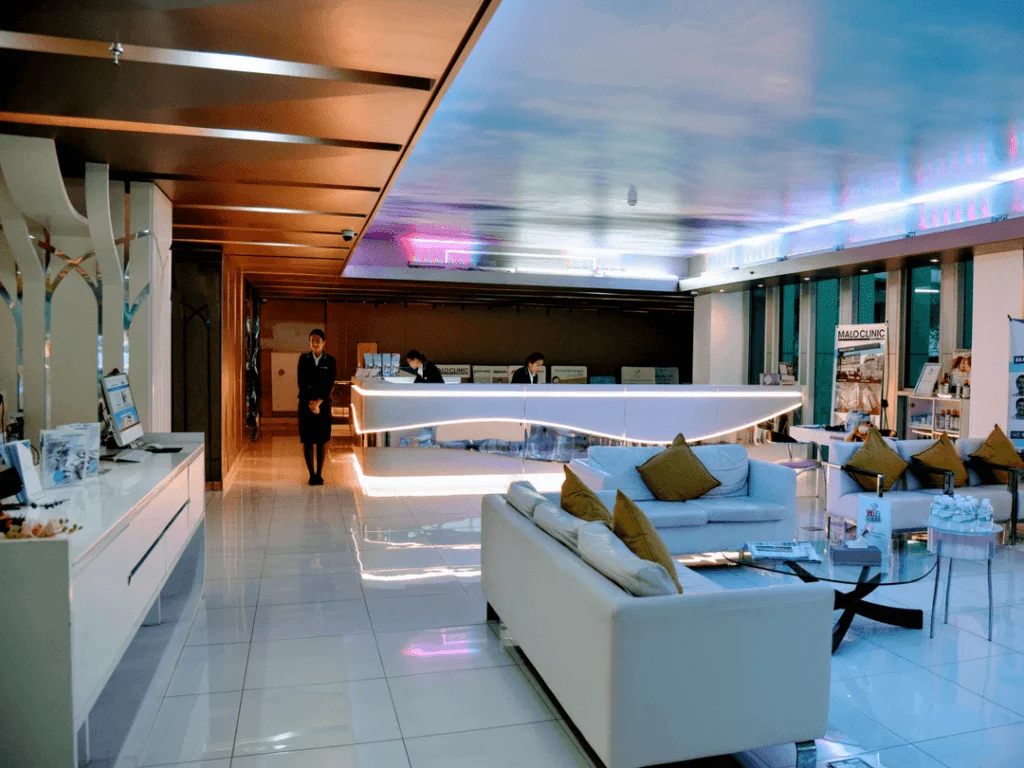 The Staff at Bangkok Smile
The staff at Bangkok Smile were extremely nice and helpful. They answered any questions we had about the procedure eloquently in perfect english. This helped relieve any concerns we had about getting dental work done in a foreign clinic. Going to the dentist anywhere in the world can be a daunting experience so we are very happy to report that the staff at Bangkok Smile had absolute perfect bedside manner.
The MedAsia Building
As mentioned previously, Bangkok Dental is part of the MedAsia treatment centre. As well as Bangkok Smile, in the centre there are a few other medical clinics including NICHE Natural Heath and Eternity Clinic.
Customers of Bangkok Smile often take advantage of the other medical services in the building and get more than one treatment while they are in Bangkok.
We were permitted to take a mini tour of NICHE Natural Heath and Eternity Clinic to see what kind of services they offer.
NICHE Natural Heath is the first Natural Health Clinic opened in Thailand (just one year ago!) It provides clients with all kinds of natural heath remedies including vitamin drips, pilates classes, a health cafe, a sauna (where you can lose 600 calories in just 30 minutes!!) and special natural treatments for cancer patients.
The clinic was brand new & very impressive indeed. The staff informed us that customers that visit Bangkok Smile often also visit the NICHE Natural Heath clinic for a total body revitalisation while in Bangkok.
We also briefly visited Eternity Clinic while we were in the MedAsia building which is a clinic dedicated to men's health. If you have any men's health issues, you can visit the Eternity Clinic while in Bangkok.
What to do in Bangkok while getting your treatment?
We love that you can come to Bangkok to get dental work done but you can also enjoy yourself in this amazing city.
If you are getting the take home whitening treatment, after you have had your teeth moulds created, you can go exploring the city before you pick up your teeth moulds at the end of the day.
Bangkok Smile is located in the bustling area of Nana. Here you can find amazing shopping and nightlife. This area is also perfect for grabbing a beer as some of the most incredible bars are located here.
Some of our favourite attractions & their respective distances by taxi from Bangkok Smile include:
The Temple of the Reclining Buddha – 40 minutes;
Silom market (got my nails done here for 300 Baht!) – 20 minutes; and
The Royal Palace – 40 minutes.
Take a Bangkok Couples Tour
Contact Information
We had such an amazing experience with Bangkok Smile while we were in Bangkok. We would recommend it to any of our family or friends wanting to get dental work done while in Bangkok.
The contact details of Bangkok Smile are as follows:
Email: [email protected]
Phone: +662 105 4288
Website: http://www.bangkoksmiledental.com/
Bangkok Smile has 4 clinics in Bangkok and 4 more clinics in the tropical paradise of Phuket (getaway to Phi Phi Island).
If you have any questions about this clinic or getting dental work done in Thailand, we would be happy to help – leave us a comment below!
Save this to Pinterest (so you can find it again later)!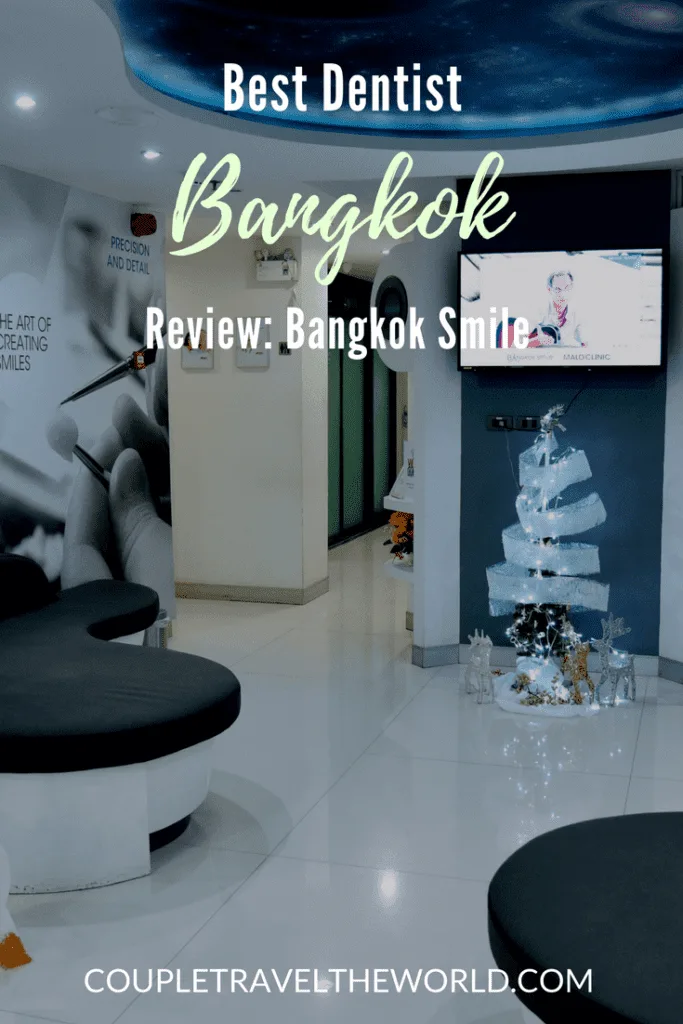 Disclaimer – We were guests at this clinic. However, it does not in any way influence our views or opinions of the experience. Our review is 100% honest and a true reflection of our experience.