Ahh, Key Largo beaches, you really can't go past their cool and relaxed vibe. You may not find endless white sand beaches in Key Largo but the beaches are very special in their own right and are home to an abundance of wildlife!
Key Largo is the nearest point in the Florida Keys to Miami and therefore a fabulous weekend trip from Miami if you only have a small amount of time to dedicate to the area.
We visited Key Largo as part of a longer Miami to Key West road trip.
Bring with you: Lonely Planet Miami and the Keys Guide
Key Largo Beaches
The Florida Keys is known for its absolutely incredible beaches and Key Largo is no exception. Here is a complete list of the best beaches in Key Largo.
See here for a complete list of awesome things to do in Key Largo.
Cannon Beach Key Largo
Cannon Beach is a stunning beach which is located within the John Pennekamp Coral Reef State Park.
The John Pennekamp Coral Reef State Park is almost like a mini beach theme park. It has 2 beautiful beaches within (Cannon Beach & Far Beach). The Park also has many nature trails and great camping. On top of all this, you can take great snorkel trips from the Pennekamp Coral Reef State Park.
Arguably, the more popular beach within this complex is the calm, Cannon Beach.
What we loved about this beach is its uniqueness. Lining the beach are 17th century cannons. The cannons are rumoured to have come from a shipwreck in the area.
The beach is ideal for swimming with kids (no waves) plus there is great opportunities for snorkeling at the beach. The fish were plentiful. They were not however, the most beautiful fish we have seen in our travels. Snorkeling was very fun nonetheless!
There are signs at the beach warning swimmers that Alligators can be preset in the water. We didn't see any and no-one appeared particularly worried. However, the water was a little murky and what I will call 'alligator friendly'.
It is important to remain alligator conscious at all time in Florida in the interest of safety.
If you feel like an adventure, you can snorkle out and find an old Spanish shipwreck beneath the surface.
The Florida Keys are notoriously more expensive than the rest of Florida. We would recommend purchasing a snorkel in advance rather than in Key Largo. There are no Walmarts available at Key Largo, only a fairly expensive Publix.
Cannon Beach is a public beach but there is a State Park fee to enter. It costs $9 USD for 2 people to enter the park. If you choose to camp at the John Pennekamp Coral Reef State Park ($43 USD a night including tax) you are exempt from paying this fee.
There are shower facilities, tables and BBQs available for use in the John Pennekamp Coral Reef State Park.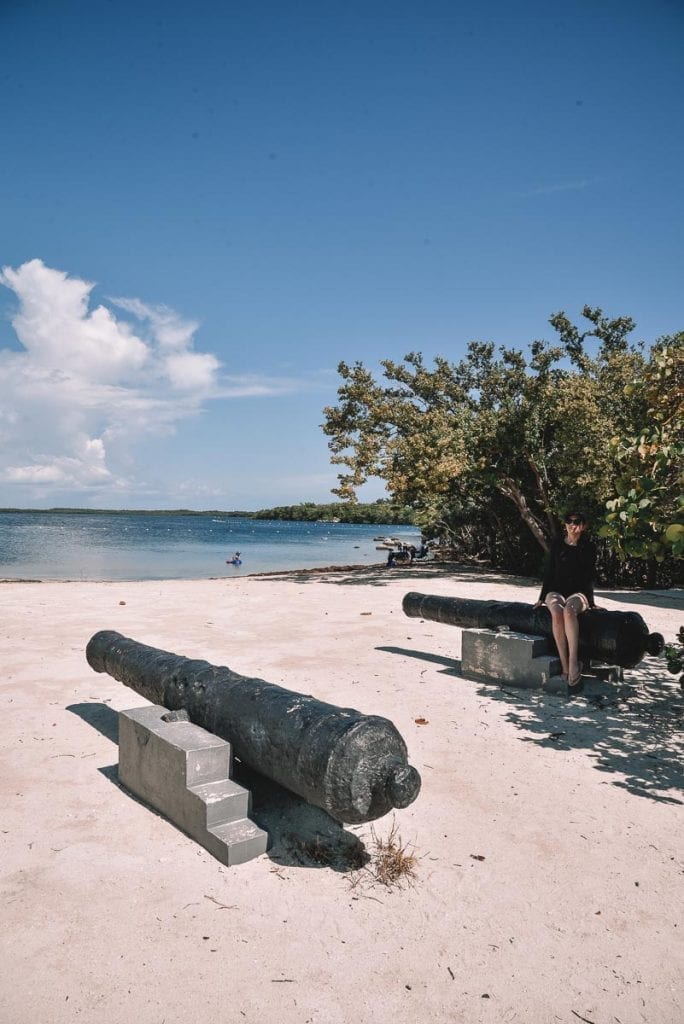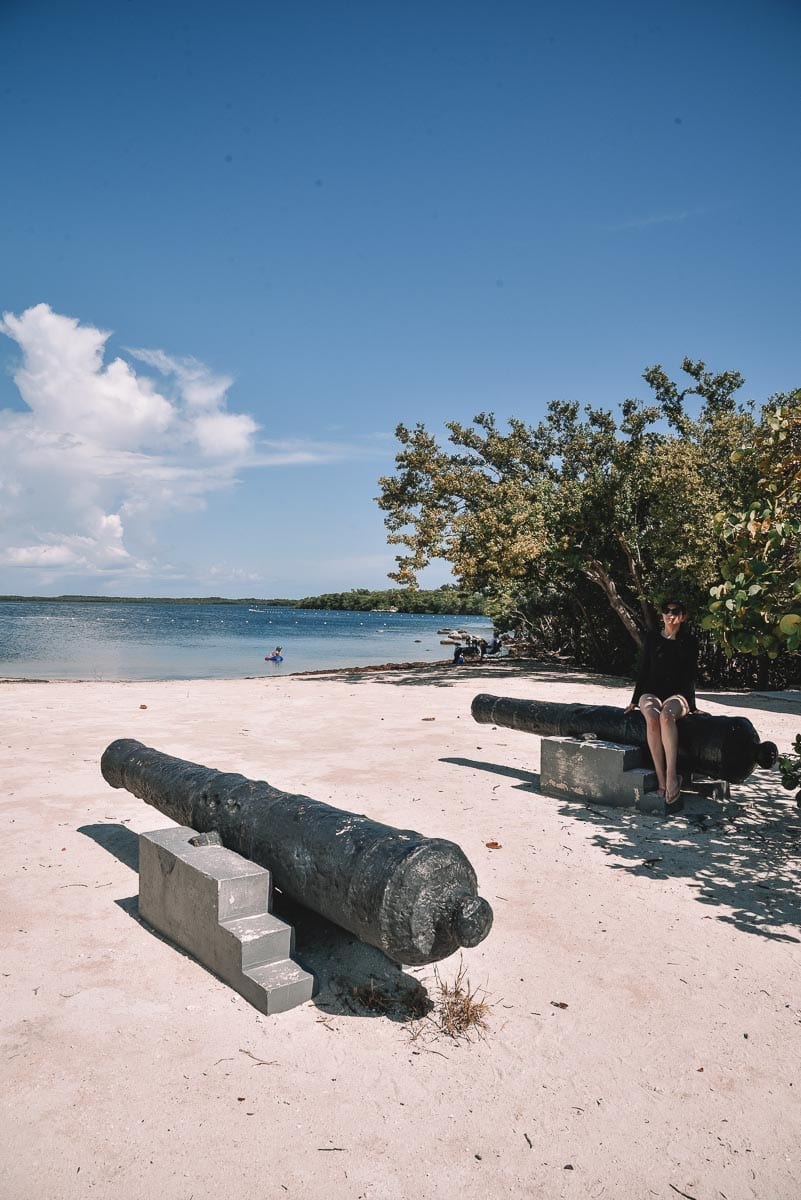 Far Beach Key Largo
This is the second beach located within the John Pennekamp Coral Reef State Park in Key Largo.
To access the beach, like Cannon Beach, you are required to pay a $9 USD for 2 people State Park fee. Again, you are exempt from paying this fee if you are camping in the State Park at a cost of $43 USD a night including tax.
Far Beach was our favourite beach in Key Largo.
When we visited, it was the less popular beach of the two located in the John Pennekamp Coral Reef State Park.
There was also great snorkeling opportunities located in on one end of the beach. On the other end, was an ideal place to relax with on a beach chair (BYO).
There are lots of Palm Trees on Palm Beach meaning it provides lots of shade (which we love!!!)
Nearby Far Beach there is a nice little walking track where you can see some local wildlife in the area including birds and lizards galore!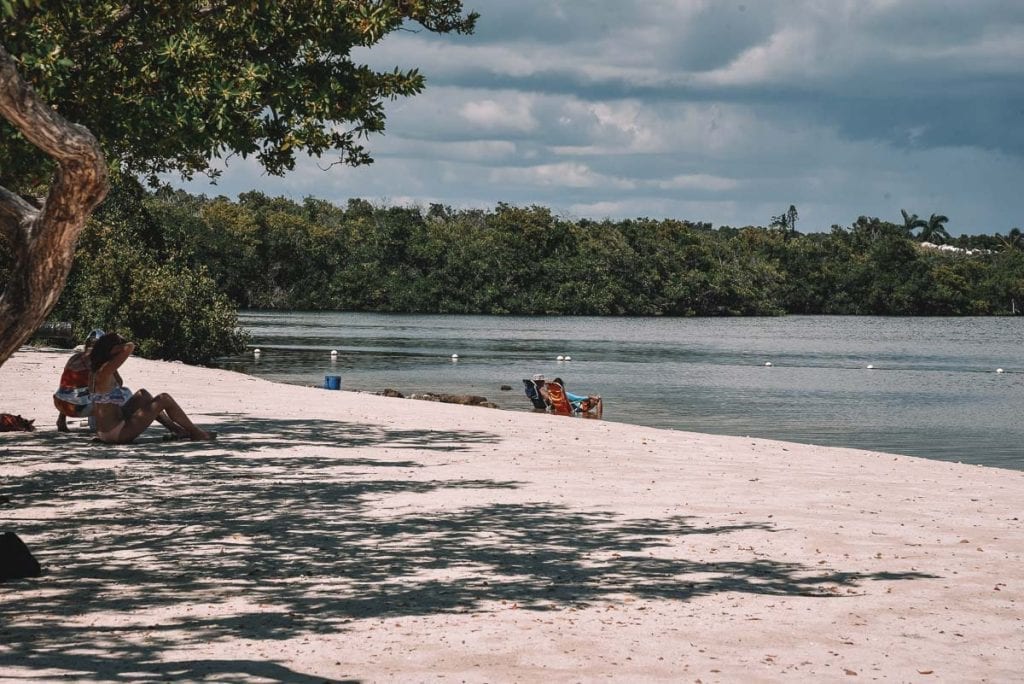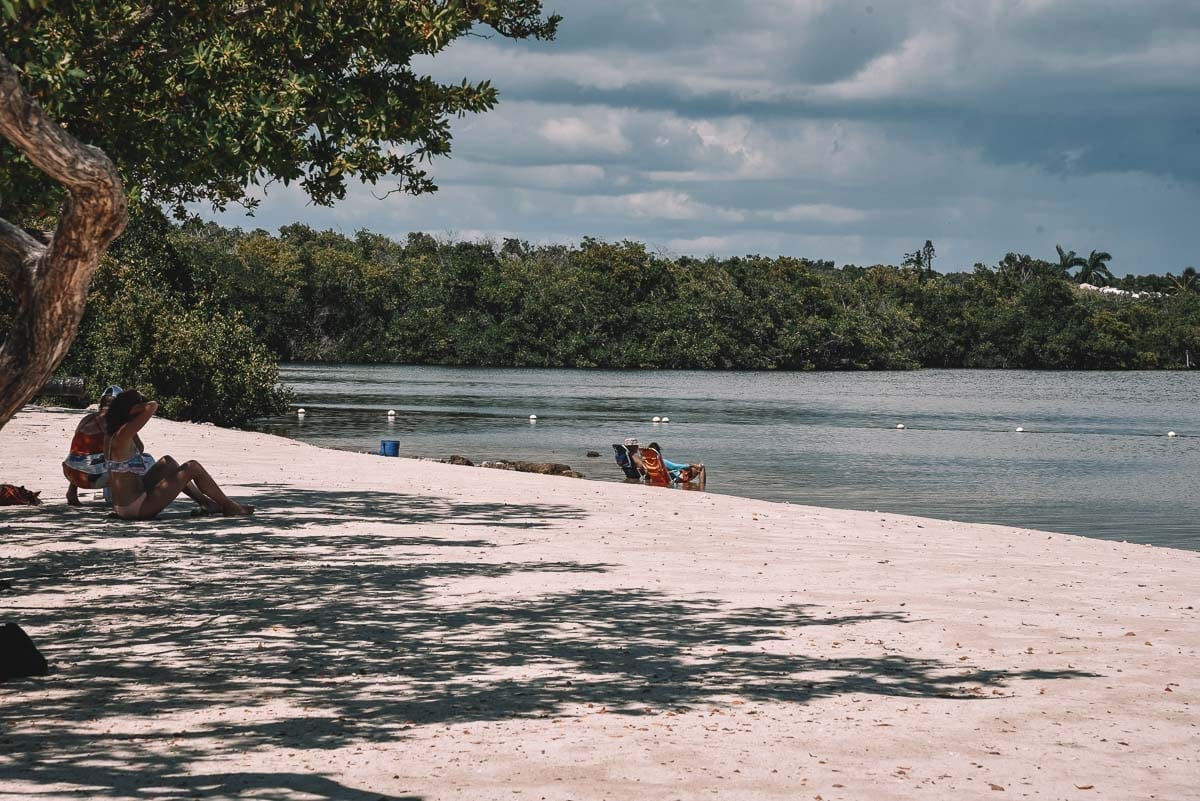 Anne Beach Key Largo
Anne Beach is known for being one of the most beautiful beaches in Key Largo. It also has very shallow water so it is perfect for weak swimmers or kids.
At the beach you can swim or have a picnic. There is also a stunning boardwalk to enjoy for a late afternoon stroll.
Why the name 'Anne' Beach? There is a nice story behind this one, it was named to honour eco-warrior Anne Eaton. One of the few times I have ever seen a eco-warrior formally recognised for their hard work.
This beach is located a little further down the keys towards Key West. It is around a 30-40 minute car ride from the John Pennekamp Coral Reef State Park. Arguably, the beach is outside Key Largo but we will include it anyway!
Harry Harris Park Tavernier
We adored the Harry Harris Park in Tavernier as it has such a calm and relaxed vibe. We were literally one of the few people on the 'beach' when we were there.
I say 'Beach' in inverted commas as it was not really a traditional beach as such but more a park overlooking the water. In saying that, we did see a person go snorkeling while we were there.
The park was absolutely ideal for having a BBQ or a picnic as there are many absolutely adorable and shaded picnic tables with BBQs all over the park. It is not necessary to fight as there are plenty of tables for everyone to enjoy.
The Park is also a great place for families with kids as there is at least 2 playgrounds that we saw in the park.
If you have older kids looking for more excitement there is a skate park and a swimming pool a short car ride away at Founders Park.
Taking about the facilities, I was impressed to find a very clean toilet block at the park (No lurking homeless – winning!)
The best park? The park is entirely free to access with no parking fee so come one come all!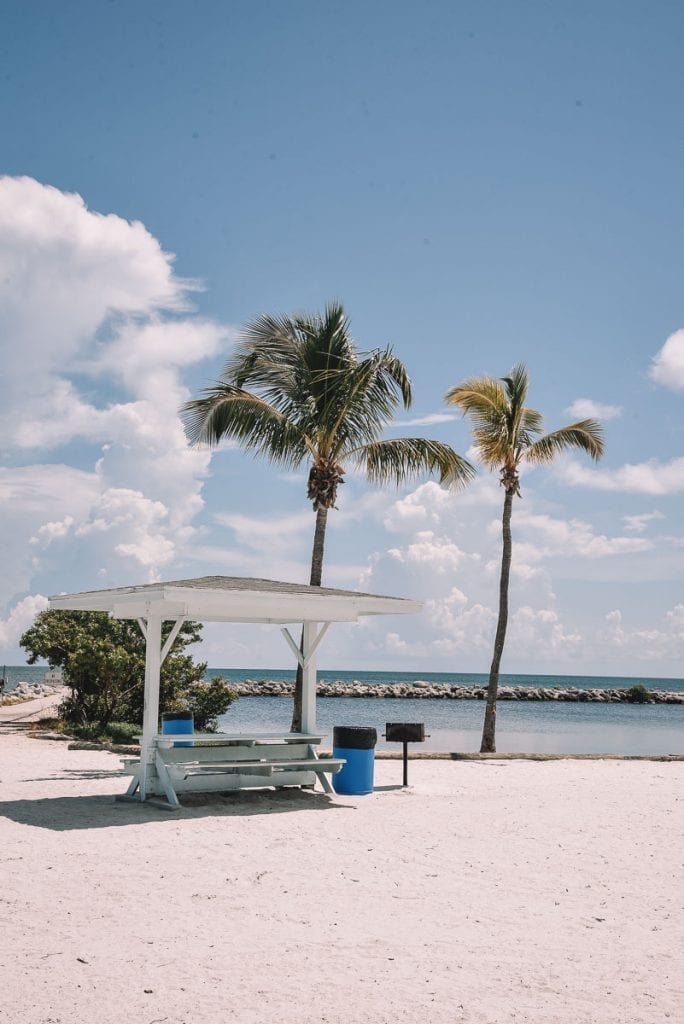 But, I want MORE beaches!
The beaches listed above are the only public beaches that we are aware of in the Key Largo area.
There are also some private beaches that you can enjoy in the area. These are mostly attached to resorts in the area.
What else to do in Key Largo?
Aside from beach days, there are some other pretty cool things to do in Key Largo. These include:
A snorkeling tour to see some of the clearest water in the world at Grecian Rocks (Tour can be purchased at the John Pennekamp Coral Reef State Park)
Swim with wild dolphins at Dolphins Plus Bayside
Eat the local specialty in the area Conch at one of the many seafood restaurants in the area.
Where to stay in Key Largo?
If you love camping the John Pennekamp Coral Reef State Park is a fabulous place to stay and give you free entry into the State Park.
If you want a little more comfort, we would recommend at this out of the world hotel!
If you want something a little more, let's say unique? You definitely have to spend a night at Jules Undersea Lodge This is Florida's only underwater hotel. Yes, you will be staying completely underwater. Note, you need to dive to access the hotel.
Save Best beaches in Key Largo to Pinterest so you can find it again later!