For even the most avid traveler, the transportation between destinations can become a drag.
Fortunately, the Bratislava to Prague train has all the features and amenities to make the journey fly by (and almost have you wishing for more time on the train).
In this guide we'll show you how to book Bratislava to Prague train tickets with a Eurail Pass, how to reserve a seat and where to sit for the best views.
Bratislava to Prague Train
There are 9 direct trains from Bratislava to Prague daily. The fastest connection takes 3 hours and 55 minutes.
The first train departs Bratislava Hlavna Stanica (central station) at 5:10am. The last train departs at 20:10 in the evening.
It is also possible to catch the Bratislava – Prague train via Breclav (Czech Republic).
However, we recommend the direct EuroCity train which is the quickest option at less than 4 hours.
This EuroCity service originates in Budapest. Check out our blog post about how to travel from Budapest to Bratislava for lots of tips about where to sit to get the best views of the Danube and Visegrad Mountains on the journey.
Bratislava to Prague Train Journey
On the journey you can get an idea about the diverseness of the agricultural industries in Slovakia and the Czech Republic.
In Slovakia we passed one or two vineyards. Slovakia has a respected wine industry, though most of the grapes are grown at the other end of the country in the east.
The Czech Republic is one of the biggest producers of Rapeseed in Europe and the pretty yellow fields make for pleasant viewing.
Keep an eye out for the colourful "functionalist" buildings as you pass through Brno.
Train Experience
We travelled on the fast EuroCity service with a direct connection between Bratislava and Prague.
In First Class the seats are in a 2 – 1 configuration across the aisle, meaning everyone has a spacious seat with plenty of leg room too.
There are 8 sets of seats which face each other, separated by a table. Half of these are 4-seaters and the other half are 2-seaters (i.e. a single seat separated by a table).
In First Class there is table service for your food and beverages. There is also a spacious dining car where you can sit for your meal.
Dining Car
On our our train to Bratislava we noticed lots of seat reservations for this next leg to Prague.
However, we didn't heed our own advice about reserving a seat in advance. Although we found a seat after we boarded in Bratislava, it wasn't to last as more passengers boarded at Breclav and we needed to move along.
Our eviction worked out better than we could have hoped. There were no free seats left in 1st class so we moved into the dining car in the next carriage which was largely unoccupied where we had a 4 seater table to ourselves.
We knew from our train ride to Bratislava that the menu was appealing and very reasonably priced. Offerings include pork cheeks in black beer, creamy mashed potatoes, red onion & honey chutney (€7) or smoked duck breast with cabbage and carrot salad and horseradish polenta (€8.7).
Read our previous post about the EuroCity train from Budapest to Bratislava for a more detailed run down of the menu.
Once again, we hadn't left room to try the menu as we had been too well fed at DoubleTree by Hilton Bratislava, however we found room for some local Czech beer.
The dining tables have a power plug and fantastic large windows to watch the countryside pass by. Payment can be made by credit card, euros or Czech currency.
We highly recommend you enjoy at least part of your journey in the dining car. It helped make our journey pass far quicker than any other train ride.
Train Tips & Features
We travelled with a Eurail pass – a seat reservation is not necessary – but recommended on this popular route.
On the train the conductor does the rounds checking tickets. We showed him our Eurail pass completed with this journey which he clipped.
You can tell which seats are reserved as they are marked with a yellow tag next to the seat number as show in the image.
On our train almost every seat was reserved but some seats were still free as the train departed the station.
Features:
A/C
wifi (worked from time to time)
storage room for bags (large overhead space for suitcases – including large full-size ones)
dining cart and/or table service (in first class)
Power plugs for each seat including the dining car tables
Free bottles of water (in first class)
Reserving Seats with Eurail
We travelled from Bratislava to Prague using a Eurail Global Pass. If you've seen some of our other Eurail posts, you'll know we love the flexibility of being able to jump on the train without a reservation so we don't need to limit our sightseeing in a city if we need more time.
That said, we do recommend making a seat reservation for the Bratislava – Prague train as we discovered it is incredibly popular.
If you do wish to reserve a seat, book on the Eurail website at least 8 business days prior to departure to allow time to post tickets to you. You may also make a seat reservation in person at the train station.
Find out more information about Eurail and book a pass on their website https://www.interrail.eu/en/interrail-passes/global-pass.
What to do & Where to Stay in Prague
Many of the sights in Prague can be seen if you slowly zig-zag your way through the streets from the Powder Tower (a restored Gothic gate destroyed in the battle of Prague) to Prague Castle in Mala Strana.
The route includes some famous things to do like the Astronomical Clock, Municipal Library and more.
Read more: Prague's Hidden Gems featuring Absinthe bars, John Lennon's memorial, and the sex machine museum
Despite what Google Maps will tell you – the walk from the Powder Tower to Prague castle – two of the most iconic sights in Prague – is a solid 30 to 40 minute walk as you'll be slowed down by the crowds on the Charles Bridge, cobble-stoned streets and delicious Trdelnik pastries (rolled donut-like pastries covered in sugar and cinnamon).
These sights and eats are all very good reasons to take your time and soak up the atmosphere as you enjoy the walk.
We stayed less than 5 minutes walk from the Powder Tower at the Hilton Prague Old Town. It has a boutique hotel vibe even though it contains all the amenities you could want including gym, sauna, swimming pool, Executive Lounge and more.
We adored the art deco design which carries through from the awesome bar and restaurant to the rooms (you'll even notice nice touches in the bathrooms). Think Great Gatsby era splendor but with brand new facilities and younger staff who excel at their jobs.
If you only have a short time in Prague but want to see everything it has to offer, Hilton Prague is a convenient option because the Hop on Hop Off bus stops at the hotel.
The Red Line will take you to some of Prague's farthest flung locations in just 1 hour 45 minutes, including the National Stadium (so big it can fit 9 football fields inside), Prague Castle (access it from the top and walk downhill towards the Powder Tower), "Dancing House" and much more.
Hilton Prague is one of the largest and most impressive hotels we've stayed at. It's almost a destination on its own. Features include a Sky Bar, Wellness Centre (we can vouch for the couples massage), huge fully functioning gym with swimming pool and sauna (usually €99 per month entry), impressive lobby area and one of the largest Executive Lounge's in Europe.
Before you look anywhere for a hotel in Prague – we recommend checking out these two hotels for availability.
Start planning your Eastern European vacation with Hilton Europe.
What to do & Where to Stay in Bratislava
If you love smaller cities, you will prefer Bratislava to Budapest. It's really easy to walk to all the best things to see in Bratislava like:
Bratislava castle;
a UFO;
St Martin's Cathedral;
the famous Blue Church of Bratislava;
Michael's Gate;
Old Town Bratislava with gorgeous cobble-stoned streets.
We stayed a short 5 minute taxi ride from the city centre and train station at DoubleTree by Hilton Bratislava – click the link to read our review.
If you are travelling on an Eastern European adventure – as we are – then Bratislava is an unmissable stop between Budapest and Prague.
We loved staying at DoubleTree Bratislava because we had the opportunity to relax in the wellness centre including sauna, steam room and large indoor swimming pool.
We have also crowned the hotel chefs "Kings of Bratislava desserts" because we didn't have a bad one during our stay. Just check out this welcome platter!
Despite the fact we have already been to Bratislava a total of 3 times, we were blown away with our stay at DoubleTree.
Like it? Pin this guide to get from Bratislava to Prague to Pinterest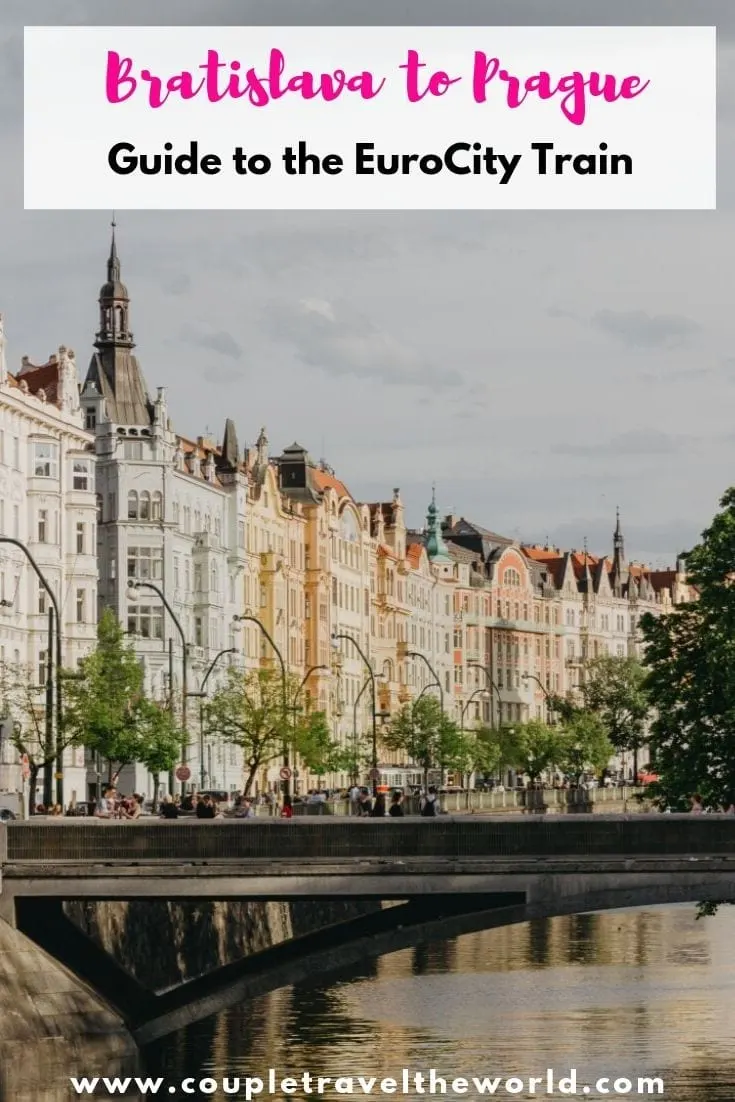 Disclaimer: We were invited as guests to Hilton hotels & on Eurail. However, this does not affect our views and opinions. As always, all opinions are our own.