Looking for Buffalo NY Date Ideas?
Buffalo is a super cool city and whether you are a local or a tourist, I'm sure you can agree there are tonnes of fun activities to do in the city that borders Canada.
As it is one of America's northernmost cities, it also has a very interesting history of Polish and German immigration which is cool because parts of the city are influenced by this heritage and there are fun festivals during the year still held there to this day including Dyngus Day and Oktoberfest.
If you are visiting the city as part of a trip to Niagara falls, you will be pleasantly surprised how many Romantic Things to Do in Buffalo for Couples there are. No matter if you are interested in history or pretty parks, you will be sure to find something that takes your fancy in Buffalo.
More activities for couples in New York State:
Fun Ideas for Couples in Buffalo
Take in views from the City Hall: The building completed in 1931, has two areas on the 378th floor observation deck. First, the observation deck itself that has gorgeous 360-degree views of Buffalo. The indoor space has an informational area regarding the city's history. Even on a rainy day, it can be an enjoyable experience.
Get Zen at the Japanese Garden: Behind the Buffalo History Museum in the Olmsted Conservancy's. Delaware Park Is a Japanese refuge. The garden has trees, shrubs, and pathways as well as unique stone lanterns, just as any Japanese Garden would have. It's serene and a beautiful site.
Learn how to cook at the Culinary Arts Center: The Culinary Arts Center offers cooking classes to anyone interested. For more information or to set up your couples cooking class go here
Go for a walk Canalside: You can go for a walk by the Erie Canal if you like but there are many other activities to enjoy. There are concerts, festivals, fitness classes and ice skating, throughout the year. There are also many winter activities and history tours.
Watch a Hockey game at the Key Bank Center: The Key Bank Center is directly on Buffalo's Waterfront. If you want to watch a great Hockey Game, you can see the Buffalo Sabers. They have won 3 conference championships and 6 Division championships. A sporting event of any kind is always an exciting date.
Pierce Arrow Museum: For an inexpensive yet informative date try the Pierce Arrow Museum. The museum offers views of historical vehicles. The vehicles were made in Western, NY from the years 1903-1960 by Pierce Arrow as well the E.R. Thomas Motor.
Theodore Roosevelt Inaugural National Historical Site: This is the site that Theodore Roosevelt took the oath of office as President. The first part of the museum displays items from 1901 and ends with a recreation of the office Roosevelt used along with an interactive desk that can be used by patrons.
Date Ideas for Couples in Buffalo
Elmwood Village: Elmwood Village is lined with open-air cafes and Farmer's Markets lining the streets in the summer. In the winter there are plenty of cozy coffee houses and pubs. Retailers are independently owned and public art can be seen on every block.
Buffalo Lighthouse: Even before Buffalo was formed the Buffalo Lighthouse was there. The history surrounding the lighthouse is nothing more than amazing. For the historical reasons alone, it would be a great visit for any couple.
Visit the Hotel Henry: This historic building opened in 1880 as a state asylum for the insane. It is not a hotel and conference center. Besides the unique architecture the Hotel is worth going to because of the rumors of the Hotel being haunted.
Check out Larkin Square: Larkin Square Is a place where people gather for food music and fun. They have events such a Food Truck Tuesday, Key Bank Life Larkin (live concert) Block Parties and Authors Series. For sure a fun time for everyone.
Enjoy the Colored Musician's Club: The Colored Musicians Club is one of the few African American clubs of its kind. It was established as a historical preservation site in 2018. The club mainly promotes the preservation of jazz but on Sunday nights they the company holds jam sessions.
Ralph C. Wilson Children's Museum (if with children): The museum is all about Buffalo and Western New York. There are 7 play zone and 3 educational studios that each tell the unique story of Western New York. If you have children ages birth to 12, the Ralph C. Wilson Children's Museum is perfect.
Learn to Tango at the Travis Widrick Tango Dance School: The owners, both dancers and recently married, give beginner tango classes quite often. To find out how you can set up a private lesson for you and your date you can call the school at (716) 517-7047
See more: Hot Tub Hotels in New York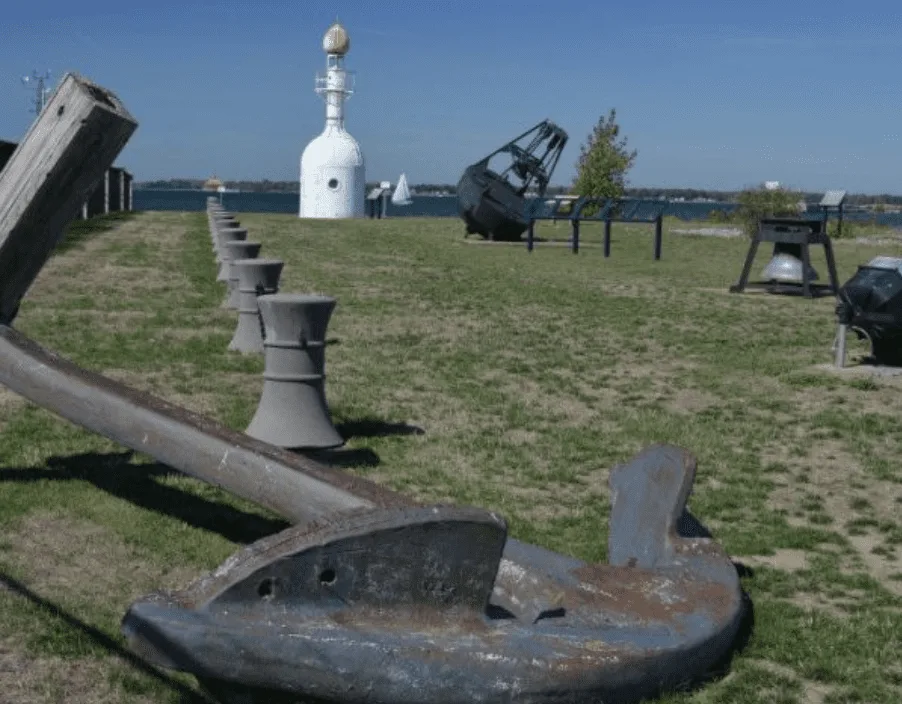 Date Night Ideas in Buffalo
See a Show at Shea's Performing Arts Center: Shea's Performing Art Center is used today as a Broadway touring theater. They perform Broadway shows as well as hold special events.
VUE Rooftop Lounge: VUE Rooftop Lounge is located in the Historic, Luxurious, 5-star, Curtiss Hotel. VUE is the magnificent rooftop lounge at the Curtiss Hotel. There are spectacular views of downtown Buffalo, Lake Erie, and the Canadian shoreline.
Staycation at the Asa Ransom House: Asa Ransom House is a bed and breakfast about 15 min outside of Buffalo. It is romantic and secluded for couples that want some personal space together. They accept pets in certain rooms for those of you that have to have you pet by your side. They are close enough to Buffalo and Niagara Falls to enjoy both and still go back to a secluded getaway. See more romantic hotels with hot tub in room at Niagara Falls.
See a Show at Irish Classical Theater Company: The Irish Classical Theater Company is the only true theater-in-the-round in Western New York. You are never more than 10 feet from the state, and they do a variety of productions.
The Buffalo Theater District: The Buffalo Theater District is the hub of Buffalo's theater scene. There are 22 theaters to choose from to see any number of shows.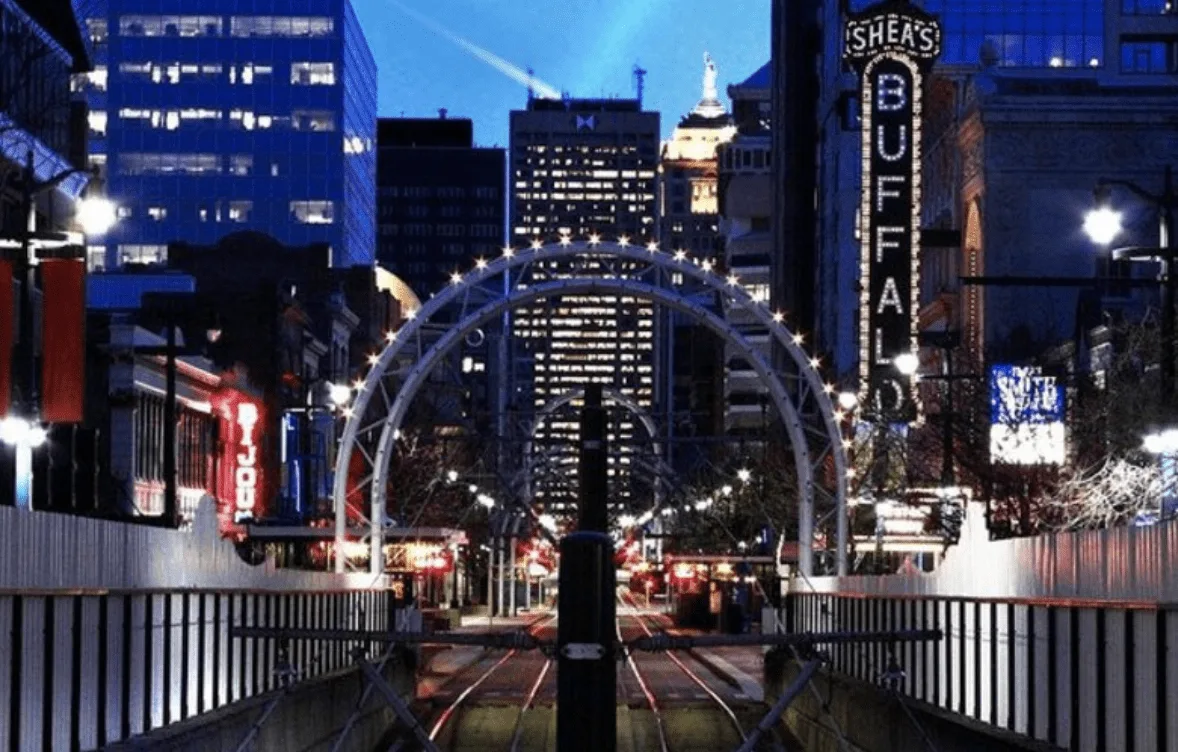 Outdoor Activities for Couples in Buffalo
Visit Niagara Falls: Niagara Falls has three different falls, American Falls, Bridal Veil Falls, and Horseshoe Falls. The falls are breathtaking but that's not the only thing to enjoy at Niagara Falls. There are two renowned restaurants The Skylon Tower and the Fallsview Buffet Restaurant both with beautiful scenic views.
Forest Lawn: Forest Lawn Cemetery Is a historical rural cometary. It is 269 acres and over 152,000 people are buried there. What makes this cemetery different, besides the historic value, are the people who are buried there. Millard Fillmore a US President, Rick James a famous singer, and Inventor Lawrence Dale Bell, were just a small few of the many names in that cemetery.
Delaware Park: Delaware Park is a 350-acre park of rolling hills and beautiful trees. Not just a park, there is also a Lake, Hoyt Lake, where you can ride a row bow or a paddle boat (one that even looks like s flamingo). You can also just walk the park yourself to see all the greenery and you may even run into the Paddock zoo.
Erie Basin Marina: Erie Basin Marina Is a great place to see beautiful sunsets. You can walk the marina and do not need a boat. There are, however, evening cruises as well as cruises in the day. There are gorgeous views that no one should miss.
Tifft Nature Preserve: Just a 5-minute drive from downtown Buffalo Tifft Nature Preserve is a 264 acre preserve. There are multiple animals from the area that have made the preserve their home. There are 5 miles of nature trails and three boardwalks with view blinds. You can have guided walks if so desired. They also offer snowshoe rentals and allow cross country skiing.
Bird Island Pier: Bird Island Pier Is the most relaxing walk in Buffalo. A lovely river walk and at the tip of Unity Island, Bird Island Walk begins. Its about a mile long and it takes you right out to the Niagara River.
Spend the day at The Buffalo Zoo: The Buffalo Zoo is always an enjoyable day. The zoo is 23.5 acres of the most exotic, endangered and local wildlife, ensure to excite and amaze.
Ride the Chair Life to Spruce Lake at Holiday Valley: Take the Spruce Lake Chair Lift on a peaceful serene ride to the top of Spruce Lake Hill. You are welcome to swim, rent kayaks, and hike. It's beautiful and fun.
Unique things to do for Couples in Buffalo
See the Work of Frank Lloyd Wright at the Martin House: This house was designed by Frank Lloyd Wright between 1903 and 1905. The Martin House is ocnsidered the most important design of Wright's career.
Mazurek's Bakery: Mazurek's Bakery has been a staple in Buffalo since 1933. They specialize on Polish style rye bread, pastries, cookies, and decorated cakes as well as much more.
Albright-Knox Art Gallery: Albright-Knox: Art Gallery has an extensive collection of contemporary and modern art. Anyone is welcome to join in tours done by knowledgeable tour guides. If you are interested in correct exhibits or the art, they are always showing please see here.
Burchfield Penny Art Gallery: The Gallery was founded in 1966 on the campus of Buffalo State College. The Gallery is the only Art Gallery dedicated to the art and artists of Western New York State. The gallery has more than 7,500 works of art. For art lovers, especially those interested or from Western New York State, this museum is a gem.
Buffalo and Erie County Naval and Military Park: This is the largest inland Naval Park in the Country. They have multiple exabits that have been involve in a variety of past conflicts. May ships you can step aboard and learn about the history of them.
Explore Allentown: Allentown is a historical district in Buffalo. The area includes 733 historical buildings. Most are very notable buildings with well-known historical names.
Have a Beer at the Community Beer Works: On Buffalos lower West Side is the Community Beer Works. They have multiple beers to try including many flavors of IPA and Pilsner not to mention their Hometown Ale and Imperial Stout, but they are not just a brewery. They also have Burgers and Appetizers, to be sure to have something to wash down with the beer.
Buffalo Museum of Science: The Buffalo Science Museum has multiple very informative and interesting exhibitions. They have a Space Science Studio, an Artifacts Science Studio, the Motion Science Studio, Our Marvelous Earth Science Studio and the Bug Works Science Studio.
Romantic Restaurants and Coffee Shops to Visit in Buffalo
Same Old Antics Pop Up Restaurant: The Owners have been in the culinary art business for some time. They barely have any information on their website. The most important thing to them is to make sure each patron gets their money's worth. They want all guests to feel as though they are family. It's an intimate setting with great food.
Midnight Mass at the Black Sheep: Generally held the last Saturday of the month, The Black Sheep, they hold a meal that will leave bellies full. It is always a different theme and has an intimate feel every time.
Dine at The Left Bank: If you are feeling like Italian Cuisine, semi-fine dining, with great cocktails then The Left Bank is just right for you and yours.
Gabriel's Gate: If you are looking for a place to get some great wings then Gabriel's Gate is perfect. It's located in the Allentown District, which gives it a neighborhood feel.
Big Ditch Brewing Company: Big Ditch opened for business in 2014 and all of their beers are manufactured in Niagara Falls, ON as well as on premises in Buffalo. They have a variety of great tasting beer and it is for sure a place to stop by and have a cold one.
Watson's and Fowler's: If you have a sweet tooth or want to indulge a bit, Watson's and Flowler's is the perfect place. They are known for their exceptional and sweet sponge candy. It's world famous and it must be tried.
Churn Ice Cream: To have an original after dinner treat, try Churn Ice Cream. They have varieties of soft ice cream and toppings and roasted Tipico Coffee, cappuccinos, lattes and Americanos as well as handcrafted cold brew.
Ted's Hot Dogs: Not only is Ted's historical but the hot dogs and sauce are like no other. The hot dogs are char-broiled, and the sauce is home made. Not to mention their milkshakes and burgers that are just about as tasty. The prices are extremely low for any part of America.
SEAR: If you are looking for a great steak, friendly staff, with a full stocked bar, and upscale dining; SEAR Steakhouse is the perfect place for a couple to go.
Romantic Things to do in Buffalo in Winter
Stay Inside at the Buffalo and Erie Botanical Gardens: Plants, trees and flowers from all over the world were gathered by John F. Cromwell who was considered a genius of botany. His brilliance was proven with the breath-taking array of foliage he decorated the conservatory with. The conservatory is open year-round for everyone to take in the beauty.
Larkinville Ice Festival: Every year the people of Buffalo gather at Larkin Square for an exciting array of ice and snow activities. There is a fun sledding hill, color and bubble stations, yoga in the snow and even circus performers making their way through the square. What a spectacle and what a fun time.
Ice Bikes at Canalside: Ice Bikes at Canalside is exactly as it sounds. You can ride bikes on the ice. Their thought is fir those people that can not ice skate or cannot ice skate well, can ride a bike on the ice instead.
Chestnut Ridge Park: Chestnut Ridge Park is a 1,213 acre park in Orchard Park, NY. IT is known for its winter activities. There are tobogganing shoots, ski trails, and snowmobile riding. There is a casino that is open year-round with a fireplace and concessions stand.
Rotary Rink: Rotary Rink is the only free to the public ice-skating rink in Downtown Buffalo, you can rent skates for a minimal cost is needed and there are concessions if you need refreshment.
Romantic Things to do in Buffalo the Fall
The Great Pumpkin Farm: Besides just picking the perfect pumpkin, The Great Pumpkin Farm has multiple activities. They have a 5-acre corn maze where you and your date can get lost together. If you are looking for something sweet to snack on, they have a spectacular bakery and candy store. Perhaps you are looking for something a bit more adult, you will find the Witches Brew Bar and Café.
Apple Picking at Becker Farms: Becker Farms does not just have Apple and Pumpkin picking, but they have a beer garden, a corn maze, rope maze, farm animal exhibits, and much, much more.
Visit the House of Horrors and Haunted Catacombs: If you want to have a scary, spooky date; you'll want to go to the House of Horrors and Haunted Catacombs. There are haunted attractions with real people as actors. There are also multiple escape rooms. This would for sure be a memorable experience.
Mayer Bros Cider Mill: At the Cider Mill, it's not all about Cider. You can enjoy their pumpkin patch, jump on a free horse-drawn hayride and try some of the best baked goods in Western New York. They have an entire array of different homemade foods to enjoy, as well.
Explore Niagara Wine Trail: There are a total of 17 wineries on the Niagara Wine Trail so if you like wine this would be an amazing date. You can also plan a wine tasting or have a meal at one of their 12 restaurants. There Is also shopping, a chocolate factory, a golf course and Whirlpool Jet Boat tours and much more.
Romantic Things to do in Buffalo the Summer
Buffalo River Fest Park Summer Concert Series: This is a free concert series in the summer for adults and children. The series is usually once a week on Wednesday night. Everyone is Welcome.
Shakespeare in Delaware Park: Bring a blanket or some Portable chairs and set up on Shakespeare Hill
In Delaware Park, right next to Hoyt Lake. Prepare yourself for some of Shakespeare's most popular plays.
Awald Farms' U Pick Berry Farms/Farm Market to Pick Summer Fruit: Awald Farms has had race reviews as a U-Pick farm. They have Every Berry imaginable. Depending on the time of the season, that is. Here is a general list to help if you think this may be an activity you'd like to choose.
STRAWBERRIES: the month of June
BLUEBERRIES: 1st week in July – late August
SUMMER RED RASPBERRIES: late June – late August
FALL RED RASPBERRIES: August through October
PURPLE RASPBERRIES: mid July
BLACK RASPBERRIES: first 3 weeks in July
BLACKBERRIES: mid July
Watch the Buffalo Bison's: The Buffalo Bison's are the Buffalo Minor Baseball Team. Their home field is Sahlen Field a Triple A ballpark. In 2004 they won the championship against the Braves. Either way it's a great time to make memories.
Where to Stay for Couples in Buffalo
Embassy Suites Buffalo: At the Embassy Suites you are only a 5-minute walk from the Buffalo Niagara Convention Center and only 7 minutes from Shea's Performing Arts Center. They have a convenient shuttle, a swimming pool, and a bar.
The Hilton Garden Inn Buffalo/Downtown: The hotel is 0.8 mi from Buffalo and Erie County Naval and Military Park. They as well have a fitness center and a beautiful pool. They have a restaurant serving American Cuisine.
Hampton Inn and Suites Buffalo/ Downtown: The Hampton in is 0.9 mi from Sahlen Field and 1.3 mi from KeyBank Center. Enjoy eating at their restaurant, The Waves featuring Vietnamese cuisine, one of the hotel's 5 restaurants. They also have a pool.
Best Western on the Avenue: The Best Western I right in the heart of Buffalo's theater and restaurant district. They have a complimentary breakfast.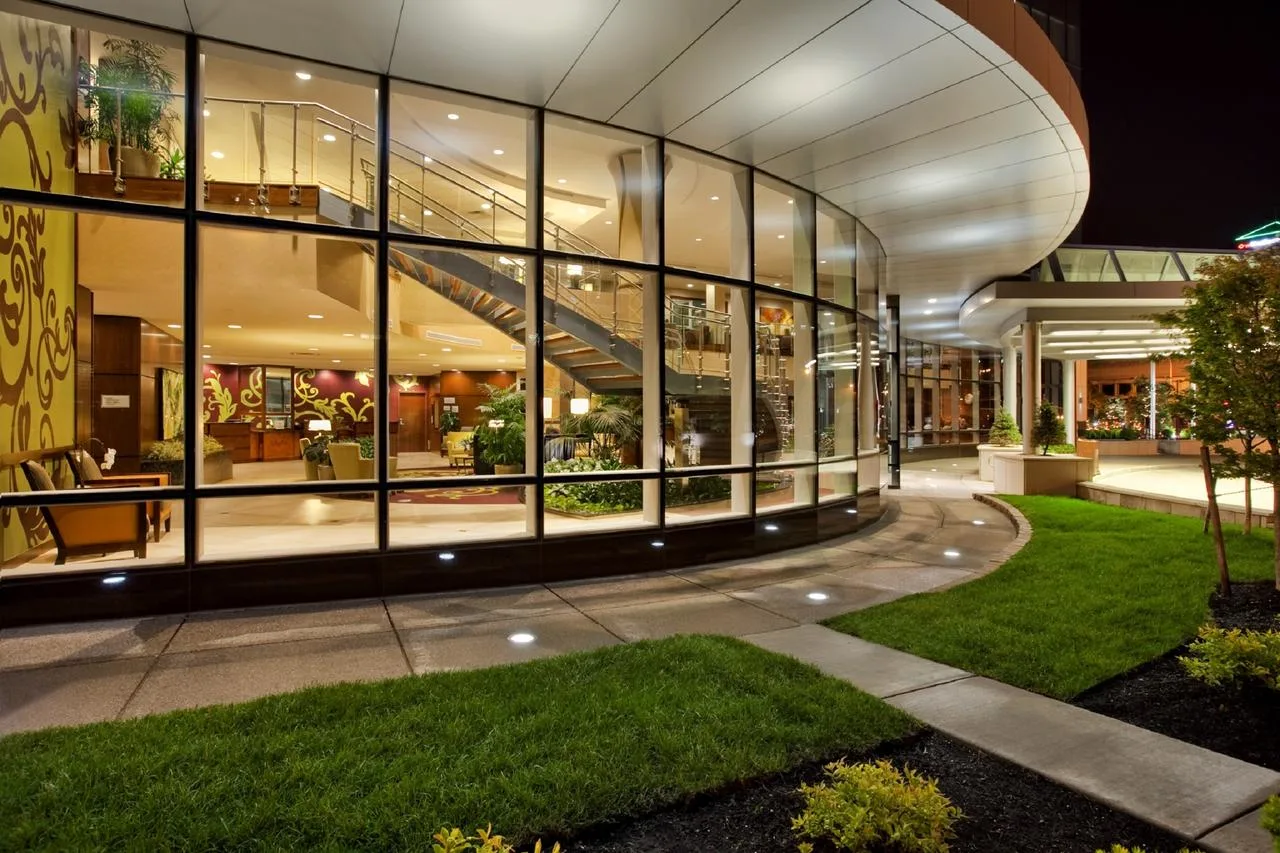 ***