California is one of the best places to visit in the USA. It has some of the best beaches, stunning National Parks plus world-renowned cities like San Francisco and Los Angeles – perfect for a romantic getaway.
Plus, sin city is just a short drive away! If you're planning to visit Vegas, learn how to do Vegas on a budget and here to find the perfect Las Vegas picture captions.
Here are 100+ California quotes to (hopefully) inspire you to visit California or if you have already been use as awesome Instagram captions! Remember to use hashtags to help you get noticed: check out our Couple Travel the World Instagram for more.
And, if you're looking for a different style, or maybe a way to keep your feed consistent, we developed some kick ass free Instagram presets (filters) so you can edit your photos on laptop or mobile in 1 click!
100+ California Quotes for inspiring Instagram captions
Perfect California Instagram Captions
"Crushing on Cali."
"The sunsets are best on the West Coast."
"Palm tress, ocean breeze, salty air, sun-kissed hair – California, take me there."
"You could travel the world, but nothing comes close to the golden coast." – Katy Perry
"Rose all day!"
"I love Los Angeles. It reinvents itself every two days.

" –

Billy Connolly

"

If I can

'

t go to Heaven, L.A. is the next best thing.

"
Speaking of L.A. – you can find the perfect Los Angeles captions over here.
Famous California Quotes
Many of these Cali quotes come from some of the states' most famous movie personalities.
If you get a chance to visit Hollywood, check out this post for some engaging Hollywood Instagram captions.
"California is an unbelievable state. One day I might be in a spiritual place like Joshua Tree, then before I know it, I'm eating groovy sushi in a mini-mall. I'm a Cali girl through and through." – Drew Barrymore
"Everything is just better in California – the wine, the food, fruits and vegetables, the comforts of living. Even the instrumentalists are generous and curious. Everything is wonderful." – Beth Anderson
"While I'm in L.A. I always make time for my favorite activity which is hiking. The trails in California are amazing, as they are always challenging, and I never get bored from all the beautiful scenery." – Dylan Lauren
"I do get credit for having a California sound to my music, but I don't think people really know what that means – they think the Beach Boys. I'm thinking more like Sunset Strip in the 1960s and stuff like that." – Ariel Pink
"There are so many different challenges California has; it's the greatest state in the greatest country in the world. Hasta la vista, baby!" – Arnold Schwarzenegger
"California is a place where they shoot too many pictures and not enough actors." – Walter Winchell
"I love driving; driving along the California coastline is the best drive in the world." – Al Jardine
See more: Sacramento Date Ideas
Interesting California Quotes including from Meghan Markle herself!
"To capture a California sunset in South Pasadena is to hold an angel's wings with bated breath." – Ace Antonio Hall
"My California sunrise, there's a real mist in the air. I think of the mountains. You can smell the farm fields. You can smell the dirt and the lights and the whole sun." – Jon Pardi
"Best way to live in California is to be from somewhere else." – Cormac Mccarthy
"Myths that need clarification: "Everyone in California lives on a white, sandy beach." False. The only people who live on California beaches are vacationers from Arizona, Utah, and Nevada who own condos."- Erma Bombeck
"The biggest problem that we have is that California is being run now by special interests. All of the politicians are not anymore making the moves for the people, but for special interests and we have to stop that." – Arnold Schwarzenegger
"We only have two kinds of weather in California, magnificent and unusual." – James M Cain
"There is science, logic, reason; there is thought verified by experience. And then there is California." – Edward Abbey
"When California was wild, it was the floweriest part of the continent." – John Miur
"California is full of homesick people." – Judy Van Der Veer
"A new study says that over half of all Californians are obese. In fact, half of Californians are really two-thirds of Californians." – Jay Leno
"Living in California adds ten years to a man's life. And those extra ten years I'd like to spend in New York." – Harry Ruby
"I just realized some things make me happier, and the good weather in California makes me happier." – Bianca Balti
"I just realized some things make me happier, and the good weather in California makes me happier." – Edward Abbey
"If you're the type of person who has to fulfill your dreams, you've gotta be resourceful to make sure you can do it. I came out to California when I was 21, thinking my New York credentials would take me all the way. I came back home a year later all dejected and a failure." – Vin Diesel
"In California, we have some of the strongest consumer protection laws in the country. While it is easy to conceive of innovation and regulation as mutually exclusive, California is proof that we can do both. We can innovate responsibly." – Kamala Harris
"I am a California girl, born and raised, so flip-flops and cutoff shorts are my go-to look. An easy Angeleno uniform, so to speak. But for my role on 'Suits,' I'm dressed in Alexander McQueen, Tom Ford, and Prada almost every day. And therein lies the difference. For work, I wear art; in real life, I wear clothes." – Meghan Markle
See more: Date Ideas Orange County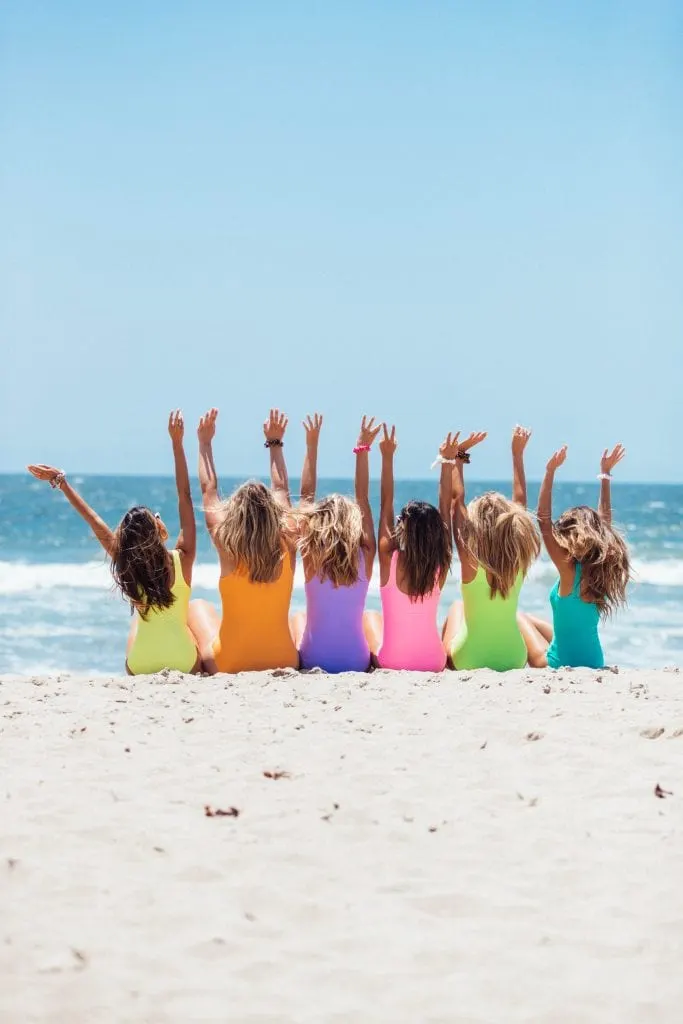 Iconic California
Beaches, Baywatch, the Governator – there's no shortage of icons here.
We've also recently wrote a Shein Review – our new favourite place for Instagrammable clothing.
"California, where the spring comes in the fall and the fall comes in the summer and the summer comes in the winter and the winter never comes at all." – Inez Haynes Irwin
"This land is your land, this land is my land, From California to the New York Island. From the redwood forest to the Gulf Stream waters This land was made for you and me." – Woody Guthrie
"When I came to California, it was the mecca of the world. Every young person on the planet wanted to be here." – Joni Mitchell
"I'm your biggest fan, California, I'm coming home" – Joni Mitchell
"If you have a good story, it doesn't have to be overproduced. I want our stories to reveal the wonders of the human spirit and the richness of life in California, including its history, people, culture and natural wonders." – Huell Howser
"I'd rather be in prison in California than free anywhere else." – Inez Haynes Irwin
"California lacks a lot of the rules and restrictions the East has. Every house is a different style, different material, different color. There's a lot of craziness out there" – Parker Stevenson
"California can and does furnish the best bad things that are obtainable in America." – Hinton R. Helper
"You haven't lived until you've died in California." – Mort Sahl
"The travel and tourism industry is the lifeblood of many states around the country – including Florida, California, New York and Nevada, to name a few." – Mark Foley
"Life in California is beautiful." – Oscar Nunez
"When California was wild, it was the floweriest part of the continent." – John Muir
"California is always in my mind." – David Hockney
"From the first time I heard Bob Marley or even Sublime, I wanted to move out to California and be near the ocean, start surfing, start being a part of that whole thing." – Brendon Urie
"California to me as a concept or as an idea always seems like endless optimism and endless opportunity – when people think of California they think of palm trees and blue skies and gorgeous sunsets and beaches and everything else." – Mark Hoppus
"California is a queer place in a way, it has turned its back on the world, and looks into the void Pacific. It is absolutely selfish, very empty, but not false, and at least, not full of false effort." – D. H. Lawrence
"I think Northern California is the most beautiful place on earth. And I adore New Orleans, but there's something about the air in SF, for instance. It changes from moment to moment, like one's thoughts." – Hilton Als
"For the women in California, they're just downtrodden because they're so gorgeous here. Every hot cheerleader comes to California to make it. The men don't want to get married, they're lazy lions. Matthew McConaughey is their poster boy so they can procreate and live on the beach in the trailer and have kids and have money and be hedonistic." – Patti Stanger
"Do Re Mi California is a garden of Eden, a paradise to live in or see, But believe it or not, you won't find it so hot If you ain't got the do re mi." – Woody Guthrie
"Why don't you go on west to California? There's work there, and it never gets cold. Why, you can reach out anywhere and pick an orange. Why, there's always some kind of crop to work in. Why don't you go there?" – John Steinbeck
"Things are tough all over, cupcake, an' it rains on the just an' the unjust alike…except in California." – Alan Moore
"If you're a kid in Southern California, somebody – whether it's you or your parents – somebody throws your hat into the ring and I think everyone had a commercial or two." – Danny Bonaduce
"Here in California, we passed a law against texting while driving. But there's no law preventing you from writing a letter while driving." – Craig Ferguson
"The mornings along the coast where the fog and mist meet with the salty spray of the seas is one of my favourite smells. I love the smell in the evergreen forest just after it rains – The Redwood Forest in California has the coast, too, so you have the best of everything!" – Paul Walker"No matter where you put me, I don't care if it is North Carolina, Florida, California, New York City; I'm going to be who I am." – Chris Paul
"The apparent ease of California life is an illusion, and those who believe the illusion real live here in only the most temporary way." – Joan Didion
"California, that advance post of our civilization, with its huge aircraft factories, TV and film studios, automobile way of life… its flavourless cosmopolitanism, its charlatan philosophies and religions, its lack of anything old and well-tried rooted in tradition and character." – J. B. Priestley
See more: Coffee Shops in Long Beach CA
Ridiculously California
"The formula for a happy marriage? It's the same as the one for living in California: when you find a fault, don't dwell on it." – Jay Trachman
"California: bordering always on the Pacific and sometimes on the ridiculous. So, why do I live here? Because the sun goes down a block from my house." – George Carlin
"I've grown to love California: It's the dream of every English musician to come here and work in the sunshine. To walk up Sunset Boulevard, knowing you're going to make music – that's it." – Noel Gallagher
"This is the California that men dreamed of years ago, this is the Pacific that Balboa looked at from the Peak of Darien, this is the face of the earth as the Creator intended it to look." – Henry Miller
"California is beautiful to look at, but you can't be a part of it like you can in Michigan." – Jennifer Granholm
"Every time I come, I'm still amazed at the breadth California has. Big Sur, Yosemite, the desert… I love it." – Theo James
"Whatever starts in California unfortunately has an inclination to spread." – Jimmy Carter
"California's drought affects everyone in the state, from farmers to fishermen, business owners to suburban residents, and everyone has a role to play in using precious water resources as wisely and efficiently as possible." – Frances Beinecke
"Move to California. Malibu is paradise." – David Geffen
"Southern California, where the American Dream came too true." – Lawrence Ferlinghetti
"Nature. That's the one thing that tips the balance in terms of living here in California. Within minutes, I can be in a desert, at the ocean, in a park, and that's the most nourishing food for my soul." – Lara Pulver
"If you're in California, and it's raining, stay home because nobody can drive in the rain. It's like it's raining frogs. They're terrified." – Adam Ferrara
"One thing that improved my cooking skills was being a poor student in California… If you don't have much money, you have to learn to cook." – Diane Mott Davidson
"Helsinki may not be as cold as you make it out to be, but California is still a lot nicer. I don't remember the last time I couldn't walk around in shorts all day." – Linus Torvalds
"California is one of the strongest states with one of the solidest economies but, at the same time, ignores the reality of its farm workers." – Diego Luna
"I am very lucky to live in California, which is not only filled with very entrepreneurial people who don't wait around for success, but who make their own." – Benjamin Stone
"California has a special relationship with the Internet. Many of the core technologies that power the Internet were invented here. Many of the most successful online entrepreneurs and content creators – in business, the arts, and countless other endeavors – got their start here." – Kamala Harris
"I think California has the best energy." – Kevin Gates
"I love California. It definitely represents wild freedom." – Jenny O.
"When I first arrived in America, the very first place I came was California, and I rented a house in Trance, which is about half an hour from Malibu." – Olivia Newton-John
"California is like an artificial limb the rest of the country doesn't really need. You can quote me on that." – Saul Bellow
"All creative people should be required to leave California for three months every year." – Gloria Swanson
"I'm always tan and blonde and don't really fit into New York. I'm a California girl, even if I try and cover it up with leather." – Gigi Hadid
"Always there is a sort of dream of air between you and the hills of California, a veil of unreality in the intervening air. It gives the hills the bloom that peaches have, or grapes in the dew." – Stella Benson
"There is a lot of California in my… sound, and a ton of it is the laid-back nature of Southern Californians and the beach." – Brett Young
"In California, I do like to just chill out and go to the beach, but I love the energy here. I feel very productive when I'm in New York." – Ashley Greene
"All my life I've felt like somebody's wife, or somebody's mother or somebody's daughter. Even all the time we were together, I never knew who I was. And that's why I had to go away. And in California, I think I found myself." – Robert Benton
"To say that people would cease to come to California if they would have to pay more taxes is to underestimate the advantages of being in California – mightily." – Warren Beatty
"The thing that really surprised me about strip malls in California, specifically Los Angeles, is that they have some really fantastic restaurants." – Dave Folley
"Southern California is a nice place, if you could cut out the show-business cancer. It just keeps spreading." – P.J. O'Rourke
"In the photographs themselves there's a definite contrast between the figures and the location – I like that kind of California backyard look; clapboard houses, staircases outdoors." – Helmut Newton
"I love driving; driving along the California coastline is the best drive in the world." – Al Jardine
"I don't think the state of California realized there would be this many people here caught up in the freeway system." – Richard Grieco
"California: Sunny nutland." – Edwin Diamond
"The California crunch really is the result of not enough power-generating plants and then not enough power to power the power of generating plants." – George W. Bush
"California is a place of invention, a place of courage, a place of vision, a place of the future. People who made California what it is were willing to take risks, think outside convention and build." – Nicolas Berggruen
"I think my best memories are when I go home to California and I get play beach volleyball with my friends from home." – Gigi Hadid
"I love the whole of California, I have places… my whole thing is with all the money I make, I just want to buy as many places in California as I can because I love it." – Josh Brolin
"I like to go for a little drive up the California coast." – Colin Forrel
"In California there were nuggets the size of walnuts lying on the ground—or so it was said, and truth travels slowly when rumors have wings of gold." – Cherie Priest
"And you know something, because everything that I've gotten – my career, my money, my family; everything that I've gotten and achieved is because of California." – Arnold Schwarzenegger
Funny Captions & Puns
"All of a sudden, I feel very old and very tired. Maybe when I get to California, the smog, brush fires, floods, and earthquakes will cheer me up." – Erma Bombek
"It's a scientific fact that if you stay in California you lose on point of your IQ every year." – Truman Capote
"In California, they don't throw their garbage away – they make it into TV shows." – Woody Allen
"Nothing is wrong with California that a rise in the ocean level wouldn't cure." – Ross Macdonald
"In Hollywood, we have some of the richest unemployed people in the world. They have sun tans. Some of them have chauffeurs in Rolls-Royces waiting outside. They have their golf clubs ready in the car. There is no law that says you cannot play golf while being unemployed." – Alan Sherman
"You haven't lived until you've died in California." – Mort Sahl
"One of the things I had a hard time getting used to when I came to California in '78 was Santa Claus in shorts." – Dennis Franz
"Where is Hollywood located? Chiefly between the ears. In that part of the American brain lately vacated by God." – Erica Jong
"I don't bother to look for parking space anymore. As soon as I get near Hollywood Boulevard … I sell." – Bob Hope
"Out here in California, in the Pacific Ocean, the sharks have a bad attitude." – Katy Mixon
"California is a fine place to live – if you happen to be an orange." – Fred Allen
"In California everyone goes to a therapist, is a therapist, or is a therapist going to a therapist." – Truman Capote
"Everybody knows what California smog is – that's fog with the vitamins removed." – Bob Hope
"This is California. Blondes are like the state flower or something." – Ian Ziering
"When I was a kid, I always wanted to live in California because I liked skateboarding." – Demetri Martin
"When the Okies left Oklahoma and moved to California, they raised the average intelligence level in both states." – Will Rogers
"Do you know anything at all that nobody else knows or, for that matter, gives a damn about? If you do, then sit tight, because one of these days you're going to Hollywood as a technical supervisor on a million dollar movie." – S. J. Perelman
"Secretly, I think everyone who makes fun of California really does want to be in California." – Zooey Deschanel
If you're feeling adventurous you can try to tie in a classic road trip quote from Fear and Loathing in Las Vegas.
California Song Quotes for Instagram captions
"California day, California weather. Take the clouds away, I'll feel a whole lot better. California day. There's nothing like the sunshine to get me out of doors…" – California Day
"I've got to make it home somehow before I lose my mind. So won't you carry me back to California? I've been on the road too long…" – Back to California
"It's all in the the air, you hear it everywhere, no matter what you do, it's going to get a hold on you: California soul, California soul. They say the sun comes up every morning, and if you listen carefully, the winds that ride on the high time whistle in melody…" – California Soul
"I been all around this great big world and I seen all kind of girls, but I couldn't wait to get back in the states, back to the cutest girls in the word. I wish they all could be California girls…" – California Girls
"Still a lot of lands to see, but I wouldn't want to stay here, it's too old and cold and settled in its ways. Oh, but California, California I'm coming home." – California
"I'd be safe and warm if I was in LA, California dreamin on such a winter's day." – California Dreaming
Wanna make it a trip to remember? Why not stay in an epic hotel with jacuzzi in room in California!
Save California Quotes for Inspiring Instagram Captions to Pinterest so you can find it again later