Looking for camping quotes for instagram captions?
We have been doing a road trip of the US and a lot of camping along the way! If you are looking for a great new spot to camp, some of the best camping we have done recently has been in the Florida Keys , Bahia Honda State Park was particularly good!
Anyway, if you want a great camping quote for awesome Instagram captions we have you covered with 100 of the best.
If you love outdoors adventures, you might like to check out our other adventurous quotes like:
100+ Camping Quotes for Instagram Captions
Camping Instagram Captions
Here are some of our favourite camping instagram captions:
Life is simple. Eat. Sleep. Camp.
The campfire is our happy place.
Look at the stars. Look how they shine for you.
"Took a walk in the woods and came out taller than the trees." — Henry David Thoreau
I love you to the mountains and back.
Let's wander where the Wi-Fi is weak.
Like campfires and marshmallows, we're better together.
There is no Wi-Fi in the forest, but I promise you will find a better connection.
Take nothing but pictures, leave nothing but footprints, kill nothing but time.
"Keep close to nature's heart, and break clear away, once in awhile, and climb a mountain or spend a week in the woods. Wash your spirit clean." — John Muir
"A great many people, and more all the time, live their entire lives without ever once sleeping out under the stars." – Alan S. Kesselheim
"In a cool solitude of trees, where leaves and birds a music spin, mind that was weary is at ease, new rhythms in the soul begin" – William Kean Seymour
Bonfire Instagram Captions
There is nothing better than sitting around the bonfire. Here are some of our favorite Bonfire Instagram captions:
Taking #fire pics at the bonfire.
I've seen fire and I've seen rain… Because it's summertime, which means that it's bonfire season and it's raining all the time.
Beaches and bonfires, that's all I need.
Running around a bonfire is the perfect way to spend a summer night.
"Let's gather 'round the campfire, and sing our campfire song." — SpongeBob SquarePants, "Campfire Song"
All I need is a bonfire with my bae.
Everything looks prettier with a bonfire glow around it.
There's nothing quite like a bikini and a bonfire to get you in the mood for sweet, sweet summertime.
Welcome to our bonfire where friends and marshmallows get toasted.
Turn every hour into golden hour.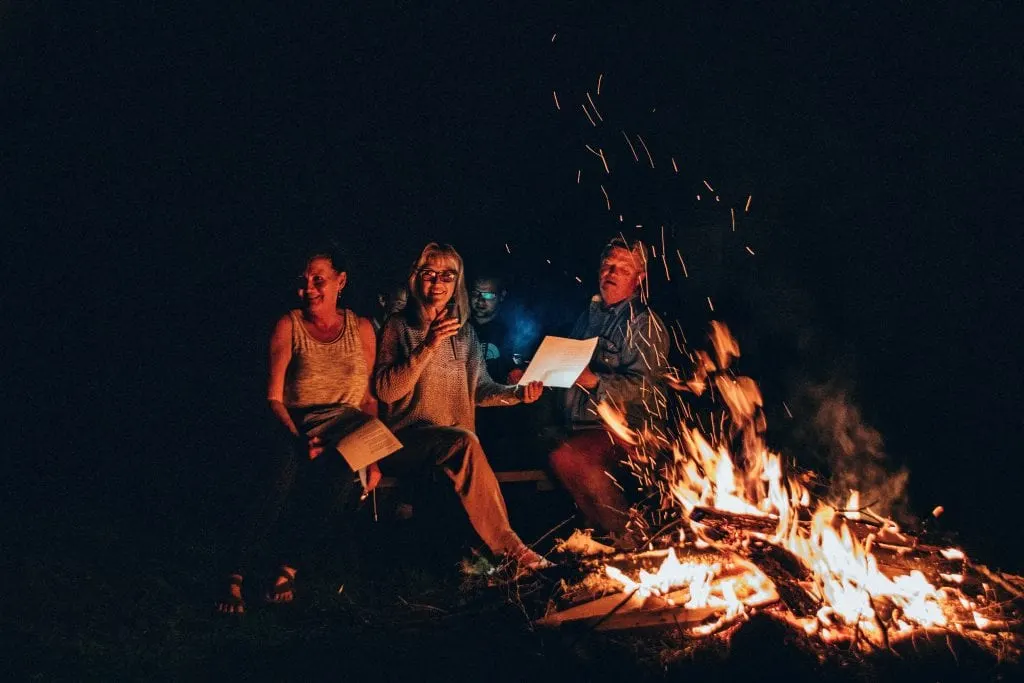 Quotes about Camping with Friends
Here are some interesting quotes about camping with friends:
"Life is s'more fun with friends." — Unknown
"Take vacations. Go as many places as you can. You can always make money. You can't always make memories." — Unknown
"The stars were better company anyway. They were very beautiful, and they almost never snored." – David Eddings
"If I went on vacation, I'd rather go camping than stay in some four-star hotel… My friends treat me the same at home. They just want to sit down with you and have a beer." – Travis Fimmel
"Climbing a big wall over several days is like running a giant construction project: constantly making lists, rigging ropes, organizing food, figuring out camera angles – but you're in this crazy place with your best friends, and it does take on a party atmosphere sometimes, like a big dudes' camping trip." – Tommy Caldwell
"I went camping one time when I was twelve, to the Great Lakes. My friend stepped in really deep muddy water and started screaming and sinking. My mom ran up, and I was just standing there a foot away and wouldn't stick out my hand to pull him up. So I'm probably not the best person to take on a camping trip." – Norman Reedus
Family Camping Quotes
Camping with family can be an interesting experience! Here are some family camping quotes that may resonate with you:
"I married a woman who loves to camp, and I am what you would call indoorsy… My wife always brings up, Camping's a tradition in my family. Hey, it was a tradition in everyone's family 'til we came up with the house." – Jim Gaffigan
"The rite of passage of learning to build a fire that will burn all night with one match is not an insignificant one in my husband's family, and I grew up camping and backpacking. I love to camp." – Sarah Wayne Callies
"When I was younger, my family would go camping and fishing on our ranches. My dad loves being around all kinds of animals. He's the one who got me to be a really big animal lover." – Paris Hilton
"My earliest memory from childhood is of fishing with my father. And I remember vividly we were in a store, and we were buying a pup tent to go on our first camping trip." – David Suzuki
"When I was growing up, my dad and I would go hunting and camping every weekend. Like everyone in my family, he is an amazing cook, and I've tried to learn a lot from all of them." – Zac Brown
"I like to go camping with my kids. I've got an amazing group of friends. Just like any 30-year-old woman I like to go out dancing, eating food, drinking with my mates, like any normal person." – Jess Phillips
"Growing up, it was about finding a way to entertain myself outdoors. We spent all the summers on the beach, camping with my family a bunch, and traveling as much as we could. My parents wouldn't let me watch too much TV growing up or play video games, or anything like that." – Stephen Colletti
"My parents had us very young. We lived in a modest house. We built forts, we hiked, we went camping and they wanted us to be independent. It's how children grew up in the 1940s and 50s: outside all the time, playing in the dirt, riding your bike around." – Brooklyn Decker
"I've enjoyed many camping holidays with my sister and her children, but we're pretty posh campers." – Erin O'Connor
"Most families like to spend time bonding over meals out, picnics in the country, maybe weekend camping trips – we take things to the extreme!" – Holly Branson
Funny Camping Quotes
Looking for a funny camping quote? We have you covered with some of the best!
"If you can survive camping with someone, you should marry them on the way home." – Yvonne Prinz
"Camping: the art of getting closer to nature while getting farther away from the nearest cold beverage, hot shower, and flush toilet."
"I googled my symptoms… turned out I just need to go camping" – Unknown
"I've been camping and stuff, but if you left me in the woods I'd probably just curl up and cry until someone found me." – Norman Reedus
"All camps are hard, that's what they're intended to be. They make you focus when you're tired, when you don't feel like doing things, and to see how long you can retain and pay attention." – Michael Strahan
"Some national parks have long waiting lists for camping reservations. When you have to wait a year to sleep next to a tree, something is wrong." – George Carlin
"Donating blood, one mosquito at a time." – Unknown
"She had the loaded handbag of someone who camps out and seldom goes home, or who imagines life must be full of emergencies." – Mavis Gallant
"Canoe plus waterfall equals I don't go camping anymore." – Demetri Martin
"Money can't buy happiness, but it can buy a camper, which is kind of the same thing." – Unknown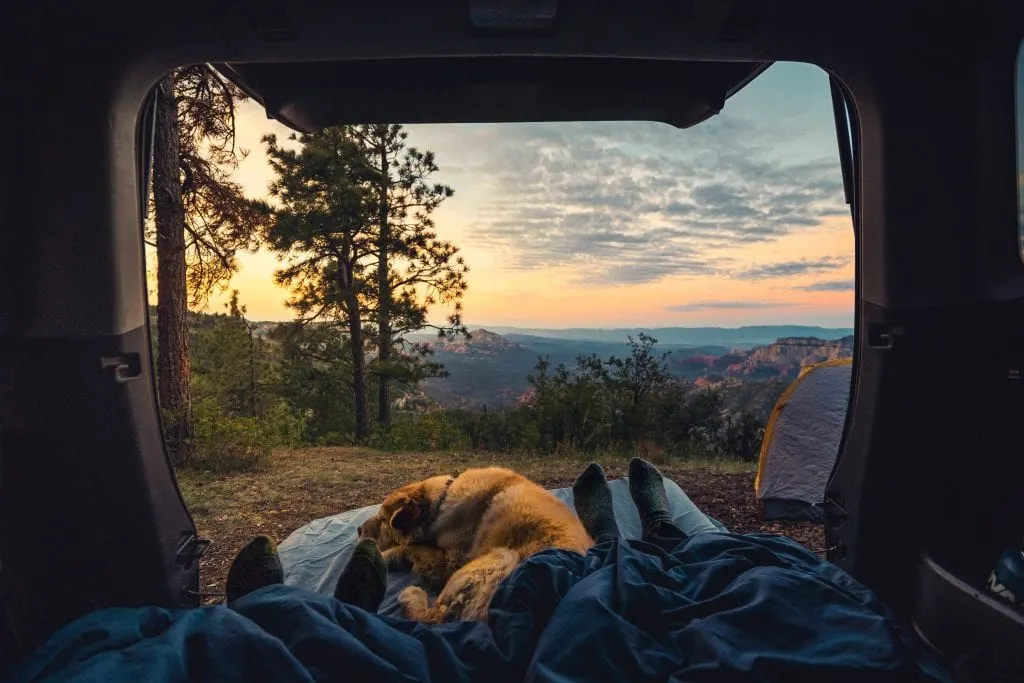 Camping Sayings
Here are some of the best camping sayings:
"Do not collaborate with someone you would not go camping with." – Dan Poynter
"Camping is nature's way of promoting the motel business." – Dave Barry
"I think camping is one of those things where if you're forced into it as a child, you'll probably hate it as an adult." – Jeremy Irvine
"Now I see the secret of making the best person, it is to grow in the open air and to eat and sleep with the earth." – Walt Whitman
"A perfect day would be to get into the car, drive out to Yosemite and go camping." – Michael Steger
"Earth and sky, woods and fields, lakes and rivers, the mountain and the sea, are excellent schoolmasters, and teach of us more than we can ever learn from books." – John Lubbock
"In nature, nothing is perfect and everything is perfect. Trees can be contorted, bent in weird ways, and they're still beautiful." – Alice Walker
"To be whole. To be complete. Wildness reminds us what it means to be human, what we are connected to rather than what we are separate from." – Terry Tempest Williams
"Nature has been for me, for as long as I remember, a source of solace, inspiration, adventure, and delight; a home, a teacher, a companion." – Lorraine Anderson
"I have this dream of what I ultimately want my life to be like, and it involves a lot of quaint activities like cooking and canoeing and camping and hiking." – Hannah Kearney
"I went camping for 33 days, and now everybody seems to care." – Colleen Haskell
"I go camping with my boyfriend having nothing other than ourselves and the birds, to talk with is most relaxing." – Jamie Luner
RV Quotes
If you are living the RV life, we have found a few RV camping quotes for you:
"Yes, I do have a retirement plan – it is called rving." – Unknown
"I grew up camping with my family. We took so many trips. We had an RV, actually, when we were growing up. We did a ton of camping trips and went across the country." – Kirsten Lepore
"You can't buy happiness…but you can buy an RV, and that's pretty close." – Unknown
"I'd rather wake up in my RV than in any city in the world." – Unknown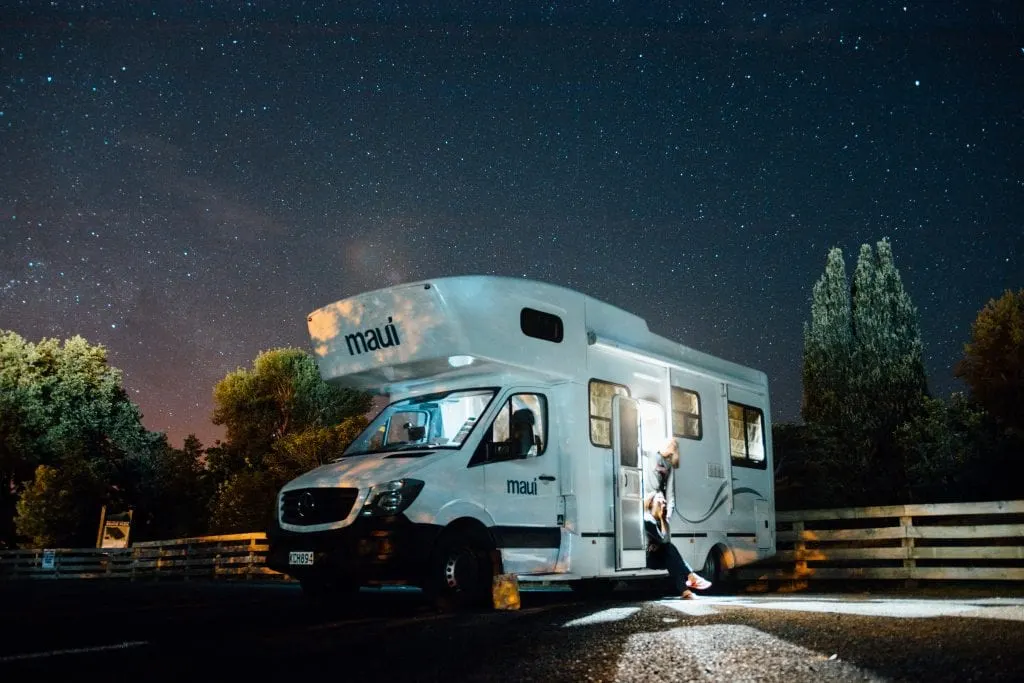 Campfire Quotes
"You don't have to say everything to be a light. Sometimes a fire built on a hill will bring interested people to your campfire." – Shannon L. Alder
"Light a campfire, and everyone's a storyteller." – John Geddes
"The glories of a mountain campfire are far greater than may be guessed… One can make a day of any size, and regulate the rising and setting of his own sun and the brightness of its shining." – John Muir
"Whatever form it takes, camping is earthy, soul-enriching and character building, and there can be few such satisfying moments as having your tent pitched and the smoke rising from your campfire as the golden sunsets on the horizon – even if it's just for a fleeting moment before the rain spoils everything." – Pippa Middleton
"Somebody told me it was frightening how much topsoil we are losing each year, but I told that story around the campfire and nobody got scared." – Jack Handey
"You don't have to say everything to be a light. Sometimes a fire built on a hill will bring interested people to your campfire."― Shannon L. Alder
"The breath of song in your remembering eyes cascades fragile reflections of time-steeped sunsets tinting delicate snowflakes with the solitude of a sleeping forest where ancient secrets lie waiting, undisturbed by knowing, tranquil in the forgetfulness of yesterday's silvery silence "― Sean Terrence Best
"The whole campfire idea freaked Piper out. It made her think of that huge purple bonfire in the dreams, and her father tied to a stake. What she got instead was almost as terrifying: a sing-along." – Rick Riordan
"We're never alone. As soon as we step outside the campfire glow, our Muse lights on our shoulder like a butterfly. The act of courage calls for infallibly that deeper part of ourselves that supports and sustains us." – Steven Pressfield
Glamping Quotes & Captions
Some of us prefer to glamp over camp (like my Mom). If you are in that boat, here are some glamping quotes and captions for you:
Relax, we're on glamping time.
"My camping days are over, but I might consider glamping." – Christine Feehan
Tent Quotes
Tents are not personally my fav. I prefer the warmth and safety of my campervan. If you love tents, or even if you hate them, here are some tent quotes for you:
"It always rains on tents. Rainstorms will travel thousands of miles, against prevailing winds for the opportunity to rain on a tent." – Dave Barry
"I love camping, everything about it – tents, the camping stove, sleeping bags." – Shura
"I got into an argument with a girlfriend inside of a tent. That's a bad place for an argument, because then I tried to walk out and slammed the flap. How are you supposed to express your anger in this situation? Zipper it up really quick?" – Unknown
"I pass my life in preventing the storm from blowing down the tent, and I drive in the pegs as fast as they are pulled up." – Abraham Lincoln
"Those powers that control the tent are not threatened at all by any activity that you engage in, in the shadows, that's not moving toward the tent. And I am rather convinced that we have a generation that is so preoccupied with life in the shadows, they never even focus on getting to the sunlight where you open up the big tent." – Jesse Jackson
"I absolutely loathe sleeping in a tent, regardless of the weather." – James Acaster
"I love camping, everything about it – tents, the camping stove, sleeping bags. I'm obsessed with technology, be it synthesizers and speakers or tents and Gore-Tex." – Shura
"There is something liberating about just having what you need, on your bike… A tent, a roll mat, a little bit of food, a bit of petrol in your tank and a vague idea of where you're going and that's all you need." – Ewan McGregor
Happy Camper Quotes
Here are some happy camper quotes from many people around the world, even famous people to show their love of camping:
"I felt my lungs inflate with the onrush of scenery. Air, mountains, tree, people. I thought: this is what it is to be happy." – Sylvia Plath
"We now no longer camp as for a night, but have settled down on earth and forgotten heaven." – Henry David Thoreau
"The rite of passage of learning to build a fire that will burn all night with one match is not an insignificant one in my husband's family, and I grew up camping and backpacking. I love to camp." – Sarah Wayne Callies
"Camp is a solvent of morality. It neutralizes moral indignation, sponsors playfulness." – Susan Sontag
"I just want to live in a world of mountains, coffee, campfires, cabins, and golden trees, and run around with a camera and notebook, learning the inner workings of everything real." – Victoria Erickson
"I go to nature to be soothed and healed, and to have my sense put in order." – John Burroughs
"Without the intense touch of nature, you can never fully freshen yourself! Go for a camping and there both your weary mind and your exhausted body will rise like a morning sun!" – Mehmet Murat ildan
"Another thing I like to do is sit back and take in nature. To look at the birds, listen to their singing, go hiking, camping and jogging and running, walking along the beach, playing games and sometimes being alone with the great outdoors. It's very special to me." – Larry Wilcox
"I just want to live in a world of mountains, coffee, campfires, cabins, and golden trees, and run around with a camera and notebook, learning the inner workings of everything real." – Victoria Erickson
"I never camped as a kid, but I really got into camping and sleeping outdoors. I've also done some amazing river floats in New Mexico and Idaho. It's peaceful and awesome." – Conor Oberst
"I'm really an outdoorsy girl. People think I can't go anywhere without getting all primped up, but I love to go camping, and I'm totally fine with not doing my hair or makeup, not taking a shower and just hiking." – Vanessa Hudgens
"I like going to museums and stuff, but I also like going out and doing lots of physical activity like camping and hiking. I like doing stuff that I've never done before. Curiosity is a big thing. Usually it means that people are intelligent and that they want to learn stuff about the world." – Nicholas D'Agosto
Summer Camping Quotes
Summer is one of the best times of year to go camping (provided it is not that hot!) Here are some of the best summer camping quotes:
"The fire is the main comfort of the camp, whether in summer or winter." – Henry David Thoreau
"One can find a squalid America as easily as a scenic America; a bitter, hopeless America as easily as the confident America of polyethylene wrapping, new cars, and camping trips in the summer." – Robert Kennedy
"The fire is the main comfort of the camp, whether in summer or winter and is about as ample at one season as at another. It is as well for cheerfulness as for warmth and dryness." – Henry David Thoreau
***
Save to Pinterest!