Looking for the best Chicago hot tub suites for a romantic vacation?
There are few joys in life that can compare with a romantic getaway with your significant other. But where to go? One of America's best cities to visit is Chicago. The food, the culture, the views—the perfect recipe for an unforgettable getaway!
You want your couple's trip to The Windy City to be fun, luxurious, and above all, you want it to be romantic. And for many couples, it doesn't get much more romantic than a steamy hot tub just for the two of you.
Taking the time to research and find the right hotel with a good spa tub suite can be time-consuming and exhausting. It can feel like there are too many options, and not all hotel websites are easy to navigate (even some of the luxury, five-star joints).
So, we did the hard work for you. Below, you'll find a list of 12 of the most romantic hotels in Chicago with a jacuzzi hot tub in room, broken down by location, with an overview of the amenities offered at each hotel.
Whether your ideal getaway includes luxury bathrobes and wine nights or sports bars and casinos, this list has the perfect accommodations for your couple's trip or romantic weekend to Chi-Town. The most romantic hotels in Illinois!
12+ Best Chicago Hot Tub Suites for your Romantic Getaway
DOWNTOWN CHICAGO WITH JACUZZI SUITES
The Palomar is the height of luxury and perfect for couples. In addition to Fuji jet soaking tubs in their specialty suites, the Palomar features floor-to-ceiling windows with a skyline view, an indoor pool, a 24-hour onsite fitness center, in-room spa services, and much more!
Enjoy complimentary tea and coffee service every morning with your significant other, loan a couple of bikes for the day, do some yoga with your in-room yoga mats, and expand your palates at their hosted evening wine hour before a nice soak in the hot tub!
In case you want to spend all day in bed, the Palomar also features 24-hour in-room dining.
If you want to explore Chicago's culinary scene, however, you and your sweetheart won't be short on options. There are more than 300 restaurants within a quarter mile of the hotel, including prime steak and seafood options less than a five-minute walk away.
If you and your partner can manage to pry yourselves away from the hotel and the restaurants, there are also dozens of Chicago attractions within a half mile of your room.
Spend the day at one of two nearby escape rooms, buy specialty souvenirs at Adagio Teas, or go exploring! You'll be sure to find plenty to do together in the Palomar's prime downtown Chicago location.
Book your stay here.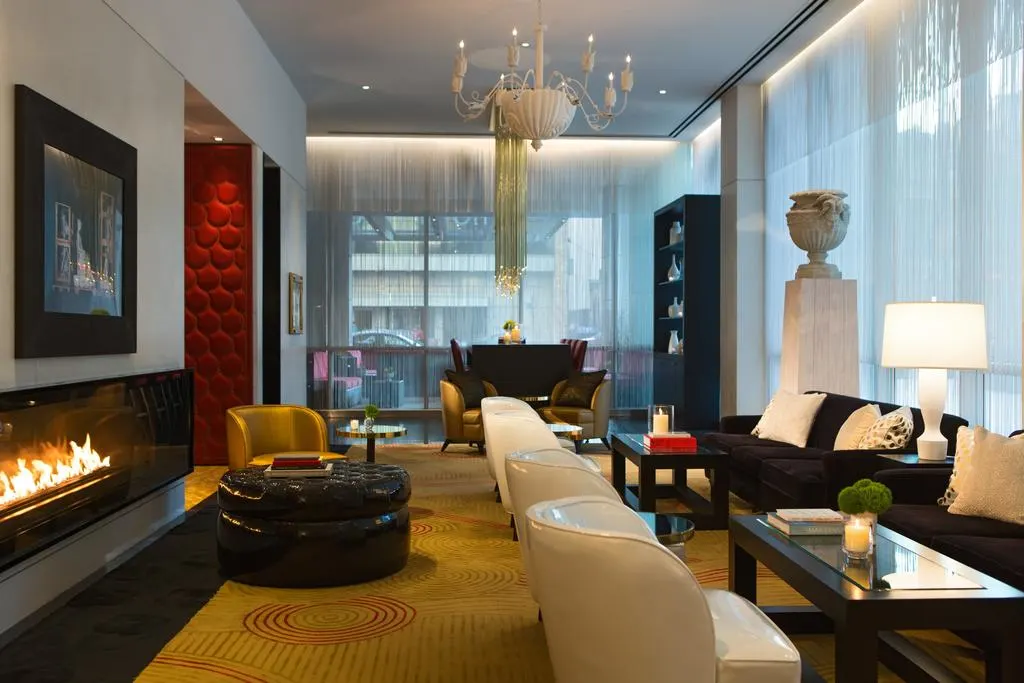 The King Suite with Jacuzzi inside room at the Allegro features 550 square feet of comfort and luxury, just for you and your SO.
Enjoy city views from the comfort of your room, meet other couples at the hosted evening social hour, work out any time with the 24-hour fitness center, and relax with in-room spa services.
You can also find the aforementioned Kimpton amenities, such as in-room yoga mats, complimentary comfort services, luxurious robes and bath amenities, and more.
Looking for good places to eat nearby? You're sure to enjoy the Allegro's 312 Chicago Restaurant and Bar Allegro, but if you want to branch out for some more Chicago cuisine, you have hundreds of options at your fingertips!
Satisfy your sweet tooth at Do-Rite Donuts, go for some Italian at Trattoria No. 10, or grab a cocktail at Prime & Provisions, all within a five-minute walk of your hotel.
When you aren't stuffing yourself with amazing food, you'll have no trouble filling your days with couple's activities such as an adventure at Room X Escape (the Chicago escape room industry really is booming), a leisurely stroll along the Chicago River, or seeing a professional play at the Goodman Theatre, all still within five minutes of the Allegro.
The hardest part about your stay here will be narrowing down your itinerary!
Book your stay here.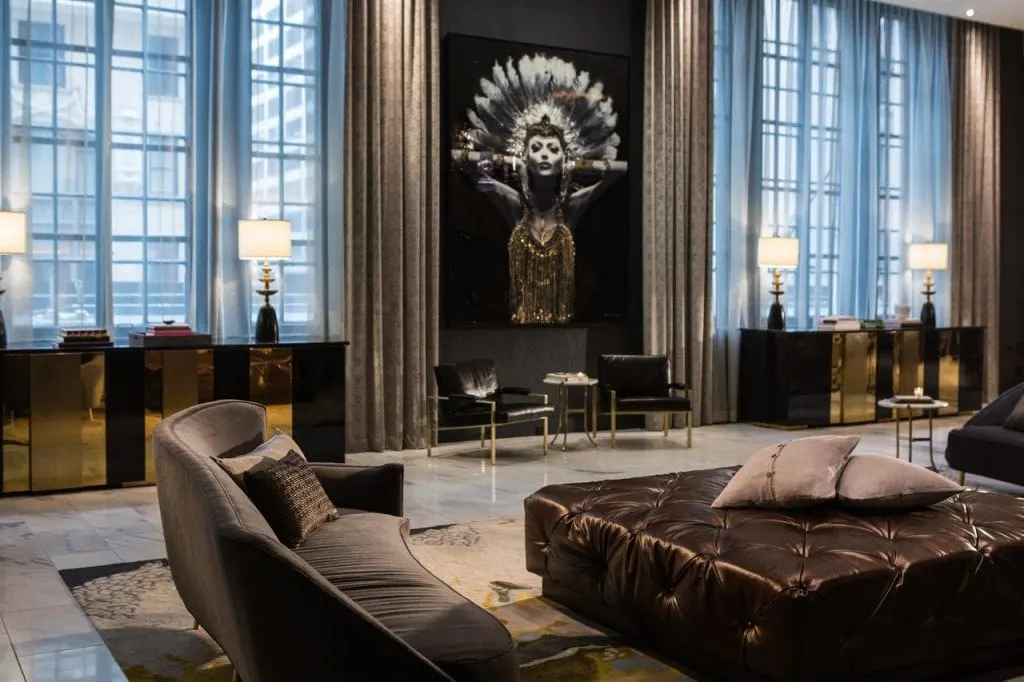 More Downtown Chicago Hot Tub Suites:
CHICAGO BUCKTOWN SPA TUB SUITES
Book one of three rooms with a whirlpool in room at this cute Chicago B&B located just a ten-minute drive from Midway Airport. One of the most romantic rooms with a jacuzzi in Chicago.
Enjoy the Da Vinci or Skylight rooms with a standard-sized jetted tub or book the Flamingo room, which features the largest bathroom of any room at Ray's, including a two-person whirlpool tub to make your romantic time together as comfortable as possible.
The Skylight and Flamingo rooms also have separate showers, and the Da Vinci room features two showerheads with its whirlpool tub.
Ray's Bucktown B&B offers a wide array of comfort amenities, including free garage and street parking (unrestricted!), free WiFi, a sauna and steam room, Cable HDTV and DVR in every room, laundry facilities, and complimentary water, tea, and coffee for the duration of your stay!
Not to mention the "breakfast" portion of the B&B: start your day with a made-to-order breakfast from Ray's menu of daily specials, included with the price of your stay.
Aside from breakfast, there are more than 30 restaurants less than half a mile away. Enjoy classic American cuisine at The Bristol or Toast Two, or take a mini trip to the Caribbean at Paladar Restaurant & Rum Bar.
One of the best hotels with whirlpool suites in Chicago.
What do do nearby?
When you aren't soaking in your two-person hot tub, you'll find lots to do in Chicago's Bucktown neighborhood.
Check out the 606 jogging and bike trail, try one of more than 80 restaurants within walking distance, or enjoy a night out at one of the nearby bars.
This B&B is also close to Kennedy Expressway, making it easy to spend your day in the Loop, enjoying the plethora of shops, parks, theaters, and more located in vibrant downtown Chicago.
Book your stay here.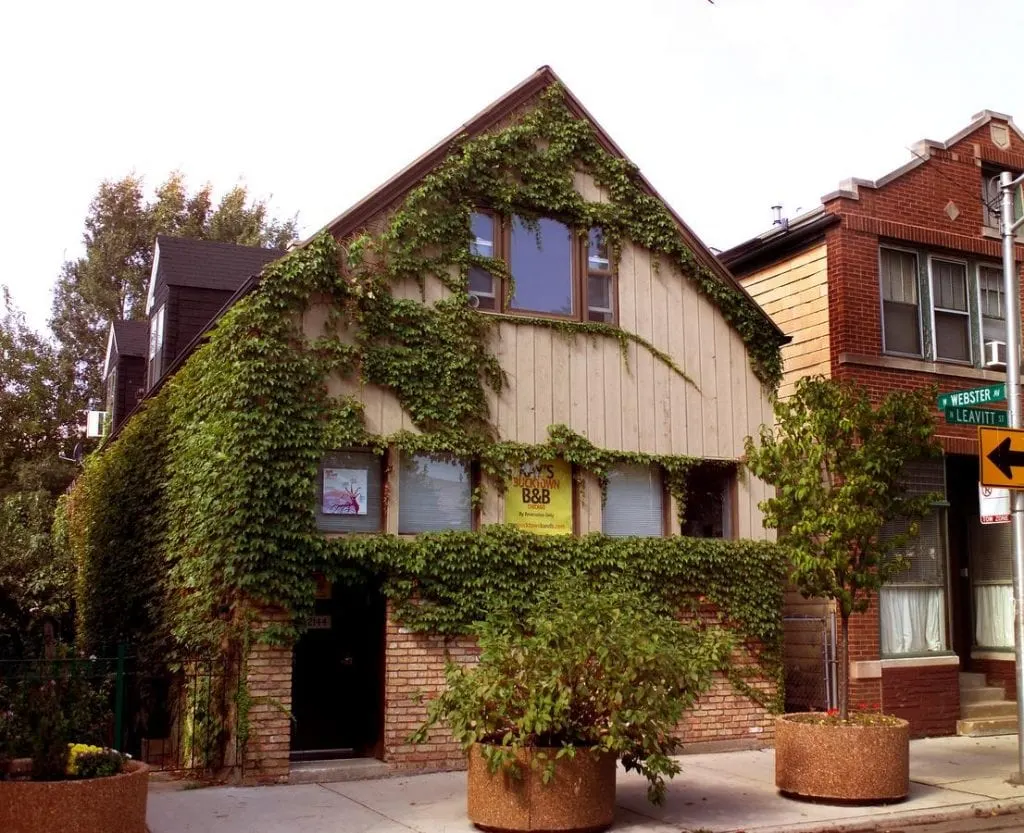 JETTED TUB SUITES NEAR CHICAGO O'HARE AIRPORT ORD
For a more casual experience, you may want to book your stay with Comfort Suites Chicago O'Hare. One of the best hotel suites in Chicago!
This hotel features an onsite, full-service restaurant and sports bar decorated with Chicago sports memorabilia, where you can enjoy a laid-back atmosphere before heading to your room for some time in the two-person whirlpool.
Each morning, enjoy a free hot breakfast from Comfort Suites to fuel up for your day. If you're looking to get a taste of the local town, you'll have lots of nearby dining options.
From American to Italian to Indian cuisines, you're sure to find the ideal setting for your romantic dinner.
Looking for things to do nearby? You and your significant other can fill your time at the slots at Rivers Casino, or go to Lake Park Golf Course & Marina, where you can play 18 holes, go fishing, and rent a paddleboat.
And of course, Downtown Chicago is a mere drive away for the full Windy City experience.
Book your stay here. A cheap hotel with jacuzzi in room in Chicago.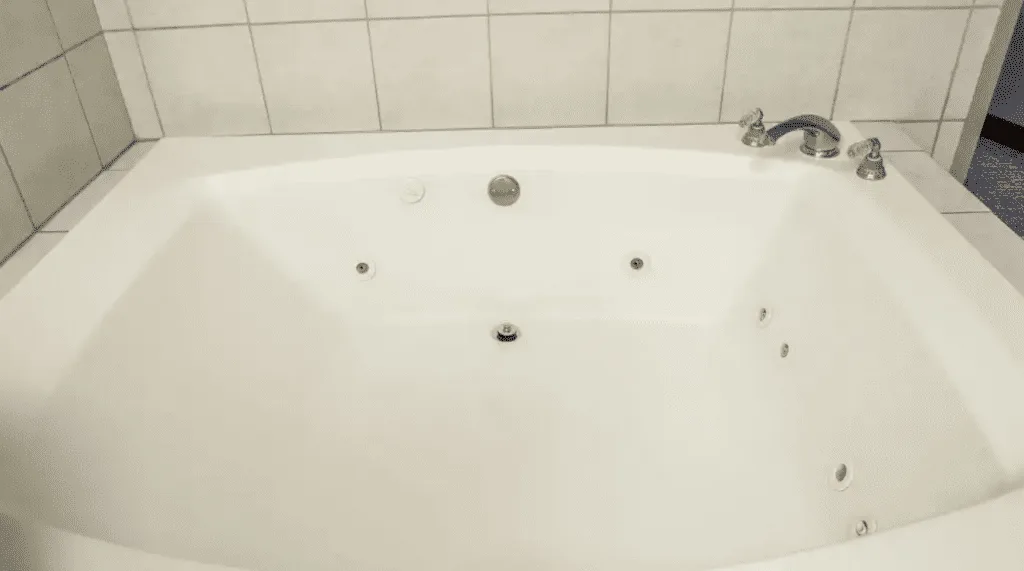 Book Best Western Plus's whirlpool room with a king bed for a unique hot tub suite experience.
This room features its whirlpool outside the bathroom in the main room, surrounded by marble and mirrors that will make your hot tub experience feel all the more elegant and luxurious—without the five-star price!
This hotel offers complimentary hot breakfast and is also located within three quarters of a mile of more than two dozen restaurants, from national chains, such as Denny's, to locally owned places, like Lulu Belle's Pancake House.
Located just minutes from O'Hare International Airport, Best Western Plus is close to Rivers Casino and Allstate Arena, where you can cheer on your favorite hockey team at a nearby game.
The Magnificent Mile, Navy Pier, and Wrigley Field are all a short drive away in the heart of Chicago, so there are plenty of things for you and your sweetheart to discover on your romantic trip.
Book your stay here.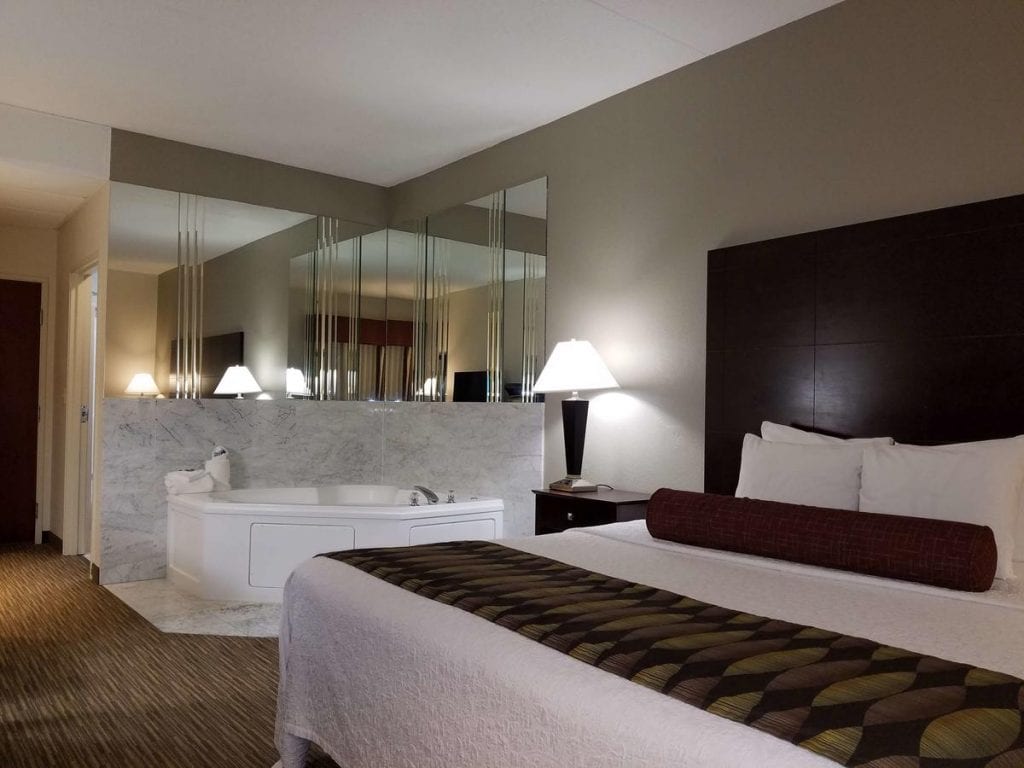 CHICAGO NORTH SHORE WHIRLPOOL SUITES
Book a whirlpool room at this hotel close to Northwestern University and enjoy affordable comfort just a drive away from Chicago's bustling downtown.
Fill up with a complimentary hot breakfast, take a swim at the indoor pool, go for a run together at the fitness center, or relax in your jetted tub, of course!
Breakfast is complimentary each morning, with freshly made waffles and hearty oatmeal.
There are more than 40 restaurants within three quarters of a mile, meaning a delicious Italian or seafood dinner date—or, heck, even The Cheesecake Factory—is just a brief walk or quick drive away.
There is a lot to do in this area, inside or out! Lake Michigan Beaches in nearby Evanston are just five miles away, making this hotel a great choice for a summer trip.
You and your significant other can get some shopping done or catch a movie at Westfield Old Orchard Center. While you're in the neighborhood, try a one-of-a-kind virtual reality gaming experience at MassVR. Or, the two of you can expand your cultural and historical understandings with a visit to the Illinois Holocaust Museum & Education Center, which is less than a ten-minute walk from the hotel.
The variety of activities close by makes the Hampton Inn & Suites a great choice for a fun and exciting getaway.
Book your stay here.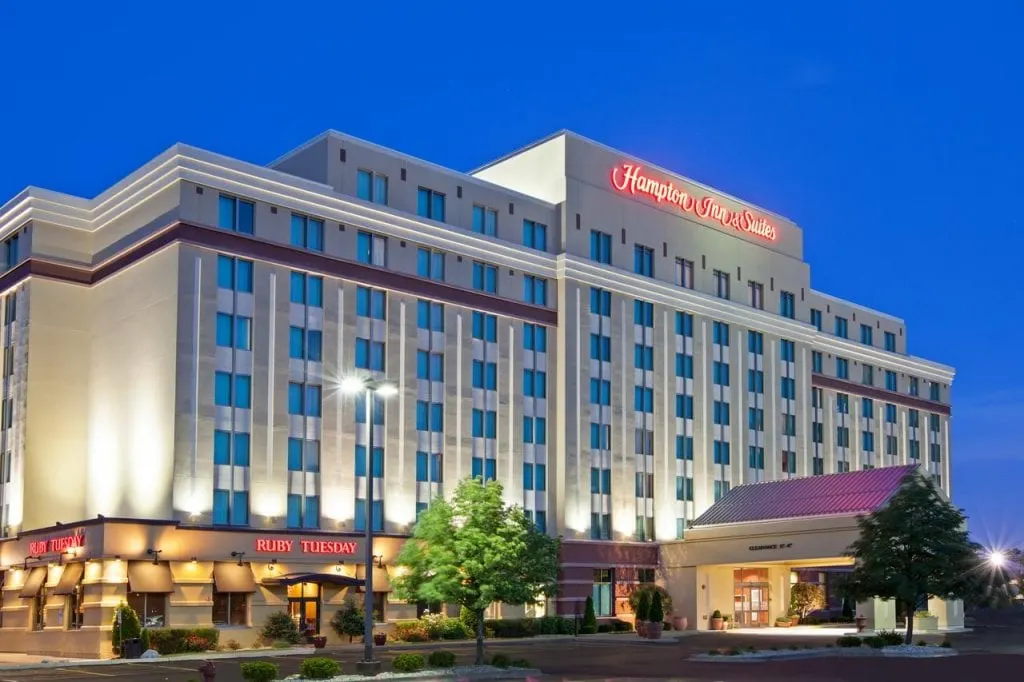 OAK PARK IL HOT TUB SUITES
This B&B is a perfect spot for a cozy, romantic getaway. Book the Garden, Chalet, or Jimmy Stewart suites for your private whirlpool and fireplace experience.
You can also find oversized lounge chairs, perfect for cuddling up with your sweetheart after a long day enjoying all this place has to offer. The Harvey House has its own library for some quiet time reading together or simply browsing.
You can also browse their gift shop to find a unique souvenir to commemorate your trip.
The B&B has a snack bar for your late-night cravings, as well as breakfast available in your room, so you can enjoy it in bed together (no cooking required!).
Off the property, you can take a culinary journey to France with Hemingway's Bistro, or to the Southwest at Maya Del Sol, both less than a ten-minute walk away. There are also Italian and American cuisine options to fulfil everyone's tastes.
You'll walk away from your stay at Harvey House feeling fantastically sophisticated. Check out Frank Lloyd Wright's Home and Studio, less than one mile away, and be sure to take a 10-minute stroll to visit Wright's famed Unity Temple, a marvel of architectural design.
For those more musically inclined, a date night at the Chicago Symphony Orchestra is just a short drive away.
City Winery is the perfect setting for a romantic afternoon tasting wines, and if all that wasn't awesome enough, Ernest Hemingway's Birthplace is just a 12-minute walk from your B&B.
Book your stay here. The perfect couples getaway right near Chicago.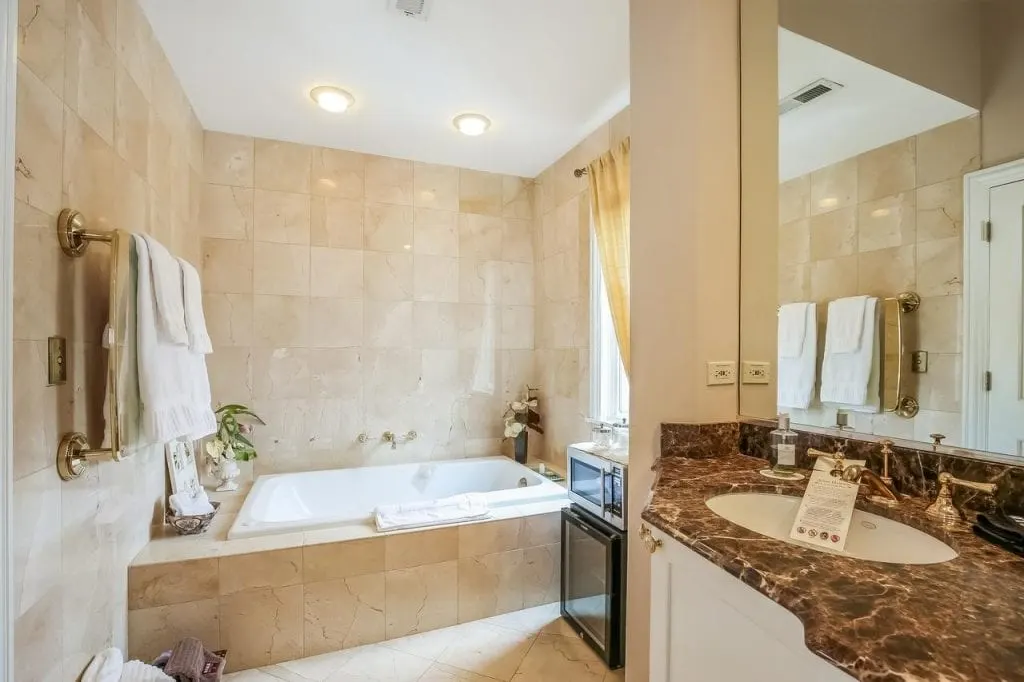 GENEVA, IL WHIRLPOOL SUITES
A whirlpool suite at the Comfort Inn & Suites Geneva is a great option for a comfy and convenient getaway with lots to do and try.
At the hotel, you and your honey can work out at the fitness center, splash around in the indoor heated pool, or stream your favorite TV show with the free WiFi.
The Comfort Inn offers a hearty, healthy, hot breakfast buffet each morning, and you won't be far from some delicious options.
Go for some classic American dishes at Town House Books and Café, then enjoy some dessert at either Graham's Fine Chocolate and Ice Cream or All Chocolate Kitchen. Whichever you pick, you can't go wrong.
Looking for fun things to do nearby? Go on an ice skating date with plenty of excuses for public hand holding or catch a hockey game at nearby Fox Valley Ice Arena.
You can also tee off at Settler's Hill Golf Course, both located within five minutes of the hotel.
You and your SO can also fill your days shopping at Chicago Premium Outlets, less than 10 minutes away, taking a tasting tour at Fox River Distilling Company, watching a performance at Batavia Fine Arts Centre, or strolling along your pick of scenic downtown St. Charles or the Fox River.
Book your stay here.
SCHAUMBERG, IL JACUZZI SUITES
This Radisson location offers suites designed for maximum romance: two shower heads in the shower, a remote fireplace, and—of course—a whirlpool tub in suite.
If you are looking for one of the most romantic jacuzzi suites in Chicago, don't eliminate this hotel as a contender.
There's a CD player in the room and free access to the hotel's CD library to create the perfect mood, and you can enjoy an intimate date just for the two of you with room service delivered to your door—24 hours a day.
Beyond your room, you'll find a heated indoor pool and complimentary coffee and tea and cookies (oh my!). There is also a 24-hour fitness center, in case you get the urge for a couple's run at 3 a.m.
There's a free, hot breakfast available every morning, but if waffles don't do it for you, Richard Walker's Pancake House is just a four-minute walk away.
If you get the craving for Chinese cuisine, Yu's Mandarin Restaurant is a seven-minute walk from the hotel. Or, if you're in the mood to time travel a bit, check out Medieval Times Dinner and Tournament for ye-olde-fashioned experience.
Looking for things to do nearby? Try your luck at Grand Victoria Casino Elgin, see a performance at Metropolis Performing Arts Center, or spend some time at Lynfred Winery for some good, adult fun.
Or get in touch with your inner kids at Shedd Aquarium and LEGOLAND Discovery Center Chicago, both located just a short drive from this hotel.
Book your stay here.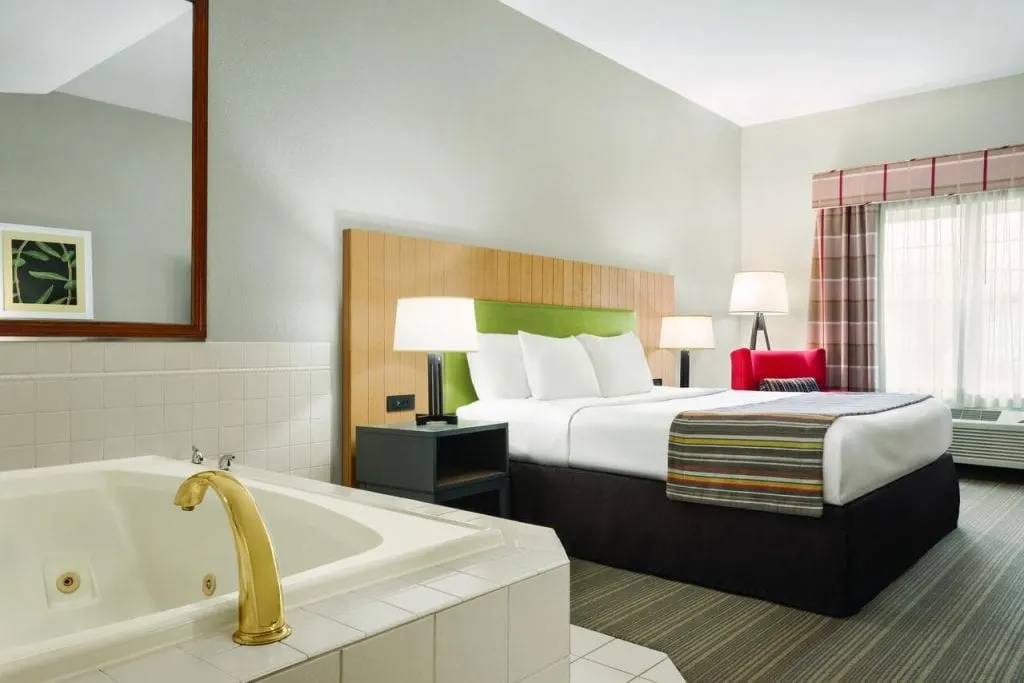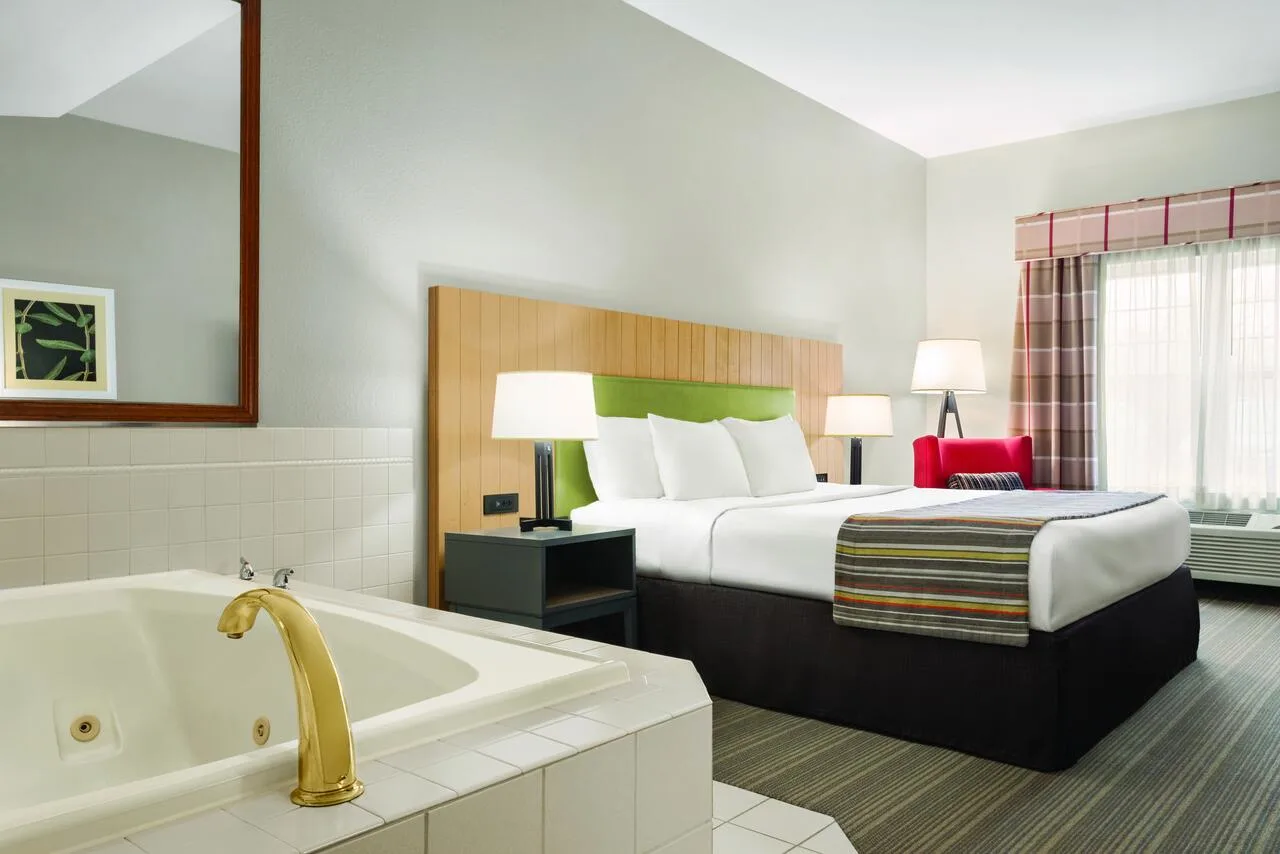 The Wyndham Garden offers an outdoor pool, a fitness center, and a gift shop. Book one of their hot tub suites and enjoy the comforts you've come to know and love at a good hotel. Free WiFi, TV, the works.
The onsite Entre Bar & Grill offers delicious food and a casual atmosphere for three meals a day.
For breakfast, enjoy farm-fresh eggs prepared however you like them, sweet waffles, savory breakfast meats, and many other morning favorites.
For lunch and dinner, select from a global menu featuring American, Indian, and Mexican dishes. For an off-site meal, try one of the nearby eateries, such as Wildberry Pancakes and Café, Moretti's Ristorante and Pizzeria, or Morton's The Steakhouse, all within five to fifteen minutes away by foot.
Looking for activities nearby? This hotel is another great option for visiting the LEGOLAND Discovery Center Chicago.
You can also get your laughs at the Improv Comedy Club, or you can catch a game at nearby Wrigley Field. No matter what, this hotel is perfect for proximity to entertainment!
Book your stay here. Definitely one of the best hotels in Chicago for couples.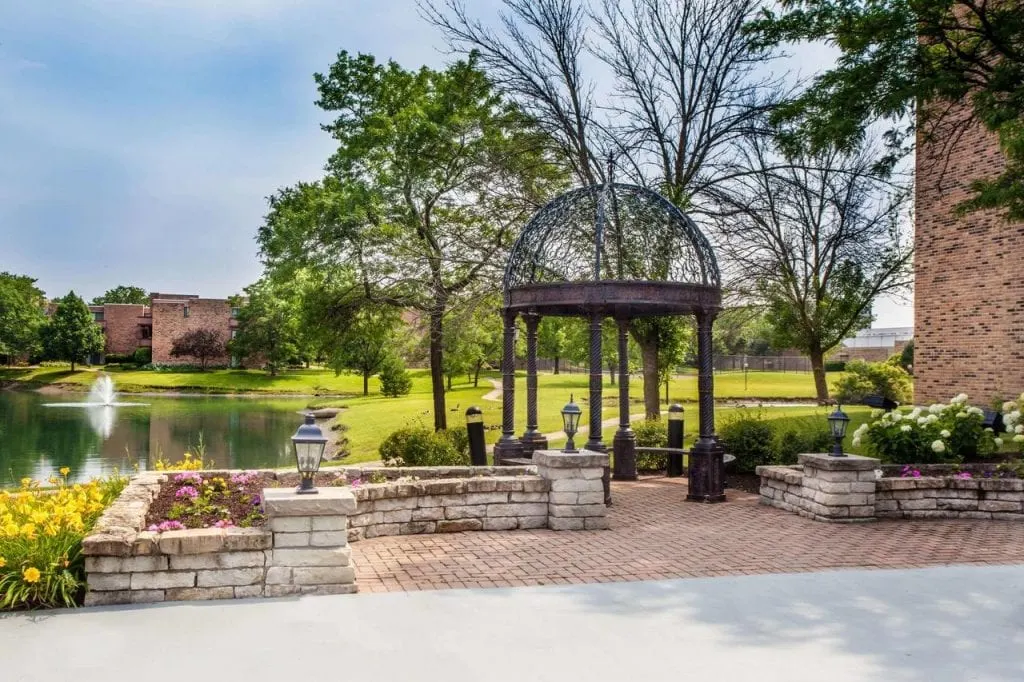 NORTHBROOK, IL JACUZZI SUITES
Sybaris Pool Suites boasts of being voted the best romantic getaway in the United States by the International Hospitality Rating Bureau, and boy, it does not appear to disappoint. Certainly the best couples spa in Chicago!
Not only can you book a whirlpool suite, but you can also book suites with two stories and a pool, as well as a massage chair, fireplace, a private jacuzzi, and sauna, all in luxurious privacy. A adults hotel in Chicago for those who are big kids at heart.
Every detail of the hotel was designed to maximize romance, going so far as to forego windows and phones in the suites—you won't find anything that could interrupt your time together. And depending on the day(s) of the week you stay (or if you choose to rent a suite for just an afternoon), the prices for even the most elaborate suites are extremely reasonable.
There are lots of local options surrounding Sybaris to ensure you and your sweetheart never go hungry.
Grab a short stack at Elly's Pancake House or hunt down your favorites at one of the 27 other restaurants within three quarters of a mile of the hotel, ranging from American to Mexican and everything in between.
Sybaris Pool Suites is truly designed to be stayed in. However, if you two can manage to pry yourselves away from your private water slide and sauna, you'll find a beautiful hiking trail just a brief walk away at River Trail Nature Center.
Book your stay here. Our pick for a couples retreat in Chicago. Absolutely ideal for a Chicago honeymoon.
CHICAGO RIDGE, IL JACUZZI SUITES
The Blue Star Motel puts a fun spin on the theme of each of its rooms—several of which have whirlpool tubs. A spa getaway near Chicago to rememeber!
You and your significant other may want to book their Romantic Whirlpool suite for your special getaway, which has a spacious Jacuzzi, king-sized bed, steam shower, dining table just for the two of you, and electronic amenities such as a flat screen TV and stereo.
There are several meal options within a 12 minutes' walk of the Blue Star Motel, including Zacarelli's Pizza and Rosa's Pizza & Italian Restaurant, Mediterranean dishes at Fattoush, and Japanese cuisine at Ichiban.
You won't be short on shopping options here either, as the motel is just minutes away from Chicago Ridge Mall, Walmart, and convenience stores.
A stay here is also just a drive away from all that Downtown Chicago has to offer.
Book your stay here.
Best hot tub suites in Chicago
Every couple is different. Maybe you and your boo love wine tasting and cuddling next to a rustic fireplace.
Maybe you love playing Blackjack and cheering on your favorite sports team.
No matter how you spend your time together in Chicago, spend it in style in a hot tub suite. You'll be sure to find the right hotel for your tastes, interests, and budget, whether in the heart of Downtown Chi-Town or Chicago Ridge. But, most importantly, you'll find the perfect jacuzzi suite in Chicago. Happy soaking!
Want More Romantic Getaways?
Other than Romantic whirlpool suites in Illinois, we have you covered with the best romantic getaways in the USA: