Looking for fun date ideas in Cincinnati? Here we have you covered with 61+ of the best Cincinnati date ideas so the weekend will never be dull and boring again!
While you're here, bookmark these for more Ohio fun:
62+ Fun and Unique Date Ideas in Cincinnati
Date Night Ideas
16-Bit Bar+Arcade. For couples who love to play, this location is sure to make for a fun time. It is home to over 50 classic arcade games, like Donkey Kong and Street Fighter, and you can play them all for free! Happy Hour is every Wednesday until 7 p.m., and you can get $2 off cocktails, draft beer, and wine.
The Video Archive. If you or your partner is a cinephile, you'll love this place. The Video Archive is a nostalgic video rental store that has a secret door leading back to a hidden bar. Think Blockbuster-slash-speakeasy. With niche, Quentin Tarantino-inspired décor and specialty craft cocktails, this is a truly unique date night spot in Cincy.
Archery Arena. One of the most popular activities in Cincinnati right now, which is perfect for a date is the Archery Arena. This is a great option for couples who want to have a lighthearted playful date. Archery arena allows you to bring out the child within as the game conjures up the nostalgia of the childhood spot Dodgeball – but with a wildly satisfying twist. Two teams battle with foam-tipped bows and arrows to eliminate the other team. Go on a double date with friends or join a team and make new friends (great for a first date to break the ice!) – the choice is yours!
Cincinnati Playhouse in the Park. For the last 60 years, the Cincinnati Playhouse in the Park has been the home of both classic and modern hits, boasting professional theatre consisting of musicals, dramas, and comedies. They have a café on-site and also offer virtual workshops for theatre students. For people who love the arts, this is a great spot for a night out.
Go Bananas Comedy Club. Who doesn't like to laugh? The Go Bananas club was voted Best Comedy Club in Cincinnati in 2018. It is open for shows Thursday-Sunday, and Wednesday night is Pro-Am night. That is the night that you can bring your friends and try out your own 5-minute set onstage. Maybe not the best spot for a first date if you're looking to impress someone (you better bring your A-game!), but it could be a fun spot for a double-date or a night out with friends.
Sip and Paint Night. Eat, drink, and make some interesting art at a local paint night! Following along with a professional painting instructor, enjoy delicious drinks with your partner at Eat, Drink, Paint or Painting with a Twist. The latter offers themed paint nights, such as a girl's night, date night, trivia night, or the option to paint your pet!
Class Axe Throwing. Release your frustrations and tap into your competitive side with this unique date night option. For 1.5 hours, you are treated to an axe-throwing lesson from a professional and guided games in order to test your newfound skills. See if you or your partner has the better aim!
Cincinnati Escape Room. Test how well you and your partner can work together to find the keys to your escape with this 60-minute adult mystery game. Perfect for couples who love adventure, you can choose from themed rooms like The Upside Down (inspired by Netflix's Stranger Things), Prison, and 221b Baker Street (inspired by Sherlock Holmes).
Fun Date Ideas Cincinnati
Full Throttle Adrenaline Park. Open every day for go-kart racing, this is a great date spot for adrenaline junkies and competitive people alike. Challenge your partner to a race and make this a recurring spot for a night out.
Try Your Hand at Making Macarons. The Macaron Bar offers delicious macarons in a wide variety of flavors, from classic dark chocolate and pistachio, to more exciting flavors like birthday cake and mimosa. If you're feeling ambitious, you and your partner can try your hand at a baking class and see who can make the better treat!
Visit a Brewery. At Fifty West Brewing Company, you and your partner can do more than just drink. They offer opportunities to play volleyball, canoe, kayak, run, and go bike riding. Open every day, you can also grab a delicious bite to eat at their Burger Bar. At Rhinegeist, you can choose to spend your time in their taproom or up on their rooftop bar sampling their wide selection of craft beers.
Visit a Winery. Meier's Wine Cellars offers both a tasting room and retail store, so you can take your favorite wines home with you to enjoy on a night in. They also host seasonal tasting events which couples can enjoy on solo dates and with friends. Henke Winery serves incredible wines paired with an Italian menu. Cooper's Hawk Winery has an upscale, Napa-style tasting room that offers both dine-in and carry-out options. This is the perfect place to either start or end a Cincinnati date night.
Go Fowling. Do you like football? How about bowling? At Fowling Warehouse, the only fowling location in Ohio, you can combine the two! Open Wednesday-Sunday, you and your partner can enjoy a distinctive date experience. They are home to two bars and even have a mystery beer machine where you can try out a variety of craft brews.
Go Mini Golfing. At Scene 75, you can enjoy crazy artwork and an eclectic scene at this indoor, blacklight mini golf course. After a few rounds, you can switch up the night and check out their other attractions, like an arcade and bumper cars. If you prefer to keep your mini golfing experience in the fresh air, Eagle Tee Golf Center is an outdoor facility that is perfect for a day or night out. On Wednesdays, you can buy one round and get another free!
Findlay Market. This public market is a great spot to go for a weekend date. Spend the morning or afternoon shopping for locally sourced artisanal foods, or maybe stick around to see street performers or participate in one of their special events. Their Fall Food Festival runs from October 16-18, and they also host a Halloween event and have holiday market vendors.
Butler County Donut Trail. Do you or your partner have a sweet tooth? Armed with a passport that gets stamped at each location, this event allows you to follow down a trail of local donut shops so that you can try all the flavors these mom-and-pops have to offer.
See a Reds or Bengals game. Baseball lovers might enjoy cheering on the Cincinnati Reds, and football fans shouldn't pass up the chance to watch the Bengals win a home game. Let's hope that you and your partner are rooting for the same team!
Get Ice Cream at Hello Honey. This ice cream shop creates extraordinary flavors with fresh ingredients, all from scratch. This is a great spot to satisfy your sweet tooth and end a night out.
Have a staycation – There is nothing better than having a staycation in one of the best hot tub suites in Ohio.
See more: Best all inclusive resorts in Ohio
Fun Romantic Restaurants Cincinnati
Dinner with a View. Take your date to The View at Shires Garden, a restaurant that offers 10th floor panoramic views of the city from their outdoor terrace. They also offer brunch on the weekends, which is perfect for a warm, sunny day. The Upper Deck at the AC Hotel offers outdoor dining with spectacular views of the Ohio River and Cincinnati. The dining area is chic and spacious, perfect for a date night or a formal event. Primavista is an indoor Italian restaurant with a romantic atmosphere and stunning views of the Cincinnati skyline.
The President's Room at the Phoenix. This spot is both beautiful and historic. The Phoenix is a piece of Italian Renaissance architecture that was built in 1893. The President's Room is located on the first floor, and the restaurant uses the finest ingredients in order to create stellar dishes and unique craft drinks.
The Summit at Cincinnati State. This restaurant staffed entirely by Cincinnati State students, operating under the direction of experienced culinary professionals. Dining here provides for both an educational experience for the students on staff and a delightful meal for you and your partner!
Cincinnati Dinner Train. Are you looking for dinner with a view, but unsure of what kind of views you want? This dinner train takes you on a 25-mile journey from Bond Hill, through Theodore Berry Friendship Park, and back to the beginning. Choose from a varied menu as you take in the sights of Cincinnati.
Rivertown Brewery. The Rivertown Brewing Company is a family-owned craft brewery that is also a slow-smoked BBQ restaurant. They offer house-brewed root beer and vintage arcade games to entertain you as you enjoy all the food and drinks they have to offer.
Maury's Tiny Cove. Maury's is Cincinnati's premiere steakhouse, proudly one of the oldest in the city. They offer exceptional service with a personal touch, and their striking décor leaves you feeling like you've stepped into the 1950s.
Best Cocktail Bars for Date Night
MOTR Pub. Between happy hour from 4-7 p.m. and free live music every night, this bar is bound to be a fun date night stop. They also host comedy nights and public readings for writers.
Clifton Heights Tavern. This sports bar has over 50 selections of craft beers. Their casual atmosphere and makes it the perfect spot for a chill night out.
Below Zero Lounge. This martini lounge is super fun. With neon lights and crafty cocktails, it also hosts DJs, karaoke, and comedy shows. If you like to dance, this is the spot for you.
Arcade Legacy: Bar Edition. With over 40 arcade games and 10 pinball machines, plus a console lounge, this is the ideal spot for gamers of all kinds. Games are free with the purchase of food or a drink, so you can enjoy a varied night on a budget. They also have an outdoor patio that hosts live music.
Corner Pub. This bar has an outdoor patio for relaxing outside, and multiple flatscreens for those who prefer to hang indoors. On the weekends they are the home of live music and DJs, a perfect spot for dancing.
Coffee Shops in Cincinnati
Cheap and Free Date Night Ideas
Cincinnati Art Museum. Couples who love the art scene need to visit this location. This spot offers free admission and free parking, and their current exhibitions promote discussions on inequality and boundary-breaking women in the history of art, as well as prolific works of sculpture and ceramics.
Cincinnati Murals. The city is home to over 40 murals, and you can find them all with a walking tour. You and your partner can get to know the city while looking for notable landmarks like The Golden Muse and The Singing Mural.
Lucky Cat Museum. If you're a cat lover, this spot is for you. This museum is all about Maneki Neko, which refers to the Japanese concept of the "beckoning cat", a pop culture icon that welcomes you into establishments. If you want to learn more about the history of the tradition, or you are curious about Japanese culture, or are just looking for more cat memorabilia, this is a great place to stop by.
Go to the top of Carew Tower. The observation tower is located 49 floors up, at the top of the city's highest elevated building. It is also home to a bunch of shops and restaurant inside. Start your date here and look out over the city to choose where you want to stop next!
Visit Washington Park. Home to beautiful local architecture, this expansive park also hosts music, theatres, movies, and outdoor workouts. Located just across the street is the Music Hall, which has hosted many notable artists from Elton John to Pink Floyd, and Memorial Hall, which has both a theatre for performances and houses artwork about the city's civic and military history.
Enjoy Nature. At Everybody's Treehouse, your imagination can come to life as you explore this mythic, magical treehouse that is perfect for children and adults alike. It is easily accessible looks like something plucked right out of a fantasy novel. You can also walk around Airy Forest and explore the miles of hiking and biking trails. There are also trails for horseback riding, a dog park, disc golf, and picnic areas.
Walk the Krohn Conservatory. At just $7 per person, you can see over 3500 plant species from all around the world. The host five shows annually where you can learn more about nature.
Visit Jungle Jim's Food Market. This international market represents food and cultures from over 70 countries. With such a wide variety of cuisine, this can be a date spot you can keep coming back to again and again.
Watch the Sunset. At Devou Park, you can spend a romantic evening watching the sunset over the city from the top of Memorial Outlook. It's the highest hill in the park, and from the top you can get a gorgeous panorama of the city. The 700-acre park is also home to scenic nature trails, concerts, a museum, and a golf course.
Wednesday Welcome Experiment at Know Theatre. Theatre lovers, rejoice! Wednesday nights at Know Theatre are home to free shows. It is the theatre's mission to make the arts accessible to everyone, and this free night makes it easy for low-income people, struggling students, and others looking to have fun on a budget to take advantage of their mainstage performances.
Visit the Contemporary Arts Center. This free museum is home to all sorts of interesting art pieces. They have performances and exhibitions throughout the year, some of which include topics like love, colonization, and art through different mediums.
The Eagle. This spot in Over-the-Rhine is great for a relaxing way to end the weekend without sacrificing your budget. With craft beers, specialty cocktails, fried chicken, and blues music, a good time is guaranteed.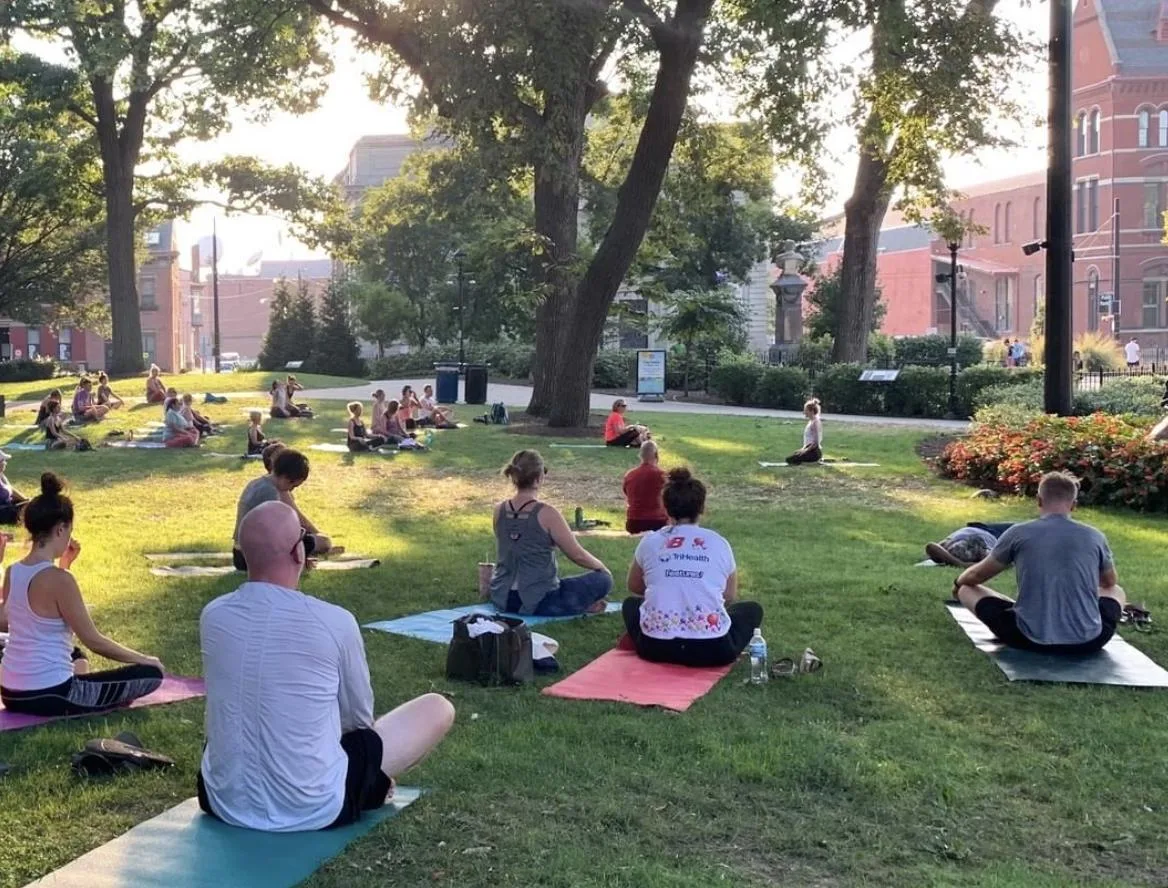 Unique Romantic Dates in Cincinnati
Hire a Swan Pedal Boat. At Miami Whitewater Forest, Cincinnati's largest park, you can rent pedal boats shaped like swans in addition to kayaks, canoes, and paddleboards. With over 4600 acres, this park is also home to multiple running and walking trails, horseback riding trails, a soccer complex, a dog park, and a picnic area. If you're a couple who loves to spend time outside, you won't be bored here.
The Cincinnati Observatory. Are you fascinated with the stars? Looking to woo your partner? Take a tour of the galaxy and see the sky through the oldest telescope in America at the Cincinnati Observatory. It is known as the birthplace of American astronomy, and the building itself is rich with the city's history.
Visit the American Sign Museum. There truly are museums for everything! If you and your partner are looking to do something a little out of the ordinary, check this place out. At the American Sign Museum, you can learn about the history of sign making and commercial signs. It is the largest public sign museum in the United States and this unique spot covers decades of technology and commercial design.
Go to the Drive In. At the Starlite Drive In, you can enjoy two movies for the price of one! They also offer online ordering options for both tickets and their concessions. At the Holiday Drive In Theatre, they are showing a mix of new releases and seasonal Halloween classics. This is the perfect type of date for those who wanted to get out of the house and enjoy their night out while adhering to social distancing guidelines.
Take a Glass Making Class at Neusole Glassworks. Feeling crafty? With classes in both glassblowing, fusing, and flameworking, you can learn how to make a variety of interesting pieces of art. Whether you want to make ornaments, decorations, or a gift for your partner, this is an opportunity to try something new.
Cincinnati Zoo. Do you love animals and the outdoors? This is the spot for you. Visit all of the interesting animals from all over the world that are housed here, including their newest addition: a baby black rhino! The zoo also hosts events for Halloween and the holiday season.
Visit the Spring Grove Cemetery. While the cemetery might not sound like a typical date activity, the Spring Grove Cemetery is located on over 700 acres of land and is home to a beautiful arboretum, displaying truly magnificent horticultural works. The mission of the arboretum is to promote the vital relationship between plants and people, reminding us how important nature is to us all.
Visit the Ohio Valley Antique Mall. With over 550 dealers, this mall is the place to go if you love shopping for antiques, books, furniture, or vintage items. They also have a café in-store in case you work up an appetite browsing all of their vendors. With the holiday season just around the corner, this is the perfect spot to snag some cool gifts!
Taft Museum of Art. Cincinnati's oldest surviving wooden home is now a fine art museum. If you like to walk through history, this cultural landmark is a great way to learn more about the city.
Outdoor Romantic Date Ideas
Travel the Lunken Airport Trail. For couples who like to enjoy nature, this five-mile loop circles the Lunken airport and passes alongside the Little Miami River. It is perfect for walking, running, and biking.
Chill Out at Smale Riverfront Park. With a lovely view of the river, this park has two levels to choose from. It has a carousel and park games for kids in addition to gorgeous blooming flora and lots of places to relax and enjoy the nice weather.
Stop In to the California Woods Nature Preserve. Outdoorsy couples, this is the place for you. With over 100 acres of forest, 53 species of trees, and over 200 plants, this nature preserve is like walking through a woodland paradise. Try out one of their hiking trails and you might even spot some local critters, like turtles, wood ducks, and beavers!
Canoe Ride Down the Little Miami River. In addition to canoes, you can also rent kayaks, tubes, and boats to enjoy your day on the water. Riverside camping is also available if you want to turn this date into a multiple-day excursion.
Bike the Loveland Bike Trail. Located on what used to be part of the Pennsylvania Railroad, this bike trail is over 70 miles long. You can stop off for a picnic or at one of the numerous restaurants and coffee/ice cream shops along the route.
Have a Picnic in the Park. What's a more tried and true date idea than a picnic? Take in the ancient geology of Cincinnati spanned over 224 acres at Ault Park, or check out the oldest park in the city, Sharon Woods. Here you will find 730 acres of parkland with multiple trails, picnic areas, and play areas for the kids. You can also visit Stonelick Lake and see the Cincinnati Arch, which is a geological formation that has uncovered rocks over hundreds of millions of years old.
Visit the Northern Kentucky Wine Trail. Located just outside of Cincinnati, this excursion is a more mature version of the Butler Country Donut Trail. Get your passport stamped at each of the six wineries on the trail and win a prize!
Relax at A Riverfront Parks. You can't go wrong with a date at Sawyer Point & Yeatman's Cove. This spot overlooks the Ohio River, and it is home to beautiful cherry trees, public art displays, and playgrounds for children. It also houses both walking and running paths as well as tennis and volleyball courts. There is something for everyone to enjoy here!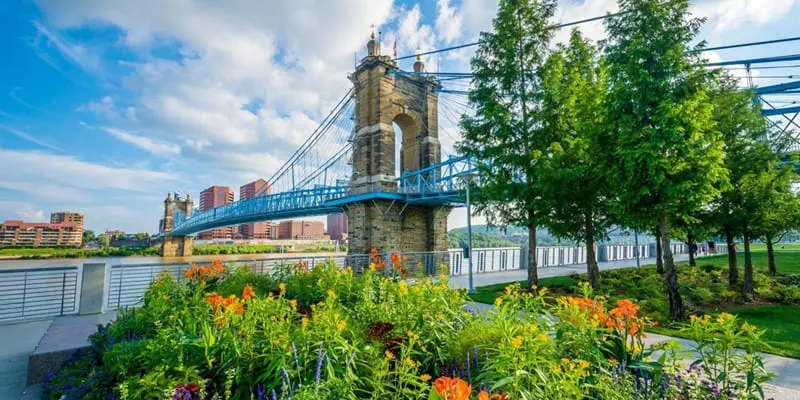 Looking for fun dates in Other cities?
Why not try?
***