Looking for Colorado springs date ideas?
Colorado Springs is a city in southwestern Colorado. Nestled at the foot of the Rocky Mountains, it is full of interesting and unique attractions for both locals and tourists alike.
Whether you are looking for an action packed first date idea in Colorado Springs or whether you are looking for a more chilled anniversary date idea or just weekend plan – this list has it all.
The very best date ideas in Colorado springs here.
DATE NIGHT IN COLORADO SPRINGS: GET OUTSIDE
If you and your date are the outdoorsy type, Colorado Springs will not disappoint. There are numerous date options with spectacular views and fresh air.
1. Garden of the Gods. Garden of the Gods has a little something for everyone and every date, including e-bike rentals, events, guided nature trails, rock climbing. Take a Jeep tour with your date and see the views without the distraction of driving, or hop in the open-air trolly that runs every hour, or if you are inclined, rent Segways for the Juniper Loop Tour.
2. Helen Hunt Falls. Located in North Cheyenne Canon Park, Helen Hunt Falls is a 35 foot waterfall. Put on your comfy hiking shoes and climb the 100 plus stairs to the top. Helen Hunt Falls, which is open all year long (and free!) is particularly popular in the summer, but during the winter the waterfall completely freezes over, for stunning views.
3. Seven Falls. This beautiful waterfall is called the "grandest mile of scenery in Colorado" and rightfully so. It is a 181 foot waterfall with a holiday light display in the winter. In the warmer months, there are live performances, including Native American songs and dance. Restaurant 1858 is a nice onsite dining venue.
4. Pikes Peak. Pikes Peak is frequently visited by hikers, cyclists, and sightseers alike. In fact, it is second only to Mount Fuji for visitors. Save the arduous legwork for another day, drive to the top on the 19 mile highway to see the amazing views. If you're a pair of runners, consider the Pikes Peak marathon and schedule plenty of training/run dates leading up to the event.
5. Red Rock Canyon. If steep inclines are not ideal, and you would rather take a leisurely stroll with your date, then Red Rock Canyon is the place for you. There are miles of trails, and the rock quarry is a spectacular sight. If you're hungry afterwards, or just not ready for the date to end, the canyon is conveniently located near several restaurants.
6. Gold Camp Road. This road has been many different routes over time. From railroad in the 1920s, to car toll road, and now a free public road closed to vehicular traffic. It stretches 14 miles and is popular for hikers and cyclists and most popular from March through October. You'll also get the chance to travel through some pretty awesome mountain tunnels.
7. Quail Lake Park. If one or both of you are comfortable on the water, rent a kayak and head out onto Quail Lake. The water temperature is typically a favorable warm. The lake is 22 acres and is extremely scenic. If you'd rather stick to land, or go for a walk afterwards, there is a 1.1 mile path around the lake.
Why not make it an awesome date and stay in a Colorado hotel with a hot tub in room?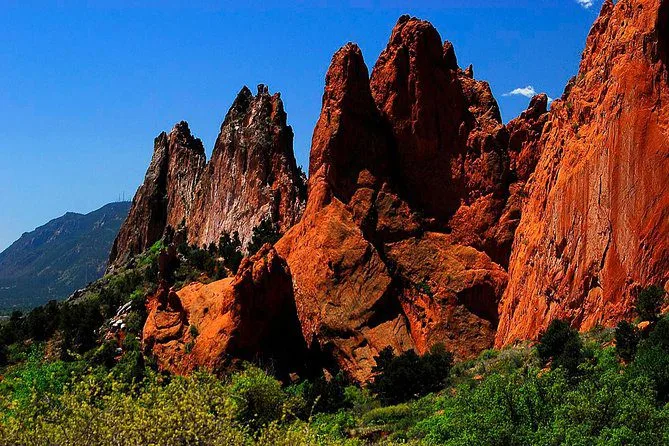 MUSEUMS: Great First Date Idea in Colorado Springs
Explore and learn about some cool things along the way, while getting to know your date.
8. Rocky Mountain Motorcycle Museum. Motorcycle enthusiasts? The Rocky Mountain Motorcycle Museum is the perfect venue. Even more perfect, the admission is free (donations are accepted, of course). Check out the collection of classic and antique motorcycles dating back to the early 1900s. After perusing the bikes, head back downstairs to the Tejon Eatery and enjoy their diverse mac and cheese varieties. A seriously fun activity in Colorado Springs for adults who love motorcycles.
9. Colorado Springs Pioneers Museum. This is another free admission opportunity. Open from Tuesday through Saturday, the Colorado Springs Pioneers Museum is an interesting location for a date. This museum is a former courthouse with a vintage elevator. Some of the unique exhibits include an old gun collection, antique toys, and an American Indian exhibit. Exhibits tend to rotate seasonally, making this a great option for repeat trips.
10. Ghost Town Museum. Take a step back in time with your date and enjoy an authentic western experience. This museum has a focus on the gold rush era. See real stagecoaches line along the street of a replica ghost town. There are plenty of fun activities, including panning for real gold from May to September.
11. Cottonwood Center for the Arts. This place is a true gem. Not only does it hold its own as an art gallery, it serves the ever growing art community. Local and established artists display their work here. After viewing the art on display, take a class. There are numerous classes to choose from, pottery to watercolor, to illustrations and watercolor, to digital and stained glass.
12. Miramont Castle Museum. Have tea in a castle. Construction of this home, which is now a museum, was started in 1895. Most of the furnishings are authentic with a few replicas included. There is a firehouse museum inside as well. Tours run Tuesdays through Sundays. For a self guided tour, plan for at least an hour to get through it.
13. Colorado Springs Fine Arts Museum. For the art lovers, this museum is located on the campus of Colorado College and features free tours. The over 130,000 foot facility has a staggering total of 15 galleries over 2 floors. The museum is home to a permanent collection as well as traveling exhibits, making it another place to return to as exhibits change frequently.
14. Colorado Springs Fine Arts Theatre. If the Fine Arts Museum is a nice setting, consider the Fine Arts Theatre. This theatre is known for its high quality productions. It is award winning. The Theatre company puts on a wide variety of performances, from comedies, to dramas, to musicals; you're sure to find a production to enjoy together.
15. Western Museum of Mining and History. Spanning across 27 acres, this is a unique and rather large location for a date. This museum, also shortened down to WWMMI, seeks to tell the story of the American West's rich mining history. This is another locale that allows for gold panning. In the month of October, make it a pumpkin picking date, finding the perfect gourd while getting to know each other a little better.
16. Pro Rodeo Hall of Fame and Museum of the American Cowboy is another museum with a wealth of knowledge that would make a perfect date for the inquisitive duo. Take a deep dive into the impact of the rodeo in the American West. See the evolution of riding gear. After touring the museum, head outside to the Sculpture Garden.
BREWERIES.
If specialty beer is more along your lines of a good time, Colorado Springs has some stellar choices.
17. Goat Patch Brewing. This is the place for great atmosphere and great beer. Enjoy their wide variety of brews, which has won Goat Patch Brewing many awards over recent years. The staff is very knowledgeable and the brewery prides itself on having a balanced selection. The wall art is fun and fresh.
18. Bristol Brewing Company. Bristol Brewing turned a 100 year old former elementary school into a brewery. They have several award winning beers and all of the fine ales and lagers are only available in Colorado. There are different seating options at Bristol Brewing Company: the pub, the barrel room, and the beer garden, so you'll be sure to find the perfect spot for the two of you.
19. Phantom Canyon Brewing Company. Stop into Colorado Springs' oldest brewery. Phantom Canyon Brewing Company, which is housed in the 3 story historic Cheyenne building, has a spectacular view of the Phantom Canyon from the rooftop. The sunset, in particular, is incredible. Enjoy live music during the summer and great food all year round.
20. Springs Craft Brewery Tours. Take a walking craft beer tour. Springs Beer Tours are located in downtown Colorado Springs. Of course, the minimum age of attendees is still the legal drinking age. The tour is approximately 1.5 miles. With a noon start time and a 3pm end time, this is a very moderate pace, so enjoy the walk, the beer, and the time spent together.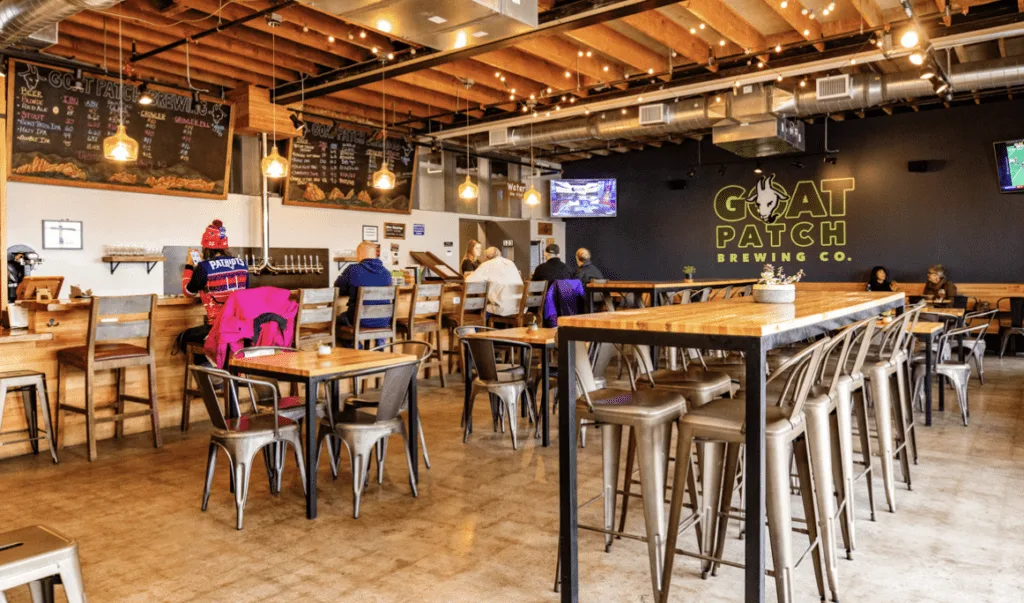 ROMANTIC DINING IN COLORADO SPRINGS
When "just" a bite to eat is all that a couple needs.
21. The Rabbit Hole is a very unique dining experience. The restaurant is easy to locate with its neon fluorescent sign. Upon entering, descend down the stairs, which are lit with stranded lights to the chic dining area. This Alice in Wonder Land themed locale has a cocktail menu titled "Drink Me". Be sure to make reservations in advance.
22. Pikes Peak Progressive Dinner. This is the top rated food and drink experience in Colorado Springs, if you can catch it. You'll need to grab a few more couples to make this date possible, as it is designed for 8 to 14 persons groups. Purchase tickets in advance. Keep in mind this is considered a tour. Beyond that, generous portions and appetizers, a seasonal dessert, and alcohol pairings are provided.
23. Everest Nepal. If your tastebuds are wanderers, or you're just tired of American fare, Everest Nepal is a phenomenal option for a lunch date. They serve Nepalese, Indian, Tibetan, and Thai meals. There are also vegan options to choose from. The interior is bright and colorfully decorated. Patio seating is also available.
24. Skirted Heifer. If you or your date enjoy burgers, consider this restaurant. The Skirted Heifer features grass fed beef, homemade buns, homemade condiments, and hand cut fries. It was even featured on Food Network's Diners, Drive-ins, and Dives. The restaurant is small, the fries are bountiful, and the atmosphere is great
25. The Original Colorado Springs Food Tour. While the time slot for this tour is a bit odd, 2pm to 5pm, this experience is worth it. This is a very popular tour. You and your date will flow through five distinct and beloved restaurants in the heart of downtown. This tour is touted as a (legal) dine and dash experience. You'll hear fun facts and historical highlights.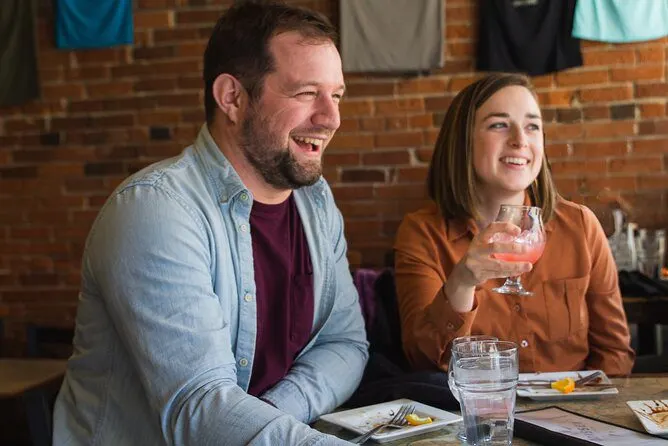 For the Coffee Lovers
The coffee shop is one of America's most popular first date options.
26. Switchback Coffee Roasters. This specialty coffee shop has its roots in a garage in 2010. Since then, Switchback has expanded. There is a side by side roaster and cafe in the downtown area, and a second location just opened in the Hillside neighborhood. Both cafes are bright and airy and the coffee is phenomenal, making either location a great place for a date.
27. Story Coffee Company. Enjoy each other's company over warm mugs of coffee, brewed in a former tiny house. In fact, this is the world's first tiny house turned coffee shop. This quaint and eccentric coffee shop is both casual and cozy and is located in Aracia Park.
28. Urban Steam is a boutique coffee roaster with a twist. It not only specializes in delicious blends of joe but also waffles with names such as the greasy granny. They also feature a whiskey bar. In fact, they market themselves as "espresso, waffles, whiskey, and good times." With such a wide variety of items, Urban Stream is open for breakfast at 8am daily and until 10pm Tuesday through Saturday.
29. Loyal Coffee. With not just one, but two cafes in Colorado Springs, this eclectic, barista-owned company is all about community. Choose between the downtown location and the North Gate location. Both locations are beautiful spaces, perfect to dive down into a warm cup of joe. Feel good about supporting this company, who roasts their coffee right in the south side of downtown.
For the Gamers: Nerdy Dates
Some daters are also gamers, and Colorado Springs has options for them, as well. The best nerdy date ideas right here:
30. The Control Room Arcade Bar is a fun place to meet, drink, and play. You and your date will find classic games at the Control Room ranging from pinball to Pac-Man. There is pool and a jukebox for more entertainment. Keep in mind that after 8pm, those under 21 are not allowed without an adult. You will also find framed artwork of Atari's Frogger, Pac-Man, and Mario.
31. SuperNova. This is another great location for the couple who are into games and fun. SuperNova prides itself on being the first arcade bar in Colorado Springs.The arcade games, once considered old fashioned, are back! In addition to Pac-Man, play Donkey Kong and Streetfighter. The traditional American fare is served and of course, adult beverages.
32. The Summit Interquest. This place has an arcade, bowling, and laser tag. A new feature is coming soon to their bowling lanes, called Spark, which includes augmented lights to your games. There is happy hour and late night happy hour available. The Crossroads Tavern and Grille, located inside, is fashioned as a sports bar with a full service restaurant.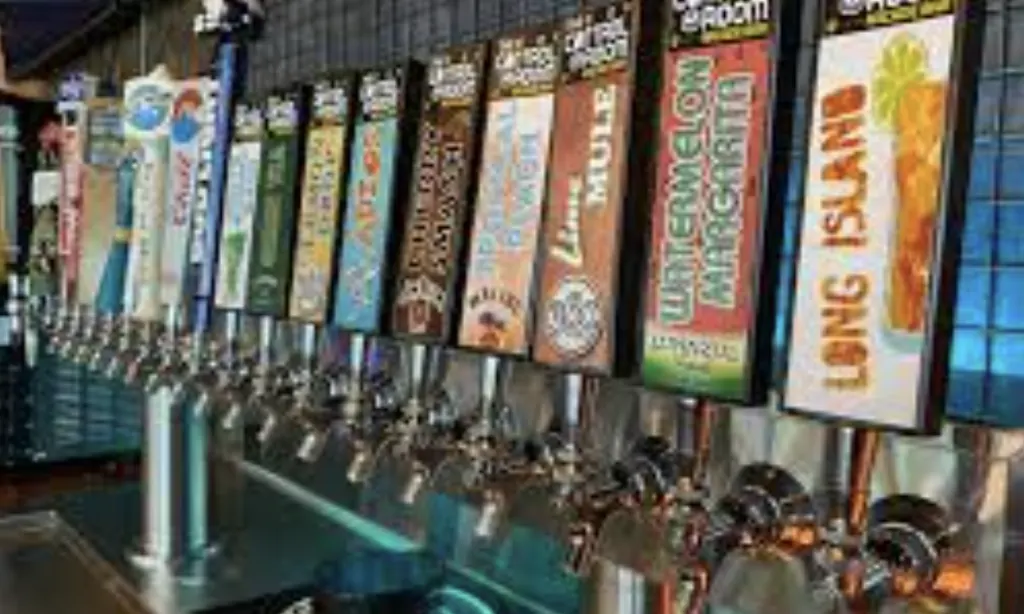 Adventurous date ideas in Colorado Springs
Colorado Springs has something for the adventurous pair.
33. Bad Axe Throwing. This is one location of a chain. It's perfect for a couple, as they can host as little as 2 people, but if your preference is a private lane, you will need to double date. For the beginners, rest assured that you will be in good hands. Staff hold membership at the World Axe Throwing League and the manager of the Colorado Springs location in one of the best axe throwers in the world.
34. City Rock Climbing Center. This indoor climbing gym located downtown is yet another option for an exhilarating date. Choose from a morning pass for the early birds, a late evening pass, or a day pass. The walls are reset every 6 to 8 weeks, so returners can get a different experience over time. After a climb, head to The Ute & Yeti for a bite to eat and locally crafted beer.
35. Adventures Out West. What can be more romantic with a thrilling flare than taking a hot air balloon ride. Adventures Out West has been flying hot air balloons since 1973. Flights begin at dawn daily. This will require another adventurous couple as there is a minimum of 4 people per basket. After you are back on the ground, enjoy a champagne toast (or an orange juice toast) and a snack as part of your package.
36. Balloon Glow. Check out the balloon glow in Memorial park, if the hot air balloon ride is too much. This annual event is worth checking out. At sunset on Saturday and Sunday of Labor Day weekend, the balloons are inflated and ignited. There are also vendors on site so feel free to wander around while surrounded by the magic and ambiance of over 70 hot air balloons.
37. Broadmoor Outfitters and Zipline. For an exhilarating date, zipline across the secluded South Cheyenne Canyon. For the daring duo, take the Combo course for twice the views over 8 airlines and 2 rope bridges. You will zip over Midnight Falls and into the canyon via the Woods Course, then hike up to the Fins Course. This makes for a long date, plan for about 4 hours.
38. Old Stage Riding Stables. Go on a horseback ride at Old Stage Riding Stables. Ride along the same path as stagecoaches of the past. Experience mountain overlooks and deep forests as you travel the path that once connected Colorado Springs to Cripple Creek, a mining town. Enjoy the guided tours lasting one hour and longer and pop in at the Stage Stop Cantina for a light meal if you work up an appetite.
Bonus: Falconry Beginners Lesson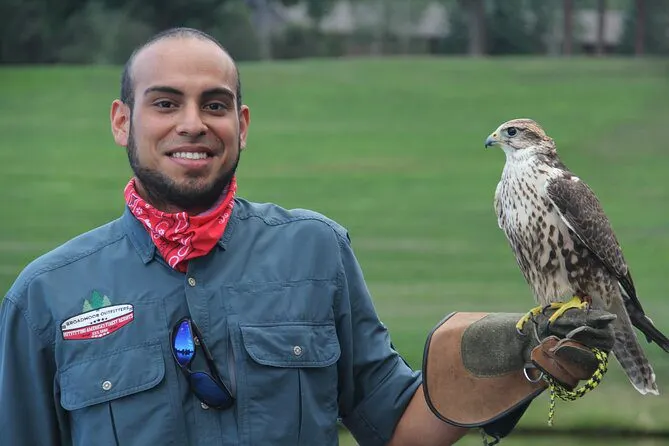 LIVE MUSIC + FOOD TIPS
Because sometimes, the music sets the scene.
39. Lucky Dumpling. This is a cool place as it is owned and run by Chef Brother Luck who is a popular chef who competed on shows like Chopped and Top Chef. Serves the most amazing dumplings in town – great for foodie couples.
40. Springs Orleans. This local favorite is a great spot for a pair to spend time together. Enjoy Cajun-Creole meals. The menu is limited deliberately, and consists of authentic dishes. Both the interior and exterior have a New Orleans feel. Live jazz and special performances are available. Skip the wait and reserve a table for two.
41. Stargazers Theatre. This is another building that serves a purpose other than originally intended. Constructed in 1969, it was first a cinema. You can not miss the domed roof of this building, which was re-opened in 2008. The lobby includes a full bar with dinner plates, desserts, snacks and adult beverages.This venue hosts live music along with stage performances and at times film screenings. Live music genres vary, and the schedule of events is full of various artists.
Bonus: Hot air balloon ride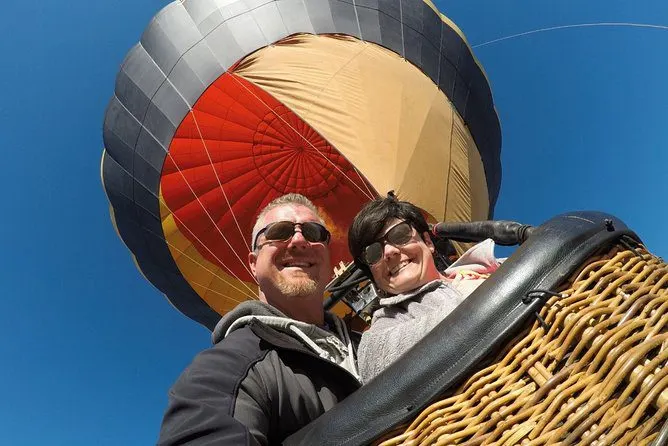 OTHER ROMANTIC THINGS TO DO IN COLORADO SPRINGS FOR COUPLES
None of the above seem quite right for the mood you're going for? Never fear, Colorado Springs has more to offer you.
42. Cheyenne Mountain Zoo. Located on Cheyenne Mountain, this zoo has much to offer. Take the Sky-Ride, a chairlift, up the Mountaineer Summit and see breathtaking views of the zoo, the mountain, and Colorado Springs. Take the opportunity to feed giraffes, elephants, and rhinos together or embrace your inner children and circle around on the historical carousel that was built in 1925 and featured at the Chicago World's Fair in 1933. The zoo boasts a slogan of "way beyond watching" with various events, including Date Night Starlight Safari on select nights September through December.
43. WhirlyBall. For the competitive couple, spend an evening playing WhirlyBall. WhirlyBall is best described as a mixture of hockey, basketball, lacrosse, and bumper cars. This location does not open until 4pm, so plan for an evening date if this is your choice. Bowling is also available along with some other favorites like Giant Jenga. Food and drinks are available in the Pivot Room, an eatery and beer bar.
44. Kimball's Peak Three Theatre. Dinner and a movie is the quintessential American date. Head on over to Kimball's Peak Three Theatre; it is a theatre with a twist. Instead of a stream of blockbusters, this theatre shows independent films. There is a full service bar. The theatre has an old fashioned feel with the giant marquee, but if you and your date would rather stay in, there is the option to stream one of these films on demand.
45. Cave of the Winds. For a jam packed date, try Cave of the Winds. It is in a cave near Pikes Peak. This venue offers rides, attractions and cave tours. This place has tame rides and thrill rides. You can choose to tour with a walking tour or the lantern tour. For the lantern tour, you will each get a lantern and hear ghost stories as you journey the nearly mile long stretch of caves with twists and turns.
46. Pikes Peak Cog. This railway was created in 1891. Hop aboard with your special someone and climb 14,000 miles. Take in all the views that Pikes Peak has to offer on the way up and on the way back down. One way trips are available as well. You can choose to hike up and ride the rail down or ride the rail up and bike down.
47. Gold Mine Mini Golf. There is nothing mini about this mini golf locale. It features 3 18 whole courses. It's priced at only $3 per person, per course. Courses 1 and 3 were the easier courses, and there is water and moving parts on the courses add fun elements. All the courses are gold mine themed, hence the name.
48. Skate City Academy. Nothing beats rolling through the evening with good company. Skate time is only $5 for two hours, and skate rental is as low as $2.There are various classes and practice time available to brush up on your skills (or learn). The first Thursday of the month, oldie music is played, there are adult nights, black out skate and other events from time to time.
49. Yoga & Brews. Hit the yoga mat together with Yoga & Brews. It joins the yoga community and the craft beer community together at Oskar Blues, Goat Patch Brewery, and Phantom Canyon Brewery. This all levels friendly power yoga is offered on Sunday mornings, Monday evenings, and Tuesday evenings. Have an adult beverage afterwards, rewarding yourself for time on the mat and also rewarding yourself with more time together.
50. Colorado Springs Switchbacks FC. While Colorado Springs is not home to any professional teams, there is a semi-professional soccer team, the Switchbacks. There are several seating options available. The season runs from about April to November.
Bonus: Jeep Tour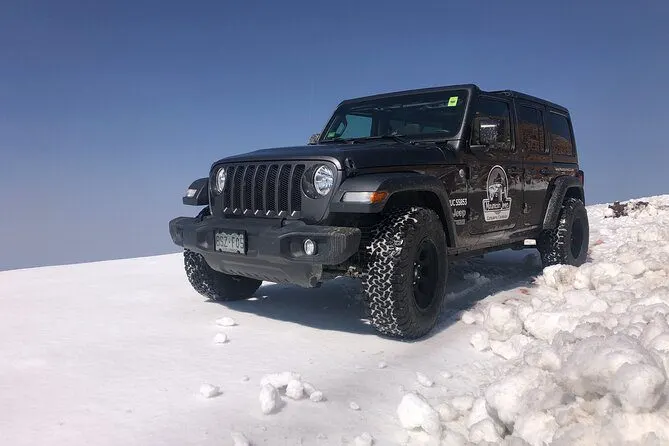 Overall, Colorado Springs has so many wonderful venues and adventures for date night. Whether it is a first date, or just one of many, the options are wide.
***
See more: