Looking for an honest review of the Concorde Lounge Heathrow? You got it.
Long story short, if you want the best Heathrow lounge, this isn't it. Especially if being treated nicely by staff is a key factor for you. I wouldn't call the food or facilities that special either….
The British Airways Concorde room is BA's premier lounge and serves as British Airways First Class Lounge. Well to be accurate, there are actually 2 BA First Class Lounges' which you can access which we will talk about in this review.
Heathrow has quite a few quality lounges and I wouldn't say this is one of them.
That was a real shame to us as we were travelling First Class with BA and we really looking forward to an amazing WOW factor in the BA first class lounge in Heathrow.
We had previously traveled with Emirates on First Class and really thought their First Class Lounge in Dubai was something special. BA you really need to do better!
Disclaimer – We paid for our own ticket and were not sponsored by BA at all in this review. The review is written as honestly as possible although may be slightly impacted by how badly we were treated by the staff in the British Airways Lounge!!
How to get BA lounge access Heathrow for the Concord Room?
We were traveling as First Class passengers on a flight from London to Washington DC so that is how we got access to the lounge.
The Concord room is only available to people with a BA First Class Ticket or if you hold a Concorde Room card.
If you have earned 5,000 Tier Points, BA will give you a one-year Concorde Room Card which gives you access to the Concord Room along with First Class Passengers.
In addition to the Concord Room, there is also a seperate First Class Lounge which has wider access including:
British Airways customers flying on a scheduled flight in Club or First;
Silver and Gold Executive Club Members on scheduled flights operated by British Airways or OneWorld partners;
Emerald and Sapphire level Members of any OneWorld airline frequent flyer programme on a scheduled flight operated by British Airways or one of their Oneworld partners.
Where is the Concord Room located?
The Concord Room is located next to British Airways First Class lounge in terminal 5.
You can enter the lounge through BA's First Class check in desk which passes through the First Class lounge into the Concord Room.
Review: Concorde Lounge Heathrow (Our honest crap experience in BA First Class Lounge!)
Check in
Our crap experience started with check in at BA.
If you are a First Class passenger (or I believe at a certain tier of their loyalty program) you can access a private first class check in area which gives you direct access to the Concorde Room Heathrow via private security.
The lady checking us in was very surly and unhelpful.
How do we get to the Concord lounge? We asked. Are you one world Emerald members? she sniffed. Err, no. Well are you flying first? She asked, surely rhetorically given we were standing in the first class area and she is checking us in.
I will say having your own private check in area with direct access to the lounge was great and I would've rated this part of the Heathrow BA lounge access higher had we had better customer service at check in – something that you may get luckier with than us!
After we checked in we passed security which was a plus because it was private security for First Class passengers so you did not have to wait for ages to get through.
Security staff were great although we made the rookie mistake of not putting our liquids in clear baggies and had to send them through again. I didn't seriously think pulling out the liquids into clear bags was still a thing? Most airports nowadays let you leave liquids under 100mls in your bag.
Score – 3/5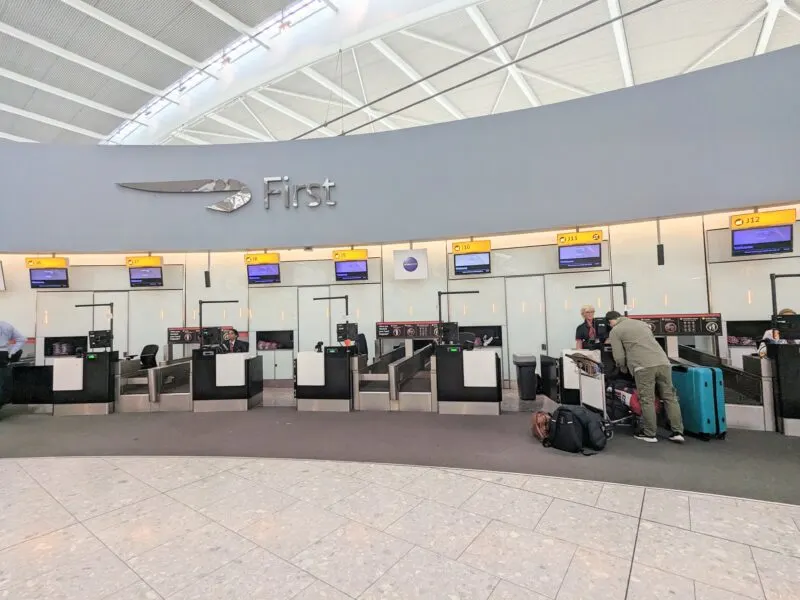 First Class Lounge
After passing through security, you get access to British Airways First Class Lounge. Now, note this different to the BA Concorde room (which you need to keep walking to access).
I was quite glad that we were able to access the BA Concorde lounge as the Terminal 5 First Class lounge was very busy. It was so busy you'd be lucky to get a seat.
The First Class Lounge for the most part was nice but I personally thought the decor lacked lustre. It did have a nice view of the runway.
Included in the First Class Lounge is self serve alcohol and buffet style dining.
The buffet style food in the First Class Lounge was fresh and plentiful.
At the time we were in the lounge, it was transitioning from breakfast to lunch so breakfast items including a Full English Breakfast were included on the buffet as well as lunch options.
Although the food was fresh and nice, I wouldn't personally call the Lounge any better than a Business Class Lounge. It should be considering it is not a Business Class Lounge, it is a First Class Lounge.
With your Concorde First Class access you can use this area as you walk through it to access the more exclusive Heathrow Concorde lounge.
One part about the lounge that I personally really liked was the cute coffee shop where you could order a hand crafted coffee from.
Score – 3/5 (Due to limited seating and decor)
Concord Room
As mentioned above, the Concord Room is a seperate lounge that is only accessible for First Class Passengers and Concorde Room card holders which means it is far less busy than the First Class Lounge which is a big plus.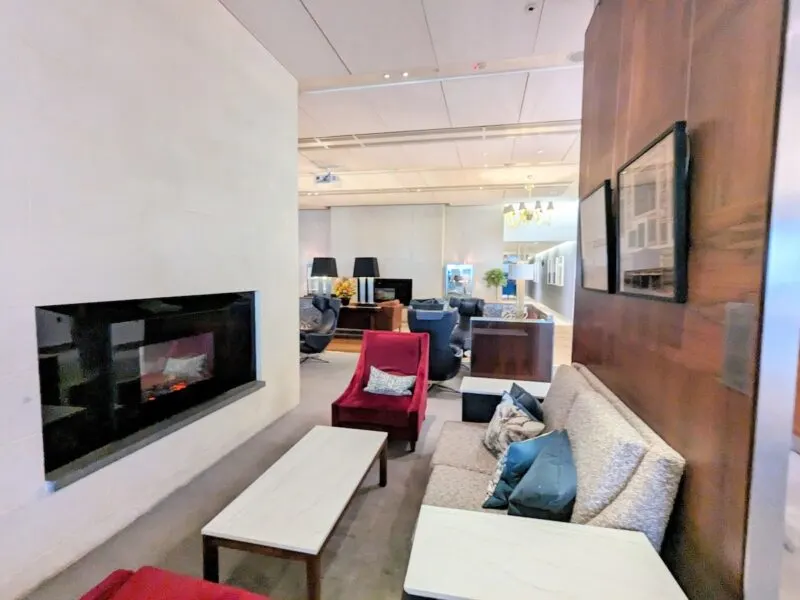 Decor
I thought the decor of the lounge overall was lovely.
The lounge was new and modern with ample seating areas. A big difference from the First Class Lounge. You can compare the pictures of the First Class Lounge above to see what I mean.
I especially loved the colourful bar area. Fresh colourful flowers were also placed around the lounge which was a really nice touch.
Score – 4/5
Service
This is when things got a little hairy for us at the British Airways Concorde lounge.
After we walked around and checked out the space, we decided to dine at their al la carte restaurant. It had a sign saying "please wait to be seated" so we stood waiting for the waiter.
Our real life pretty woman moment…
There was not many people dining at the restaurant at the time and we were the only people in line waiting for a seat. A waiter by the name of Richard came over and told us "we're sorry we're full you can't dine here you will have to go elsewhere".
I looked over and the empty table, fully set right in front of me with a frown on my face.
The waiter said "Oh, I guess you can sit there" in an annoyed voice.
I felt as though we didn't meet the mould of their usual First Class passengers (50+ businessmen in suits) and on that basis, they wished to refuse us service.
Once we sat down, the waiters didn't serve us for a very long time and actually served a man who was seated after us before us!
When we finally get get our meals, I had forgotten to put my napkin on my lap. The waiter scoffed at me and plonked our meals down in front of us grumpily.
The service was up there with the worst service I have ever had in my life!
When you have paid for First Class partly for great service, this kind of treatment really is unacceptable.
Score – 1/5 (If I could rate it worse I would)
Concorde Room menu
It is considered probably the best Heathrow terminal 5 first class lounge because of the Concorde room menu.
Personally, I think it is a little overrated and did not find the food that great but my partner really liked the classic spotted dick and went so far as to say it was one of the best deserts they have ever tasted.
Every dish on the menu had its calorie count listed so you knew how much or how little you were consuming so you can order accordingly if you are watching your waistline. This is a nice touch.
The menu was small but adequate.
We ordered the chicken and duck terrine as well as the soup of the day for starters and the cheese burger and pork and apple pie for mains.
None of the food was awful but there were also no stand outs. If you have ever dined on a cruise line, expect similar quality to that. It really reminded me of the food served on the Norwegian Prima.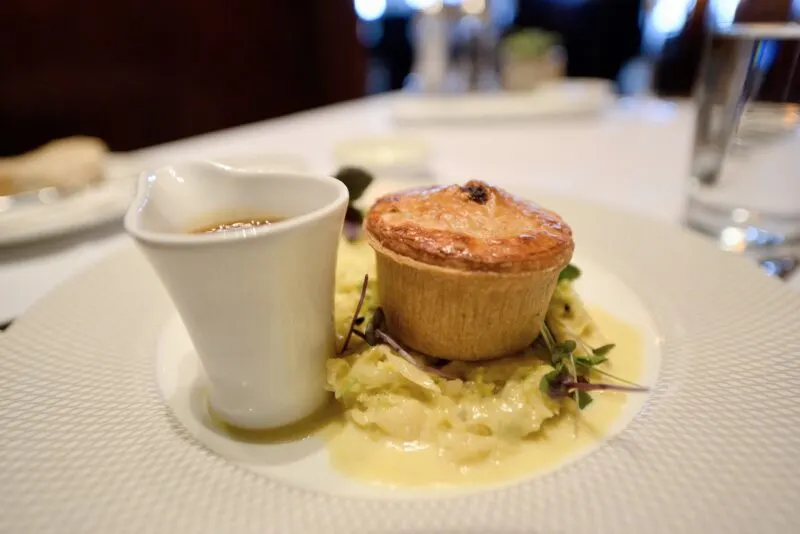 I did not think that much of the spotted dick desert but my partner really loved it.
During lunch time there is also a large outdoor area overlooking the runway with a high tea set up in true British fashion with scones, jam and cream as well as other cakes and sandwiches. It was actually really beautiful.
We absolutely love British high tea and have even run around London looking for
London's best scones
but unfortunately the scone gods wouldn't approve of the ones served in the Concord room as they were stale and not at all tasty. Boo! The jam and cream was very nice but it didn't redeem the stale scone.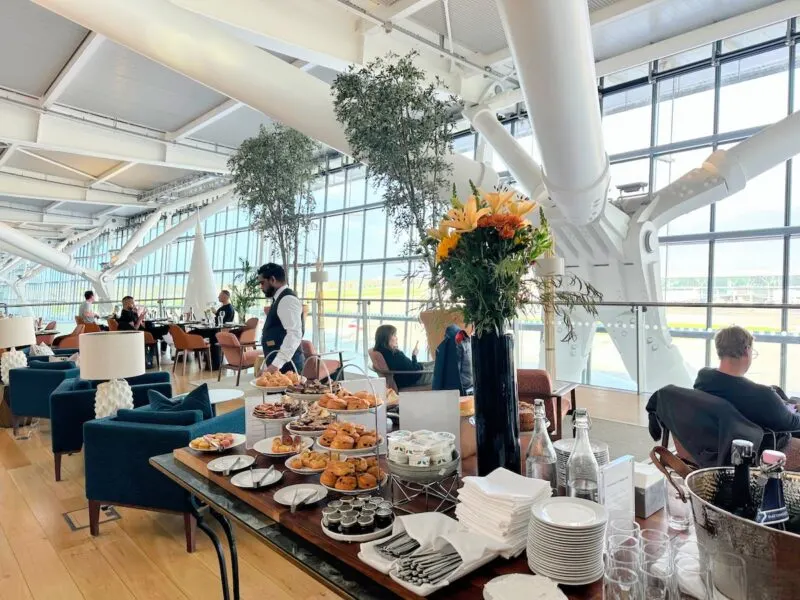 We enjoyed a barista made coffee and an expresso martini while we sat in the outdoor area of the Concord room which were both very nice. I'm not a big champagne drinker but it was delicious. The alcoholic beverages would get a big tick of approval.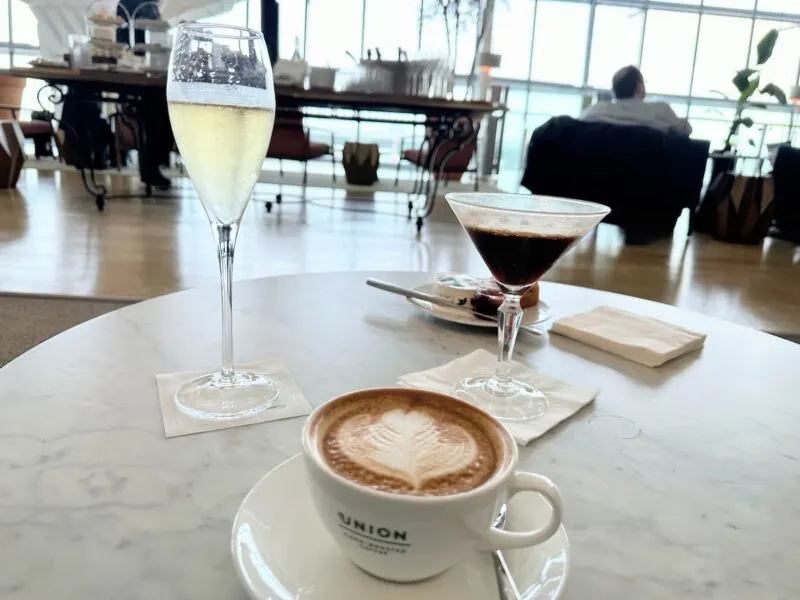 Score – 3/5 (I thought there could be more options on the menu)
Facilities
There were shower and toilet facilities which guests to the Concord lounge were permitted to use.
Compared to other lounges I have been in, I wouldn't rate the toilet and shower facilities. There was not a lot of complimentary products that you would expect in a first class lounge.
Score – 2/5
Things to do at the Concord Room
You could spend a good few hours in the Concord Room without being bored. We spent 3-4 hours in the lounge and felt we didn't have enough time. Here are a few things you might like to do in the lounge:
Dine in the restaurant or enjoy high tea in the outside dining area;
Take a nap in a EnergyPod in the 'Forty Winks' nap lounge;
Take a shower;
Surf the free wifi;
Have a hand crafted barista coffee;
Have a cocktail or two at the bar.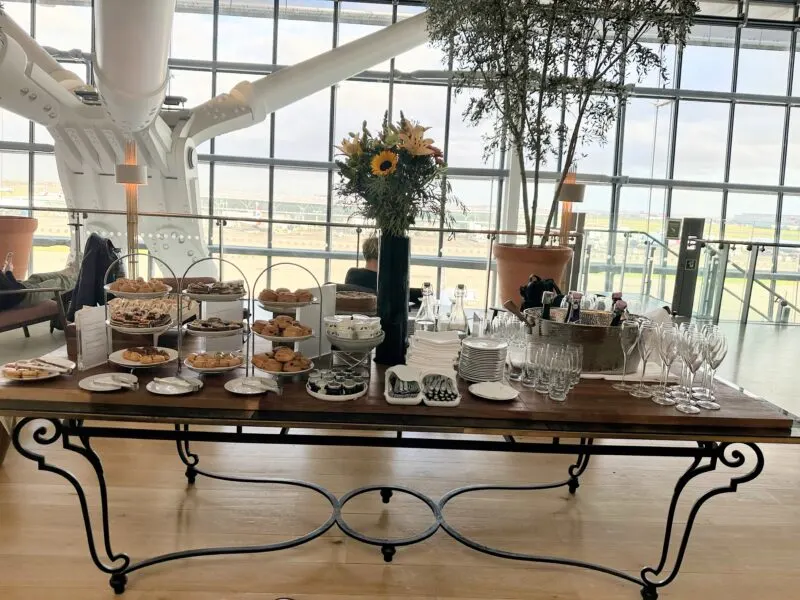 Overall score
I would rate the Concorde Lounge Heathrow an overall score of 2.5 out of 5. The really bad parts of the lounge were the ridiculously bad customer service, the very ordinary food and the sub-par facilities.
Pros:
Decor was lovely;
Alcohol and coffee options were great.
Cons:
Very very bad service;
Food was ordinary;
Showers and toilet facilities were ordinary.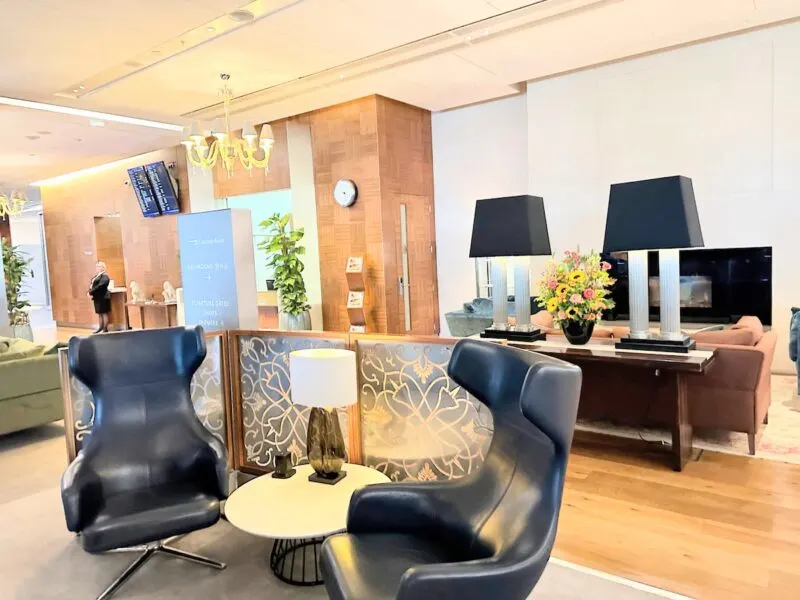 FAQ:
Is there a Concorde at Heathrow?
Yes, there is a concord at Heathrow. However, it is not accessible to the public. You can get a glimpse of it in the far corners of Terminal 2.
What is the BA lounge Heathrow terminal 5 cost?
There is no cost, it is free to enter but only for passengers flying First Class with British Airways or if you have a Concord Room card.
Are there Heathrow terminal 5 sleeping pods in the Concord Lounge?
Yes, in fact the Concord lounge has some of the best and most deluxe complimentary sleeping pods available in Heathrow!
The Concorde Room is home to the 'Forty Winks' nap lounge which has incredible EnergyPod sleeping pods that BA made in partnership with Restworks. They have been specially designed for power napping.
You don't need to book a EnergyPod in advance, they are operated on a first come basis. The downside is that sometimes a pod is not available as there are only 7 pods in total. You can check 'Your Menu' lounge app to see if a pod is available when you arrive.
Can you get a free spa treatment in the Concord Lounge?
There used to be a spa in the Heathrow terminal 5 concord lounge where you could enjoy 15 minute free treatments.
However, as of 2021, BA closed this service down and there is no free massage or spa available in the Heathrow terminal 5 Concord Lounge anymore. I think they should bring this back to be up to standard with Emirates and other world class airlines who offer this service in their First Class lounges.
Can you bring a guest?
Yes you are permitted to bring one guest to join you in the Concord lounge (traveling in the same day on a OneWorld carrier).
***
Have you visited the Concord or First Class British Airways lounge? What did you think of it? We would love to know!