So you are thinking of starting a couple Instagram but you are stuck on what Instagram couple name to use. Don't worry we have you covered with the Ultimate Guide to Couple Instagram Names.
And, If you love Instagram we developed some kick ass Instagram presets (filters) so you can edit your photos in 1 click!
Couple Instagram Names
Firstly, I can already tell we are going to be fast friends! We run a couple Instagram and like to think we are somewhat experts at Couple Instagram Names.
Here are 4 steps so you can have the perfect Instagram couple name.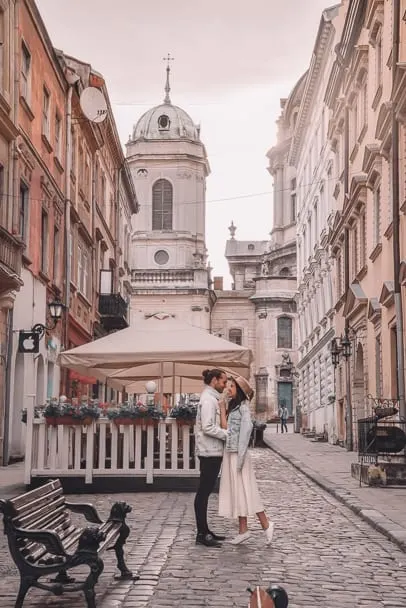 Step 1: Research the Couple Instagram Market
The first thing that you should do is research the market. What are other couples succeeding going with?
Over the years we have become friends with many couple Instagrammers. Here is a list of our favourite couple travel Instagrams for you to check out.
Knowing who are the key players in the Couple Instagram market and what they are doing should give you some ideas about what your name should be and get your creative juices flowing.
Keep in mind, I wouldn't advise directly copying e.g. making wanderingpair wanderingpair2 for two reasons.
Firstly, it is confusing to distinguish between you.
Secondly, it may create bad blood in the blogging/instagram world. The blogging and instagram world is built on helping each other. If you create an enemy straight off the bat, you are off to a pretty terrible start.
Step 2: Think of Relevant Words
After seeing what others are doing, you will notice a trend of relevant words.
If you are looking to do a couple + travel Instagram for example, you will notice these guys use terms related to couple + travel.
Some couple travel word ideas include:
couple
two
duo
wander
backpack
married
newlyweds
travel
vagabond
nomadic
wanderings
adventurers
There are so many more words than this. If you are coming in this late in the game you may need to get really creative.
If you want to make it more personal add your own name, if not keep it travel & couple focused.
If you are couple & food or couple & lifestyle etc – a similar approach applies.
For example, consider adding these words to a couple and food instagram:
food
yummy
delish
scrumptious
divine
etc
Step 3: Think of a relevant hashtag
From the get- go you want to think of a relevant hash tag. If your name is "bobbyexplores" for example, will anyone want to hash tag their photos with that?
Probably not.
When you are starting your Instagram, you want to think of a hash tag that your community can use. You can give them an incentive to use the hash tag by offering a feature in your stories or your feed.
If you want to use your name – bobbyexplores – for example, you will need to develop a hash tag a little different to your IG name.
This isn't a huge problem but it is something to consider when choosing a name as it creates less brand awareness.
If you want to become popular and a household name on Instagram first you need to create brand awareness – a name people can use and will remember.
Sometimes IG stars after a few years of brand awareness change their IG to their name. A prime example of this is "travelinher_shoes" who is now known on IG as "aggie".
Had she been "@aggie" to begin with she may not have created such a big community of girls following the "@travelinher_shoes" movement.
Now she is a household name she can afford to simply be "aggie".
Aside from your own hash tag, you need to start considering what couple hashtags you can rank for to get more followers and exposure on the gram
Step 4: Search IG & get your name!
Okay so you have some ideas! Great! Now search IG to see if your name is available.
You can check for name availability on the Instagram home page by trying to register a new account
If you already have an account, either log out or open an incognito window to find something suitable.
If you are just getting on the IG game now, chances are many names are taken. But don't loose heart you will definitely find something suitable that you will absolutely love!
In the example above, "@aggie" was previously "@travel_inhershoes" emphasis being on the underscore.
It is likely she just wanted to be @travelinhershoes but the name was unavailable. Therefore consider adding _ or . to your ideal instagram name.
If it worked well for someone like Aggie it can certainly work well for you too!
Step 5: Say it out loud
So you've found a name that's free on Instagram and looks good typed out.
Say it out loud now. It can help you to avoid embarrassment later.
Just ask the poor founders of Pen Island who were inundated with the wrong type traffic.
Ask your partner to read it out loud too for a different perspective.
A full stop takes @gotahoe to @Go.Tahoe – which I think we can agree is a much better name for a Lake Tahoe travel account.
***
Have you just created a new travel couple instagram? Welcome to the club! We'd love to personally connect with you so leave us a comment with your IG account below.
You can also use our hashtag #coupletraveltheworld. We share the best couple travel in our IG stories!
Save this 'Couple Instagram Names' Article to Pinterest so you can find it again later!