Cuba, being a Communist State is a strange one to know exactly what to include in your suitcase. There are some things that just aren't possible to buy in Cuba!
After our most recent trip to Havana Cuba, we feel we have mastered the Cuba packing list – what to pack for Cuba and what you really don't need for your trip. This list will include only the essential items you will need.
Being a Carribean Island, Cuba is pretty well warm and sunny year round. While packing a snow jacket is never going to be on your packing list, you might need a rain jacket or an umbrella. This will depend on the month you choose to visit Cuba.
If you are still deciding when to go to Cuba, you can see our guide for the best time to visit Cuba.
Notice: This post contains affiliate links. This means, if you find something helpful and decide to make a purchase, we make a small commission at no extra cost to you.
CUBA PACKING LIST: WHAT TO PACK FOR CUBA?
NECESSARY TRAVEL DOCUMENTS & INSURANCE FOR CUBA
Cuban Tourist Visa
Along with your passport, let's start with the most important item on your Cuba Packing List – the Cuban Tourist Card – entry to Cuba requires a Cuban Tourist Visa.
For prudent travelers, it is best to apply for one online in advance. This will cost you a little more but you will have piece of mind knowing you have the necessary visa to enter Cuba.
Alternatively, you can often apply for a tourist visa at the check in desk before boarding your flight. We paid $25 in Cancun for a tourist visa to Cuba that we were able to get at the check in counter of Interjet before flying.
A tourist visa from Mexico to Cuba is one of the cheapest available. It will be more expensive if you are applying for a tourist visa from the United States so you may want to extend your next Mexican vacation out a little and include Cuba. Here is a guide of the best way from Cancun to Cuba.
Medical Insurance
This is one thing we did not know about before entering Cuba. It is absolutely essential that you have medical insurance to access Cuba.
Immigration officials can ask you for proof of medical insurance before allowing you entry to Cuba.
We were not asked for proof of insurance but my Dad was stopped and questioned as to whether he had insurance before proceeding to be allowed to enter Cuba by the immigration officer.
Passport
Don't forget to pack your passport. It goes without saying that you will be denied entry to Cuba without a valid passport (check the expiry date!)
Check out our favourite cute passport holders to protect your passport and pass customs in style.
With all these documents, it is always prudent to have a good travel document organiser.
SHOULD YOU BRING CASH WITH YOU TO CUBA?
We read a lot before going to Cuba that cash is absolutely essential in Cuba and you really can't get by with just bringing a credit or debit card into Cuba, that you will need some USD or Euros.
While Cuba won't accept credit cards virtually anywhere, it is not 100% true that you need to bring in USD to Cuba.
When you arrive at the airport in Havana, there is an ATM where you can use your credit/debit card to withdraw cash. There are also numerous ATM machines in downtown Havana. We never had any difficulty using an ATM machine while in Cuba. By the way, in case you're wondering where to stay in Havana, having these amenities (and wifi) is one of the reasons a place in Old Town is a good idea.
We would suggest it is best practice to bring some USD with you, only as a back up. The conversion is quite horrendous so it will be best to withdraw cash at the ATMS but in case of any issues, you will have the cash ready to convert as a back up.
Note: Cuba has 2 currencies, the CUC (tourist currency that you will use) and the CUP (that locals get paid in). Spend all your CUC before you head to the Havana International Airport to leave Cuba as for some reason or another, it is not accepted. This is where the USD in your pocket might come in handy.
CUBA TRAVEL GUIDES
While it is not always essential to bring travel information in the form of physical documents with you, Cuba is the exception for the reason that there is very little internet in Cuba.
There are two options: plan everything you need on your laptop by researching all our guides to Cuba or purchase a guide to Cuba to take with you. We would recommend the Lonely Guide to Cuba.
Unless you are really organised you will need a guide. I couldn't believe how many times I thought, I will just look up a restaurant for dinner, Oh no, crud I can't – no internet (unless i walk to a hotel, buy a wifi card and sit in the lobby – talk about inconvenient!!)
PACKING CUBES
Before you begin to pack for Cuba, you will want to get yourself some really great packing cubes.
You have no idea how easy it was and how my life changed after using packing cubes – you can actually find what you are looking for!
Packing cubes don't have to be fancy. Some good simple packing cubes like these ones will do just the trick!
SUITCASE OR BACKPACK
Obviously, you will need a suitcase or backpack to pack your clothes for Cuba.
In Central America, we always recommend traveling with a backpack due to the dirt roads. Cuba is a bit of a 50/50 destination. You can use a suitcase here and have no problem.
Visiting the tobacco growing region is a popular day trip or overnight stop: read about getting from Havana to Vinales. In addition to your suitcase or backpack, we would recommend a small, carry on anti theft backpack which you can carry around during the day and feel completely comfortable
If you prefer to just bring a carry on suitcase instead of a large one, we have written a whole post dedicated to the best carry on suitcases.
We currently use the Chester carry on spinner and we LOVE it. I have it in pink.
WHAT TO WEAR IN CUBA?
I would say anything goes in Cuba. You could dress sloppy or like you are going out for a nice lunch and no-one would blink an eye.
As stated above, Cuba is a warm destination year round so there is no need to bring any more than a light jumper or cardigan with you if you are traveling in the winter months (although honestly, I don't think I needed it).
If you plan on getting nice photographs for Instagram, I would recommend some bright and colourful clothing. Even the Cubans tended to dress in bright and colourful outfits and they matched absolutely perfectly to the surroundings including the vintage cars.
Note: Cubans find it difficult to access clothes like we do. If you have some extra luggage room, bring some clothes you don't want anymore to gift. I have no doubt they will really appreciate it!
Bright Dress or Skirt for Women
This super cute, pink dress would match perfectly with the vintage cars. If you are looking for a colorful outfit, we would recommend a bright blue, yellow, pink or orange.
If you want to go for something vintage, this 1950s style dress would match absolutely PERFECTLY with the classic cars. I really wish I found this dress before my trip!
A fancy outfit if you visit a Dinner Show
Two of the most popular and iconic dinner performances in Havana are The Tropicana Show and the Buena Vista Social Club.
If you plan to visit either of these shows in Havana, you will want to pack a more dressy outfit. You might be able to double up whatever you bring for your cute photos as a dinner outfit.
A rain jacket
If you visit Cuba in rainy season (May – October) you will definitely want to bring a rain jacket with you as it can rain up to 50% of the time during these months.
Honestly, no matter what time of year you are planning to travel to Cuba, I would suggest that it is prudent to bring a rain jacket with you.
Mike has one one very similar to this Columbia Men's Watertight Jacket which he has got a lot of wear out of.
I have one very similar to this Columbia Women's Switchback II Jacket that I absolutely love.
A cute, big hat + sunnies
It is a Carribean island so it is very hot. You seriously won't get by without a big hat
Big hats are not only sun smart but look great in your photos.
Other clothing items you won't want to forget:

Summer short sleeve tops – If you want to pack light a lightweight, fast drying shirt is the best way to go. We would recommend this Icebreaker Merino Women's T-shirts for women and the men's Woolly Men's Merino Wool Short Sleeve

Breathable long pants – A pair of cheap, lightweight chinos are always a win for men and I personally love these breathable Women's Leggings for travel.

Shorts and skirts – It is hot in the Caribbean so don't forget some shorts and skirts for the hot summer days. Icebreaker has a really cute pair of lightweight travel shorts for women. These comfortable walking shorts are a good option for men.

Swimwear + rashie – Due to the heat, it is essential that you don't forget your rashie. I have the predecessor to this Rash shirt by Roxy. You can never go past a plain black Billabong rash shirt for men.

Quick dry underwear if you want to do some washing. We would recommend the Icebreaker women's underwear and the Icebreaker men's underwear
OTHER THAN CLOTHES – WHAT TO BRING TO CUBA?
Other than clothes, here are some other things not to forget to bring to Cuba with you.
Cosmetics
Don't think you can just buy what you need in Cuba at a local supermarket. There are specialised stores for cosmetics in Cuba, they don't have a great range of items and they are very expensive.
Therefore, we would highly advise to bring whatever you need with you to Cuba. For this reason, you might like to do a checked bag so you can bring liquids galore into Cuba including all your favourite shampoos and face wash.
The alternative is to use a dry shampoo. My sister loves dry shampoo but I can't get my head around it yet.
Here are some things to check off in your bag
Face wash
Moisturizer
Soap
Hand sanitizer
Make up
Toothbrush and toothpaste
Sanitary items for women. The most eco friendly way to travel long term is to use a menstrual cup
When traveling it is advisable to keep your cosmetics as organised as you can using a cosmetic travel pouch.
Medicine
Bring any Medicine you think you might need in Cuba. There is a slim possibility you will experience food poisoning in Cuba (Mike did!) so it is advisable to bring some gastrostrop or other medicine to relieve this. Ask your doctor!
If you are coming on a long haul flight, you can buy some great jetlag medicine online that will make sure you make the most of your vacation.
Insect Repellant or bracelets
It is definitely necessary to bring some good, high insect repellant or insect bracelets into Cuba.
We are a fan of insect bracelets as they don't smell like spraying DEET all over your body.
Glasses or Contact lenses
If you wear glasses or contact lenses, make sure you bring them with you to Cuba. It is difficult to freely buy products as you would at home in Cuba so it is really necessary to have what you need ready to go with you.
Sunscreen
Cuba is a destination that is warm and sunny year round. It is also very expensive to buy sunscreen within Cuba so we would highly advise to bring some with you.
If you plan to go snorkeling or swimming at the beach in Cuba, it is necessary to use some good reef friendly sunscreen.
Snorkel Gear
Taking about the beaches in Cuba, there is some great underwater marine life to see at the beaches in Cuba. For this reason, we would highly recommend bringing a good snorkel set with you.
A silk sleeping bag
If you plan on sleeping locally in casa particulars on a very tight backpacking budget, we would suggest bringing a silk sleeping bag with you. Sometimes levels of sanitary can be a little lower than the western world.
Bringing along a silk sleeping bag ensures that you feel comfortable sleeping at all times.
A water filter
You can buy bottled water in Cuba but it tastes vile and I think it might not be filtered correctly (not sure about that claim but we were continuously feeling a little ill after drinking it)
In hindsight, I wish I just brought my own water filtration device with me. It would be better for the environment and makes the water 100% safe for drinking.
Our airbnb host told us that she drinks straight from the tap in Cuba. While I wouldn't recommend that, it gives you piece of mind that filtering your water yourself would be 100% safe.
Torch
Water and electricity tends to have a way of continuously going out in Cuba. Our water went out multiple times in Havana. All the more reason to bring that dry shampoo.
We didnt have a problem with an electricity outage while we were there but this is common in Cuba. For this reason, we would recommend bringing a small travel torch with you.
Microfiber Towel
If you decide not to stay in a luxury hotel, it is always advisable to bring a small microfiber towel in case sanitation isn't quite up to par. If all is well, you can always make use of it at the beach.
Umbrella
It may be hard to find an umbrella to buy while in Cuba so we would suggest bringing a small umbrella with you.
FOOT WEAR IN CUBA
You will need 2 types of shoes in Cuba, flip flops and sneakers.
I would bring a good pair of sandels, a pair for the beach plus a pair of sneakers for your trip.
We are personally huge fans of Havaianas Flip Flops and probably wouldn't buy anything else due to their comfort and durability.
Having sneakers on your trip is absolutely essential, especially if you are plan on spending hours walking the picturesque cobblestone streets of the Old Town of Havana.
This is one of the best things to do in Havana so you won't wait to cut this section of your trip short as your feet are crippled. You will also need closed in shoes if you plan on heading from Havana to Vinales to go horse riding.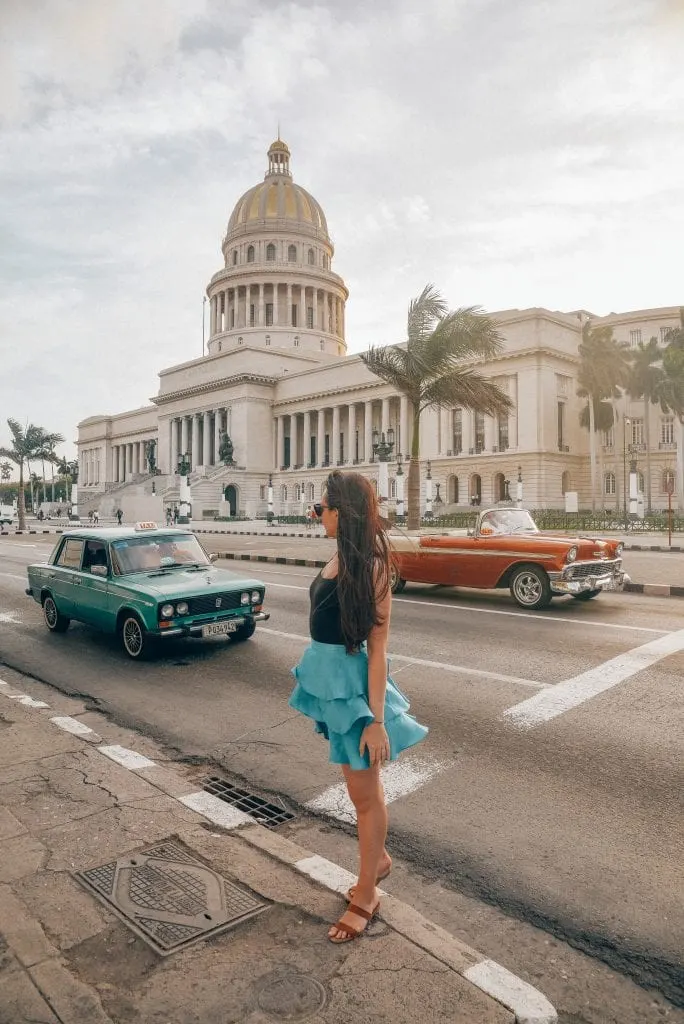 ELECTRONICS IN CUBA
Wifi is virtually non existent in Cuba. Okay that is a bit of a lie, you can get wifi but it is dial up speed and required you to sit in a lobby of a major hotel and pay 2 CUC an hour.
Unless you want to spend a lot of money and be hella frustrated, you might want to bring a book or downtown a movie to your laptop to watch at night in Cuba.
Oh, and in case you are wondering, there is literally 0 english tv in Cuba so you are going to want to bring something to do unless you plan on salsa-ing the night away.
Here are some electronics not to forget:
Your Camera (We use a Nikon D750 and we LOVE it!) If you are looking to upgrade your camera we would highly recommend it.
Laptop (download some good tv shows)
Travel Adaptor (if you are coming from a country outside of the US)
Travel Converter – It is necessary to bring a travel converter with you as Cuba mostly uses 110. In comparison, US and Canada use 120 volts and Europe uses 220 volts. I have wrecked many a hair straightener not converting to the right voltage.
Portable Power Bank – It is always best practice to bring a portable power bank with you in case your electronics die on a trip.
WHAT NOT TO BRING TO CUBA?
Okay so we have covered what to bring to Cuba, now let's briefly discuss what not to bring to Cuba:
Your drone: First things first, sad but true, you cannot bring your drone into Cuba. If you do it will be taken away at the airport. You can get it back but you will have to fine to get it.
Toilet paper: A lot of people advise to bring toilet paper into Cuba. We didn't find any need for it.
Expensive Items you don't want to lose.
CUBA PACKING LIST: TICK THESE ITEMS OFF AS THEY GO IN!
DOCUMENTATION:
Passport

Tourist visa
Insurance
Tickets
Reservations
Cash (Optional)
CLOTHING
Shirts
Pants
Dresses
Shorts/skirts
Rain jacket
PJs
Underwear
Swimsuit
Rashie
Shoes
Socks
MISCELLANEOUS
Towels
Medicine
Sunscreen
Insect repellant
Bed liners
Headphones
Camera
Adaptor
Laptop
Phone
Wet wipes
Shampoo & Conditioner
Moisturizer
Toothbrush & toothpaste
Hand sanitizer
Make up
Deodorant
Hairbrush
Water bottle + filter
MORE RESOURCES TO HELP YOU PLAN YOUR TRIP TO CUBA
Im totally jealous you are headed to Cuba. I would return in a heartbeat, it is such a cool place.
Here are some more resources that will help you plan your trip to Cuba:
***
SAVE CUBA PACKING LIST: WHAT TO PACK FOR CUBA? TO PINTEREST