Fall is such a beautiful time of year. Here are 50 Cute Fall Date Ideas to enjoy with your loved with in the magic of fall!
And while we are on the topic of dates ideas you might also like to check out:
If you love everything fall, be sure to check out our favourite fall foods!!
50 Fall Date Ideas to make your Fall Totally In Love!
1. Drive-in movie (one of the best cute fall date ideas!)
One of my favorite things to do, snuggle on some blankets in the back of our pickup while watching a drive-in movie.
Feel the cool breeze, hear the sounds of the nightlife, the Stars up above, and the moon bathing everything and it's gentle light–there's no comparison when watching a movie.
2. Horse-drawn hayride
Enjoy Whimsical horse-drawn hayrides through colored trees, instead of a noisy tractor. Nothing kills a mood faster than a loud tractor drowning out your every word as you try to talk to your date.
Instead, enjoy laughing and getting to know your date with the clip-clop of horse Hooves in the background as your date progresses with ease and flirty smiles.
A super cute fall date idea if I do say so myself!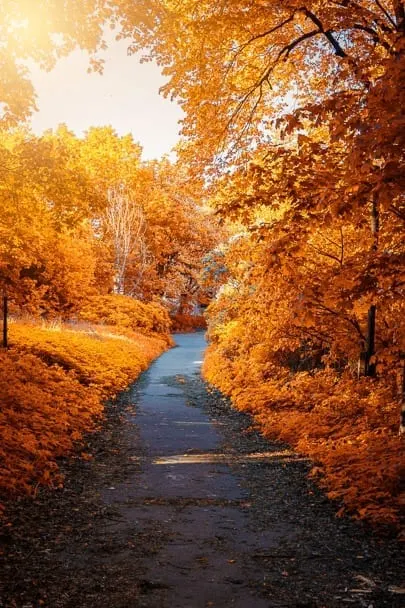 3. Sweater shopping
It's a new fall season so it's time to go sweater shopping!
Turtleneck, designer, form-fitting, and the chunky, cozy sweater.
So many to choose from, so you and your date take your time browsing.
Then take selfies in your new finds! Since you're buying new clothes, give away some old clothes to your local Goodwill or thrift store.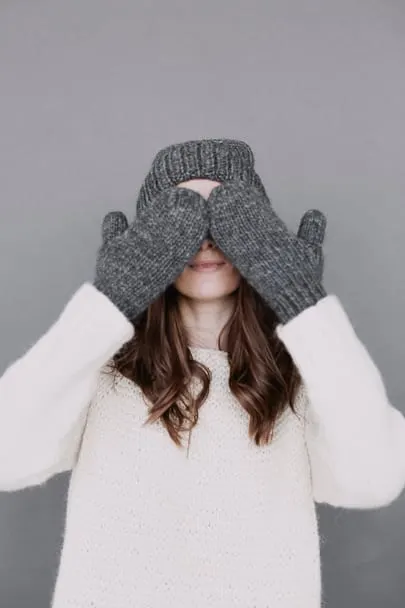 4. Movie night
I know it's chilly fall nights, stay inside on the couch with a shared blanket.
Light a fire in the fireplace, grab or make your favorite adult beverage, and getting some good cuddle time while you watch movies you picked out together.
Share a snuggly picture to Insta with one of our list of couple love quotes in the caption.
5. Horseback riding
If you both enjoy horses and trail rides through the breathtaking fall foliage, then horseback riding is your perfect date.
Make the ride even better by stopping somewhere to rest with a bottle of champagne and some finger foods in a picnic basket. Don't forget the blanket!
6. Hot cocoa and Rockers
It's fall, so that means a scrumptiously warm mug of hot cocoa to sip and warm your fingers on.
Find a recipe online and make it yourself (and for extra brownie points, make the marshmallows, too!)
You and your date head to the front porch and get comfy in some rocking chairs.
Sit, sip, laugh and gently rock as you both talk, with the smells, sights, and sounds of fall all around.
Getting cozy with cocoa is one great thing to do on a rainy day, but it doesn't make our top 50.
Read this post for 50 awesome date ideas when it's raining.
7. Coffee House
What better place is there to talk and get to know each other than a cute little coffee house with a comfortable sitting area. (The TV show Friends comes to mind.)
Sit for hours and talk about nothing and everything as you sip your coffee and eat delicious pastries as the chemistry and memories flow.
8. Hot Air Balloon
Something I've always wanted to do. A hot air balloon ride could be a perfect date (if you aren't scared of heights).
Bring a camera to take pictures of the marvelous array of autumn color, along with rivers, waterfalls, lakes, or oceans you might see.
To start planning, check out this guide to the Hot Air Balloon Festivals in the USA.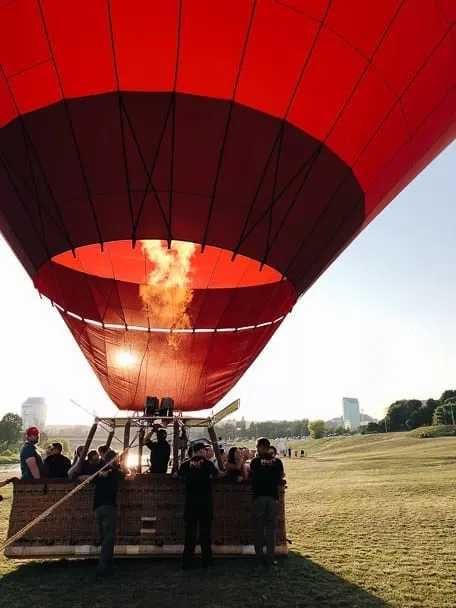 9. Road Trip
Plan everything ahead of time–landmarks, historical sites, museums, festivals and fairs, national parks you want to see, and places to stop and rest, or sleep.
Do this and your road trip should be super fun.
(Take more stops if you have a child with you)
Make sure to document your journey on Instagram using the right hashtags with our guide to the best road trip quotes.
10. Go Camping
Love the sounds, sights, and spectacles of nature? Then camping is a perfect date.
Be sure to bring bug spray, toilet paper, sunscreen, and pepper spray (always be prepared).
Do this and you're camping date will be amazing.
You can even make it a "family date".
Fish, swim, hike, roast food over fire, repeat. Make lots of precious memories.
11. Cute Fall Date Ideas – Go for a picnic
The classic picnic date.
Whether it's your first date or not, you can't go wrong sitting on a blanket, under a shade tree with a basket full of food.
This also works as a "family date". Talk and enjoy each other's company while the kids play. Or go scavenger hunting for the biggest and best fall leaves they can find.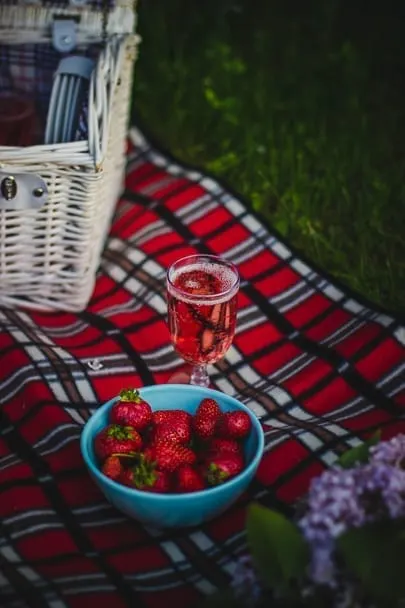 12. Pick a pumpkin
Peter Piper picked a pumpkin and made it into pumpkin pie. Sounds good, right?
Since it's fall, there will be lots of pumpkin patches just waiting for you to romp through them.
Pick the perfect pumpkin to decorate, carve, or make into a pie.
You and your date choose two different pumpkins or choose one together to work on.
13. Game Night
Board games, card games, brain games, strategy games, funny games, the list goes on.
Turn off your phones for a few hours, munch on some pizza and play some games.
Make it two player games or invite friends over and play with more.
If you're looking for more indoor inspiration, check out our mega guide to at home date night ideas.
14. Pick some fruit
Hold hands through the line of Orchard trees with a basket in your other hand.
Apples, persimmons, or pears. There are delicious fall recipes that are begging you to make them!
Ice cream, pie, Tarts, jellies, or breads. Invite the scrumptious smells of autumn into your home.
15. Thanksgiving Date Ideas
Can't forget about Thanksgiving!
Meet your date's friends, and family while enjoying an amazing feast where everyone is thankful for their blessing.
Once the meal ends, cuddle on the couch and watch TV with everyone, or enjoy seclusion under the stars.
16. Farmers Market
Make a date out of going to the farmers market and picking out fresh produce together.
Stop at every booth, and taste all the samples they offer.
If that is not a cute fall date idea, I don't know what is! Enjoy!
17. Autumn dinner
Take your Farmers Market date a step further and head home to make dinner!
Fresh pasta, salads, soups, and more. And don't forget dessert!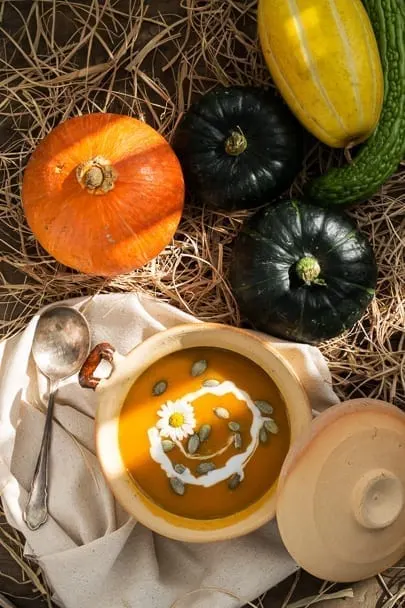 18. Stargaze
Lay out under the stars, on the cool grass, the smell of autumn leaves on the breeze. Tell all your stories to each other as you search for constellations.
Make it a dinner date with some pizza and some wine.
Don't forget a lantern to help you find your way back.
19. Bike Ride
Another favorite of mine.
Take a long leisurely bike ride and soak in the autumn sun and beauty around you.
Take a trail, or a calm roadway.
Don't forget your helmet and water.
20. Pumpkin carving
Carve a pumpkin together or do your own. Carving pumpkins is fun and a little messy.
All part of the experience.
Show off your work on your front porch.
Place a candle inside and let your work of art cast a night glow.
21. Make it yourself
This time of year, pumpkin spiced everything is a must.
Instead of buying expensive drinks and cringing at the bill, why don't you and your date try making your own flavored apple cider, tea, or coffee?
Customize them, make them your own, and share them with others.
22. Campfire stories – a super cute fall date idea!
It wouldn't be Autumn without a good scary story.
Make a fire and you, your date and your friends go around it telling the scariest (or funniest, or most embarrassing) stories you know (who says you can't tell other stories, too?)
Find a great local campground or take a road trip to a national park. We camped at Bahia Honda State Park this Fall and the ocean site provided an awesome backdrop for campfire stories!
23. Tasty Fall Treats
Who doesn't love the smell of baked goods? Fall is the perfect time to make homemade treats (like caramel apples, apple chips, pumpkin bread, apple pie baked apples, or pumpkin pie).
You and your date bake together and make it special.
Take turns feeding each other scrumptious little bites.
24. Football
If you both enjoyed football (or she / he wants to learn more about it) than a football game what could be a fun date.
We're team colors, grab concessions, and a foam finger.
Be patient if your date is learning the game. When you both know how the game works you can enjoy more sports dates together.
25. Home decorations
Bring fall inside with fall decorations.
Spend a day collecting a bag of pine cones, pine needles, autumn leaves, acorns, and whatever else you like.
At the end of your decorating, you and your date sit, sip a cup of tea and admire your work.
26. Leaf pile
You're only as old as you feel. So rake up a pile of leaves and dive in!
Don't care what the "mature" adults think.
Have fun.
Embrace your youthful spirit.
Relive your childhood memories with your date.
27. Corn maze
Get lost in a corn maze with your date (whether on purpose or accident, who knows!)
Corn mazes can be so fun.
Afterwards, grab a few ears of corn, slather them in butter, salt them and chow down!
28. Cider tasting
Go taste the delicious fall flavors and find your favorite Cider at a cider tasting!
Buy the one you like best, go home and enjoy another round of it over dinner.
29. Take a hike
Hiking is a healthy way to enjoy the fall scenery. Fill your lungs with cool Autumn air as you hike a beautiful forest.
Rest and refresh yourself in the breathtaking photogenic scenery.
Don't forget to take a selfie!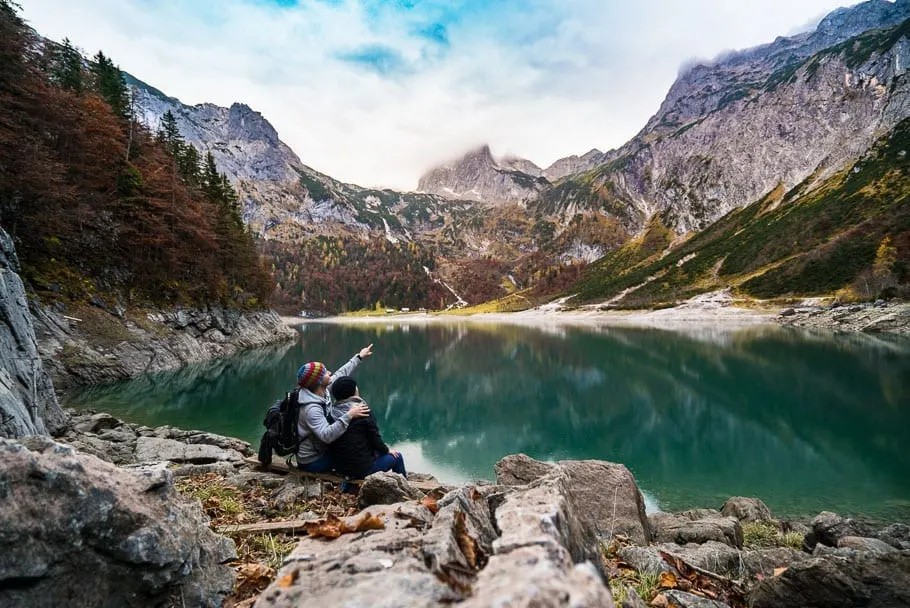 30. Visit a Park
Visit a local or national park as a date.
Get out and breathe some fresh air. Take some sandwiches and your dog along.
Play Frisbee, croquet, card games, or be a kid again and play tag, or hide and seek. Enjoy climbing the landscape and finding exotic waterfalls, canyons, secret places in the woods, and wildlife.
31. Visit a haunted house
Everyone knows where at least one haunted house is around their area.
Fall is the perfect time to enjoy having the wits scared out of you.
Take a flashlight (and some pepper spray) and have fun.
32. Decorate the family
Tis the season of the pumpkins, squash has, and gourds.
Have a little creative fun with carving knives, paints, and glue!
Decorate this fall family with beautiful designs, artistic flair and creative thinking. Collect flowers, leaves, or whatever else you'd like and glue them decorative leave to your veggie / fruit of choice.
Make a date of it.
33. Fall bouquet
If your guy really cares about you, he will be willing to help you collect flowers.
Make a day and a date out of it.
Enjoy being outside. Look at all the little creatures around you as you hunt for the perfect flowers. Roll down some hills like you used to when you were a kid.
Make the moment last.
End the day with a perfect okay on your table.
34. Beer tasting
If you like beer then go for a beer tasting. Taste the strong, the light, the aromatic, the spiced and the enjoyable beers the brewery has to offer.
Make it a date and have fun.
35. Fall festivals or fairs
Look up the fall festivals and fairs in your area and when they take place.
Bring enough money to make it a great experience for you and your date.
Cotton candy, chili dogs, funnel cake. Win a stuffed animal prize and give it to him / her.
Take photo booth pics.
Ride all the rides twice!
At the end of the day you should feel like you're so funned out that you could sleep for a week.
36. Tailgate party
Tailgating is always fun to do with friends, and it can be a cute date.
Drink a cold drink, Sway your hips to the music, and get to know everyone.
A party under the stars.
37. Scrapbook
Find an app online and make a cute scrapbook (if an actual book of photos is too outdated for you).
Develop your fall date by making a date to develop the pictures you both have taken together.
38. Chili day
No fall experience would be complete without chilly day!
You and your date make a day of making chili together–don't forget to add your own secret ingredients!
And don't forget to write the recipe down!
Add Fritos and cheese to make a tasty Frito chili pie!
39. Scary / suspense movies
Grab some classic Thriller / scary movies from your local library and get to screaming. Don't forget the popcorn, and a drink! (And a blanket to hide under in case it gets to scary!)
40. A winery
Enjoy a fall date touring a winery.
Better your wine connoisseur-ing abilities and learn more about wines by touring a winery (learning about which ones you do and don't like).
Make sure you take time and eat before you hit the road again.
41. Cloud watch
Leon the soft ground under the huge blue sky, watch big puffy clouds float lazily by, and make shapes of them.
Is it a horse? Is it a turtle? A Mountain? Ice cream cone?
Enjoy hours of fun cloud watching (and possibly napping) together.
42. Fall Foliage
Hand in hand, collect beautiful fall leaves.
Collect a bag full, and decorate with them.
Make a string of them and hang them over a door frame or around a room.
Place in the bottom of a vase as an accent to a bouquet of flowers.
Paste them on the outside of a glass candle and watch them glow in the evening.
43. Adult picnic
Wine, a fancy meal in a wicker basket, on a nice comfortable blanket in a secluded area.
Bring some adult beverage and enjoy a fun day out.
44. Kids soccer game
A cute date that involves sportswear.
Sunglasses, hat, kids soccer team shirt, and some cute little shorts (girls only, please).
45. Maple Syrup
Find a place that will let you make your own maple syrup. Have fun learning how It's made and all that goes into making the deliciously sweet topping.
Then make fall spice pancakes for breakfast!
46. Nature scavenger hunt
If you're a nature lover and like hunting for things, then make your own scavenger hunt (with help from Google) and get out there and hunt.
47. Bonfire
Have a bonfire to have your date meet your friends.
Your friends can check him / her out and make sure they're as okay as they seem.
Friends can catch things you won't be able to about your date.
Then you can really decide if they're a keeper.
48. Cookout
Messy, juicy, Savory, smell good barbecue. Make kabobs, ribs, steak, mashed potatoes, macaroni salad, iced tea (tofu or soy substitutes work too).
A fall cookout date is a great idea.
49. Thrift store
Along with those sweaters, you might want to update your fall wardrobe.
Stylish jeans and long-sleeve shirts for him. Knee length, high heeled boots and new leather bag to go with them for her.
Don't forget to trade clothes out (and give them to Goodwill) so you have room in your closet!
50. Read a book
A super cite date idea is reading out loud to each other.
Reading a book is so much more fun when you get to share it with someone who can enjoy it with you.
Save these 50 Cute Fall Date Ideas to Pinterest so you can find them again later!