Looking for date ideas in Dayton Ohio?
No more at home date ideas with these fun and unique Dayton dates.
Whether you are looking the net for a list of the most romantic places in Ohio or just looking for something new and interesting to do this weekend, we have you covered with the best things to do at night and during the day.
The best date spots in Dayton Ohio (and even some quarantine date ideas!) here.
Date Ideas Dayton Ohio: 50+ Romantic Things to do for Couples
Food and Drink Ideas: Date Night Ideas in Ohio
One of the best activities for couples in the city. Take a scavenger hunt through the cities best landmarks and hidden gems, answering trivia questions and solving challenges.
Salar Restaurant and Lounge
Located in Dayton's Historic Oregon District, Salar offers a unique and delicious menu! Chef Margot Blondet draws inspiration from her home country of Peru in each dish she prepares. The entire menu feels homemade ranging from vegetarian cuisines to rich desserts!
Coco's Bistro
This Dayton restaurant offers a vast and tasteful menu with a comforting and airy atmosphere. With a large array of seating and huge patio, this is the perfect dinner spot for you and your date, no matter what your palette! One of the best rainy day date ideas.
Cocktail Nite
A fun spin on a simple night of dinner and drinks! Get cocktail lessons from a professional and make your own drinks. Perfect for cocktail lovers and food lovers alike!
Spaghetti Warehouse
If you're looking for a fantastic Italian dinner, spaghetti warehouse is the place for you! Their menu seems endless and the inside is absolutely unique, with a train car on the inside with seating available. And on top of that, the food is delicious!
Dewey's Pizza
Looking for a more casual Italian option? This Midwestern pizza chain might be just the fit for you and your date! With a view of the chefs preparing the dough and other ingredients for your pizza, this restaurant offers everything you could ask for on a dinner night. Just enjoy a simple and handmade pizza with amazing, fresh ingredients!
Jimmie's Ladder 11
Located inside a restored 1892 firehouse, this restaurant boasts many charming features that will help make your night absolutely wonderful! With a folksy-chic tavern vibe, it serves endless classes American menu items along with an extensive beer list.
Second Street Market
Located in a former freight station, the second street market is bustling with merchants selling a variety of goods! Make a whole day of it and explore all the food, produce, and crafts that the market has to offer! In addition to great food and beverages, you'll enjoy the company of a lovely crowd and unique scenery.
The Little City Cooking School
Looking for a creative date night idea that lets you learn a new skill? The little City Cooking School is a hidden gem in Oakwood, Ohio near Dayton. Housed in a beautiful, historical 1926 home, the small business gives off a friendly and comfortable feel where you and your date can learn to cook new dishes together!
Warped Wing Brewing Company
A microbrewery located in a historic, industrial building in downtown Dayton. You'll get a unique experience at this brewery, as it offers a great tasting room with creative beers along with tours!
The Village Wine Cellars
The Village Wine Cellars is a great dinner option! With a fully stocked bar and a delicious menu! You and your date will have a great time tasting their amazing wine selection as you eat a delectable dinner! One of the most romantic places in Dayton.
Thai 9
A great modern restaurant option with a vast and differentiated Thai menu. You'll love their upscale Thai dishes sushi, along with their wine and craft beer selection! Located in Dayton's historic Oregon District, you and your date will find yourself in the middle of everything Dayton has to offer!
Bar Louie
A bar and restaurant chain founded in 1990 located in Dayton. They offer delicious food along with beer and cocktails, making a great location for a lovely dinner option during date night!
The Trolley Stop
The Trolley Stop offers a delightfully unique eatery option for you and your date! Dating back all the way to 1839, this tavern offers flavorsome American eats, craft beers, and cocktails. Along with amazing food, they also provide live music and even a pool!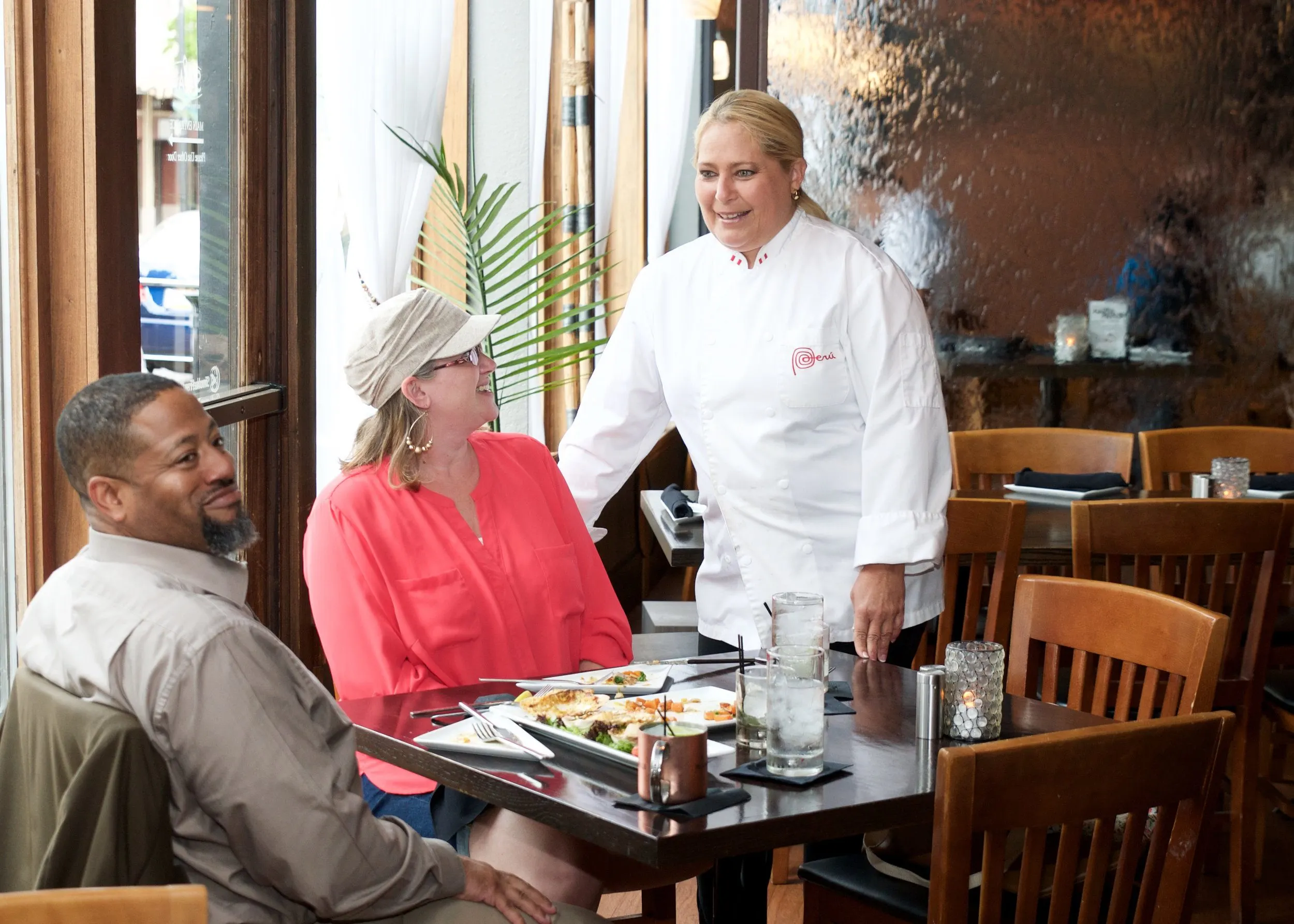 Entertainment Date Night Ideas
A super cool and exhilarating date! Fly a WWII Aircraft that was used to train pilots during WWII with your SO. Enjoy the views from above the earth!
Dixie Drive-In Movie Theater
Jump back in time at the Dixie Drive-In Movie Theater! Holding up to 900 vehicles, enjoy your movie on one of two huge screens, with beautiful tree enclosed grounds.
Dayton Funny Bone Comedy Club
Located at The Greene in Beavercreek, this club offers a fun night of laughs and drinks for your and your date!
Hollywood Gaming at Dayton Raceway
One of the most popular entertainment choices in the Dayton Area, this location offers several ways to have fun! Gaming, racing, food, and drinks are all available in a friendly and relaxed environment with stellar customer service.
The Neon
A different kind of cinema experience offering a variety of films! Enjoy foreign and indie films not offered at other theaters while sipping on coffee and beer of your choice!
Scene 75 Entertainment Center
The largest indoor entertainment center in the country with endless ways to have fun! Have dinner and drinks, play a round of mini golf, race go-karts all in the same place!
The Black Box Improv Theater
Located in downtown Dayton, get ready for a night of drinks and laughter. It is a long form improv theater and they offer classes for both kids and adults!
Schuster Center
Built in 2003, the Schuster center is home to a wide variety of entertainment. It's available to rent for parties and celebrations of all kinds and it's home to performances such as plays, operas, and orchestral arrangements.
Rose Music Center
Looking for a fun night with great live music? The Rose music center is perfect for you! An outdoor pavilion with room for 4,200 and fully covered, this amphitheatre houses great music of all genres almost every night!
Fraze Pavilion
Another perfect option if you're looking for live music! This pavilion is also outdoors, fully covered, and can seat about 4,300. The theater hosts many different American and international artists!
Dayton Opera
An American Opera company which releases three operas each year at the Schuster center located in downtown Dayton. The perfect night of gorgeous music and beautiful storytelling is awaiting you!
Dayton Philharmonic Orchestra
A professional music group formed in 1933 and located in Dayton, they regularly perform at the Schuster center as well. If you're a fan of classical music, then you'll love a night listening to this long loved orchestra!
Dayton Ballet
Founded in 1937, this Dayton based ballet company is the second oldest in the United States. Performing regularly at the Schuster Center, a night spent enjoying the talent of this company is a great date idea!
Victoria Theater
A historic landmark founded in Dayton in 1866, this theater boasts performances of popular plays and musicals, such as The Phantom of the Opera. This is the perfect date idea for any musical or history lover!
La comedia dinner theatre
With shows playing regularly throughout the year, this theater is a perfect date idea! They offer dinner and an amazing show, ranging from a Christmas theme during the holidays with shows such as Elf and other popular musicals such as the Sound of Music. They offer different shows each year so you'll always find something new!
Dayton Playhouse
Running since 1959, the Dayton Playhouse is a community theater that provides theatrical productions of all kinds to all ages in the Dayton area. You'll have a blast enjoying a performance from the talented theater group!
Little Art Theatre
The Little Art Theater is a great small business option for movie lovers! The nonprofit cinema offers both modern and classic movies, along with a great concessions spot! You'll love the small, old school feel of the theater, offering a fresh perspective from your usual modern movie theater!
Wiley's Comedy Club
Another great comedy club option for a fun, laugh filled date night idea! Wiley's comedy club is the first and oldest comedy club in Ohio, so you'll love the old timey aesthetic that transports you back in time while enjoying the entertainment!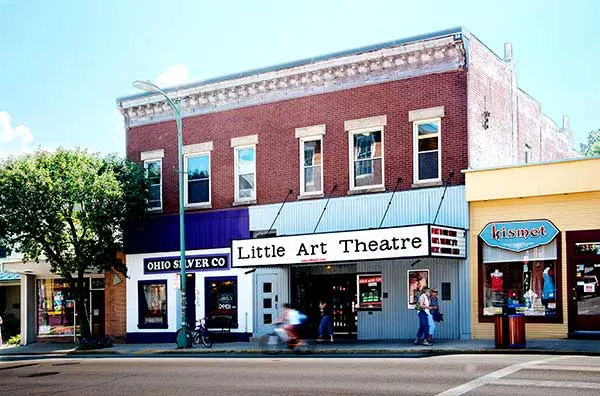 Ideas for Nature Lovers
Harmony Farms
A great day date idea to support a great local farm! They offer in store shopping so you can get some great locally made products, all in the peaceful, beautiful atmosphere of the family owned farm.
Five River MetroParks
Looking for a more adventurous date? The Dayton Five River Metroparks boasts nearly 16,000 acres across the area and offers hiking trails, bird watching, and a large variety of activities for a wide range of ages and interests!
Carillon Historical Park
Carillon historical park is a 65 acre museum and park with an array of historic buildings and exhibits showcasing the history of Dayton since 1796. With a combination of exploration and education, you will have a blast uncovering the history of the area while enjoying the beauty of the park.
Riverscape Metropark
A great outdoorsy date night option for nature lovers! Enjoy this park along the Great Miami River! And explore the different events they offer such as ice skating, floral paintings, and the different community events they offer!
Carriage Hill Metropark and Farm
Another wonderful option for nature lovers, this MetroPark lets you jump back in time and enjoy the beauty of the forests and wildlife around you! History lovers will also enjoy seeing a glimpse of 1880s farm life. Also, don't forget to check out the riding center so you can enjoy all the amenities on horseback as well!
Walnut Hills Park
Walnut Hills park is a lovely small park for a date night on a budget! The park is small but pretty and would be a great place to have a picnic with your significant other! This date option is both super friendly to your wallet and offers a unique date idea that you and your partner surely won't forget any time soon!
Wegerzyn Gardens Metropark
Another budget friendly option, this vast and beautiful park is another perfect option for a picnic date and romantic walk! In addition, they offer many classes and workshops to choose from. Or you can choose to keep it simple and just enjoy their 10 formal gardens, a nature trail, and the Swamp Forest boardwalk!
Eastwood Metropark
Once again, a great picnic spot that won't break the bank! The scenery of this park is absolutely stunning, with a lake, river, picnic shelters for large groups, a hiking trail, and a playground. Known for its water activities as well, perhaps bring your fishing pole or boat to enjoy the gorgeous waters throughout the park.
Possum Creek Metropark
Nature lovers will have the best day exploring this absolutely stunning park and its many amenities! Walk along the Argonne Forest Trail and walk through history, followed by a visit to the farm to learn about the animals there, and finally even spend the night on the camping grounds there to make a whole weekend out of the trip!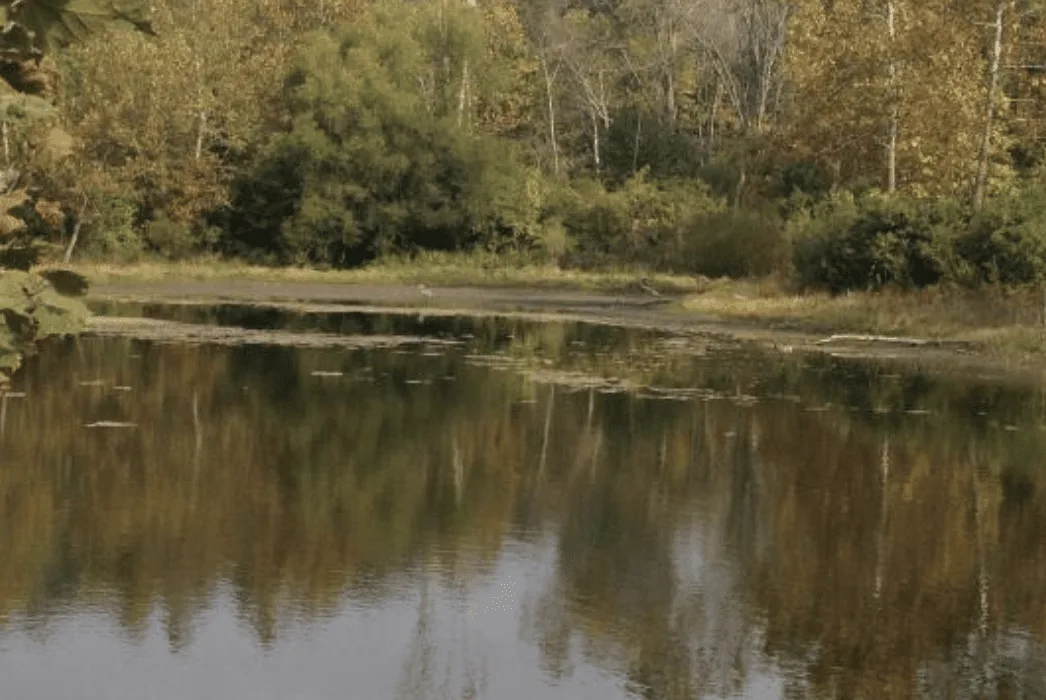 Fun and Educational Date Night Ideas
Boonshoft Museum of Discovery
The Boonshoft Museum of Discovery is a children's museum in the Dayton area but it's honestly great for any age and offers tons of fun! Focused on science and natural history, the museum offers an array of exhibits. That of which includes an extensive natural history collection and many live animals native to Ohio and also abroad.
Wright Cycle Company Shop
The Wright Cycle Company Shop celebrates the life of the famous Ohioans, the Wright Brothers. Orville and Wilbur Wright began their bicycle repair, rental, and sales business in 1892. They also ran a print shop at the same time. History lovers will have a blast walking through the business and learning of the history of the famous Wright Brothers.
Patterson Homestead
Located at 1815 Brown Street in Dayton, Ohio, this historic museum home was originally built in 1816. It was built by American Revolutionary war veteran Colonel Robert Paterson using federal architecture in several sections over forty years.
Open for event rental year round and located within the Carillon Historical Park, the homestead is a positively beautiful location option for you and your date on your special night!
The Funk Music Hall of Fame and Exhibition Center
The mission of this center is to establish a home for the legacy of funk music by celebrating the artists that brought it to life. Take part in this celebration by visiting here and learning about the genre through the many bits of memorabilia in the hall of fame.
Along with this, grab some merchandise from the shop that is located there as well! You and your date will have a blast picking out your own funky attire and accessories!
The Dayton Visual Arts Center
Looking for a unique artistic experience in Dayton? The Dayton Visual Arts Center is perfect for you! It is composed of a group of artists and art lovers who wish to bring attention to the importance of visual arts in the Dayton area.
There are a variety of events available to attend here such as art gallery talks, art exhibitions, professional development art workshops, and endless other programs that promote the contemporary visual art scene in the area.
Sunwatch Indian Village
The Sunwatch Indian Village is an archaeological site that provides an important history to its visitors. Open all year round, the site offers many different events and activities fitting for all ages and also offers a membership to its services to Dayton residents.
Along with this, there are a plethora of exhibits to view and absorb that will truly educate you while you're there. A great and unique date night option that's perfect for anyone wishing to educate themselves on Dayton history!
Dayton Art Institute
A museum of fine arts in Dayton and ranked in the top 10 best art museums in the United States for children. Perfect for a peaceful, educational, and fun experience!
National Museum of U.S. Air Force
Being the oldest and largest military aviation museum in the world, it houses 360 aircraft and missiles. You and your date will have a wonderful time learning the history and knowledge which is available at this museum!
America's Packard Museum
Great for car lovers, this automotive museum located in Dayton is a fun and educational date night idea! If you love museums and/or cars, America's Packard Museum is perfect for you!
Dayton International Peace Museum
Another great option for museum lovers, the Dayton International Peace Museum offers a unique educational experience. It is a non-profit whose goal is to promote a more equitable, civil, and peaceful world.
Lebanon Mason Monroe Railroad
Located in historic downtown Lebanon near Dayton, offering train rides throughout the town. You'll get the chance to ride in vintage passenger cars and don't forget to explore the different themed events that are offered throughout the year as well!
Dayton Aviation Heritage National Historical Park
Another great option for history lovers! The Dayton Aviation Heritage National Historical Park offers an in-depth look at the lives of important figures in Dayton Aviation such as Paul Laurence Dunbar and the Wright Brothers. You'll have a blast exploring this historical park!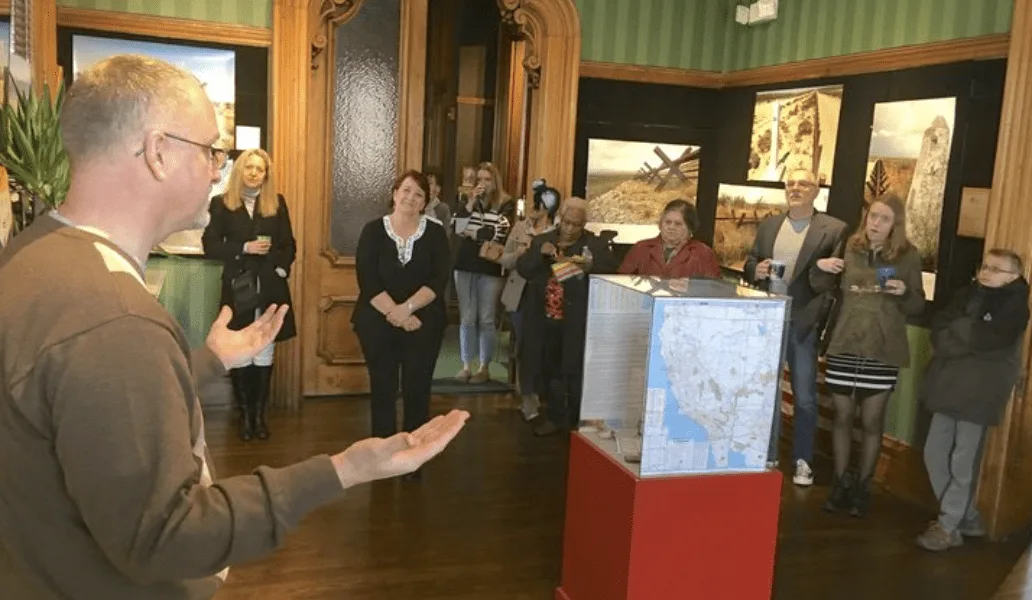 Creative Ideas for an Adventurous Date Night!
Breakout Dayton
If you're looking for adventure, Breakout Dayton delivers. Solve a series of clues and riddles in order to break out of a room with a theme of your choosing before time runs out!
Adventure Golf
Mini golf is always a fun option! Adventure golf boasts 18 holes and beautiful scenery. Boasting ponds, waterfalls, and canals.
Always Ballroom Dance Studio
Being a huge part of the Dayton community for 19 years, they offer classes for all kinds of students! If you're looking for a unique date idea, this is perfect for anyone looking to learn how to dance!
Oregon District
One of the oldest and most historic neighborhoods in Dayton, containing buildings and architecture ranging from the year 1820 to 1915. You'll find the neighborhood the perfect place to find endless food and fun!
Dayton Dragons Baseball
The Dayton Dragons Baseball team plays regularly throughout the summer and into fall at their home stadium in downtown Dayton. For any baseball fans, this is a great date night idea!
Urban Krag Climbing Center
The perfect date night for the adventurous couple! The climbing center features 10,000 square feet of textured and sculpted vertical climbs, ranging in height. It's great for both experts and beginners so you don't have to be an experienced climber to give it a try!
The Magic Castle
Another great option for mini golf lovers! But in addition to mini golf. The Magic Castle also offers a huge arcade, batting cages, an indoor playground, and a snack bar. You will find lots to do at this fun spot on your date night!
Laser Web Dayton
A different kind of date night option can be found at Laser Web Dayton! Experience a fun, competitive time perfect for anyone looking for a date night with a little adventure!
Land of Illusion
For any haunted house lovers, Land of Illusion is a great date night option! Opening in fall, around Halloween time, it boasts a large array of haunted houses that offer a frightfully fun time for anyone looking for a spooky evening!
Bella Balloons Hot Air Balloon Co
A unique, adventurous option for date night! The Bella Balloons Hot Air Balloon Co offers a great way to check off an item on your bucket list with your significant other!
Great Escape Game
Another escape room option for the adventurous couple! You get to choose from several different escape room options such as bank vault, Area D, and Outbreak! Going through a series of clues and riddles, you'll race with your date to get out of the room before your hour is up!
Wild Axe Throwing
A great unique date night option for anyone wanting to learn a new and different skill! Wild Axe Throwing in Dayton provides an unforgettable experience that lets you escape reality momentarily!
Southern Ohio Diving Academy
Another option for learning a new skill on your date night! The Southern Ohio Diving Academy offers a comfortable and welcoming atmosphere for diving newbies and has lots of locations for diving lessons throughout the Dayton Area.
Raise Your Brush
A wonderful option for a night of fun memories spent painting! Whether you're artistic or not, Raise Your Brush offers a different kind of date night! Even with a covid safe option of taking courses from the comfort of your own home!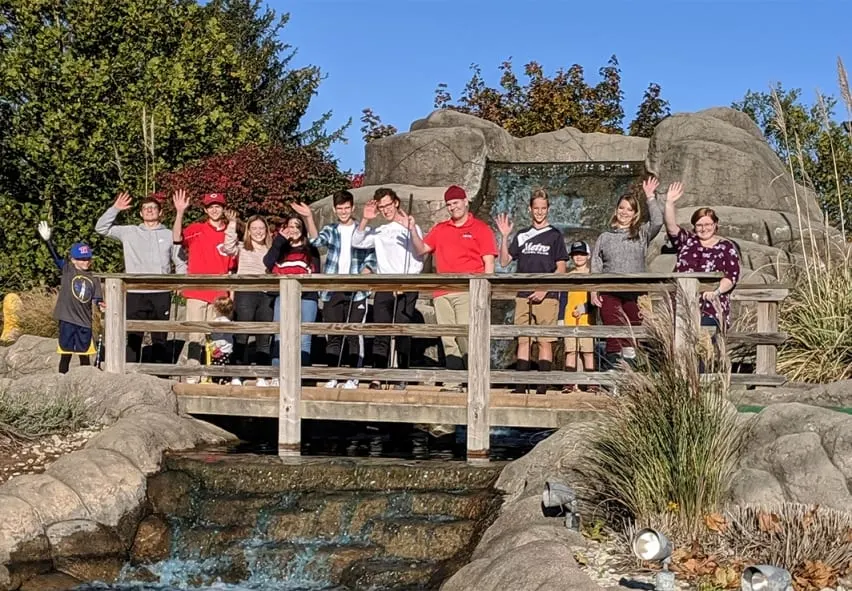 ***
More Ohio Fun: