Looking for Date Ideas in Omaha?
We have you covered! No more boring pizza night with these epic date night ideas in Omaha.
If you are looking for the most romantic places and spots in Omaha, we have hunted down 50+ of the best, whether you are looking for things to do at night or romantic things to do for couples in Omaha during the day – we got you!
The best date spots in Omaha right here!
Date Ideas in Omaha: 50+ Romantic Things to do for Couples
Unique Date Night Ideas
The Bullet Hole. For this unique date night idea, I suggest you perform a background check, just to make sure you don't have an assassin on your hands. You two can fall in love with one another's shooting style at the Bullet Hole. They offer gun safety classes, and a wide variety of guns for purchase if you want to leave with a new toy. Add a little razzle dazzle to the date and see who has the best shot! Open 7 days a week, pick a day to ride out and aim for some fun!
SpielBound. Roll the dice and see if you land in love! This gaming coffee house and café is sure to get you and your date in a friendly game of competition. They offer over 2500 board games, and even some snacks, food, beer, and game themed cocktails. You can play for the day for $5 or get unlimited play when you buy a membership pass! Once you get the green light from your date, you two can make it a regular place to play!
Get Out Omaha. Do you have what it takes to solve the puzzles and get out within 60 minutes? I hope so, you just may end up locked in! No, they can't legally keep you locked in the rooms, but you may want to Get Out just in case they decide to keep your date.
Corky Canvas. Pop the cork! Get to see the more relaxed side of your date and this fun paint and sip art studio! You can paint on canvas, wood, and even make matching pillowcases! There's a lot of wine drinking going on in Omaha and this place is no exception!
Barks and Brews. Ever wanted to go out for a drink but your dog wouldn't let you leave the house? Well, you, your date and the dog can go to Barks and Brews! This doggy bar offers drinks for you and your pooch! If you and your date need some alone time, they also have a doggy day care available for you. You can even check the sites videos to keep an eye on your four-legged friend!
Omaha Jitterbugs. Dance for a cause! Omaha's Jitterbugs is a non-profit organization that offers traditional swing dancing classes. All proceeds go towards the Jitterbugs. Social distance is practiced, so you and your date can learn to swing without quarantine!
Pie-Five. Try something different with this date night and create your own pie at Pie-Five. See if you can guess what type of pizza your date likes, and you two can build one another's pizza! Go online and join their circle of crust, to get exclusive deals and offers! Hot, steamy pizza and date night!
Brunch and Cocktails Tour. Food and dates just blend so well together. What's better than traveling to different restaurants and eating and drinking as much as your belly can hold. Go to Nebraska's touring companies' website to book your tour. See if you can find a new favorite date night spot!
River City Star Riverboats. Book a private charter or a lunch date on the river boat. Get a tour of the beautiful and serene Missouri river. Woo your boo and sneak in a kiss or two! Check out their website for their themed cruises.
Lotus House of Yoga. Downward dog into love! Who said dates must be all about drinking and food? Well, drinking and food is good, but sometimes you've got to flex it out on a date. You both get to see what position, I mean, how flexible both of you are. Take that how you will but enjoy stretching one another out.
Romantic First Date Ideas
Mahoney State Park. Now this place is sure to get some fires burning. The Mahoney State Park does offer adventure and outdoor fun with nature walks, but the cabins are for lovers. Rent out one of their beautiful cabins, loaded with cookware, linen, tableware and more. Take your date for a romantic, adventurous weekend in the woods, and snuggle up by the fireplace in your private cabin.
Salt and Spa. This is surely a place to get someone in the mood to propose. Both of you can lay it down and relax for a romantic couples massage. Get rubbed down and oiled up. Inhale the Himalayan Sea Salt and let it soothe any stress from your busy day.
Cellar 426 Wines and Vines. Sitting above at one of the highest peaks in the Ashland community, this well-known winery has lush greens and beautiful views. They also have seasonal wine festivals with live shows and VIP membership benefits. Grab a bottle and sip with the one you're with!
Magical Journey Carriage Services. How can you not fall in love on a romantic horse and carriage ride? Magical Journey gives couples a memorable experience that will surely last a lifetime. I think I hear wedding bells, don't you?
Oft's Bed and Breakfast. Enjoy a weekend of romance and staycations with bae. Ort's Bed and Breakfast was awarded as the "Hidden Treasure" in Omaha. This BNB was built in 1910 and restored in 2010 and is perfect for couples to spend some quiet, quality time together. Hide away and snuggle up and if you feel like leaving out, you're just minutes away from the small town's local attractions.
Free Date Night Ideas
Midtown Crossing Park. Free99 are the types of dates that I like! You grab a blanket, some snacks, and your partner, and sit an enjoy a free movie at Midtown Crossing Park. This 16-acre park has more than enough room for you to keep a safe and healthy social distance. The park is also dog friendly, so if you two want to bring your canine partners, they are more than welcome!
The Old Market. This place has a variety of things for you and your date to get into. Free art exhibits, live music and more! Take a stroll through The Old Market holding hands and maybe you may stumble across a wedding chapel.
Omaha Playhouse. To be or not to be, that is the question! Enjoy watching the actors in action! Omaha's playhouse lets visitors come for free to watch the actors rehearse for upcoming performances. Maybe you or your date can audition and become the next Shakespeare!
Joslyn Art Museum. Tour this beautiful art museum that will give your date a more cultured view of you. Peek at the new Discovery Garden and see all there is to know about one another. You two may just fall in love with a portrait, or one another. I am all for love in the arts.
The Malcolm X Foundation. If you didn't know, Malcolm X was born in Omaha, Nebraska. There is a memorial that takes reservations for visits so and your date can learn about the impact he had that still affects us today! Learn about this great man and have great stories to tell your future children.
Roberts Skate Park. Grab your skater shoes and take on a few snake pipes! Skate at your own risk and make sure you wear a helmet. This 14,000 square foot park has more than enough room for you and your date to kick, push and coast!
Elmwood Park. Order a date night box, some pillows, wine, and a blanket and the two of you can enjoy a romantic date in this stunning park! Nothing says romantic date, like a park with games and wine. Lock legs and eyes and watch the sun set.
Casual Date Night Ideas
Lucky Bucket. Hop on over to the Lucky Bucket Brewing company. They offer weekly tours and tastings. With hundreds of beers to choose from, you two can rent out the room Lucky in Love and maybe luck will brew up a love connection.
Harrah's Council Bluffs Hotel and Casino. Book a weekend at this beautiful hotel and casino. With golf courses, lounges, and slots, you two can gamble on love and in the casino. Let's face it, when it comes to love, you must play to win! Shuffle the deck and bet it all on this date night.
The Mark Omaha. Cosmic bowling, laser tag, volleyball, and interactive 4D theatre gaming! Couples who love to play and connect love this place. If you want to see if your date is a sore loser, you two can enjoy a fun filled gaming date night! Accompany it with a few drinks, and you've got yourself a winning night.
The Durham Museum. Take a tour of this historic museum and once you're done becoming an art connoisseur, you can go to their soda and candy shop and get some sweet treats for your sweetheart. Soda pop anyone?
Funny Bone Comedy Club and Restaurant. They say the way to a person's heart is making them laugh. Then this is the place for couples who want to capture someone's heart. Some of the funniest, well known comedians perform here. With drink specials and a calendar always full of events, this is perfect for a couple who loves to laugh!
Mercury Bar. This out of this world bar serves the best cosmic cocktails in Omaha! Classy, and chic, this bar is good for a laid back, sexy date night. With over 350 drinks to choose from, you two can sip and gaze at the stars in one another's eyes. To the mooooon!
Omaha Brew Bus. Take a tour of Omaha's breweries and find a new favorite beer! Date night just got hoppy! You two can travel and try hundreds of beers, and neither one of you have to worry about driving! I mean let's be honest, if you're going on a date in Omaha, you must know that beer is a huge part of Omaha's history. So, drink and be merry!
The Surfside Club. Fun in the sun, water views and a good time. In business since 1952, this vacation feel spot is known for its catfish and live music. Sit along the riverside with your date and feel the breeze of love blowing through.
Reno Karaoke. Do, re, mi, fa, so la, ti, do! Excuse me, I wanted to get ready for my debut on the stage. You too can get a chance to test your pipes and show your date you're ready for a record deal! With several themed rooms to choose from, you and your date can sing your hearts out and drink to feel like you can carry a tune.
Infinite Loop Virtual Reality. Fight off ogres, dragons, and even become a space fighter ninja! Rent a booth for the two of you and jump into virtual reality! See who can get the highest score and come back to reality to make sure your date didn't get trapped inside.
Dave and Busters. So this is like the adult version of chucky cheese! Full of games, food and of course drinks! Dave and Busters is for the grown ups who want to play! With specials and plenty of games, you two will have plenty to do.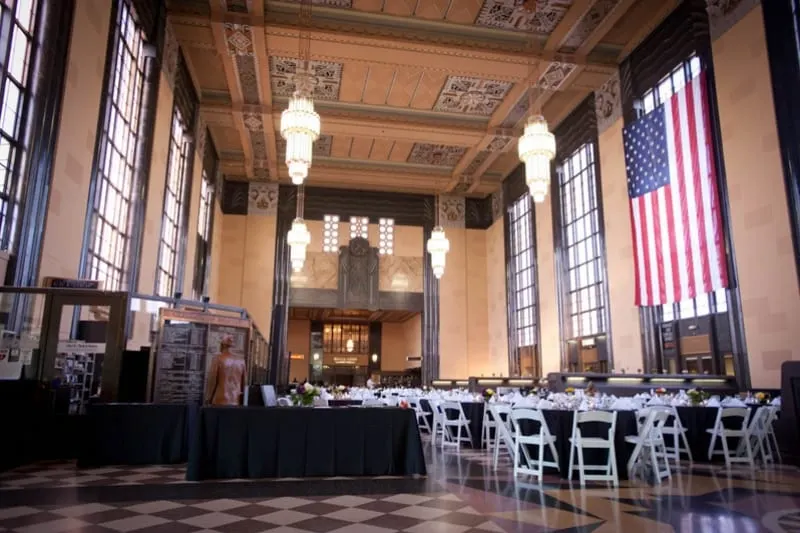 Adventure/Nature Date Night Ideas
Omaha Henry Doorly Zoo and Aquarium. There is so much to see at this place! This is not your ordinary, everyday zoo! Also equipped with an aquarium, skyline tour, and a giant screen theatre, this will give you and your date a reason to keep in touch. Don't forget to get some souvenirs to go!
Lauritzen Gardens. Located in the gorgeous river hills, this live plant garden is sure to turn a budding date into full bloom. With four seasons of flowers and special events, this botanica will give you and your partner some quality time to grow. Make sure you reserve your tickets online, because we know that you know who (Covid-19) has caused some interruptions in our regularly scheduled program.
The Captain Bailey House. There was a low mist in the cool night air, and it was still at the Bailey House. Suddenly, a door slams and you're trapped inside with Captain Baileys ghost! Spooky right? This haunted house is open for tours to tell the story of Captain Bailey and how he still haunts his home to this day. Date night just got creepy cool. Have fun, but beware!
Fontenelle Forest. With over 2,000 acres of prairies, wetlands and over 60,000 species to see, this forest will make sure you and your date take a hike on the wild side. Located minutes from Downtown Omaha, go on an adventure hike and bond in this serene forest of love.
Crazy Dash. Get the clues and go for some wild and crazy adventures! Crazy dash is a scavenger hunt that will let you and your date look for clues and stop in between at a bar or two, or three, no ones counting. Just make sure you return to the scavenger hunt in time because you only have 2 hours to complete the challenge! Have fun and maybe your date will give you a clue if there will be another date after this.
Hanscom Park. See if you and your date have aim at Hanscom Park for frisbee golf. Sort of like golf but for frisbee's. As long as you score in the basket, you may score with your date! Try it out, it'll be fun.
The Bellevue Berry and Pumpkin Ranch. Pick some berries and pumpkins at this spacious farm! Go for a hayride, visit a tree house, and see if you can pick the perfect place to kiss when the night is through.
Wildfire Safari Park. Take a ride on the wild side and go on a safari! You can even rent out the picnic area for a romantic catered picnic with the lions!
SkyDive LSPC. Grab a parachute, and some goggles and get ready to jump! Ok, you may pass out a few times on the way down, but you'll be fine. You'll get training from a professional and even a certificate once you survive! Maybe you and your date will be able to hold hands as you dive and pray you land alive.
Museum of Shadows. So, we had to add another spooky night into the mix. Its not fun if the spirits can't come! Voted one of Omaha's most haunted museums, this place is sure to give you a scare or two! If you see any ghosts, make sure they don't follow you two home.
Date Night Ideas with Deals
Skate City Bellevue. Roll over to Skate City and enjoy their adult only themed skate nights for just $7! They even offer skate lessons for those that have two left skating feet. When you two get hungry you can glide over to their food bar.
Cruisers Bar and Grill. Hop in your vintage chevy and cruise over to Cruisers Bar and Grill. Ok, if you don't have a mint condition car, you can still check this place out. For car lovers, this place has a monthly car show and daily happy hour specials. See if you two can get a picture on their car wall!
Mula Mexican Kitchen and Tequileria. South of the border! This Mexican restaurant has happy hour all day on Mondays and from 2-6pm Tuesdays-Fridays. Did I mention that they have tequila? Get your sombreros and cheers to this date night!
Throwback Arcade Lounge. LED floors, arcade games and throwback vibes are the craze here. They offer weekly themed specials for you and your date to have some variety throughout the week. Once you have taken a few shots, head to the back and play some of their many classic arcade games. Or you can walk upstairs to their two-tier rooftop patio. Skylines and cocktails guaranteed to bring you two closer together. Whoever wins the most points, buys the next round!
Smittys Garage. With car garage deco, bingo and trivia nights, this bar is truly one of a kind! Weekly happy hour specials and games for you and your date to have tons of fun and laughs. Add some extra fun and add your own trivia games into the night. Let's see what games you two can come up with.
Mallery Kountze Planetarium. This is perfect for this mythological, star gazing couples for just $5 per person! Open on the first weekend of every month, the University of Nebraska offers visits to their planetarium. Truly a sight to see! You can search for you and your partners constellations and see if you two are lined up. I am seeing a love story that is written in the stars.
Block 16. With an entire menu under $10 you can't go wrong with Block 16! Family owned and operated, this down-home restaurant offers a variety of options for lovers alike. They also serve vegan options if you or your date are meat free. Known for their over-sized, juicy burgers, who else loves meals with deals? Order up!
The Down Under Lounge. Holding hands, smiling and vibin', date night is thriving for you. Can you guess what place is next, I'm trying to rhyme to give you a clue. That was supposed to be a poem you know. Drive down to the down under for their open mic night! Serenade one another with a poem or song! Check out their website for their daily specials and happy hour. There's always something going down, down under.
Grover Ice. Even with the summertime right around the corner, you can still enjoy some wintertime fun! Grover Ice has tickets for indoor ice-skating and hockey for adults for just $6! If you get hungry, you can skate on over to their full-service food station. Score some cool points on this winter wonderland date night.
***
See More: