Looking for date ideas in Virginia Beach? Never fear, there are tonnes of Romantic Things to do in Virginia Beach that you will never be short of a date night with bae!
Whether you are looking for something fun and active or a really romantic restaurant to visit together, we have you covered with 64 of the best Virginia beach date ideas!
Read more: What to do in Virginia Beach?
Date Night Ideas
Paint and Sip at Muse Paint Bar – Live out your romantic movie fantasy at Muse's couples art class. Sign up to create a painting together with your date, then take it home as a beacon of your love. Muse offers various options like vase painting, paint your pet, and wine glass painting. One of the most romantic dates in Virginia Beach!
Dinner and Drinks at Hot Tuna – This place is the best spot for the freshest local fish in the area. The fish tacos, burgers, platter, and organic margarita's make this restaurant a Virginia Beach gem.
The Dinner Detective – Everyone loves a good murder mystery dinner. Find out "who done it" while eating a choice entree and enjoying a crowd participation show. If you or your date can figure out who the culprit was, you will receive a prize packet for your top-notch seduction skills.
Visit the Virginia Beach Funny Bone Comedy Club & Restaurant – Located just across the street from the Pembroke Mall is Virginia Beach's best comedy club. Start your date night off with a laugh while watching comedies heavy hitters take the stage. A great menu is on hand with excellent entree items and an extensive drink menu.
Visit GameWorks – This place has everything, an arcade, VR, bowling, and laser tag. Theirs no need to lug around a large cup full of coins; Gameworks gives you a preloaded gamecard to make things easier. They've also added a new Esports lounge that will allow you to play the most modern PC games. You two will be shooting zombies together all night.
Central 111 – For a laid back yet fancy atmosphere, you can't go wrong here. A low lit area with complimented with a martini bar, hookah, and a DJ, sets the tone for a romantic/casual night. Central 11 boasts a complete menu of tapas to snack on while you cozy up to each other for the evening.
Visit Nightmare Mansion – This high energy attraction is a haunted house and escape room all in one building. It's dark hallways, and sudden attempts at your life will make your heart race! Make reservations for a unique immersive theatre experience of an escape room that takes 35 minutes to an hour to complete.
Ultra Craft Cocktails – Inside the Oceanaire resort is the most elegant cocktail bar in Virginia Beach. After 5 pm, over thirty different types of drinks are open for the public to relax and enjoy a quiet evening.
Play bingo at the Witchduck Hall – What else can I say about Witchduck but it's good old fashioned fun? Try your luck at bingo while having a hotdog and chatting with the locals of Virginia Beach.
Escape from the Black Cat Escape Room – You and your boy/girl can unearth the secrets of Ravensgate before it's demolished in "The Dollhouse" or Retreat from Murphy's prohibition era mansion in "The Stray Cat Speakeasy." Black Cat is adding new edition's to their building and are taking reservations for their soon-to-be town favorite escape room.
Go bowling at AMF Lynnhaven Lanes – Here's another classic good time. AMF has lounge seats, perfectly made for you and your love to snuggle up together on a double date. The atmosphere is perfect for nighttime play, with black lights, music, and a bar serving wine, beer, or cocktails. Lynnhaven Lanes also has an arcade for when you're done bowling and just want to hang out for a while.
Topgolf – In addition to the traditional Topgolf games like Top Pressure and Quick 9, This location also offers Angry Birds. Show your competitive side to your partner with a relaxing game of Jewel Jam while you eat from its excellent menu and burn a few calories while you're at it.
Stay in a Jacuzzi Suite – One of the most fun things to do for a couple in Virginia Beach is to go on a staycation. Here are some great Hotels with Jacuzzi in Room in Virginia Beach.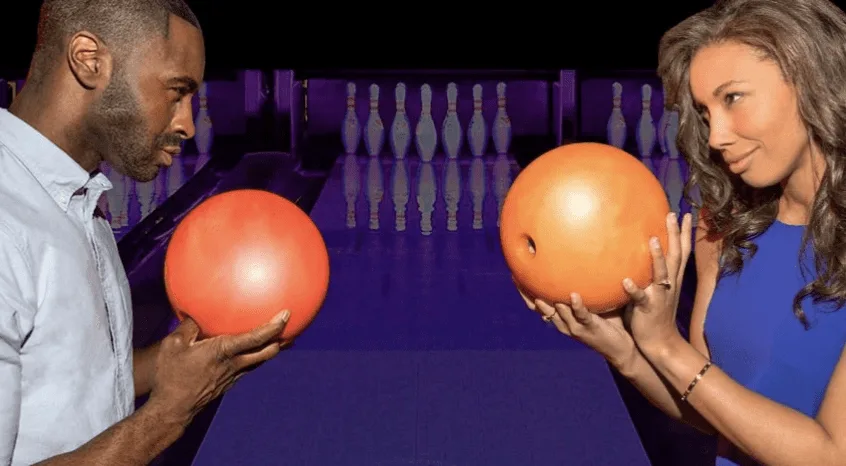 Fun Date Ideas
Stroll the Virginia Beach Boardwalk – If you two are certified people-watchers, there's no better place than the boardwalk. This location right off the beach is usually filled with people enjoying the weather. This is the best opportunity to have a picnic, cold drink, or bike ride with the best scenery around.
Visit Cape Henry Lighthouse – On the northern end of the beach is the 4th oldest lighthouse in the country. Tell your date "it could all be yours" while you hold them and look out at the view of the coast from the lantern room. What could be more romantic than that? One of the best things for couples to do in virginia beach!
Complete the Crazy Dash Digital Adventures – Embark on a virtual scavenger hunt date that'll show you all the best parts of the town. All you need is a smartphone and a willingness for adventure to fill your morning with fun tasks in this interactive game.
Go indoor skydiving at iFly – Not ready to take the big jump? That's okay, iFly's got you covered. Practice your skydiving without the stakes so that next maybe soon, you two can hold hands and gaze down at the couples below.
Or outside with No Limits Skydiving – Okay, now that you're ready to get extreme, the best place is No Limits. They've picked the most beautiful views for you and your date to fly over. Afterward, you'll have to option to take home a video of your dive for only $60. Be sure to call and make reservations in advance.
Make Pottery at All Hands Pottery Studio – Sign up for one of their many classes, or come to an open studio session. They'll teach you how to make all sorts of trinkets, vases, and bowls. You two are sure to not be the only couple in the house. This is a hotspot for lovers looking to mold their connection into something extraordinary.
Visit the Flipper McCoy's Arcade – With over 150 games to play, you'll never get bored here. Flipper Mcoy's also currently has one of only three interactive laser tag arenas in the country. Run through battleground shooting your laser gun as the environment is brought into the game as well.
Complete Escape Room Virginia Beach – Wield King Neptune's trident or claim your grandfather's inheritance in these brilliantly put together rooms. Expect to be here for about an hour; these games will test your wit and wrack your brain.
Virginia Museum of Contemporary Art – Located just a few blocks from the beach, MOCA is a nice pit stop on your way to frolic in the sands. There's always something interesting to see at the museum. New exhibitions and art shows are coming and going there all the time so stop by every time you're in Virginia Beach, and you're sure to be intrigued. Remember, no touching.
Catch a movie at Cinema Cafe – Kemps River – How would you like to be waited on while you watch a movie? Fancy right? Cinema Cafe does just that with a wide selection of American foods that'll make your "Netflix and chill" seem like a downgrade.
Visit the Virginia Aquarium & Marine Science Center – RIght outside of Ocean Breeze water park is your chance for an underwater adventure. Purchase your tickets in advance to witness sea life as you've never seen before.
Tarnished Truth Distilling Company – This 17th-century distillery has quite a bit of history to it. Sign up for a tour through this historical gem. You'll get to taste spirits that have stood the test of time and learn all about how they are made.
Fox Brothers Paintball – Today is all about teamwork. Just $15 will land you a day pass that you can use to enter paintball matches until close. If you two aren't natural paintball connoisseurs, rental packages with all the gear you need are on hand.
LeMans Hi-Speed Indoor Carting – The name says it all. If you're willing to take a short drive down highway 264, you'll have a blast in these karts. LeMans has three different race tracks that you'll fly through on their fast karts. This place also doubles as a laser tag arena, so if you have friends, you might as well make it a double or even triple date! One of the best double date ideas!
Unique Date Ideas in Virginia Beach
Learn to Dive at LDC Suba – Immerse yourself in the most exotic underwater environments. LDC takes you off the coast to experience nature while either scuba diving or snorkeling. Classes are available for beginners who are just getting their feet wet.
Go on A Scavenger Hunt With Operation City Quest – You and your date can embark on a venture to find almost 140 objects scattered around the city. Operation City Quest is an excellent opportunity to see the sights and plan your next outing. They will provide you with a virtual guide on your smartphone, so don't worry, it'll be just you two. Tickets start from $20 but there always special events centered around holidays and festive times of year.
Enjoy watersports with Adventure Parasail – Here's one that'll be great in the summer. Clear your morning schedule and start it off with a bang by parasailing over Virginia Beach. Next, get your adrenaline pumping while bobbing through the water on a Jetski. After that, relax on a kayak built for two while you talk about your plans for the night. Then, lounge with your friends on a banana boat and dip your feet in the calm waters.
Go Axe throwing at Tribal Axe – The axe throwing craze has made it to Virginia. Tribal offers up to two-hour couples sessions starting from $22 a person. While you two are getting in touch with your primal side, you'll be able to snack on Trible's menu of pretzels, sandwiches, flatbreads, and nachos.
Visit Hickory Ridge Farm – Just off the Chesapeake Expressway is a family-owned pumpkin farm that's been entertaining the community for years. In addition to picking a pumpkin, you and your boo can participate in hayrides, pony rides, and a petting zoo. Of course, all of the traditional snacks and drinks are for sale.
Partees 3D Blacklight Mini Golf – Fall in love like teenagers again at ParTees. It's the same old fashioned good time but with glowing courses that give you an astronomical feeling.
Beachside Social – Also included in the beach resort area is a game bar filled with people playing board games, shuffleboard, and bocce. Beachside Social claims a particularly elegant menu that serves cocktail as well as beer. All of their food is made with one-handed snacking in mind, so you never have to miss a turn.
Make a trip to the Smartmouth Brewing Company -Pilot House – A soon to be favorite in VB is this old post office turned brewery that popped up not too long ago and is gaining traction. Located right off the beach, it's a great spot to enjoy a tasting after a long day in the sun.
Visit King Neptune's Mini Golf – For just seven bucks a person, you can experience another glow in the dark 3D adventure. This 10 hole course is bound to leave you in awe as you play in an underwater-themed atmosphere.
Geek out at the Military Aviation Museum – Aircraft rides, Jurassic scavenger hunts, and airshows make this place a ton of fun. Inside are fully restored planes that have flown in both world wars. One of the best nerdy date ideas!
Visit ferry plantation house -This hands-on museum is a house that dates back to the early 1600′ and has a ton of history. If you see something strange, it's because the house is said to be inhabited by spirits that have passed on in this place throughout the years.
Wine Tasting at Virginia Beach Winery – Look for their tasing hours to try hand made wine from a family recipe passed down through generations. When you leave, take home one of their signature flavors like Watermelon Wipeout or Spiced Apple.
Learn Archery – The city of Virginia Beach offers archery classes to individuals looking to sharpen their hunting skills. Three different courses move you through the basics of archery. By the third lesson, you two will be hitting targets like a pro. Be sure to register in advance.
Cheap and Free Date Ideas in Virginia Beach
Take a stroll through First Landing State Park – Sometimes it's good to simply enjoy the moment. The State Park allows you to do just that with miles of open space and trails. Have a picnic, camp out, go fishing, or just walk around for a while. Quality time with the one you love is all that really matters.
Visit Sandbridge Beach – If you don't want to deal with the hustle and bustle of the busier areas of Virginia Beach, then Sandbridge is for you. There's not a whole bunch of vendors or people crowded together; it's just four and a half miles of sand.
Atlantic Wildfowl Heritage Museum – AWHM showcases bird carvings, art, and the history of the oldest private structure on the oceanfront. Admission is free, but they do ask for a $2.00 donation.
Visit Virginia Beach – You don't need to spend a whole lot of money to have a good time with the bae. All you need is a blanket, a couple of snacks, and cuddles while the sun sets.
Hunt Club Farm – If you're looking for an affordable family friendly atmosphere, this farm is for you. Hunt club offers very affordable pony rides, festivals, a bird aviary, and a petting farm. They also have a fun tree walk adventure where you'll get to run around in a playground elevated in the air.
Defy – Want to live on the wild side without the risk? For just $14 each, you can jump, swing, fly and twirl over Defy's foam ball pits. In addition to that, they have battle beams, extreme dodgeball, and a ninja obstacle course.
Lynnhaven Mall -Don't sleep on the romantic aspect of window shopping. Lynnhaven Mall has over 140 stores. You two can wander around this mall for hours discussing the things you'd like to buy each other and picking their brain for Valentine's gift ideas.
Visit Mount Trashmore – Have a picnic on a mountain made entirely out of compacted trash. It's not as bad as it sounds. Actually, it's a beautiful view, complete with tables, playgrounds, a skate park, a volleyball court, restrooms, and horseshoe pits.
Play Jungle Golf – This wildlife themed putt-putt course will reignite your youth. It's holes feature cute little bridges, rivers, trees, and animals.
Glazenfyre Pottery – You and bae can stretch your creative muscles at this art studio. You pick out a piece of pottery, paint it, and then in a few days, you will receive your artwork glazed and dried. It's the perfect opportunity to make a long-lasting symbol of your love.
Best Romantic Restaurants & Cafes in Virginia Beach
Cooper's Hawk Winery & Restaurant – Cooper's is the definition of romance. A high-class restaurant with an impressive menu of upscale foods and wines. While the dining area is "reservations only," the tasting room is not. Here you'll be able to try up to eight different types of wines and even buy a bottle if you wish.
Becca Restaurant & Garden – Nowhere else in Virginia Beach can you feel so important. Becca's fancy atmosphere is complimented by having the freshest ingredients gathered straight from the chef's garden or local stores. All food items are fit for a queen.
Chix Seaside Grille & Bar – Imagine you two dipping crab legs into a tub of warm butter as you cross arms under the Virginia sunset. Chix is the spot for the most artfully put together meals while experiencing a remarkable view of the coast.
Ocean House – Another hot spot for a great view of the beach is Ocean House. They serve traditional American Seafood favorites. Naturally, here is where you will experience some of the best flavors the ocean can offer.
Catch 31 – Once you've finished scaling the boardwalk, stop by Catch 31 for the classiest beachside joint for lobsters, shrimp, and scallops. All of their seafood is sourced daily from the ocean, cooked, and delicately placed onto a plate to give you and your date the best possible sensory experience.
Duck Donuts – The most creative and tasty treats are formed together here. Try the french toast donut in the morning or the cookies and cream donut for a little dessert.
Roast Rider Coffee + Tea – This place has a relaxed modern atmosphere perfect for morning dates and post-club night recovery time. Roast Rider has all the classic coffee fixings the unique family-owned "magic" we all know so well.
The Atlantic on Pacific – If you love oysters and alcohol, boy, do I have a place for you? This place is perfect for seafood lovers on a night out. The building's aesthetic just makes it look like a couples paradise, and it just might be.
Outdoor Date Ideas
Visit the back bay national wildlife refuge – You two love birds can explore over 9,000 acres of natural beauty. Bird watching, fishing, or camping in this extravagant landscape are only a few of many things you can do to bond with each other.
False Cape State Park – Next to Back Bay is a more traditional park, excellent for couples seeking to be one with nature. This native American home is prime for camping, bicycling, hiking, and beach snuggling.
Norfolk Botanical Garden – Walking through these gardens is like stepping into Narnia. Over 60 wildlife filled gardens showcase the most artful and natural sights.
Lake Lawson/Lake Smith Natural Area – This suggestion is a large 42-acre wooded area, perfect for skipping rocks and talking about life. If you have a boat, there could be no better place in Virginia Beach to spend the evening together.
Climb the Cape Henry Lighthouse – This centuries-old historical monument is another dating spot that will show you an ariel view of the bay. Stop by the museum, then climb up to the top to watch the sunset over the city. Be sure to grab a bucket of sand to help preserve the eroding shoreline.
Oak Grove Lake Park – If you ever find yourself in need of a place to watch the first leaves of fall flutter to the ground, then this is the park for you. Trek over 65 acres of land or sit and take it all in together. This park is an excellent place for dog walks, frisbee, biking, and jogging.
Have a picnic at Stumpy Lake Natural Area – Pick anywhere on over 270 acres of this land to lay down a blanket and have a snack with your sweetie. In the distance, you'll have a view of the lake and a golf course.
***
Already planning your next Romantic Getaway?
You might like to check out: