Looking for date ideas in Las Vegas?
Vegas in our opinion is one of the most romantic spots in the USA. Whether you are looking for a cheap date or a fun Las Vegas anniversary ideas, this list has it all.
Personally, we really love Vegas and when they say Vegas is always a good idea, it is definitely true. Or is that Paris? But regardless, it is a good idea.
Las Vegas dates have never been more fun with this epic list.
Cheap Date ideas Las Vegas
Valley of Fire State Park
It's no secret that Las Vegas is expensive. But the good news is that there are plenty of inexpensive romantic activities near Vegas that won't break the bank. The first one being the awesome Valley of Fire State Park which is located less than an hours drive outside of Vegas.
It costs only $10 for a day for Vegas residents or $15 if you have a vehicle registered outside of Vegas.
The scenery at the State Park is stunning and you can get lots of cute couple snaps if you feel up for a photo shoot. There are also lots of great short walks to complete at the State Park which are easy and take less than 1 hour each.

Romantic Date Night Ideas Las Vegas
Here are more fun, unique and romantic things to do with your partner on your next Date Night.
Experience the iconic French monument as you glide up 46 stories to a panoramic viewing deck.
For those that are extremely brave, you can step to the edge for aerial views of Bellagio Fountains, Sin City, downtown and the High Roller. One of the most romantic spots in Las Vegas.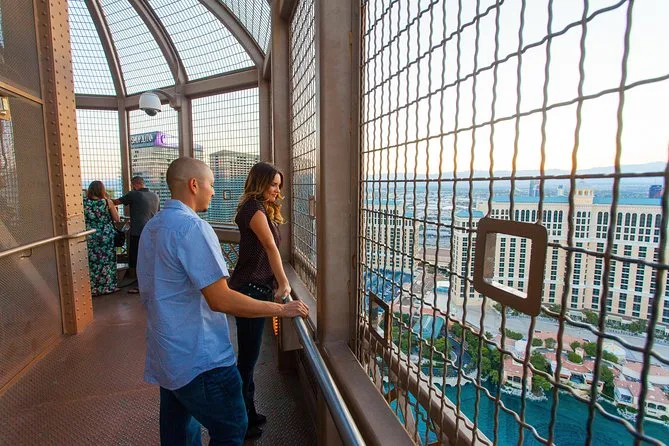 Hoover Dam is known as one of the world's most impressive manmade wonders.
It towers over 700 feet over the Colorado River. You will enjoy dynamic views of the Mike O'Callaghan/Pat Tillman Memorial Bridge while making a stop in Boulder City.
You and your date will have the opportunity to fly over Pahrump valley in a beautiful and colorful hot air balloon as you get a bird's eye view. You will soar as high as 10,000 feet, which is one of the highest flights available in the area. Once your flight is over, you will enjoy a Champagne toast to commemorate your memorable flight.
You will have unobstructed views of the beautiful desert and mountains. The balloon ride will take you over the Pahrump Valley (not the Las Vegas Strip). The perfect date night in Vegas.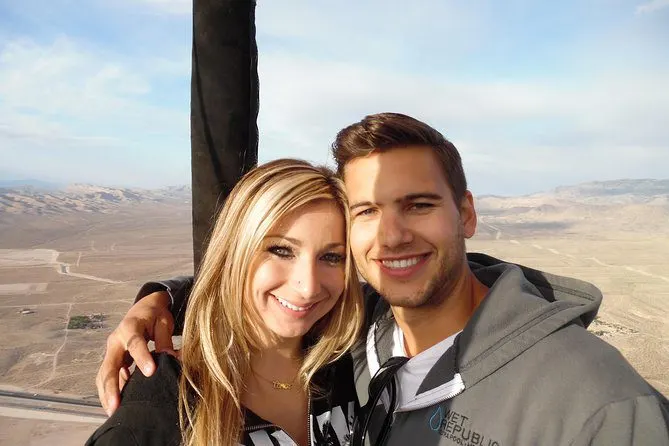 Balis Basics Flower Bath
This is the first of its kind in the Las Vegas area. They work with you to customize design options and colors. This is a great opportunity to use creativity while relaxing in a customized floral bath.
If floral baths are not your thing, have Bali Basics decorate your room with flowers, rose petals, teddy bears, chocolate covered strawberries and much more. The price range for the Flower Bath and room decorations range from $25-$550, so it is perfect for any budget.
A top idea for a romantic date night in Las Vegas.
This is the perfect date night if you want to experience amazing views of Las Vegas.
The High Roller is the tallest observation wheel in the world. You are enclosed in an air-conditioned pod that has a full bar included. This attraction is open during the day and night, as each provides different views.
One of the most fun things for couples to do in Las Vegas for sure.
Gondola ride through the Venetian Lagoon
This is considered one of the must-see places in Las Vegas. You will float underneath bridges, besides cafes, under balconies while coasting down the Grand Canal. You can choose from an indoor or outdoor ride.
The special tradition of the Gondolier March happens twice a day, once at 9:50am and again at 4:20pm. They even offer photo packages to commemorate your ride that starts at $32. The cost of the ride ranges from $34-$39 per person, with the weekend rides costing the higher amount. One of the most romantic couple activities in Las Vegas if you ask me.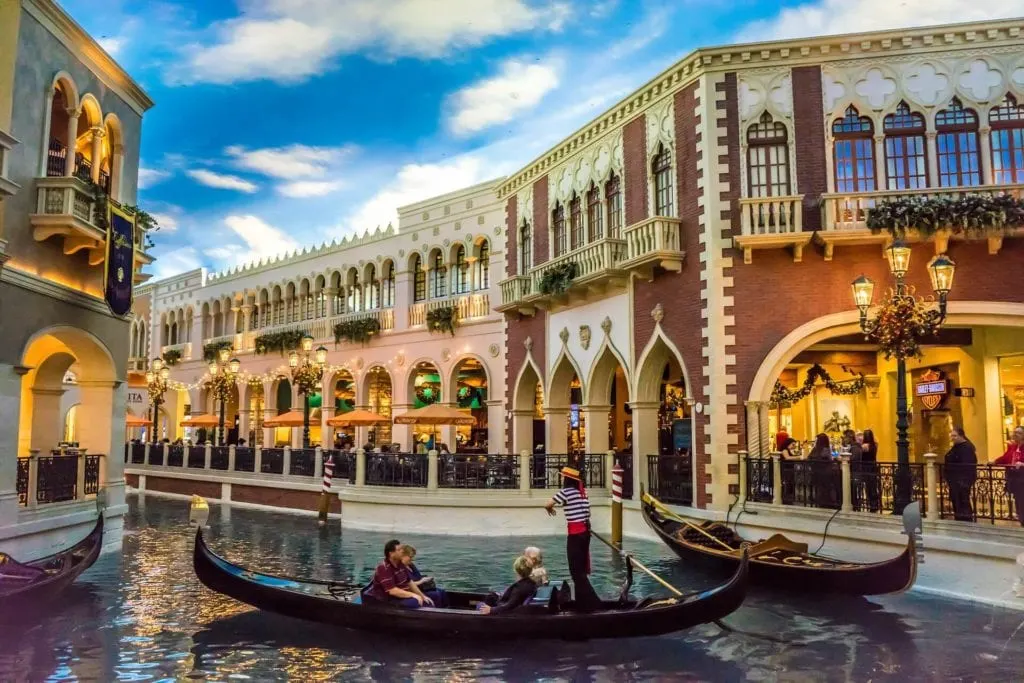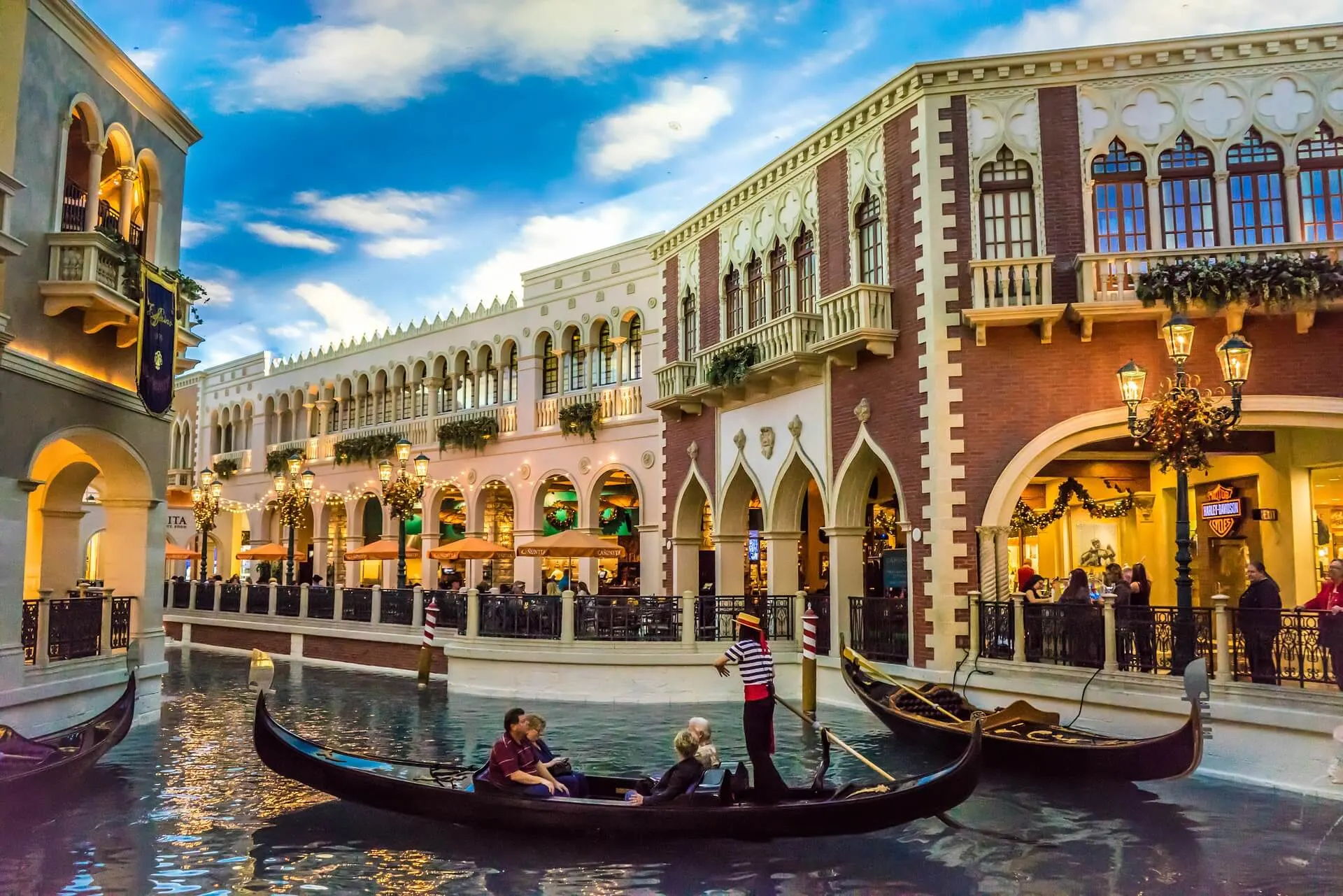 This is the perfect date to wow your companion. During this ride you will soar over the famous Las Vegas Boulevard. You will embark on a sightseeing tour of the downtown skyline, the Bellagio, the Mirage and the Fremont Street Experience.
Your helicopter flight will cover approximately 20 miles and includes a celebratory glass of sparkling wine. You also have the option to upgrade your package to include dinner at a local restaurant.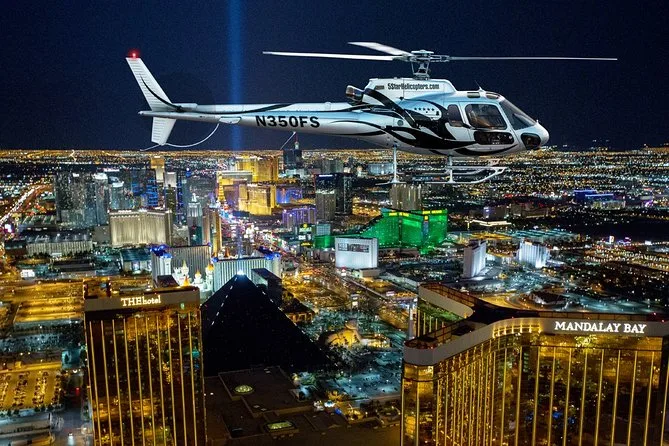 This 70-minute luxury sightseeing helicopter ride is the perfect romantic date. You will tour the Grand Canyon and listen to informative commentary on the Grand Canyon and Colorado River.
Some of the landmarks you will see on your tour are: Hoover Dam, Lake Mead, Colorado River and million-year-old rock formations. The helicopter includes forward facing seats and 180-degree views.
The tour also includes complimentary hotel pickup and drop-off from Las Vegas hotels. The cost is approximately $400 and up to 9 adults can tour at a time.
If you are looking for a romantic night or celebratory date this is the perfect duo. This experience includes: Pickup from your hotel, a preflight champagne toast and spectacular views of some of Vegas' most popular landmarks in a 12–15-minute helicopter flight over the Las Vegas strip.
You can upgrade and get the VIP Experience, which includes: Transportation and a delicious 3-course dinner at the Eiffel Tower Restaurant. The price starts at $329.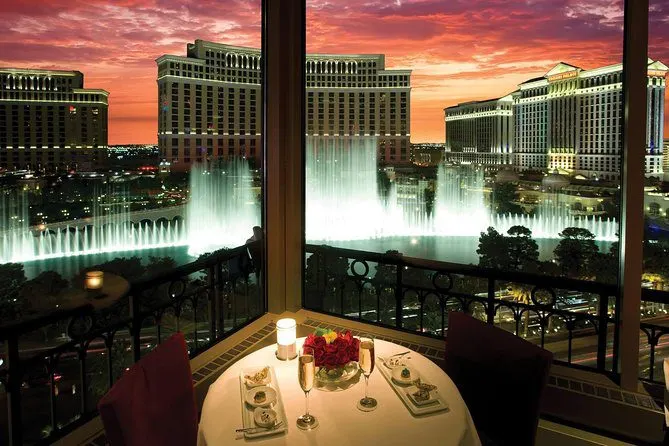 On this romantic date you and your date will ride into the sunset on a Las Vegas horseback riding tour in the Nevada desert. You will be led by a professional horse wrangler.
During your tour you may see bighorn sheep, roadrunners and jackrabbits. Your evening will conclude with a BBQ dinner followed by a cowboy campfire under the stars.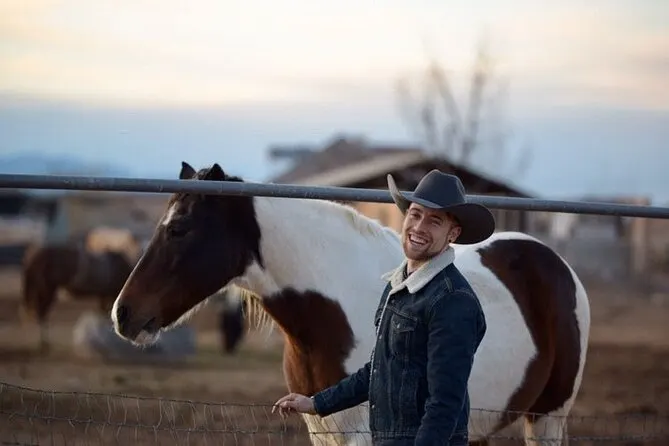 This combo deal includes a visit to the iconic and memorable Madame Tussauds wax museum and a journey down Grand Canal in an outdoor gondola.
This combo also includes dining at Buddy V's Ristorante which is in the Venetian Hotel and Casino. You can do all the activities in one day or spread them across your stay. The packages start at $63.59 per person.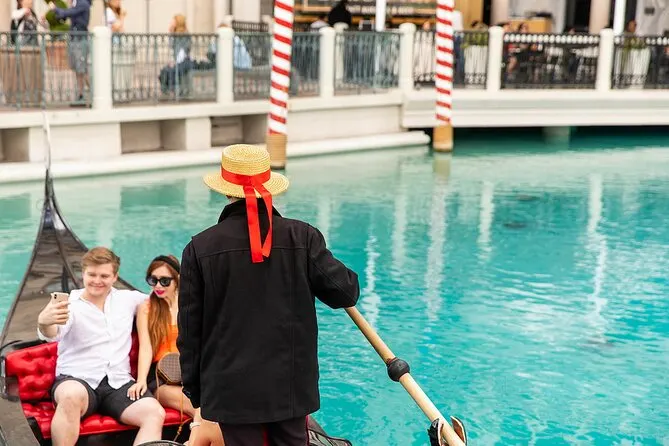 This 3-hour bus tour is far from the traditional bus tour. The tour will take you past casinos, wedding chapels and historic landmarks located in the heart of downtown. You also can participate in a walking tour down Fremont Street. After the walking tour you can take in the hustle and bustle of the city.
You will experience live entertainment, street artist, costumed entertainers, and the World-famous Fremont Light and Sound show. During the bus tour you will drive by Bellagio, MGM Grand and Caesars Palace as you learn about each location as well as other Vegas facts and history.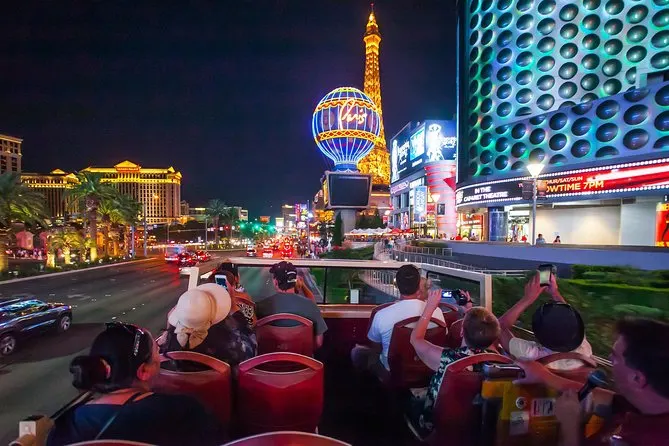 This is the perfect date to get turned on, laugh and create lots of memories. This 75-minute show is strictly for adults.
You will enjoy 15 sexy routines and amazing singing by Jamie Lynch. This show is very high energy and unforgettable. You may even see a celebrity or celebrity impersonator while there.
Rent an exotic car for your next date night. LVC Exotic Car Rentals is one of Las Vegas' premier luxury and exotic car rental agencies.
They bring a unique and affordable experience to the Las Vegas Strip! They even offer UNLIMITED MILES.
This 3-hour tour allows you to experience the serenity of Emerald Cave. This kayaking tour takes a small group (max of 15 people) paddling up the river with a guide.
You will stop for snacks and swimming is allowed along the way; so bring your swimming suit. A cool idea (in lots of senses) for date night in Las Vegas.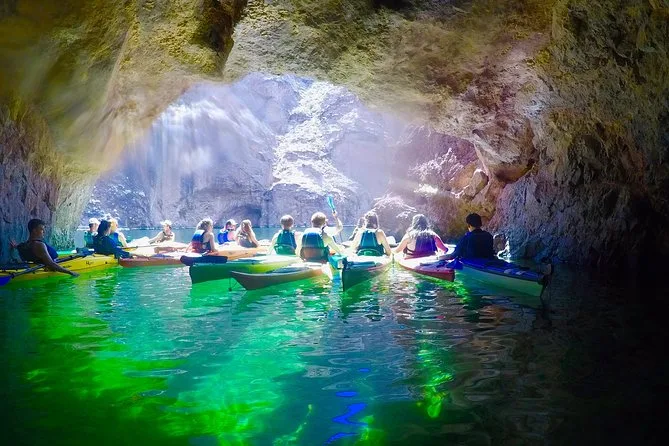 Unique Date Night Ideas
Not your typical date night ideas for those that like to think outside of the box.
Shark Reef at Mandalay Bay Hotel and Casino
This date night is destined to be memorable. This is North America's only predator-based aquarium and exhibit. The aquarium houses over 2000 animals including; saw fish, giant sting rays, piranhas, endangered green sea turtles, jellyfish, rare golden crocodiles and of course LOTS of sharks.
You will see and learn about more than 100 sharks; which includes 15 different species. There are two underwater tunnels that you can enjoy as well at the attraction Sea Monsters Revealed.
This is the perfect date for MJ fans. You can sing a long as you celebrate the artistic genius of the 'King of Pop'. The performance takes place at the Mandalay Bay Resort and Casino.
You will be mesmerized by the acrobatics, visuals and dance moves.
This exhibit includes more than 250 recovered items from the sunken luxury ocean liner. It is located at the Luxor Hotel and Casino located on the Las Vegas strip.
You will enjoy stories by passengers and artifacts including an unopened bottle of Champagne found among the wreckage.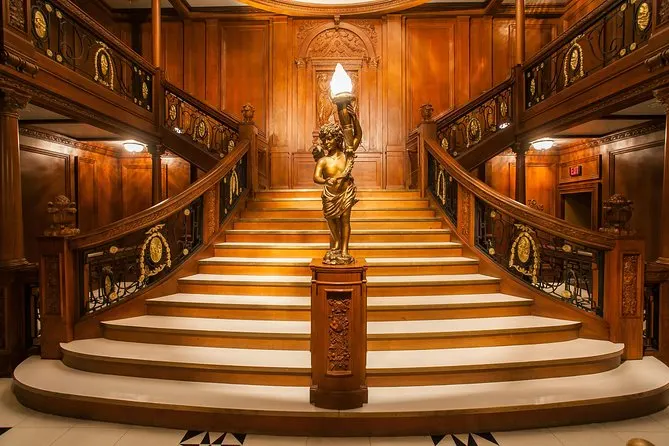 Enjoy a fast-paced and fun filled excursion in the Las Vegas dunes. Roundtrip transportation is provided from your hotel. The tour includes watching a safety video, equipment and gear fitting and a few practice laps.
You can choose between a 30 and 60-minute ride as your guide takes photos to memorialize your date. This ATV tour is perfect for adventurous and active couples.
Discover and tour some of the most popular Las Vegas-based reality TV shows on this guided tour. You will visit the following filming locations: Pawn Stars, Tanked, American Restoration, Counting Cars, Toy Shack and Ultimate Sports Cards and Memorabilia.
Discover the scandalous stories of the mobs' most infamous gangsters at the Mob Museum located in downtown Las Vegas.
You will learn about Al Capone, Lucky Luciano, J. Edgar Hoover and many other criminals from Sin City. You can explore the St. Valentine's Day Massacre wall, a Tommy gun, the Nevada gas chamber chair and much more.
All Shook Up at the Planet Hollywood Resort and Casino
Sing and dance to your favorite hits by The King at "All Shook Up."
Follow one-of-a-kind Elvis moves to tunes such as "Hound Dog" by the best-selling solo artist in the history of recorded music. You can purchase general admission or upgrade to VIP seating.
The dam was constructed in less than five years during the Great Depression by thousands of men who ventured into Black Canyon. You can upgrade your tour to include a visit to a chocolate factory or a paddleboat cruise on Lake Mead.
Marvel Avengers S.T.A.T.I.O.N
This is the perfect date for couples that eat, breathe and sleep Marvel. Train to become an agent of Marvel's Avengers S.T.A.T.I.O.N. (Scientific Training and Tactical Intelligence Operative Network) at Treasure Island in Las Vegas. You will become an Avenger through these educational and entertaining exhibits and experiences.
Enjoy access to a wealth of intelligence files, classified studies and experiments that explore the history and origins of the Avengers. You can see Captain America's uniform and shield as well as Bruce Banner's laboratory.
This tour combines Vegas food and sightseeing on a downtown walking tour that explores the city's quirky sights and distinctive flavors.
Head from the shipping container boutiques at Container Park, through local hangouts, to a stroll down Fremont Street passing top attractions and a playground designed just for adults. Perfect for a double date idea in Vegas!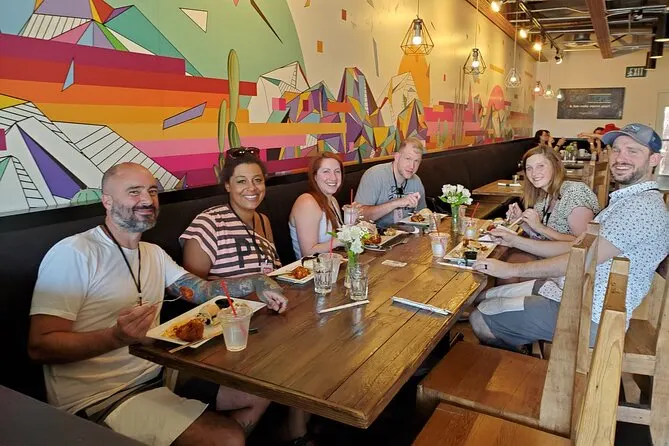 You will drive around Red Rock Canyon in an easy-to-drive 2-person scooter car.
This tour takes you down paved roads to reach scenic vista points and hiking trails, all while allowing for unobstructed views of the famous landscape from your open-top vehicle.
Anyone interested in tapping into the dark history of Sin City will enjoy this. Your excursion will start in the evening from the Tuscany Casino and Suites where you'll watch a mini documentary about Las Vegas and the mafia's infamous influence on the city.
You'll meet your guide for the evening, who will be appropriately attired for the era and the rest is history.
Escapology
This is the perfect date if you have an hour or two to spare. They offer 10 different escape rooms, including classics such as Arizona Shootout and Antidote, as well as a few new ones just for Vegas, enjoy the best live escape room experience money can buy.
More Ideas for Las Vegas Dating
These are date night ideas for those that get bored easily and love the thrill and excitement of adrenaline rushed activities.
Skyjump
This is the perfect date night for thrill seekers. Skyjump is a heart pounding, scream-inducing, open air leap from 829 feet above the neon strip.
Skyjump holds the Guinness World Record as the highest commercial decelerator descent facility. Your speed with top at 40 mph. Located at the Strat Hotel Casino & SkyPod.
On this tour you will enjoy the Fremont Street Experience, Las Vegas' classic casinos and wedding chapels, the revitalized Fremont East district, the Gold and Silver Pawn Shop from the television show Pawn Stars, and the Mob Museum. A headset is provided so you don't miss a word your guide says.
This 4-hour adventure is great for thrill seeking couples. You and your date can enjoy shooting from a one-of-a-kind firing line that's heated in the winter and cooled in the summer.
You can also pick from more than 70 weapons and choose a package that fits your budget best.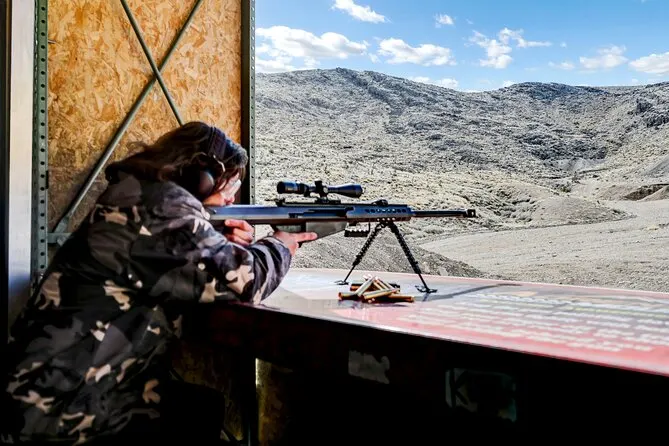 The Sniper Experience focuses on shooting a selection of their best sniper rifles at long-range targets and 8 exploding targets that are included in the special sniper package.
The weather can't interfere with this date as the firing line is open rain or shine.
This experience starts with you and your date being picked up in genuine US military HMMWV (Humvee). You will have over 1,000 different weapons to choose from upon your arrival.
You can select .50 calibers, handguns, pistols, sub-machine guns or automatic rifles. You also have the option to shoot indoors or outdoors.
Big Shot Thrill Ride
This thrill ride will shoot you 160 feet in the air at 45 mph in a matter of a few seconds. This ride overlooks the majestic Las Vegas Valley.
Big shot allows up to 16 riders who start at a 921-foot-high platform and shoot up to 1081 feet and back down again. Located at the Strat Hotel Casino & SkyPod.
Insanity Thrill Ride
The name says it all, for this ride you will dangle from the side of a building at more than 900 feet high. A huge mechanical arm extends over 64 feet over the edge of the SkyPod spinning passengers in the air at an angle of 70 degrees. Located at the Strat Hotel Casino & SkyPod.
X-Scream Thrill Ride
A roller coaster ride like no other, X-Scream teeter totters you over the edge of the SkyPod from 866 feet high, propelling riders headfirst 27 feet over the edge of the tower.
After being shot over the edge, passengers are dangled weightlessly above the Las Vegas Strip before being pulled back and propelled again. Located at the Strat Hotel Casino & SkyPod.
A chance for you and your date to hop in your dream car and forget about the speed limit. Choose from 13 different supercars and race around the Las Vegas Motor Speedway.
All necessary equipment will be provided, as well as race coaching, a safety briefing and some practice runs.
The Big Apple Coaster at New York New York Hotel and Casino
You'll fly along the rails at almost 70mph, going down a 76-foot drop, followed by a whopping 144-foot drop. You'll scream your way through twists and turns, loops, spirals and a dive loop above the Las Vegas strip.
Zak Bagans' The Haunted Museum
Scaredy cats need not apply. Reality star and host Zak Bagans' has turned this mansion into a "mecca of the macabre- a haunted museum."
This Haunted Museum will take you down creepy hallways and secret passages. You will go through more than 30 rooms that show scenes from some of the scariest Hollywood Horror Films. You will also learn eerie and paranormal facts about several items in the house. The 11,000-square foot property was built in 1938.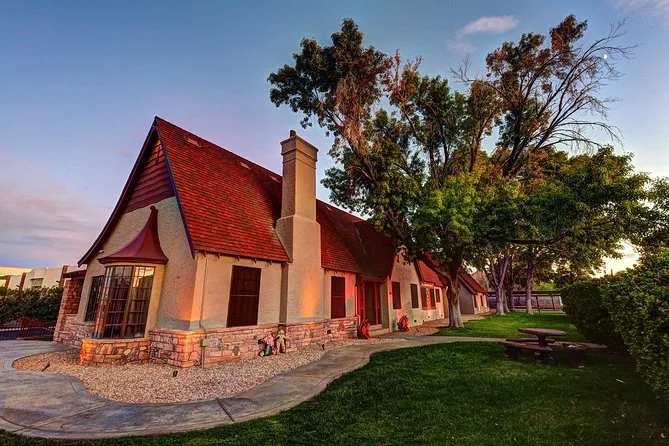 Circus Circus Adventure Dome Theme Park
The Adventure Dome is located at the Circus Circus Resort. It is a five-acre indoor Amusement Park for adults and children.
Adventure Dome features the world's only indoor double-loop, double-corkscrew roller coaster, the Canyon Blaster. They have tons of rides, arcade games, rock climbing, clown shows, FX movies and much more.
Dig This
Dig This is The World's First Heavy Equipment Playground, where you get to take control of equipment and play in our giant sandbox. The fleet of equipment is constantly growing.
Currently they have: 4 – 315C/313FL Excavators (20-Tons), 2 – D5K Bulldozers (10-Tons), 2 – 279D Track Type Skid Steer Loaders (5-Tons), 2 – 305.5E Excavators (6-Tons) and 4 – 301.7DCR Excavators (1-Ton)
Axe Monkeys
If you and your date need to let off some steam, Axe Monkeys is the perfect place. There are 23 lanes where people can safely learn to throw an axe from professional trainers. If the date goes well, you can sign up for their Axe throwing leagues.
Indoor Skydiving Experience
You and your date can enjoy an indoor skydiving experience that mimics the conditions of freefalling without the need for a parachute or possible motion sickness.
Spend three minutes suspended above a wind tunnel that simulates the thrill of weightlessness that skydivers enjoy when they fall through the air.
Sin City Smash
Sin City Smash is a recreational rage room located in Las Vegas, NV. They provide a safe and fun environment for people who may need to let their frustrations out in a healthy way.
Discover the supernatural side of Goodsprings, Nevada, the town featured on the Travel Channel's hit show Ghost Adventures.
You will hear spooky stories of the ghosts who haunt the town, visit a local cemetery, and use specialty ghost hunting equipment to sense when spirits are near. Your tour includes dinner at the Pioneer Saloon, one of the oldest saloons in Nevada.
Cannabis Friendly Las Vegas Date Ideas
These are perfect places to go on a date to indulge in cannabis, learn about cannabis and have an out of this world experience.
Cultivating Spirits: This is the perfect Date Night to learn, eat and relax with your companion. Cultivating Spirits opened in Las Vegas in 2018 to elevate the food and cannabis culture to new heights with their exclusive Cannabis Pairing Dinners. "Cannabis pairings harmonize and enhance flavors of food through smoking, not infusing (no edibles), so truly unique flavor profiles are discovered."
NuWu Cannabis Marketplace: This is the largest marijuana dispensary worldwide. This marketplace is almost 16,000 square feet. Marketplace also is home to the Las Vegas' only legal Tasting Room. The Tasting Room is the only Cannabis consumption lounge in Nevada. They provide joints, bongs, dab rings and much more.
This is the perfect Date Night for cannabis lovers as they have a showroom, tasting room and you will learn, be social and enjoy cannabis all in one location. The marketplace offers flower, topicals, pre-rolls, CBD oil, edibles, vapes, concentrates and much more.
***
Do you have any other ideas for dates in Las Vegas? Let us know in the comments below!
***
More Las Vegas fun: