Looking for fun date ideas in Long Island New York when you have been to that one Italian place one too many times?
Whether this is a first time date or a night out without the kids, you want it to be special. You want it to be a place where you can connect while at the same time having fun.
Dinner and a movie are fine, but the last time I checked, fine is boring. So if you are looking for something that is a bit more out-of-the-box, then you are going to love these date ideas we found in Long Island! The most romantic things to do in Long Island right here (as recommended by a local ;))
You might also enjoy:
Fun Date Ideas Long Island
Tiki Action Park. If you're a couple who is looking for a tropical getaway close to home, Tiki Action Park provides a beachy atmosphere and tropical music while also hosting mini golf, go-karts, and a 45-game arcade. They are also home now a VR game experience, a laser maze, and an ice cream and snack bar.
Muse Paintbar. With multiple locations across Long Island, you and your partner can enjoy a night out for arts and crafts and drinks, or even host a paint and wine night at home. They donate a percentage of all proceeds to a number of charities.
Escape Game Long Island. Test your problem-solving skills with your partner at this escape room adventure, with multiple rooms to choose from, such as Game of Thrones, Castaway, Legends of the Hidden Temple, and Alcatraz.
Karts Indoor Amusement Center. Home to go-karts, laser tag, and blacklight roller bowling, this place is a great stop for a fun night out with your partner or on a double date with friends.
Country Fair Entertainment Park. This outdoor entertainment park has minigolf, a driving range, batting cages, go-karts, and laser tag. For an overcast day, they also have an indoor arcade and restaurant. This is a great spot to come for an evening date or a relaxing weekend afternoon.
AMF Centereach Lanes. Who doesn't love bowling? Challenge your partner to a game at AMF's Centereach Lanes, or at one of their other locations across the island. This particular bowling alley also hosts an arcade, a sports bar, and pool/billiards tables. Starting at 8 p.m. on Fridays, you can experience unlimited bowling for $14.89 per person, and after 6 p.m. on Sundays all games are $.309. One of the best date ideas in NYC!
Long Island Game Farm. This is a great family spot or for people who just love animals. As the largest children's zoo and wildlife park on Long Island, it is great for socially distanced dates. You can see animals such as a kangaroo, llamas, monkeys, zebras, and alligators.
Coney Island. This is arguably one of the best date spots in New York. Home of the famous amusement park, this Brooklyn location is also home to an aquarium, a skating rink, and a beachside boardwalk. There is always something to do on Coney Island. They also have a museum and host a film festival in the summer.
Adventureland. Yes, this is the park that inspired the cult favorite movie! With loads of outdoor fair games, this park also has thrill rides like the flume ride, a cyclone, and a haunted house.
Jones Beach State Park. On a sunny day, it's the perfect spot for you and your partner to walk the boardwalk and stop at some of the numerous concessions, sun on the beach, or visit the nature center. This expansive park has loads of activities to make for a fun date experience.
Romantic Long Island Date Ideas
Harmony Vineyards. Wine tasting is always a fantastic date idea, and this waterfront tasting room overlooking the Stony Brook Harbor is the perfect romantic spot. In addition to their fantastic, sustainably farmed wines, they also offer locally crafted Long Island beers and cheese and charcuterie plates to enjoy.
Go Ice Skating at City Ice Pavilion or The Rinx. City Ice Pavilion is a rooftop ice skating rink located on Long Island City, just a stone's throw away from Manhattan. The Rinx has multiple locations all over long island and offers but public skating and lessons. Skate arm-in-arm with your partner and enjoy this tried and true romantic date experience.
Old Westbury Gardens. This historic location has over 200 acres of beautiful gardens and is a fantastic spot for a romantic stroll. They focus on preservation and the history of Long Island, and they also offer tai chi and yoga classes in their gardens.
Visit an Arboretum. Couples who love the outdoors will have a great time at both of these venues. With over 400 acres of greenhouses, formal gardens, and woodland paths, the historic estate of Planting Fields Arboretum State Historic Park is also a great place to spend a relaxing sunny day. They also display historic estate buildings, ironwork, and murals. The Bayard Cutting Arboretum has a manor house, expansive gardens, nature paths, and a café with an open porch overlooking the Connetquot River.
Long Island Aquarium and Exhibition Center. Located right down the road from a bunch of fantastic restaurants in Riverhead, this aquarium has a bird habitat, a butterfly garden, a shark dive, and shows with seals and sea lions. They are also home to animals like marmosets, coatis, and penguins.
Lieb Cellars. With sustainable farming and minimal intervention winemaking, this North Fork venue is a great spot for a date. They have two tasing wine flights, a snack menu, and 85 acres of serene farm vista to enjoy, as well as a private library room. Make sure that you make reservations because they fill up fast!
Jedidiah Hawkins Inn. Nestled into 22 acres of farmland, close to both vineyards and beaches, this is a great spot for a dreamy weekend getaway. There is a restaurant and a solarium located on the property, as well as gardens, a barn, and a gazebo. This is a highly romantic location that is known to be the home of many proposals and weddings.
Oheka Castle. This Gold Coast-style mansion is a hotel as well as a restaurant and bar, and they offer tours of the historic estate which includes the mansion, gardens, and fountains.
Stay in a NYC Hotel Room with Jacuzzi Spa: There is nothing quite like a staycation. And, what better way to do it than with a jacuzzi spa!
Date Night Ideas Long Island
Charlotte's Speakeasy. This restored speakeasy located in Farmingdale offers an authentic 1920's experience with jazz music, a relaxed lounge atmosphere, and unique signature cocktails. They also have a patio area so couples can dine under the stars.
Treme. With live music, cocktails, and tapas, this is the perfect spot for you and your partner to either get your night started or relax to end the day.
See a Comedy Show. Governor's Comedy Club at McGuire's is the perfect spot for couples who love to laugh. Open Thursday to Sunday, this comedy club and restaurant due offers a dinner and show package for a great night out. Laughing Devil Comedy Club, located in Long Island City, has an open mic night, stand up nights and classes, and film screenings.
Visit Port Jefferson. This seaside town on the north shore of Long Island has loads of restaurants and shops and is the perfect place to walk around with your partner. You can hop on the Port Jeff ferry for a quick ride and travel across the Long Island Sound to Connecticut, or just hang out at the Harbor Front Park. The area is home to live theatre, a farmer's market, and a seasonal harvest festival.
See a Show in Patchogue or Huntington. There's something for any couple on either the north or the south shore of the island. If you're looking for a fun time on the north shore, The Paramount in Huntington is a theatre that is home to stand-up comedy, concerts, and even boxing exhibitions. The Patchogue Theatre is home to live theatre and musical events, and both venues are right in the heart of bustling towns full of great night life.
Unique Date Ideas
Sweetbriar Nature Center. With 54 acres of gardens and woodlands, and located on the Nissequogue River, this location is a great way for couples to spend time outside. They also offer a butterfly vivarium, a reptile and rainforest room, and an art center.
Long Island Museum. This is a great spot for history lovers. This museum is home to both American and Long Island history, with centuries of art and artifacts. Their Carriage Museum has over one hundred horse-drawn carriages from history, and the property also houses a burial ground from 1796.
Vanderbilt Museum and Planetarium. Explore the galaxy with two feet still on the ground. This 43-acre property is home to a mansion that offers tours and exhibits, as well as a planetarium with an observatory that offers a viewing every Friday night at 9 p.m. free of charge.
Cradle of Aviation Museum. This air and space museum displays over 100 years of aerospace history, with hands-on exhibits and numerous cockpits to climb into. They also show short films and have exhibits with subjects such as Pan Am and World War II's 75th
Visit a Lighthouse. The Montauk Point Lighthouse is the oldest on Long Island, located at the easternmost tip of the island in the quaint beachy town of Montauk, known as either "The End" or "The Beginning" of Long Island. You can climb to the top of the lighthouse, explore the grounds, or visit the museum on the property. The Fire Island Lighthouse is the tallest on the island, so tall that you can see the New York City skyline from the top. In addition to climbing to the top and appreciating the view, you can tour the historic boathouse or the maritime exhibits on the property, as well as walk the boardwalk and enjoy the expansive Fire Island beaches.
Sagamore Hill National Historic Site. This is another must-see location for couples who love history. Known as the "Summer White House", this was the home of former U.S. President Teddy Roosevelt. Located on 83 acres of nature, this is home to historic buildings and great for history lovers.
Sands Point Preserve. With gardens and woodland trails open to the public from Wednesday to Sunday, this preserve located in Gatsby country is home to a great lawn, rose gardens, and a forest pond. The 200 acres is located on the shoreline of the Long Island Sound and has six hiking trails for you and your partner to enjoy.
Shinnecock Nation Cultural Center & Museum. Long Island is rich with the history of its Indigenous peoples, and this Native-owned establishment honors the Algonquin history of the area with exhibitions and museums.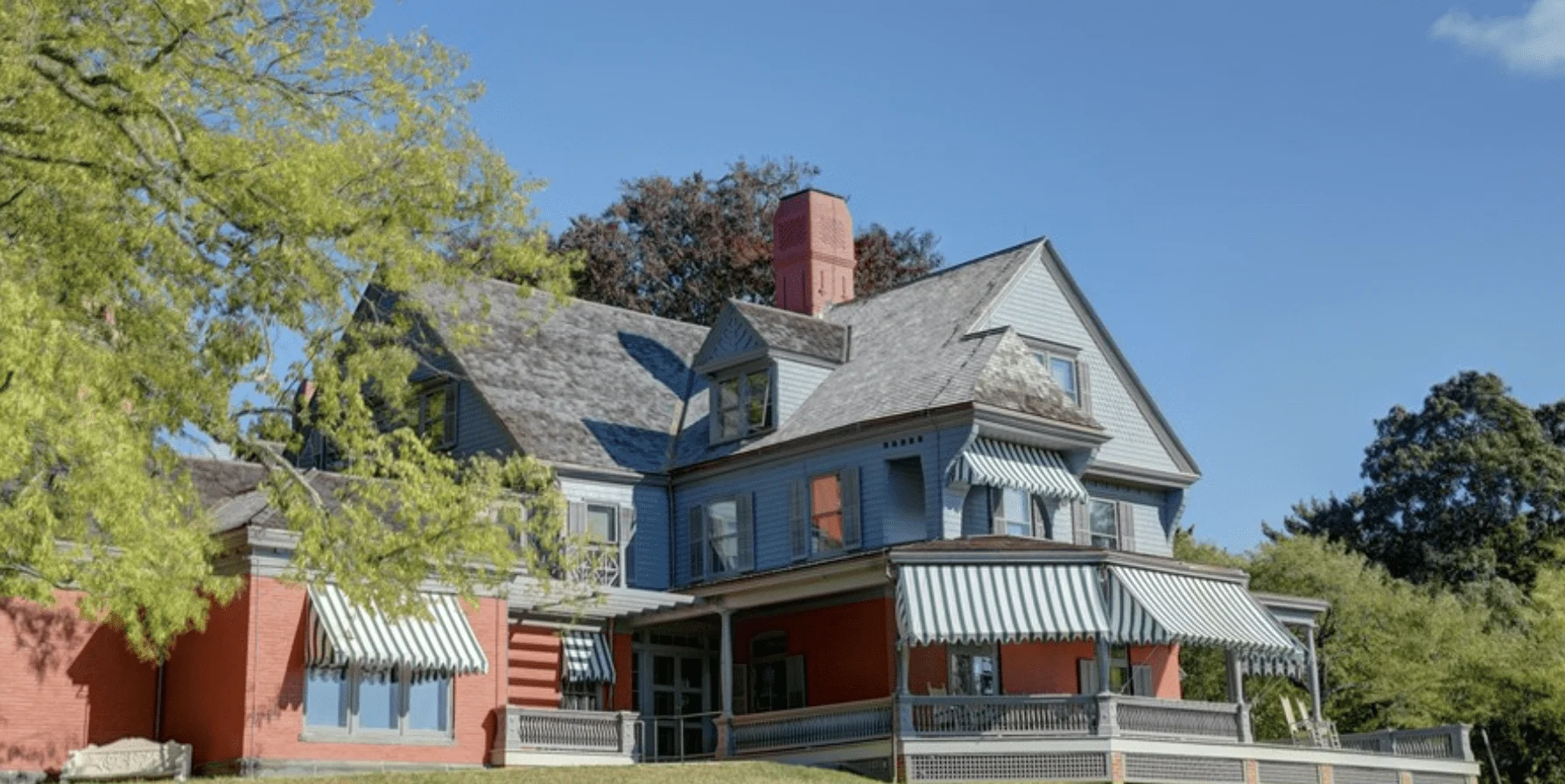 Free & Cheap Ideas
Some of the most romantic places on Long Island are free! Here are some of the best free things to do in Long Island:
Enjoy a Free Summer Concert. The Bandshell Concerts located at the Bellport Village Marina are held on Friday nights throughout the summer. They host various local cover bands and other performers from the town. Farmingdale's Music On Main event is held on Thursdays, and they provide an opportunity for guests to shop local and dine on Main Street while listening to great music.
Rock Hall Museum. Open Wednesday through Sunday, this free museum is located in a colonial landmark house built in 1767. This is the home of centuries worth of history of families and life on the island.
The American Guitar Museum. This free museum is home to a massive collection of guitar memorabilia and a repair shop. It is a must-see location for music enthusiasts.
African American Museum of Nassau County. The aim of this important institution is to promote and preserve African American culture though art, programs, and exhibitions such as The Black Royals and Women of NASA.
Walk the Long Beach Boardwalk. On this boardwalk, you and your partner can walk or bike, stop at food kiosks and trucks, or simply visit the beach.
Eat Local. These budget-friendly restaurants serve high-quality foods that won't break the bank. Slurp Ramen serves ramen, rice bowls, and salads. SoBol has various locations across the island serving acai bowls, smoothies, and snacks like empanadas or quesadillas. Street to Table serves food truck favorites in a sitdown location, with "adult juiceboxes" and crafty snacks such as Hot Cheeto Mozzarella Sticks.
Romantic Date Night Restaurants and Cafes
Some of the most fun things to do on long island with a boyfriend, include going to one of the many cafes or restaurants. Here are some of the best:
Sweetleaf. Go for a coffee date at this charming, rustic spot, with a location in both Brooklyn and Long Island City. 25% of all of their proceeds go to charitable causes.
The Mill Coffee House. This adorable date spot serves coffee, soups, sandwiches, and baked goods. They also offer both vegan and gluten-free options.
Lake House Restaurant. With both indoor and outdoor seating, this restaurant is open every day for lunch and dinner, and also for brunch on Sundays. Their outdoor garden also has a firepit with scenic views overlooking the Great South Bay.
Catch Oyster Bar. This is a great spot for seafood lovers. Located right in the heart of Patchogue, just down the road from the Patchogue Theatre and marinas on the Great South Bay, you can enjoy and great bite in a sleek atmosphere.
Visit a Steakhouse. With luxe décor including fireplaces and chandeliers, Blackstone Steakhouse is a fine dining experience. They offer happy hour Monday-Friday from 3 to 6 p.m., with an $8 bar menu, including cocktails and wine. Insignia is a premiere steakhouse that serves both steak and sushi, offering outdoor dining and weekly specials in an elegant atmosphere.
Outdoor Romantic Things to do in Long Island
Caleb Smith State Park. Situated on 543 acres of land, you and your partner can relax at this peaceful park while also enjoying their nature museum and their numerous hiking trails.
Cheer on the Long Island Duck's. This minor league baseball team offers affordable tickets and an engaging ballgame experience. If you or your partner are sports fans, check the season's schedule to see which games are ended with a famous Grucci fireworks display.
Go Kayaking or Canoeing. The north shore's Nissequogue River spans 5.2 miles, with plenty of spots to stop and enjoy a picnic lunch along the route. The Carman's River is located on the south shore of the island, and there are many scenic locations to admire along its 10-mile path.
Blydenburgh Park. Located off of the Nissequogue River, this 627-acre park offers river camping, picnic locations, a dog park, fishing spots, horseback riding, and rowboat rentals.
Hoyt Farm Nature Preserve. This is a great place for couples to relax and enjoy a sunny day. This spot is home to nature museums and trails, as well as picnic areas and baseball fields.
Socrates Sculpture Park. Located in Queens, this park displays various kinds of art exhibitions, from large-scale sculptures to multimedia installations. Admission is free, and it is just a stone's throw away from local shops and eateries.
Brooklyn Botanic Garden. With over 14,000 species of plants to admire, this garden spans 52 acres and is a great way to decompress from the hustle and bustle of Manhattan. They are also home to everyone's favorite: cherry blossom trees!
Seasonal Ideas
Go to the Beach. Located along Long Island's south shore is Fire Island, home to the famous "Hamptons" beach towns and even more beautiful, expansive shores. There are multiple access points to these beaches across the island, from ferries to bridges, and each beach offers something different. Some beaches are small and quiet, with just a lifeguard's stand and a small concession, and other beaches have sprawling boardwalks with restaurants, shops, and beachside rental homes. Whether you're making a day trip or taking an extended vacation, there is always something to do at the beach.
Splish Splash Waterpark. If you're not feeling the beach but still want to beat the heat, you can't go wrong with a waterpark! With over 20 water slides, a lazy river, and two wave pools, Splish Splash is a guaranteed fun time. Stop in for one day or invest in a seasonal pass to enjoy discounted rates all summer.
Hallockville Museum's Farm Country Fair and Craft Show. Held in late August, this north fork tradition is a great weekend date spot for couples. It is home to craft vendors, live music, delicious street food, and livestock displays.
Amityville Historical Society's Annual Heritage Fair. The town of Amityville's unfortunate history has made is a household name, but they are also home to some lovely seasonal events. The Heritage Fair offers food and craft vendors, a trolley ride, and an attic treasures sale. This is a great event for history and vintage lovers.
Go Berry Picking. At Patty's Berries & Bunches, you can pick strawberries, blueberries, and even create your own flower bouquet to gift to your partner. This treasured spot located in Mattituck also sells seasonal ice cream flavors, which is sure to be a treat.
Visit a Haunted House. This is a great idea for couples who love a good scare. Long Island is home to nationally ranked haunted houses such as Darkside and Gateway's Haunted Playhouse. Darkside Haunted House is an indoor and outdoor attraction with over 30 detailed scenes of fright. Gateway's Haunted Playhouse normally offers both indoor and outdoor spooks, but they have since made post-pandemic adjustments to offer only outdoor frights in addition to a haunted drive-thru experience. They are also showing scary movies in a drive-in setting at their Bellport playhouse.
Waterdrinker Family Farm & Garden. This spot is a perfect location to enjoy on a crisp fall day. They have tulip and sunflower fields that make for great backdrops for Instagram-worthy shots, as well as a greenhouse, pumpkin patch, mini golf, and barn animals to meet and visit. They also sell the seasonal favorite: roasted corn!
Hank's Pumpkintown. This pumpkin patch also offers farm stand concessions, a corn maze, hayrides, and even the chance to watch a cow milking.
Rise of the Jack O'Lanterns. Located at Old Westbury Gardens, this pumpkin carving display is the perfect way to get into the fall and Halloween spirit.
Riverhead Halloween Festival. Usher in the autumnal season in Riverhead, where the town is decorated for Halloween. You and your partner can enjoy community trick or treating, a fall parade, a coffin racing event, or just visit the local shops and dine along Main Street.
Go Ice Skating. The outdoor rink located at Christopher Morley Park in Roslyn is winter wonderland location. What's more romantic than ice skating with your partner under the stars?
Seasonal Shopping. Visit the Tanger Outlets in Deer Park, an outdoor outlet mall that has their own ice skating rink and is the perfect spot to get all your holiday shopping done in one trip.
Caleb Smith State Park Preserve. If the cold weather doesn't slow you down, visit this park for an outdoor winter walk, snow-dusted hiking trails, and cross-country skiing.
Jones Beach Light Show. Enjoy a festive display of holidays lights and seasonal décor from the comfort—and warmth!—of your car. This is the perfect socially distanced winter date, as the light show is drive-thru only.
Enjoy a Christmas Parade or Tree Lighting Ceremony. There are dozens of holiday events all over Long Island each year, and most towns host their own Christmas Parade and/or Tree Lighting Ceremony in December. If there's a spot on Long Island that you're itching to visit this winter, check out their town website for all the information on where their holiday festivities are taking place.
Don't forget to caption your trip to Long Island with some fun New York quotes!
****