Looking for date ideas Louisville KY? Louisville is an ideal choice for a couple who lives a super romantic getaway with fabulous places to eat and drink, markets and coffee spots.
If you are looking for fun things to do for couples in Louisville KY – we have you covered! Whether you are looking for an adventure packed date or just somewhere to go on for a rainy date this list has it all.
Don't spend another weekend stressing about your next date night when there are SO many Louisville date ideas to tick off the old couples bucket list.
Date ideas Louisville KY
Ovrdrive – If you are looking for some fast paced entertainment with your SO in Louisville look no further than Ovrdrive including Racing Simulators, VR Games, Axe Throwing & Rage Room.
Michter's Fort Nelson Distillery – Nearby the Louisville's Frazier History Museum, the Michter's Fort Nelson Distillery is one of the most popular things to do in Louisville KY for couples. At the distillery, you can go on tours, tastings and also visit the world class The Bar at Fort Nelson. The distillery is one of the most popular attractions in Kentucky as it is famous for making "America's Best Whiskey" according to Food and Wine.
Angel's Envy Distillery – Another distillery you might like to check out in town is the Angel's Envy Distillery.
Caravan Comedy Club – The Caravan Comedy Club is a great place to go for a couple who likes a LOL. Locals love this place as it is one of the best cheap date ideas in the area as it is known for affordable prices. It is a long-standing favourite in the community, established in 1987 originally under the name "The Funny Farm".
Louisville Palace – A great place to go downtown on the weekend to see a great show – always a fun night out! No matter what your style, you are likely to find a show that suits your preferences here with things from comedians, movies, traditional theatre, magic shows and more on offer. There's often drink specials available at the Palace too which locals particularly appreciate.
Waterfront Park in Louisville – If you want something stereotypically romantic to do in Louisville, why not tale a romantic walk at Waterfront Park, centrally located in downtown Louisville with a view of the Ohio River.
Iroquois Park – A nice park which is popular with locals and with dogwalkers.
Louisville Slugger Museum & Factory – A fan favourite and romantic activity in Louisville for the baseball loving couple. Here, you can spend 1-2 hours enjoying all things baseball including strolling through the actual factory where world-famous Louisville Slugger bats are created. Don't miss a award-winning factory tour where you get to see the World's Biggest Bat – stretching 120 feet into the sky.
Whitehall House & Gardens – One of the most beautiful historic homes in the area. If you do decide to visit, it is recommended to take a tour. The gardens are also very pretty in spring.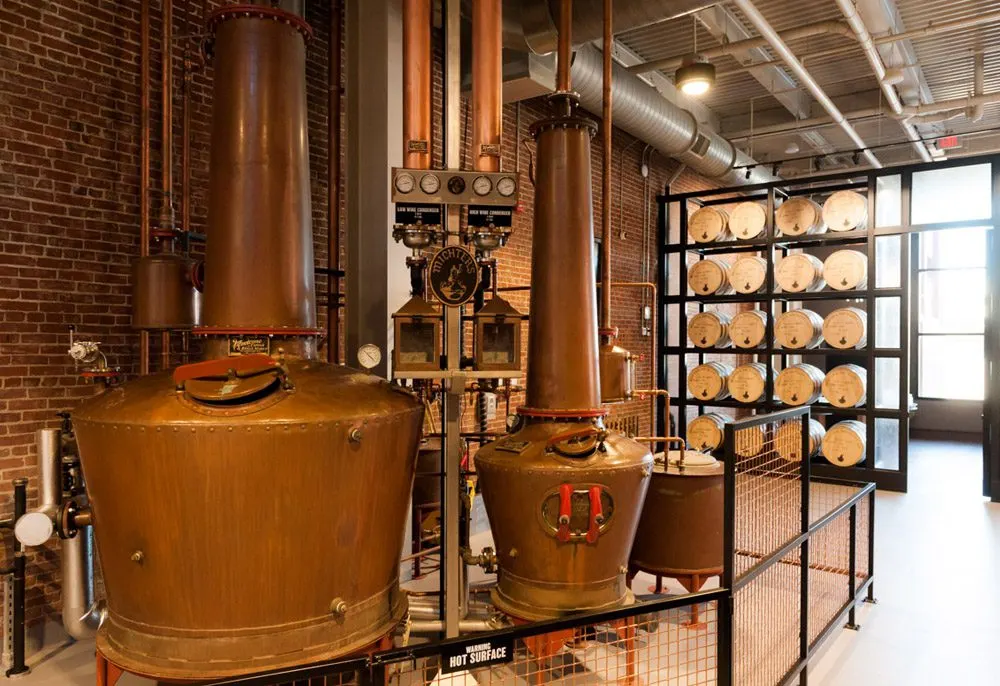 Fun First Date Night Ideas
Georgetown Drive-In – If you ask a local, one of the most popular first date ideas in the area is the iconic Georgetown Drive-In. This is a super romantic, and quite an affordable date. One of the best date ideas for teens, when you first get your license, if you ask me!
Go for a night-time stroll past the Big Four Bridge – One of the best night-time date ideas, especially for couples on a budget, is to go for a walk past the Big Four Bridge. This is definitely one of the prettiest views of Louisville at night, especially when it is lit up with color.
Louisville Zoo – A fun place to go on a first or second date with someone special as there are a lot of animals to see. There used to be a popular train ride but sadly it recently shut down.
Kentucky Derby Museum – The next best thing to actually being at the Derby is this museum. This museum is the official tour provider of historic Churchill Downs. General admission includes two levels of family-friendly interactive permanent & temporary exhibits. Don't miss "The Greatest Race," a 360-degree immersive sound and visual experience that is particularly popular with visitors.
Conrad-Caldwell House Museum (Conrad's Castle) – If you like old houses and such, you will love the Conrad-Caldwell House Museum, a Victorian mansion located in the heart of Old Louisville on St. James Court. Known as "Conrad's Castle" it features fine examples of Richardsonian Romanesque architecture of local architect Arthur Loomis of Clarke & Loomis. A couple who loves architecture will love the "castle" which includes gargoyles, incredible archways, and amazing stone designs.
Frazier History Museum – Another fun place to go for a nerdy date idea in Louisville is the Frazier History Museum located in the West Main District of downtown Louisville, a part of "Museum Row on Main."
Kentucky Kingdom – It is always fun to go to an amusement part when you are first starting to date and Kentucky Kingdom is no exception. Fun Fact: this theme park includes the world's tallest body slide, Deep Water Dive!
Romantic Restaurants, Bars and Coffee Shops in Louisville
Hell and High Water – A super cool cocktail bar in Louisville. Worth checking out if you are a fan of a seriously good cocktail.
Yummy Pollo – A great place if you are your date love chicken – it is seriously delicious!
Brown Hotel Lobby Bar & Grill – Such a pretty interior makes it the perfect place for a date. The salmon is highly recommended.
J. Graham's Cafe – Great if you want to go somewhere with a good old fashioned American burger.
Holy Smokes BBQ – Rated as the best place for wings in the city. Disclaimer – Maybe wait for a second, third, fourth or perhaps a fifth date before venturing here as wings can get very messy.
More Epic Dates: