Looking for the very best date ideas in Nashville?
No more at home date ideas with these fun and unique Nashville TN date ideas. Whether you are hunting the net for a list of the most romantic places in Nashville or just looking for something new and interesting to do, we have you covered with the best things to do at night and super romantic things to do for couples during the day.
The best date spots in Nashville(and even some quarantine date ideas!) here.
Date Ideas in Nashville: 50+ Romantic Things to do for Couples
Best Restaurants in Nashville
Sky Blue Café – Looking for a new brunch date location? The fun and eclectic Sky Blue Café has rave reviews and is known for its variety of food options for vegans, vegetarians, and meat-eaters. Try their famous Stuffed French Toast Pancakes with a Nutella latte for sweet date you won't forget.
The Diner is a go-to restaurant any time of day. Open from 7 a.m. to midnight, this large and airy space offers six full floors diners can eat on, each one differently themed with different views of the city. Plus, you can't beat their unique menu with dishes like Rattlesnake Pasta and Boom Boom Shrimp.
Hattie B's Hot Chicken is a Nashville staple for anyone who is a fan of hot chicken—and who in Nashville isn't a fan of hot chicken? It's hard to find a single person who doesn't rave about the food at this popular spot. With multiple locations throughout the city, there's no excuse not to bring your date to Hattie B's for a simply unforgettable meal.
Henley – Want to impress your date? Take them for dinner at Henley, an upscale restaurant in Midtown known for its small plates menu inspired by French technique mixed in with some Southern soul.
Let the friendly and knowledgeable staff bring you a perfect Manhattan with their tableside bar cart service, and enjoy your romantic evening knowing you're eating and drinking the best of the best.
Carniceria Y Taqueria Don Juan – is a little hard to find, but you won't regret bringing your date to this hidden gem. Located just off of Nolensville Pike and Thompson Lane, this is the place to go if you're craving some authentic Mexican food—and truly unbeatable tacos.
Riddim N' Spice – Shake up your usual date night by trying what many consider to be the best Caribbean food in the city. Riddim N' Spice started as a beloved food truck, but now you can get the full experience by visiting this delicious, vegan-friendly restaurant.
Slim & Husky's– Head downtown to Slim & Husky's to visit the first Black-owned business on Broadway. Have fun building your own pizza to make a date night creation that is exactly what you and your partner are craving. And don't forget to try the cinnamon rolls!
Eastern Peak – Known for their excellent-quality sushi, Eastern Peak is the perfect romantic spot for date night. With their extensive menu, there is definitely something for even the pickiest eaters to enjoy. A bonus? The portions lean on the bigger side, so you'll definitely be getting a bang for your buck.
Oak Steakhouse is that classic date-night spot. It's fancy, it's romantic, the wine list is long, and the food looks almost too good to eat. Treat your date to the Charred Octopus and the Lobster Mac for a decadent and memorable dinner.
Greenery – Couples on a diet can still enjoy a nice date at Greenery. This salad spot is clean, bright and airy, and the food is fresh and clean to match. Greenery's salads aren't just made up of some limp lettuce thrown in a bowl—their menu is full of tasty options like Chipotle Shrimp salad and the well-loved Thai salad.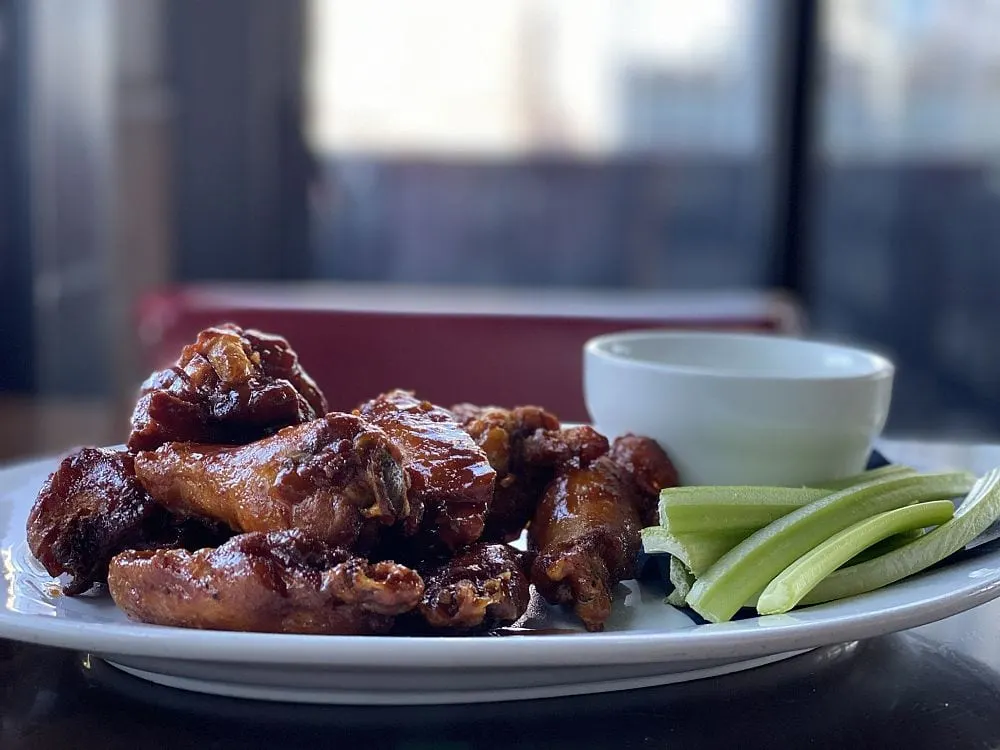 Cute Coffee Dates
Americano Lounge – Want a coffee and a cocktail? Americano Lounge has you covered. Located in the Wedgewood-Houston neighborhood, this hip New York-style lounge offers high-quality coffee, pastries, and cocktails in a cozy atmosphere.
Falcon Coffee Bar – If you or your partner is plant-based (or if you just like delicious vegan food), Falcon Coffee Bar is the coffee shop for you. Nestled in the Wedgewood-Houston neighborhood, this small shop features healthy vegan breakfast and lunch options alongside their delicious coffee and tea options.
Bongo Java – One of Nashville's most popular coffee spots is Bongo Java. Considered Nashville's oldest coffee company, it is the perfect spot to relax on the roomy patio and enjoy a cup of organic, fair-trade coffee. Bongo Java also features an extensive food and snacks menu, with options ranging from breakfast burritos to vegan soups.
Ugly Mug Coffee Café and Roastery – Looking for a new coffee experience with your boo? Head over to Ugly Mug Coffee Café and Roastery. Not to be confused with Ugly Mugs, a different, unaffiliated café in East Nashville, this unique spot is known for its selection of, well…ugly mugs.
Who doesn't want to drink a latte out of a hideous mug? Go for the mugs, stay for the top-notch specialty lattes. Ugly Mug also offers a drive-thru for couples on the go.
Moonshot Coffee Bar – is a divine little coffee shop. It features an aesthetically pleasing, retro design scheme that makes you feel a little like you went back in time (in the best way). Their coffee and food choices are unique and flavorful—try the Guineuere, a rose and lavender latte, the next time you want to try something new!
Located in the Virgin Hotel Nashville, Funny Library Coffee Shop is a quirky and one-of-a-kind spot that gives off Wes Anderson movie vibes. This café offers all the traditional coffees, teas and lattes your heart could dream of, not to mention a rotating menu of delicious food options. The space has long tables for guests to sit and work at, as well as smaller tables or comfortable chairs.
Elegy Coffee is the coffee shop for couples with good taste. Not only is their coffee delightful, but their airy, plant-filled space is a beautiful place to hang out in. For something a little different, try their Miso Caramel Latte.
Best Bars for Date Night
Check out Bar Sovereign for a classy atmosphere full of art and comfy seating. You and your date will love the ambiance at this gastropub not to mention its fun menu full of many food and drink choices, from craft cocktails to ramen.
Headquarters Beercade is the perfect spot for a fun date night. Featuring an extensive list of beers and cocktails to choose from and two levels of free arcade games, this spot is sure to bring out the kid in you and your partner. And if you get hungry, don't worry: Headquarters has all the best late-night foods from burgers to specialty bagel bites.
If you want an intimate setting with upscale, classy ambiance and unique cocktails, look no further. The Fox Bar & Cocktail Club is sure to impress your date with its stylish, moody interior and constantly evolving craft cocktail options.
Are you and your partner nature lovers? You can enjoy beautiful greenery without taking a hike at The Greenhouse Bar. This unique greenhouse-turned-bar is filled to the brim with plants, as well as a full food and drink menu with tons of options to choose from. The Greenhouse also has several TVs to watch for couples who want to kick back and chill out.
Nashville and honky tonk tunes go together like peanut butter and jelly. Voted Nashville Scene's Local Favorite Honky Tonk, Robert's Western World is the bar to go to for country music. They offer live performances every night of the week, as well as affordable food and drink specials to enjoy while taking in the show.
Many claim The Patterson House is the best bar in Nashville. It's easy to see why: this lounge-style cocktail bar has it all. Known for their friendly, knowledgeable mixologists and delicious food and drink options, this gem is a must-visit for couples in need of a weekly date night spot. Many recommend making reservations before stopping in, since it is well-loved and often busy.
Go to The Pharmacy when you and your date are craving good food and drinks, because they definitely have the right prescription for you. Known for their wide variety of mouthwatering burgers for meat-lovers and vegans alike, this restaurant and beer garden is the perfect weekend date spot.
Have a calm and romantic evening at Rare Bird. This small and intimate rooftop bar on top of the Noelle Hotel features colorful décor with stunning views of the city. Their menu has it all, from beer and wine to creative cocktails. As an added bonus, visitors of Rare Bird can get free valet parking.
Chopper is an East Nashville tiki bar with all the classic tiki offerings, from the tropical, flamboyant drinks to the colorful, themed décor. Take your date to this spot for a little tropical getaway, at least for a night. Stop by during happy hour for half off your cocktails!
Stop into Attaboy for that speakeasy vibe that can be so hard to find. You and your date will enjoy talking in the dimly lit bar over personalized cocktails. There are no menus at Attaboy—you tell the bartender what flavors you like and they craft the picture-perfect drink for you. It doesn't get much better than that.
Adventurous and Outdoor Dates: First Date Ideas in Nashville
Located only six miles from downtown Nashville, Radnor Lake State Park offers a date day for the outdoorsy couple. Put on your hiking boots and get ready to explore the 85-acre park bursting with wildlife and greenery, including several trails of varying difficulty. Locals love the park for its birdwatching opportunities and photogenic scenery.
SOAR Adventure Tower is an ideal date spot for the athletic, competitive couple that wants to have some fun. Located in Franklin, just south of Nashville, SOAR is an amusement park that features multiple climbing elements, rope courses, and even a mini golf course. This is a must-visit park for any couple looking for a challenge! One of the best couple activities in Nashville.
Go see some local art. Explore the city and take in the talented artists who put on shows during First Saturday. The FirstBank First Saturday Art Crawl happens downtown on the first Saturday of each month. You can visit Hatch Show Print, The 5th Avenue of the Arts galleries (The Arts Company, The Rymer Gallery and Tinney Contemporary), Art at the Arcade, and Art at Music City Marketplace.
If you're looking for a more meaningful date, you and your partner can volunteer with Hands On Nashville. Your volunteering options are truly limitless; you could join a Habitat for Humanity build or pack bags of food with Second Harvest. Spend time with the one you love while giving back to your community. One of the best dates in Nashville.
Paddle Up Nashville is a great spot for a couple in need of a relaxing yet adventurous date. You and your date will spend the day on the river, learning how to master the art of paddle boarding. Although it may seem daunting, many visitors claim that once you get the hang of it, it is a fun and even peaceful activity. Starting at just $26 per hour, this date offers tons of fun without breaking the bank.
Get a little workout in with your date on your way to the Love Circle. Located on the top of a hill, the this aptly named "secret" spot is a great place for couples to relax and take in the natural scenery. Those who visit the Love Circle for a romantic night will see a gorgeous, lit-up view of the city that is truly unbeatable. Be sure to bring a blanket and picnic because you will most definitely want to sit back and enjoy the view.
Take your date to Juro Stables to live out your equestrian dreams. Just a short drive from the city and open year-round by reservations, visitors can take horseback riding lessons and go on a horseback riding adventure. A heartwarming aspect of Juro Stables is that their horses are all rescues who were abandoned or abused; the staff gives these horses a new life and gets them healthy and train them for riding.
Cheekwood is the perfect date idea for any couple looking for a relaxing day of beautiful scenery. This 50-acre estate features a botanical garden full of beautiful plants and statues, as well outdoor art installations. There is also a manor and Museum of Art to explore. The estate is also known for its many events and festivals, including Cheekwood in Bloom, an installation featuring more than 100,000 tulips! As an added bonus, couples can indulge in beer, wine or cocktails as they walk around the grounds.

Fun and Unique Date Ideas
Have a staycation in a Nashville Jacuzzi hotel. Super fun and so romantic.
Put your dancing shoes on and take a class at Champion Ballroom Center! Whether you and your partner are interested in ballroom, Latin, swing, or country western dance, this company has you covered. They offer group and private instruction for singles and couples, and you don't have to have any dance experience at all to sign up. If you can't get enough of dancing, make sure to check out their Friday night dance parties, which they host every month.
Spend a rainy afternoon indoors at Parnassus Books. Established in 2011 and opened by author Ann Patchett, this independent bookshop is a great option for couples who love to read. Parnassus also offers comfy chairs for you and your partner to chill in while flipping through books.
If mid-century modern decor is your thing, you should definitely spend a few hours perusing Gaslamp Antiques & Decorating Mall. Known for being one of the largest antique malls in the state of Tennessee, Gaslamp has plenty of vintage treasure for everyone, but visitors swoon over their mid-century modern selection.
Not for the faint of heart, Hail – Dark Aesthetics is a taxidermy and curiosities shop specializing in everything strange and unusual, from real animal skulls to antique medical specimens. Opened in 2013, this shop is a must-visit for the offbeat couple looking to add something a little creepy to their lives.
History buffs will love a date spent at the Belmont Mansion. The largest house museum in Tennessee, the Belmont Mansion preserves the history of the woman who lived in the house, Adelicia Acklen. Adelicia and her husband were art collectors, so touring the mansion is like seeing a museum and a historically-preserved mansion all in one.
Guests can opt for a self-guided tour, priced at $16, or book a reservation in advance for a guided group tour for $20. There are also several other tour options found on their website for those interested.
Make your very own candles at the Paddywax Candle Bar. You and your date will complete an exciting 12-step candle-pouring process through a walk-in or a scheduled workshop. You get to choose from 10 different vessels and 40 unique soy wax fragrance blends that are regularly rotated, and to make your candle even more custom, you get to choose your own personalized label. Visitors recommend reserving a spot and getting there early in order to have plenty of time to smell all the fragrance options and choose the perfect container.
Visit the Nashville Humane Association. There's nothing better than spending a day with adorable cats and dogs…and maybe even deciding to adopt one with your partner! This clean and inviting facility allows you to interact with and walk any dog of your choice, and you can even take your new furry friend to a private room to get some one-on-one time. Even if you and your partner aren't interested in adopting a pet, hanging out with some furry friends will surely make your day.
Check out Dabble Studios next time you and your partner want to try something new. Offering painting and cooking classes, as well as other events, Dabble Studios was created for anyone who wants to "dabble" in something new and have fun doing it. This spot allows guests to bring their own food and drinks—alcoholic or otherwise—or choose from their selection of food and drinks.
Take a tour of a brewery if you want to know the ins and outs of how your favorite beer is made. Fat Bottom Brewery Co. offers tours and would be a great stop for any beer lovers. Located in the Nation's neighborhood, Fat Bottom has been open and busy since 2012. Their new brewery is state-of-the-art and features an outdoor beer garden. You and your day will love sampling all the different craft beers they have to offer while learning something new.
Wake up early and take a stroll around the Nashville Farmers' Market. Established in 1801 and located in the heart of downtown Nashville, this spacious market includes outdoor vendors as well as indoor food halls, an international grocery store, and a garden center. Feast your eyes on beautiful locally-made pottery and jewelry alongside organic meats, cheeses, fruits and more. This fun date spot is dog-friendly, and some vendors even have water bowls if you decide to bring your pup along.
Have you ever wondered how your favorite barista gets your latte perfect every time? Crema offers a 60-minute choose-your-own-adventure style class where you sign up to have a barista teach you pretty much anything you want to know about coffee. The $100 class covers the cost for you and your date, and you two will walk out armed with your own coffee to take home, a coffee journal, coffee discounts, and more!
Cozy up to your partner in the comfort of your own car at the Stardust Drive-In, located just east of Nashville. This nostalgic outdoor movie theater allows guests to park their cars in front of giant screens with a rotating selection of movies playing. Be sure not to miss out on the cheap and tasty snack options, like burgers, Reubens and even cotton candy. A great cheap date idea for those on a budget.
Need to blow off a little steam? Head on over to Bad Axe Nashville, where you and your date can practice your strength and agility with axe-throwing. Located in downtown Nashville, Bad Axe's coaches help visitors learn how to throw the axes accurately, while servers mix up some tasty drinks and food for you to enjoy. As a bonus, Bad Axe showcases incredible skyline panoramic views of the city, so if you're not great at axe-throwing, at least you get a great view.
Why not spend a fun weekend at Urban Cowboy? This eclectic Bed & Breakfast is located in a historic Victorian mansion in East Nashville. The Cowboy is known for its hip, aesthetically-pleasing décor, in a style the owners call "Southwestern Deco." Guests can opt for in-room massages and receive complimentary whiskey upon arrival. There is a bar in the hotel, but if that's not enough, this cool spot is close to many local restaurants, coffee shops, bars, and live music, so you and your date will be entertained all weekend long.
****
See more Tennessee activities: