Are you wondering where can I take a girl on a date in Phoenix? Or maybe your'e looking for new date spots to take your man?
Phoenix is one of the largest metropolitan areas in the country so, with so many options, it is an ideal place to plan the perfect date! There are seriously tonnes of amazing date ideas in Phoenix!
It's not the most populous, but it does span a lot of space, and there is a lot of money invested here.
New businesses are constantly cropping up to satisfy the local thirst. That means that there are infinite opportunities to begin a new romance, woo somebody, or to spark an old flame.
You don't have to go to the same old spots, eat all the same food, or experience the same things over and over. You have choices. You can plan your date based on your shared dynamic, your interests and your intentions.
This list was compiled to meet everyone's needs. Whether it's your first meeting, your second, third or even your thousandth, there's always something that both you and your date can enjoy.
So with no further adieu, here are 38 of the best date ideas in Phoenix Arizona.
Fun Date Night Ideas your partner will love
Staycation
There is nothing better than kicking back at a romantic hotel. Even better if it includes a hot tub. Here we have hunted down 33 of the best hot tub suites in Arizona, including Phoenix Jacuzzi hotels!
Coffee and Cafe Date
Getting coffee has become a synonym for the first date. Somebody just sparked your interest.
You don't know each other enough to pay for a full meal, but you're intrigued enough to get together. So, you want something inexpensive, more casual, without all of the frills and pressure of an established date.
The spots on this list are perfect for your initial meeting. They're fun and intimate, but they don't require much. It's just coffee and maybe a little bit of dessert.
Read more: 200+ Flirty First Date Questions to get conversation flowing (works wonders for married couples too – we promise)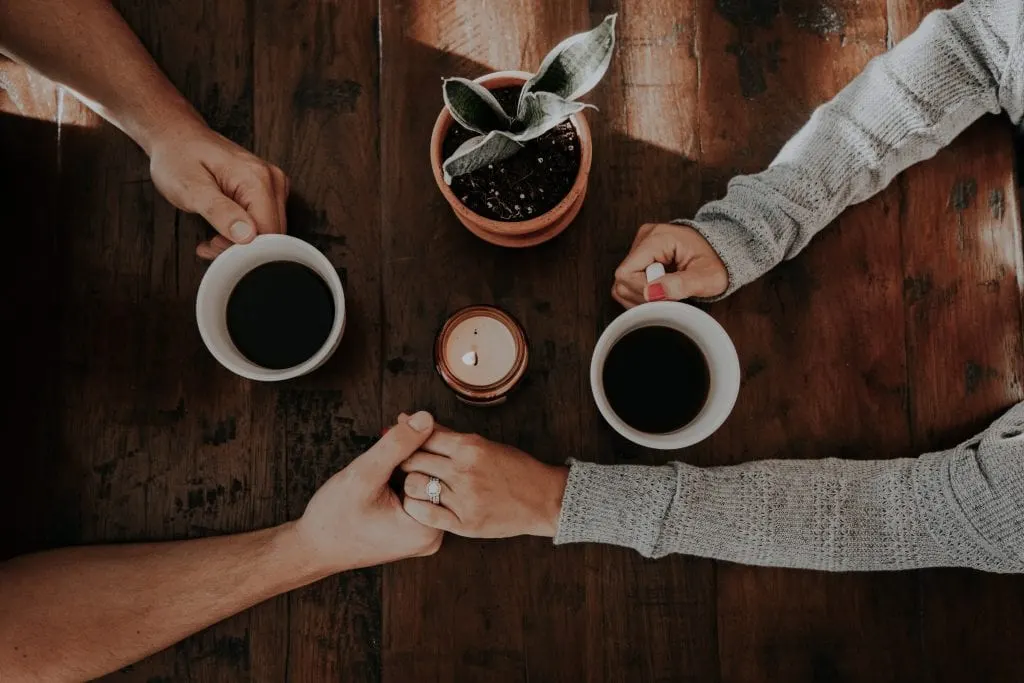 Sweet Dessert Cafe
While the Sweet Dessert Cafe might look like a diner, it's not a greasy, eggs, biscuits and gravy affair.
Located in Tempe, it's the kind of place that you go when you want a little treat—nothing substantial. But they do offer miniature deserts, shakes and some creative lunch and breakfast ideas—along with that ever-necessary cup of coffee.
Their chef is well trained in culinary arts. He's known for offering something extra to every dish.
His croissant creations are a definite favorite. There's banana nutella, chocolate delight, and caramel and ice cream sandwich, among others.
Cartel Coffee Lab
OK, so the name is a little weird, but their coffee is anything but.
Voted one of the best in Phoenix, Coffee Cartel Lab is devoted to a newfound science, mixing their specialty blends in a unique fashion that is bound to leave you addicted.
They have multiple locations across the city, which means that you can utilize their hipster setting no matter what side of town you're on. You can also enjoy their special blends at home with their prepackaged drinks and whole beans.
Lola Coffee
This unique coffee shop began as a food cart in Downtown Phoenix and has since grown into a thriving cafe not far from its original location.
It has the traditional cafe aesthetic with patio seating, flower boxes and green overhangs. They offer classic drinks, along with some house favorites, as well as a selection of homemade danishes. They're all made using unique recipes that are perfect for picking at when you don't want to make eye contact.
The founder of Lola claims to have started the coffee shop so he could create the perfect espresso, and many believe that that is exactly what he did.
Lux Central
Both casual and luxurious, Lux Central is definitely one of the best cafes in town. It could be called a coffee shop; its espressos are smooth; their beans are locally sourced, and they're known for adding organic, Sonoran Desert flavors into every drink. But Lux is so much more than just a coffee shop.
They also have an extensive dessert and entree menu, which changes every day—as all the best menus do. Their food is made on the spot, and it's a product of more than just skill.
There's real dedication involved. Lux is the place for the perfect first date, when you're sure that you've found something special, because that's what this place is: special.
Sip Coffee & Beer
You're past the coffee point. You've had your caffeine fix. You're intrigued. The conversation is flowing, and you definitely want more.
Sip Coffee & Beer has two locations: Scottsdale and Phoenix. So their exotic blends of coffee and alcohol is readily available, and it is delicious. Don't have time in Phoenix? Save it for a Scottsdale Date Idea.
You can try their traditional cups, or you can spike it. Move on from the mundane and into the exciting.
Theater and Comedy
The great thing about going to a show is that you can connect with your date without talking. You'll turn to one another and laugh, or you'll share an emotional experience.
Maybe you'll both cry, or you'll leave wanting to give feedback on something that left an impression on you. You'll notice their reactions to things and start to learn about them as you do.
It's a different kind of intimacy, one that allows you to gauge their reactions, what makes them tick, what makes them smile.
And don't think that you have limited options. Phoenix has a thriving performance arts industry. Every genre, every medium—it's all available.
Rick Bronson's House of Comedy
With a full bar, restaurant, and one well-used microphone, it's easy to see why House of Comedy is considered to be one of the best in the world.
This Vegas style comedy club is a weekly host to some of the industry's most popular names.
It also hosts local celebrities, featuring all brands of comedy—from dark to way too dark—and it's one of the few comedy clubs on Phoenix's northside.
Come get a drink, have dinner, and let the comic delve into the controversial stuff, so you don't have to.
Carnival of Illusion
Featured in major publications and on major broadcasts, the carnival of illusion is a vaudevillian magic show, where no holds are barred—seriously, children are discouraged from attending, but it's well worth the risk.
The performers are highly acclaimed and quite skilled. They're not pulling rabbits out of hats and cutting their assistants with fake saw blades. They make their audience scream, laugh, cry and jump up out of their seats to applaud.
Magic is about gaining a reaction as much as it is about creating an illusion, and the Carnival of Illusion has mastered both. They only perform during busy seasons, and they only offer seating to 100 select guests, but it's well worth the effort. Your date will be snuggling close, and your arm will wrap around their shoulder, while you share an experience you'll both never forget.
Tempe Improv Comedy Theater
One of three locations in the U.S., Tempe Improv Comedy Theater is known for both internationally recognized celebrities—both relevant and talented—as well as a full spread of local and amateur comedians.
They also host trivia nights, comedy troupes, and they offer a full menu and bar. Know that there is a two-drink minimum, but don't let that stop you. They have non-alcoholic and alcoholic drinks, and their cocktail menu is considered by many to be the best in town.
Mystery Mansion Dinner Theater
There's a lot to be said for this little troupe. Performed at three Oregano's locations across the city, Mystery Mansion Dinner Theater offers a full menu, drinks and a truly engaging show.
In fact, the performers make a point to keep it engaging. They involve the audience as much as they can, calling them out, forcing microphones in their faces, making offhand comments that will have you shooting your drink out your nose—all as they challenge you to help solve one of several mysteries.
It's fun! It's entertaining, and it is truly hilarious. The menu is limited, but that's not why people go. It's the actors. They know their craft, and they truly enjoy getting a rise out of everyone. It's a real icebreaker that will have you talking and laughing, even after the show has ended.
Medieval Times
Medieval Times will transport you and your date back to 11th century Spain, where you'll be dining at Queen Isabella's Castle. This castle includes a museum section, complete with coats of armor and torture devices.
There's also a full bar and a dinner menu. It comes with two options: regular or vegetarian, and it includes two nonalcoholic drinks. Serving wenches circle the crowd offering spirits, cocktails and beer.
The regular meal is a roasted chicken with corn on the cob, tomato bisque, potatoes and desserts—sans silverware to keep with the theme. The vegetarian meal is a hummus plate with pita, vegetables and stew.
The food isn't the best, but the show and the novelty are where the real fun comes in. There's swordplay, a jousting tournament and a flying hawk performance. They use real weapons and real birds, combining authentic elements to create an immersive experience.
The Dinner Detective Murder Mystery Show
Unlike Mystery Mansion Dinner Theater—which is all camp and comedy— The Dinner Detective Murder Mystery Show is built around shock value and engagement.
They plant cast members in the audience for surprises. They pull the audience into the drama, and they do so while serving a chic, well-prepared menu that shines just much as the performance does.
Most dinner theaters don't offer these kinds of thrills. They'll throw some spaghetti in a pot, pretend to act, and cause a stir, or they'll walk around with a microphone, reciting bad lines and passing off old clichés. This is not that type of place. The actors truly do work hard, and they take pride in what they do. That's probably why it's one of the highest rated dinner theaters in Phoenix.
Arizona Broadway Theater
This is the real thing. Arizona Broadway Theater hosts the most famous musical and performance acts in the country, including Broadway favorites like Chicago the Musical and Elf the Musical.
There's a high-end, sit-down table service with premiere dishes created by Chef Eric Smith, and a general air of elegance that you won't find elsewhere in Phoenix. That's because everything about this place is transplanted.
The owners are originally Broadways actors from New York, and they host bi-annual auditions there, so they can bring the best talent back to Phoenix with them.
Ballet Under the Stars
Ballet is often considered stuffy and elite. It's meant for people wearing ballgowns and tuxedos, not t-shirts and jeans.
This dance group wanted to make the art more accessible and engaging. They do so by offering free performances in city parks and other outdoor venues, where people can gather, bring a blanket and relax or walk around and talk to one another.
You can lie down with your date and snuggle while you watch Swan Princess under a crescent moon. The dancers themselves are not casual amateurs. They're serious professionals, dancing on real stages decked out with professional equipment. The only thing that's really toned down is the expectations.
Fun Active Date Ideas in Phoenix
Activities have many purposes. Maybe you and your date just want to do something fun together that doesn't revolve around food and alcohol—understandable, considering the massive amounts of time desert dwellers spend indoors.
You can learn a lot more about each other if you two are actually doing something active, as opposed to chowing down with your butts firmly planted in a seat.
You could also be looking for thrills—adrenaline, excitement and competition. From bowling to skydiving, the activities center around a more corporeal experience.

Ice Den
Nothing better than walking out of the triple digit heat into a giant ice rink.
Ice Den isn't just a novel way to avoid getting a solar-induced, third-degree burn, it's an all-purpose stop for everything to do with ice skating. There are lessons, speed tournaments, coaching, figure skating, parties and events; hockey takes up much of their schedule, so check their calendar before you go.
You can usually expect them to be open to the public on Fridays, Saturdays and Sundays, and they have locations in both Scottsdale and Chandler.
iFLY
Imagine texting your date to inform them that you're both going skydiving together, and not just in theory—really making it happen—virtually, at least, using a wind tunnel and VR goggles—simulating the same rush, the same feeling of weightlessness and realistic visual effects.
You won't necessarily be risking your life, but it will feel like you are. In fact, simulated skydiving is a competitive sport.
It's something that you have to take a class to participate in, and it's not recommended for people with heart problems. So you know it's at least almost as good as the real thing.
Sunrise Hot Air Balloon Ride from Phoenix
Everything about hot air balloons is romantic. You rise into the air with the sun, no walls or windows—just the sky, and you and your date pumped with adrenaline.
You'll look out at a completely unfettered view of Phoenix and an undeniable sense of awe will come over you. It's a once-in-a-lifetime ride, which is why hot air balloons are a favorite for vacations and marriage proposals.
Desert Wolf Tours
If a balloon ride is too tame for you, and you're bored with virtual skydiving, try going on an ATV tour. You'll race through the desert at inhuman speeds, off-road, and you can even try your hand at firing a few machine guns—yes, the federally restricted, kill-everything-in-sight-beasts—the big guns.
Drive yourself, fire it yourself, and know what it means to harness true power. Their night hunt is particularly wild.
Salt River Rafting/Tubing
Every year hordes of people gather for a natural theme park ride down the Salt River. There are many ways to do this. Most go for the day trip, spend an afternoon and go home to let their sunburns heal.
You could buy a giant raft, bring friends, and travel in style, complete with a boom box and a floating ice box, or you could rough it—grab two inner tubes, tie them together, and rush screaming down the rapids. It's safe, but a little edgy.
There are times when you'll float, and there are times when you'll be holding on to that inner tube for dear life. Either way, you're going to have a blast. There are also multi-day trips available. You can spend your time on the river, or you can take a break and camp.
Other Places in the USA where River Tubing is available: Helen GA, Rainbow Springs State Park FL, Ginnie Springs FL, Blue Springs FL, Kelly Park FL.
Sites
The destination can be just as meaningful as what you do there. In fact, some of these sites are meant to be enjoyed without actually doing anything.
You can just walk around, talk or sit quietly, and the backdrop will provide you with everything you need. But you don't have to stick to lazy and boring. Intrigue and excitement can be found just as easily.
Encanto Park
You're not going to want to bring a checkered blanket and a picnic basket to this park. There's too much to do. Located in Central Phoenix, Encanto Park was named one of the top 12 city parks in the country by Forbes magazine.
This 22-acre paradise is home to a lagoon, a theme park, two golf courses, fishing, a nature trail, a boathouse, a giant swimming pool, and countless picnic areas—but again, you won't care about those once you go.
The theme park is for children, but there's stuff for couples as well—games, terrifying rides and snacks. If you want something quiet, try a nature hike or maybe rent a paddle boat and kiss in the lagoon.
Encanto Park is often called an oasis—a huge theme in a city where it seems like everyone is trying to make things green—and the city did an amazing job of showcasing that effort. You'll forget that you're slow-roasting and focus on the reason you're there.
Japanese Friendship Garden
Japanese gardens are meant to be a place where people can escape the city, bring nature into their lives and practice quiet contemplation.
The gardens are designed with meticulous attention to detail, using ancient techniques—many of which have philosophical significance—and indeed, philosophy does play a huge part in every aspect of the venue.
It's home to yoga classes, meditation and Buddhist groups, many of whom grant the place an almost sacred significance.
Like other Japanese gardens, Phoenix's Friendship Garden was built to showcase different landscapes. It's centered around a waterfall and a pond, and there are plenty of paths to stroll around, but it's best to keep your voice down when you do.
They have a list of etiquette rules that must be followed. Turn your phones off. Don't climb on the rocks. The space is meant to be observed. It's supposed to bring you back to the moment, allowing you to enjoy the simplicity of being in a natural setting with the one you love. It's a different kind of romance, one that's conducive to profundity and long-term commitment.
The Musical Instrument Museum
Known to many as simply Mim, the Musical Instrument Museum is the largest museum of its type.
Their exhibits include more than 15,000 instruments and related objects, ranging from the ancient to the futuristic. They come from countless countries and territories, representing every inhabited continent in the world.
One of their more popular attractions is their Congo masks exhibit, which delves into some of the world's most exotic and little-known cultures.
Their music shows are legendary, compelling, and just as exotic as their Congo masks. If you like music, or you'd just like to learn about something new, take your date here. It's worth exploring.
Tovrea Castle
Plenty of people have driven by this four-story, five-thousand-foot architectural wonder, but few have actually been inside it. The curiosity began in the 1920s, when the castle was built to be the centerpiece of a resort. After that, it was bought by private individuals who planned to make it their residence. It has since fallen into the hands of the city and undergone a massive restoration project, finally allowing the public a chance to view the grounds.
There's walking trails with groomed cactus and a guided tour through the interior of the castle. It's more than just a novel building.
The architects worked to create something special, and they did. But you're going to have to wait if you want to see it. The tours were so popular that the city had to scrap their waiting list in favor of a lottery-based system. You could be waiting years to get in, or maybe just a few weeks.
Desert Botanical Garden
This is not a maze of dusty trails, winding through patches of grass and palo verde. The Desert Botanical Gardens is a true, arid oasis, built to offer visitors a strange view of the familiar landscape they're already used to.
The garden is tailored to be both aesthetic and educational, showcasing more than more than 4,400 plant species—400 of which are rare or endangered. It's also home to an array of different exhibits, like Plants and People of the Sonoran Desert, where you can learn about the local Native Americans and the local flora their lives revolved around.
Many visitors would be surprised to learn that the Botanical is more than just a tourist site. It's also a research center. Scientists monitor the specimens, study their properties, and use their research to aid in understand and conserving the environment.
Taliesin West
Of all the architectural oddities in Phoenix, Taliesin West can easily be called the most well-known—if not the best in the state.
It was designed by revolutionary architect Frank Lloyd Wright, whose house Falling Water has been named the most beautiful building ever designed.
Much like its cousin, Taliesin West does not disappoint. Wright believed that the desert needed its own architecture with long, sweeping lines and up-tilting planes. He was inspired by the shapes of the rattlesnake, the cholla and the saguaro, among other desert life.
The building was later converted into a school of architecture, and it also houses the Frank Lloyd Wright foundation, where you can learn more about his work and his philosophy.
Butterfly Wonderland
Butterfly Houses are sanctuaries built for romantic immersion. You can run around, chasing after multi-colored wings, or wait inside their emergence conservatory as the tiny insects emerge from their chrysalises, surrounding visitors.
Butterfly Wonderland also has aquariums, featuring multiple deep-sea species and a reptile house, filled with snakes and lizards.
Their insect collection features a vending machine with various edibles, like candy made from ants and crickets, but it probably wouldn't be a good idea to show your date that on the first go-around.
Restaurants and Bars: Intimate Setting Date Ideas in Phoenix, AZ
Most restaurants and bars are about a lot more than just food and drink. They're often built around a theme, meant to elicit a particular dynamic or mood.
Everything about them is designed to shape the guest's experience, and dates are central to their planning. You can pick your mood like you're choosing from a menu.
This list is meant to be diverse, ranging from casual and greasy to sheer gourmet. There's more than a few choices. Phoenix is a major culinary destination, known for housing some of the best restaurants in the country.
Commander Hamburger
As far as burger joints go, Commander Hamburger checks all the right boxes. It's located inside a chic shopping center, The Churchill, where businesses lean towards collaboration, instead of competition.
They locally source as many of their ingredients as they can, including their meat, and they have an updated classic style that caters to modern trends.
They also have a signature salad made with arugula and cous-cous, adding something extra to their slim menu. Their eating area is a shared space, where you can attend events like classes and art exhibitions. Think of it as a trendy first date or a way to spend an afternoon.
Pizzeria Bianco
The best pizza in America isn't in Chicago or New York; it's in none other than the Valley of the Sun, and Pizzeria Bianco is the reason why.
It needs no introduction. You can see people lining up when you drive by the place. The wait times average more than two and a half hours for one of their wood-fired pies. It got so bad that the restaurant had to buy the early-century brick house next door, turning it into Bar Bianco, to keep people occupied while they waited for their food.
According to them, the bar is not just for waiting, and they mean it. They enrich their cocktails with the same authentic elegance that they bring to their pizza.
The Fry Bread House
The James Beard Foundation named this restaurant an American classic, and it is definitely that—even if it's not what we'd normally associate with American cuisine.
The Frybread House serves true Sonoran food, focusing on both savory and sweet frybread dishes, like Indian tacos or fry bread with honey drizzle.
It's a simple concept with simple dishes, but it gives locals a taste of something they never thought of before—something familiar and comforting, but also wholly foreign. It's a reminder of how their food has influenced the Arizonan palette.
Welcome Diner
Welcome Diner is a modern take on classic 1950s dining, and the mixture is so seamless that it's almost uncanny. Just looking at the building from outside, with its long flat shell, to the pointed columns spread out across, you can't help but notice the concept.
The menu has all of the classic favorites like burgers, only instead of mayonnaise, they use garlic aioli, and their ingredients are farm to table.
They have smash pots and poutine, instead of fries—chicken covered in cheese, bacon and country gravy, piled on top of biscuits—a heart-hateful take on the usual biscuits and gravy.
Most of their items have gluten-free, vegan and vegetarian options, and they stay true to their roots by adding local flavors like chipotle, jalapenos and chorizo sausage. It's comfort food, but it's modern comfort food.
Shaanxi Garden
Americans think they know Chinese food. There's noodles, orange chicken, egg drop soup, and all of the other clichés we've been dining on since we were kids.
But to most Chinese people, these dishes are foreign, diluted versions that barely resemble their actual cuisine. The owners of Shaanxi Garden created the restaurant to bring a taste of Shaanxi Province, and true Chinese Authenticity, to Arizona. Their dishes are rare.
You're not going to find spicy lamb soup, roast pig knuckle, or homemade biang biang noodles anywhere else, much less their live string music—a sound that is distinctively Chinese.
But not everything is foreign here. In fact, many of their more unique dishes are friendly to the American palette, and they do serve the favorites that you normally see on regular Chinese menus.
The Hidden House
Housed inside a renovated 1930s cottage and a custom-built hangar, Hidden House claims that every seat offers a different setting. The cottage is a classic dining area, where you can enjoy dishes like crispy duck breast and squash ravioli. The hangar offers the same dishes in a much more open, casual space.
They have chandeliers hanging from what look like warehouse ceilings and booths scattered around the room. They also have an extensive wine and cocktail list, along with craft beer. Their drinks are meant to be part of the allure of the restaurant, so there's a full list of custom and classic cocktails.
Cobra Arcade Bar
Grab a cocktail or a beer—maybe a shot or two, and amp up the competitive spirit with over 200 retro-games and new ones being circulated regularly.
This barcade is unique in that they don't serve food, but they do allow their players to bring their own. You can order a pizza, bring takeout, or try one of the food trucks they have parked outside.
You can even reserve tables, or just buy the place out for your own event. They also hold regular competitions, a great chance to show off and let your skills be known.
UnderTow
This bar sounds like something you would find in New York—a hidden concept, built into an old oil bay beneath Sip Coffee & Beer. There are no signs for the entrance, just a staircase inside Sip's lobby.
Walking down those steps is like entering the lower levels of a pirate ship. The walls were made to look like hull beams with portholes displaying videos of cannon battles and waves. It only seats 35, and reservations are an absolute must.
The place went viral almost as soon as it opened. It got so crowded that they had to start kicking people out after 90 minutes, but it's worth the hassle. Their cocktails are legendary—literally; their menu is a seven-chapter epic fiction. Their most famous drink, Captain Mallory's Treasure, comes in a smoking chest. It's made directly at your table with aged rum.
Grand Central
Another viral hit by the Undertow's designers, often described as the Disneyland of cocktail bars. The bar is split into three concepts.
The first is Platform 18, an old-timey train ride with strobe lighting and flatscreen train windows, where you can sip whiskey and pretend that you're riding out west.
The next, called Grand Central, is a 1920s luxury lounge, where a themed menu is served dim-sum style, along with drinks to match.
The last is the Greyhen Saloon, a gift shop of sorts, selling natural wine, spirits and beer, along with cocktail mixing equipment. The luxury and attention to detail is sublime in all three concepts. The menu is fine dining, and it was written to match dishes made during that time period.
Kai Restaurant at Sheraton Grand at Wildhorse Pass
True gourmet cannot be surpassed or undermined. Nothing else can live up to it. It either is, or it isn't. Kai Restaurant has been rated 5 stars by Forbes Magazine, and it is the only restaurant in Arizona to receive this honor.
Each course is considered a different chapter, from birth to the afterlife. They are known, among other things, for their take on Native American Cuisine, specializing mainly in the reinvention of local flavors and local ingredients.
You will have to call in advance if you would like to reserve a table. Dine-in is by appointment only. This is a destination for anniversaries, marriage proposals and lifetime events, because eating at Kai truly is a lifetime event.
Cafe Monarch
This restaurant is at the bottom of this list, because it has been it has been rated by numerous publications and websites as one of the—if not the—most romantic restaurant in America.
The building itself seems to encompass everything a romantic restaurant could hope to become. In parts, it's pure Versailles, diluted slightly with Spanish architecture. There's arches, columns, straight-backed furniture and chandeliers, centered around a tan and eggshell theme—offset with corner houseplants and flower arrangements—a soft green, pink and red.
Other areas are more robust, with burgundy walls and white crown molding. There's a wine cellar with 500+ bottles and a full bar. Whether you're inside or outside Cafe Monarch, it's easy to forget that you're in Arizona.
It all seems like something you'd see in France or Spain, especially with the lush gardens and patio seating, where servers in tuxedos move from table to table, providing diners with attentive but appropriately distant wait-service.
The menu is a fixed-price modern eclectic, with ingredients chosen for taste and presentation, as opposed to a gimmick or a theme. You'll find high-end cuts, shellfish, rare spices and herbs, and some gourmet classics, but nothing bland or cliché—not here, no. Monarch is all about the finesse.
Their first course, meant to be a sample of what the chefs are capable of, is sure to amaze. You have your choice of spring ceviche with strawberry agua chile, Spanish octopus, rock shrimp and champagne mango; or there's the Kurobuta pork dumpling, served with a porcini dashi broth. If you are planning to propose, this would be the right place. You couldn't go wrong.
**
So with so many options, what date idea will you choose this weekend! And if you think of any cool date ideas in Phoenix that we missed, we'd love to hear from you so leave a comment below.
So fire up your phone and get your girl or guy in the mood with a flirty text and kick off your weekend!
Looking for more date ideas in Arizona? Check out these ideas:
+ Here are some fun date ideas in other cities
Save Date Ideas in Phoenix to Pinterest