Looking for fun date ideas in Salt Lake City Utah when you have been to that one Italian place one too many times.
Whether this is a first time date or a night out without the kids, you want it to be special. You want it to be a place where you can connect while at the same time having fun.
Dinner and a movie are fine, but the last time I checked, fine is boring. So if you are looking for something that is a bit more out-of-the-box, then you are going to love these date ideas we found in Salt Lake City.
Some of the best date ideas in Utah right here! Perfect for a fun couples weekend in Salt Lake City.
Quick Guide: Top Romantic Things to do Salt Lake City for Couples
Our top date idea picks for Salt Lake City below or continue reading for a more detailed guide for things to do for couples in Salt Lake City.
30 Date Ideas in Salt Lake City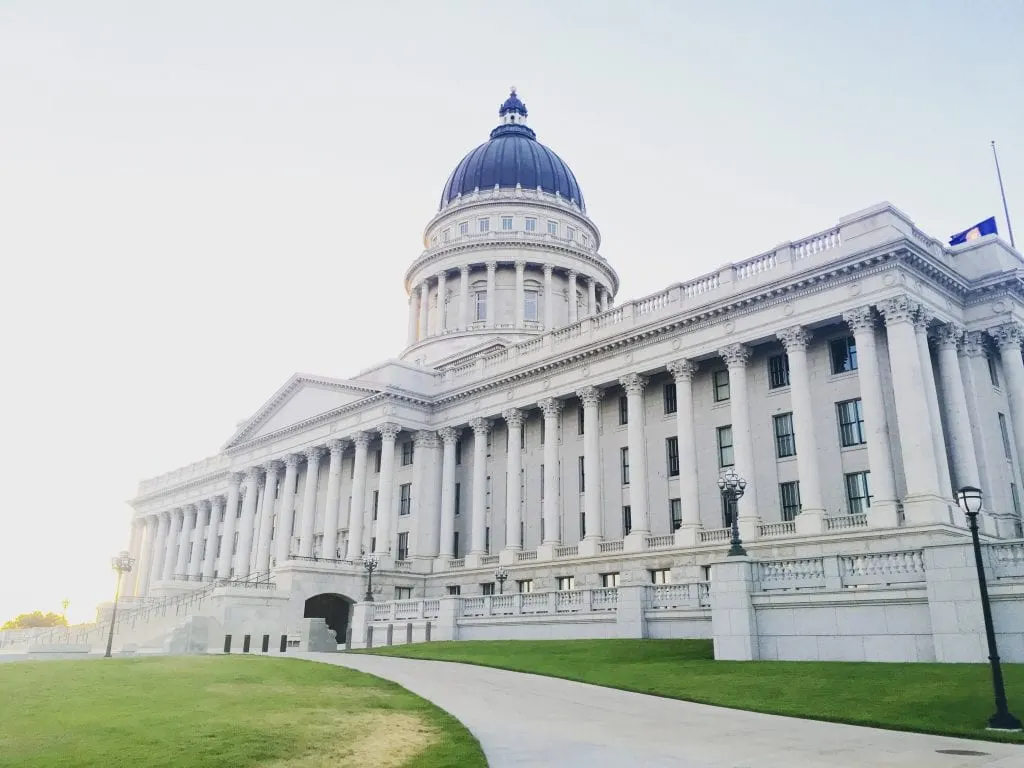 Romantic Date Ideas in SLC
1. Take a romantic stroll at Red Butte Gardens: If you are looking for romance when out with your date, then you want to go to a place with a bit more privacy and a quieter atmosphere where you can talk and connect.
At the Red Butte Garden's you can walk the many paths and see the seasonal plants. During the summer months, make sure to catch one of their many concerts that present different styles of music for any taste.
2. Row a Boat at Liberty Park: If you want to get out on the water but not have to worry about driving out of town to find a lake, then Liberty park is a fun idea to take your date to.
The paddle boats were made for the perfect date with two seats and a pond big enough to ride around to soak in the sun and each other's company.
3. Visit one of the Art Museums in the city: Show your date how cultured you are by taking them to one of the many museums in town. With so many to choose from you will be set for that 2nd and 3rd date! Here are a few to check out.
Utah Museum of Contemporary Art: UMOCA will give you both a chance to discuss current social dynamics while taking in the creative pieces by numerous artists of today.
Utah Museum Of Fine Arts: UMFA will give you a range of ancient to current art to absorb and discuss.
Gallery Stroll: If your date night falls on the 3rd Friday of the month then you won't want to miss the self-guided gallery stroll. Most local fine arts galleries in the downtown area open their doors to this art walk during this time giving you both a sneak peek into a wide array of creativity. Make sure to check out the link for participating galleries.
Natural History Museum of Utah: Are you and your date into dinosaurs? Or how about playing some fun, educational games? Then a trip to the NHMU should definitely make it on your list of dates to try.
Fun Date Ideas in Salt Lake City
4. Go on a Bike and Brew Tour: A bike and brew tour is a super fun activity to do in Salt Lake City where you will learn not only about beers but even some city history. Book your beer and bike date here.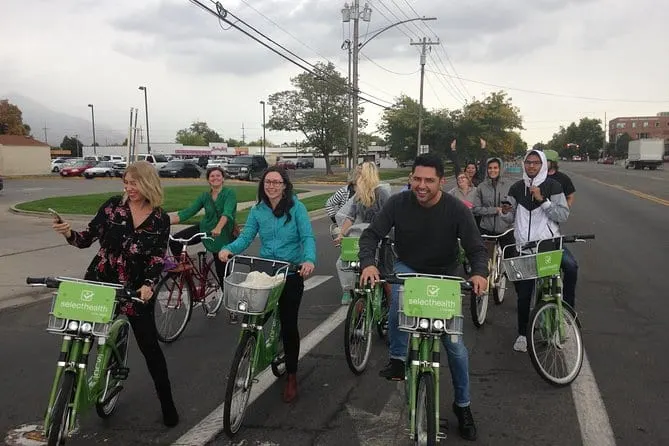 5. Take a cooking class: Impress your date with how well you can cook or, at least, how well you can learn to cook, by taking them to a cooking class. Gygi Culinary Arts Center hosts classes for the novice to the most advanced cook. Their classes range from spicy Thai cuisine to delicious sweets and everything in between.
6. Visit the local and not so local wildlife:
Hogle Zoo: Zebras, giraffes, and polar bears, oh my! With 42 acres of tree-lined pathways where you and your date can view over 800 different animal species. It's sure to be a wild experience.
Tracy Aviary: As the largest and oldest aviary in the nation you will both have the opportunity to learn about all different types of birds while walking through their botanical garden. Tracy Aviary is also committed to the conservation of our feathered friends.
Wheeler Farm: Snuggle in close to your date on a hayrack ride or pet some seriously adorable baby goats. You are sure to win points with a visit to Historic Wheeler Farms, a real-life working farm and park in one.
7. Zip around on the electric scooters in the city: Do you and your date feel the need for speed? Well, Salt Lake's Lime Scooter rentals are what you need.
A quick download of their app will allow you both to find the nearest scooters and rent them, all from the ease of your phone. A perfect way to get around downtown, visit more places than you could on foot, and all without having to worry about parking.
8. Clark Planetarium: Romance is written in the stars when you take your date to stargaze at the Clark Planetarium. Clark features 10,000 square feet of exhibit space, as well as the breathtaking full-dome theater and IMAX theater. A night under the stars no matter the weather outside.
9. Go on a Salt Lake Trolley Tour: Trolleys aren't just for San Fransisco. There will be nothing boring out this date as the tour guides are all theatrical performers. A history lesson of Salt Lake City and a show. Book your tour here.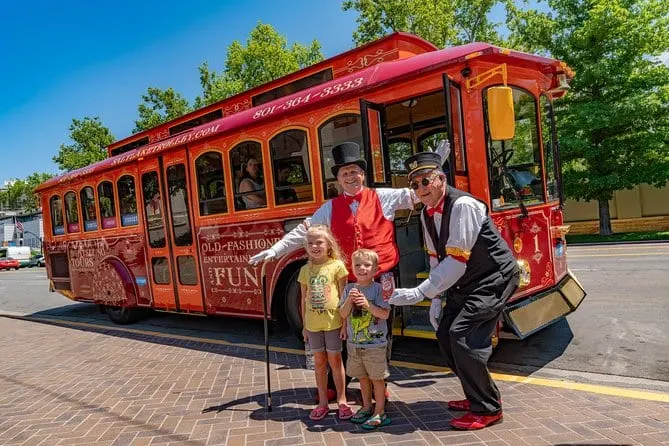 Unique Creative Romantic Things to Do For Couples in Salt Lake City
10. Visit a waterpark in the summer: Utah is famous for our water parks. It seems that most Utahans have a summer pass to at least one of them.
But even if you don't you and your date will get a thrill from the 11 water slides including Mondo, 1,000 feet of twisting, turning darkness located at Cowabunga Bay Water park. Then you can both relax at their beach entrance pool. Perfect for those hot summer dates.
11. Visit the Mystery Escape Room: No better way to tell if you are compatible with your date than when you are locked in a room and need to work together to escape.
Choose from different themed adventures like Downton Abbey, Nancy Drew, or a haunted basement. The couple who can survive this date is surely meant to be.
12. Hike Big or Little Cottonwood Canyon: Want to get out of the city but not spend forever getting there? There are endless trails to chose from for the adventure-seeking couple in both canyons.
One of the best parts about living in Salt Lake is that the mountains are just minutes away. Throw a picnic lunch in your backpack and enjoy the most beautiful scenery ever created.
13. Visit The Loveland Living Planet Aquarium: Don't be under the impression that aquariums are just for kids. Touching a shark and feeding a stingray is cool at any age.
Walk hand in hand over a rope bridge above their rain forest exhibit or take a seat in the clear tunnel where you feel like you are living with the sea life at the bottom of the ocean.
14. Visit a Farmer's Market: A date doesn't have to be exclusively in the evening, day dates are a fun way to change up your date routine. No better way to do that than visiting a local farmer's market. Here are a few popular ones to check out.
9th West Market: Located next to the International Peace Gardens you will both enjoy searching the different vendor booths for local eats and crafts. Every Sunday from June through October.
SLC Farmers Market: SLC is lucky to have both a summer and a winter farmer's market. Bring your reusable bags and support local with your date.
Cheap Dates in SLC
15. Visit a food truck in the area: Salt Lake City is well known for our many food trucks that set up in different places every day.
There is even a yearly Food Truck Festival where they compete for who is the best. Most are easy to find online and show their schedules as to where and when they will be in a certain place.
16. Admire Temple Square: You don't have to be Mormon to admire Temple Square. It is one of Salt Lake's biggest attractions and it's completely free to tour.
Not only will you get personalized and small group tours, but you can walk around the grounds at your leisure.
Springtime with the thousands of tulips and Christmas time with the lights are two popular times to check out Temple Square, but no matter what time of year you visit you may be lucky enough to catch the award-winning Mormon Tabernacle Choir during one of their rehearsals.
17. Visit one of the State and National Parks near Salt Lake City: It is nearly impossible to have a boring date in Salt Lake, in part because we are close to so many of Mother Earth's natural playgrounds. Want to go caving, hiking, flying, rock climbing or boating with your love? Salt Lake has it all.
Best State Parks near Sale Lake City include: Wasatch-cache National Forest (30 min drive), Timpanogos Cave National Monument (45 mins drive)
18. Visit Antelope Island: Why did the bison cross the road? Well, you and your date will find out when visiting Antelope Island.
Just $10 per car gets you and your date across the causeway onto this 28,000-acre island. Free-range bison and a historic ranch are just a few of the things you will see here.
19. Go shopping at City Creek Center: If level ground is more your speed then you will both love a shopping trip at the open-air City Creek Center.
You don't need to spend any money when walking alongside the creek that runs through the entire center. The best part is there are real rainbow trout you can watch swimming in and out of the rocks just a few feet from where you stand.
What about a water show choreographed to music? Yeah, they have that too. The America First Credit Union Fountain offers hourly shows and feature shows with three choreographed songs at 7 pm and 9 pm. Fire elements are added to the fountain shows after dusk.
With 110 shops and restaurants you and your date won't run out of things to do and you can easily find a quick bite or full meal when feeling hungry.
And no worries if the weather doesn't want to cooperate while you guys are enjoying your time together at City Creek Center, the roof is fully retractable and closed in bad weather.
20. Have coffee and play games at Watchtower Coffee & Comics: Going for coffee doesn't have to be mundane when you head to Watchtower. With locally roasted coffee from La Barba and vinyls, comics, and local art for sale, the conversation will never run dry here.
21. Stroll Sugar House Park: Feel like a kid again with your date running around in the open spaces and sliding down the slide on the many playgrounds at Sugar House Park.
Make sure to take some day old bread with you to feed the many ducks and geese at the pond. After you have worked up an appetite walking the 1.38-mile road around the park, you can easily cross the street and hit up The Dodo Restaurant. You will not regret the Toll House Pie by the way.
22. Get out in nature at Pony Express National Historic Trail: This trail actually runs through 8 states, starting in Missouri and ending in California, locals of Salt Lake are lucky to have part of this famous and historic mail delivery route go straight through Salt Lake.
Want to bike, hike, run, horseback ride, paddle, birdwatch, climb, or camp? You can do any or all of these things. That's a date you will both be sure to remember.
23. Ensign Peak: Leave your wallet at home and make sure you both grab a pair of hiking shoes for this next one. Ensign Park is a short but steep hiking trail that rewards you for your hard work at the top, with one of the most expansive views of the city.
With an elevation gain of 350 ft and a 5400ft elevation when you reach the top you will want to sit, sip on some water, and chat with your date while taking in the panoramic view.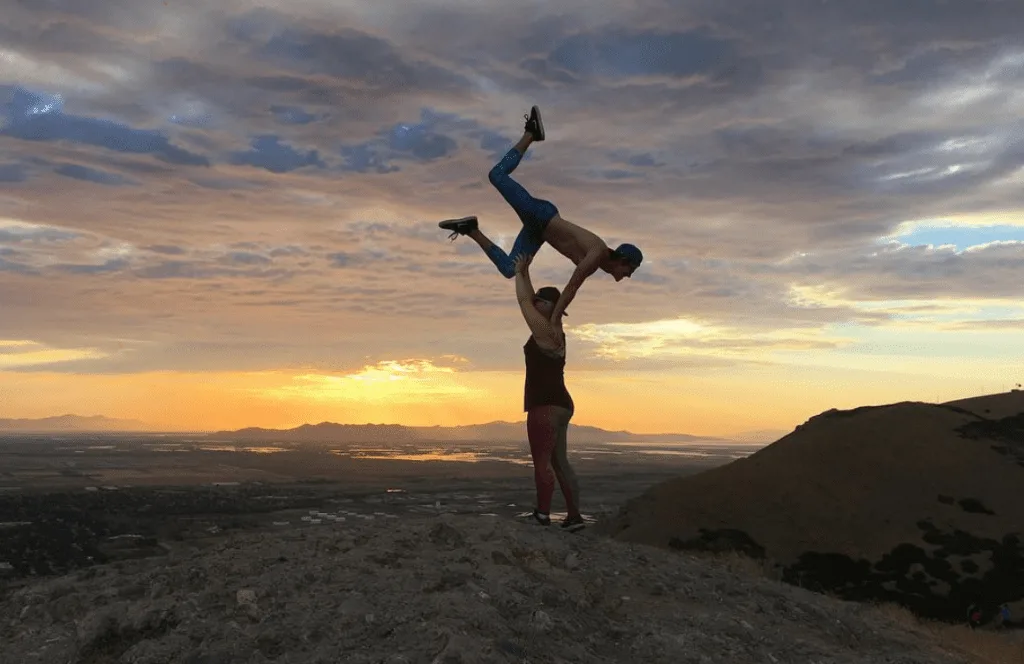 Image credit: Stephen On The Water IG
Date Night Ideas in Salt Lake City
24. Go stargazing in South Physics Observatory at the University of Utah: Grab a blanket and check out the free star party at South Physics Observatory hosted every Wednesday night.
You can both expect to see galaxies, nebulae, stars, moons, planets, and clusters all while learning even more about the great beyond. This date is sure to be out of this world. Sorry, I couldn't help myself!
25. Eat at some of the best restaurants: No place is better for getting to know your date than sharing a meal. Salt Lake City has some of the best restaurants and chefs around. Here are just a few of the best for date night:
Pago: If you want a fine dining experience with a laid back feel, Pago is it! Locally sourced concoctions with perfectly paired wines from their in house sommelier. You can't go wrong impressing your date here. And with tall backed booths and candlelight at every table, the romance is sure to bloom.
Gracie's: If you love a great patio, rooftop, or just open-air feel for dinner then you will love taking your date to Gracie's. Part bar, part sports bar, and part outdoor dining give the option to choose a spot to dine that will make you both happy.
Pallet: Their amazing new American cuisine and creative menu will leave you both satisfied while enjoying the cozy bistro atmosphere.
26. Visit one of the best bars: If you want to try out some late-night places then these bars will wow you both with their drink concoctions and beer selections.
Bar X/Beer Bar: This bar is a two for one. They are right next to each other but have two completely different feels. Bar X has an old-timey brothel-type feel, with low, red lighting and where the bartender's mustaches are as impressive as their mixology talents.
But just step next door into the Beer Bar where you get a backyard and picnic tables vibe. You and your date will find it hard to run out of beer selections here. And you just might run into Ty Burrell also known as Phil Dunphy from Modern Family, who happens to be the owner's brother.
Purgatory: Don't let the name deter you from this one. If you want a chill atmosphere where you can still hear your date over the noise of the bar, you can't miss Purgatory. Their curry fries and Cocoa Puffs White Russian are a must!
27. Go for a Concert: Being a tourist destination for many, Salt Lake has a wide variety of live music concerts. Whether you are looking to take your date to see a local, national, or even international artist, here are a few venues to check out.
Gallivan Center: They are known to host all types of music and even some free concerts. And don't worry if you didn't make a show in the summer, show off your skating skills to your date in the winter when they have their famous ice skating rink open to the public.
Urban Lounge: The Urban Lounge boasts a combination of "internationally-acclaimed artists and unsung, underground heroes alike in a uniquely intimate atmosphere." With their table and chairs setting, instead of a usual mass concert feel, this will appeal to those seeking the date night vibe with a bit more privacy.
Kilby Court: A unique outdoor experience like being in your own back yard. It is the longest-running all-ages venue in Salt Lake and hosts both local and touring artists.
The State Room: Voted Salt Lake's best live music venue and holding capacity of only 299 people makes The State Room a unique and excellent date option.
28. Live Theatre or Ballet Performance
Ballet West: Established in 1963, Ballet West has been an institution in Salt Lake City for almost 60 years. They have performed famous ballets such as The Nutcracker, Swan Lake, and Coppélia just to name a few.
Capitol Theatre: One of the most perfectly preserved historical monuments in Salt Lake is the Capitol Theatre, opened in 1926. Now a rock venue, it was once a movie theatre playing blockbusters such as Gone With The Wind and Casablanca. Be sure to schedule your date in advance to catch artists such as Sheryl Crow, Blue's Traveler, and The Beach Boys.
29. Redwood Drive-In: A regular movie theater can be pretty lackluster for date night, but a drive-in movie gives it a nostalgic, retro feel. There's no better place to catch the latest release together than at the Redwood Drive-In Theater. Even though they have been open since 1948, their state-of-the-art projection system gives you the quality you are used to in a theater experience.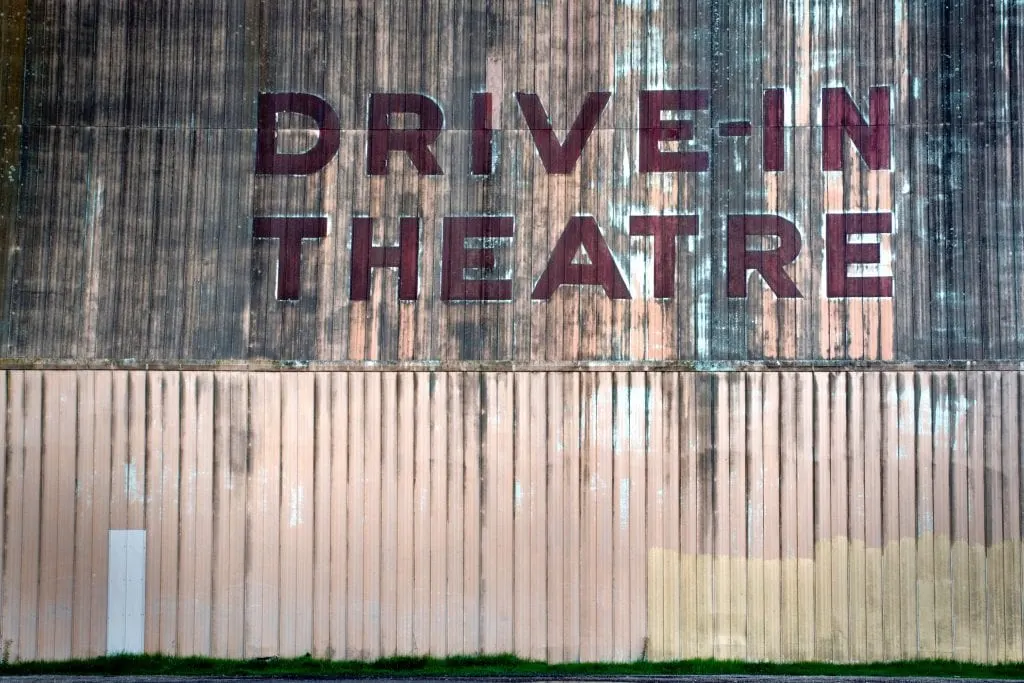 30. Go to a comedy show: Scientific studies have shown that shared laughter with your partner can increase that 'lovey-dovey' feeling. So a date to one of Salt Lake's comedy houses is pretty much doctor recommended.
Dry Bar Comedy: Even though this comedy house is located about a 30-minute drive south of Salt Lake, the uniqueness of Dry Bar's experience will be totally worth the wait.
Comedians follow a clean and positive style with their humor instead of the sometimes harsh sets. They even have an app you can download at the end of the performance so you and your date can re-watch and laugh many times over. A great place for a first date in SLC or second date when you are still getting to know your date.
Wiseguys Comedy: Of course, if you are up for the more traditional, occasionally crass, but absolutely hilarious style of comedy, then take your date to Wiseguys.
Heralded as one of the best comedy clubs in America their guest list has seen the talents of Kevin Hart, Tracy Morgan, Ken Jeong, and Wanda Sykes, just to name a few. But they also help nurture new talent from the local area. No need to grab a bite beforehand as they are a restaurant and show all in one.
So, that is it folks – 30 super fun date ideas in Salt Lake City. Don't forget to caption your instagram snaps with some fun Utah Quotes!
If you pick one of the dates recommended above I would love to hear how it went. And be sure to write in the comments the best date places you have been to in Salt Lake City.
Want More Dates?
What's next? Why not check out your neighbor for dates: Best Dates in Provo Utah & St George Date Ideas!
We also have you covered with the best dates across America including:
As well as dates you can do in any home city: