Looking for Date Ideas in Seattle?
We have you covered with the 50+ most Fun & Romantic Spots & Activities for couples in Seattle. Whether you are looking for an adventure packed date or just something lazy and fun this list has it all.
Don't spend another weekend stressing about things to do in Seattle at night (or during the day) where there are SO many date ideas in Seattle to tick off the old bucket list. Some of the best date ideas in Washington State.
Seattle CityPass. In Seattle for a while? Get a Seattle CityPass. You can use the pass to visit the Woodland Park Zoo, Seattle Aquarium, Space Needle, Argosy Cruises Harbor Tour, the Museum of Pop Culture, the Pacific Science Center, and the Chihuly Garden and Glass.
Date Ideas Seattle: 50+ Fun & Romantic Spots & Activities
List of Quick Dates
Date Night Ideas in Seattle
Cooking Classes & Foodie Fun. Do you enjoy cooking. Try a local cooking class. PCC Community Markets offers a variety of classes for all tastes. Looking for something Private? You can customize a class and get a private cooking lesson just for two. Another wonderful place to have a cooking adventure is Pike Place. After class peruse the shops and take a look at their awe-inspiring collection of delicious foods.
The Inn at the Market. Planning to book a hotel room for the evening? Check out the Inn at the Market. The only hotel located in Pike Place Market it is the ideal location for those looking to explore the market and/or the Waterfront.
Spend the night in a Treehouse. Do you love the outdoors? Looking for a Romantic night together? Try one of these awesome Treehouses. For a weekend away try Doe Bay Resort Treehouse on Orcas Island. Or Treehouse Point in Fall City.
Stay a hotel with a hot tub in room. For the ultimate romance in Seattle why not stay in one of Seattle's best jacuzzi hotels. The Silver Cloud Inn Seattle Lake Union is a good choice for romance. A great Seattle anniversary idea.
Fun Spots For Couples in Seattle
Visit Unicorn or Narwhal. These two Carnival Themed Bars are a must. Let go and play some games at the Pinball Arcade. Enjoy Carnival Treats with your drinks. With names like The Mystical Mermaid and Unicorn Jizz. This Menus will make you smile just reading it.
Go to the Farmers Market. Visit one of Seattle's many Farmers Markets. Want to get out of the city? Try a market in Bellevue or on the Eastside. If it happens to be the first weekend in October you must check out the Farmers Market and Salmon Days Festival in Issaquah.
See a Seahawks, Sounders, Mariners, or Kraken Game. Get into the Seattle Sports Spirit by going to see one of our Teams. If you enjoy Football, see the Seahawks play at Lumen Field. If you like soccer, check out the Seattle Sounders at Lumen Field. If you like Baseball, see a Mariners Game at T-Mobile Park. If you are a fan of Ice Hockey, check out our newest team the Seattle Kraken at the Climate Pledge Arena. Their very first Season will be the 2021-2022 season. A great winter date idea.
Get Ice Cream at Molly Moon's. Not into Arcade Games? Just want some good Ice Cream? Try Molly Moon's. With 9 locations you have plenty of opportunity to grab some ice cream and walk around. With Old-time Favorites and Seasonal Specials Molly Moon's is one of the most popular ice cream shops in town. One of the best date spots in Seattle.
Fun Romantic Restaurants in Seattle
Altura. Another great Italian restaurant. Altura mixes Italian with local ingredients for inspired Pacific Northwest and Italian Fusion. If you have any food allergies they are happy to accommodate so long as you make a reservation and inform them ahead of time. Their seasonal menu means that dishes vary, and menu item availability may change based on what is available.
Canlis. A fine-dining Landmark for the last 69 years. Canlis is THE romantic dinner destination if price is not important. With a great history and legend behind the name this is an elegant and intimate dining spot.
Lark. This restaurant boasts its meals made from Local and Organic ingredients. With a seasonal menu created from the bounty of local harvesters, farmers, and artisans you can't go wrong with this one of a kind restaurant.
Monsoon. This elegant Vietnamese and Asian Fusion restaurant boasts everyone's favorites. With Gluten Free and Vegan options this restaurant has something for everyone. This restaurant is in the middle price range wise. Not too expensive but not cheap either.
Bar Cantinetta. This elegant and intimate restaurant serves Tuscan inspired dishes made with local and organic ingredients. Grab a table for two or sit at the bar and watch the bartender mix up something fancy.
Hidden Gems in Seattle
Place Pigalle. In the heart of Pike Place Market this restaurant lives in a historic building. The intimate dining room is reminiscent of old world elegance and the view from the windows is fantastic.
Japonessa. Japonessa Sushi Cocina is often overlooked. Serving sushi of all types with a little bit of Latin flair this restaurant is sure to wow any sushi lover. Stop in for lunch, dinner, or happy hour any day of the week. Elegant and modern this Sushi Restaurant is sure to please.
Best Cocktail Bars for a Unique Date Night in Seattle
Percy's & Co. Enjoy unique apothecary inspired cocktails and southern style delights. Located in historic Ballard this restaurant keeps it real with a rustic interior filled with vintage decor and plants.
Mbar. Enjoy a delicious variety of Middle Eastern meets Mediterranean foods as well as great cocktails. Located on the rooftop of the 400 Fairview, Mbar has sweeping views of Seattle. Large floor to ceiling windows allows for a bright interior on a sunny day and breathtaking views of the city.
Jai Thai. If you like Comedy this is the restaurant for you. Enjoy delicious Thai food while listening to some hilarious comedians. Check their website or contact them to find out when their next Comedy Night is.
Coffee Shops in Seattle
Coffeeholic House. This Vietnamese inspired coffee shop offers unique fusion drinks such as an Ube Latte or Matcha Latte. Also available are a number of delicious baked goodies both sweet and savory.
Zoka Coffee Roaster and Tea Company. Supporting sustainable agriculture and community the Zoka coffee shops are a delight to visit. Enjoy hand roasted coffee and fresh baked goodies at any of their four locations.
Hood Famous Cafe and Bar. This unique coffee shop serves coffee grown only in Asia and the Pacific Islands. They also serve Filipino baked goods.
Starbucks Reserve. While most would not recommend Starbucks as a great coffee bar date, there are a few Starbucks shops around Seattle worth a mention. First off there are the Reserve Bars, serving not only delicious coffee, but also special foods. The drinks and atmosphere of a Reserve Store are great. Looking for a unique experience? Check out the Roastery in Capitol Hill.
See the Cherry Blossoms. If it happens to be Cherry Blossom Season there is nothing more romantic nor more beautiful than going to see the blossoms in full bloom at the Quad on the University of Washington Campus. That isn't the only place that has them though. Take a look at these beautiful sights as well.
Washington Park Arboretum's Azalea Way
Seward Park
Jefferson Park
Point Defiance Park
Seattle Center
Enjoy live music at Conor Byrne. Enjoy drinks, food, and live music at the Conor Byrne Pub. Over 100 years old this Irish Pub is comfortable and cozy. While they do not offer food on their menu, they allow food to be brought in so long as you order a drink.
Olympic Sculpture Park. This award-winning sculpture park is the perfect compromise if you are tight on cash. Walk among the art as you would in the museum without paying a penny.
Unique Romantic Dates in Seattle
Take a Coffee Cupping Class at Victrola. Enjoy a lesson on coffee, coffee varieties, coffee history, and, of course, sample some delicious coffee.
See Seattle from the Sky with Seattle Ballooning. Enjoy Seattle from a Bird's-eye-view with these hot air balloon trips. In addition, see the surrounding areas of Washington including the Cascade and Olympic Mountains and Mt. Rainier.
Go Ice Skating. Seattle and the surrounding area has many choices for ice skating. Visit the Highland Ice Arena in Shoreline or the Lynnwood Ice Center in Lynnwood. In the Wintertime visit the Bellevue Ice Rink. And if it happens to be December find a nice Bellevue Restaurant (there are many) and hang around for Snowflake Lane.
Get "Cultured" First Date Ideas in Seattle
Chihuly Glass Museum. Visit the Chihuly Glass museum and learn about the life and art of Dale Chihuly. Dale Chihuly is world-renowned for his glass art and glass sculptures. You've probably seen one and didn't even know it!
Space Needle. Nothing says Seattle, quite like a date to the top of the Space Needle. This structure created for the World's Fair in 1962 has a great restaurant with an awe-inspiring view of Seattle and the Puget Sound.
Nordic Heritage Museum. This little-known gem has excellent exhibits. You'll certainly learn something new at this museum. The First Thursday of every month is free, so if you want to save and splurge on dinner plan your date for Thursday.
Seattle Symphony at Benaroya Hall. If you're a music fan check out Benaroya Hall and the Seattle Symphony. They offer a variety of shows from traditional symphonies to playing compositions from popular movies such as Star Wars and Harry Potter. If you enjoy lectures they also occasionally host National Geographic Live Events and Seattle Arts & Lectures (SAL) Events.
Outdoor Date Ideas Seattle (And Seattle)
Mt. Baker Ski Area near Bellingham, WA
Snoqualmie Summit, only about 45 minutes to 1 hour from Seattle.
Crystal Mountain Ski Resort near Mt. Rainier.
Steven's Pass, about 1 hour and 30 minutes to 2 hours from Seattle. Not far from Leavenworth you could make this part of a weekend get-away.
Go Hiking. If you enjoy hiking, head for the foothills near Issaquah, WA just past Bellevue on I-90. Check the Washington Trails Association Website and pick the one that works for you.
Day Trips and Weekend Getaways
Visit San Juan Island and stay at the Lakedale Resort Glamping Tents.
Visit Leavenworth and stay at The Post Hotel. Explore downtown, wandering into little shops and tasting rooms. Admire the Bavarian Alps Feel of the town. In the wintertime enjoy the snow and skiing. In December watch the Christmas Tree lighting.
Visit Mount Rainier. Take a hike or go camping near Mount Rainier. Visit Mt. Rainier National Park. If you want a easy, stress free experience a Mount Rainier Day Trip from Seattle is a good choice and pretty affordable considering.
Visit Forks. For fans of Twilight Forks is a real town and you can visit it. Stop by the information center and pick up maps and info on all the must-see sights. Stay at the Quillayute Resort. Looking for something smaller and a little more intimate try the Miller Tree Inn.
Stay in a Washington State Jacuzzi Hotel. If you want to venture a little further outside of Seattle, there are some great places to stay for couples in Washington State.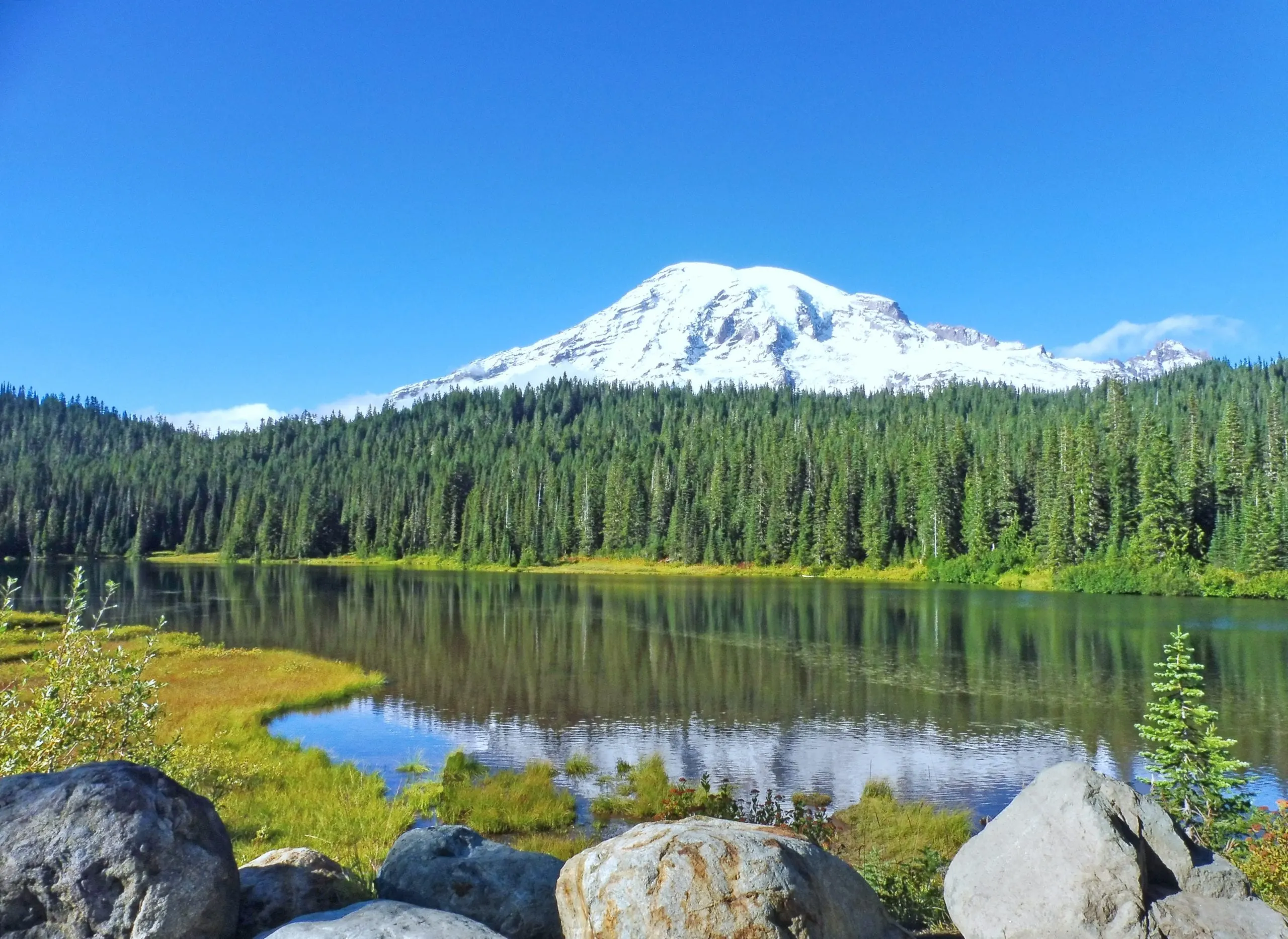 ****
More dates in USA