Looking for date ideas in Tampa?
Tampa is the perfect place to go for the couple who loves an action packed getaway including awesome places to eat and drink, markets and coffee spots.
If you are looking for fun things to do for couples in Tampa – we have you covered! Whether you are looking for an adventure packed date or just somewhere to go on for a rainy date this list has it all.
Don't spend another weekend stressing about your next date night when there are SO many Tampa date ideas to tick off the old bucket list.
Date ideas Tampa: 50+ Romantic Things to do in Tampa Florida
Unique Date Night Ideas
Tiny House Siesta. Spend a LITTLE time with your date in this tiny home, get it, little? Ok, well I was hoping it didn't go over your head, so I'll just stick to what I do best. These tiny homes are perfect for a weekend with your lover on the beach. They seem small but are spacious and offer more than one bedroom! Visit their website to reserve your tiny home.
The Grady Goat. Yoga is a theme in Tampa. This Yoga date is surely one to remember. The Grady Goat is a yoga session with goats! Right, goats! As you hit your tripod pose a gate is opened and a herd of tiny, body climbing goats is released to assist you in balancing your chakras. You and your date can take some cool, funny pictures to remember the day.
Reboot Duned In. "Refresh, revive, reset" is the motto at this VR gaming bar. With over 16 smart tv's and millions of lights, you two may have to pinch one another to make sure the date is still real. Not only from the VR games but from all the drinking of course. They've got all the latest gaming systems and even threw in some old school classics just to help you reminisce! When's the last time you played Nintendo or Atari?
Ghost City Ybor Tour. Tampa has nice weather and tons of things to do, but they also have a scary past that has many running from these haunted tours. Catch your breath and get through it until the end. See what the more sinister side of Tampa has to offer. Mwahahahaha….that was supposed to be an evil laugh.
Kraken Cycle Boats. Grab a bottle of your favorite wine, whiskey, or whatever you prefer, and get to paddling! This paddle boat tour lets your paddle as you take a tour at all the main attractions of Tampa! They make a few stops for those who want to shop or take pictures and then you hop back on a drink some more, or paddle, but I say drink!
Smash Room. Instead of busting the windows out of your managers car and then having to figure out who's going to pay the bail, go to smash room in Tampa. This place is perfect to let off some steam, relieve some stress and to see if your date may have some anger issues you didn't know about. They provide you with a range of weapons to break things with. You two can get that stress off your chest and get to smashing!
Art Work Shop. You two can check this art design shop out and create one another beautiful creations to have a memorable dating experience. Their calendar is filled with events with couple's pottery classes, glass making and more! This DIY workshop was designed to spark the creative minds.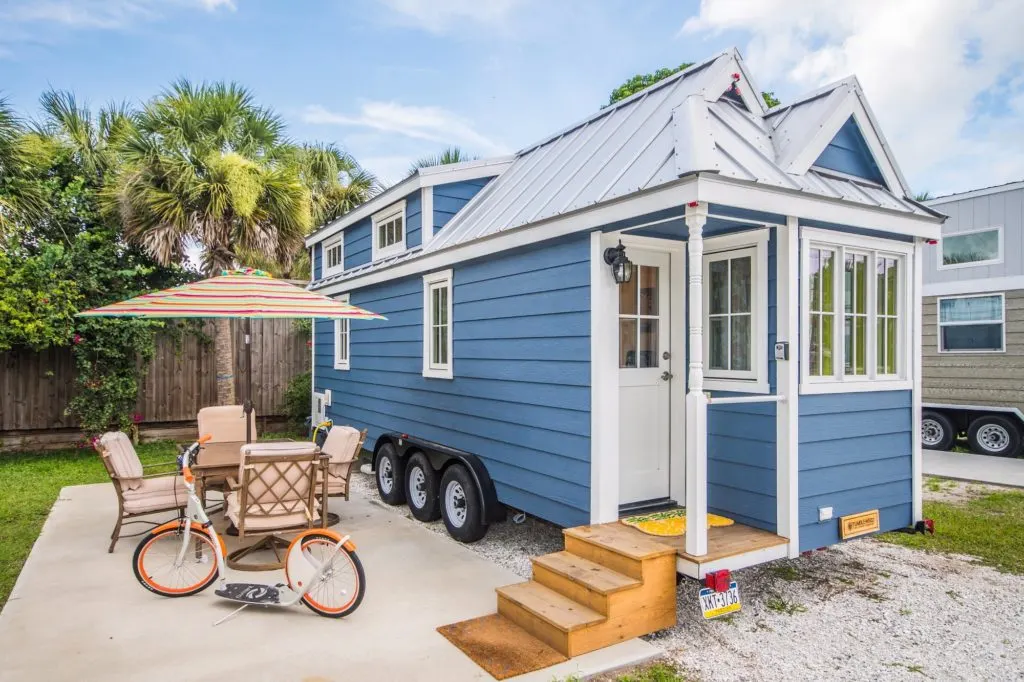 Morean Arts Center. This art galleries mission is to connect you with their art. I think what they really want to say is, "we help people make love connections", but you know that's just my wishful thinking. The tour is completely free and if you want to pull out the old strip and swipe, they have a yard sale and glass blowing classes too!
Pete Beach. Regardless of where you plan to go for date night in Tampa, the beaches never disappoint. This beach is perfect for a relaxing, laid back day or an event filled day. Either way the beach will always be a good option. The weather is always nice!
TECO Line streetcar. This is the way to drink and explore Tampa. TECO has three different types of street cars to choose from. It doesn't matter if Tampa is your hometown or you're a visitor, everyone loves their street car! Again, this is the perfect mode of transportation to drink, I mean sight see.
Art Walk. Take a stroll or ride the trolley for this amazing art experience. Art Walk happens every second Saturday of the month, for people to get a chance to enjoy free art exhibits. The trolley runs every 30 minutes to give you and your date time to check out the local artist and their work.
Wat Tampa. Nam ya ha reng eh kiooooooo. Namaste! This Buddhist temple will give you and your date a serene, relaxing, and spiritual aligning experience. Silencing your minds to tune into one another's hearts. I just love a date where you can bring in peace and tranquility. Isn't that what dates nights or days are all about? Make sure you come prepared to om and lam your way into love.
Ballast Point Park. Take a walk on this 600-foot pier and enjoy the cool summer evening breeze. You can choose to dock on one of the local boats or just bask in the beauty of the scenery and you plant a kiss on your date's lips! With the weather being decent, except for occasional rain, piers are just the place for falling in love.
Casual First Date Ideas
Resort Pass. Tampa is known for its beautiful weather and scenery. Who doesn't love 80 degrees year around? Resort Pass lets you rent out cabanas at local resorts without having to book a room. Enjoy the rooftop pools, spas and lounges to have some relaxing quality time with your date. You two can sit by the pool or the hot tub and get a tan while sipping mimosas. Now, just in case you two do want to take your date inside, the rooms are available, since there is drinking going on.
One of the best Tampa dates.
The Florida Aquarium. Take a ride on the wild side to get an up close and personal interaction with the dolphins. This aquarium has a wide variety of oceanic life and activities for you to do. They also offer adopt an animal! You get to symbolically adopt an animal while helping preserve the aquatic species. Get your date a gift of a shark, dolphin, or maybe the gift can be you!
World of Beer. Imagine having a place where you and your date can hang out and drink a wide variety of bears and get a badge for it? World of Beer is exactly what the title means, beer from all over the world. Grab a table and check out the beer board to earn badges and achievements. A badge for being a good beer drinker? Sign me up! Well, this is your date night not mine. Once your buzz gets going, order some food off their flavorful menu.
Pirate Water Taxi. Ahoy matey! Capture some amazing views with your date as you two sail the 7 seas! Well, not the 7 seas but the coast of Tampa. By getting your pirate wristband, you two can get exclusive discounts to the restaurants and bars that are in route on your tour. You can ride, stop, shop or drink and get back on all day long.
Ruskin Family Drive-In. The sun is setting, and you and your date just pulled into Ruskin Family drive in movie and snuggled up in the front seat. You laughed at the movie playing and were amazed how cheap the tickets were. Sounds beautiful, doesn't it? You should try it! Add a kiss or two and the story will have a great ending!
Thyme + Bloom Market. This market has everything for wellness, health, and the community! They have a community pantry that accepts donated items for the surrounding areas, and they also offer items for your personal wellness, inside and out! With fresh, homemade, salt free seasonings, the owner is also a chef and does private catering events! You and your date can get a one-of-a-kind, fresh meal directly from the owner! All the ingredients are made from locally grown fruits and veggies in the market or in the Tampa community. Enjoy from Chef Joy!
Improv Tampa. Laugh until your stomach hurts! With many local and well-known comedians coming through to perform, you and your date are sure to have a good time! Order a drink or two and some food and we've got a complete date! We still have covid to worry about, so make sure you go to their website to make sure you are following the guidelines.
The Dali. This museum is structured to perfection. With levels to the exhibit, you two can walk through to view the history of the museum, grab a bite to eat, and catch some amazing views of Tampa's beaches. Go to the website and see what their calendar has to offer! They have live bands and some artists that make appearances to give your date an extra boost.
Sparkman Wharf. If you two want to catch a live show, go shopping, or find some good eats, then check out the Sparkman's Wharf. Full of the continuous beach front views, this place is sure to get you two to fall in love while dancing the night away. Spin, dip, and sip!
C Newman Cigars. Chill back and grab a seat at this grown and sext cigar lounge. With three floors to choose from, grab a smooth cigar and enjoy this relaxing time with your date. Smooth cougar and a smooth date? Nothing can beat it.
Beach Market at Coquina Beach. The beaches are full of fun things to do for anyone who visits Tampa! Every Wednesday and Saturday at Coquina beach they have vendors, live music and of course markets full of food to choose from! When you two are full, you can walk it off alone the shore line.
Smokin' J's Texas BBQ. If you want to get some authentic Texas BBQ in Florida, then you have got to visit Smokin' J's! Slow cooked, dry rubbed, and a finger lickin' good time! The atmosphere is perfect for lunch or dinner. Get a few slabs or two and have a pure Texan BBQ experience from one of the best! Voted best Dallas BBQ in Tampa!
Spaddy's Coffee. The smell of coffee grinds always seems to give a date some pick me up in case you two have been touring Tampa and drinking all weekend. Brewed freshness in each cup, this is what they specialize in! Hot coffee with a hot date!
Romantic Places in Tampa
Visit some of the best springs near Tampa. Florida has some pretty awesome springs and some good ones are located within 1 hour of Tampa.
Canoe Outpost. Paddle your way into their heart. The moonlight paddle is for couples who want to enjoy a paddle boat night in the peaceful, tranquil Manatee River. During the boat ride, you take a break to enjoy food, and enjoy a live music performance while sitting by the campfire. Flow your way into their arms and whisper your next date night in their ear.
Big Red Balloon. Book a romantic evening on the big red hot air balloon. As you cruise the skies enjoy a full sit-down breakfast and champagne when you rent the "Sweetheart" flight. Mimosas anyone?
Pallavi Luxury Spa. You and your date deserve to be pampered. Pallavi Luxury Spa is the perfect place to get pampered together! With this beautiful ocean front spa, you receive professional treatment, while watching the waves crash against the sands. Lights some candles and relax. Shhh, I think they fell asleep. One of the best date spots in tampa.
Star Lite Cruises. Take a romantic cruise on the Star Lite cruise ship and fall in love with one another on the open water. Provided with food, light cocktails and an experience like no other.
Sur La Table. What better way to enjoy your date than in a cooking class! Sur La Table Offers one on one cooking classes or group cooking classes. If you feel like you graduated to top chef, you can gather all of the ingredients at home and you two can enjoy their cooking classes online! Good for all levels, just don't burn the house down!
Bern's Steakhouse. This is not your ordinary steakhouse. This upscale, romantic restaurant has set the tone for any steakhouse after it. The dress code is business casual or semi-formal, with a private chocolate dessert room, filled with decadent sweets unlike any other. With an expansive wine list, this place is surely one of the go-to's in Tampa for romance.
InstaPicnic Co. The company specializes in romance! For a boho picnicking experience that promotes safe social distancing, you two can enjoy the sunset and a romantic picnic for two!
Adventure/Nature Date Night Ideas
JG Ranch. Make sure you dress comfortably for this berry picking good time! JG Ranch offers visitors to come to their farm to pick berries, tour their farm and reserve some fresh grass-fed beef! Family- owned and operated right in Tampa, this ranch is surely to give you and your date an idea of what you two will have at your farm.
Florida Botanical Gardens Foundation. Botanical Gardens always remind me of simple but elegant weddings. It doesn't make you hear wedding bells? Take a walk down the wetland walkway, or a stroll through the fruit garden. This living museum is perfect for more intimate dates, that love the smelling their roses and giving them too!
Tapron Springs Sponge Dock. This beautiful sponge dock gives you the authentic Greek experience. Hand made sponges, authentic Greek restaurants, and even hand made goat milk soap! You will feel like you traveled to Greece! This is the place that soaks up all the love.
Florida Beach Horses. Riding hand in hand, next to the one you love on a beach during the sunset sets the mood. You and your date can explore the white sands and ride a stallion or two. Let the wind and the horse take you two straight to the altar.
Tree Hoppers Aerial Adventure Park. Full of trees, ropes and courses, this zip lining park is sure to test your zip lining skills. With a variety of courses to choose from, you two can enjoy at any level. To make it even more fun, when the sun goes down, they have cosmic zip lining! Lights and music add to this thrilling experience to give you an out of this world adventure!
Sunken Gardens. This 100-year-old garden is filled with some of the oldest and most exotic plants in Florida! Take a tour and see all there is to see in this historic garden.
Urban Kai. Can you stand the board? This paddle board venue is in Downtown Tampa, giving you two a liberating, fun paddle boarding experience. Make sure you can keep your balance; you've got someone watching you!
Sawgrass Lake. For a mile you two can take a walk and talk on this beautiful lake. If you want to rest your feet, you can rent one of their many cabins or rental homes to make it a weekend date! Listen to the fresh waters and birds and they sing a song of love by the lake.
Weedon Island. Full of scenic walkways, and guided tours, this wild yet peaceful island makes for a date night that takes it a little on the wildlife side. Aquatic animals, lakes, and perfect weather couldn't get any better than this! They also have some ancient artifacts that they have on display and makes your phones useful to take breathtaking photos!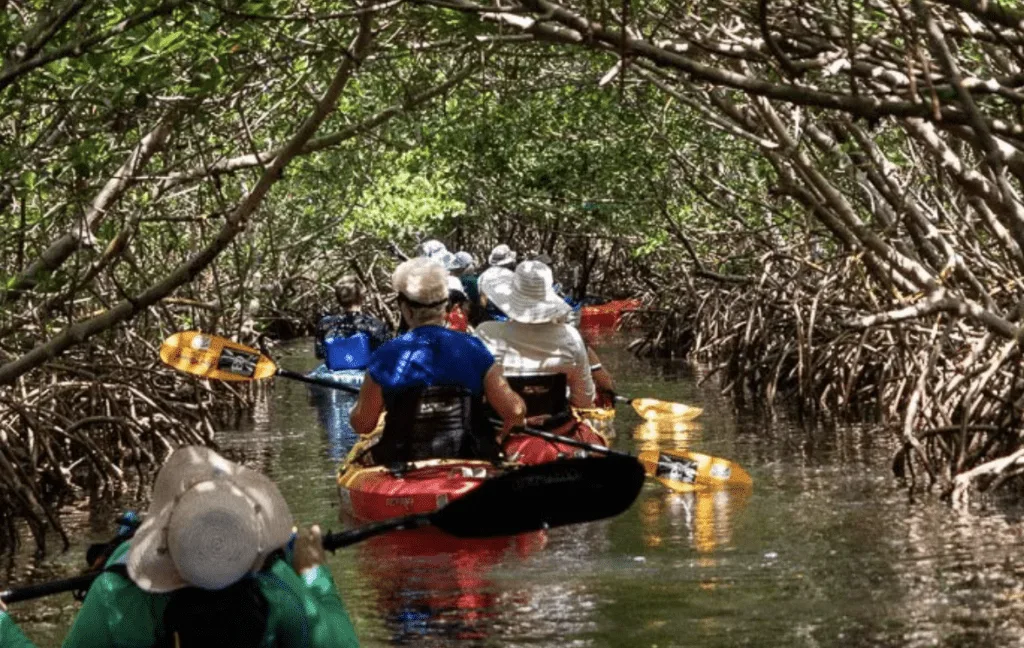 Cute Date Ideas With Deals
Yoga in the Park. Grab your mats and head over to Curtis Hixon waterfront park, located in Downtown Tampa for Yoga in the Park. Stretch out and breathe with your date while enjoying a view of the water. The DJ will be there to give you motivation. Taking your time, using your pranayama. Donations aren't required but accepted.
Green Lemon. A restaurant where not only is there authentic Mexican cuisine, but happy hour practically all day long? Warm weather, sunshine and margaritas! Sign me up please! Well, this two is for you. Maybe I can hang as a third wheel?
3rd Every 3rd Thursday of the month Tampa has an event that is sure to show you what Florida is all about! Filled with food trucks, live music and of course cocktails, walk around with your date and get to know one another organically. No pressure to set a wedding date or anything, just yet.
Book and Bottles. Find a bottle, cozy up in a nook, and read your favorite book to your partner. This bookstore and wine shop also serves coffee and snacks. They have weekly happy hours, and a book club to join! This is perfect for the lush, bookworms out there.
Ciros Speakeasy and supper Club. This is a romantic restaurant and bar, but they are also the best happy hour deals! With a unique food and drink menu this historic building will give you eccentric yet modern vibes. Snap your fingers to the poets and you may be inspired to write a little stanza for your date!
Gigglewaters social club and screening room. Located in Downtown Safety Harbor, this 1920's themed club and screening room is taking you back to the classics! With a retro bar, cocktails, and décor, they offer skit skat, boom pat! Once you two order your vintage drinks, you can head over to the screening room where they show new and cult classics.
Lowery Parcade and Tavern. If you and your date are hard core gamers and arcade players, then this is the perfect date night for you1 Every week they have a themed event happening and offer happy hour specials with the fun too! Put on your game face and see who can get the highest score!
Shadracks. For a date night with plenty of deals Shadracks offers drink, beach front view (always in Tampa), and pool tables! This place has been in business since 1972, so you know it isn't going anywhere for a while and continues with traditions of drinks and fun!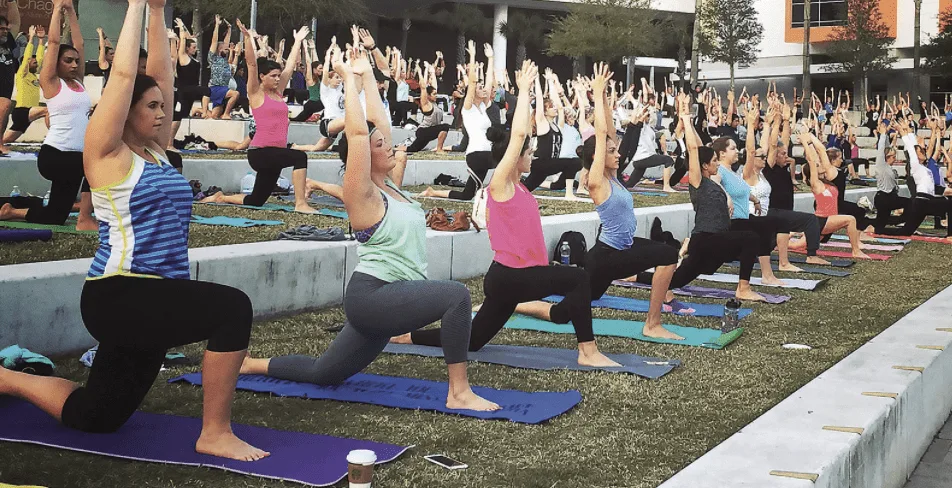 ***
See more Florida romance