Looking for original Date Night Ideas For Married Couples
It seems like dinner and a movie is all we come to expect when we think of planning a date night, especially once we've been part of a couple for a long time.
After a while, that gets bor-ring. It's like we're not even trying anymore. Every couple needs some inspiration and a little push in the right direction.
If you are married it may seem as if you have done every date out there, but look through this list of date ideas for married couples that we put together, you are sure to find something to tinkle your fancy. A new date idea or one you haven't done for a while!
May even add some fun questions for married couples to the mix?
Some ideas will be shorter dates if you're hiring a babysitter, some longer if you have the time to get away. And if food isn't mentioned in the idea, you can add a meal to make the adventure complete!
A lot of these dates include outdoor activities. If you can't get out right now, you might like to check out:
50+ Fun Date Night Ideas For Married Couples (Better than a Movie)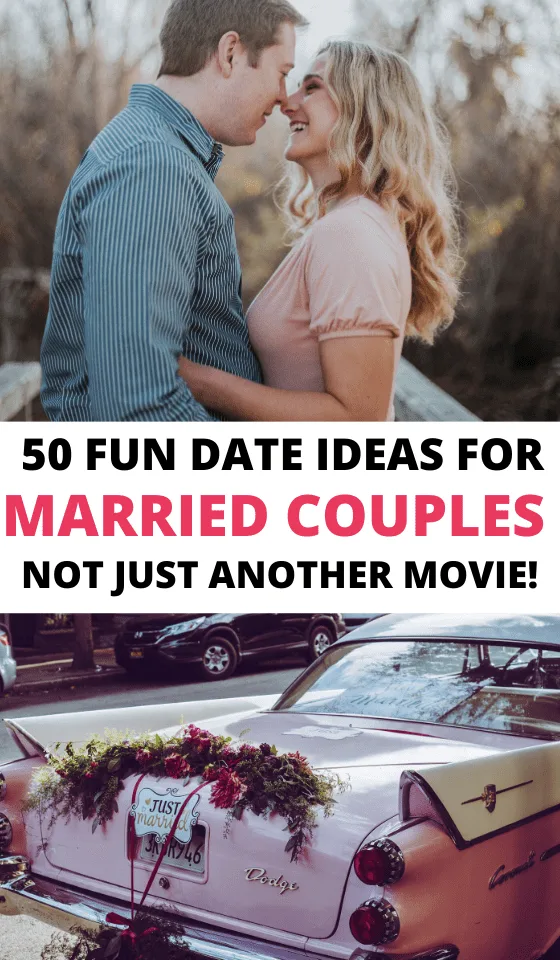 Go on a hike
This is a favorite for many because there are many great trails to explore.
Walking together can lay a foundation for having great conversations, fun unexpected moments, and even wildlife sightings.
Explore online to find great hiking areas or explore places you've driven by and feel curiosity to go back to. Most trail heads have parking lots, but check for postings on whether you can bring your pooch along.
Take a cooking class together
Want to spice up your recipe ideas? Take a cooking class together as a couple.
Try Indian cuisine, Thai, Vietnamese, Korean, Lebanese, Brazilian, Japanese (Sushi! Yes, please!) and even Raw food "uncooking" classes!
This is also an opportunity to explore healthier options. Learning different methods for spicing foods can spice up your love life too!
A awesome romantic activity to plan for your wife to really surprise her.
Road trip
There's nothing like getting out of town to refresh your spirit. Check out nearby towns to explore.
You can seek treasures in local antique shops, ice cream or sandwich shops, check out their local history museum, or just enjoy a stroll through a quaint new downtown.
The drive itself is half the fun! Be sure to plan ahead so you have an awesome playlist and crank it up!
Find a restaurant or bar in the tallest building in your city, eat on a cloud
If you are lucky enough to live in a city that has one of these restaurants on a high floor with an incredible view, GO! What are you waiting for?
It's awesome and it feels special. This is a great option for any celebratory occasion that you want to be unforgettable.
Romantic picnic with no cell phones
The key here is no cell phones. Go to a nice park or the beach and bring a small picnic meal or snack and beverage.
Leave your cell phones in the car or if you have kids, turn the phone on vibrate and put it out of sight but where you can hear it or check on it.
If your marriage is a little rocky, you might like to check out some struggling marriage quotes for some hope and inspiration before your date!
Check out neighborhood gardens
Most cities have a garden walk in high summer where people open their yards up to complete strangers who want to admire their beautiful gardens.
However, you don't have to wait to gawk at beautiful gardens one day a year. You can do these walks yourself (just don't go in people's private yards) and if you need ideas of where to go, check out local gardening clubs and your public park system to see if they have any maps published.
Go on an architectural tour of your city
If you are lucky enough to live in a city with phenomenal architecture there are several touring companies vying for our business including walking tours, bus tours, and boat tours.
Who cares if you look like a tourist when you can learn so much cool stuff! You will fall in love with your city all over again when you see it with new eyes. Tours are not just for tourists.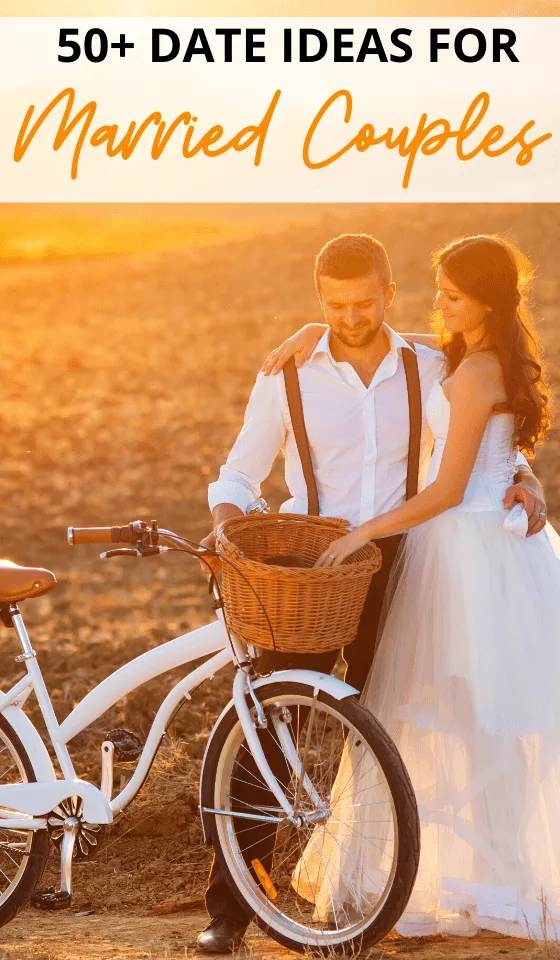 Walk on the beach
Romantic, fun, beautiful… what more could you ask for?
If you have a beach and you've neglected frequenting it, start going now. Catch a sunset, bring some wine, or just walk at the edge of the water and feel the sand move under your toes as the waves come in. It's relaxing and invigorating all at once.
Doing an art project together
Get messy, have fun, be silly. You'll have something cool that you can look at in the future and say, "We made that!"
Go to a wine tasting
Or tequila tasting, or brandy tasting, or craft beer tasting – the options are endless!
Take a pottery class
It might not turn out like the famous scene from "Ghost," but it still feels primal to move clay with your fingers and create something from nothing.
Go to a bookstore
There's no better way to while away the time than meandering a great bookstore. Don't forget the vast magazine section!
Go to a Rock concert
This may require buying advance tickets, but there's nothing wrong with anticipation! Look for bands you love together as a couple and get some dancing in! How long has it been since you experienced the thrill of seeing and hearing one of your favorite bands live?
The lights, the people, the heat and vibration – the sound system! If you haven't experienced a concert in a while, give it a shot. It's been years since concert halls were smoky and lacking in air conditioning! No excuses for missing your favorite performers when they come through town!
See a play
Plays can be a blast.
You can choose a large production or a small neighborhood theater group, but whichever suits your fancy, supporting the arts and opening yourself to feeling things you didn't expect to feel can add a loving boost to your relationship. If it's a good play, it's a really good play.
Go to the opera
This might sound strange in modern times, but operas are quite special.
They introduce us to other cultures, languages, to history, and to a new way of communicating.
Besides, it gives you a chance to dress up and see incredible costumes and sets. Ask if there's a backstage tour. Even on a different day, such a tour would be well worth coming back for.
Go to a magic show
A surprisingly fun outing! You never know what you're going to see with a magic show. You may not even be aware that there are still magicians out there, but there are.
And I've yet to be disappointed by any of the magic shows I've seen. These performers know their craft.
Running
If you are athletically inclined, find a special place to run or jog together. Maybe along a beach or park trail.
Save the runs around your neighborhood for when you're by yourself. Atmosphere can mean a lot when you exercise together as a couple.
Make a movie complete with silly costumes
Now that we all have video cameras on our phones, why not make a movie?
You and your partner can sit down and write a short plot, polish the lines and then ransack your closets for fun costumes.
Sitting on your back patio for drinks under the stars
Simple, pure time together. Gratitude, joy, and contentment are wonderful things. Turn off the phone.
One of the best date ideas for married couples to kick back, relax and simply enjoy each others company.
Lighting a firepit outside or using your fireplace indoors
Add smores to give it the feel of a date.
Again, anticipation is a great feeling, so if you plan to make smores ahead of time, it will make the experience more special.
Take a glass blowing class
Glass blowing became very hip on the west coast back in the 90's and its still going strong as an artform and a hobby.
See if you have any glass blowing companies or art spaces around you. Sometimes even the park district may offer glass blowing classes.
If you ever find yourself in Helen Ga you can see a glass blower in operation!
Going to an occult bookstore
These stores are becoming fewer and far between. If you have one near you, go check it out.
They sell a wonderful assortment of books, jewelry, incense, tarot cards, and art. You will find interesting things to browse and if nothing else, good conversation starters!
Board games or chess
Dust off those board games and forget this world's problems for a while.
If you are looking for a new board game to try, check out our favorite board games for couples.
Take a dance class
Ballroom dancing, anyone? Two left feet?
An instructor can help. For those couples who love to dance, try a new style!
And stick around after your lesson for music and dancing, as usually that is part of the package. Check first, but usually dance studios are eager to get couples on their dance nights. Another type of business you can feel good about supporting.
Going to an art opening
Ever pass galleries and wonder when they'll be open? Get on their mailing list.
Art openings are fun because you get to see the art first, you get to dress up, and they feed you hors d'oeuvres and wine while you look at cool art!
Go to a lecture
For those couples thirsting for knowledge, there are no shortages of lectures on any manner of subjects. History, sustainable agriculture and gardening, pet themes, science, space – the subjects are infinite!
Get on some mailing lists to keep up with upcoming lectures and put them on your calendar! Don't forget to RSVP.
Riding the electric shopping carts at your local big box store
I know it sounds silly, but it's a lot of fun!
Miniature golf
An oldie, but a classic.
River walk
River walks are a serene way to spend quality time together. In some cities, they have really built up the banks of the river with restaurants and bars but usually you will find stretches with more nature.
If you want to be alone together and not around lots of other people, just start your walk beyond the restaurants and leave the crowds behind!
Build something together
You can build a piece of furniture together or do any project together. Open a bottle of wine and make it a date!
Join a local clean up group
Many couples are very concerned about the environment. One way to help is to sign up for a clean up group for one of your local parks or nature areas.
There are sure to be waterways in your area that need garbage cleared away. Don those gloves and help out!
It's something you can do as a couple that will make you feel good because you are contributing your time for a good cause.
Go for a bike ride
You can ride anywhere: ride around your neighborhood or drive to a trail and ride in a forest preserve or along the beach. Make it somewhere that brings you both joy. Stop for an ice cream or frosty on the way home.
Get up early and join a bird watching club
Do you and your partner love birds? Every city has a bird watching club. Usually this is something you will have to sign up for beforehand.
There will be a meeting place at a set time at a trailhead or parking lot, so find out the info in advance and be on time!
You will also enjoy your experience more if you bring your own set of binoculars to share, but if you don't have any, the leader and other participants will let you borrow theirs.
Don't be shy. Bird watchers are usually very welcoming and enjoy sharing their knowledge with newcomers. So, if you don't mind an early morning date, this is a great activity to do as a couple.
Go to a Korean or Russian spa
Ready to steam and then jump into a cold bath? How about if you follow that up with a nice massage for your sore muscles? Check out these his and hers spas.
No funny business, just relaxation. It's also good for you.
Comedy club
We get bored watching comedians on TV because they are meant to be seen in person!
Be part of the energy of a live show. Just being in the room and feeling the vibe of a good joke is different.
It could spark some good memories for you, you never know what can happen at a comedy show! Maybe the comedian will call on one of you.
Museum and dinner
When was the last time you two went to a museum? Check out your local art museum, or the natural history museum, there are so many kinds of museums. It shouldn't be hard to research what interests you, the point is to give it a try!
Museums often have a restaurant inside or you can go to one nearby. After all the walking, some refreshment will be desired, so look ahead of time to see what's in the area.
Music in the Park
Always a fun summertime date. You can easily bring a picnic along and make it as romantic as you like. Dancing is a possibility too!
Go to a botanical garden
Botanical gardens are very enjoyable throughout the spring, summer, and fall.
The foliage is always changing, so this is a great option for dates. During some holidays there may be evening celebrations with lights and music. Check the website of your local botanical garden to see what they have going on.
If you are ever in Atlanta, there is a fabulous botanical gardens there with exhibits that change throughout the year. One of the most popular exhibits was the Alice in Wonderland exhibit.
Boat ride/canoeing
Rent a boat or canoe and go for a ride. You can find this service on lakes, rivers – anywhere there is a body of water – you can find rentals.
Volunteer
Another idea for a feel-good date is volunteering. You can choose whatever you feel you'd be able to help with.
If you know how to build, you can lend a hand with organizations like Habitat for Humanity. If you like people, you can volunteer at a homeless shelter and serve meals.
If you want to help elderly people, you can volunteer to sit with them, read to them, or bring them groceries. Check in with your local charities to see where help is needed.
Skydiving
Are you and your partner adventurous? I mean, really, really adventurous? Then this may be the date for you.
If skydiving from a plane is just a bridge too far for you, check out indoor skydiving. It's safer but still a thrill.
Reminisce about your relationship milestones
Tea after kids go to bed and reminisce about relationship milestones, how you met, etc.
Go bowling
A fun date at any age. Bowling is a great memory for many, for others maybe they've never tried it.Check to see if any bowling alleys in your area have rock music Saturday nights.
On these nights, they lower the lights, and sometimes do a light show along to favorite hits. Bonus: there's usually a bar and fast food served in bowling alleys.
This is another place you will no longer have to worry about cigarette smoke like you did up through the 1990's!
Go to a conservatory
This is a great date any time of the year, but especially in the winter. When the world outside is brown and dormant, conservatories are filled with vibrant beautiful flowers and plants, and they are warm.
Go to a political rally
If you are very secure in your relationship and aren't worried it could damage your marriage, a political rally may be just the thing to wake up a routine schedule!
There's nothing like waking your passionate feelings about the world and solving problems together! Find a cause you both care about and go to the next rally together! Stop at a café and grab a coffee on the way.
Go to a music or art festival
Another enjoyable date during summer months.
Make a photo collage together celebrating your relationship.
This is a three-parter. Your first date will be going through your photos and picking out the photos you want for your collage.
The second part is getting the photos printed and buying the supplies for the collage. And third is putting the collage together.
Baking project together
Make banana bread or brownies together. Get out a bottle of wine and have fun creating something yummy together.
Take the time it's baking to focus on each other and connect. Sit outside with your wine and talk and wait for the timer to go off. Then enjoy your creation.
Going to a pool (outdoor is best!)
Swimming is so much fun to do together as a couple. Indoor pools are a lot of fun, but outdoor pools are my personal favorite.
Camping
This is a fun date that can be stretched into a whole weekend.
If you are looking for a new camping spot and you live in the US some of the best spots we have recently come across include:
More Dates?
Looking for More Date Ideas? You Might Like to Check out:
Save: Dates for Married Couples To Pinterest