If you are looking for a luxury villa in Krabi Thailand with a comfort & privacy level suitable for a celebrity, don't miss De Malee Pool Villas on Aonang Beach.
These private luxury villas, each complete with a private pool, are the absolute essence of indulgence and comfort in Aonang, Krabi.
Check out our video review of our stay and keep reading for a full account of our experience!
De Malee Pool Villas Reviews
De Malee Pool Villas are luxurious, private pool villas set in Aonang, Krabi – the ideal place for a luxurious & private vacation in Krabi.
These villas provide the perfect vacation for couples who need a bit of extra pampering without the disturbances of other guests at a resort.
We loved that the villas were completely private (a celebrity couple would be quite comfortable staying here!). For this reason, they would be a fabulous place to spend a honeymoon in Krabi.
You could quite easily spend 2 – 3 days relaxing in the comfort of your private, luxurious pool villa. However, if you want a bit of extra activity on your vacation, the hotel offers shuttle services to Aonang Beach (where you can reach all the major attractions in Krabi & Aonang).
From the moment you enter the gates of De Malee Pool Villas you know you have entered into a world of luxury.
Even the reception area of the accommodation is stunning with modern and very tastefully decorated furniture providing for a great first impression and a perfect start to a luxury vacation in Krabi.
When we first arrived at De Malee Pool Villas we were greeted with a delicious cold juice and wet towel. This little gesture is always most appreciated after traveling in Thailand as it can be quite humid.
After we finished our welcome drink, the Manager promptly showed us to our incredible Grand Pool Villa.
Grand Pool Villa
The Hotel is very exclusive with only a total of 4 types of villas on premises – a pool villa, a grand pool villa, a two bedroom villa and a duplex pool villa.
We stayed in a Grand Pool Villa and we were beyond impressed – the villa was absolutely stunning and the essence of luxury.
What raised this accommodation a step above other luxury accommodation was not only was it extremely spacious and private but you actually had your own private (and pretty large) pool to enjoy!
We were extremely impressed by the spaciousness & the grandeur of the villa right from the moment we walked through the door. The villa is probably around the size of a large studio apartment so you can really spend all day in it relaxing and not get claustrophobic.
As you would expect in a private villa, it is very plush & luxurious. We felt the earthy tones of the villa gave it a a very modern and chic look which we loved. The wooden detailing and the copper finishes of the lights in the room also matched the decor perfectly.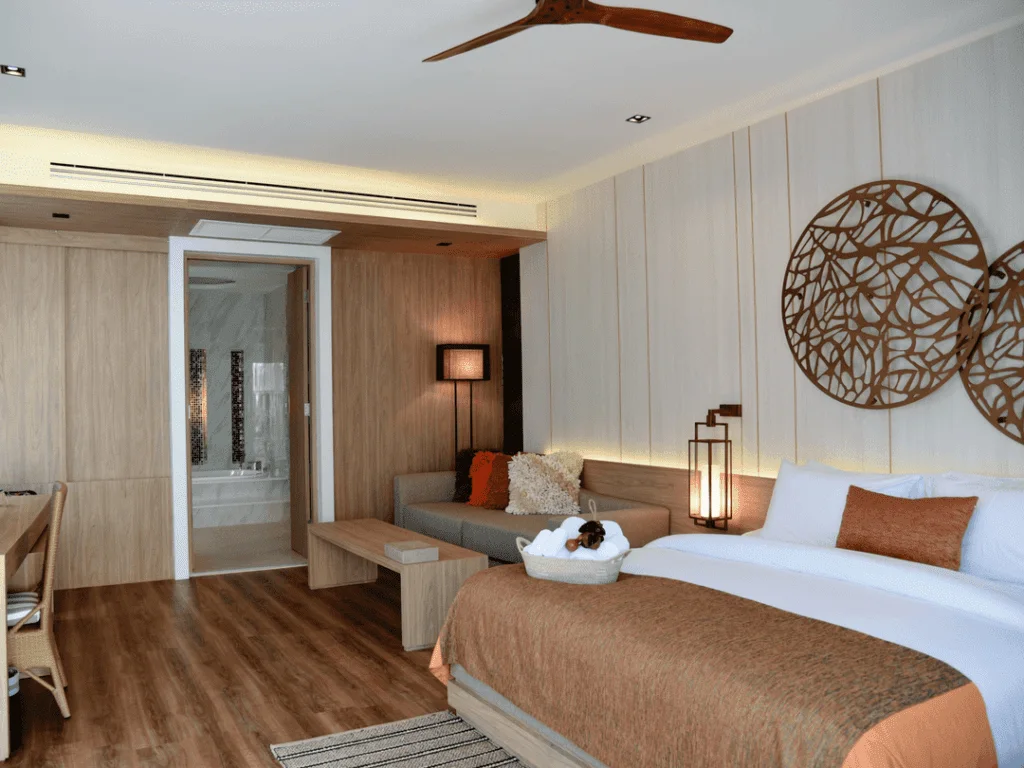 The Grand Pool Villa comes complete with a queen bed (which makes you feel like you are floating on a cloud) a desk to use a laptop or write and a very comfy lounge suite facing a 4K Ultra HD TV with Netflix galore so you can binge on all your favourite tv shows!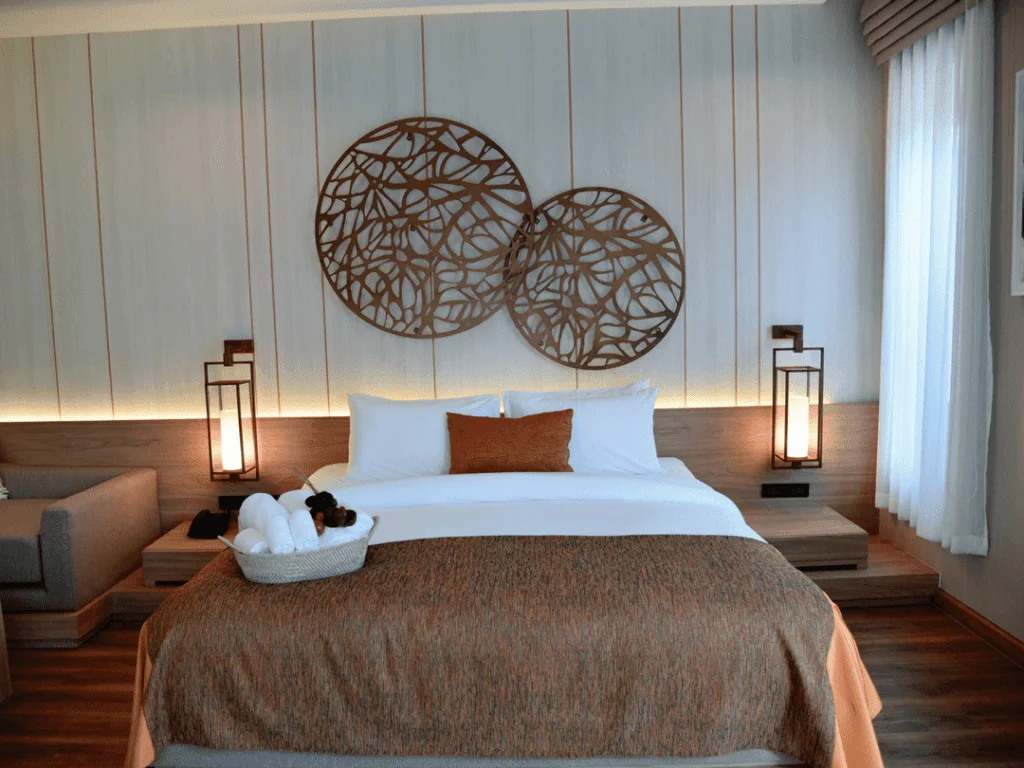 Everything in the room right down to the towels were in absolute pristine condition.
The villa would be absolutely ideal for a special couples getaway or a honeymoon as you can rest assured that everything will be in perfect condition.
We also really appreciated the little extras in the room including the Nescafe machine (which we certainly made the most of during our stay) and ample tea and water provided complimentary.
While the private swimming pool is certainly the highlight of the villa, the marble bathroom doesn't fall far behind. When we first entered the bathroom all we could say is wow.
The bathroom is magnificent. Complete with a walk in bathtub and a separate very large rainfall shower, it is really fit for a king or queen. After a long day sightseeing, the bathtub provides the ideal place to soak sore muscles in comfort.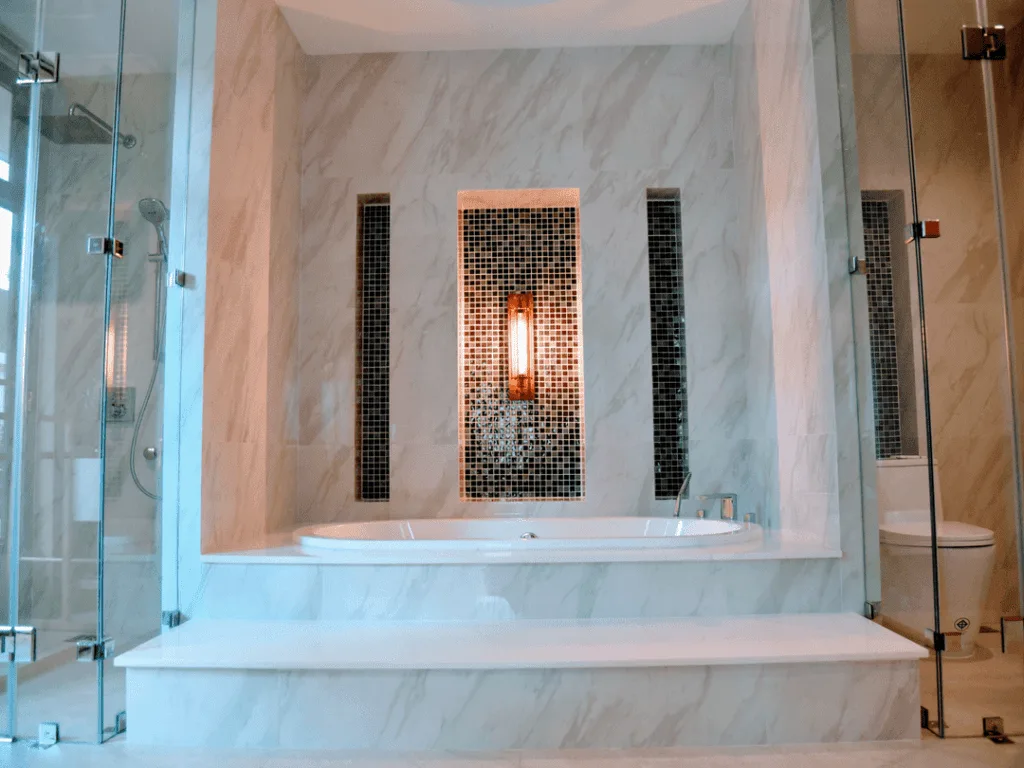 We were happy to find that there were a wide range of beauty products to use in the amazing bathtub including body wash, delicious smelling soap, shampoo, conditioner and moisturiser to coat your body in after getting out.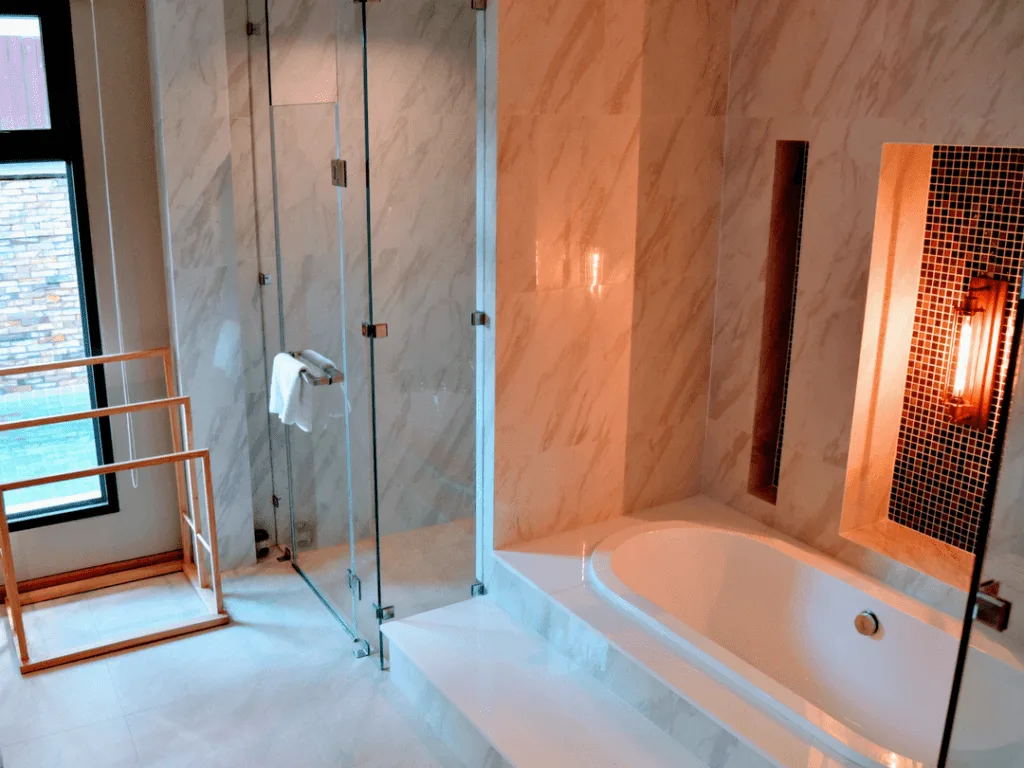 Facing the bathtub is a gorgeous beauty counter & wash basin with complimentary water & all the toiletries you could wish for during your stay.
We loved the little window in the bathroom overlooking the private pool as not only does it provide a stunning view but it allows a lot of natural light into the villa.
There are also large cupboards in the bathroom where you will find the softest dressing gown we have ever tried and beach towels for use in the private pool.
While the villa itself is absolutely incredible, the hero of the accommodation is the private, large outdoor swimming pool that is completely private and yours alone to use!
The private outdoor area includes two deck chairs with umbrellas (perfect for reading a book or sunbathing in peace and quiet), a private pool and a shower to wash off after using the pool.
We really made the most of the pool area and sat outside the villa most of one day during our stay.
What is pretty neat about the private pool too is that there is an inbuilt spa that you can switch on to create a high pressure back massage. The back wall of the pool also turns into a water feature at certain times of the day.
Pool & Recreation Areas
On top of the individual pools in the villas, the hotel also has a gorgeous main pool area that guests are free to use.
We found the main pool is a great place to relax before checking in or after checking out while waiting for a flight.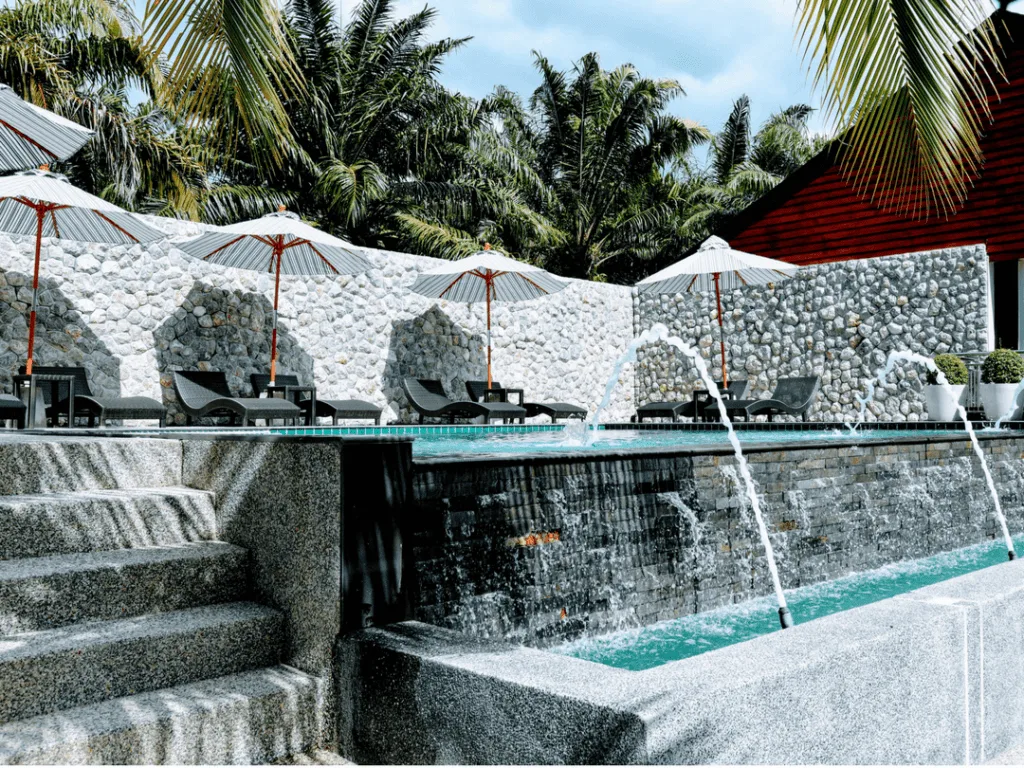 For the gym junkies out there, the hotel also has a great gym area with everything you need to get a good sweat going from weights to cardio machines.
As a fitness alternative, a lot of people enjoy running along the beautiful Noppharat Thara Beach. A shuttle bus from the hotel can bring you directly to the beach.
The Restaurant
There is a restaurant on premises which serves a wide range of Thai and Western cuisine. As it is an exclusive hotel with only a few villas at the residence, the service at the restaurant is very quick & personalised.
If you are staying multiple nights and wish to try some local cuisine outside the restaurant, there are also numerous restaurants directly outside the hotel gates as well as a supermarket just minutes away.
Breakfast
The restaurant is also where breakfast (included in the room rate) is served daily.
The breakfast is a la carte and made to order. The waiter listed off a wide range of breakfast items available to order including pancakes, fried rice and eggs any way. You are free to order whatever tickles your fancy.
We both ordered poached eggs with a bread basket, yogurt, coffee & juice.
If you prefer, you can order breakfast to be delivered to your villa and have breakfast in bed (which we did one morning).
You can also request to have a floating breakfast in the pool of your villa. This service was in use during our stay so make sure you pre-book the floating breakfast if you want to make the most of this neat Instagram opportunity.
What to do Nearby
The hotel is in a great location, a short shuttle ride away from both Aonang Beach and Noppharat Thara Beach with plenty of restaurants, shopping and bars to enjoy.
Don't miss the sensational sunset at Noppharat Thara Beach – it is without doubt one of the best we have seen in Thailand.
Other activities in the Krabi area that you might be interested to see/enjoy include:
Take a day trip to the 4 Islands near Krabi;
Have a relaxing couples massage at Deevana Krabi Resort;
Take a speedboat trip or stay a few days at the gorgeous Phi Phi Island;
Visit an Elephant sanctuary (Please choose a ethical elephant sanctuary. Check out how we picked an ethical elephant sanctuary in Chiang Mai);
Visit the nearby Railay Beach (only 100 Baht per person to reach);
Visit Tiger Cave Temple (a temple with a view!)
Nip over to Deevana Plaza Krabi Ao Nang for a yummy dinner
How to reach the villas?
The closest airport to the villas is Krabi Airport. Click here to check flights during your dates to Krabi.
From the airport, it is extremely easy to reach the hotel. You can get a private taxi for around 600 Baht or there is a public bus that costs 150 Baht per person to reach the hotel
From Koh Phi Phi Island you can catch a ferry to Krabi or Aonang Port for 400 Baht per person. The hotel can arrange a shuttle from the port to the hotel for guests.
Book Now
We absolutely loved our stay at De Malee Pool Villas! We would recommend it to anyone looking for luxury villas in Krabi Thailand!
If you have any questions about staying at this hotel or visiting Krabi or Aonang in general, we would be happy to help – leave us a comment below!
Save this to Pinterest (so you can find it again later)!
Disclaimer – We were guests at this hotel. However, it does not in any way influence our views or opinions of the experience. Our review is 100% honest and a true reflection of our experience.