When we heard about a romantic couples retreat right next door to the Deevana Plaza Krabi Aonang, as a couple, we were very excited to stay there and experience it for ourselves. It is not usually that you can find true romantic accommodation in a city so we were pleasantly surprised to find gorgeous romantic accommodation in Krabi.
Check out our video review of our stay at the Deevana Krabi Resort and keep reading for a full review of our experience!
Deevana Krabi Resort Review
The Deevana Krabi Resort is a quaint and tranquil couples retreat with individual private villas set in lush nature – it is the ideal place for a romantic vacation.
We were impressed with how perfect the hotel is for enjoying a romantic getaway. With a total of only 66 rooms in the hotel (and families advised to stay at the Deevana Plaza Krabi Aonang) here couples can enjoy each other's company in a beautiful natural setting without the disturbances of a large hotel.
Despite the fact that there are only 66 rooms, the hotel still has a wide range of facilities available to guests including two gorgeous pools and an amazing restaurant. The hotel would be a fantastic place to celebrate a honeymoon in Krabi.
While your villa is situated in a private and tranquil setting, you are still in a perfect location for exploring the surrounding area and all that Krabi & Aonang has to offer.
You can easily take a quick 2 minute stroll to the gorgeous Noppharat Thara Beach or catch the hotel's complimentary shuttle 5 minutes down the road to Aonang Beach.
Grand Deluxe Room
The hotel's villas, each decorated to match the fisherman theme of the hotel, are very private as each are tucked away in a lush garden setting next to a stream.
Right from the moment we walked into the hotel, we received very attentive service. The staff promptly checked us into our Grand Deluxe Room.
Continuing the fisherman theme, we followed schools of ornamental fish (and a helpful Deevana staff member) from reception through the grounds to our room.
The Hotel offers three different types of rooms – a deluxe room, a grand deluxe room and duplex room depending on your budget and the size of room you require.
The Grand Deluxe Room (which we were staying in) had extra features which we loved – an outdoor area with very large & private outdoor bath along with a gorgeous lounge chair for relaxing. An absolutely perfect spot to wind down after a busy day of sightseeing!
The gorgeous outdoor setting (with lots of high quality bath products to use) is the first thing you see when you walk into the villa. The outdoor area is very private with lots of greenery lining the villa.
If you are on a couples getaway, we would highly recommend spending a little extra for the outdoor bath facilities – they are very luxurious and totally worth it!
The room itself was also absolutely stunning.
Like everything else in the hotel, the room was decorated in a modern and colourful Fisherman's theme. The blue & pink cushions throughout the room were absolutely gorgeous and lifted the crisp & modern room with colour.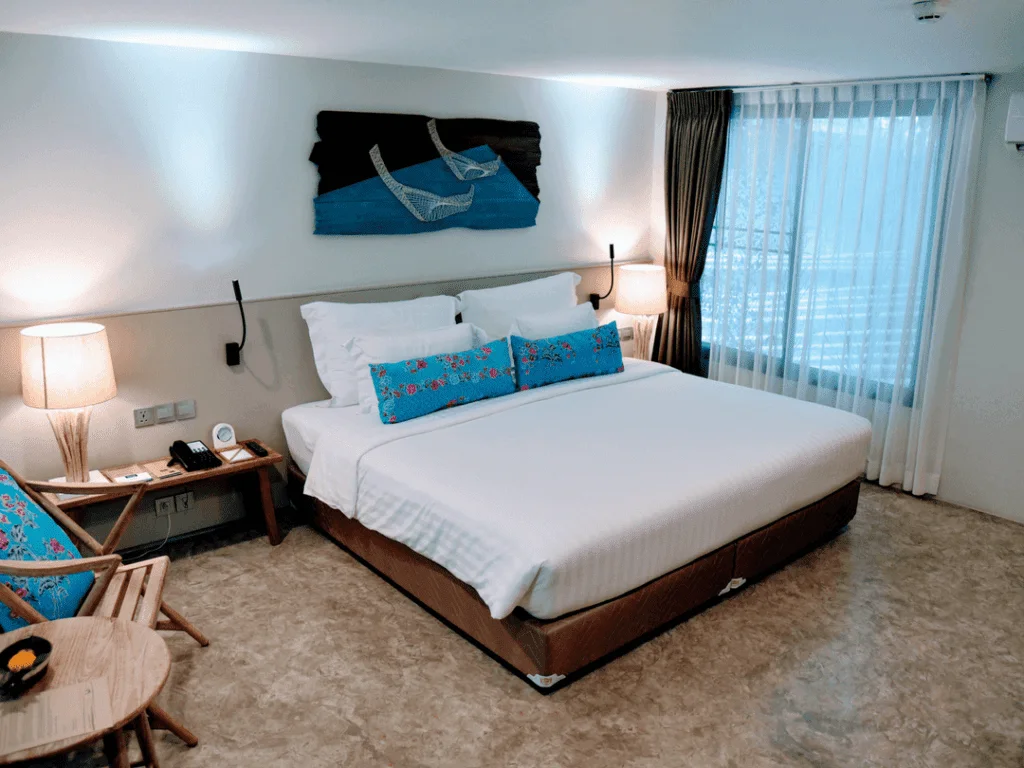 The Grand Deluxe Room was also very spacious and included a large double bed with a very comfortable mattress and a reclined wooden chair & table (perfect for relaxing). We appreciated that there was ample room for opening large suitcases.
Opposite the bed was a gorgeous beauty counter & wash basin with a great range of beauty products provided complimentary for guest use. These included a toothbrush & toothpaste, soap, shampoo and a very delicious smelling moisturiser.
The counter also included a great range of tea and coffee making facilities including some pretty fancy and delicious drip coffee.
We loved the extra little touches Deevana provided in the room including a stunning bathrobe with floral trim (matching the decor of the room perfectly) and a gorgeous cream beach bag that you can use to transport your towels and other belongings between the hotel room, beach and pool.
This beach bag is standard feature throughout the Deevana Brand (although this hotel had a cream bag to match the colour theme of the hotel instead of the usual Deevana blue). This is one of our favourite little perks of the Deevana brand as it saves you having to pack a beach bag in your luggage.
We also loved how every little detail of the hotel, right down to the do not disturb signs, were in the fisherman theme of the hotel.
Instead of 'Do Not Disturb' and 'Make up my Room' the signs read 'Docking' and 'Sailing'. Docking meaning you are home and don't want to be disturbed and Sailing meaning you are away and would like your room cleaned – how very cool and unique!
As well as the large bathtub outside the Grand Deluxe Room, there is also a separate bathroom inside with a large walk in rainfall shower.
Pool & Recreation Areas
There are two pools at the hotel for guests to use, both nestled amongst lush gardens.
The first pool is located at the front of the hotel and includes a cute little swim up bar. The bar provided a wide range of exotic drinks. Look out for happy hour specials at the bar as they offer some great deals!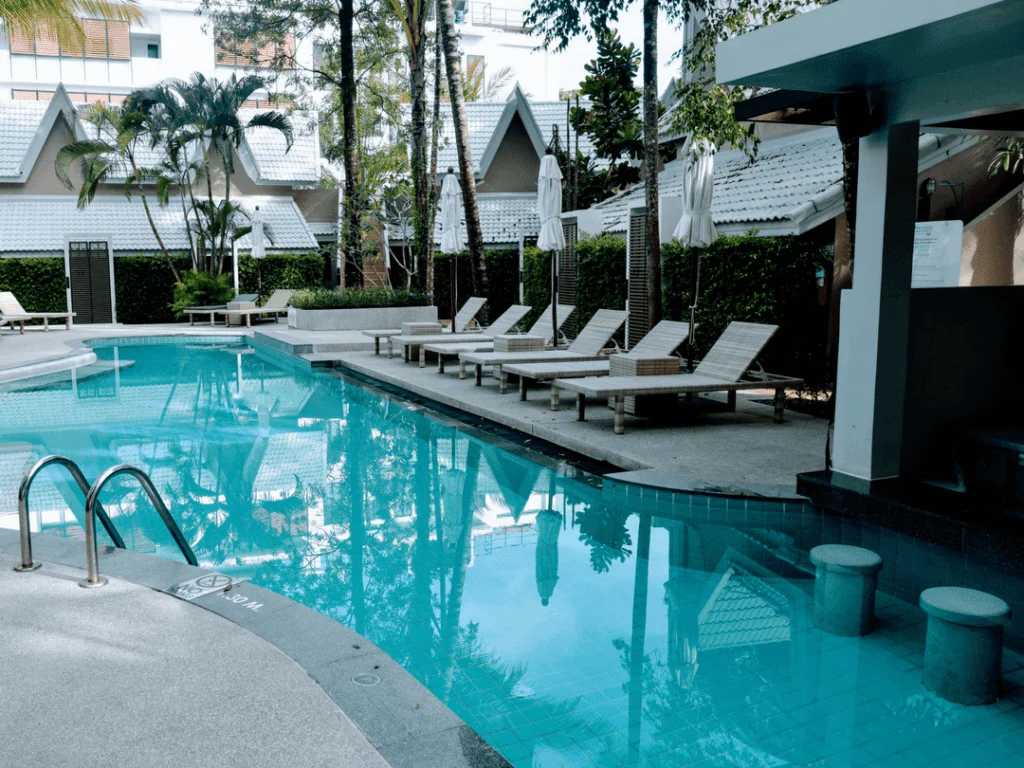 The second pool is located at the back of the hotel, near the main restaurant. There is also a second bar to enjoy near this pool which is open late – perfect for a late night drink poolside after dinner.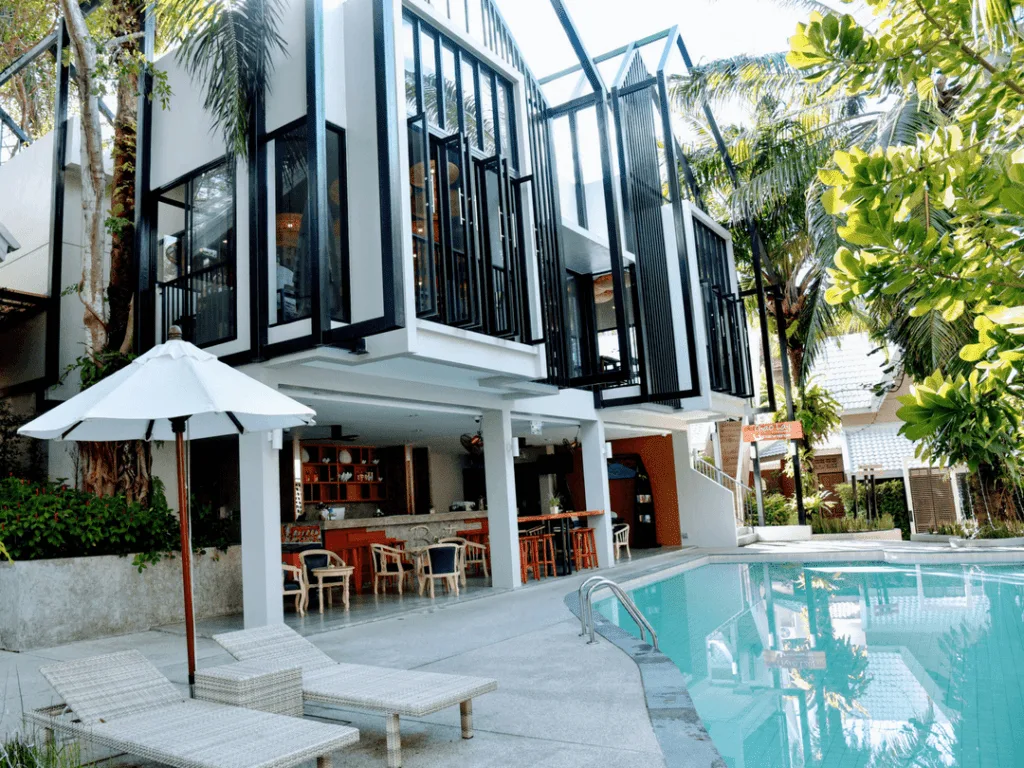 The hotel does not include a gym or a spa. However, guests are free to use the amazing gym and spa facilities of their sister hotel, the Deevana Plaza next door.
Click here for information about the Deevana Plaza's gym & spa facilities. To keep the hotel as an exclusive couples retreat, guests of the Deevana Plaza are not allowed to use the facilities at the Deevana Krabi Resort.
As a fitness alternative, a lot of people enjoy running along the beautiful Noppharat Thara Beach just two minutes down the road.
The Chao Lay Restaurant
In addition to the two bars, the hotel also has an amazing restaurant available to guests.
We were extremely impressed how well the Chao Lay Restaurant catered for couples. Upon request, the hotel can set up a special decorated table for couples to dine in a romantic setting poolside.
We were impressed that this service is completely complimentary when you dine at the hotel's restaurant.
We dined at a special table for couples (which was absolutely stunning as you can see) but the hotel will set up an even more romantic table for a honeymoon, anniversary or proposal in the colour of your choice. Now that's service!
If it is raining or you just would like a low-key dining experience, the hotel also has a main restaurant beautifully decorated in a modern Fisherman's theme.
Not only is the ambience and location of dining amazing, the food is pretty incredible too.
We tried the 5 couse degustation menu and every meal was sensational. You can purchase the meals individually or as a whole set menu.
Our set menu consisted of Thai Tapas, Mango Avocado Prawn Salad, Lobster Bisque Soup, Steak (or Duck) on a Hot Stone & Mango with Sticky Rice for desert.
We thought our menu was the perfect amount of food for a romantic couples dinner. We had the perfect amount of time to really enjoy each others company.
The first meal of the evening, Thai Tapas, included Chicken Satay, Spring Rolls & Shrimp Cake.
This was the perfect starter as each of the three entrees was a mouthful of deliciousness. The sticky satay sauce was particularly delicious and the spring rolls were fresh and crunchy.
For our second course, we tried the Mango Avocado Salad.
As big fans of both mango & avocado, this meal ticked all the boxes in our books. If you are a mango & avocado lover, definitely try the Mango Avocado Salad – it is outstanding.
The next meal, the Lobster Bisque Soup, we were a little apprehensive to try.
We hadn't seen anything like it before as it just just two mouthfuls of brown soup in the bottom of the bowl. But I must say, looks can be deceiving – it was totally delicious.
After trying the dish, we both agreed we would definitely order Lobster Bisque Soup again in the future.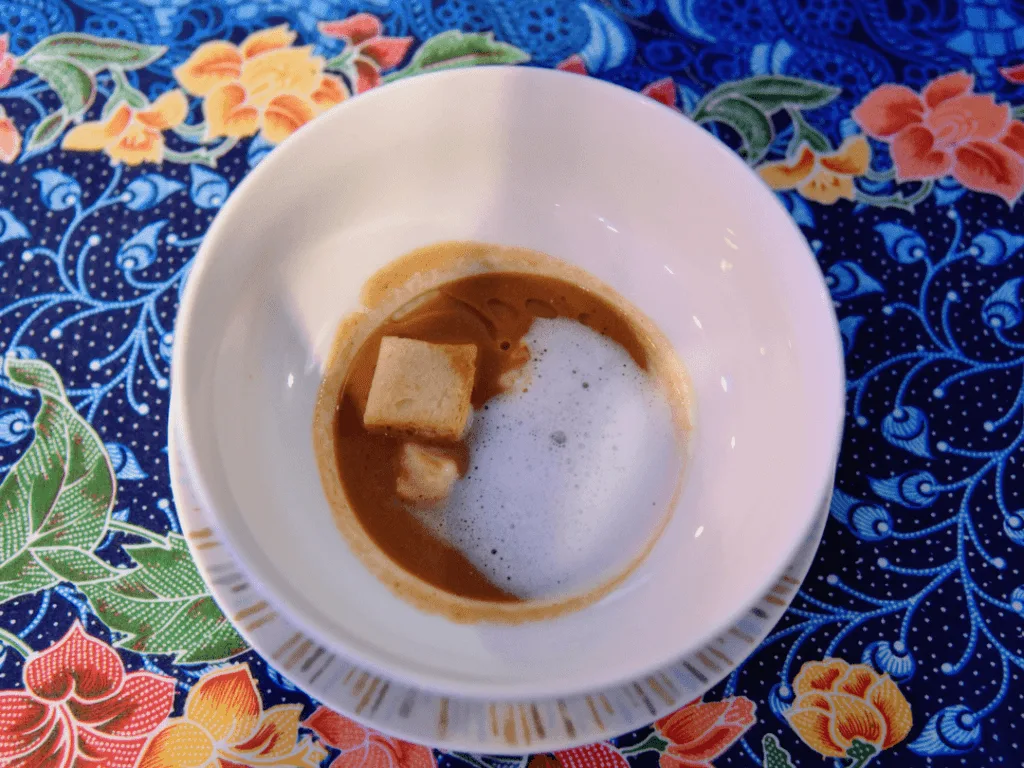 The main meal of evening was Steak/Duck on a Hot Stone.
We had been patiently waiting for this meal (as we had previously tried it at Deevana Plaza Krabi Aonang and it blew us away).
This meal is the signature dish of the Deevana Krabi hotels and is so delicious it is worthwhile having more than once during your stay so don't wait to try it on the last night of your vacation!
Just as we had experienced a few nights earlier, both the Steak & Duck on a Hot Stone were an explosion of deliciousness in our mouth.
The steak was tender, very juicy and came with your choice of side (on this occasion we ordered the vegetables) along with three yummy dipping sauces.
We just love the presentation of this meal – who doesn't love seeing your meal sizzling away in front of you on a hot stone straight from the kitchen.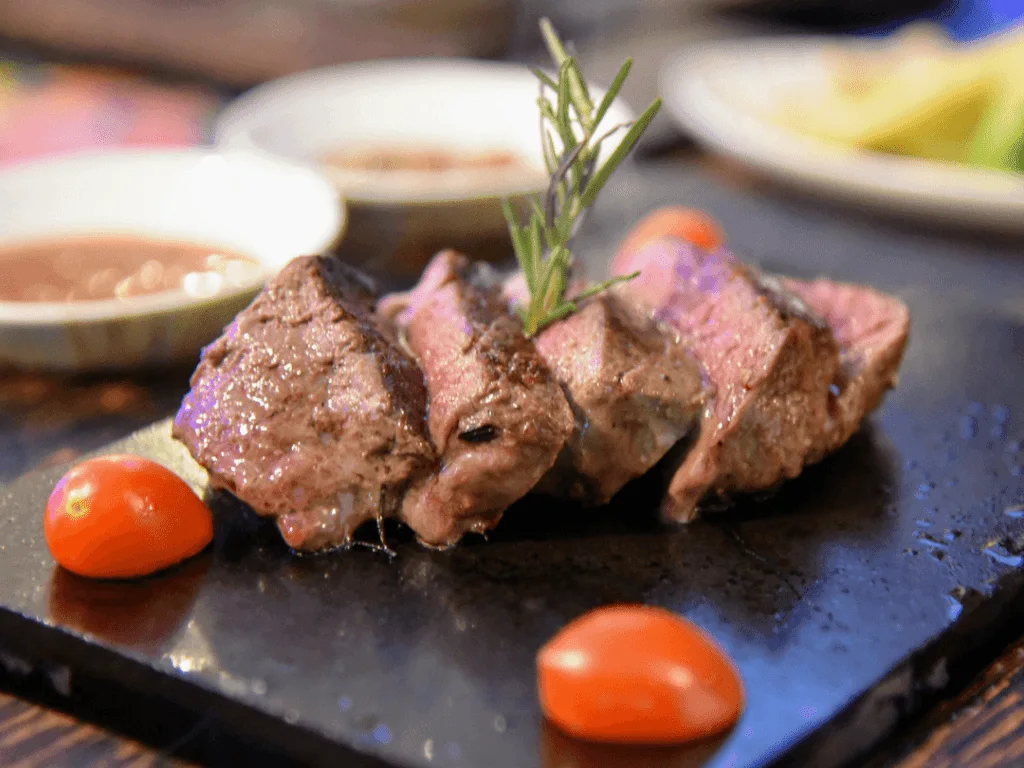 We were pretty full by this stage but one is never too full to fit in a Mango Sticky Rice!
As a signature dish of Thailand, we have had Mango Sticky Rice several times previously but this version of the meal blew anything we have had in the past right out of the water.
We loved how the restaurant separated the coconut sauce as this meant you were able to add the sauce to your taste (we added all of it as it was just too delicious to waste!)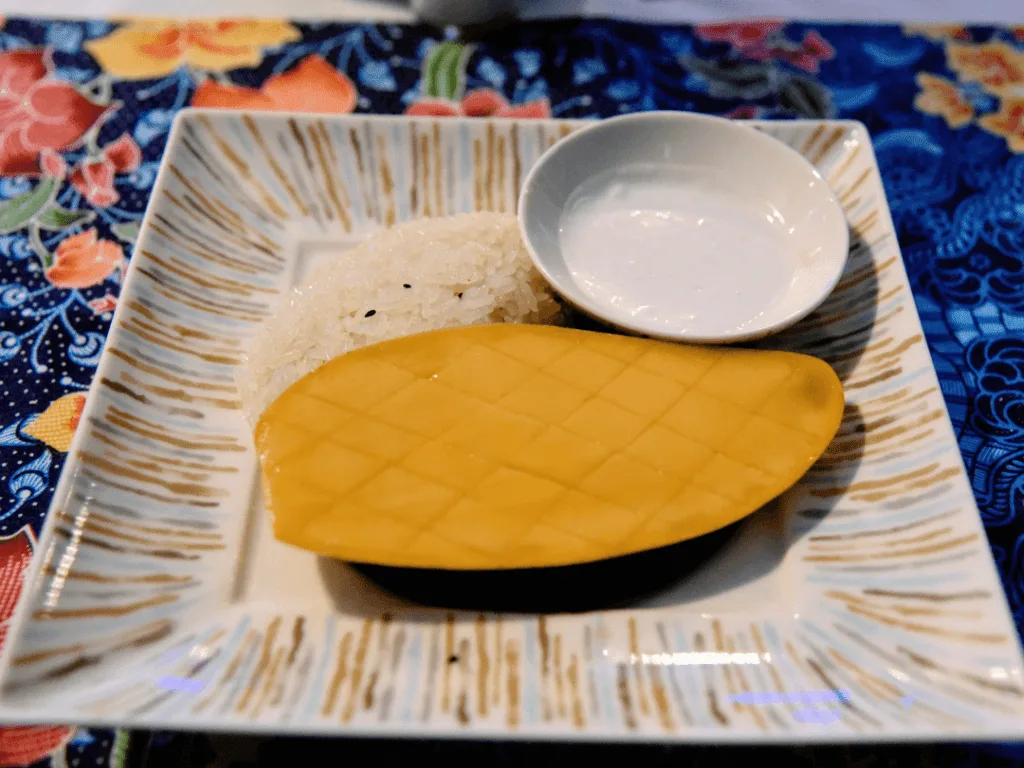 Overall, our experience at the restaurant was absolutely perfect for a romantic date night in Krabi. We would highly recommend it to anymore looking for something romantic to do while on vacation in Krabi.
I mean, how romantic is this setting!!!
Buffet breakfast is included in the room rate and is served daily at the Chao Lay Restaurant.
Like all Deevana Hotels, breakfast was to a very high quality. It has everything you could want on a buffet including eggs cooked any way to fresh fruit to delicious bircher muesli & yogurt. On top of all this, the breakfast buffet also featured traditional Thai cuisine.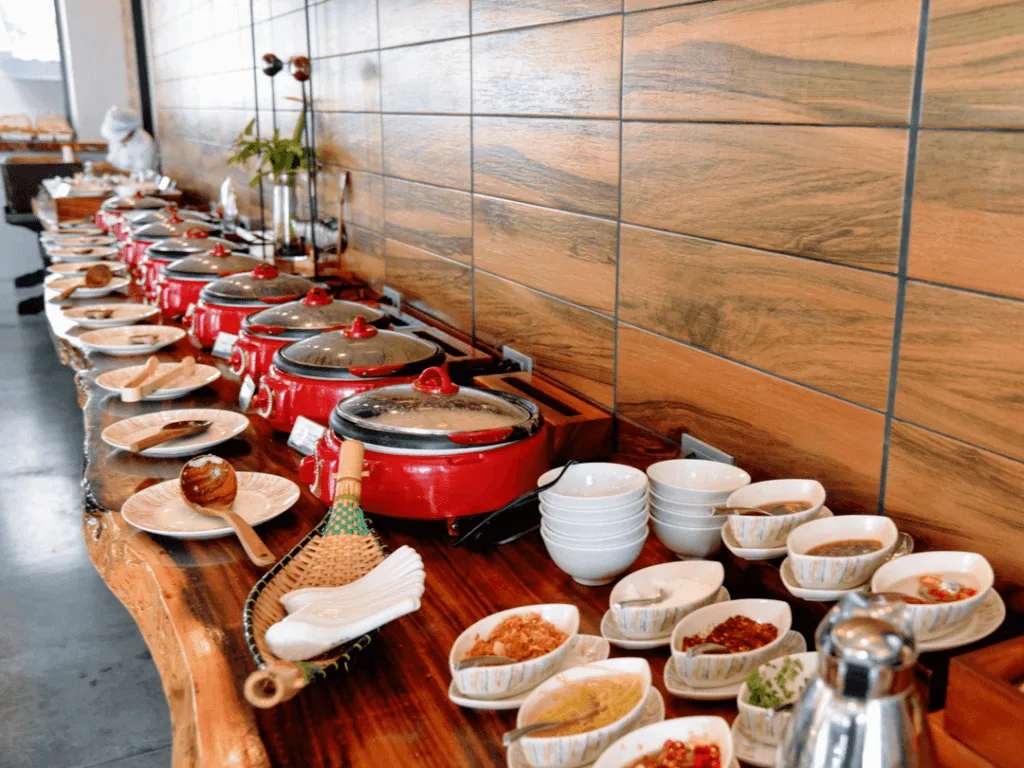 As a small hotel, we felt that the breakfast was very personalised. We were greeted by the friendly staff on our arrival who offered us a tea or coffee (from the professional coffee making facilities) and guided us to our table.
We also loved that the buffet included a very wide range of different juices in glass bottles – we thought this was a very classy touch over the traditional juice dispenser.
The Hotel Service
Having stayed at quite a few Deevana Hotels previously, it came as no surprise to us that the Deevana Krabi Resort provided outstanding service.
Like all the previous Deevana Hotels we have stayed at, we felt that the staff really cared about making the guests' experience a positive one.
The staff were always extremely friendly and happy to help with anything that we needed. We are genuinely amazed that this high level of service is really something that is very consistent throughout the Deevana brand.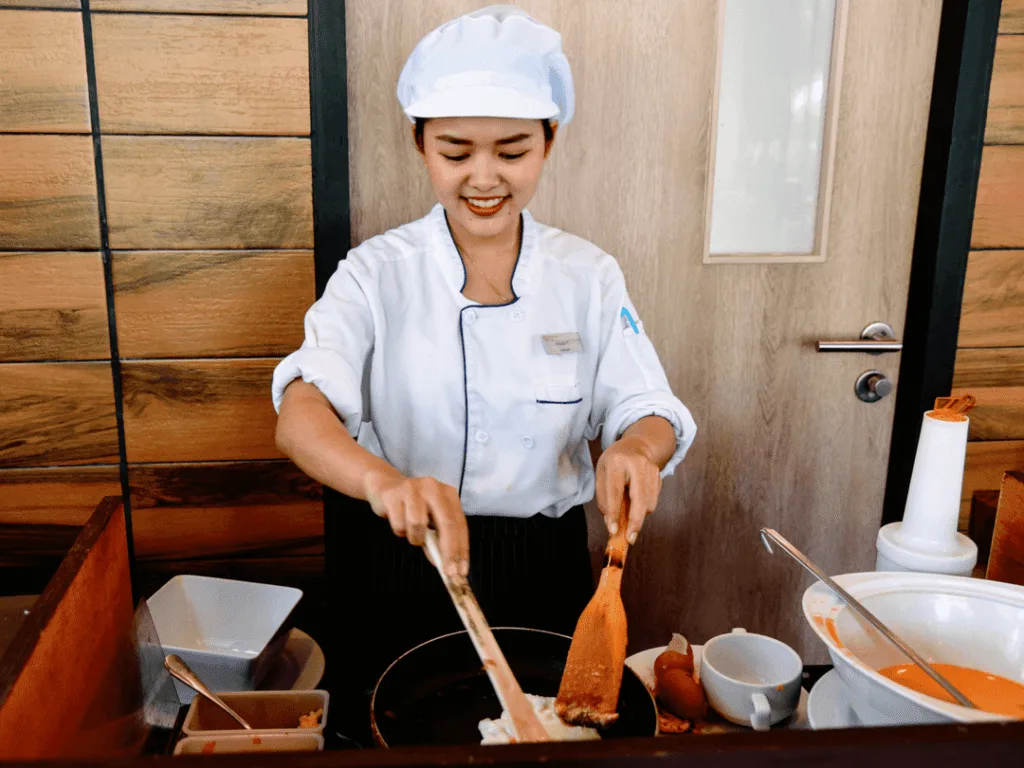 Things to Do Nearby Aonang
The hotel is in a great location, just minutes away from both Aonang Beach and Noppharat Thara Beach with plenty of restaurants, shopping and bars to enjoy.
Don't miss the sensational sunset at Noppharat Thara Beach – it is without doubt one of the best we have seen in Thailand.
Other activities in the Krabi area that you might be interested to see/enjoy include:
Take a day trip to the 4 Islands near Krabi;
Take a speedboat trip or stay a few days at the gorgeous Phi Phi Island;
Visit an Elephant sanctuary (Please choose a ethical elephant sanctuary. To find out how we selected an ethical elephant sanctuary in Chiang Mai click here);
Visit the nearby Railay Beach (only 100 Baht per person to reach); and
Visit Tiger Cave Temple (a temple with a view!).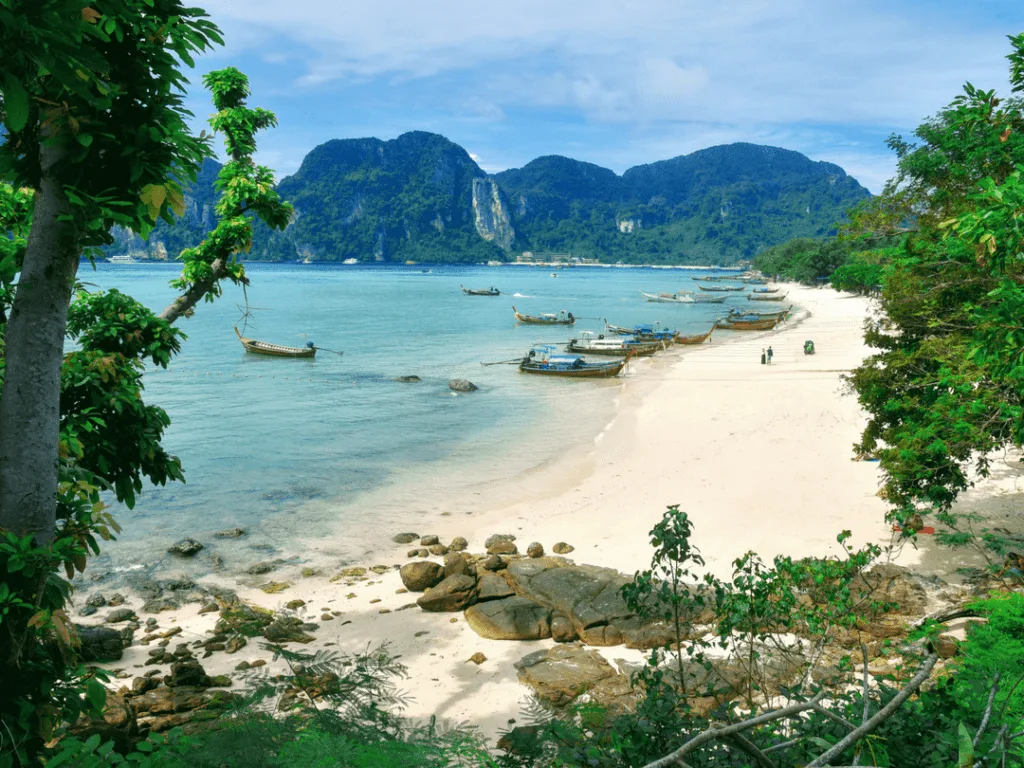 How to reach the hotel?
If you are traveling from the ferry port or the airport it is extremely easy to reach the hotel.
From Koh Phi Phi Island you can catch a ferry to Krabi or Aonang Port for 400 Baht per person. If you are arriving to Krabi Port, the price of your ticket includes transport to the hotel. Alternatively, if you are arriving to Aonang Port, you can contact the hotel for a transfer from the pier.
From the airport, you can get a private taxi for around 600 Baht or there is a public bus that costs 150 Baht per person to reach the hotel
Tip: Use the Thai name to help your taxi driver – กระบี่ รีสอร์ท
Here are some other useful Thai words
กระบี่ รีสอร์ท – Krabi resort
กระบี่ สระว่ายน้ำ – Krabi swimming pool
เล – Lake
Book Best Price
We absolutely loved our stay at Deevana Krabi Resort! We would recommend it to anyone looking for a romantic accommodation in Krabi. For an even more intimate experience and the chance to feel like a celebrity, check out these luxury Krabi villas.
The contact details of the hotel are as follows:
Email:

[email protected]

Phone: +66 (0) 2632 9474-5
Website: http://www.deevanahotels.com/deevanakrabiresort/
If you have any questions about staying at this hotel or visiting Krabi in general, we would be happy to help – leave us a comment below!
Save this to Pinterest (so you can find it again later)!
Disclaimer – We were guests at this hotel. However, it does not in any way influence our views or opinions of the experience. Our review is 100% honest and a true reflection of our experience.