Looking for a honest Deevana Patong Resort & Spa Review? Regular readers will know we're always on the hunt for the best hotels for couples: this Patong resort hotel makes a good addition.
After spending a few glorious days at the Deevana Plaza Phuket, we just had to try their sister hotel down the road, the Deevana Patong Resort & Spa.
The Deevana Patong Resort & Spa was just as gorgeous as the Deevana Plaza however, the hotel was going for a different theme. The Deevana Patong Resort & Spa incorporated a traditional Thai tropical oasis theme into modern luxury.
Click here to compare notes on the Deevana Plaza to help you decide what is the best hotel for your Phuket vacation.
Get the best rates on Deevana Patong Resort here and see all reviews here.
Deevana Patong Resort & Spa: A Tropical Oasis in Patong Beach
Deevana Resort & Spa is a jungle oasis with a traditional Thai theme in the heart of Patong Beach. This hotel is ideal for travelers who want to easily venture back and forth between Patong Beach, the local markets and also make time for some rest and relaxation while vacationing in Phuket.
The hotel has 4 hectares of lush gardens, two pools as well as a spa and an amazing restaurant with a first class chef where we indulged during our stay.
If you are coming to the Deevana Resort & Spa from the airport you can get a 180 Baht per person for an airport to hotel transfer service. You can buy a transfer directly outside of arrivals at the airport.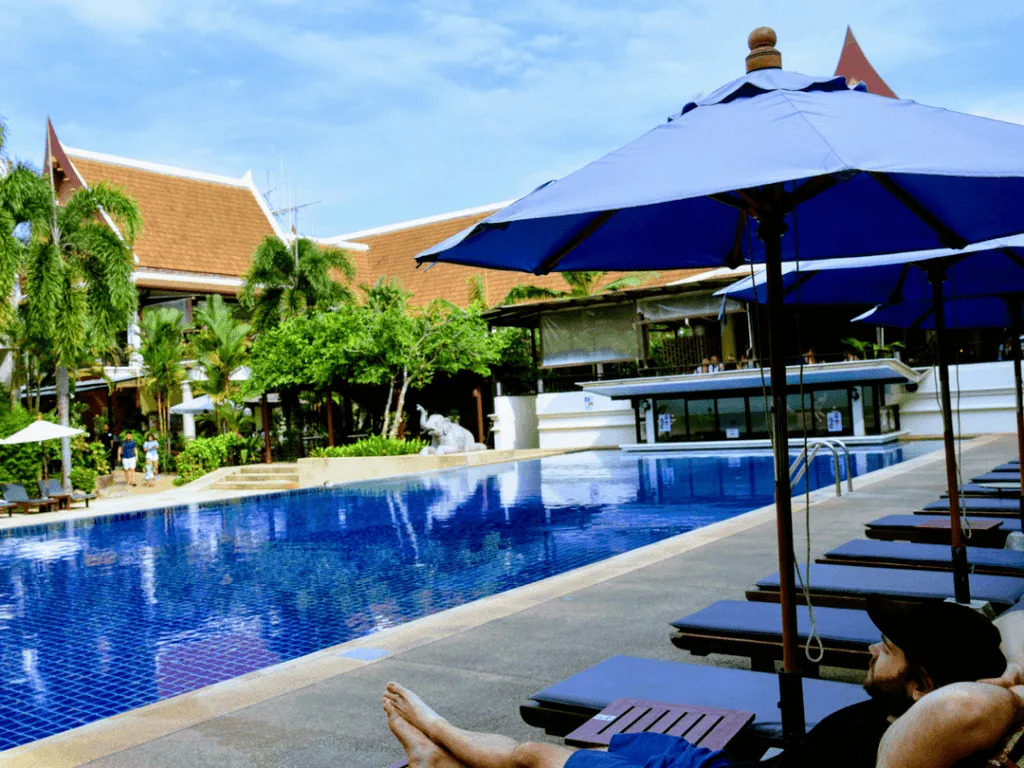 When we arrived at the hotel we were greeted by the friendly hotel staff with a delicious berry flavoured welcome drink, a delightful-smelling cold towel and Thai flower lay.
The Thai flower lay was such a nice touch. We felt like we had arrived in Hawaii which was fitting as, like Hawaii, the hotel felt like a tropical oasis.
Inside the Deluxe Pool View Room
The Resort & Spa offers a number of different rooms depending on your budget and the size of room you require.
We stayed in a deluxe pool view room and were very happy with it. As a couple, it suited our needs perfectly. It was spacious, clean and very comfortable.
We were beyond impressed to find not one but a couple (literally a man & a lady) towel animal elephant sitting on our bed. They were totally adorable and it is always nice when the hotel goes to a little bit of extra effort to make guests' stay more interesting and enjoyable. We also felt that the towel elephants matched nicely with the Thai theme of the hotel.
In true Deevana style, the rooms were very spacious with ample room for opening big suitcases. It included a large double bed with a very comfortable mattress and a desk for reading or using a laptop.
The room also included one of our personal favourite aspects of the Deevana brand – a cute bag that you can use to transport towels and belongings to the pool and the beach. We think this is fantastic as with limited luggage weight on a flight, the hotel saves you needing to pack a bag to bring to the beach.
The bathroom was also large with a big bench for your toiletries and a large walk in shower. The hotel provided ample amenities in the bathroom including toothbrush & toothpaste, soap, shampoo and even a sewing kit.
In true Deevana style, our room boasted an absolutely gorgeous view of the hotel pool. We loved the white and blue colour scene that the hotel had used.
Tip – If you want a view of the gorgeous pool, all balcony rooms face the main pool.
About 15 minutes after checking into our room, a super friendly member of staff knocked on our door and presented us with a complimentary Thai desert to try. We couldn't quite work out what was inside (a bit sweet, a bit savoury) but they were delicious nonetheless.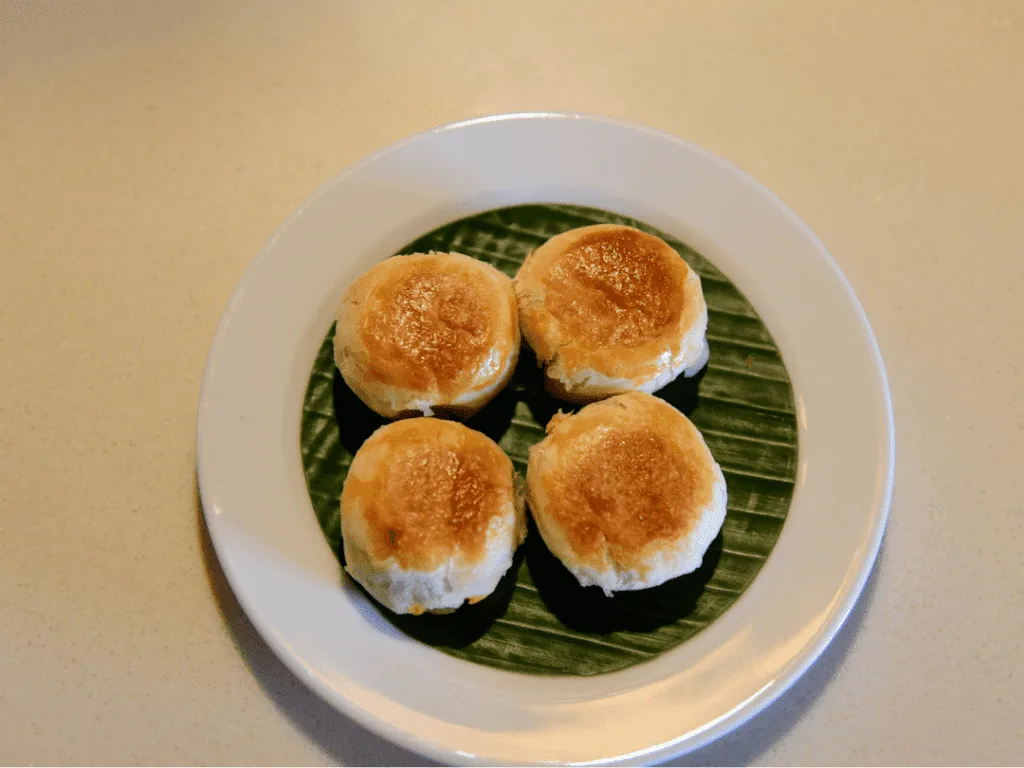 The Plunge Pool Room
On our most recent stay, we stayed in a plunge pool room. We would highly recommend this style of room if you are on a special vacation or a honeymoon.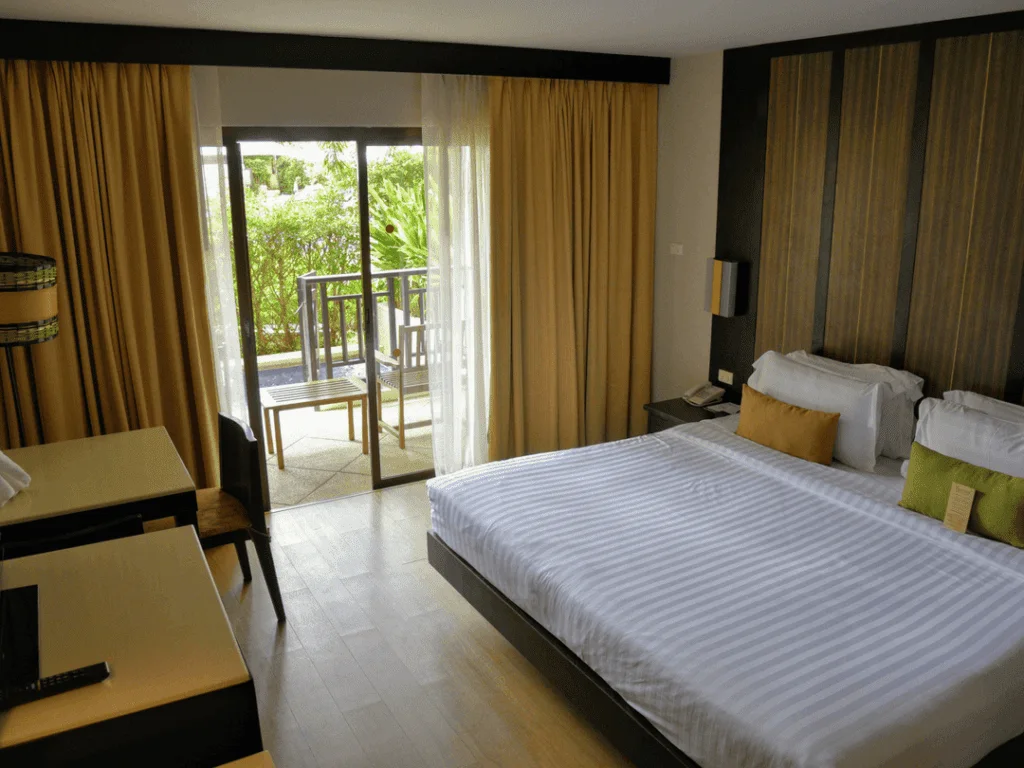 We love a private pool – it is so nice to wake up in the morning and enjoy a coffee or tea with your feet in the pool!
Pool & Recreation Areas
The pools were gorgeous at the Deevana Resort & Spa.
There was two pools on the premises. One main pool and one pool hidden amongst lush tropical gardens.
We loved that the main pool on the property features two elephant water fountains. There is also plenty of sun loungers and a very cute swim up bar at the main pool.
Tip – Treat yourself to a Mai Tai in a Pineapple at the pool bar or restaurant – they are totally delicious and have an amazing presentation.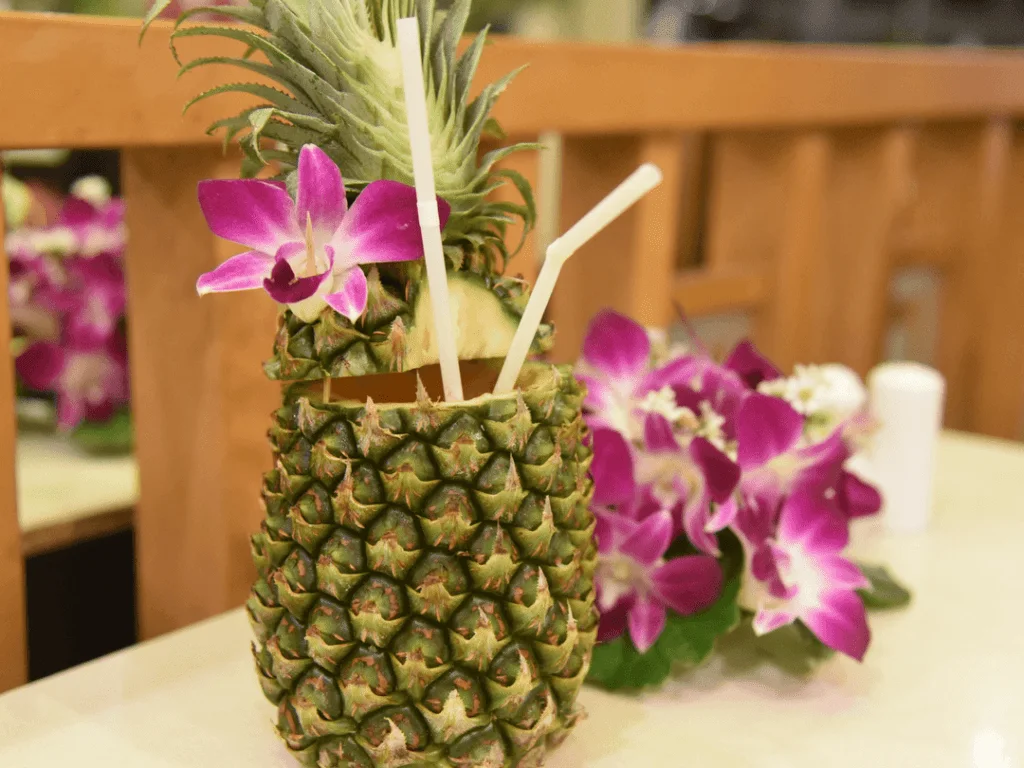 The Guest Services Manager informed us that many guests don't know about the second pool in the premises. However, the Garden Wing swimming pool is certainly worth checking out if you are staying at the hotel. It is set amongst beautiful tropical gardens and is less popular than the main swimming pool for those who want to enjoy a bit of privacy. You could sit at the Garden Wing swimming pool all day & relax or read a book.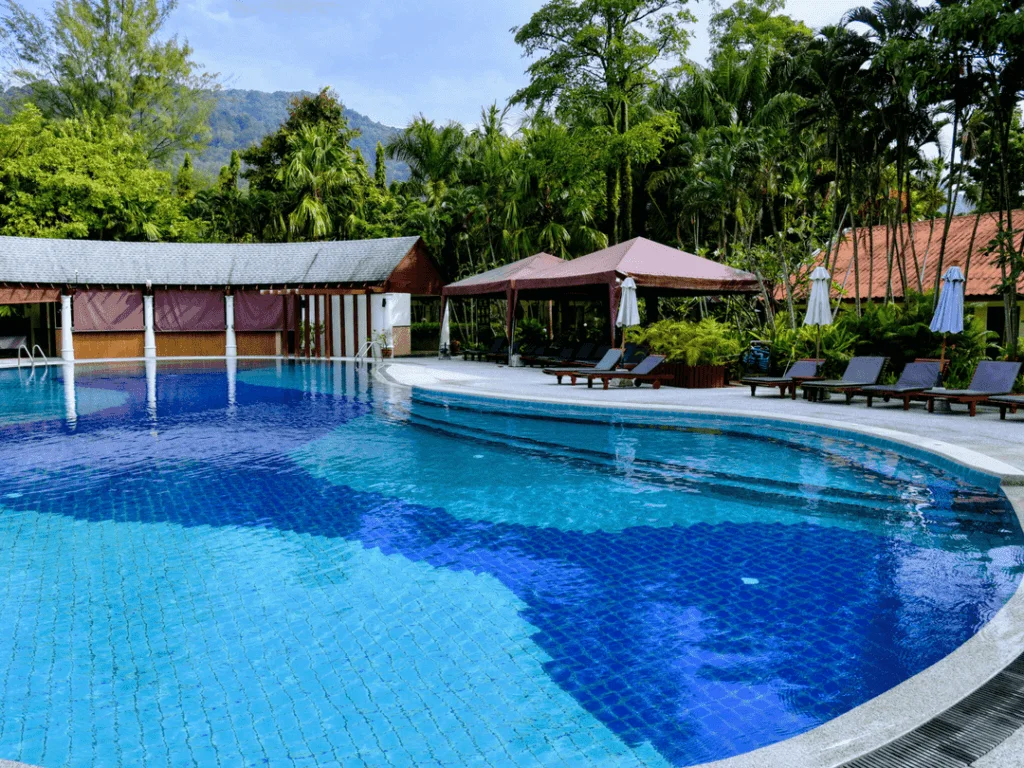 Pool Tip – Get to the Pool Before 10am to have the area to yourself!
We would highly recommend the cocktails at happy hour at the dive in bar. We had several mango daiquiris during our stay and they were absolutely delicious.
The Orientala Wellness Spa
We didn't visit the spa on this trip. However, we had previously visited the Orientala Spa at Deevana Plaza and it was an amazing experience.
We investigated and the Orientala Spa offers the same services as Deevana Plaza.
The Dalah Cuisine Restaurant
The hotel has both a restaurant and a cafe available to guests.
The Dalah Restaurant serves a very wide variety of food, both Thai and international, that is sure to satisfy even the pickiest of guests.
We ate dinner one night at the Dalah Restaurant and it was by far the best meal we had in Phuket – it was totally delicious!
The best way to describe the meal we ate at Dalah Restaurant was a tropical feast, which is fitting considering the tropical theme of the hotel.
We both tried the Tom Yum in a coconut and we shared a black charcoal pizza and a special Dalah Pad Thai with giant shrimp. For desert we squeezed in our favourite cake, red velvet, and washed it all down with a mango daiquiri and a Mai Tai in a pineapple. I'm here to tell you, dinner doesn't get much better than that!
We were seriously impressed by the skills of the head chef at Dalah. He really cared about what he was making for guests and that guests really enjoyed his food. He told us that he continually updates his menu to ensure the guests are receiving only the latest and greatest cuisine.
Probably the most impressive meal we tried at Dalah Restaurant was the Tom Yum in a coconut. We were seriously impressed with the amount of giant shrimp the chef had managed to get into the coconut. The soup flavour (creamy tomato with a kick of spice) was also very delicious.
The charcoal pizza was also very impressive. We would never have expected a black charcoal pizza to have tasted so good! The chef informed us that the base for the charcoal pizza was imported in from Japan to make the dish.
The pizza was topped with spinach and cheese and while seemingly simple, it was very delicious! I guess the Italians have it right when they tell you to have limited toppings on a pizza! My mouth is watering just posting a picture of this pizza – you have to try it!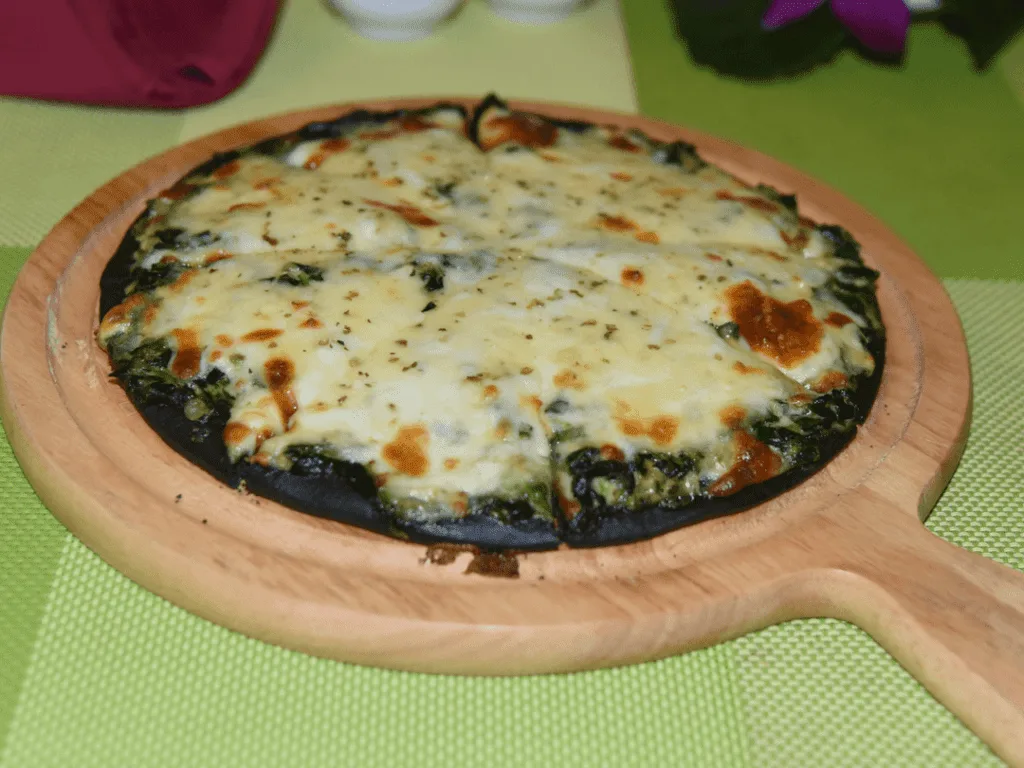 The Pad Thai with shrimp was just as delicious as the other two dishes. It had a slightly different flavour to a standard Pad Thai which we enjoyed. The chef told us that he put a spin on the traditional Pad Thai so guests were able to experience a variety of Thai cuisine. We were also extremely impressed by the size of the shrimp – they were huge!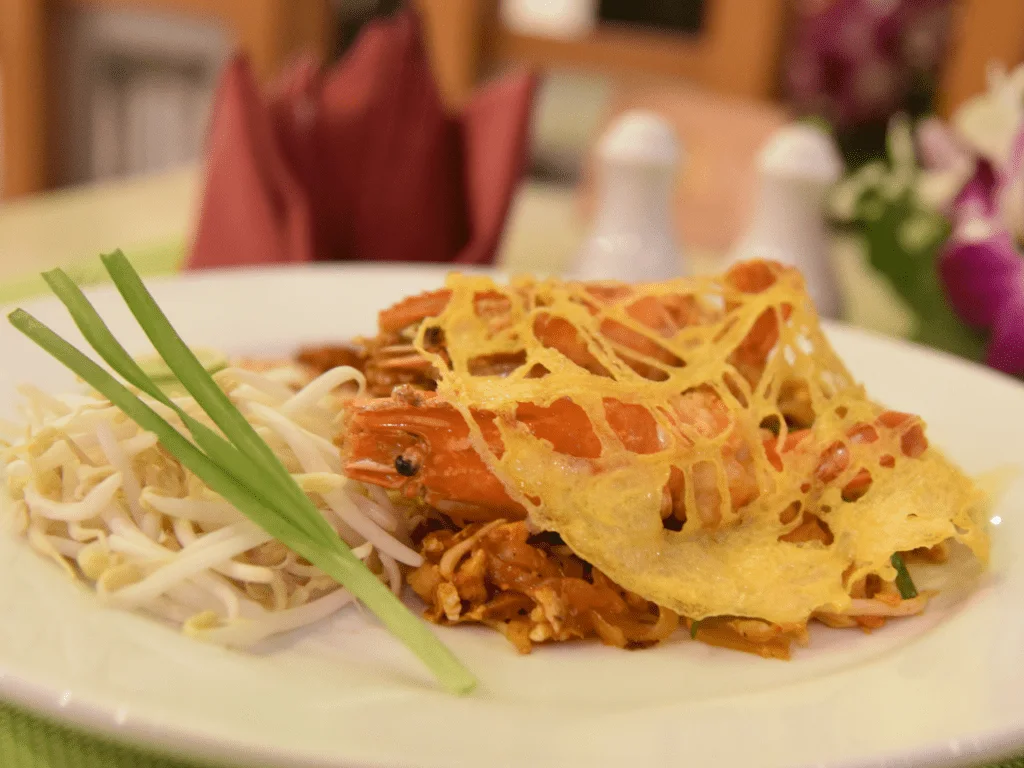 With a chef that cares so much about his cooking you can pretty much be guaranteed that breakfast at the hotel will be amazing. And, it was.
The buffet breakfast had everything you could want on a buffet including eggs any way to fresh fruit to delicious bircher muesli & yogurt. On top of all this, the breakfast buffet also featured traditional Thai cuisine.
At the breakfast be sure to try the hotel's wide selection of baked goods on offer. The hotel actually has its own bakery on premises where it cooks all its own bread produce fresh daily. We were naughty and indulged in chocolate donuts for breakfast and boy, were they delicious!
Another thing that we thought was cool about breakfast was that each day there is a new signature breakfast dish of the day. One morning, it was a Thai pork dish. We were a little unsure about eating pork in the morning but we were wrong, it was delicious!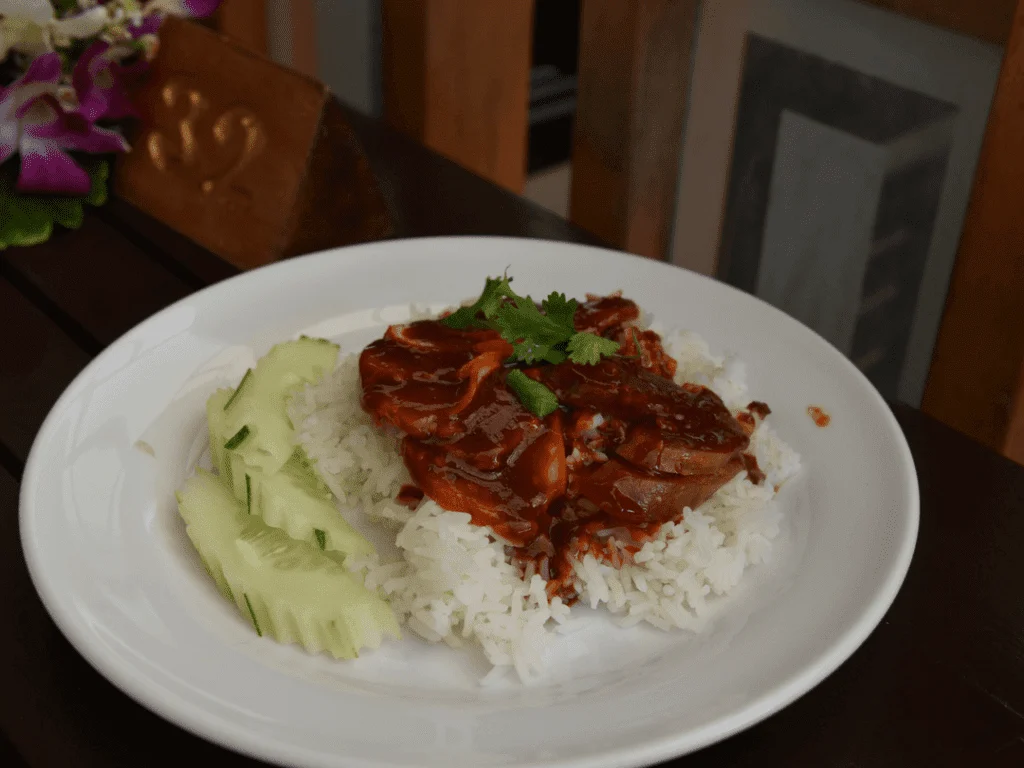 The Hotel Service
In true Deevana fashion, the Deevana Resort provided outstanding service. We felt that the staff really cared about making the guests' experience a positive one.
As we have already mentioned, the chef at the Deevana Resort & Spa is a prime example of this service. We could tell that he genuinely cared to make food that guests enjoyed and wanted to challenge himself with new international techniques to continue to improve the standard of cooking.
The hotel luggage porters were also particularly impressive. They were so friendly every time you entered and left the building. As we left the hotel, one of the porters got our taxi to move closer so that it was easier to place our suitcases in the trunk.
The Surrounding Area
The hotel is in a great location, at the very heart of Patong Beach.
We loved that you are only minutes away from the hustle and bustle of Patong Beach including the famous markets in the area. We discovered there were heaps of fun things to do in Patong Beach.
Other attractions in the Phuket area that you might be interested to see include:
Contact Information
We absolutely loved our stay at Deevana Phuket Resort & Spa! We would recommend it to anyone looking for luxury accommodation in Patong Beach.
Click here to find the best rates
The contact details of the hotel are as follows:
Email: [email protected]
Phone: (+66 76) 317 179
Website: http://www.deevanapatong.com/
If you have any questions about staying at this hotel or visiting Phuket in general, we would be happy to help – leave us a comment below!
Save this to Pinterest!
Disclaimer – We were guests at this hotel. However, it does not in any way influence our views or opinions of the experience. Our review is 100% honest and a true reflection of our experience.