We're always on the lookout for the best hotels for couples with that little something special.
We have previously stayed at the Deevana Plaza Phuket and the Deevana Patong Resort and Spa in Phuket and had a fabulous time so when traveling to Krabi, we knew exactly where we wanted to stay!
The Deevana Plaza Krabi Aonang did not at all disappoint, it was just like we had experienced previously in Phuket – clean, comfortable and everything you could want in luxury accommodation.
Check out our video review of our stay and keep reading for a full review of our experience at Deevana Plaza Krabi!
Deevana Plaza Krabi Aonang
We found the Deevana Plaza Krabi Aonang to be exactly what we were looking for in luxury accommodation in Krabi.
The hotel not only offers very comfortable accommodation, ideal for enjoying some rest and relaxation, but is also situated in the perfect location, being only a short distance to both Aonang and Noppharat Thara Beach. You can easily take a quick 2 minute stroll to the gorgeous Noppharat Thara Beach or catch the hotel's complimentary shuttle 5 minutes down the road to Aonang Beach.
Our favourite aspect of this hotel though was the gorgeous lagoon style pool that flows like a river through the hotel. The pool is simply divine!
We made our way to the hotel from Koh Phi Phi Island. The hotel is very easy to reach from the ferry port. From Phi Phi Island, you can catch a ferry to Krabi or Aonang Port for 400 Baht per person. If you are arriving to Krabi Port, the price of your ticket includes transport to the hotel. Alternatively, if you are arriving to Aonang Port, you can contact the hotel for a transfer from the pier.
After an hour and a half on the ferry from Phi Phi Island, we were very happy to arrive at the gorgeous Deevana Plaza Krabi. The hotel looks very grand and magnificent right from the moment you pull into the gate. We loved it had a luxurious entrance as it makes you feel like you have started a luxury vacation.
In typical Deevana style, we were greeted by very friendly staff who presented us with a refreshing welcome drink and a delicious-smelling cold towel. This little gesture is always most appreciated after a long journey.
Premier Pool Access Room
With 213 rooms total, the hotel offers a number of different rooms depending on your budget and the size of room you require.
The hotel is well catered for all groups – singles, couples & families. The motto of the hotel is 'Your choice for all occasions' which couldn't ring more true – it is a great hotel that caters for everyone. The Plaza is great for families (with kids pools and kids playrooms) and also fabulous for adults with lots of little private areas in the long pool to enjoy.
If you are a couple, we would highly recommend spending a little extra and booking the Premier Pool Access Room (Deevana Plaza Krabi's signature room) – it is fantastic! The room was spacious, modern, clean and very comfortable but on top of all this – it had room to pool direct access!
On a couples getaway, it is nice to have something extra special in the room to get excited about and direct pool access certainly got us excited!
While your room accesses the main pool which spans the entire complex, you also have a private little area of the pool just to yourselves. There are signs directing other hotel guests not to swim up to your private little area.
The room itself was also gorgeous – it was beautifully decorated in a crisp & modern theme with a princess bed canopy hanging over the bed (super romantic!)
This room would be ideal for a special occasion or a honeymoon as we were delighted to find not one but two swan towel animals with rose petals in the shape of a heart on our bed on arrival. We admire the skills of anybody who can master the art of towel animals but these swans were extra special.
We also loved the extra touches in the room including a very interesting book which explains to tourists the main aspects of Buddhism and a welcome fruit platter left for us – very nice!
As you would expect in a Premier Room, our room was very spacious with ample room for opening big suitcases. It included a large double bed with a very comfortable mattress, a desk for using a laptop and a lounge chair for relaxing.
The bathroom was also a great size with both a bathtub and a shower which overlooks the large bedroom. The hotel provided ample amenities in the bathroom including toothbrush & toothpaste, soap, shampoo and even a sewing kit.
On the balcony was a very large daybed (with enough room for two!) As our room was located right on the pool, it was the absolute perfect spot for relaxing during the day.
All rooms at Deevana Plaza Krabi Aonang have a balcony but we would recommend paying a little extra for a pool access balcony as (in our opinion) they are well worth it.
Pool & Recreation Areas
The pool at the hotel was a little different to the usual pool. It was a long and skinny lagoon style pool that sprawled the length of the complex.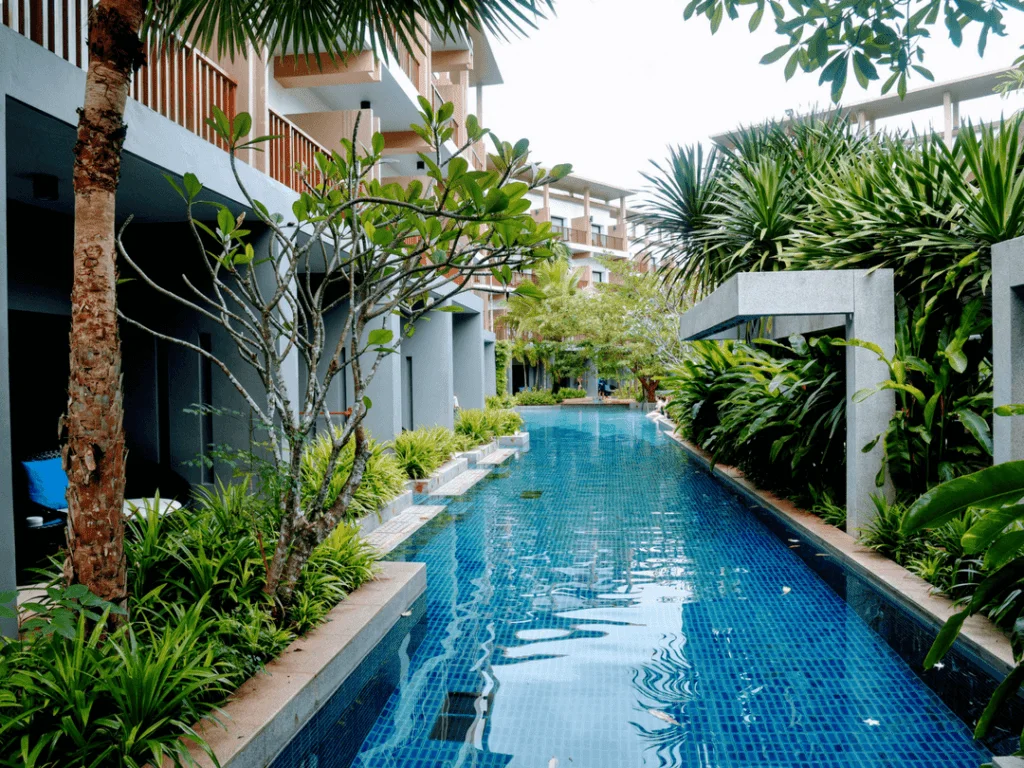 We loved that the pool was a little different to the usual as it gave you more individual, private space to enjoy (especially if you opt for one of Deevana's signature premier pool access rooms!) There is also a separate kids pool which is great as it gives adults without kids more privacy.
Along the pool, there are plenty of plush deck chairs to relax on as well as a bar where you can enjoy a cold alcoholic beverage by the pool.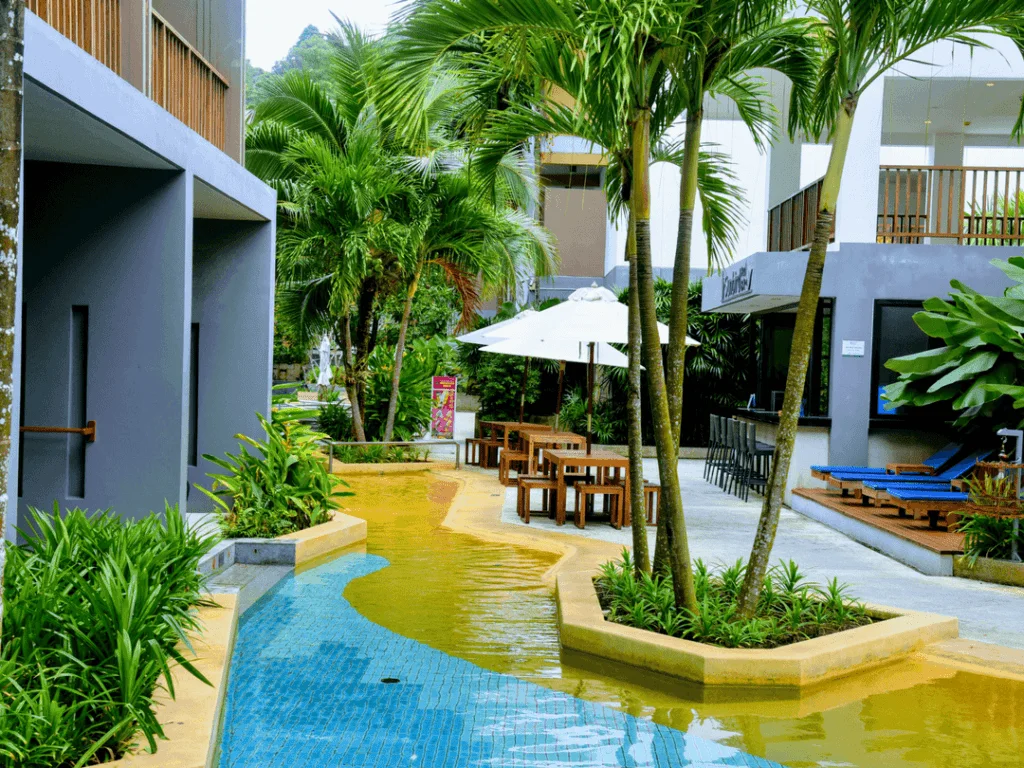 For the gym junkies out there, the hotel also has a spacious gym area with everything you need to get a good sweat going from weights to cardio machines. No need to bring a water bottle with you as there is a cold water machine for your convenience at the gym.
As a fitness alternative, a lot of people enjoy running along the beautiful Noppharat Thara Beach just two minutes down the road.
Right next to the gym is the kids club. We took a peak in and it looked pretty cool for families. It was spacious and had plenty of toys for kids to enjoy. The manager told us that the kids love the staff at the kids club so much that they beg their parents to return to Deevana Plaza. Hearing this didn't come as a surprise to us as the staff at the hotel are quite frankly sensational.
Another unique aspect of the hotel was the spacious library set up for guest's enjoyment. If you need to check emails on your vacation, this is a great place to do so as there is plenty of comfortable seats available.
The library also offers a lot of books, newspapers and magazines for guests to borrow. We loved that the library also offer DVDs to borrow so guests can watch a movie in their hotel rooms. We wondered why there was a DVD player in the room and after seeing the library it all made perfect sense!
Swan Spa
Deevana Plaza Krabi also has a very elegant and luxurious spa for guests' enjoyment. It has a private twin room with Jacuzzi and steam room, 2 private single rooms, and special open-air space for foot reflexology and authentic Thai massage.
We didn't visit the spa on this trip. However, we had previously visited the Orientala Spa at Deevana Plaza in Phuket and it was an amazing experience.
We investigated and the Swan Spa offers similar services as the Orientala Spa at Deevana Plaza Phuket. For a full account of our experience at Orientala see here.
The Kingfisher Restaurant & Starling Lounge
On top of the pool bar, the hotel also has both a restaurant and a lounge bar available to guests.
Both areas are modern, luxurious and very comfortable. You are able to dine in both areas of the resort. If you are a couple and want a more private, secluded table, the hotel is happy to set you up with a table in a private corner of the Starling Lounge.
We were very impressed that the menu at the Kingfisher Restaurant was comprehensive, offering a wide variety of both Thai and international cuisine that is sure to satisfy even the pickiest of guests.
We dined at the Kingfisher Restaurant one night (in a private couples table set up at the Starling Lounge) and it was a fabulous experience with great food and service.
Considering the high standard at Deevana Hotels, we were not surprised to find that the food was far superior to anything we had tried along the beach.
At the Kingfisher Restaurant we tried both the steak hot stone (Signature of the Deevana Hotel's in Krabi) and the chef's dish of the day, Risotto with Salmon and Shrimp. We washed dinner down with two of the coldest beers we have had in a very long time.
We were very impressed with the consistency of high quality food throughout the Deevana hotel brand.
We have previously dined at Deevana Patong Resort and Spa in Phuket and were blown away so we were very happy to discover that the meal at Kingfisher Restaurant lived up to the high standards set previously by the brand.
Initially we were a little apprehensive to try the dish of the day, the risotto, as we thought the salmon and shrimp might be mushed into the risotto, making it into a fishy-mess.
However, we were very impressed to discover that the risotto had a large piece of salmon and a giant shrimp neatly stacked on top of the risotto base. The salmon and shrimp were cooked to perfection and the risotto had a delicious tomato base. Very yummy!
The hotel offers a different 'meal of the day' daily. If the risotto comes up as the meal of the day when you are staying, you have to try it – we went to risotto heaven with this!
We were most excited to try the signature dish of the hotel, the hot stone steak, and it certainly lived up to our high expectations of the meal.
The steak was tender, very juicy and came with your choice of side (we were naughty and ordered potato wedges) along with three yummy dipping sauces.
Not only was the steak tender & delicious but the presentation make it fantastic. I don't know if it's just us but seeing your meal come out of the kitchen sizzling in front of you is always very exciting.
Buffet breakfast is included in the room rate and is served daily at the Kingfisher Restaurant.
Breakfast was to a very high quality. It has everything you could want on a buffet including eggs cooked any way to fresh fruit to delicious bircher muesli & yogurt. On top of all this, the breakfast buffet also featured traditional Thai cuisine.
The Deevana brand always cooks their bread fresh on premises – so make sure you try the wide variety of baked goods at breakfast – they are simply delightful.
As coffee lovers, we were hoping to find the same coffee machine we loved so much at the Deevana Plaza Phuket and in true consistent Deevana style there it was sitting at breakfast in all it's glory – happy days!
A few other noteworthy aspects of breakfast, we thought went the extra mile, were the rotating breakfast station and the kids station.
The rotating breakfast station served a new interesting extra breakfast item each morning. For example, one morning there was a banana fritter station and another morning there was noodle soup station. This made breakfast new and exciting to wake up for each morning.
We also thought it was great that there was a kids station set up for families with kids complete with balloon animals for the kids to play with along with food that might tickle their fancy.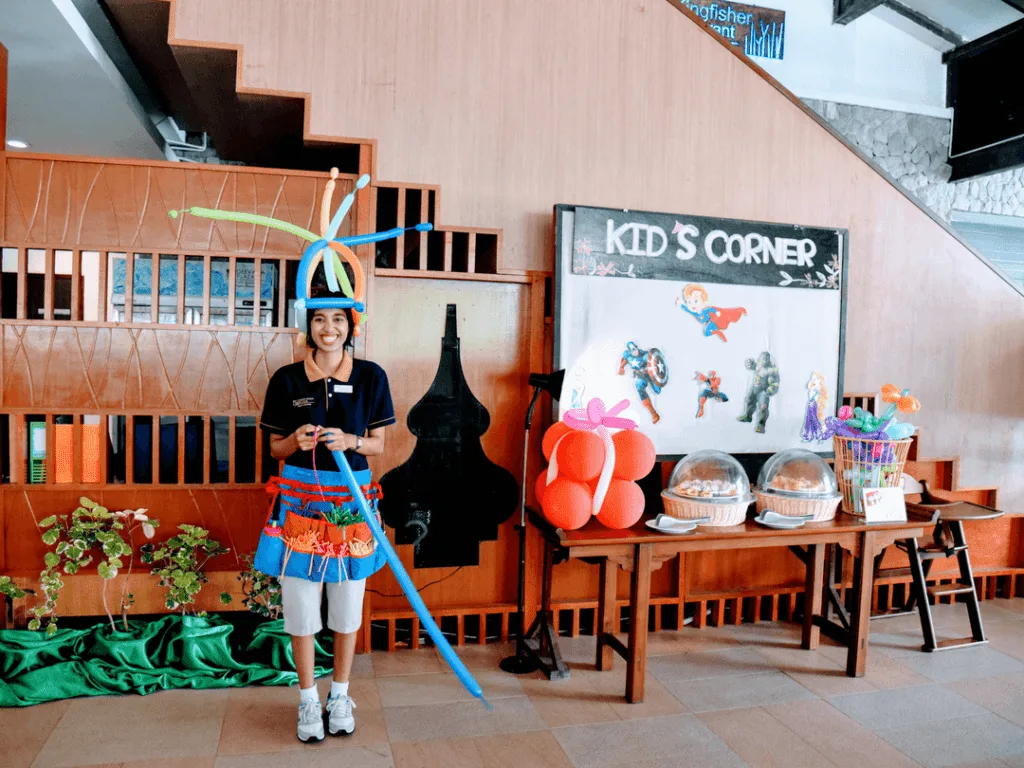 The Hotel Service
In true Deevana fashion, the Deevana Plaza Krabi Aonang provided outstanding service. We felt that the staff really cared about making the guests' experience a positive one.
We were amazed that the high level of service is really consistent throughout the Deevana brand. The staff were always very happy, helpful and friendly.
Friendly staff with a good level of English can make a holiday. We have stayed at other resorts with average staff and didn't enjoy our holiday as much.
One example of the great service we witnessed was the staff helping a couple with kids at breakfast. The couple were struggling to eat with their two young kids. The staff promptly went over to the couple who were overjoyed when they offered to take their baby off their hands while they ate breakfast.
This kind of service is not something you would witness everyday. We were very impressed with the staff's initiative to help this couple as you could tell it helped to make their dining experience a positive one.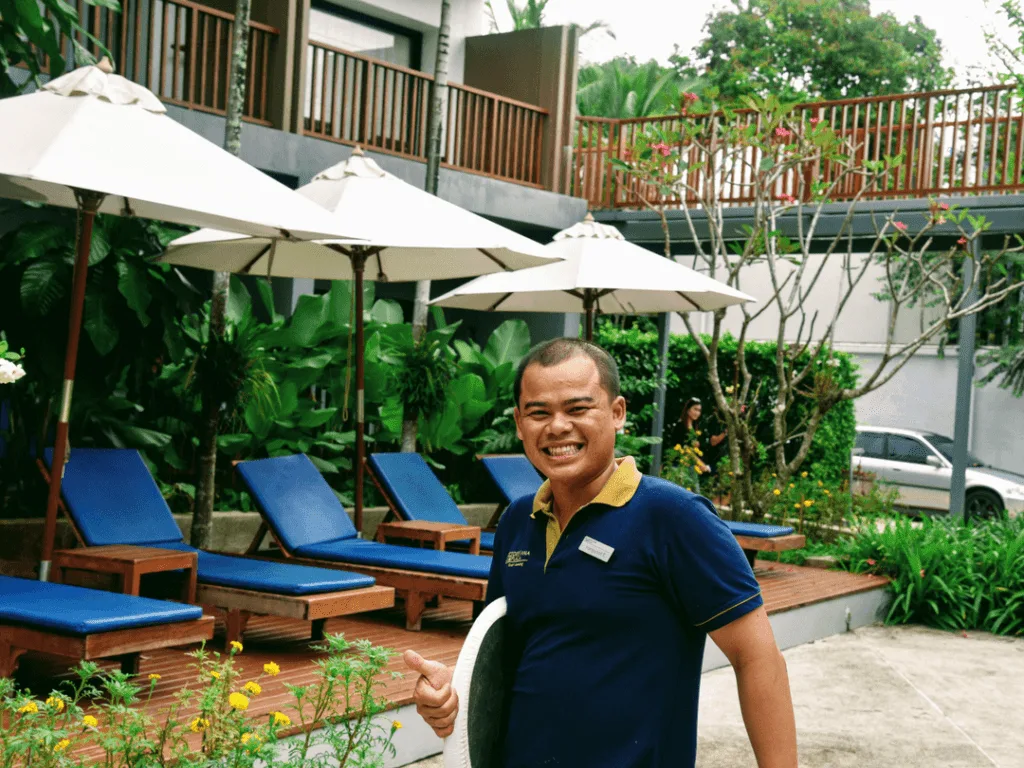 Things to do Nearby
The hotel is in a great location, just minutes away from both Aonang Beach and Noppharat Thara Beach with plenty of restaurants, shopping and bars to enjoy.
Don't miss the sensational sunset at Noppharat Thara Beach – it is without doubt one of the best we have seen in Thailand.
Other activities in the Krabi area that you might be interested to see/enjoy include:
Take a day trip to the 4 Islands near Krabi;
Take a speedboat trip or stay a few days at the gorgeous Phi Phi Island;
Visit an Elephant sanctuary (Please choose a ethical elephant sanctuary. Read about how we selected an ethical elephant sanctuary in Chiang Mai);
Visit the nearby Railay Beach (only 100 Baht per person to reach); and
Visit Tiger Cave Temple (a temple with a view!).
Book Now
We absolutely loved our stay and would recommend the hotel to anyone looking for luxury accommodation in Krabi.
For the best rates and availability click here to book Deevana Plaza Krabi Aonang
The contact details of the hotel are as follows:
Email: [email protected]
Phone: +66 (0) 7563 9999
Website: http://www.deevanaplazakrabi.com
Couples looking for a romantic retreat should also consider the intimate Deevana Krabi Resort next door.
If you have any questions about staying at this hotel or visiting Krabi in general, we would be happy to help – leave us a comment below!
Save this to Pinterest (so you can find it again later)!
Disclaimer – We were guests at this hotel. However, it does not in any way influence our views or opinions of the experience. Our review is 100% honest and a true reflection of our experience.