Looking for a Deevana Plaza review? If you are looking for comfortable accommodation for a romantic getaway in the heart of Patong Beach, look no further than the Deevana Plaza, one of the best luxury accommodation in Phuket.
Check out our video review of our stay at the Deevana Plaza and keep reading for a full review of our experience!
Whenever we think of Patong Beach, Deevana Plaza will definitely spring to mind.
Set right in the hustle and bustle of Patong, the hotel is a luxury oasis in the city – a place where you can retreat after a busy day of sight seeing to absolute comfort.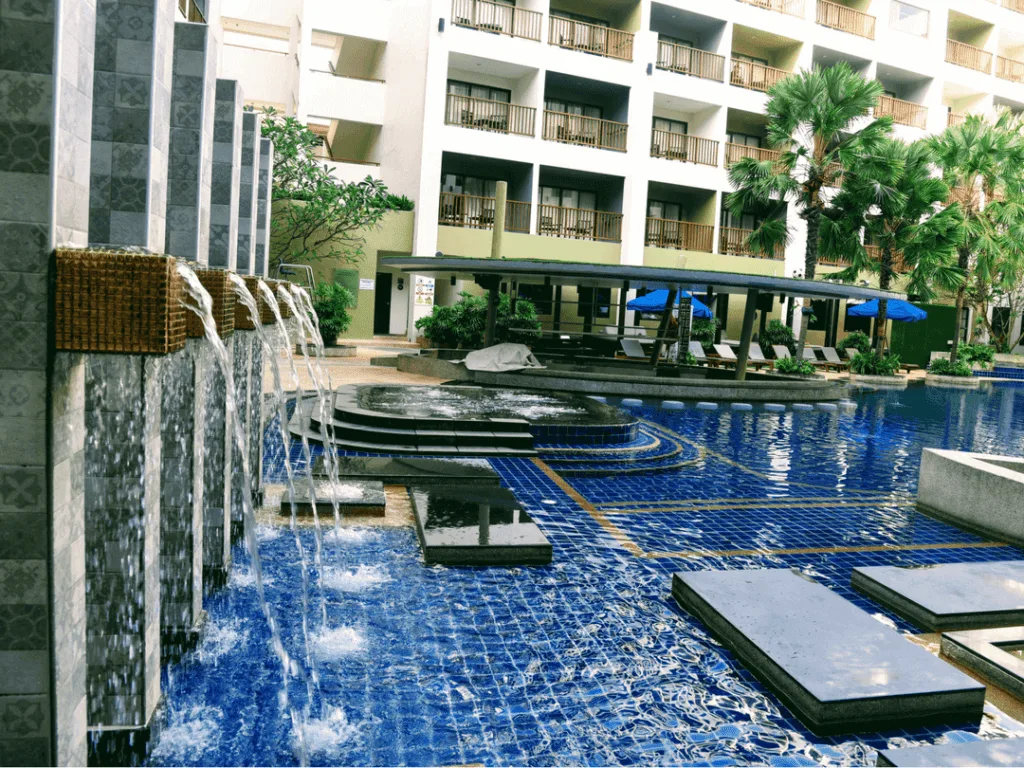 Deevana Plaza Patong Beach
We found the Deevana Plaza to be the perfect choice for travelers wishing to stay in comfort while being situated in the heart of Patong Beach. The hotel is ideal for travelers who want to easily venture back and forth between Patong Beach, the local markets and also make time for some rest and relaxation while vacationing in Phuket.
Not only does the hotel have a great location but it boasts an incredible pool, several restaurants and a fabulous spa that we certainly made the most of during our stay!
We made our way to the hotel from Phuket Airport. It was super easy to reach from the airport. We paid 180 Baht per person for an airport to hotel transfer service. If you want to reach the hotel from the airport, you can buy a transfer directly outside of arrivals at the airport.
After around an hour journey from the airport, we arrived at the beautiful Deevana Plaza. We were greeted by the friendly hotel staff with a refreshing welcome drink, a delicious-smelling cold towel and Thai flower bracelets (Phuang malai). The hotel staff helpfully explained to us that these bracelets are given in Thailand as offerings or to people for good luck. Such a lovely gesture!
The Deluxe Pool View Room
The Plaza offers a number of different rooms depending on your budget and the size of room you require.
We stayed in a deluxe pool view room and were very happy with it. As a couple, it suited our needs perfectly. It was spacious, modern, clean and very comfortable.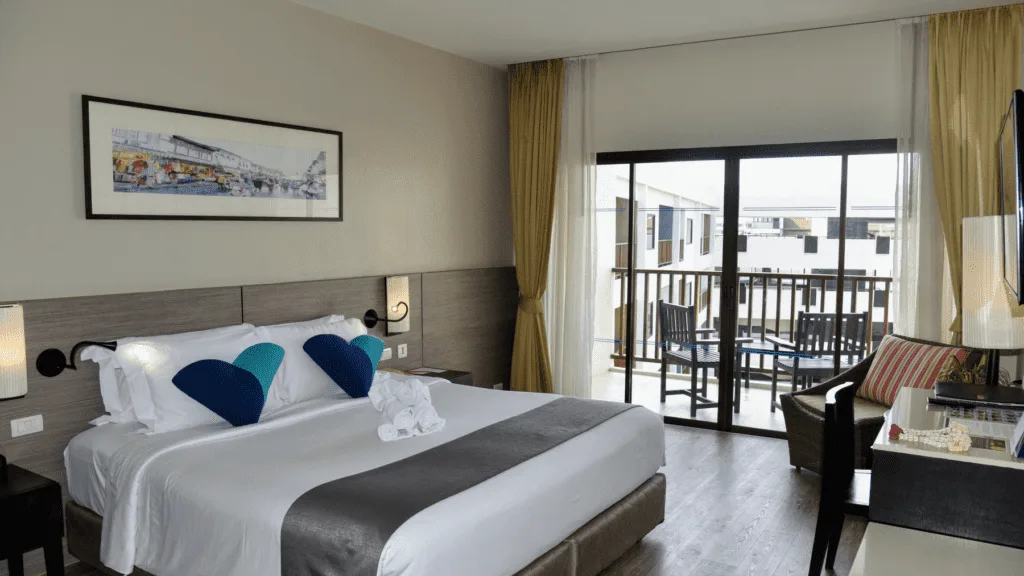 The rooms at the Deevana Plaza are beautifully decorated in a crisp & modern theme. We loved that everything in the room was fresh and new – exactly what we want for a comfortable getaway.
Finding a cute elephant towel animal sitting on the bed of any hotel we visit is also always greatly appreciated – we admire the skills of anybody who can master the art of towel animals!
Our pool view room was very spacious with ample room for opening big suitcases. It included a large double bed with a very comfortable mattress, a desk for using a laptop and a lounge chair for relaxing.
We appreciated that the bathroom was also a decent size with both a bathtub and a separate shower which overlooks the large bedroom. The hotel provided ample amenities in the bathroom including toothbrush & toothpaste, soap, shampoo and even a sewing kit.
The hero of the room in our opinion was the balcony that you could sit on and get an amazing birds eye view of the gorgeous pool below. We could sit on our balcony for hours admiring this view. Couldn't you?
We loved that Deevana Plaza really treated you during your stay. Not only does the hotel provide daily cleaning service but it also provides a nightly turn down service.
We also loved the little extra perks that Deevana Plaza provided in the room including a complimentary fruit basket, fresh robes and cute pool bags that you can use to transport your belongings between the room and the pool. We have never seen pool bags before in a hotel room and felt that this was a nice extra touch.
Update 2018:
We returned to stay in the same room in 2018. The room was still as clean & comfortable as ever.
We were given a lovely welcome with a sweet welcome back message on the tv, a 'welcome' message on the bed & a delicious welcome snack.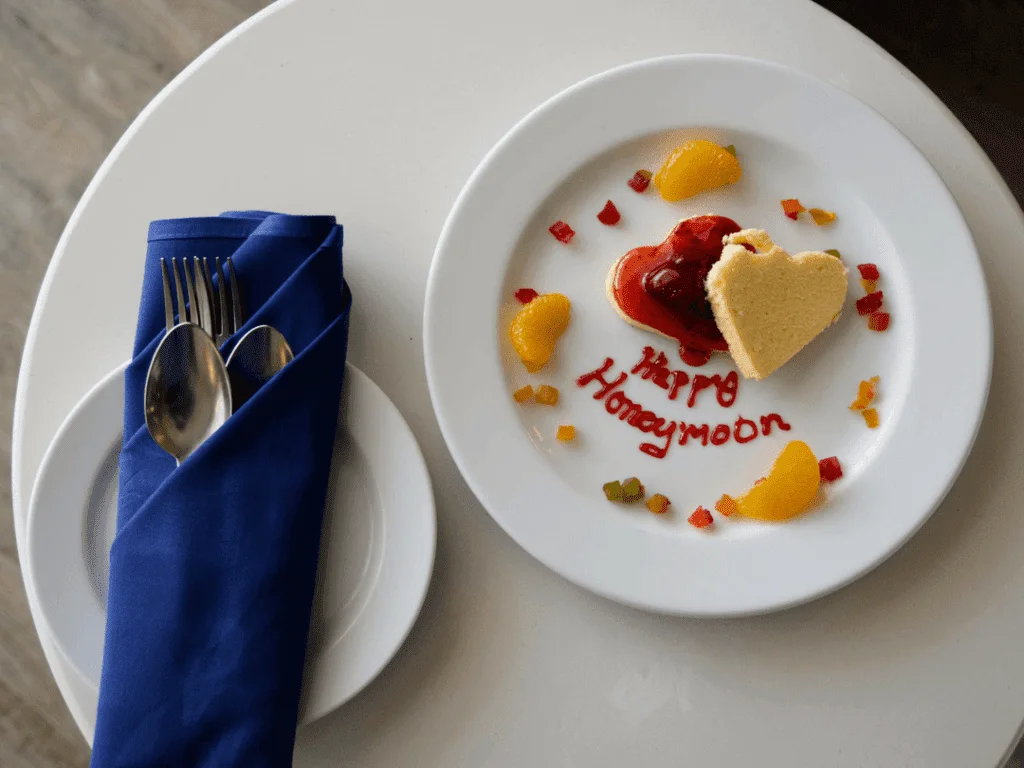 The Family Room
We were also given a tour of the family room on our most recent visit (2018).
The room has a super cute bunk bed for kids along with the main double bed and even a play station to keep the children occupied while on vacation.
The Suite Room
We also toured the best room in the house in 2018 – the Deevana suite room. This would be perfect for a honeymoon or a special occasion in Phuket.
The suite rooms are very plush & comfortable including a separate lounge room and even include a free mini bar!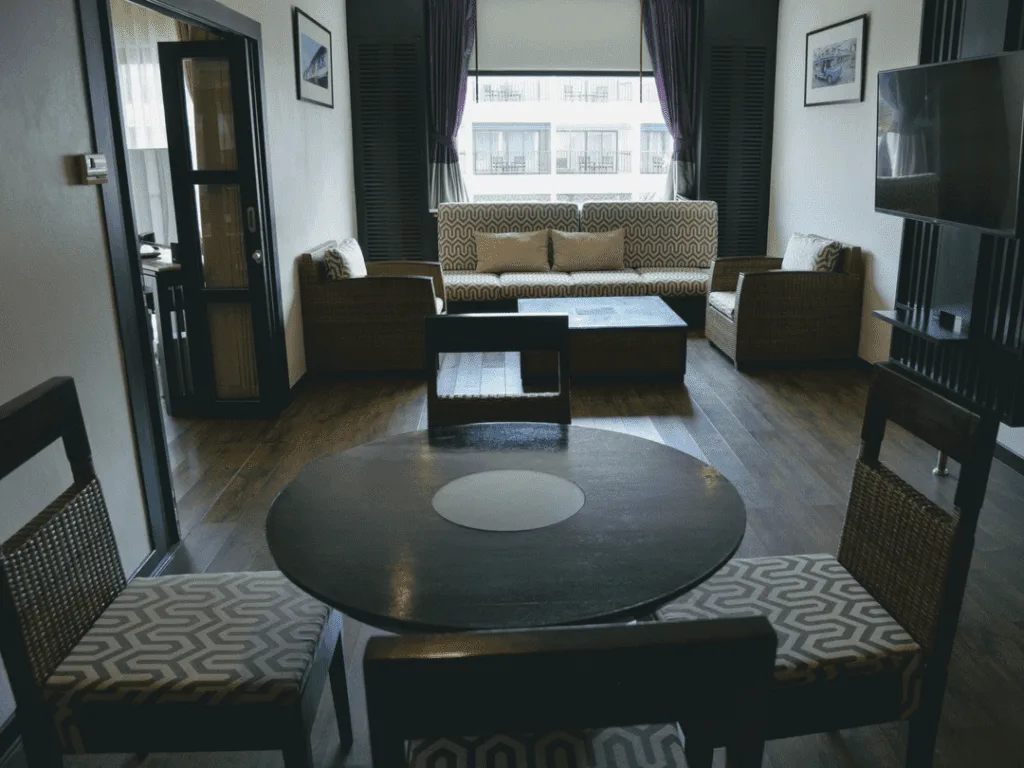 Pool & Recreation Areas
We already miss the gorgeous pool at Deevana Plaza. We are pretty big fans of a fancy pool and this pool certainly did not disappoint.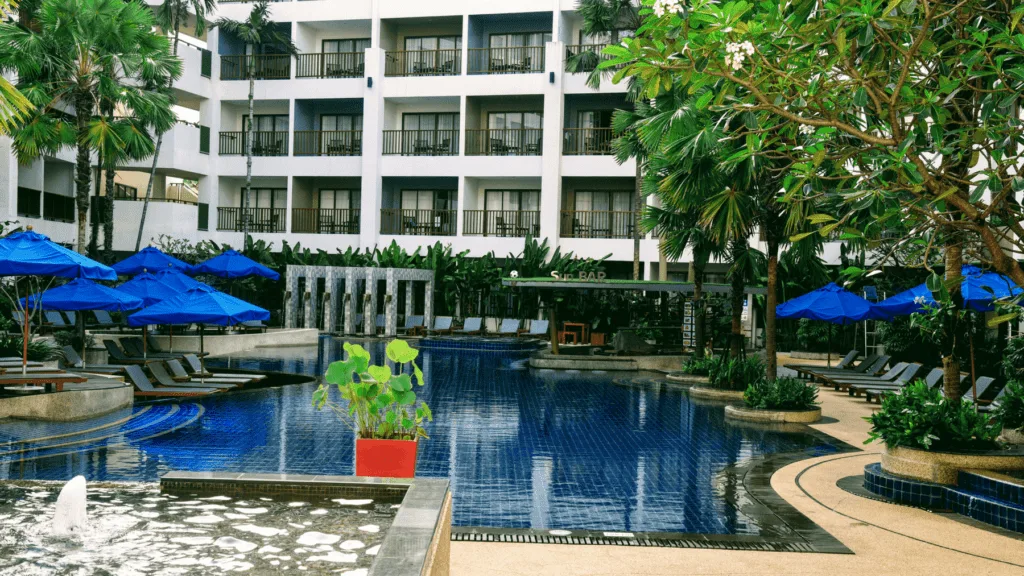 The pool had plenty of plush deck chairs, a swim up bar, towel service counter and a small mini buffet available by the pool at an affordable price.
It sounds crazy but one of the highlights of the pool for us was the hotel supplied pool balls for guest enjoyment while in the pool. We reverted to little kids and could not wait to get back into the pool to hit the balls to each other in a mini version of pool volleyball. It wasn't just us though, the balls were a total hit with all the hotel guests. Cudos for the extra bit of entertainment – it made our stay!
For the gym junkies out there, the hotel also has a spacious gym area with everything you need to get a good sweat going from weights to cardio machines. No need to bring a water bottle with you to the gym, there is a cold water machine for your convenience.
The Orientala Wellness Spa
The Orientala Wellness Spa in the hotel was absolutely heavenly. While it is a little more expensive than spa services along Patong Beach, it is worth every penny.
Feeling a little tense, we both opted for the combination full body aroma massage and the Thai massage. Genuinely, it was one of the best massages we have ever had.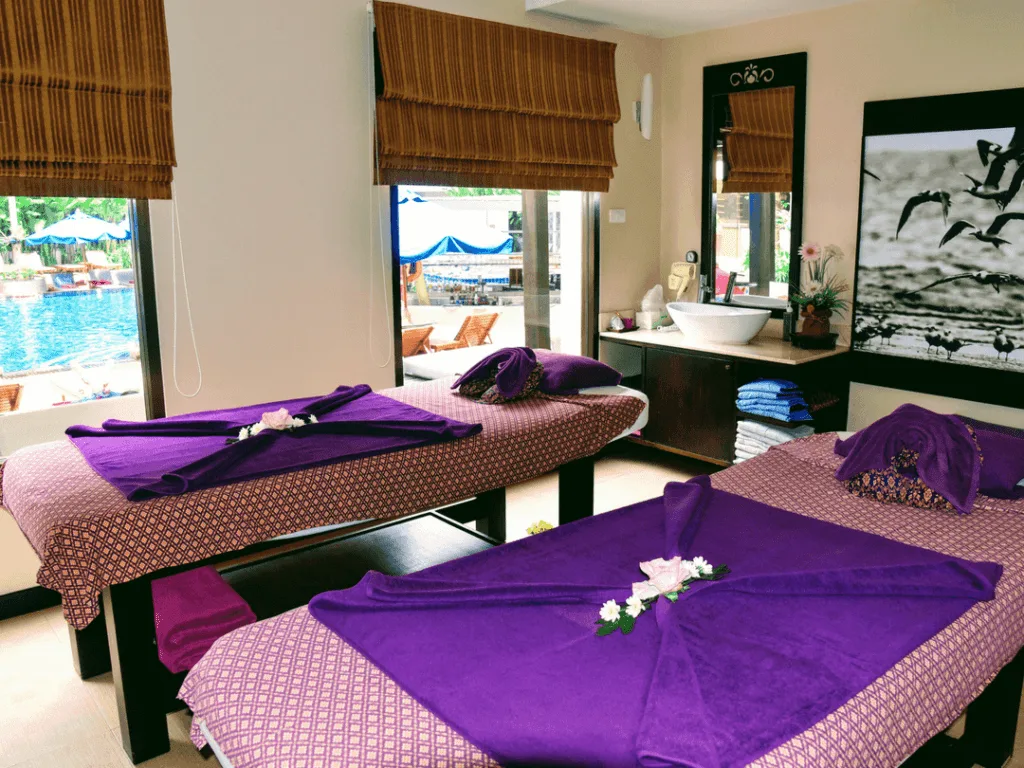 We first got to select our scent for the oil aroma massage. You could choose from coconut, romance, relaxing & a refreshing scent. It was super fun to smell all the different scents and select one. We have never seen a spa allow you to pick the scent of your massage before and we thought it was a neat touch.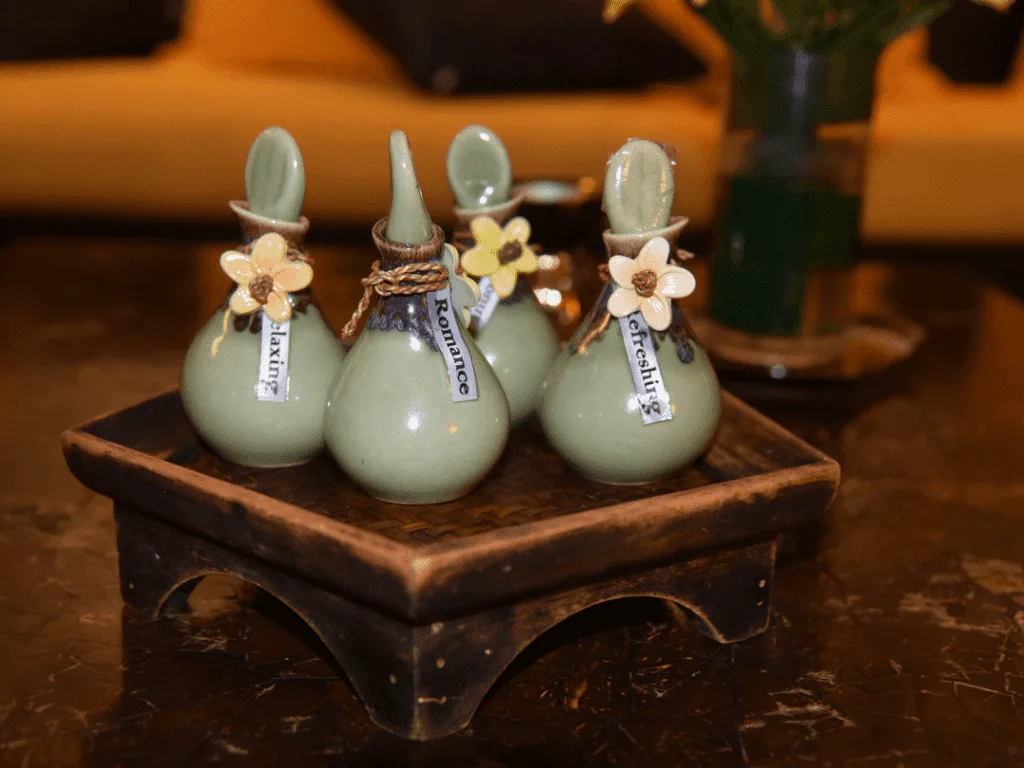 The staff were very experienced at massage and we walked out feeling like we were floating on air. The service concluded with some herbal tea and biscuits – what a treat!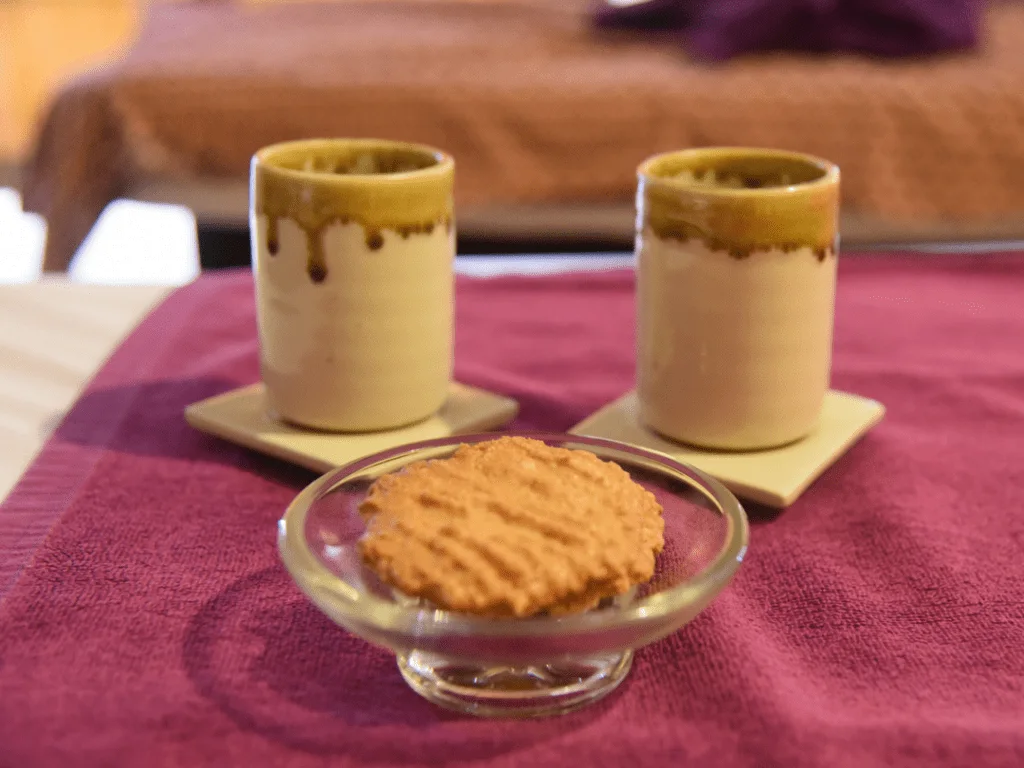 If you are looking for a massage in Phuket, we highly recommend splurging a little extra money and trying the massage at Devana – we promise, you won't regret it!
Spa Tip: Look out for spa specials. When we were there, the spa had a special offer (900 baht for two services). You could select two of three: full body oil aroma massage, thai massage, facial and foot massage.
Update:
We returned to the spa on our most recent visit to Deevana Plaza. We went for an oil aroma massage again as it was really good the first time.
This time we opted to also try the full body scrub and spa bath treatment.
This is a great addition to the oil massage. It is also a awesome couples activity if you are on a romantic vacation.
The Restaurant & Bar Lounge
The hotel has both a restaurant and a bar lounge available to guests.
The hotel staff warned us that street food in the area has on occasion made previous guests sick. If you don't want to risk getting sick on your vacation, the restaurant offers a great range of both western and Thai food at reasonable prices.
On top of supplying delicious food, the hotel often puts on special functions for guests' entertainment. While we were there, the hotel had a halloween theme tapas and cocktail special.
The restaurant also serves buffet breakfast daily which is included in the room rate.
The buffet breakfast at the hotel was outstanding. It was on par to the best 5 star hotel breakfasts we have sampled.
We appreciated that the buffet was large and plentiful. The hotel had thought of everything you could want on a breakfast buffet from eggs any way to fresh fruit to delicious bircher muesli & yogurt. On top of all this, the breakfast buffet also featured traditional Thai cuisine.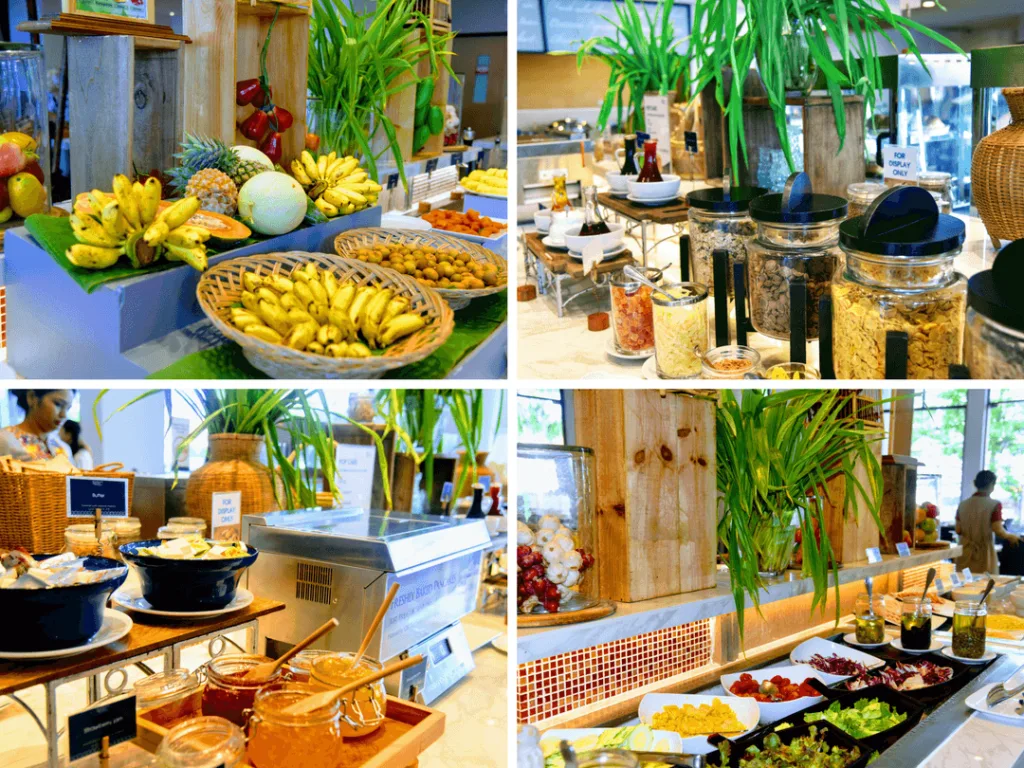 As coffee lovers, we were very pleased to discover a proper coffee machine at breakfast which made sensational cafe lattes – Yahoo! Another noteworthy element of breakfast was the super high-tech pancake machine that made pancakes at a press of a machine button.
Safe to say it was one of the best breakfast buffets we have had in a long time.
Traditional Thai Cuisine
If you would like the opportunity to try traditional Thai cuisine on your Phuket vacation then Deevana Plaza is a great place to do so.
Throughout the day, outside Phuket Cafe, Deevana offers a Thai desert to try. The desert changes depending on the day and can include Mango or Durian sticky rice.
We were lucky to try a Ruam Mit, a traditional Thai ice desert with condensed milk and jelly. Very delicious and recommended if it is available on the day of your stay. It is very affordable too at only 39 Baht.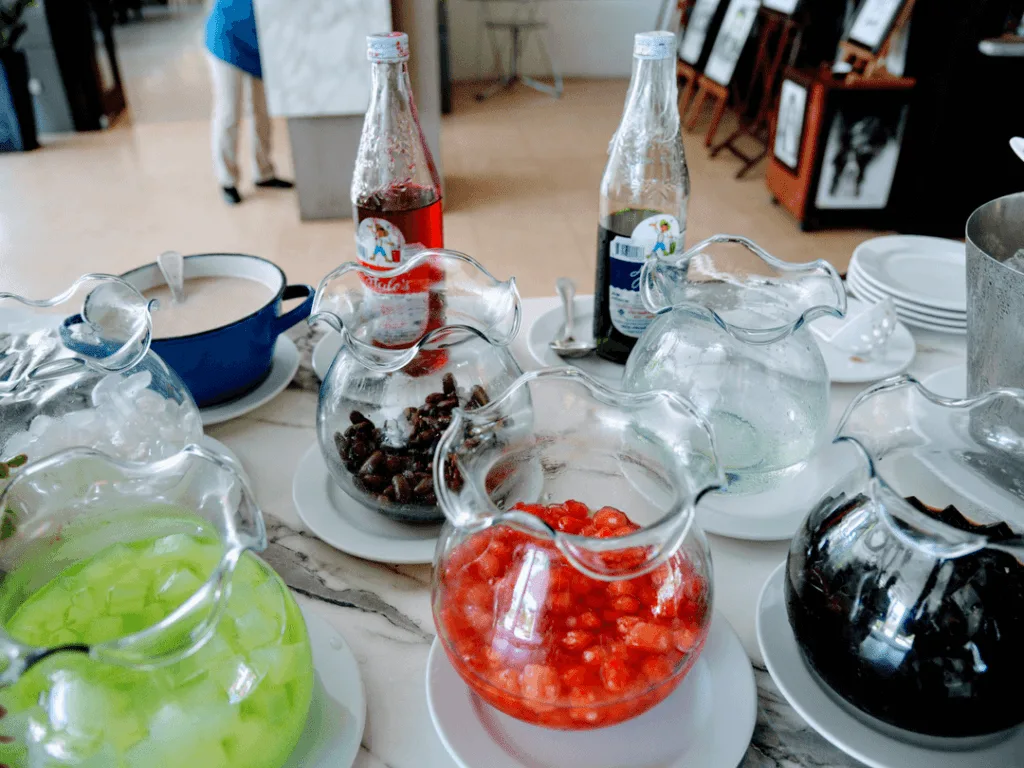 We also had the opportunity to enjoy dinner at Phuket cafe on our most recent stay. The chef at Phuket Cafe specialises in local Phuket cuisine so we would highly recommended giving it a try!
In particular, the chef is an expert at local salads. Both were absolutely delicious.
We also had an opportunity to try a delicious noodle fish and a Thai version of tacos.
The Hotel Service
The service at the hotel was sensational and probably one of the best parts of the hotel. The staff provided such great service that we made a point to inform the manager how amazing his staff were.
You could tell that the staff were treated well at Deevana as they were very happy working there. The staff continually had big smiles on their faces – they smiled and waved to us as we went about our day. They also had a good command of English, which was helpful if we ever wanted to ask a question.
We felt it was lovely that the staff had a genuine interest in the guests of the hotel. The breakfast staff laughed along with guests as they chatted about the guest's plans for the day. The staff at the pool smiled and laughed as we played pool volleyball and the massage ladies were friendly and professional.
It must be standard across the Deevana brand as we also have stayed at the Deevana Resort & Spa and the staff were equally as great there.
Things to do nearby in Patong beach
The hotel is in a great location, at the very heart of Patong Beach.
We loved that you are only minutes away from the hustle and bustle of Patong Beach including the famous markets in the area.
Other attractions in the Phuket area that you might be interested to see include:
Big Buddha Phuket (Very similar to the Big Buddha in Hong Kong);
An Elephant sanctuary (Please choose a ethical elephant sanctuary. To find out how we selected an ethical elephant sanctuary in Chiang Mai click here).
Phi Phi island (You can go on a day trip or stay overnight)
Book Cheap
We absolutely loved our stay at Deevana Plaza Phuket! We would recommend it to anyone looking for luxury accommodation in Patong Beach.
If you would like to book a room you can contact the hotel directly or via booking.com.
The contact details of the hotel are as follows:
Email: [email protected]
Phone: +66 (0) 7630 2100
Website: https://www.deevanaplazaphuket.com
If you have any questions about staying at this hotel or visiting Phuket in general, we would be happy to help – leave us a comment below!
Save this to Pinterest!
Disclaimer – We were guests at this hotel. However, it does not in any way influence our views or opinions of the experience. Our review is 100% honest and a true reflection of our experience.