Looking for Denver Date Ideas?
Denver is a cool place to explore whether you are a local or on a romantic getaway along as there are a lot of scenic areas to explore as well as great restaurants and coffee shops .
So, if you are looking for fun things to do for couples in Denver – we have you covered! Whether you are looking for an adventure packed date or just somewhere to go on for a rainy date this list has it all.
Don't spend another weekend stressing about your next date night when there are SO many Denver dates to tick off the old couples bucket list.
Date Night Ideas Denver for Dog Lovers & Owners
If you and your date are both dog owners and dog lovers, here are a list of places the two of you can go to enjoy a great time with both the humans and the canines.
The Watering Bowl Restaurant: This place is known as "Denver's Best Pawtio". This could be a perfect date with or without your canine buddy. You can enjoy live music, happy hour, great food and drinks, Pool and Darts. They also make dog treats in house for your canine companion to enjoy while you play.
Recess Beer Garden: They have Brunch every Saturday and Sunday from 10:00 AM -2:00 PM. They also have happy hour every Monday – Thursday from 2:00 PM – 6:00 PM. They have an awesome wooden dog friendly patio. If you love Mac and Cheese, they offer an option to Build Your Own Mac and Cheese. They are known for their friendly staff, awesome patio and great vibes.
Forest Room 5: They serve great American cuisine and have a dog friendly patio. They are open daily from 4pm-2am. If you enjoy music, art, film and great conversation this is the perfect place for a date night. The patio has a unique vibe with a fire pit and wooden tree stumps as chairs. The patio space only comfortably seats smaller dogs.
Low Down Brewery & Kitchen: Known for their Beer, good food and spacious dog friendly patio. They specialize in serving healthy cuisine with your beer versus the traditional greasy and unhealthy bar food. Their seasonal menu is made from scratch using local, organic and sustainable ingredients. They serve a variety of menu options including appetizers, pizzas, salads and sandwiches. They also offer brunch on the weekends.
Prost Brewery: A great place to enjoy German beer with your date and your canine companion(s). You can also enjoy Board Games, Live Music, Sports, with an amazing patio space for dogs.
Wash Perk: Wash Perk offers a warm and laid-back ambiance with great coffee and tasty treats. They offer a variety of fresh baked treats and cozy outdoor seating that welcomes your canine companion. They are open 6am to 7pm Monday-Friday and 7am to 7pm on weekends.
Lowry Beer Garden: A casual bar and eatery that serves up a variety of craft brews and tasty fare. This is the perfect Date night with your canine and human companions. Your dog is welcome to join you at one of their pet-friendly outdoor tables while you enjoy your date. Lowry Beer Garden is open Sunday through Monday from 11am to 9pm, and Tuesday through Saturday from 11am to 10pm.
Kennedy Dog Park: Kennedy Dog Park offers your dog(s) plenty of space to play, as it is just under 3 acres. Kennedy Dog Park was recently redone by the city of Denver and is now fully enclosed. It has two areas for your dog to play a full energy area and a low energy play area.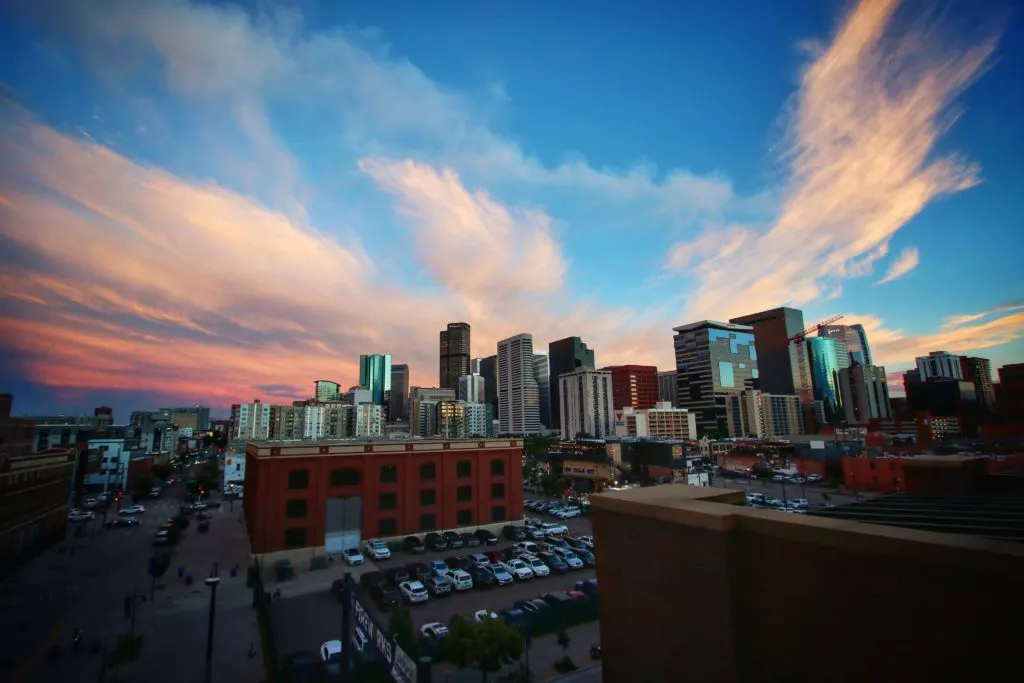 Unique Date Experiences
Not your typical date night ideas for those that like to think outside of the box.
Upstairs Circus: Upstairs Circus is a DIY workshop-meets-bar concept. This is a unique date night because you and your date can create unique leather working, woodworking, jewelry making, art & design DIY projects while enjoying craft cocktails, beer & wine. The goal of Upstairs Circus is to inspire and empower creativity.
Archery Games Denver: Something we recently heard about and is going wild on Reddit is Archery Games. If you haven't heard of it basically two teams battle it out with bows and foam-tipped arrows. To win, you tag all of the opposing players with arrows to eliminate them from the game. You can join as a small group of 4 or 6. It is a great double date idea to get competitive in couples with a group of friends. If you don't have another couple to go with, it's not a problem, as you can join an existing group and make some new friends on your date.
Roll Denver: Roll is a monthly themed roller skate party in the EXDO Event Center complete with skate rental, hypnotizing sound and lights, and awesome drinks. You will enjoy Denver's premier sound and light show. ROLL is a skate-dancing experience that brings you back to your childhood with reverse skate, open skate, old school hip-hop and much more. Listen to great music, dance, get exercise and have fun with your date on during this unique date night experience.
Candelaria: Is a perfect date night for those that love to create together. Candelaria is in Denver's Highland neighborhood. They offer a two-hour candle making class for $45 per person. The class includes step by step introduction on how to pick, mix, and pour your own candle fragrances. Both you and your date will walk away with 2 7oz candle tumblers in your favorite scents.
Hammond's Candies: You can tour the candy factory which headquarters in Denver Monday through Saturday. Hammond Candies has been in Denver for almost 100 years.
UberGrippen Indoor Climbing Crag: This is the perfect date for the competitive and/or athletic couple. You have the option to climb, do yoga and other fitness classes. They offer memberships and you can take a virtual tour of the facility before your date.
The 1UP Arcade Bar: This is the perfect date to let your inner kid out. You can enjoy happy hour, great food and drink specials, games and tournaments. This is the perfect combination of cocktails and old school arcade games.
Grandma's House: This is a small brewery that is in Denver. The brewery is in the heart of the Historic Antique Row stretch of South Broadway. They host a variety of craft activities and bingo nights. They love all things craft, so this is the perfect place for a date night if your companion loves arts and crafts. What goes better than Beer, Arts and Crafts? They also have a very large outdoor patio for patrons to enjoy.
Uncorked Kitchen and Wine Bar: They host a variety of virtual and in person cooking classes. They even have a calendar full of Date Night classes. When planning your Date night, you have the option to filter events by cuisine. They offer Date Night classes for the following cuisines: American, Italian, French, Vegetarian, Sushi and Family. This Date Night will set you back $275 per couple; but you are guaranteed to make one-of-a-kind memories. All guests must be 21 years or older as a bottle of wine is included with the price.
Unser Karting Events: This is a perfect date for the adrenaline junkies and competitive couples. If you are looking for the ultimate Karting experience this is the perfect date night for you and your companion. It is recommended that you make a reservation to reserve your time slot. After racing you can enjoy great food and drinks at the Trackside Tavern. The Trackside Tavern features a full-service bar and menu with classics like burgers, wings and pizza. They also showcase multiple sporting events on their flat screen televisions.
Comedy Works Denver: One of the most popular comedy clubs in the area. They have a location in Larimer Square and in Greenwood Village. They host big comedians as well as undiscovered acts. You can also dine in the Lucy Restaurant which is located above the club. You will receive preferred seating in the first 6 rows. When you dine at the Lucy Restaurant, you don't have to wait in the box office or seating line. Call ahead to make reservations.
Stranahan's: Perfect date night if you and your date enjoy whiskey. In this lounge you can sip special releases and craft cocktails. You also can tour the distillery. During the tour you can see the process of making the whiskey, the brewhouse, the bottling room and more. You can also surprise your date by having a custom engraved whiskey bottle waiting for them in the tasting room as the end of the tour. It takes three weeks for the personalized engravings, so make sure to plan ahead.
Lakeside Amusement Park: Lakeside Amusement Park is Denver's most entertaining landmark. The facility features a picturesque lake, trains, a merry-go-round, a drop tower, bumper cars, spinning rides and so much more. They are closed on Tuesdays.
Escape Works Denver: They have the following rooms: Blackbeard's Brig, Egyptian Tomb, Casino Heist, Speakeasy Beyond the Flower Shop, Outbreak and an on-line room War Games Online. If you are looking for an unforgettable and exciting experience this is the perfect date night for you. This would also be a great group date as rooms can accommodate 2-12 participants.
Santa Fe Art District: First Fridays in the Santa Fe Art District makes the perfect date night. It's free, entertaining and there is never dull moment. There are tons of bars, restaurants and food trucks from you to choose from. In some of the back patios and galleries you can find some of your favorite local bands and musicians.
Most activities occur between 7th and 13th Avenues on Santa Fe in Denver. Parking is free, but you must get there early. Festivities pick up between 6 and 7pm and starts thinning out around 9pm. You can view a variety of exhibits that range from classic painted artworks to strange, contemporary sculptures. Some studios offer interactive displays as well.
Monster Mini Golf Centennial: Monster Mini Golf in Centennial will provide you with one of the most unique mini golf experiences of your life. There are 18 glow-in-the-dark holes. The mini golf course has bright black lights that are surrounded by walls that come alive with witty and relatable pop-culture artwork; which is relevant to Denver and Colorado area. Monster Mini golf is indoors, so it is open seven days a week, rain or shine. If you're looking to do more than golf, their facility features a huge arcade as well as a virtual reality attraction that transports players into some monstrously entertaining adventures.
Kaboom Virtual Reality Arcade: You can play a variety of VR games. They offer single player and multiple player games in a variety of genres including: Racing, Horror, Fighting, Flying, Shooting, Sports, Racing, Animals, Musical, Amusement Parks and much more.
Sport Lovers Date Ideas Denver
Whether you love playing sports or watching sports here are some great date night ideas for sports enthusiast.
Colorado Avalanche- NHL Hockey Games: Games occur in the Pepsi Center from September to June each year.
Colorado Mammoth- NLL Lacrosse: Games occur in the Pepsi Center from December to April each year.
Colorado Rapids- MLS Soccer: Games occur at Dick's Arena from March to October each year.
Colorado Rockies- MLB Baseball: Games occur at Coors Field from April to September each year.
Denver Broncos- NFL Football: Games occur at the Mile High Stadium from September to January each year.
Denver Nuggets- NBA basketball: Games occur in the Pepsi Center from October to June each year.
Denver Outlaws: MLL Lacrosse: Games occur at the Mile High Stadium from May to August each year.
Main Event: Located in Highland Ranch, Main Event is the perfect place for an active date night. There are a variety of activities to keep you and your date busy. They offer the following: Laser Tag, Bowling, Arcade games, and Billiards. They also offer a variety of food and drinks options.
Lucky Strike Denver: Located in downtown Denver, this is the perfect place for an active date night. You can bowl, eat and indulge in adult beverages.
Colorado Sports Hall of Fame: This museum has tons of history and exhibits including: Salute to the Inductees, Great Moments in Colorado Sports, Gold Crown Foundation, Sportswomen of Colorado, The Denver Broncos Franchise, A Snapshot of Women in Sports, Gallery of Legends, Kids Zone, Colorado Golf Association, Special Olympics Colorado and the National Sports Center for the Disabled.
National Ballpark Museum: Formerly known as B's Ballpark Museum, the collection was recognized by Smithsonian Books as one of the top 21 finest private baseball collections in the world. The Museum prides itself in one-of-a-kind treasures, including those from the original 14 classic ballparks, and is the only Museum dedicated to ballparks.
United States Olympic & Paralympic Museum: The U.S. Olympic & Paralympic Museum is a new attraction located in Colorado Springs. The Museum is dedicated to capturing and sharing the history of Team USA in the Olympic and Paralympic Games. This is the perfect date night for sports enthusiast who are looking to learn and do something out of the box.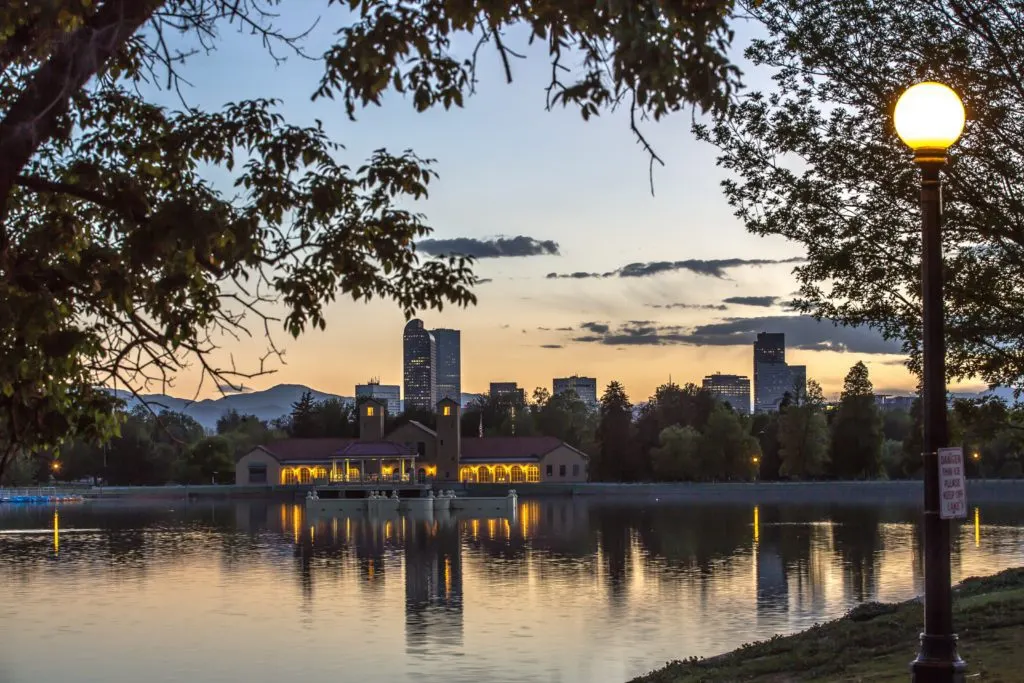 Bed & Breakfast Locations in or around Denver
Stay in One of Denver's Best Jacuzzi Hotels: Denver has some great hotels with hot tub in room. If you want to venture further out, there are more cool hot tub hotels in Colorado to explore.
Capitol Hill Mansion Bed & Breakfast Inn: Located in the Heart of Downtown Denver, this luxurious urban inn has been around since 1994. This Inn has an inviting atmosphere and welcomes couples, families, and gay and lesbian couples and groups. The bed and breakfast has 8 luxurious guestrooms, with each room named after a Colorado Wildflower.
The Adagio Bed & Breakfast: This Bed and Breakfast is in a Victorian home located in Denver that was built in 1892. They offer six rooms and suites with each room having its own private bathroom. In addition to breakfast, they offer a private intimate dinner with 24 hours' notice.
Queen Anne Bed & Breakfast Inn: Three words to describe this Inn are Green, Clean and Quaint. This urban oasis is in the heart of Downtown Denver. It is a combination of great design with the environment and community in mind. You have the option to stay in rooms decorated by a local artist, private hot tub and great views. Every single room is different, so you can plan multiple date nights to this one location.
Patterson Inn: Located in one of Denver's most prestigious neighborhoods, the Patterson Inn offers tons of historical intrigue. The inn was built in 1891 and it has been said that the spirits of the original owners still lurk in the house. The regal mansion is beaming with unique features such as the hand-carved oak stairway, restored hardwood floors, wood beams, formal furniture, and exquisite crown molding. They also have a courtyard and rooftop terrace for your enjoyment before starting your nighttime festivities.
Cannabis Friendly Ideas
These are perfect places to go on a date to indulge in cannabis, learn about cannabis and have an out of this world experience.
Ganja Gourmet: If you and your date love to indulge in marijuana infused foods this is the perfect place. You can place your order ahead of time or order in house. They serve pizza, lasagna, humus and wing sauce as well as a variety of cannabis infused desserts.
Puff Pass and Paint: If you and your date enjoy indulging in marijuana, this is the perfect date night for you. At Puff Pass & Paint, they offer the first ever cannabis-friendly, all-inclusive art classes. They cover topics including writing, pottery, cooking, crafts and THC infused skin care.
City Sessions Denver: This is a different, amazing and new experience located in Denver. They offer private cannabis tour packages that are customized to serve the interests and desires of their guests within the local Colorado setting. Explore Denver's local Eat, Play, Blaze, Stay scene with the City Sessions Guide! They offer tours 7 days a week.
Denver Kush Club: Located in Denver's historic Five Points district, Denver Kush Club has been named one of Denver's best Medical and Recreational dispensaries. They offer high quality concentrates, flower and apparel. They also offer a variety of edibles and topicals creams and ointments.
Marijuana Mansion: While visiting this mansion you will explore 11 cannabis themed rooms. You will experience the culture and history of the cannabis industry. They also offer 30-minute tours which give you and your date great photo opportunities.
Museums, Galleries and Gardens
Denver Botanic Gardens: Located on York Street and spanning more than 24 acres, Denver Botanic Garden is the perfect Date Night for those who love plants and flowers. The Garden has a wide range of gardens and collections from all over the world. The garden prides itself on connecting people to plants through botanical beauty, education, art, conservation, sustainable living and a variety of events.
Forney Museum of Transportation: The Forney Museum of Transportation is a one-of-a-kind collection of over 600 artifacts relating to historical transportation. You can learn a lot at this museum including information on: buggies, motorcycles, steam locomotives, aircraft, carriages, rail equipment, fire apparatus, public transportation, sleighs, bicycles, toys & diecast models, vintage apparel and much more.
Wings Over the Rockies Air & Space Museum: Wings Over the Rockies Air & Space Museum is Colorado's Official Air & Space Museum. This museum is dedicated to educating, entertaining, and inspiring the public about space and aviation adventures. Visitors will see over 50 aircrafts on display as well as participate in exhilarating flight simulation exercises. The Museum was also named 2016's best event venue in the Denver Metro by Colorado Meetings + Events Magazine.
The International Church of Cannabis: This location is open 7 days a week. You can experience the guided meditation/laser light show. After the show you can extend your date by checking out the gallery, arcade, art garden and a media room that features over 10,000 free video games.
Center for Colorado Women's History: The historic house has been the home to inspiring women since 1883. It has been beautifully restored to the era of 1912-1924 and is furnished with the family's original belongings. The center focuses on research, scholarship, lectures, tours and exhibits of the history of women in Colorado.
Denver Selfie Museum: This is the perfect date for the couple that enjoys taking selfies and pictures together. This museum takes selfies to another level. As the first and only Instagram pop-up museum in Denver, they provide the backdrop, and all you have to do is bring your phone for your selfie adventure.
Denver Firefighters Museum: This self-guided tour is perfect for the couple that likes to do things at their own pace. The museum has an extensive collection of artifacts, photographs and documents from 1866 to present of the Denver Fire Department.
Denver Museum of Miniatures, Dolls and Toys: This is the perfect date for those who want to be a kid again. This museum provides education through the preservation, exhibition, collection and interpretation of the visual arts using miniatures, dolls and toys. They are open Friday and Saturday: 10 am – 4 pm; Sunday: 1 pm – 4 pm. They are closed all major holidays. They also offer free guided tours with paid admission that are offered the 3rd Friday of the month.
Museo De Las Americas: Located in the heart of the Art District on Santa Fe, Museo de las Americas is the premier Latin American art museum in the Rocky Mountain region.
Shiki Dreams by Prismajic: This location was created by 26 artists and is located in a 1400 sq feet location in Denver. You will be transported to a mythical world of beauty and tranquility. It was also nominated by USA Today as one of the Best Immersive Art Experiences in the country, Shiki Dreams is Denver's newest and coolest immersive adventure.
***
See more: