This article provides a guide to DIY shore excursions in the beautiful Virgin Islands of St Thomas, Tortola and Nassau, Bahamas.
To find the best cruise prices, we always use cruisedirect for the fact that they have the best deals and a very user-friendly website. Click here to find the best cruise deals on your dates.
We visited this Eastern Caribbean cruise ports on the Norwegian Escape. !
DIY Shore Excursions in St Thomas, Tortola and Nassau
An Eastern Caribbean cruise isn't the most budget conscious of all cruise vacations.
However, it is still possible to enjoy the absolute stunning beaches of the Eastern Caribbean islands without blowing the budget.
Keep reading for our guide to DIY shore excursions in St Thomas, Tortola and Nassau.
ST THOMAS SHORE EXCURSION (A TRIP TO TRUNK BAY, ST JOHN)
After researching Shore Excursions in St Thomas, the best rated attraction was actually skipping this island entirely and taking a ferry to Trunk Bay Beach on St John.
While we were a bit apprehensive about being able to make this journey in time to get back on the cruise, we simply had to see the beauty of Trunk Bay Beach on St John.
We were not disappointed in our decision to travel from St Thomas cruise port to Trunk Bay Beach, St John!
We departed the ship upon arrival St Thomas around 10.00am in the morning (it was possible to disembark as early as 7.00am but we were naughty and had a sleep in). Opps!
Try to do better than we did for as much time as possible on this gorgeous beach!
It cost us $30 total per person return for the trip to St John. A shore excursion on the Norwegian Escape to St John would have set us back $85 USD per person.
3 easy steps to make a DIY St Thomas Shore Excursion to Trunk Bay, St John
Follow these 3 easy steps to make a DIY St Thomas Shore Excursion to Trunk Bay, St John.
1. Take local public transport from St Thomas Cruise Port to Red Hook Ferry Terminal
Upon disembarking our cruise, we took the local public transport bus to Red Hook ferry terminal.
The bus cost $2 USD per person as opposed to $20 USD in a cab.
We asked around in town about the departure point for the public bus but the locals were not keen to tell us where it stops, many denying there was even a public bus in existence.
One kind lady pointed out where the public bus stops only to be screamed at by a local cab driver.
To ensure you don't have a similar experience, we will give you detailed directions as to where to catch the public bus.
Upon leaving the cruise port terminal, take a left.
Directly outside the cruise terminal you should see a payless shoes store. Cross the road at this point & continue walking past the St Thomas Skyride Mall (pictured below).
Walk to the end of the street and take your first right, about 50 metres down the road from here you will see a Pueblo supermarket.
You will see a bus stop near the Pueblo supermarket however, this bus is going in the wrong direction.
The bus you need to take to Red Hook ferry terminal departs directly across the road from the Pueblo supermarket (pictured below).
You will need to hail the bus down as it drives past. It may say 'taxi' but it is a local bus or collectivo service (similar to many Latin American countries).
Pro tip: Confirm the cost before jumping in to ensure you have the right method of transportation!
On the opposite side of the road, stand outside a yellow building with the sign 'Rainbow Kids' in order to hail down the bus.
The public bus is located only about a 5 minute walk from the cruise terminal. It is just a little tricky to know where exactly to walk.
I have also posted a map below with the location of the public bus outlined on the map.
2. Take a Ferry from Red Hook Ferry Terminal to St John
The Red Hook ferry terminal is located approximately a 20 – 30 minute bus ride away from the St Thomas port terminal.
From here, it is necessary to get a ferry to St John. The ferry costs $7 USD pp one way.
The ferry runs every hour on the hour from 8am to 12am.
The ferry terminal also has really great, quick internet to use while you wait so definitely make the most of that! We sure did!
Once on the ferry, it takes about 20 minutes to reach the island of St John.
3. Take Collectivo Taxi in St John to Trunk Bay
Once you reach St John, collectivo style taxis (pictured below) are waiting to take groups of people to Trunk Bay.
There is very little public transport on St John and nothing in the direction of Trunk Bay so it is necessary to take a taxi for this leg of the journey.
The cost of the taxi which takes you directly to Trunk Bay is $6 USD per person one way. The taxis will be parked directly outside the ferry terminal when you arrive at St John.
The taxi ride to Trunk Bay is around 15 – 20 minutes duration or if you prefer to go to a slightly closer beach, Honeymoon Beach is also along the same route and costs $5 USD pp one way.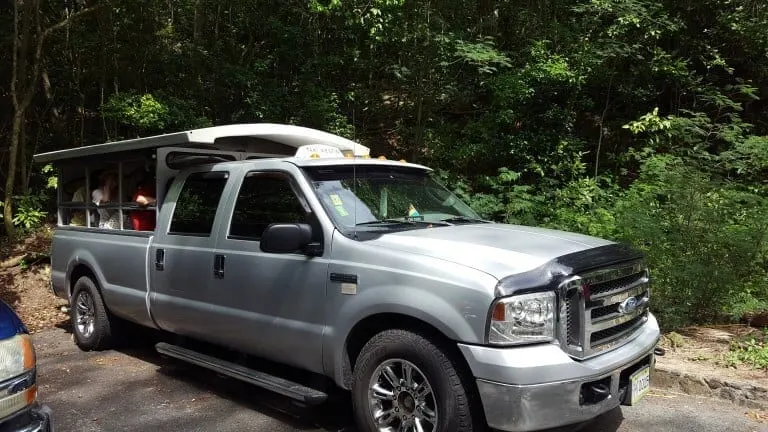 When you arrive at Trunk Bay Beach, you are required to pay a $5 USD entry fee as the beach is a protected National Park.
At the time we visited unfortunately the famous snorkel trail was closed due to dangerous surf conditions.
Despite the snorkel trail being closed, Trunk Bay beach was still absolutely magnificent and I can definitely understand why it is one of the most well rated beaches in the world.
The crystal clear water & white sandy beach juxtaposed against the green hilly backdrop truly is an amazing sight.
Paying the National park entry fee was definitely worthwhile to have a largely deserted beach where you can leave your belongings on the beach (largely) without fear of things being stolen.
The National park also has toilets and fresh water showers onsite as well as a place that you can hire snorkel gear and beach chairs.
However, we always BYO snorkel gear as this saves a ton of money and avoids the use of potentially unsanitary snorkel equipment.
While it is about a 2 hour venture from the cruise ship, the day trip to Trunk Bay Beach from St Thomas cruise port is certainly achievable.
We left the cruise at 10am and returned with plenty of time.
Overall, we were not disappointed with our decision to Trunk Bay Beach. We would highly recommend taking a trip to Trunk Bay Beach due to the natural beauty of this gorgeous beach.
TORTOLA SHORE EXCURSION (A TRIP TO CANE BAY GARDEN)
We had very little time in Tortola as the Norwegian Escape departed at 3.00pm so we decided to visit the nearby Cane Garden Bay.
As there is virtually no public transport on Tortola, your only option is to catch a bus/shared taxi to Cane Garden Bay at a cost of $8 USD pp one way.
This trip is super easy as the transportation is parked directly outside the cruise port terminal. As you exit, vendors will be calling out for anybody looking to visit Cane Garden Bay beach.
The beach at Cane Bay was absolutely packed with people (with only one cruise in port!) so if you aren't keen for a packed beach this might not be with one for you.
In saying this, we appreciated that the beach had full public access and no entry fee to access the beach.
The beach is lined with local restaurants where you can buy food, drinks and most importantly get free wifi when you make a purchase!
We found a great little beach front bar to enjoy the view while surfing the free wifi. The wifi at the beach bar worked great and beers only cost $4.
Overall, we would highly recommend a visit to Cane Garden Bay Beach – an absolutely gorgeous Caribbean beach if you don't mind sharing a beach with every man and his dog.
NASSAU, BAHAMAS SHORE EXCURSION (A TRIP TO CABLE BEACH)
If you want to reach the top rated beach in the Bahamas, there is no need to take an expensive tour.
The public (and quite comfortable) local bus in Nassau will give you virtually door to door service for only $1.25 USD pp one way.
The bus you need to catch is the number 10 public bus to Cable Beach.
The bus to Cable Beach can be caught in front of McDonalds in town, across from the British Colonial Hilton.
The location of where you catch this bus to Cable Beach is displayed in the Map below. The buses are very frequent, departing every 10 – 15 minutes to Cable Beach.
The bus will drop you off at the below intersection at Cable Beach. Wait at the intersection on the opposite side of the road when you are ready to go back to town.
Sometimes, you are required to flag the bus down to ensure it will stop for you.
Most of the Cable Beach area is accessible only by private hotels.
However, we found that security was happy to let people access the beach via the Westwind Hotel, directly near where the bus drops you off.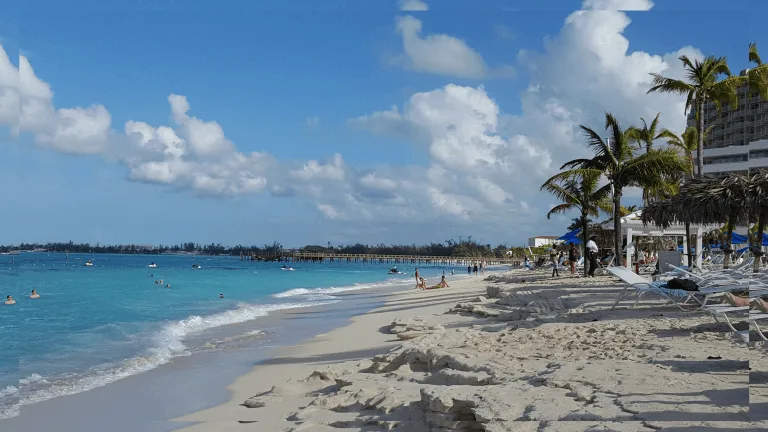 We have previously visited Junkanoo Beach while in the Bahamas (which you can walk to from the cruise ship terminal).
For those who have also previously visited Junkanoo Beach, Cable Beach is a nice alternative to try a new beach in the Bahamas.
We hope this information helped you in planning DIY Shore Excursions in St Thomas, Tortola and the Bahamas. We would love to hear from you so leave a comment below!
7 Night Caribbean Cruises from $469 on Norwegian, only at Cruisedirect.com. FREE Open Bar & Shore Excursions, Plus Up to $500 to Spend On Board!
Save our DIY shore excursions in St Thomas, Tortola and Nassau to Pinterest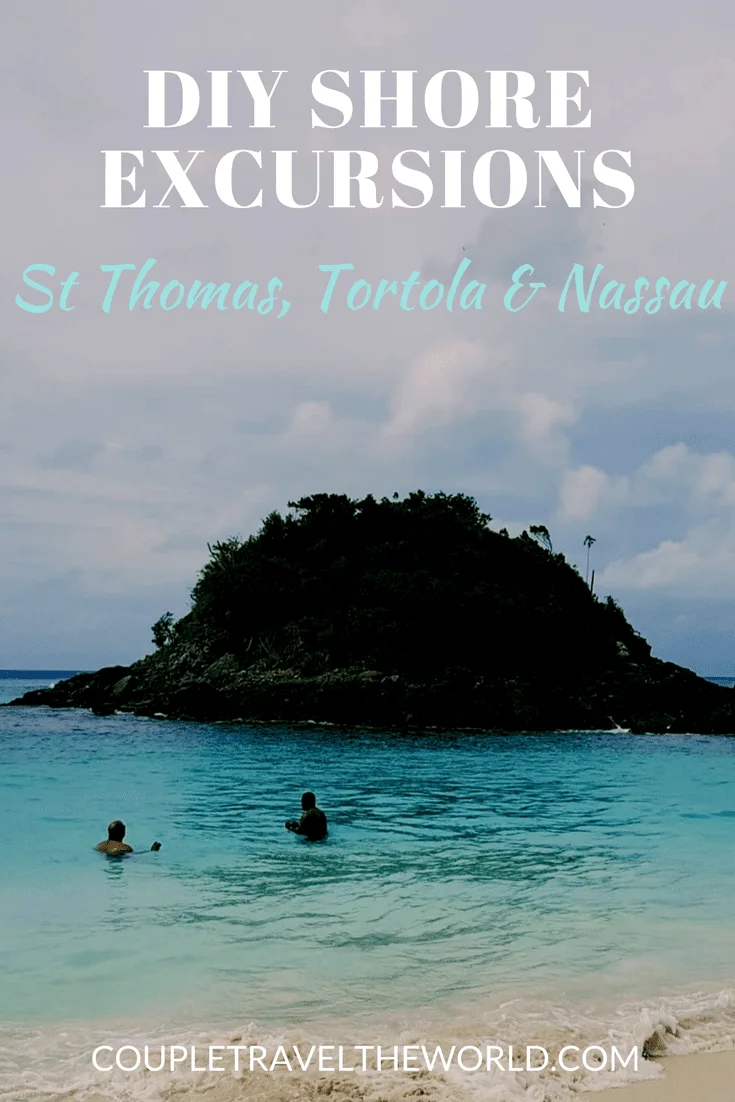 Disclaimer – This post contains affiliate links. This means that if you purchase an item through our links we will receive a small commission at no extra cost to you. If you found this post helpful, we would appreciate you using our links to help keep our site running!