Despite the fact we have already been to Bratislava a total of 3 times, we were blown away with our stay at DoubleTree by Hilton Bratislava.
We love a great couples getaway and this is the ideal place for a luxurious city break to Bratislava!
Review: DoubleTree by Hilton Hotel Bratislava
The DoubleTree by Hilton Bratislava is a lovely hotel in a convenient location for exploring all that Bratislava has to offer including the Bratislava castle, St. Martin's cathedral, the Slavin cemetery, St. Michel's gate and the Presidential palace.
The hotel is located just 10 minutes from the historic centre meaning it is very easy to reach all the major attractions in the city.
Despite the fact it is so close to the city, it is also only 7 minutes from the Airport Bratislava.
While we came to the city for tourism purposes, the hotel is also great for staying in Bratislava for events such as events at the Ice stadium Ondrej Nepela and football stadium Tehelne pole which is very close by.
Not only is the hotel very centrally located but it totally warmed our heart from the moment we walked through the door.
Warm, home baked cookies on check in were a pleasant surprise and one we will never turn down!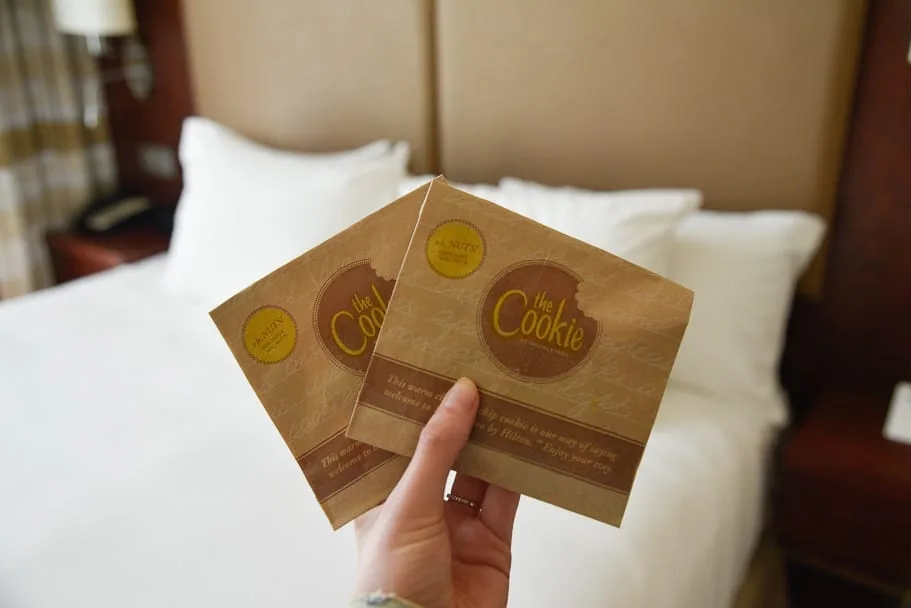 A more detailed report of each feature of DoubleTree by Hilton Bratislava below!
Hilton Bratislava Hotel Room – our review
The Hilton has many rooms to suit different budgets and family arrangements.
We stayed in the King Suite and absolutely loved it!!
If budget permits we would highly recommend staying in the King Suite room as it is extremely spacious.
In our room we had a separate (and large) lounge room with a large television as well as a very spacious and clean bedroom and bathroom with 2 showers and a bathtub.
It is safe to say we were very impressed when walking into the room!
We were also pleasantly surprised to discover The Hilton had left a delicious deconstructed fruit & desert platter as well as a nice cold beverage upon arrival.
It was absolutely delicious and we enjoyed every mouthful of it!
The room also included tea and coffee making facilities as well as a large complimentary water.
Like the Hilton Budapest City, we were very impressed that the room had not only one but 2 showers available (including one large bathtub).
If you are a family staying this room is perfect for getting the kids ready in one go.
It is possible to get room service and the Hilton have a large menu to choose from.
During our time at the hotel we enjoyed a delicious healthy room service consisting of a nut and fruit platter (highly recommended!)
The Wellness Centre
One of the main draw cards of DoubleTree by Hilton Bratislava is the newly renovated wellness centre.
After a long day in the city, it is lovely to be able to kick back and recharge in the wellness centre.
The wellness centre includes a large indoor swimming pool, a sauna and steam room, a relaxation room as well as a fitness area.
It is open until 10pm at night so there is plenty of time available to enjoy the facilities.
When you enter the wellness centre, the staff are kind enough to provide you with fresh towels. There is also water available.
Hilton Bratislava Restaurant
The hotel has a large indoor restaurant (Opus Restaurant) as well as a gorgeous terrace which is perfect for a romantic dinner in the summertime.
As we visited in summer, it will come as no surprise to you that we chose to dine at the Terrace.
DoubleTree offers a delicious seasonal menu as well as an option of trying some traditional Slovak food.
As we love to experience new cuisines, we opted to try the traditional Slovak menu.
For starters we had a traditional dish consisting of potato and liver pate.
Mike isn't usually a big fan of pate (I personally love it) but even he enjoyed the dish!
It was very delicious indeed.
For main course, we ate a traditional dumpling dish with goats cheese and bacon strips. Mmmm
The elements of the dish paired beautifully together. The addition of goats cheese definitely gave the meal a distinct and delicious flavour.
While the entree and main very delicious, the desert was the outstanding winner of the night in our minds.
DoubleTree by Hilton Bratislava is extremely talented at deserts. If you stay here you definitely need to order at least one desert.
The previous day we enjoyed the panna cotta on our welcome platter and it was seriously heaven on a plate.
For dinner we tried the traditional chimney cake (we have previously tried a version of this at a market in Krakow) however, we loved the Hilton's version even more.
In addition to the delicious donut inside was gelato, strawberries and coconut balls.
When you think life could not get much better, add a warm jug of hot, melted chocolate to pour on top!
Mmmm, I wish I could go back to eat it again right now!
Breakfast
A buffet breakfast is served each morning at the DoubleTree by Hilton Bratislava.
We loved the wide array of options including eggs served to your liking, fruits, nutella, danishes, bread, cheese and ham.
You can also order a hand crafted coffee such as a latte or cappuccino to go with your breakfast.
Overall, we had a fabulous stay and would highly recommend staying at Doubletree by Hilton Bratislava!
How to reach the Hilton in Bratislava?
You can reach the Hilton by flight into Bratislava or Vienna however, if you are traveling around Europe, we would highly recommend traveling using the Eurail train.
We traveled from Budapest to Bratislava with Eurail and it was a very easy and stress free journey.
Read this guide if you are travelling from Prague to Bratislava (train is the best option again).
What
's
the
parking
situation
at
Double
tree
by
h
ilton
br
at
isl
ava
?
The Doubletree by Hilton Bratislava offers self–parking for a fee of €3 per hour.
In addition, the hotel also offers valet parking for a fee of €8 per hour.
Save DoubleTree by Hilton Bratislava to Pinterest (so you can find it again later)
Disclaimer: We were invited as guests to Hilton Budapest City & on Eurail. However, this does not affect our views and opinions. As always, all opinions are our own.