Despite having visited Krakow a few times, we have never been to Wroclaw before. We were very excited to explore the city!!
We stayed in DoubleTree by Hilton Wroclaw and had a fabulous time.
DoubleTree by Hilton Wroclaw is in walking distance to all that Wroclaw has to offer. We love a hotel where you are able to see all the attractions in the city by foot.
We should also note that the staff are commendable at this Hilton. The best staff we have experienced at a Hilton Hotel before (and all the service is great so this is saying something!)
DoubleTree by Hilton Wroclaw
DoubleTree by Hilton Wroclaw is a clean & comfortable modern hotel right in the heart of Wroclaw city.
Wroclaw is a very walkable city and we never once used public transport or Uber while staying at the Hilton due to the amazing location.
Inside the futuristic hotel is an amazing restaurant with delicious food and a cool cocktail bar (they really serve the most delicious cocktails!), a pool and fitness centre as well as an executive lounge.
A more detailed report of each feature of DoubleTree by Hilton Wroclaw below!
DoubleTree by Hilton Wroclaw Rooms
The Hilton has many rooms to suit different budgets and family arrangements.
We stayed in an executive room and absolutely loved it.
We loved Hilton's executive lounge access (we had previously experienced it at Hilton Prague and were absolutely sold!
The room was large and spacious with a massive King sized bed with one of our favourite things – a nespresso machine!
Upon arrival, we found a refreshing cold beverage as well as a delicious fruit platter.
Love a warm hotel welcome!
We were impressed with the digital artwork displayed in the hallways as part of the hotel's collaboration with the Academy of Fine Arts.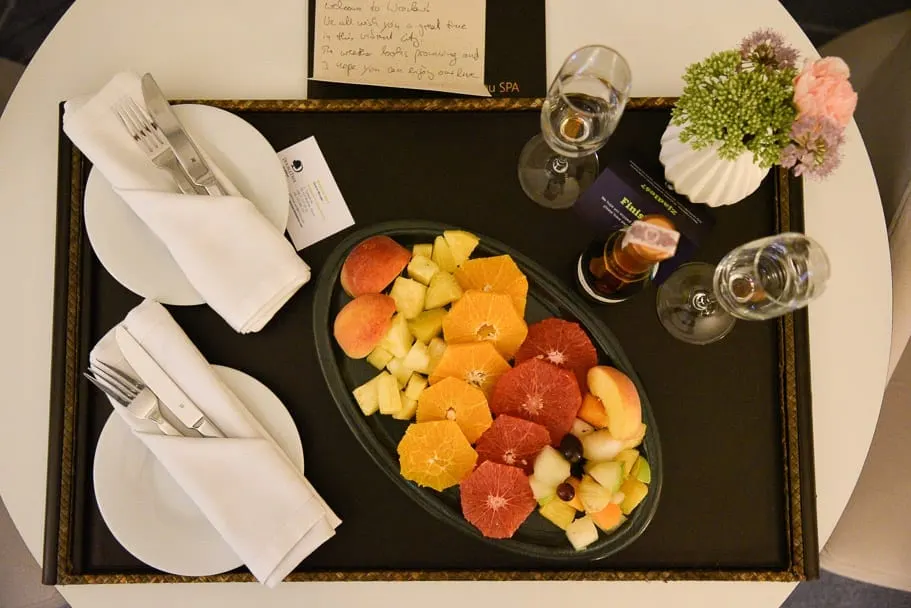 Pool and Gym
Perhaps the best part of this hotel were the fabulous pool and gym.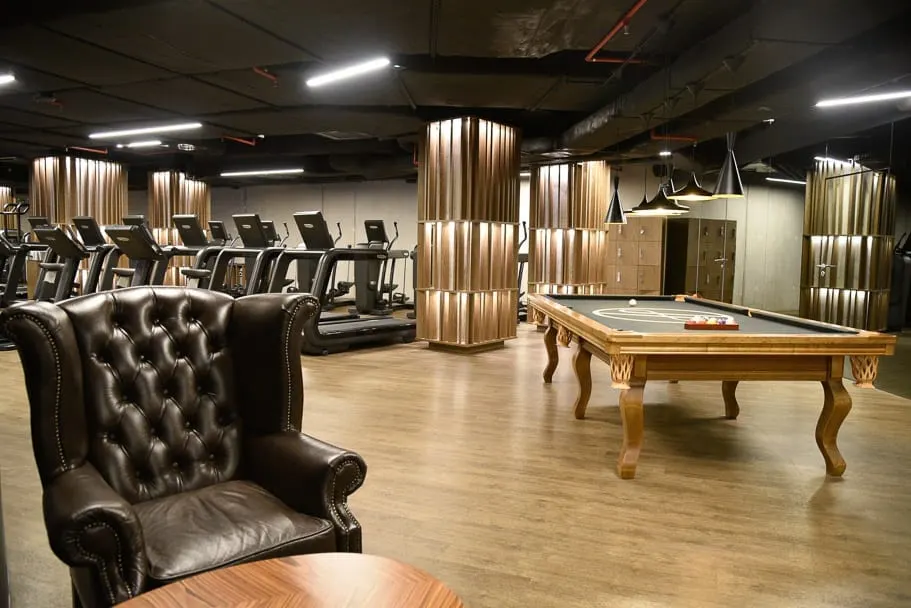 The gym was absolutely amazing, a commercial sized gym with even a full pool table within it.
There is also a large pool area with a whirlpool and sauna.
We were seriously impressed by the pool and gym at DoubleTree.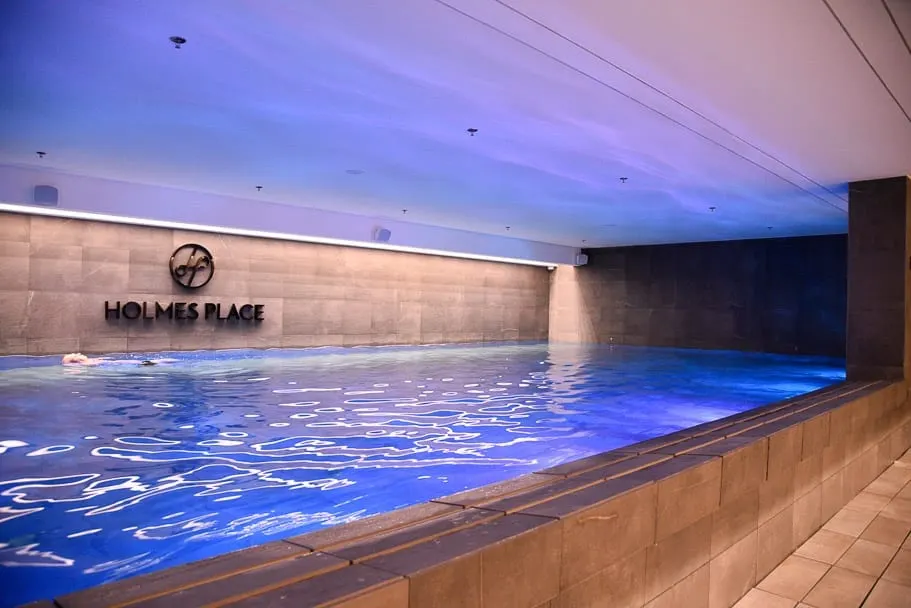 Executive Lounge
As we have mentioned, the executive lounge is one of our favourite things at Hilton.
If you book a an executive room or a suite at Hilton you will receive access to the amazing executive lounge.
If you are wondering, it is well worthwhile to upgrade to get executive lounge access.
The lounge is open until 11.00pm at night.
In the morning a buffet breakfast is served at the lounge (or you can alternatively enjoy breakfast at the main buffet as we did!)
During the middle of the day, the hotel serves light refreshments including coke, fanta, spite, tonic water, ginger ale, apple juice as well as biscuits.
If you are looking for alcoholic beverages they are served daily from 6:00pm to 8:00pm.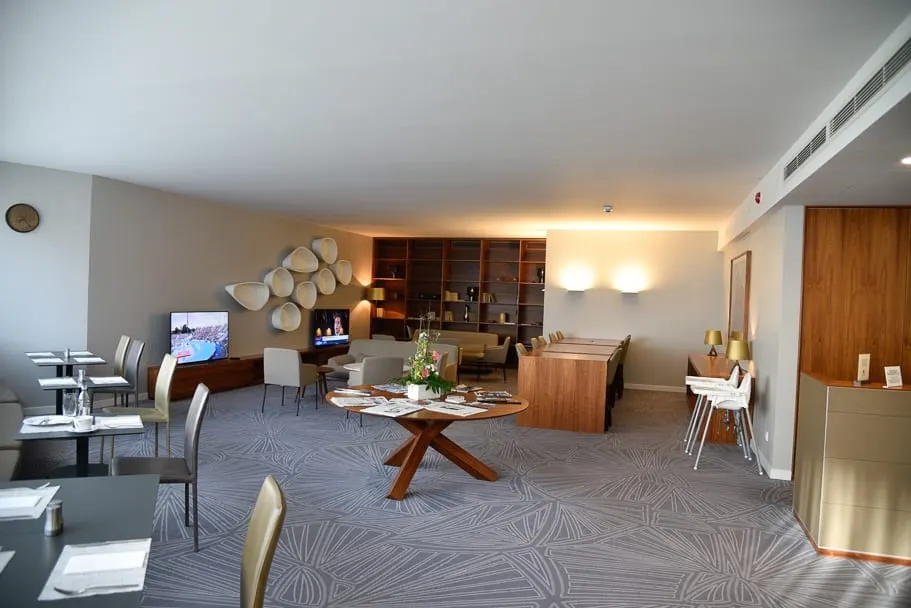 Ovo Restaurant
The restaurant was another amazing thing about staying at this Double Tree.
Not only was the food absolutely impeccable, the staff could not do enough to help you – they were amazing.
Back to the important part – the food.
For entree we had the pork knuckle and the Polish dumplings.
We have tried Polish dumplings in our travels before and honestly, these were the best we have ever tasted. Absolutely delicious.
The pork was very tasty too.
For main, we ordered the duck and the steak.
We were also happy to discover the steak was cooked to absolute perfection (medium rare rare as we requested!). The duck also melted in your mouth.
Desert was possibly the highlight of the night. We sampled the brownie and the Hilton's apple pie – an adaptation on a traditional apple pie.
The apple pie was very nice (and different to anything we have tried before) but the brownie was the hands own favourite.
If you love brownies you have to order this. I must say, most restaurants have brownie fails (which causes me to avoid ordering them at times) but this was definitely not a fail.
The brownie was freshly baked and oozed out! Yummm!
The Ovo restuarant also has an onsite cocktail bar with a very talented bartender.
Breakfast
A buffet breakfast is served each morning in the Ovo Restaurant or in the executive lounge if you have access.
We loved the wide array of options including eggs served to your liking, fruits, nutella, danishes, bread, cheese and ham.
You can also order a hand crafted coffee such as a latte or cappuccino to go with your breakfast.
Overall, we had a fabulous stay and would highly recommend staying at DoubleTree by Hilton Wroclaw.
How to reach the Hilton in Wroclaw?
You can reach the Hilton by flight into Wroclaw however, if you are traveling around the stunning cities around Poland (as we were), we would highly recommend traveling using the Eurail train.
We traveled from Prague to Wroclaw with Eurail and it was a very easy and stress free journey!