There is absolutely no better place for date night than InterContinental Hong Kong's Lobby Lounge which offers stunning panoramic views of the iconic Victoria Harbour skyline.
The best time to visit the Lobby Lounge is in the evenings for the "Symphony of Lights" show. At 8.00pm daily, the already luminescent Hong Kong skyline springs to life with a laser show. The floor to ceiling windows make the Lobby Lounge the perfect setting to enjoy the show with a cocktail. Not only are there world views class views to enjoy, but the buzzing atmosphere in the lounge makes it a very enjoyable place for an evening drink. The Lounge offers nightly evening entertainment including Motown on Tuesday, Latin & Samba on Wednesday and Easy Listening Jazz on Sunday.
The Lobby Lounge offers an extensive drink menu. However, if you are looking for something a little out of the ordinary and unique to Hong Kong, look no further than InterContinental's #852TAILS of Hong Kong (Intercontinental's one of a kind signature cocktails). While we sat and enjoyed the spectacular laser show, we sampled two of the most popular #852TAILS, the President's Gift and the Mr Yu. Each of the InterContinental's #852TAILS have been carefully selected to represent the culture and history of Hong Kong. A full menu be found here.
The President's Gift (a white chocolate infused vodka cocktail) was absolutely delicious and tasted like a decadent desert. The story behind this delicious cocktail is that in 1972, Premier Zhou Enlai sent white rabbit candies to the American President, Richard Nixon when he visited China. White rabbit candies are now famous as a Hong Kong specialty. The President's Gift cocktail has a coffee flavour topped with a delicious creamy white froth. We would recommend this cocktail to anybody who is a coffee lover or who enjoys indulging in rich deserts.
Inspired by the now world-famous Hong Kong hot sauce, the Mr Yu cocktail is a vibrant concoction of cognac, port, berries, vanilla, citrus and the key ingredient of the cocktail, Mr Yu's hot sauce. Mr Yu is famous in Hong Kong for creating unbeatable hot sauces. Mr Yu did not bring his legendary hot sauce to the market before it was absolute perfection. This cocktail is strong & spicy with respite from the heat provided by the fresh berries on top. This is a good choice for anyone who enjoys a stronger flavour and wants to try the iconic hot sauce.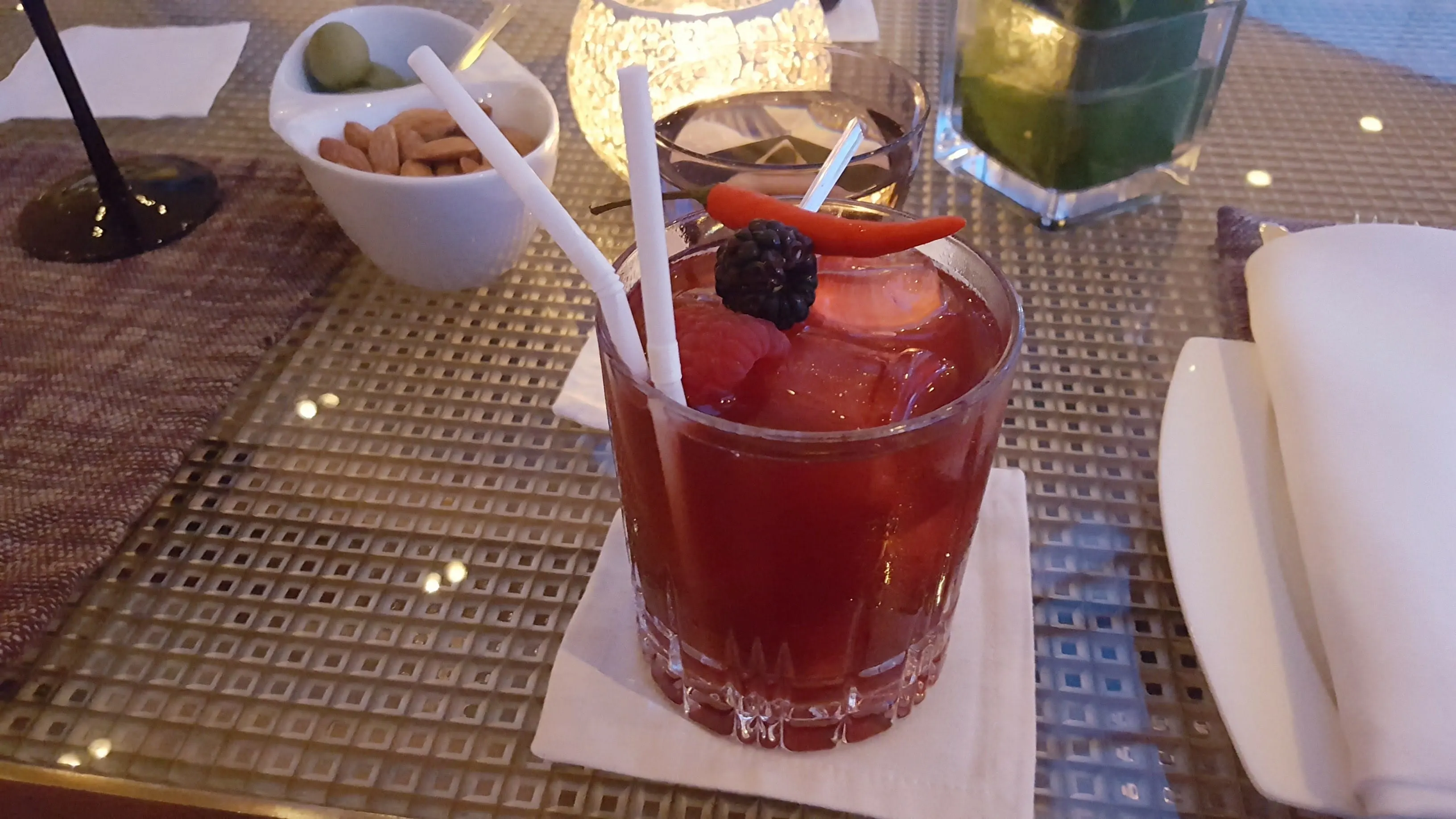 If you are feeling like a light snack along with your cocktail, we thoroughly enjoyed and highly recommend the tapas options available on InterContinental's evening menu. We tried the octopus, asparagus and beef tenderloin with blue cheese. Each tapas was as delicious as the one before. Neither of us are usually a fan of octopus as it can be overcooked and have a stringy texture however, the octopus on the tapas menu was beautifully cooked and was probably our favourite out of the three we tried.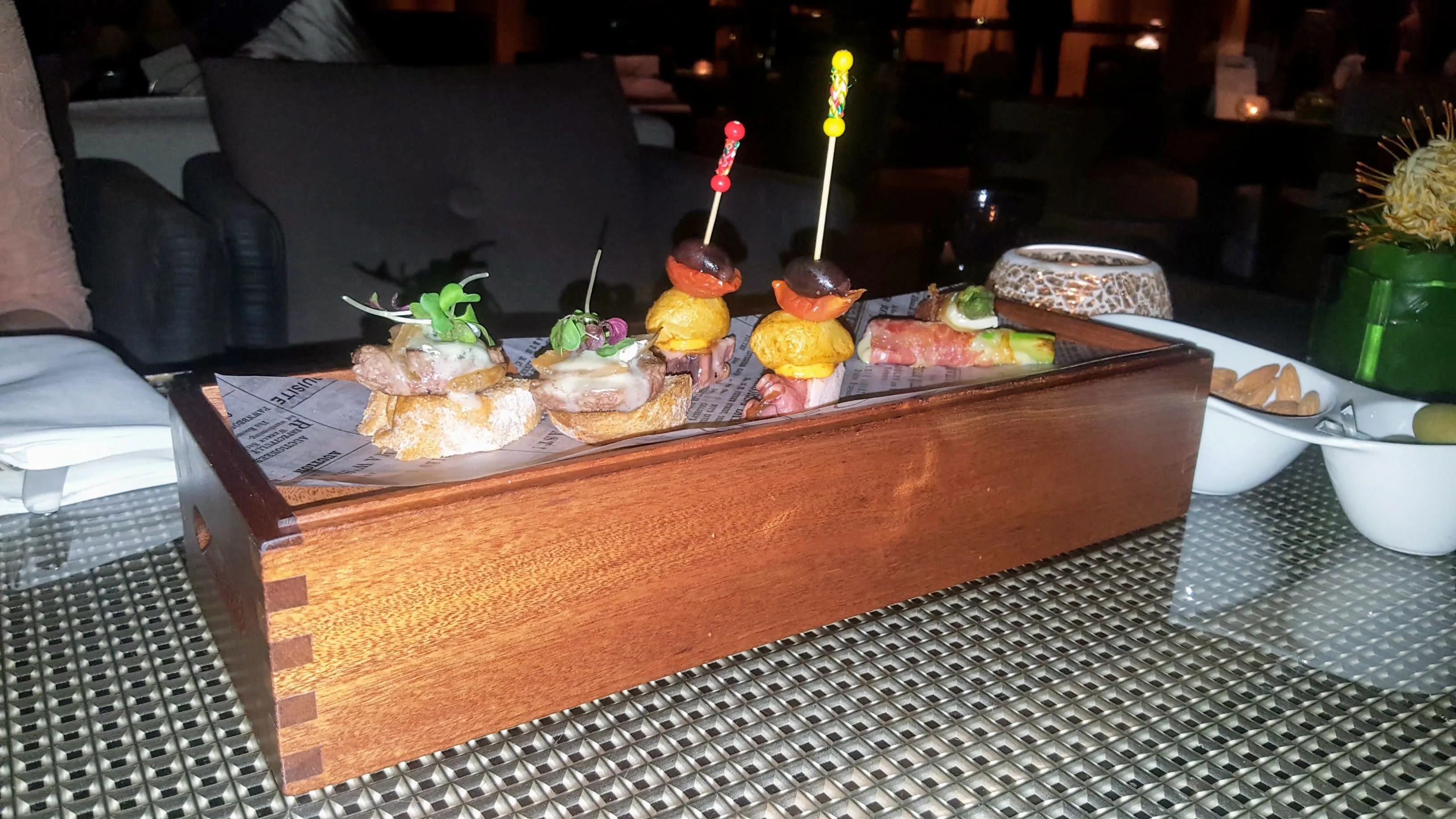 We had a incredible evening enjoying our #852TAILS and tapas while watching the laser show at InterContinental's Lobby Lounge. We would highly recommend it to couples looking for a night out or anybody who is looking for a special experience while watching the iconic Hong Kong laser show.
Check out our video review of our experience sampling Intercontinental's #852TAILS:
If you would like to visit, the InterContinental Lobby Lounge is located directly on the Hong Kong skyline at 18 Salisbury Road, Kowloon and is open daily between 7:00am to 1:00am.
Have you tried Intercontinental's #852TAILS? Let us know in the comments below!