Emirates a380 First Class – Is it worth $10,000 a ticket?
Like you, we were not sure if it was worth flying from Melbourne to Milan in 1st class on the new a380. Being regular flyers (hello there wizzair and ryanair!) we have always wanted to try first class but have never been able to stomach parting with $10,000 a ticket for the privilege.
Until now….
Why did we choose to fly Emirates a380 First Class and splurge the cash? Well, ultimately, it was a YOLO moment for us. We felt it is something you have to try at least one in your life, even if you never fly it again. Plus, we had a good year in business and felt that we deserved to treat ourself.
So, was it worth it? I will give that a resounding hell yeah! It surpassed my expectations of what first class would be like. It was worth every penny of the $10,000 a ticket we spent and more…
And here's why.
Review – Emirates a380 First Class: Is it worth $10,000?
Free Pick up/Drop off Service from the Airport
In Business Class and First Class, Emirates includes a free pick up/drop off service from the Airport.
We were not eligible for this service? Why? Because we booked our Emirates a380 tickets through Qantas using a code share. We did not know we would not be eligible for this if we did that before we booked.
Pulling away some of the perks is quite a sneaky way to get direct bookings I must say. Well played Emirates, next time I will be booking direct 😉
Boarding
Check in and boarding is always such a drag in economy. The long lines and waiting times make travel almost painful.
In First Class you get priority check in and boarding. The line is pretty much non existent. You also get this in Business Class.
What I didn't realize (when I was taking my sweet ass time to leave the plane) is you also get priority exit in First Class. In fact, the crew cannot disembark Business Class until the First Class passengers have left the plane. Because I was taking quite a while packing up, the crew asked if they could let the Business Class passengers go off if I required them to wait for me. Of course I didn't but I did learn a new fun fact!
Note What you Don't Get: We read online that you also get to use a priority security line in the airports if you are traveling in First Class. This was not the case. It would've been nice because it is seriously like cattle through the security parts of an airport and this feature would have further enhanced even our already great experience. Nonetheless, I would give check in and boarding an A+ in First Class.
Emirates a380 First Class Private Suite and Cabin
The seats in the a380 were nothing short of Ah-Maz-Ing.
It is kind of funny but one of the reasons why I would recommend splurging the money if you have the cash is because flying First Class in the a380 was one of the highlights of my Europe trip. It was honestly one of the best things I did during my vacation and that is pretty unusual for a flight. Usually, I can't wait to hit the ground and start my holiday but in First Class the vacation starts when you first embark the plane and sit in your seat.
The seats are plush and opulent in Emirates. I think the gold and white color scheme of First Class is perfect to make you feel like a King or Queen and really you did…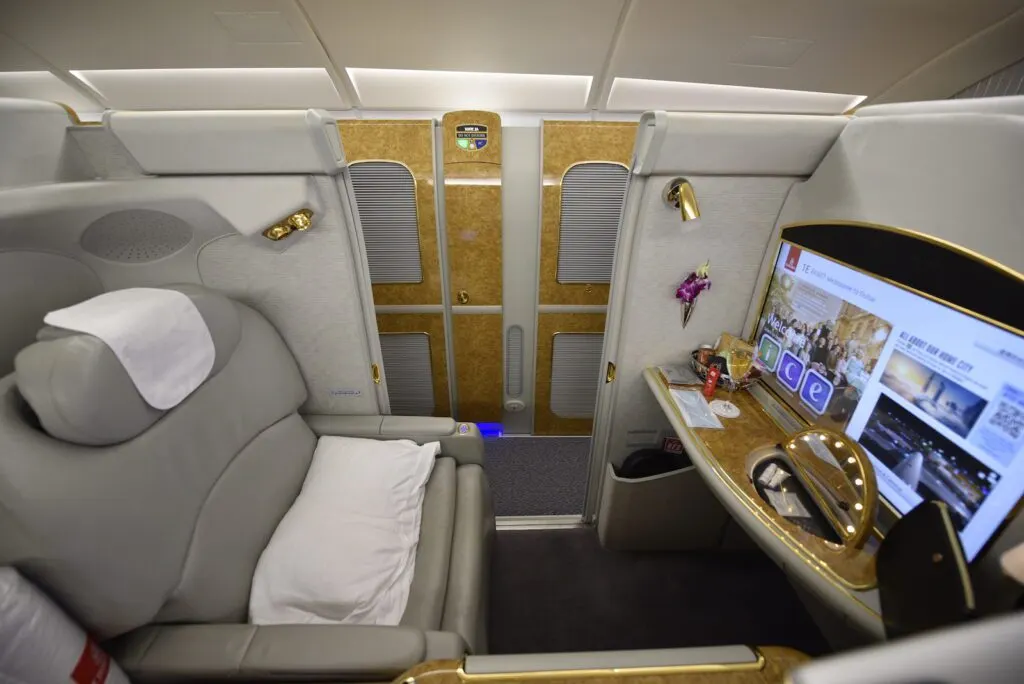 The a380 seats fold out to a full single bed. Full bedding is provided too and the hostess will make the bed up for you when you feel sleepy.
Even without being fully reclined the seats themselves were extremely comfortable and very spacious. There is no overhead lockers in the First Class area so your belongings need to go at your feet but there is plenty of room for this. There is also a few storage areas in your seat for smaller bags.
Also included in your seating area is a "pop up" mini bar with a variety of soft drinks and water (no alcohol).
A basket of snacks and a luxury amenities kit is also provided for guests at their seats as well as a notepad and pen and various other goodies. There are so many prezzies that I felt like a kid at Christmas upon arriving at my seat and checking out all the stuff.
The ladies will love that there is also a decent sized half mirror with lights to apply makeup or check out how scary you look mid flight.
I should mention that the First Class suites are completely private and have electric doors that you can shut off so you don't have to see other guests.
If you are traveling as a couple, book the middle 2 seats so you can push down the privacy divider. Of course, First Class is always more fun if it is enjoyed with someone else!
Service
As a whole, we found the service we got to be great from the moment we got on board the flight.
Upon boarding you are treated like a King or Queen. You are offered an initial beverage before take off which is really nice as it sets the journey off to a great start. Emirates serve $750 a glass Dom Pérignon in First Class (not available in Business) which is a must order, in my opinion! It is their signature beverage.
After an initial glass of bubbly (or the beverage or your choice) the airhost brings around Persian coffee and Emirates signature dates – which are delicious.
Following this, the airhost brings around really nice pyjamas and slippers for your flight.
For the rest of the trip the airhost were at your whim. As there is around only 10 seats in First Class you get very good personalised service. There is many many seats in Business Class so the service is not so personalized as it is in First Class. The business class attendants also looked totally run off their feet.
On the 2 legs we traveled, most of the service was A+. A few attendants we got lacked lustre and forgot our order and things we requested a few times, which we thought shouldn't have happened in First Class but for the most part the service was very very good.
Entertainment
This was one element I was disappointed in. I really expected Emirates to have First Class entertainment. I found the entertainment options to be a bit boring and worse than other comparable airlines.
For example, they don't include many popular tv series as options in their entertainment.
In First Class I never felt like I needed much entertainment (I was eating and drinking way to much, not to mention showering and hanging out at the bar) but I would've been quite disappointed in the level of entertainment if I was flying in economy.
Emirates First Class is meant to include free wifi but there is a catch. To access it you must not only have an Emirates frequent flyer number (which we had) but you must have this number attached to your booking. We were not aware we had to do this and could not access the wifi for the first leg of our flight. In Dubai, the Emirates lounge assisted us to add our Emirates frequent flyer number to our ticket. The attendants are not able to help you with this mid flight.
As you would expect, the wifi was practically unusable and spotty in any event. I wouldn't recommend paying for wifi if you travel in Business Class or Economy.
Dining (On Demand) and Beverages
One cool feature of First Class is that you dine on demand. Basically, this means that there are no set meal times and you just eat when you are hungry.
There is an extensive menu in First Class and you just order and eat when you feel like it. This is different to Business Class (and Economy) where there are set meal times. Also, your orders are endless so you can literally eat the entire flight if you feel like it. And, we pretty much did. I swear we left the plane about 5kg heavier than we boarded it.
The quality of the meals in First Class was also for the most part high quality. It comes complete with a gorgeous white tablecloth and fine china and cutlery so you feel like you are dining in a high quality restaurant. They also serve fine dining meal options like caviar which I was keen to try. Note: I now know I don't like caviar!!!
The alcoholic menu was also extremely extensive and included a wide selection of top shelf liquor and cocktails to choose from as well as an expansive list of quality wine and beer. No complaints there.
Other alcoholic beverages to try a tipple of include the Hennessy Paradis (retail $900 per bottle) and the Hennessy Paradis Imperial ($3000 per bottle if you're lucky). The Paradis is a nice cognac – and as we aren't huge spirit drinkers we would never splash that cash on a bottle – so it was nice to try a glass.
Emirates a380 First Class Special Features
Now there are a couple of features of the a380 First Class that you don't get in every Emirates flight…. (For example the 777)
The Bar
One unique feature of the a380 is having a full bar onboard. This is accessible to both First and Business Class passengers.
Having a bar onboard is so fun and we really enjoyed going and sitting at the bar and having a drink.
The bar serves only Business Class beverages however, if there is anything you would like from the First Class menu, the hostess will bring it down for you. They don't serve Dom Pérignon in Business Class so the hostess brought us down a bottle to the bar.
There is also a few snacks to eat at the bar if you are feeling a bit peckish.
Note: The bar opens about 15 minutes after the seatbelt sign is turned off. There is only 1-2 seats at the bar so it is advisable to go to the bar early if you would like to sit.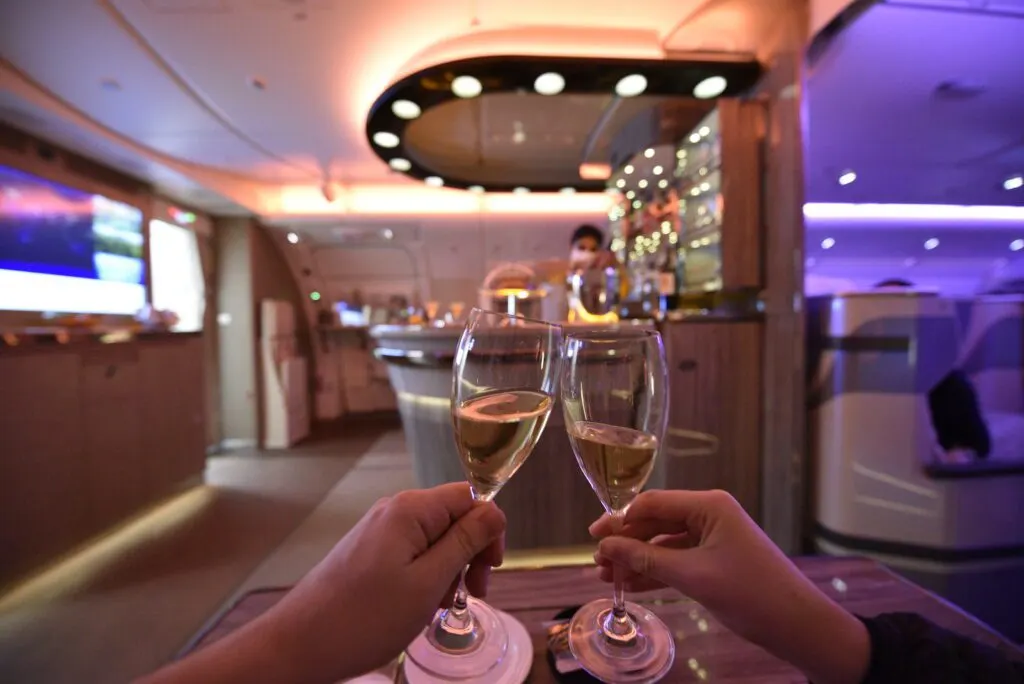 A380 Shower on a plane
Perhaps the coolest thing about First Class is the ability to shower in the air! It is really a bit of a bucket list experience to say you have had a shower in the sky.
Sometime after takeoff your air hostess will approach you and ask when you would like to shower during your flight so they can book you a time with the shower attendant (yes, that is right, there is also a dedicated shower attendant in First Class).
We said that we didn't know when we wanted to shower but sometime mid-flight before we went to sleep. The hostess granted us permission not to book a time slot as they said it would not be busy at this time however, advised we should if we wanted to use it just before landing as this is the most popular time slot.
You are only permitted 1 shower per flight (water runs for 5 minutes).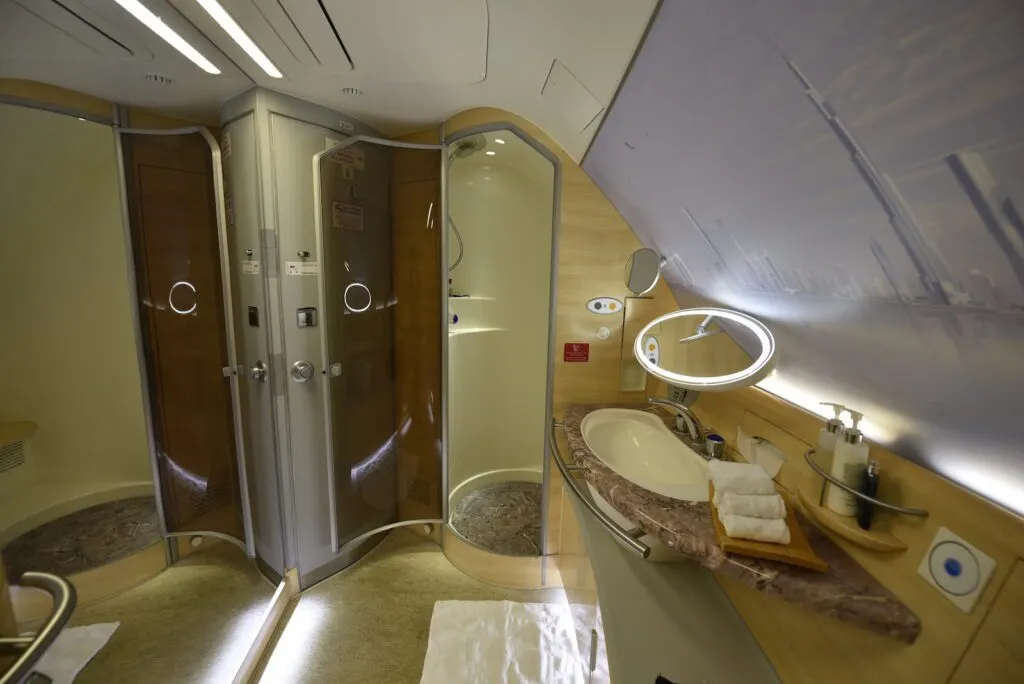 I wasn't even sure if I could be bothered to shower on the flight but I decided to try it for the YOLO moment on the first leg and ended up liking it so much I showered the next flight too! It was so nice to be clean and put your pjs on before going to bed. The hostess made my bed up while I showered.
The whole bathrooms in First Class are beautiful and huge (a big plus ++). They include a wide variety of luxury products for your use and are cleaned after every guest by the shower attendant which means they are always beautiful and clean (so no dirty flight toilets!!!)
While the water only runs for 5 minutes, you can stop and start the water to prolong the time. I felt like I had enough time to wash my hair and shave my legs while in the shower.
There are no power points in the bathrooms but a hairdryer is plugged into the wall for your use.
After the shower, the shower attendant provides you with a tray of delicious fruit to enjoy which goes down a treat!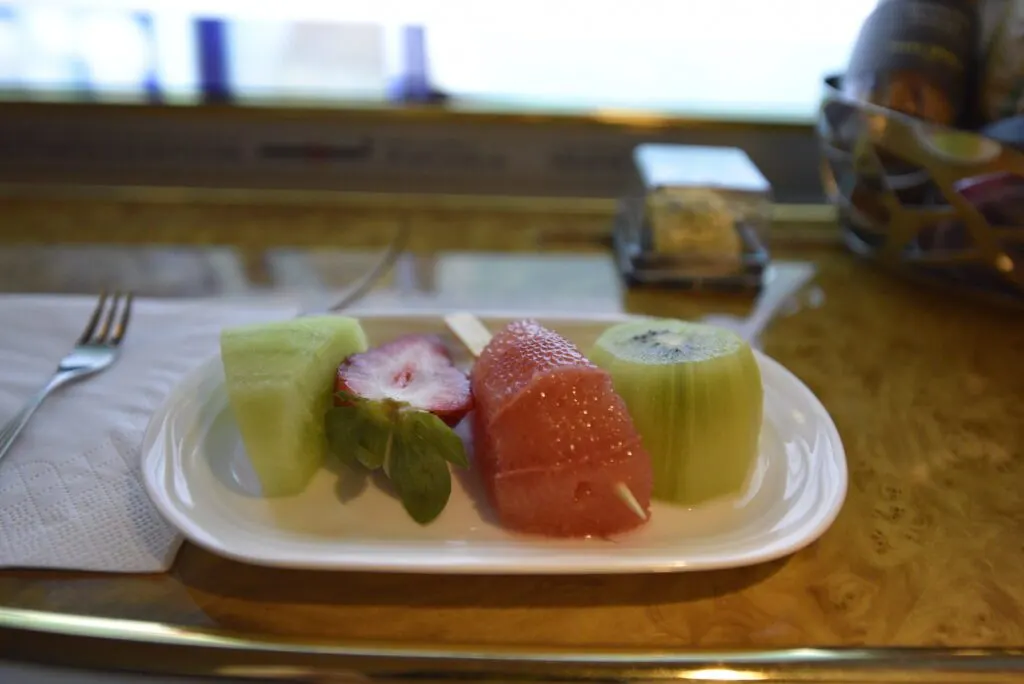 Emirates First Class Lounges
Of course one of the biggest perks of traveling in Business and First Class is getting access to the Business and First Class Lounge.
First Class usually has its own seperate lounge but you can also access the Business Class lounge if you wish.
Melbourne
As we were flying a flight code share with Qantas, in Melbourne we were able to access the Emirates Business Class lounge as well as the Qantas First Class lounge (Emirates does not have a First Class lounge in Melbourne).
The Emirates Business Class lounge was very good and included a wide range of items on the buffet as well as beverages but the Qantas First Class lounge was outstanding and included Table Service with a beautiful view over the tarmac so you can watch planes come in and take off.
If you ever do find yourself here, the pavlova is outstanding. Order it.
Dubai
In Dubai, Emirates have a seperate dedicated First Class Lounge with table service which was very good. In fact, it's an entire level of the airport which includes numerous restaurants, bars and duty free shops selling premium wares.
If you are traveling in First Class you are eligible for a free 20 minute massage at the lounge which we really enjoyed. Book it as soon as you arrive as they book out fast.
We also checked out the Business Class Lounge in Dubai and found the First Class Lounge to be unsurprisingly simnifically better. The main difference is that the Business Class Lounge has a buffet whereas the First Class Lounge has fine dining table service. While a buffet sounds good, it was crowded and lacked lustre.
We were there during breakfast hours so the multicourse menu was not available, but that didn't stop us from sampling some of the better dinner options which are available 24 hours including a steak so exceptional we had to order a second for breakfast.
One of the coolest features of Dubai Airport is you can board your Emirates flight directly from the lounge. We could sit at the restaurant enjoying our steak, sipping a vino and browsing on our laptops up until a few minutes before take-off – almost an hour after boarding first opened.
At the end of the day – Emirates a380 First Class: Is it worth $10,000?
If you can afford the money (or have points) I would do it at least once. We had a fabulous time and can't stop thinking about it.
Is it worth $10,000 a ticket one way? Probably not but we would 100% do it again.
***
Extra FAQ
What is the emirates a380 first class ticket price? Depends on your leg and how long the flight is but as a general rule at least $10,000.
Emirates a380 first class vs business class – what are the big differences? The seats are a lot bigger in First Class and you are less like cattle. Business Class is huge whereas the First Class area is very small and exclusive. This means that service is way better. You can also dine on demand in First Class, have access to better quality alcohol and have a shower! The toilets are also MUCH nicer in First Class.
Is Emirates First Class good for couples? Yes! We found it to be great which we weren't sure about when initially booking our ticket. This is because you can put the divider down so you can see each other. Book the middle 2 seats. Note, they do not have a dedicated 2 person suite like some other airlines for couples.
Is Emirates First Class good for families? I'm not sure how good First Class would be for families with small children as there is no First Class Family Suite.
How does it differ from the 777? The 777 does not have a bar and shower. These are unique features of the a380.
***
See more airport and flight reviews: