Fall is possibly my favourite time of year. I don't know whether it is the weather, the colours or a combination of both but it is certainly the best season for dates (in my humble opinion!)
Here are 5 Amazing Fall Date Ideas for NYC.
5 Adorable Fall Date Ideas NYC
NYC is one of the most romantic cities in the world! It is actually the city where we got engaged so it is a little bit special to us!
I think NYC is one of the best fall cities in the world. Here are my recommendations for the best dates in NYC in Fall.
1. Go for a walk in Central Park
Okay, this one is obvious but you really can't beat it can you?
The colours of the leaves on the ground as you stroll through the park hand in hand with a pumpkin spiced latte in hand is really second to none.
We suggest going for a romantic picnic with some of your fall favourites. Berries & Apples are in season in fall so be sure to pack some in the picnic basket for your feast!
If you would like to get a bit adventurous with your special someone, there are also lots of hidden gems in Central Park waiting to be discovered.
Did you know there are love quotes secretly placed all over Central Park? If you would like to find one yourself, here's a tip – check out the park benches.
There is also a Halloween parade and pumpkin flotilla in Central Park in Autumn.
Personally, walking central park in the rain is one of our favorite rainy day activities for couples. You can check out that post for more awesome rainy day date ideas.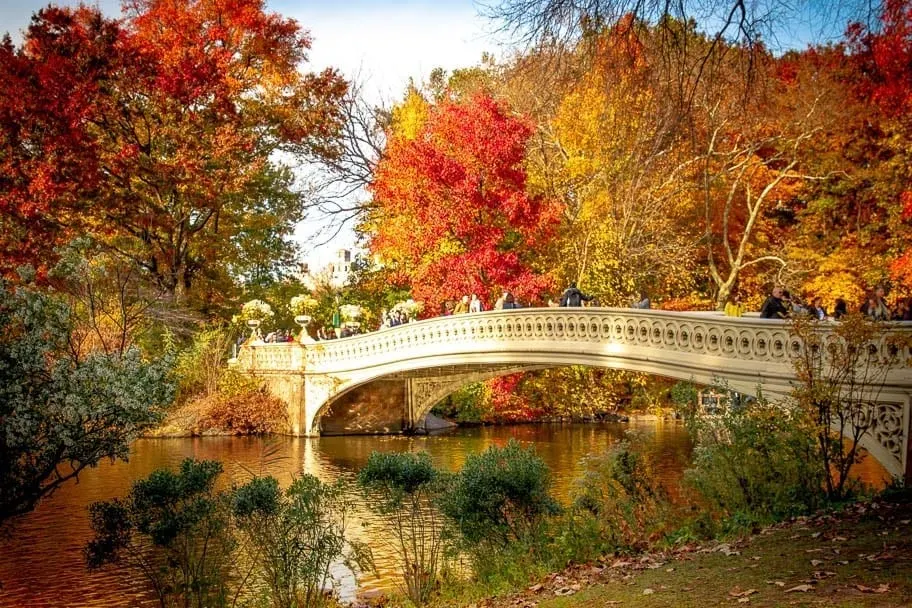 2. Ice-skating at the Rockefeller Center
This one melts my heart.
Skating around with the brisk air on your cheeks, hand in hand or mitten in mitten with that someone special – oh so cute!
Fall is the perfect time of year for this date as the weather is jusssst right! Perfect for a 2nd date in NYC.
Cold enough to get the winter woollies out but warm enough to not be uncomfortable out late at night, ice skating while the lights of New York twinkle in the background.
It helps that the Rockefeller Center ice skating ring is in a stunning location – really gets the romance flowing.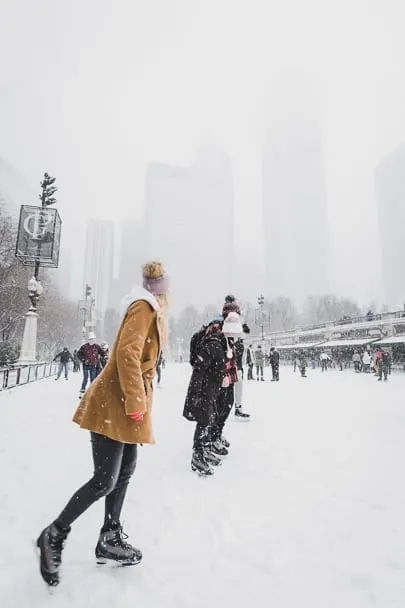 3. See 7,000 pumpkins glow!
In fall, something very interesting happens in NYC – The Great Jack O'Lantern Blaze alights the city with 7,000 glowing pumpkins!
Yes, you heard me right! 7000 glowing pumpkins!
This is a pretty cool activity in its own right and I think it would be an absolutely incredible fall date idea.
Up the romance with a sneaky cuddle and a warm cup of hot chocolate.
Note: There are also cool stargazing opportunities in the Pumpkin Planetarium.
4. Jane's Carousel
Seeing this carousel is one of our favourite things to do in NYC. There is just something super romantic about carousels don't you think?
Bring a picnic with some bubbles and special fall treats and bring out the little kid within you with a romantic ride at Jane's Carousel.
If it is too early for bubbly we recommend some pumpkin spiced cheesecake ice cream for your walk – Yum!
You can find the stunning 100 year old hand painted carousel in Brooklyn Heights.
Strolling the banks of the East River is perfect in Autumn, but can be too windy and chilly in winter. We've put together 50 winter first date ideas which will keep you falling in love through the cold months.
5. Whispering Gallery inside Grand Central Station
To finish off the list we will include one of our favourite quirks of NYC – the Whispering Gallery inside Grand Central Station.
The natural acoustic walkie talkie makes for a super cute date idea if you ask me!
Stand at the diagonal arches and you can hear your sweetheart! Pretty cool huh?! The building carries voices off the curve of the ceiling.
Send each other secret messages across the room. Now, my heart is just exploding with love!
Finish the date with a delicious slice of pumpkin pie and a hot chocolate in a nearby cafe. The perfect fall date idea!
Central Station is a little too chaotic for us to be a date location in summer. Instead, we've put together 50 fun and cheap summer date ideas which will keep you nice and cool.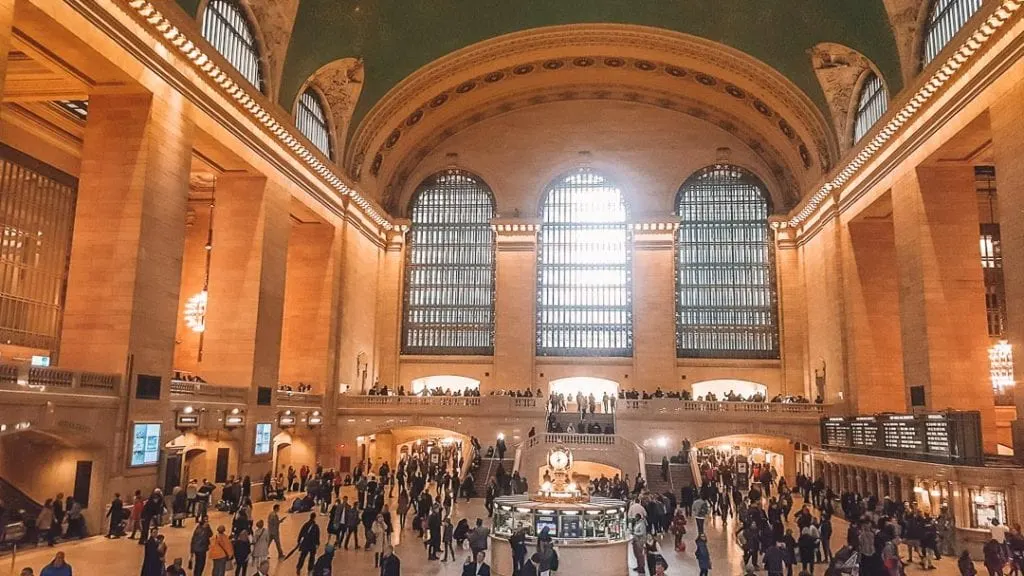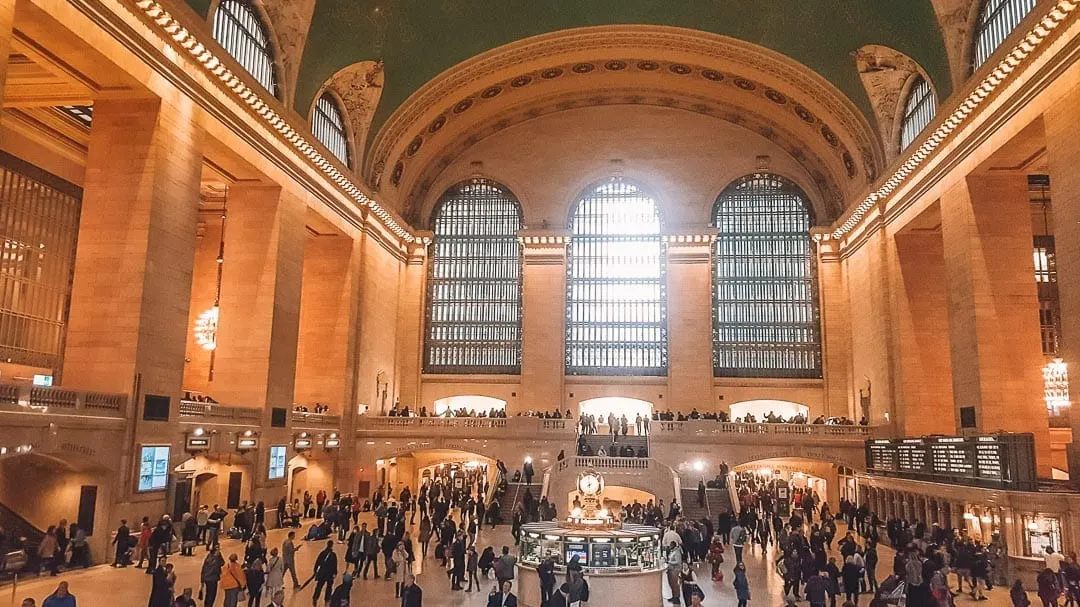 Save Fall Date Ideas NYC to Pinterest so you can find it again later!