Fall is our ultimate favourite season, for the weather, for the colours (it is the perfect time for romance too – see here for 50 fall date ideas) and for the food!
Fall is the time of year that produces the yummiest foods. Isn't fall produce just the best?
Here are 7 fall foods to tick off your fall 'diet' this leafy season.
7 Delicious Fall Foods to Make this Fall
Here are our favourite fall dishes that you should put on your fall eat list.
Fall Pumpkin Bread
Pumpkins are right in season and fresh.
Therefore, there is no better time to bake some delicious hot, fresh pumpkin bread. Mmmm, what a treat!
Pumpkin Spiced Everything
Talking about pumpkin, don't get me started on pumpkin spiced…everything.
Starbucks, our dirty little habit, serves the most delicious pumpkin spiced latte and pumpkin spiced scone (maybe they don't have the best scones in London after all?)
Literally every fast food store is offering pumpkin spiced something. Crispy creme do a very yummy pumpkin spiced donut for fall.
Apple Pie with Spices
Apples are another must eat this fall – they are the ultimate fall food.
You can do a lot of great dishes using apples.
Apple pie is the essence of fall. Add spices to make it just that little bit different.
Whole Apple Roast
We are fans of sticking a whole apple in with a pork roast, it is super easy and makes the perfect apple sauce.
You just stick it in whole to bake.
Not only is it a healthy addition to a pork roast but it gives it a delicious fall flavor.
Sweet Potato Everything
You think of pumpkin when it comes to fall but sweet potato is part of the fall harvest too!
Incorporate some delicious sweet potato recipes into your fall food mix.
We recently stumbled across this Harvest Chicken Skillet with Sweet Potatoes Brussels Sprouts and Sautéed Apples recipe and can't wait to make it.
My mouth is watering just reading the title.
Other great options for sweet potato include: sweet potato mash, sweet potato chips and roasted sweet potatoes with honey. Mmmm fall!
Baked Pear
Pear is one of the most delicious parts of fall. It is even more fall-y if you bake it so get those mittens out.
I don't know about you but this fall spiced pear cobbler really makes me happy that it is fall.
To achieve the perfect pear fall bake you need to include all the essential fall spices including cinnamon, nutmeg, allspice, coriander, and ginger.
Blue cheese is also a great pairing for pear.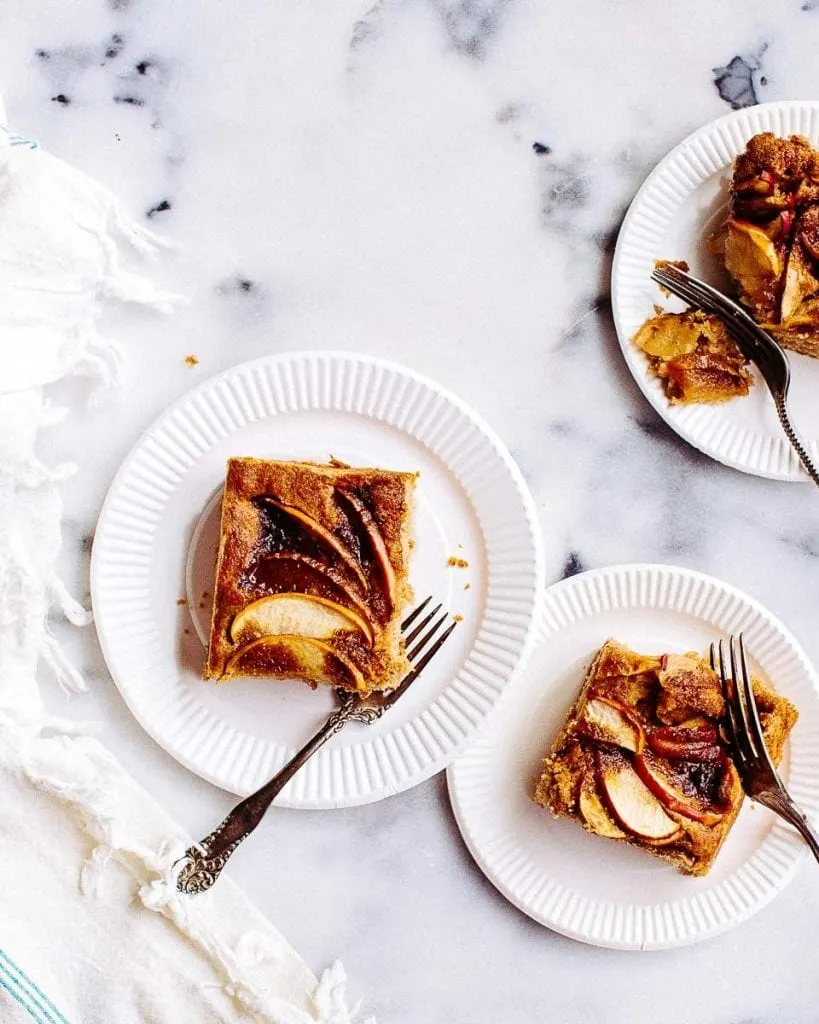 Pecan Pie
Another classic fall specialty – the pecan pie.
You can really make a great pie with many of the fall favourites – pumpkin pie, pear pie, apple pie – it is the pie time of year and pecan pie is one of our all time favourites.
If you don't feel like baking Walmart has a nice pre-made pecan pie available.
Sara Lee also does a nice pecan pie even if their chocolate cake is my ultimate favourite.
Save Fall Foods to Pinterest so you can find it again later!