Are you looking for top notch accommodation in Rwanda? Look no further than the Five Volcanoes Boutique Hotel near Kinigi, the doorstep to Volcanoes National Park where you can trek to see incredible mountain gorillas.
We stayed for 4 days 3 nights at Five Volcanos. We were a group of 3 couples – an older couple in their 60/70s, a newly married couple in their 30s and a couple in their 20s.
We throughly enjoyed our time at Five Volcanoes. Here's a full review of our experience and everything you need to know about staying (with photos).
Five Volcanoes Boutique Hotel
Two groups stayed in the Manor (2 bedroom, 2 bathroom) and 1 group stayed in the Honeymoon Cottage.
On arrival at Five Volcanoes Hotel, we were greeted very warmly with a welcome drink and made to feel comfortable with a happy "feel like you are at home approach".
Even though the journey from the capital Kigali to the hotel wasn't arduous – a two hour drive on well paved roads – it was nice to get a freshener drink.
The staff are extremely friendly and took us to our accommodation. It was very impressive, like being at home, as they mentioned.
If you stay at Five Volcanoes all food is included so you don't have to worry about finding restaurants in Kinigi. Drinks are also included. Alcohol is seperate and is charged to your rooms based on consumption.
Alcohol is reasonably priced and our group particularly enjoyed Five Volcanoes blue cocktail. We drank so many of them, the hotel ran out of the blue liquor. Highly recommended.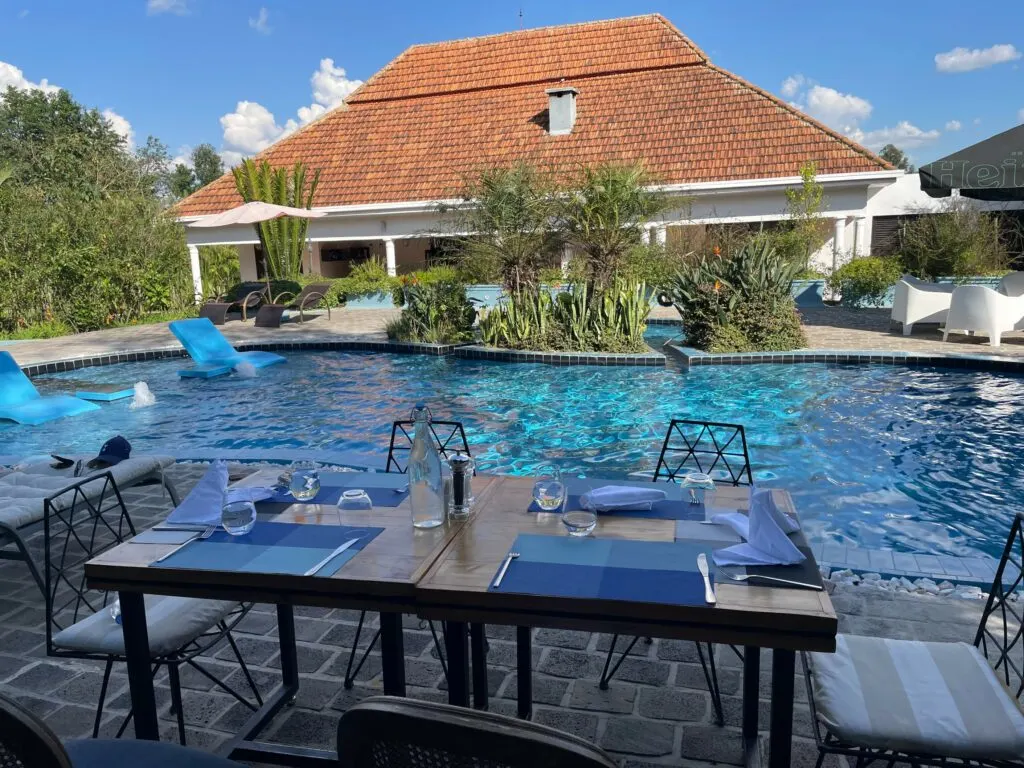 Restaurant
The restaurant was beautiful and very well appointed. The design of the restaurant was modern with an African flare.
Our group was very impressed with how beautifully decorated the restaurant and bar area of the hotel is. The first thing we did upon arriving at the hotel was have a drink at the restaurant bar overlooking the lush gardens below and framed with imposing (dormant) volcanoes in the distance.
We had our special table set for our group for the entire duration, and the staff were exceptional with their caring and attentive approach at all times.
On our final morning the staff had set up a special breakfast platter on our table which we greatly appreciated.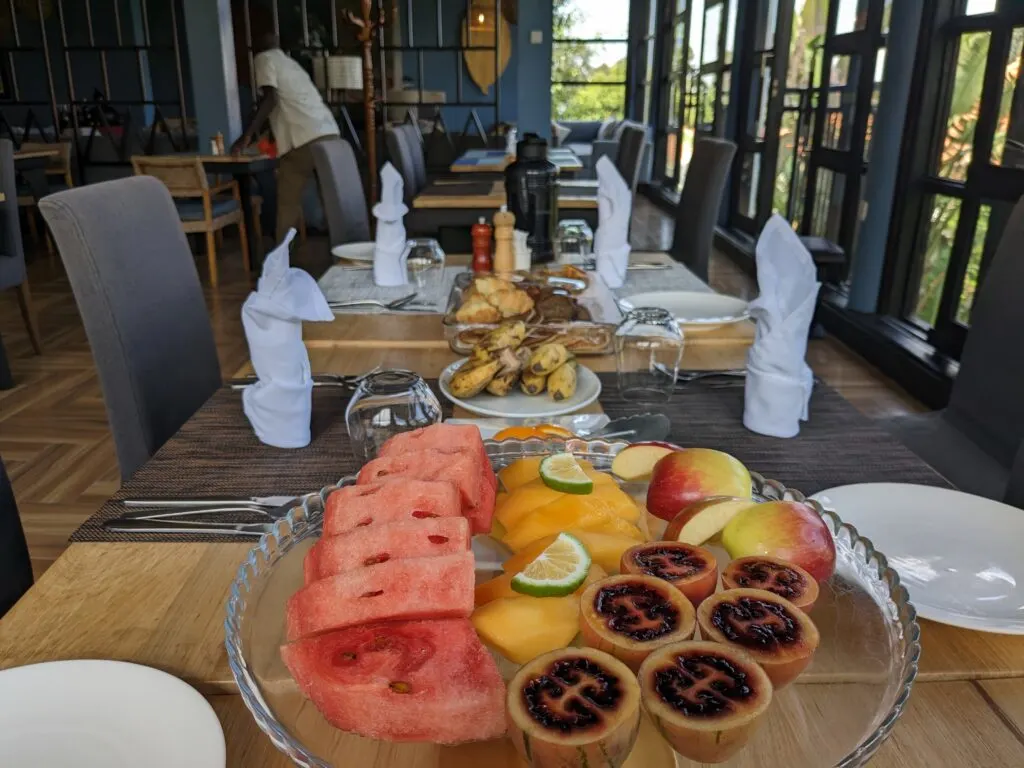 Breakfast
Breakfast at 5 Volcanoes was one of the best and plentiful we have experienced in Africa.
In addition to a full buffet breakfast complete with baked beans, bacon, plantains, fruit, juice and pastries, you are also offered a full breakfast menu complete with avocado and eggs on toast.
If you have experienced Rwandan coffee you will know it is exceptionally good and that is no different at 5 Volcanoes. We were impressed with the "5V" imprinted on each coffee.
Lunch
Lunch is also available at the hotel daily with a large and varied menu. If you are going out on a gorilla trek, the staff will pack a lunch for you.
An example of a lunch we had at the hotel was a delicious curry with rice and naan bread. The quality of food we ate at the restaurant of the hotel was really good and some of the best we ate in Africa.
Dinner
A typical dinner menu at 5V offered a choice of starter, main and desert. Soup was a common starter and every soup we had was of a very high quality. You will be very happy with the soup served at 5 Volcanoes.
While some of our group enjoyed the soup, others had perfectly cooked arancini balls.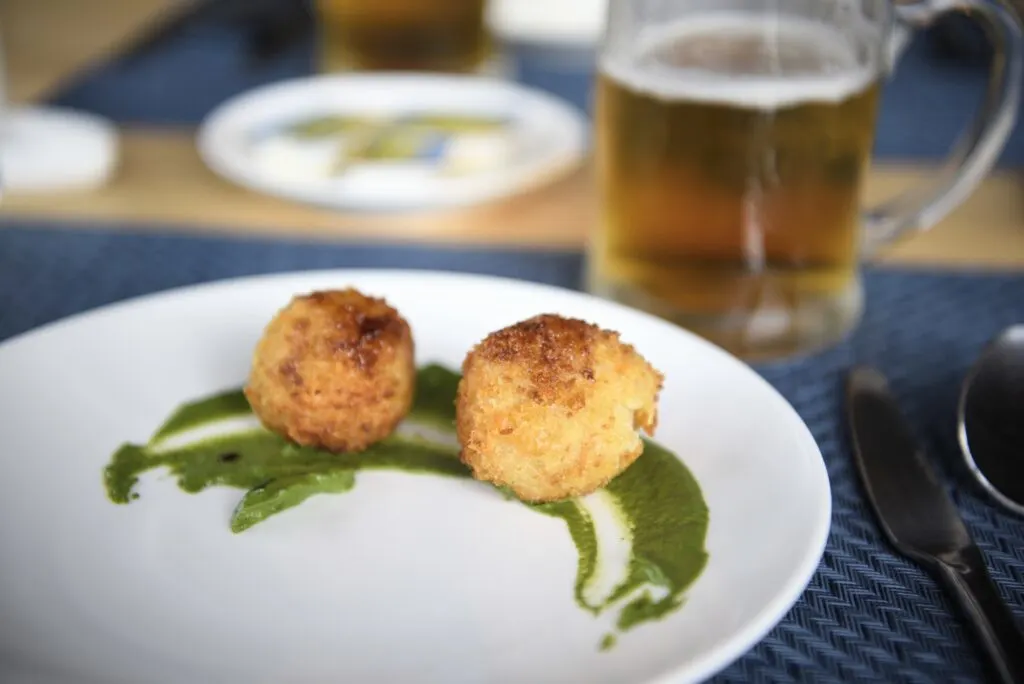 The main meal served at 5 Volcanoes was always hearty and satisfying and we always left feeling full and happy.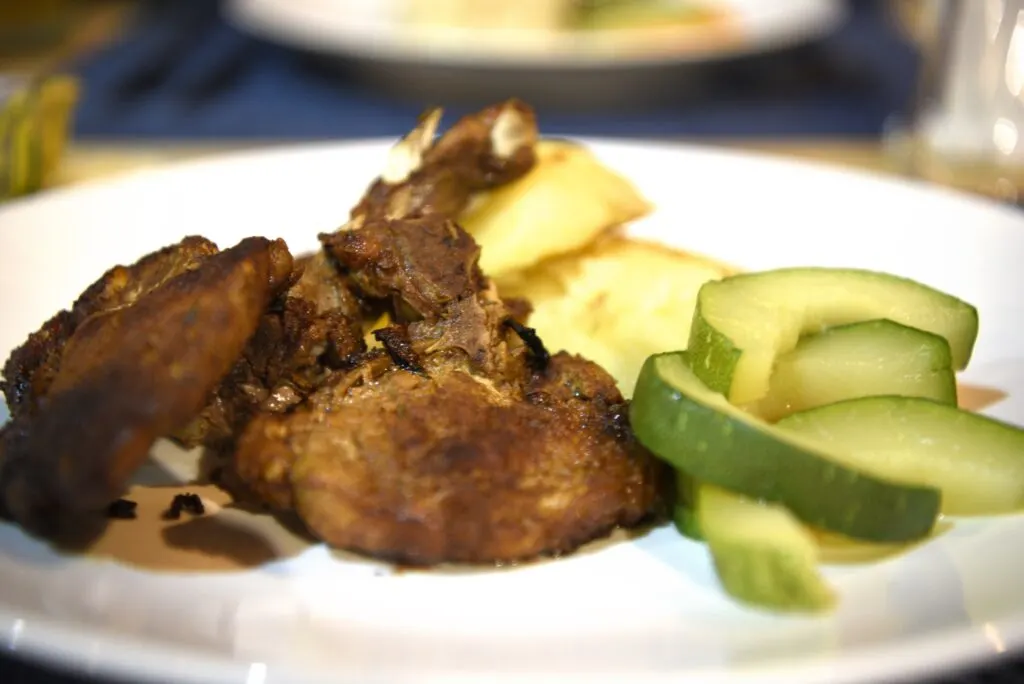 One great meal we had while at 5 Volcanoes was Chilli Con Carne with guacamole, rice, salsa and chips.
Another favorite of the group was the fish tikka masala with the tikka masala sauce applied to your own individual liking.
We were offered an African meal for dinner on our final night at the hotel which we took full advantage of as it was really interesting to sample the traditional African cuisine during our time at the hotel.
Food – Example of a menu
Meals at the hotel were always ordered in advance via an option list provided to you by staff a few hours before (or the night before if you were going on a hike).
There were always a few options with something for everyones taste, including vegetarian options if required.
Below is an example of a dinner menu at the hotel.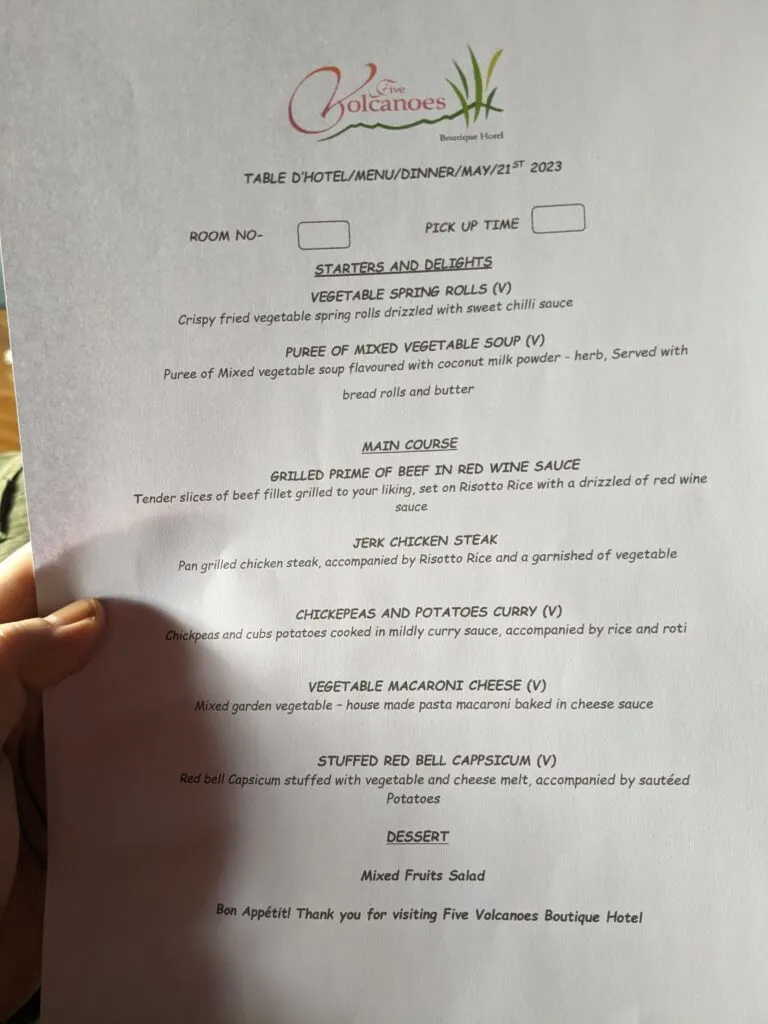 Staff
The staff were extremely nice and friendly and attended to us every step of the way. We could not compliment them enough as everything needed was never an issue and looked after in such a happy joyful manner.
The staff were always at our disposal and helped us with our belongings both and check in and out without request.
After out long day trekking with the Gorillas, the staff greeted us with a drink, helped remove our muddy boots/gaiters and provided a welcome foot massage. After this they proceeded to clean our foot gear and return them sparkling clean to our lodging.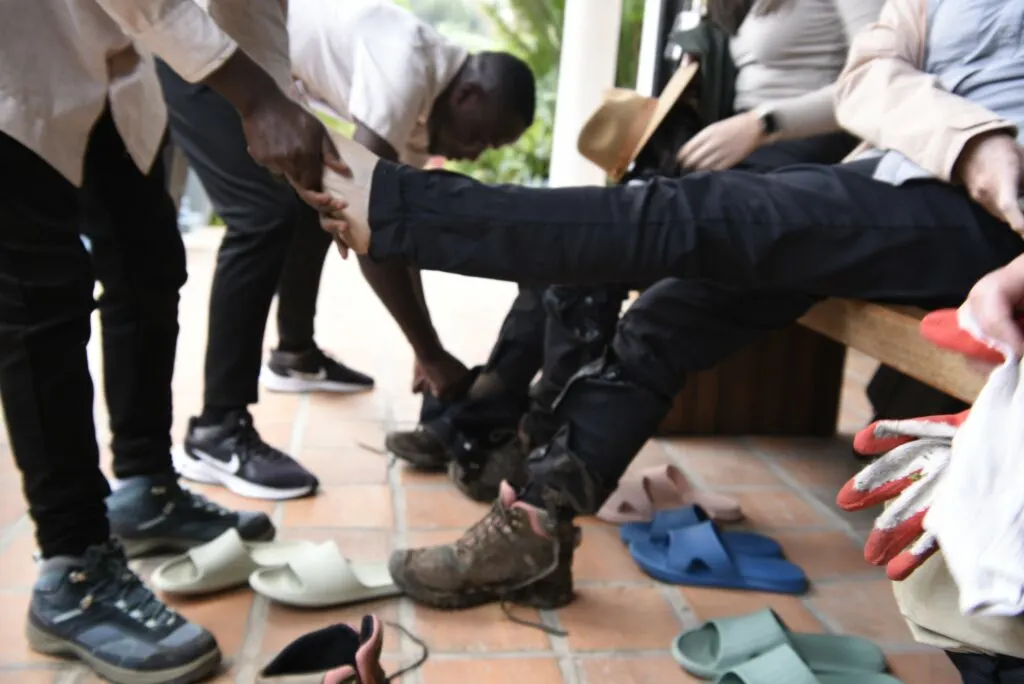 Transport to/from Five Volcanoes
Five Volcanoes Boutique Hotel organised a driver for us to transport us from Kigali to Volcanoes National Park. It is a great service that the hotel provides because it saves you going on an organised tour. The hotel can organise a driver for 350 USD a day for up to 6 guests. Within this price, the driver is willing to take you wherever you want to go. You can't book a rental car in this area of Rwanda so it is necessary to either book a guided tour or a driver.
The car was very large and comfortable (a full safari vehicle).
Our driver, Baboon (nicknamed as he fostered an orphan baboon), was booked through 5V for the 3 days to drive us anywhere we wanted to go. He drove us to the National park and through the villages and to the start of our exciting jungle trek to see the Gorillas.
Manor Review
Four of our group were lucky enough to stay in the Manor where the President of Rwanda had stayed in previously.
The eldest couple stayed in the master of the Manor. It was very spacious with a huge bathroom and plenty of space with comfortable lounge chairs and a very imposing 4 poster bed with netting.
Another room off this room led to a beautifully appointed Jacuzzi where you had the option to have a private massage.
There was a free standing bath in the main room with another huge bathroom attached with a double shower.
There was 3 large bedrooms in the Manor house in total – all spacious and comfortably appointed. To further enhance the wonderful facilities there is a seperate lounge/Dining room replete with with an open fireplace set up ready to use.
Our group used 2 out of the 3 rooms of the Manor. The second room included 2 double beds with netting as well as 2 lounge chairs. It has it's own private renovated bathroom.
The room is located across from the main bedroom and would be suitable for both children in a family group or a couple (like we had) staying in it.
All rooms in the manor were air-conditioned.
A staff member would arrive each evening to set up the fire for the evening. Above the fireplace was a huge TV providing Netflix to round off a great family gathering room. The large dining table was set up beautifully. If we chose to have in-Manor dining it was available to enjoy in our personal environment.
Just outside of the Manor was a beautiful pool where we enjoyed cocktails and popcorn. We lazed on the lounge outside chairs and had a very relaxing afternoon. As we were enjoying this area so much, the staff suggested to us that they could set up our lunch there. In no time at all they set up a table and chairs around the pool for us.
All of us fancied the-beef Wellington and continued to enjoy lunch with our Five Volcanoes cocktails being savoured there. It was a remarkable accommodation providing comfort and a lavish, memorable experience.
Honeymoon Cottage Review
The newlywed couple stayed in the lovely honeymoon cottage at Five Volcanos. The cottage was beautifully decorated complete with a very comfortable lounge area and a seperate dining table if you wanted to dine in your room privately as a honeymooner.
If you value privacy as a couple or are on your honeymoon, we highly recommend booking the honeymoon cottage which was lovely complete with a beautiful outdoor sitting area, an outdoor fire place, an outdoor bathtub and sauna.
The staff offered to come over and stoke up the fire at our request. As we traveled to the area in May, unfortunately it was not cold enough at our time of year for a fire but I imagine it would be very fun and cozy at other times of the year.
As the lodge is located in the mountains, you can expect a cool climate but the hotel rooms are well equipped for the cold if you do find yourself traveling at colder times of the year, with ample heaters available.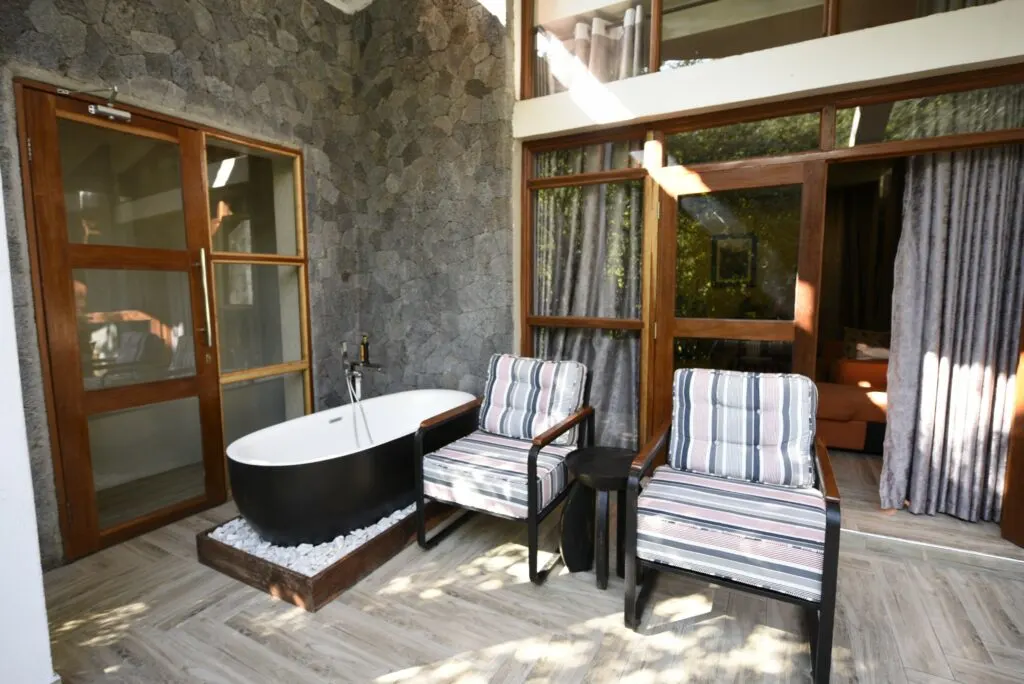 It can get cold at night as the area is located up in the mountain and after dinner you come home to 2 hot water bottles in the bed which was a really nice touch.
Activities in the area
Most people visit the area to see the amazing gorillas in the Volcanoes National Park. You can also visit Golden Monkeys in the same national park and complete other hikes such as the Dian Fossey grave hike.
It is recommended to book Gorillas in advance of your stay to avoid disappointment. The hotel can assist you to book your gorilla tracking passes which cost $1500 USD a person or you can book them yourself via the government website.
How to Book 5 Volcanoes
You can book directly on the 5 Volcanoes website here.
You can contact the hotel directly at [email protected] or per telephone on +250 789 924 969. To contact reception directly please call +250 780 440 648.
****