Looking for free things to do in Atlanta?
If you are traveling on a budget, Atlanta is a great place to be due to the abundance of awesome free activities!
Here are 53 of our favourite things to do in Atlanta Georgia for those wanting a budget-friendly trip to one of the best cities in the South.
Budget Tip: If you want to see all Atlanta has to offer on the cheap, we would highly recommend purchasing Atlanta CityPass that gives you access to some of the best attractions in Atlanta including the Coca Cola Museum, CNN Studios and the Georgia Aquarium.
53 Free Things to do in Atlanta This Weekend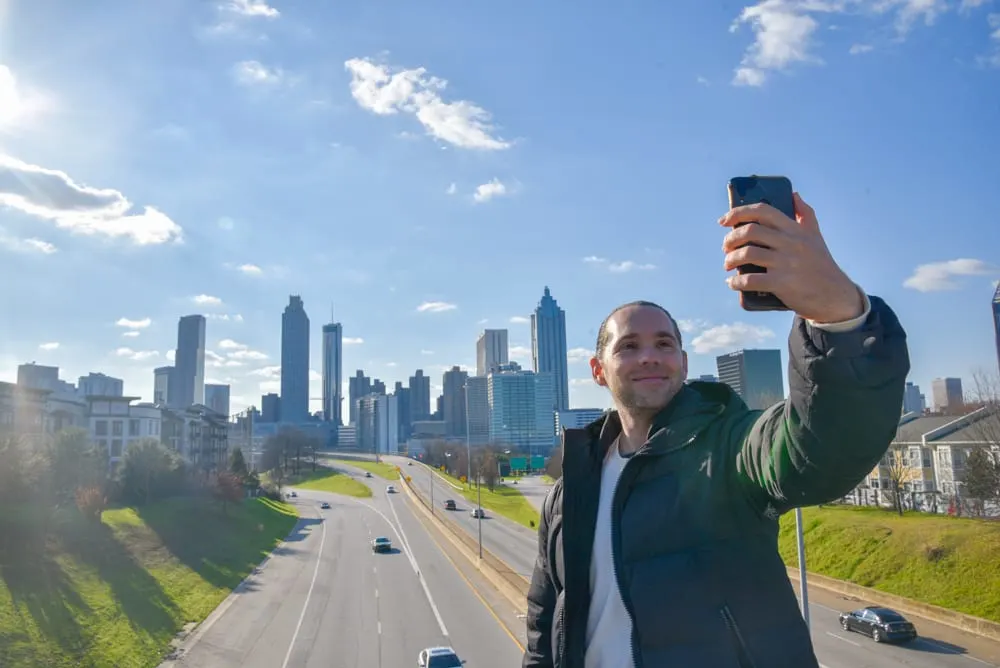 Note: This post covers the best free + cheap activities but there are tonnes more attractions in Atlanta (after-all, it is a huge city!!), if something in this free list doesn't tickle your pickle, you are sure to find something else here:
Downtown Atlanta
Centennial Olympic Park
Completely free and conveniently located in downtown Atlanta, Centennial Olympic Park is one of the very best free things to do in Atlanta.
The park first opened in 1996 for the Olympic games and now has become one of the best attractions in Atlanta with impressive water fountains and possibly the best view of Atlanta's skyline from the ground.
If you go before a Atlanta United match at the Mercedes-Benz Stadium you will experience a buzzing atmosphere at the park like no other!
Throughout the year, there is also many free community-wide events held at the park including the annual Fourth of July celebration. One of the best free events in Atlanta!
While not free, there are a lot of cool festivals like the Sweetwater Festival, NCAA March Madness Music Festival, Shaky Beats Festival, the Bourbon & BBQ Festival, and the popular Atlanta Jazz Festival held at the park. Check out the events calendar for upcoming events here.
Getting to the park is easy from anywhere in town: catch the Blue/Green line Metro to Dome/GWCC/Philips/CNN station or use the Red/ Gold line from the Peachtree Center station. If you are traveling by car, we found easy metered parking in walking distance of the park.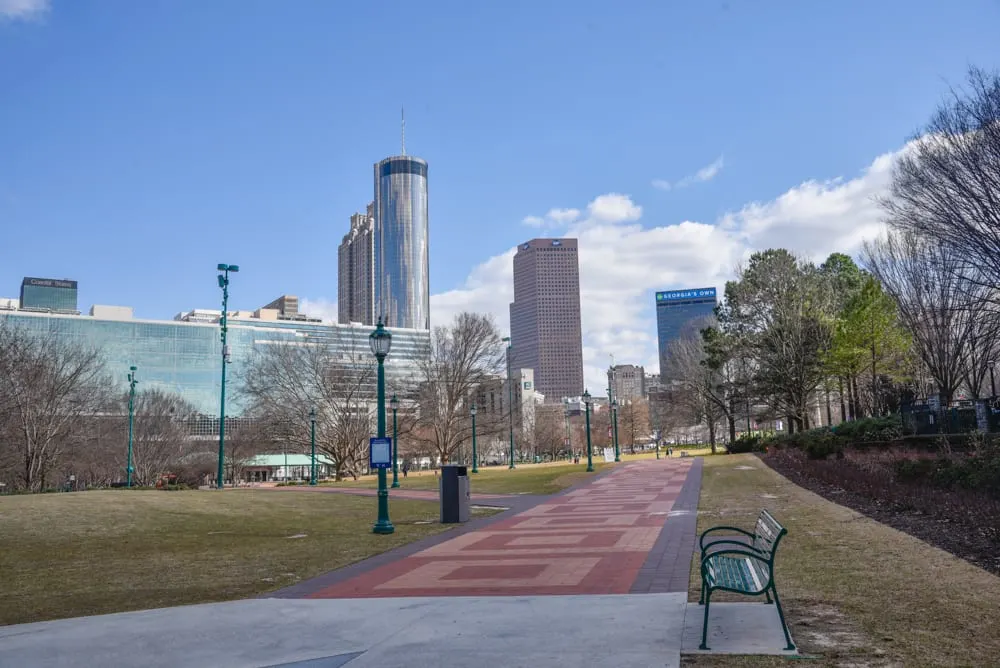 Fountain of Rings: Get a Photo with the Olympic Rings
Completely free, AND, a fun thing to do in Atlanta is to have your picture taken with the iconic Olympic Games Rings installed for the 1996 games in Atlanta.
This is possibly the most popular place to have your photo taken in Atlanta.
While you may have to wait a few minutes in line for a photo, if you are looking for a great keepsake photo of your time in Atlanta, this would be a great choice.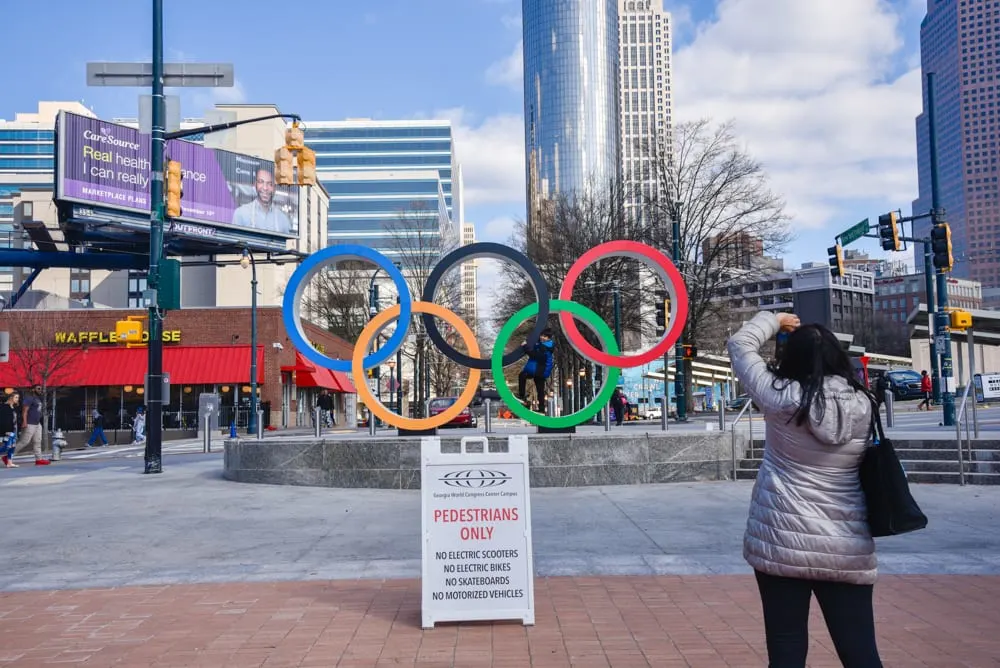 Get an Instagram Snap of the Skyview Ferris Wheel Atlanta
Of course riding the ferris wheel is not free ($14 + tax for adults and $9.26 + tax for children up to 11 years old) but getting a great instagram snap outside the ferris wheel is 100% free.
If you don't like heights staying firmly placed on the ground may be a better option for you in any event!!
Tip: It is quite pretty and romantic at night when the city lights fill the night sky!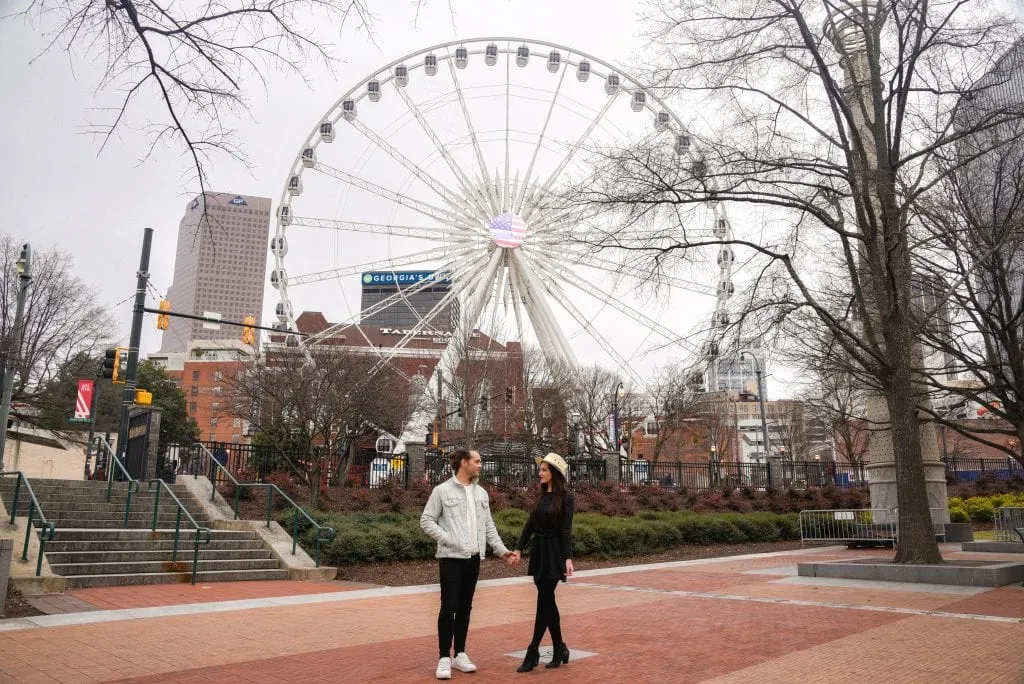 Visit the Georgia State Capitol Building
If you love learning, we would recommend a visit to the Georgia State Capitol Building which reminded us a lot of the United States Capitol in Washington and also of the Capitol building in Havana Cuba.
It is completely free to enter and open to the public for self guided tours from 8:00 – 17:00 on weekdays. If you have a group of 10+ the staff will also give you a free guided tour.
Inside you can see the Georgian government in operation via the public gallery. You will also find a museum inside which includes Georgian history with everything from Native American artefacts to fossils.
Don't miss one of the best free museums in Atlanta! You can see more information about tours and opening times here.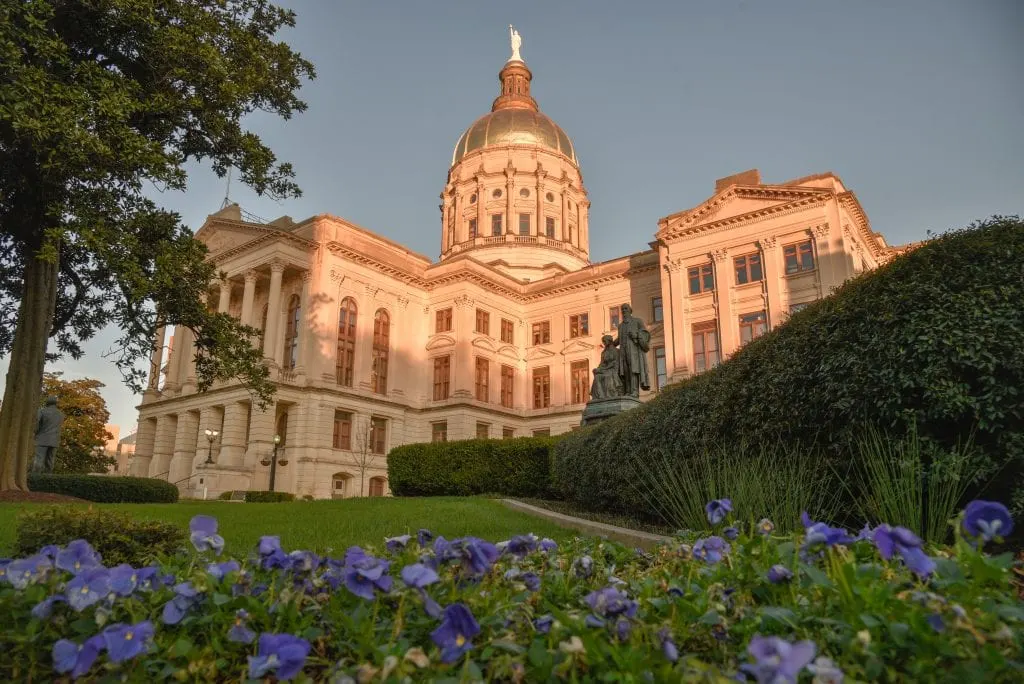 Underground Atlanta
Underground Atlanta would be a cool free place to see in Atlanta if the attraction were not overrun with drugs, prostitution and homeless people. Ekk!!
Underground Atlanta shows what the shops of Atlanta would have been like before the Union soldiers burned in to the ground.
Luckily, a company recently purchased it from the city of Atlanta and is set to develop it into a cool new space!
Old Fourth Quarter Atlanta
Explore the Sweet Auburn District
One of our favorite things to do in Atlanta which is completely free is to visit the neighborhood Civil Rights Leader, Martin Luther King Jnr grew up in called Sweet Auburn.
The neighborhood is a vibrant and happening neighborhood with a strong connection to the Civil Rights movement in America.
It is bizarre to think as recently as the 1940s and 1950s in America, this was a totally segregated, blacks only neighborhood in Atlanta.
Sweet Auburn was a middle to upper class area for African American (Martin Luther King Jr. grew up in a middle class family in the neighborhood).
Auburn Avenue filled with restaurants, bars and nightclubs was described by whites as the "richest Negro street in the world" at the time.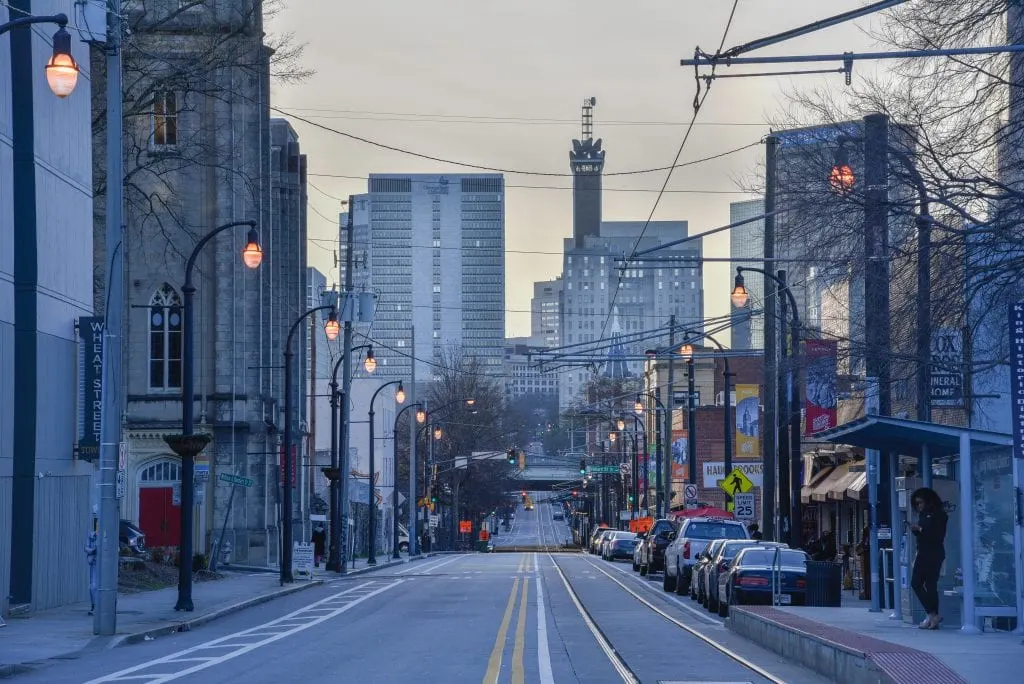 Visit The Shot Gun Houses
The iconic shot gun houses are a very unmissable free thing to check out while in Atlanta.
This style of house was popular from the end of the Civil war to the 1920s. You can find these houses on the same street as Martin Luther King Jr's childhood home (Auburn Avenue).
The reason they are called "shot gun houses" is very interesting. The front door is in perfect alignment with the back door. If you sent a gunshot through the front door, it would go right through the back.
During Martin Luther King Jr's childhood, these houses were home to Atlanta's black residents, who, at the time, were segregated from the white population of Atlanta.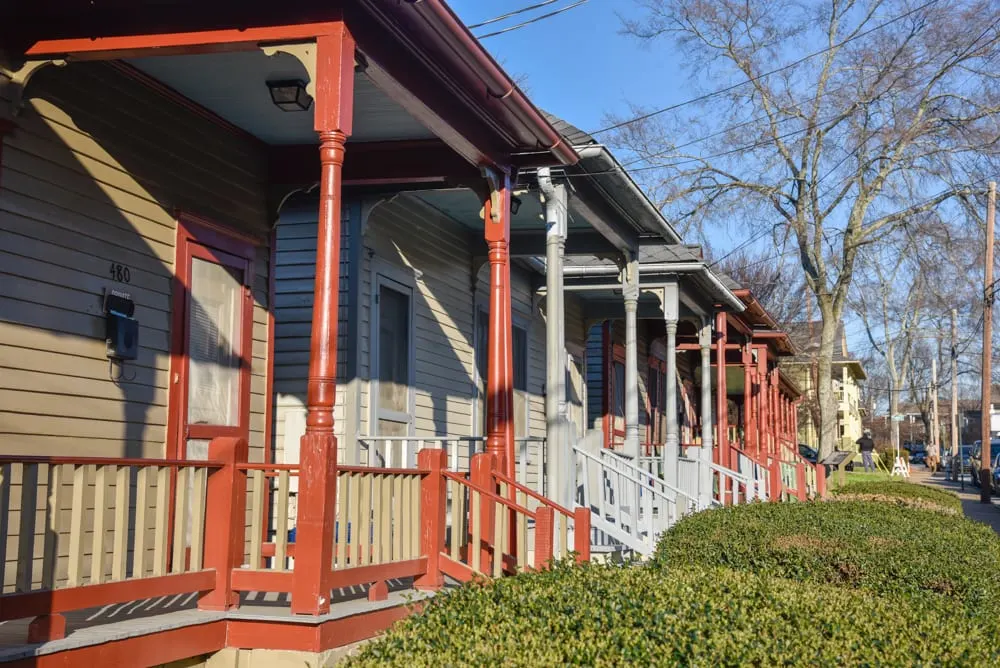 Martin Luther Kings Home
Across the road from the shot gun houses you will find the home Martin Luther King Jr. grew up in. If you want to program it into your GPS, it is located on 501 Auburn Avenue.
It was in this home that he was born and lived out the first 12 years of his life.
You can see the house for free on the outside and if you arrive early for the day the National Park Service rangers will also give you a free tour of the inside of the house. The tour is limited to the first 15 people who arrive so show up early if you want to go inside!
Even if you are not so lucky to get a tour, there is very interesting information outside the house for you to read.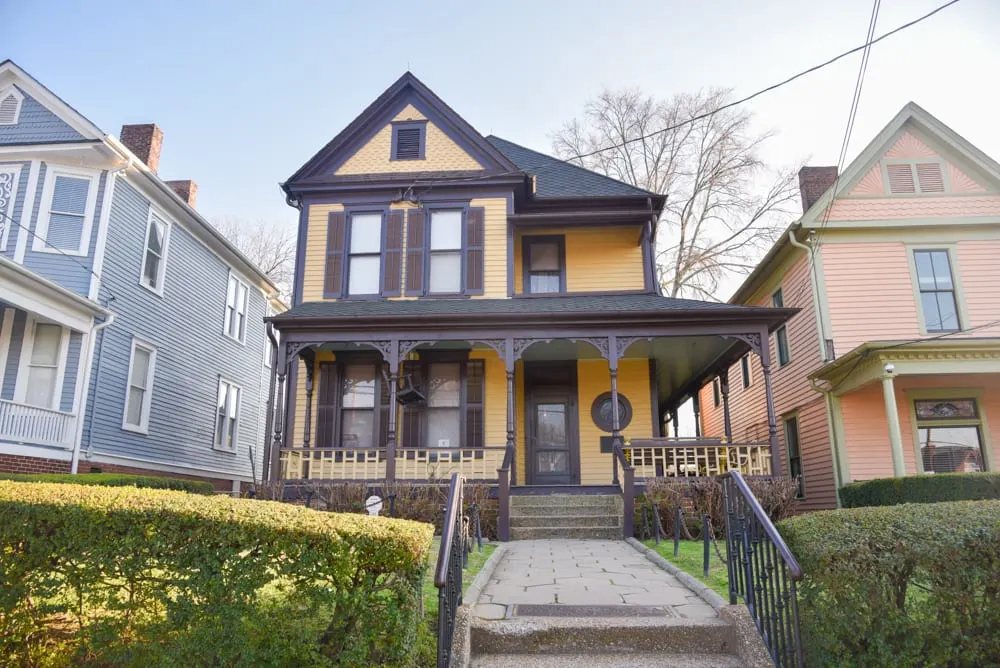 Martin Luther King Jr. National Historical Park
While you are visiting Martin Luther King's house, we would also recommend you visiting the nearby Martin Luther King Jr. National Historical Park.
In the park you will find the tombs, a reflecting pool and eternal flame burning nearby in honor of Martin Luther King Jr and his wife Coretta Scott King.
Nearby, you can also visit the Visitor Center which gives interesting information about the civil rights movement and Martin Luther King's involvement.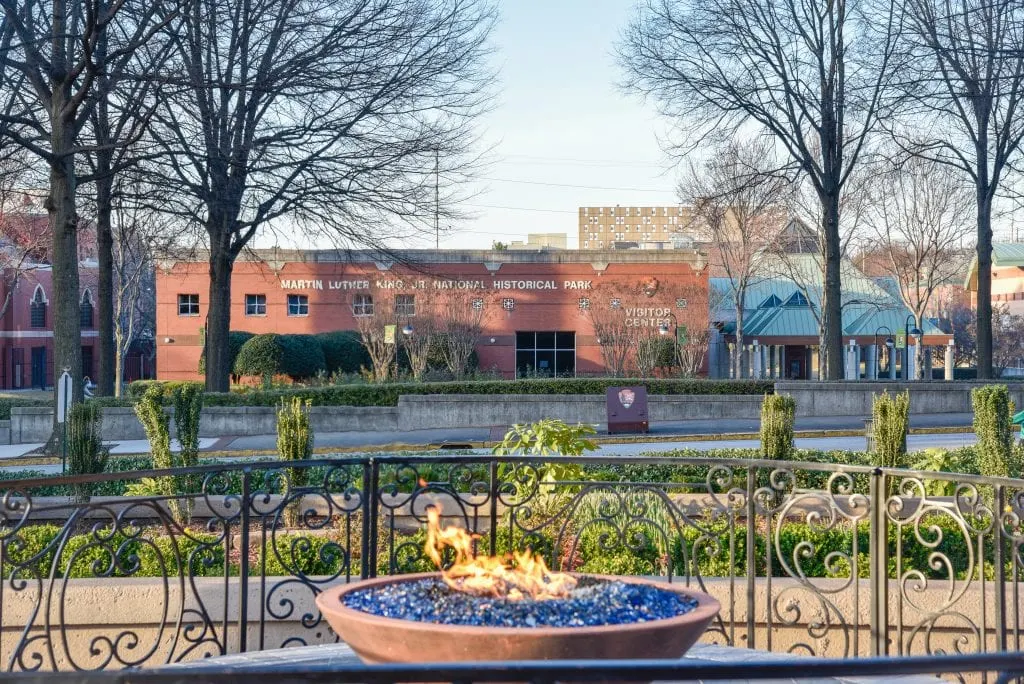 Atlanta's Municipal Market
The Municipal Market in Sweet Auburn is another of our favorite free things to do in Atlanta.
Although the food itself isn't free it is completely free to wander the market and window shop all the stores!
Inside, you will find a lot of fresh produce from vegetables to meats, fresh bakeries to even some small hip eateries.
The market first started operating in the 1920s and in the times of segregation in America, African Americans were not allowed to trade inside the Municipal Market.
These days, thanks to the work of Martin Luther King and other civil rights activists, some of the best businesses inside the Municipal Market are owned by Atlanta's black community.
The Municipal Market is also known as the 'Curb Market' in reference to when Atlanta's black community were not allowed inside and had to trade on the curbside.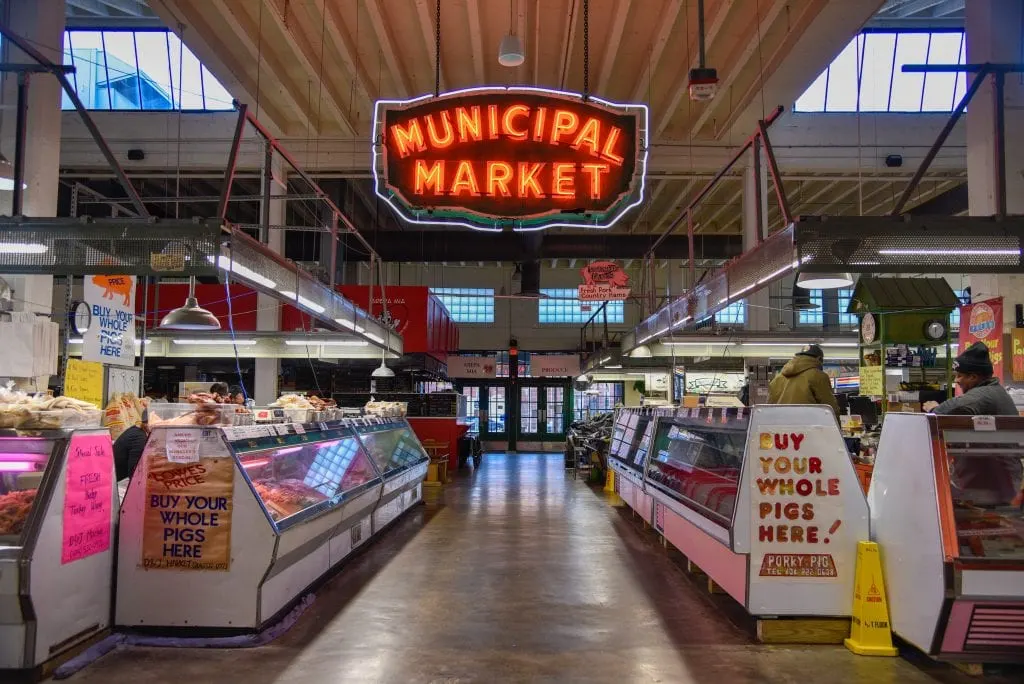 Ebenezer Baptist Church
If you want to follow the footsteps of MLK, another great free place to visit is the Ebenezer Baptist Church.
It was here that Martin Luther King Jr and his father Martin Luther King Sr were pastors. Martin Luther King Jr was also baptized in this church.
Outside the church you will find some history as well as the good work the King family did to assist the homeless and needy in the Sweet Auburn area.
Inside you will find more history about the King family and their good work.
Walk the Civil Rights Walk of Fame
Celebrating anyone from Martin Luther King to Gaundi, the Civil Rights Walk of Fame is one not to miss if you are in the Sweet Auburn area of Atlanta.
Being an outdoor exhibition, it is of course completely free and open to the public.
It was established in Atlanta in 2004 to commemorate those who have fought hard to protect human rights over the years.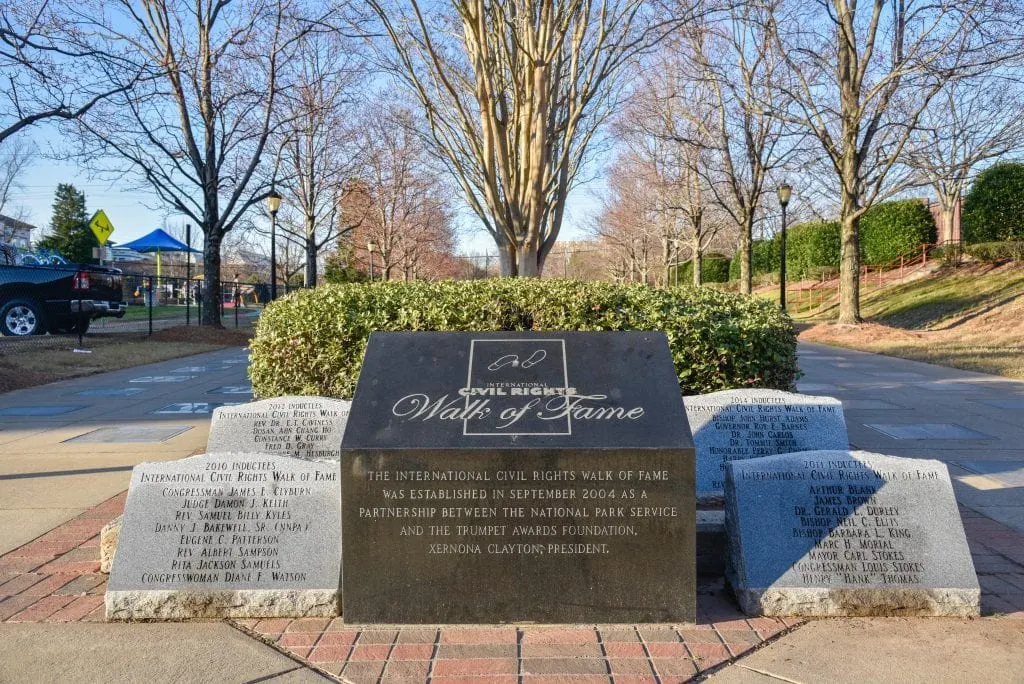 Walk the Atlanta Beltline
Perhaps our favorite cost free activity in Atlanta is the Atlanta Beltline.
In 2008, it was established from a former railway corridor which was opened as a multi-use trail. This first-stage of the Atlanta BeltLine – known as the West End Trail – has has been followed by a Northside Trail, Eastside Trail, Southwest Connector Trail and West Side Trail.
In total the Atlanta BeltLine spans 9.9 miles and is still under development. Plans are to create a trail which connects 40 neighborhoods in a loop covering 22 miles.
Along the BeltLine you will find one of the quirkiest free things to do in the city – Atlanta's Tiny Doors!
If you look closely enough you might spot mouse-size doors inconspicuously dotted along the trail as part of the Tiny Doors project. Let us know in the comments if you find a cool one to share!
The BeltLine is also a great place to people watch because along the way you'll see locals walking their dogs, skating, playing flag football and more.
If you're interested in the BeltLine project, on Friday and Saturday mornings you can catch a free, narrated bus tour of the parts of the trail still under development. You can find more information about the free tour here.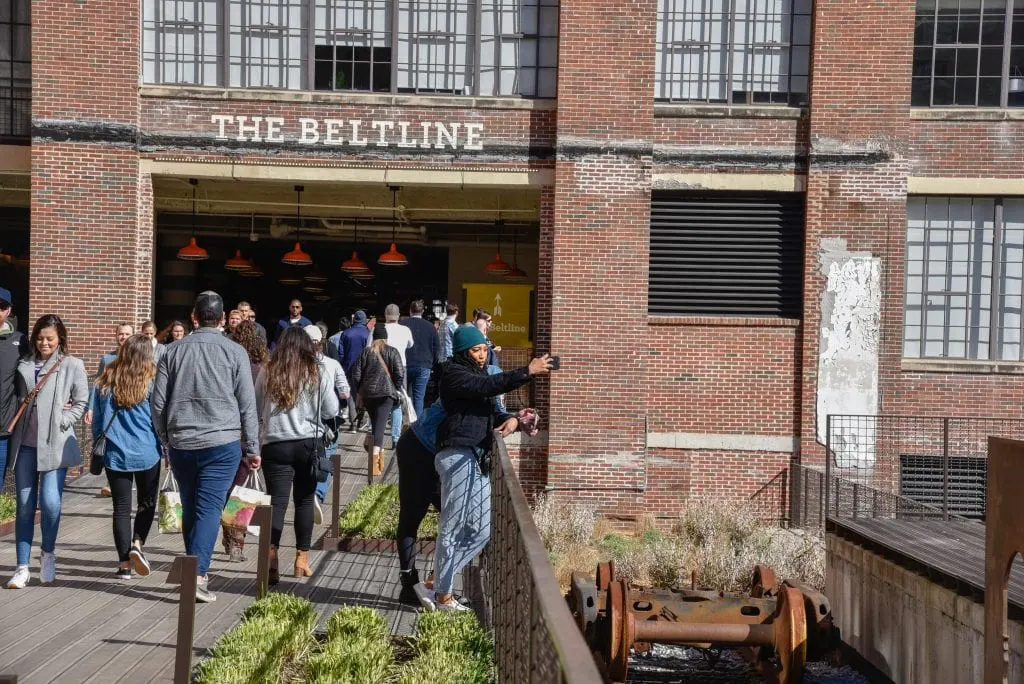 Take a Selfie at Jackson Street Bridge
This viewpoint really brings home the concept that the best things in life are completely free!
If you love the "Walking Dead" and want a great photo of the Atlanta skyline you really cannot go past the Jackson Street Bridge.
Jackson Street Bridge is a easy 6 minute drive from downtown Atlanta. It is free to visit and there is free parking nearby which is really convenient if you are driving around Atlanta!
In case you didn't know, it was featured in one of Walking Dead's most famous scenes a few years back!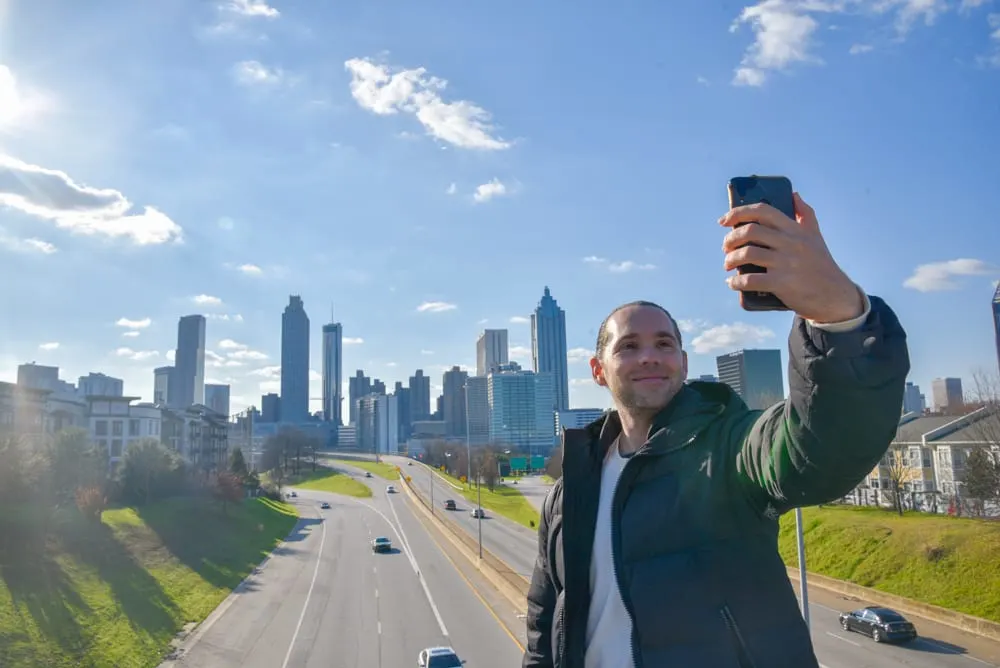 Visit The Homage to King on Freedom Parkway
Around the corner from Jackson Street bridge you will see the iconic Homage to King monument on Freedom Parkway.
The sculpture of MLK raising his hand in the air was erected in 1996 by Xavier Medina from Barcelona.
We thought it was a cool piece of art that was worth checking out while you are in Atlanta.
It is designed to integrate the pedestrian and bike path which joins Atlanta downtown to Freedom Parkway.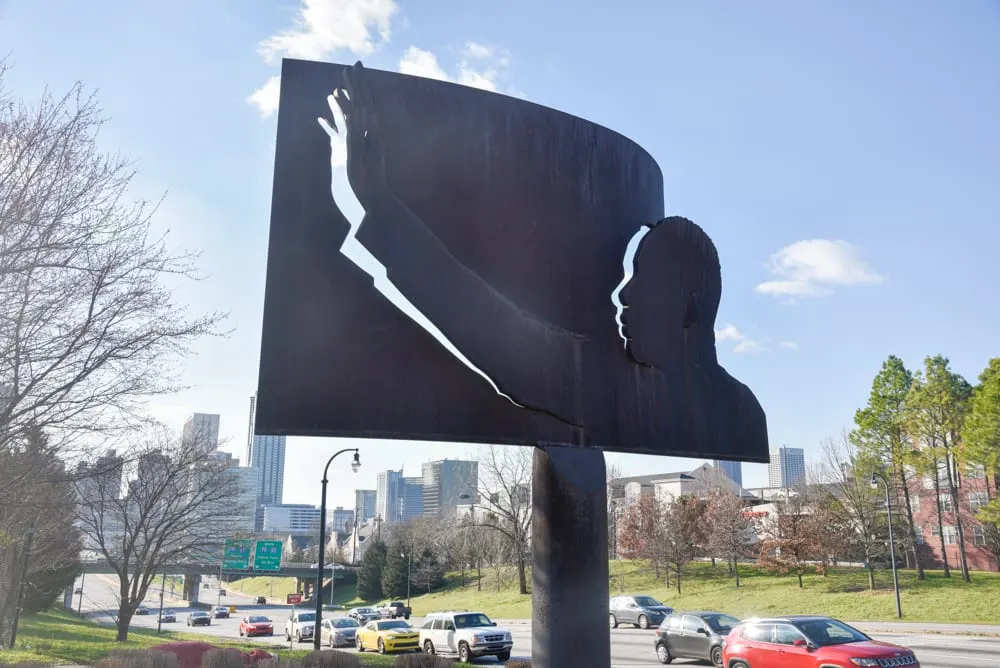 Historic Fourth Ward Skate Park
On one section of the Beltline you will find the Historic Fourth Ward Skate Park. Completely free to visit of course!
If you have a skateboard or roller skates, feel free to give the skate park a go. They are very acceptable of beginners in the ring.
If not, it is really entertaining to watch the skaters use the ramps and bowls.
There is free parking directly outside the Skate Park but it can be difficult to get a park.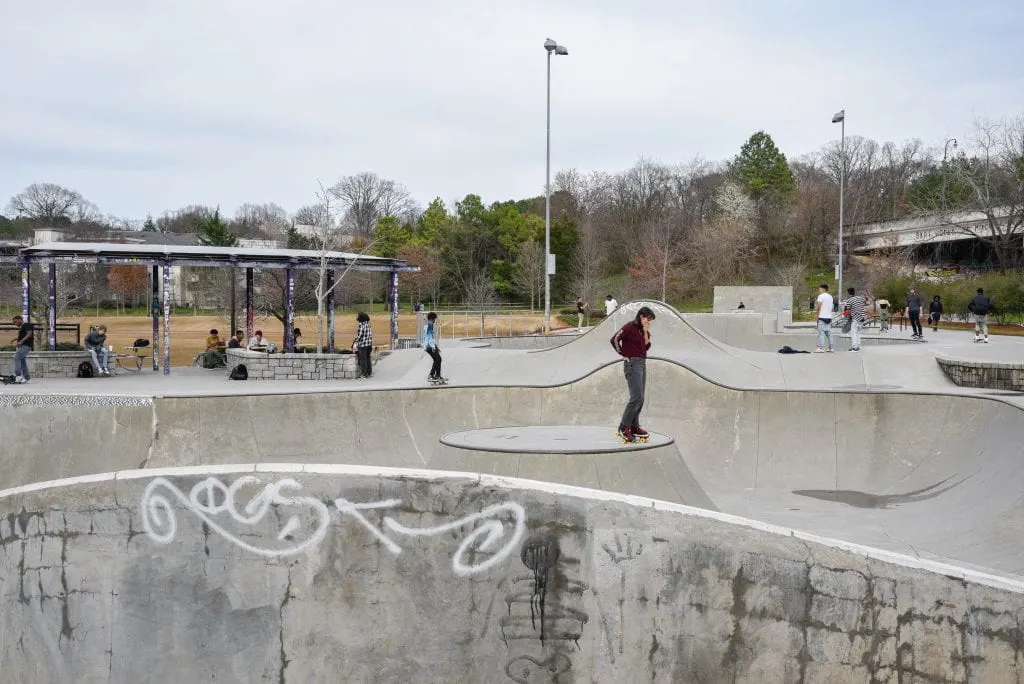 Krog Street Tunnel
This certainly has to rate in the top 1-2 free thing to do in Atlanta with kids!
Krog Street Tunnel is for hipsters and for anyone who just loves interesting street art.
The tunnel is a mixture of commissioned full-wall murals and impromptu graffiti from Atlanta's residents.
Feel free to buy a can of spray paint and go for gold! The kids that we saw with their Dad absolutely loved watching him paint in the tunnel.
If you feel like a coffee at this point, across the road from the tunnel is a cool hipster cafe.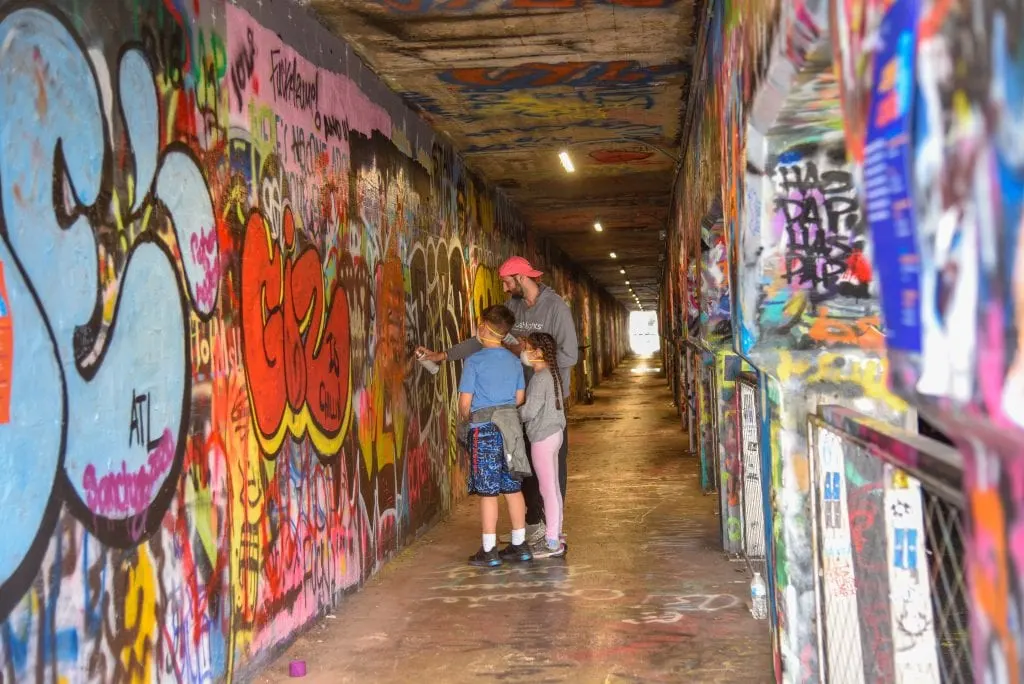 Krog St Market
It is entirely free to visit Krog Street Market.
I didn't say you won't be tempted to buy some of the delicious food options on offer ranging from Chinese to fried chicken to American style bars to freshly baked goods.
The Little Tart Bakeshop have particularly delicious strawberry tarts. #sorrynotsorry!
If you want the place to yourself, go on a weekday.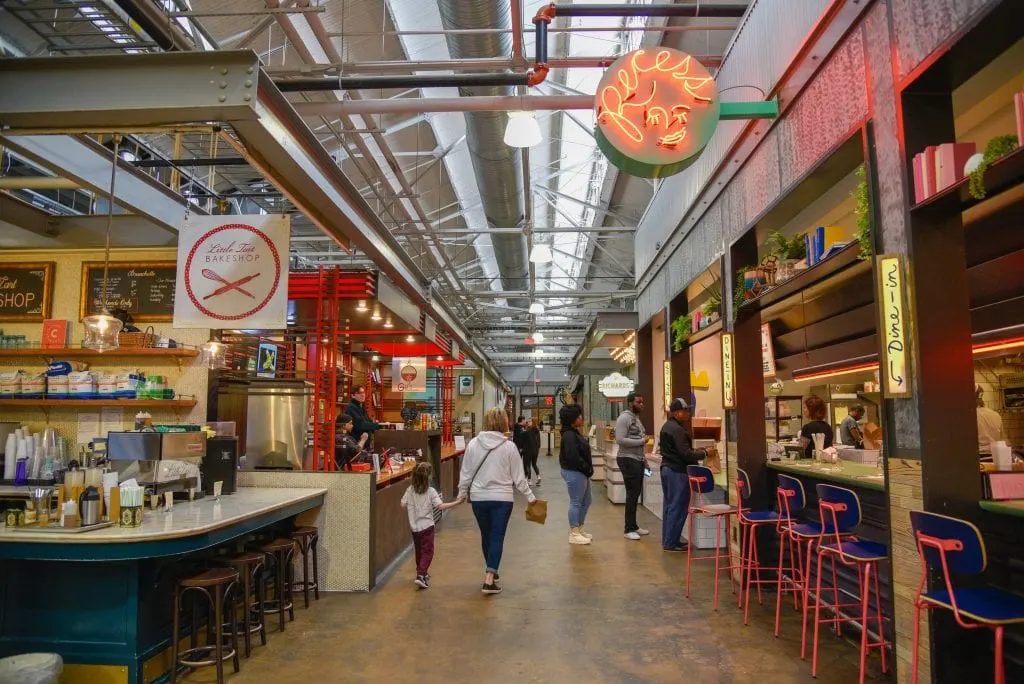 Midtown Atlanta
The Autoeater
The Autoeater is by far our favorite piece of art in Atlanta – even the name is cool!
The Autoeater is carved from a 16 ton marble block from northern Italy. The artists Julia Venske and Gregor Spanle are well known for their marble sculptures around the world.
The stone or animal (whatever it is, maybe a fish?!) is eating the 1980s Fiat Panta.
In 2017, it made the 4856 mile trip from Italy to midtown Atlanta where it can be seen opposite the Margaret Mitchell house.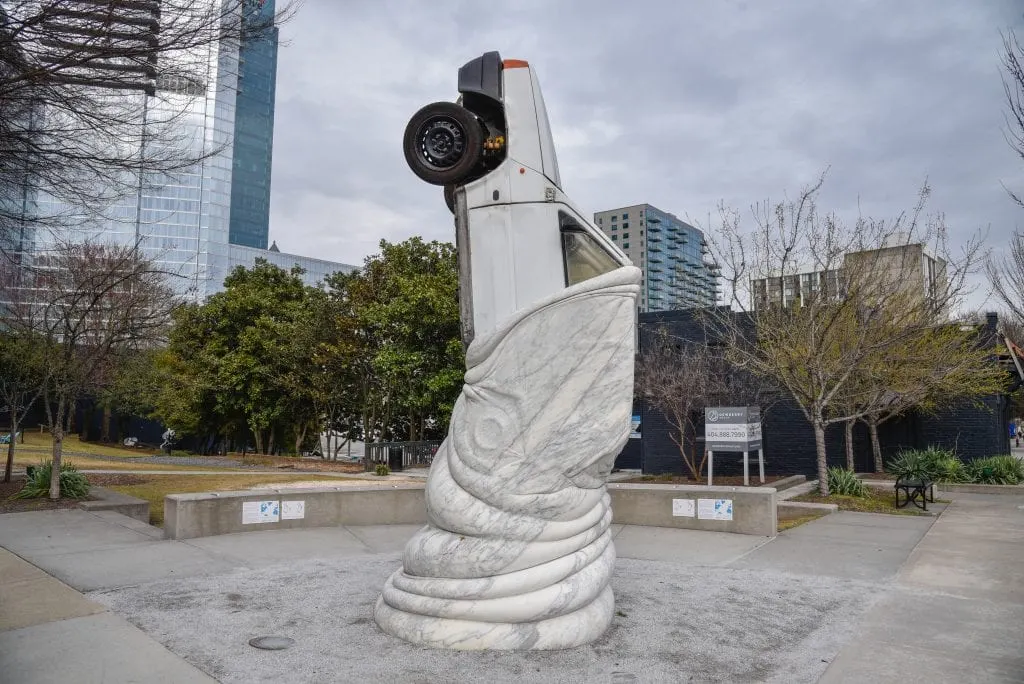 Reserve Bank of Atlanta
In midtown Atlanta on Peachtree Street you will see the stunning Reserve Bank of Atlanta.
You might not think there is a lot to do at the Reserve Bank of Atlanta but it consistently rates as one of the very best free stuff to do in Atlanta.
It is cool to get a peak inside the workings and operations of a bank!
Inside you can see the Monetary Museum which has a lot of interesting information on the history of banking in the US including the part the Federal Reserve plays.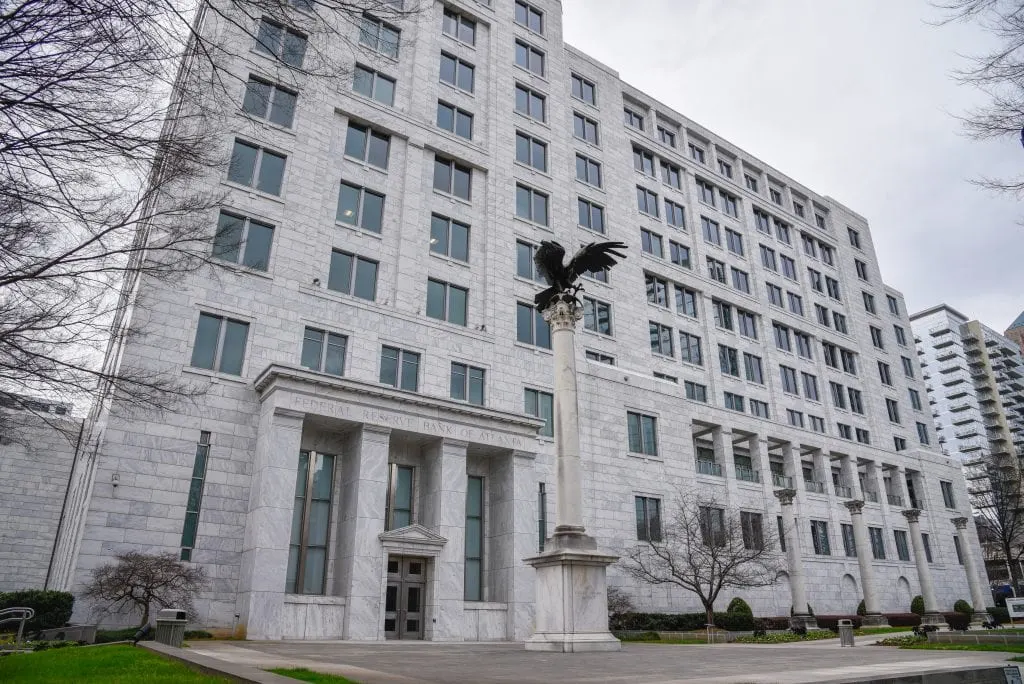 Atlanta Contemporary Art Musuem
If you love modern art, we would recommend a visit to the Atlanta Contemporary Art Museum.
Inside you will see amazing works of art from over 100 artists from the local, national and international art scene. On their website, you can find out about upcoming events for adults and kids.
The musuem is completely free to visit.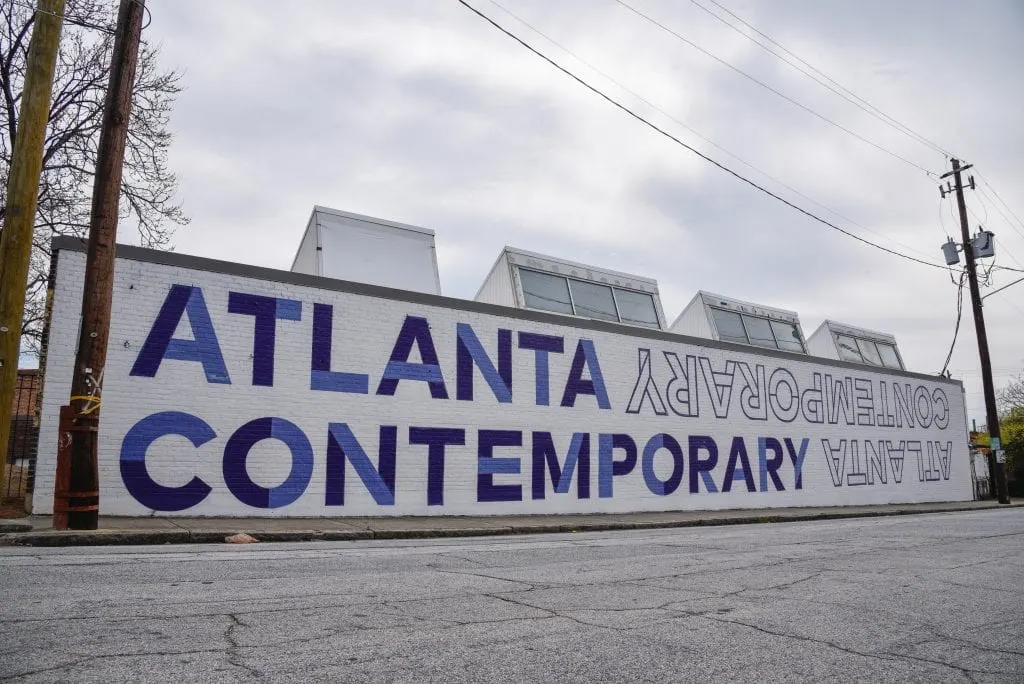 Center for Puppetry Arts
Are you from Georgia? Then lucky you – you can access the cool center for puppetry arts for a whole $0 dollars!
Inside is cute performances, various workshops and even the unique ability to make your own puppet!
To get your ticket visit a participating Georgia Library with your library card and they will hook you up!
Even if you are not from Georgia, not to worry, as this attraction won't break the bank. The tickets only cost $12 + (depending on what you want to do inside) which is a pretty cheap activity in Atlanta if you ask me!
You can check out more about whats on at the centre during your dates in Atlanta on their website.
Visit The High Museum of Art
The High Musuem of Art in the Woodruff Arts Centre usually costs $14.50 but on the second Sunday of every month, entry is free for all!
There is free military veteran entry (+ a guest) everyday.
Inside you will find art from medieval times all the way to present day, contemporary art including some Monet pieces.
You can check out if there are any special exhibits on during your stay on their website.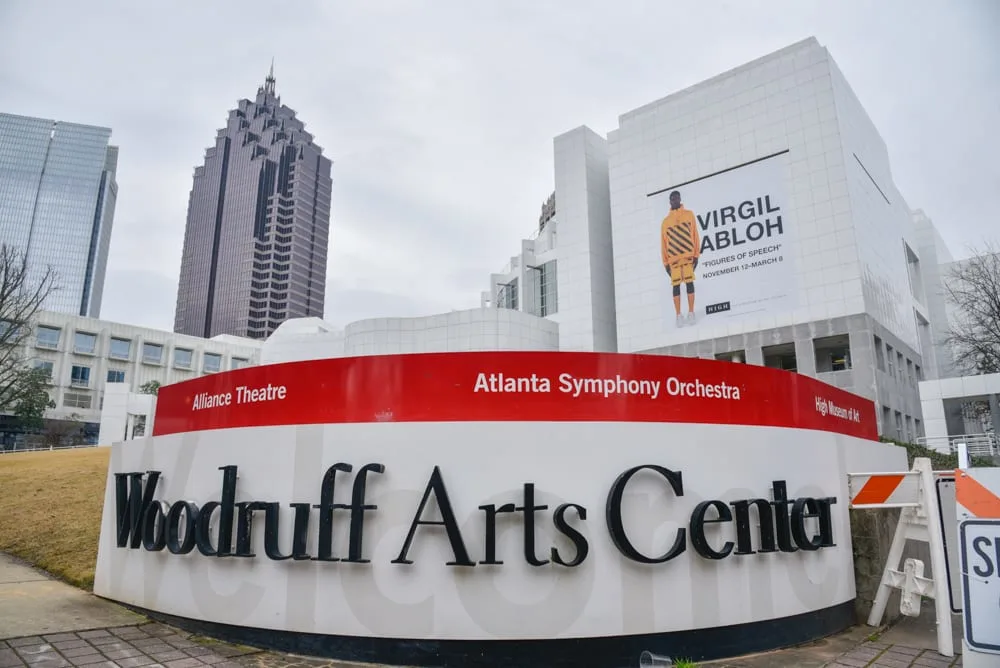 Woodruff Park
Woodruff Park is one of the most popular free things to do in Atlanta.
It is nice to go for a stroll in the park and discover all the cool attractions including the beautiful International Peace Fountain, the amazing Gazebo erected for the Olympic games and various pieces of art in the park including the 'Phoenix rising from the ashes'.
One of the unique aspects of the park is the pop up library in the middle where you can borrow a book and have a quiet read.
During the summer months, there is also other popular free activities in the park to look out for including free yoga.
You can check out what's on in the park on their website.
Piedmont Park
Piedmont Park is a stunning park in Atlanta which reminded me a lot of central park in New York!
It is the perfect place in the city to go for a picnic or for a leisurely stroll in a park, sniffing up the fresh air.
The great part about Piedmont Park is that it is located right in the very heart of Atlanta City.
Don't miss Lake Clara Meer, located in the southern end of the park as it is one of the prettiest parts of the park.
Piedmont Park is completely free to enter and if you are lucky you can catch one of the many free events at the park.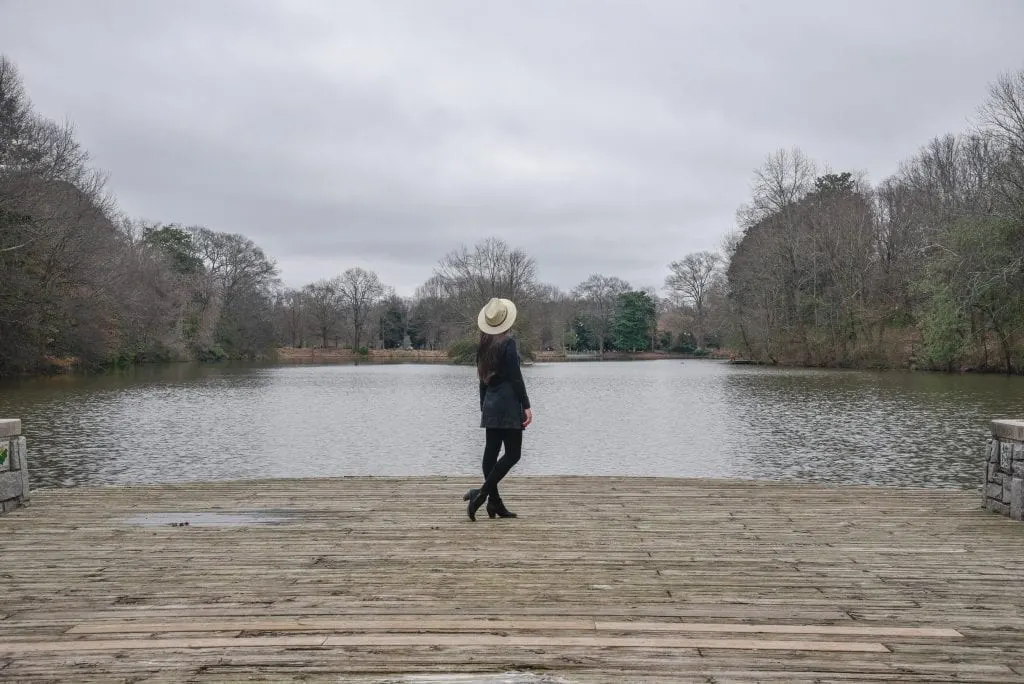 Little Five Points and Poncey-Highland
Ponce City Market
While the food and beverage at Ponce City Market is not free, you can always go in any just window shop, right?!
The market is one the ground 2 floors of one of the largest buildings in the Southeast United States which in the 1920s was home to Sears.
The market is hustling with activity and has delicious food that will certainly tempt you including Asian, ice creameries, donut stores, burgers and specialty breweries.
Each store specializes in one cuisine only which makes all food and drink at the market extremely high quality.
Even if you do 'splurge' and have a bite to eat here rather than cook at home, it is a very inexpensive activity in Atlanta.
Feel like walking off all the food you ate at Ponce? You can access a lovely section of the Beltline directly from the market.
Tip: If you visit on a weekend the market is extremely busy. Whatever you do, do not park at Midtown Place across the road. It might look like the perfect place but we saw quite a few cars being clamped while we were there.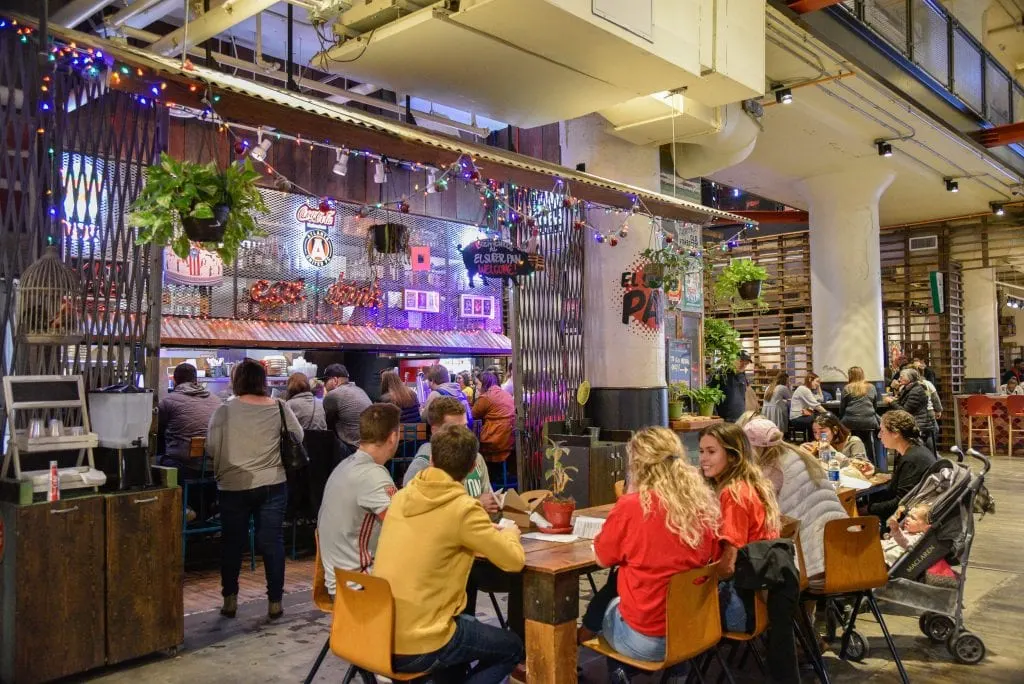 Little Five Points
I so loved the hippy vibe of Little Five Points!
The colorful houses along the street have some of the most interesting stores in Atlanta.
You will find anything from second hand clothing to record stores to hipster cafes! Some of the most interesting stores include the Criminal Records music shop and the Junkman's Daughter with alternative fashion.
What you won't find here are big chains like Starbucks as the business association as outlawed them in favor of upcoming vendors.
The vendors in the area are very appreciative of good art. The mural at the 7 stages building has remained in perfect condition for 20 years!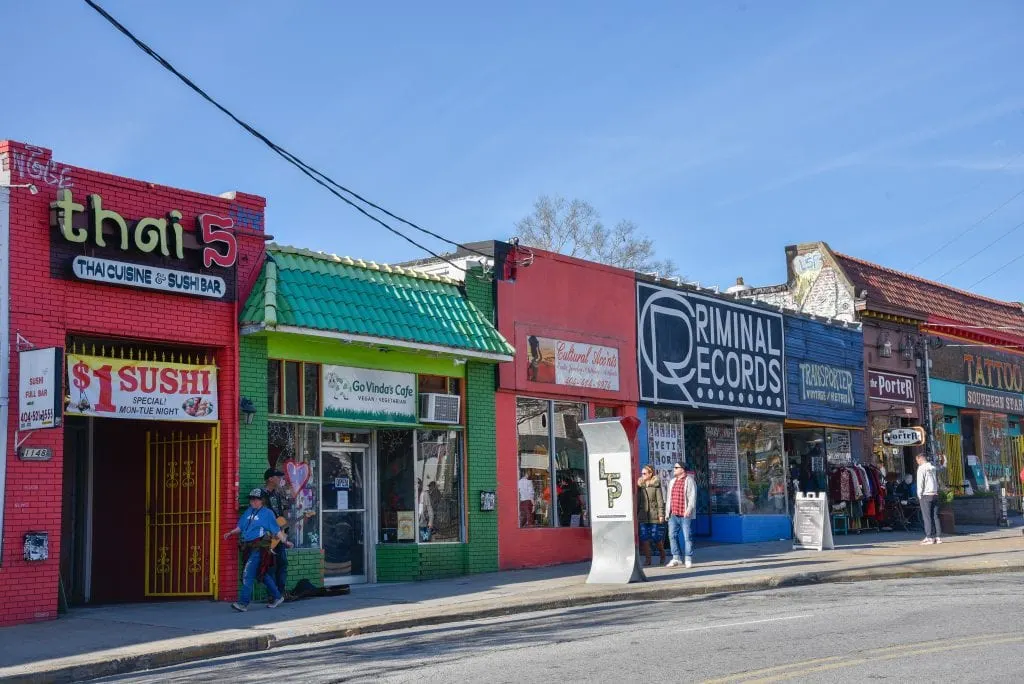 Inman Park
Inman Park is Atlanta's first planned suburb.
It is an interesting neighborhood to go for a wander through as it is built with beautiful Victorian architecture.
It borders a lot of other interesting parts of the city including Little Five Points, the BeltLine Eastside Trail and Krog St Market.
If your time in Atlanta falls in April, don't miss the free Inman Park festival which includes food, activities and a parade.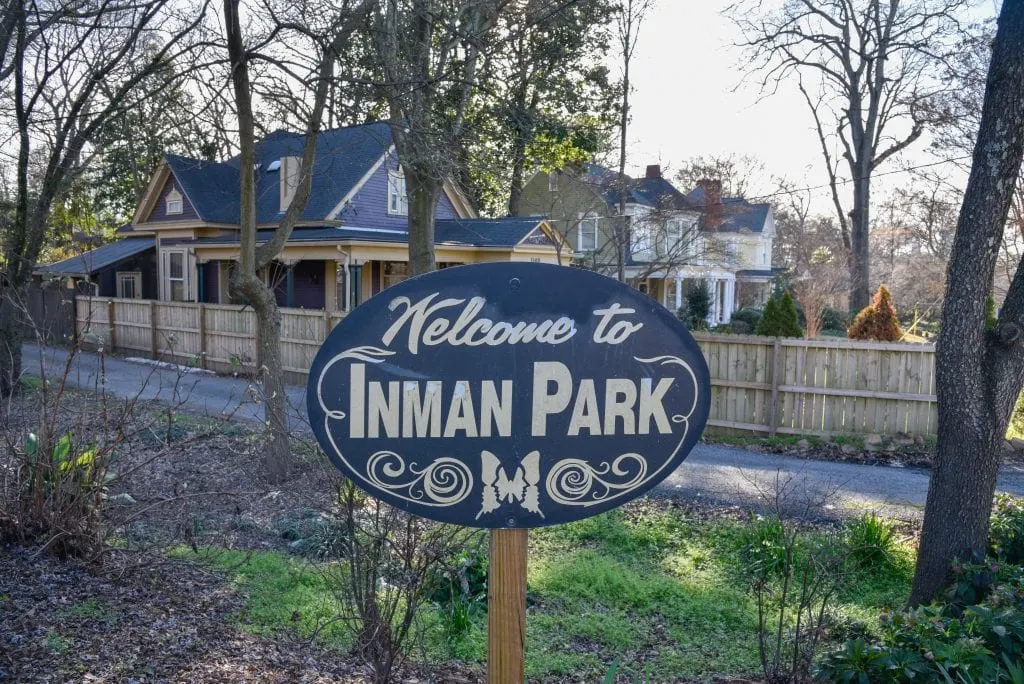 The Jimmy Carter Library and Museum
The Jimmy Carter Musuem is free for all little ones aged 16 and under. For adults, it is still a cheap activity in Atlanta as it costs only $12 to visit.
If you don't want to pay to go in, feel free to roam around the beautiful gardens for free!
The musuem honours Jimmy Carter, the 39th president of the United States who served from 1977 – 81. He was particularly popular as he advocated against poverty and against racial segregation.
If you are interested in visiting and learning more about Jimmy Carter, check out their website.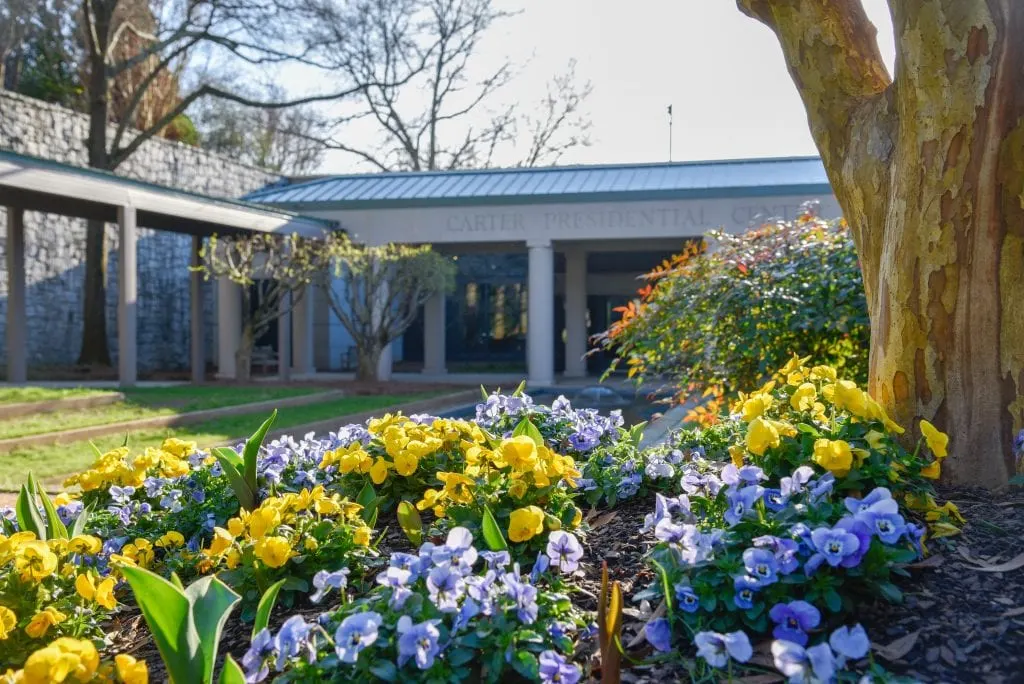 Buckhead
Atlanta's Prettiest Cathedrals
I was a little shocked to find some seriously pretty cathedrals and churches around Atlanta. The Cathedral of St Philip is one of our favorite churches in Atlanta.
Other beautiful churches to check out around Atlanta include the Peachtree Christian Church and St Mark United Church.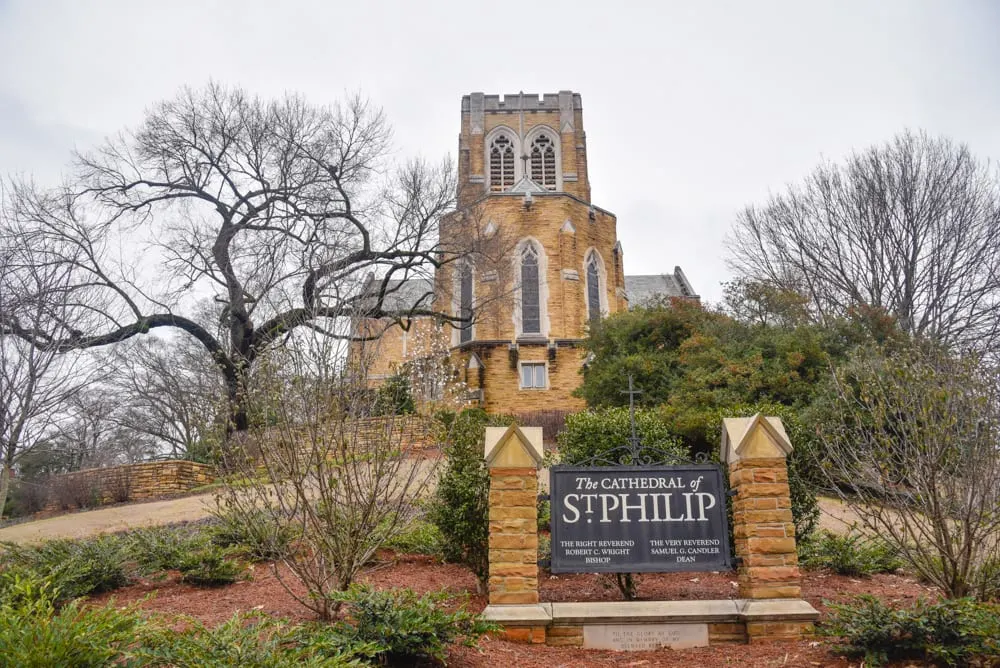 Go for a drive around Buckhead
Not going to lie, Buckhead will make you wish you had more money!
Even still, I would recommend going for a drive in Buckhead as it is one of the prettiest neighborhoods in Atlanta with some of the most beautiful and grand houses (dating back to the roaring 20s) I have ever seen.
Buckhead is known as the "Beverly Hills of the East" and if you take a drive through the neighborhood and in particular West Paces Ferry Road NW you will understand why.
Don't miss the beautiful Governor's mansion along the road. There are free tours of this mansion every Tuesday, Wednesday and Thursday 10 – 11.30am.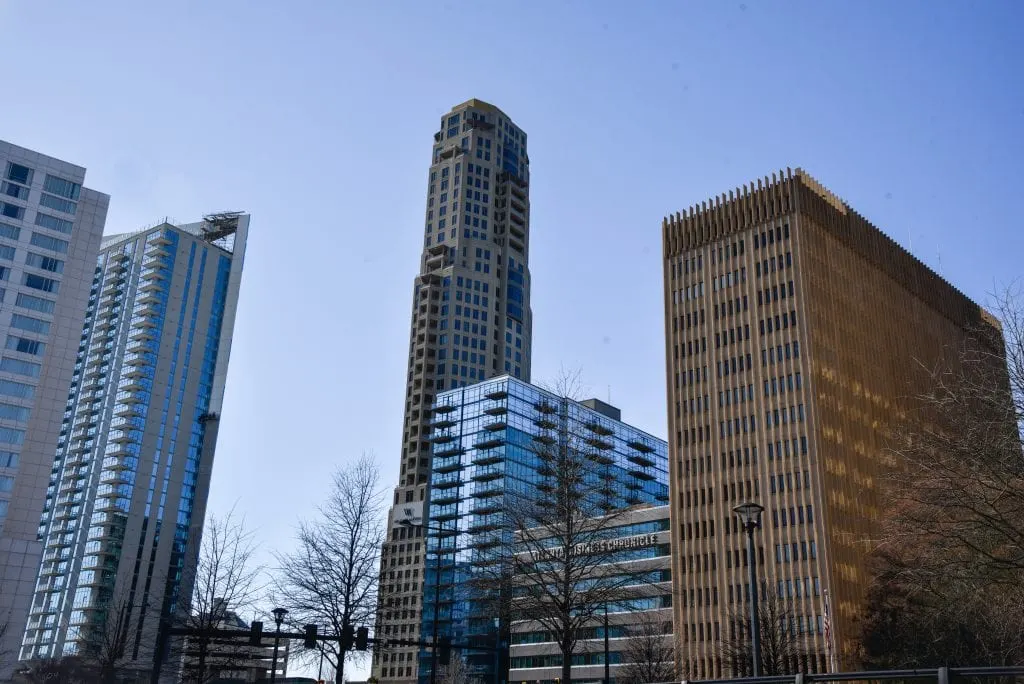 Window Shopping at Lenox Sqaure
If you want to see where the real housewives do their shopping head to Lenox Square, a luxury high end shopping at the luxury mall in Buckhead.
You can find some of the usual favorites at Lenox including Zara, Forever 21 and Macys along with some high end designer brands inside like Louis Vuitton and Burberry.
There is free parking at Lenox Sqaure for regular people to do their shopping as well as valet parking for the Real Housewives and other D-listers.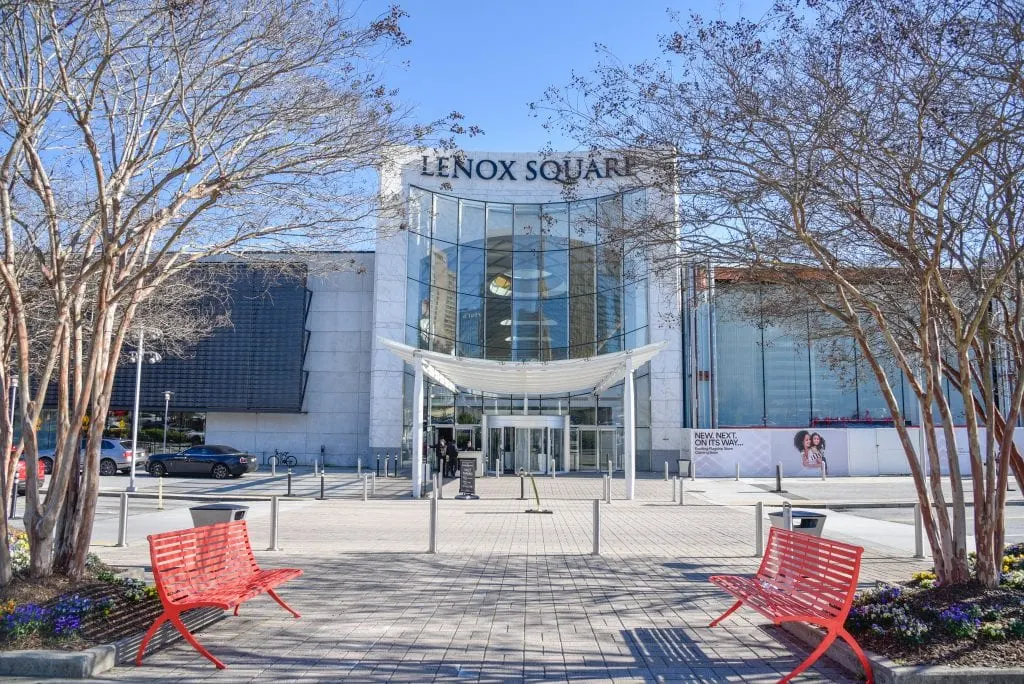 Chastain Park
If you feel like a walk in the 'woods' with some fresh air, don't miss a leisurely walk or jog is Chastain Park.
Chastain Park is one of the largest parks in Atlanta (268 acres) with baseball courts, tennis courts, a large golf course, horse riding facilities and playgrounds.
There are also some walking tracks (1.5 miles +) for serious fitness junkies.
Take a peak in the 7,000 seat amphitheater which stages some of the best concerts and shows in America from May to October each year.
Many big A-list stars have performed in this theater including Aretha Franklin, Johnny Cash and Diana Ross.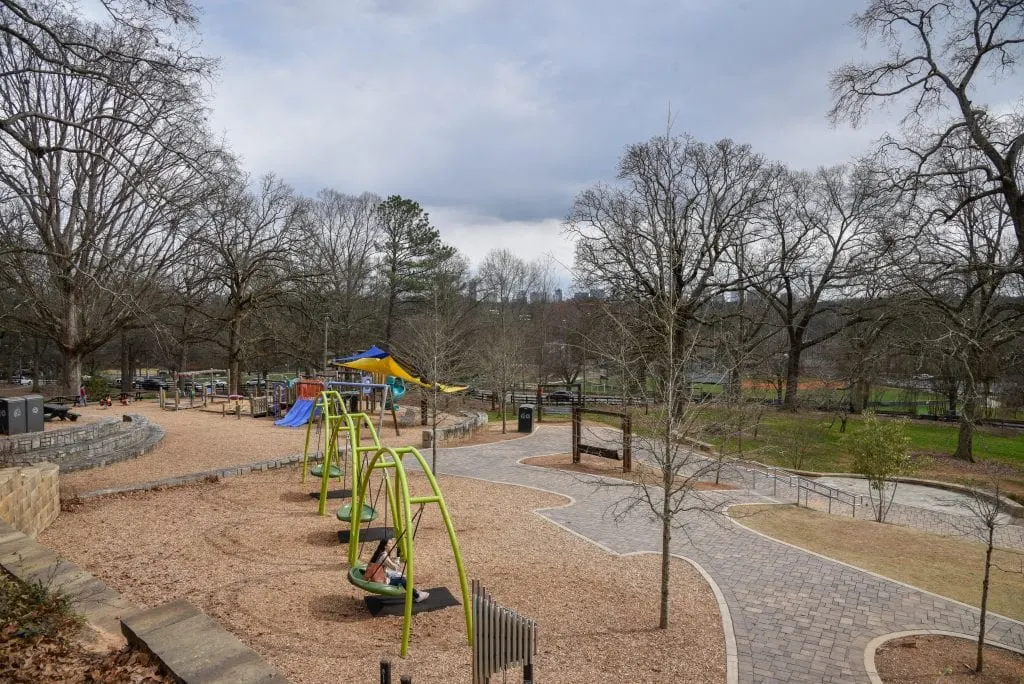 Art Stroll at Castleberry Hill
If you love art, then you will want to visit one of the most artsy areas of Atlanta – Castleberry Hill.
It has been voted one of the 10 best art districts in the US so you know its gotta be good!
A really fun free arts stroll through the warehouse district of Atlanta is offered every 2nd Friday. You can see more information about the stroll on their website.
If your time in Atlanta falls on the 1st Friday of the month, there is a different art walk that you can participate in of the Marietta area, which is also popular.
South of Downtown Atlanta
Oakland Cemetery
I wasn't too stoked initially to visit Oakland Cemetery (who wants to visit a cemetery?!) but after seeing it consistently get amazing reviews, I decided to give it a go.
Turns out it was one of my favorite free attractions in Atlanta.
Oakland Cemetery the final resting spot of 70,000 people including some of Atlanta's most important dead including Margaret Mitchell, author of gone with the wind, Atlanta's first black governor, Maynard Jackson, and soldiers both confederate and union soldiers buried in different sections of the cemetery.
I was amazed to see that some burials were as recent as a few years ago!
At the time the cemetery was established, African Americans were not allowed to be buried with the white population so the cemetery is set up in sections
There is a separate section for confederate soldiers too. Although the government would not pay for their burials after the civil war, private organisations paid for these burials.
If you visit in Spring the graveyard is also covered in beautiful daffodils in Spring. We were there as early as February and they were in bloom.
Tip: If you thought that Oakland Cemetery was pretty interesting, you might like to check out another free cemetery, Farmer Street Cemetery in Atlanta which is the largest slave cemetery in the South!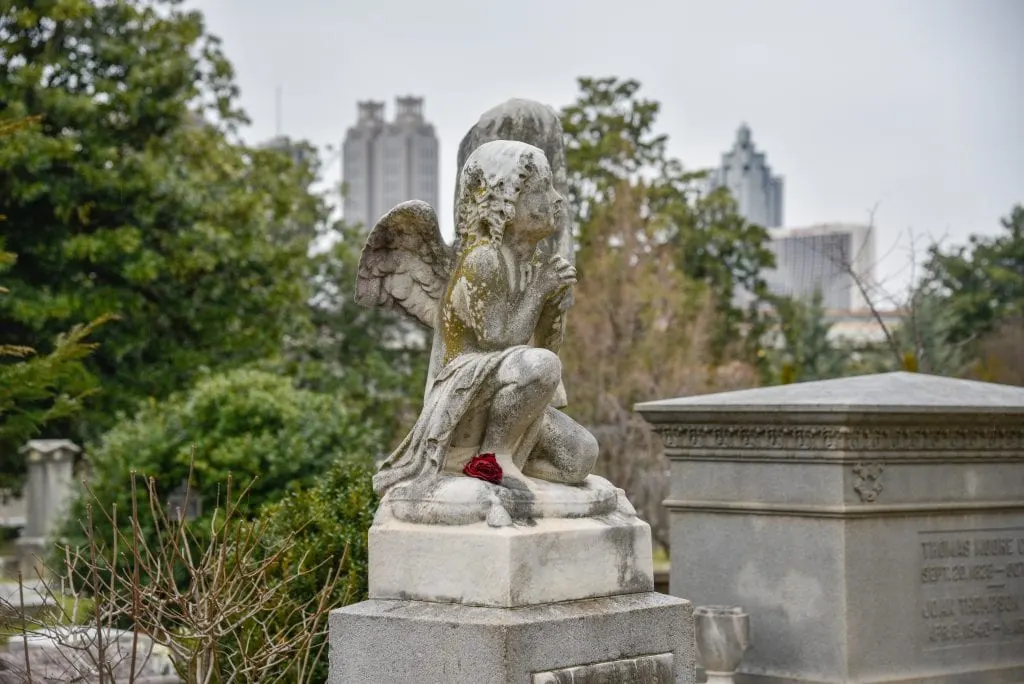 Grocery on Home
If you are in Atlanta on a Saturday, you definitely need to visit one of the best things to do in Atlanta for free, what is known as the Grocery on Home local artists performance.
While entry is completely free, you are required to RSVP on their facebook group to attend. While entry is free, artists expect a small tip.
What's cool about this place is that you are allowed to bring your own alcohol to the event so come prepared!
One of our favourite date ideas in Atlanta!
Greater Atlanta
Waffle House Museum
It only opens on Wednesdays at 11.30 and 1.30pm by appointment only but if you do make an appointment, it is completely free to enter.
You can get details on how to make an appointment on their website.
Inside, you will feel like you are stepping back in time to the 1950s. It includes interesting Waffle house memorabilia from the last 60 years.
Waffle House is another claim to fame for Atlanta as the first waffle house was established in Atlanta in 1955.
At the time, two brothers felt the neighborhood needed a 24 hour restaurant.
David J. Sencer CDC Museum
If you are ever curious about disease control and prevention, we would recommend popping in to the David J Sencer CDC Museum in Atlanta.
Here you will learn how scientists manage to find cures to some of the world's deadliest diseases.
It is completely free to enter but note, it is only open on a weekday.
Silver Comet Trail
The Silver Comet Trail is a fabulous free trail, 45 minutes outside downtown Atlanta.
This 61 mile trail that is entirely paved is popular with walkers, joggers and bikers in Atlanta looking to soak up some fresh air in beautiful forest and countryside.
The trail begins in Smyrna and proceeds through Polk County.
Fernbank Science Centre
You can visit the Fernbank Science Centre and enjoy their exhibits completely free!
Keep in mind, the Fernbank Museum of Natural History (highly recommended) does costs extra. You might like to consider going there if you have kids as it includes fossils, dinosaur skeletons and an immersive 3D theatre.
One way to keep the costs down, is to buy the Atlanta City Pass to access the Museum, which if you also plan on going to some of the other major attractions in Atlanta like the Coca-Cola museum, makes the entry here really cheap!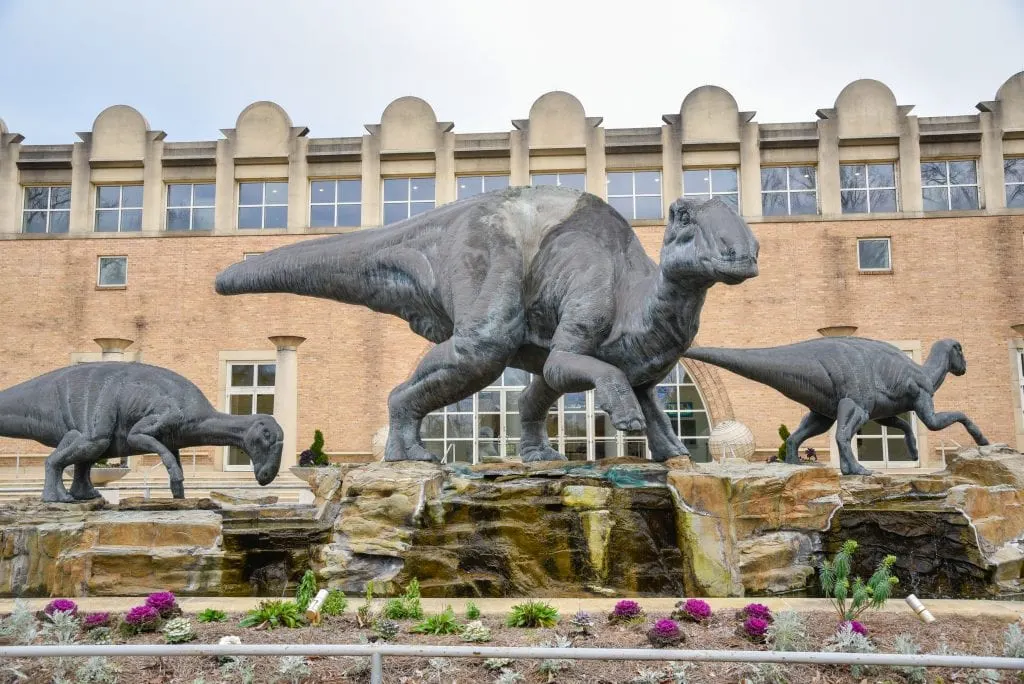 Marietta Fire Museum
The Marietta Fire Museum is a great place to visit for both adults and kids.
It is free to visit and includes cool old firefighting equipment and trucks. One of the biggest drawcards of the museum is a 1879 Silsby Steamer.
Anne Frank Musuem
Whoever thought the only Anne Frank musuem is in Amsterdam is very wrong! There is a fabulous Anne Frank Musuem in Atlanta that is entirely free to visit.
Inside you will find interesting photos and videos dedicated to the life and work of Anne Frank and information about the Holocaust.
The musuem is closed on Mondays. You can find more information about the exhibits on their website. There is also a note for parents about age appropriateness as the material in the musuem is somewhat graphic and deals with a very sensitive topic.
National Archives of Atlanta
20 minutes outside downtown Atlanta you will find the National Archives of Atlanta.
The centre, which is entirely free to visit, provides visitors a unique opportunity to look up your heritage and ancestors which is pretty cool!
Probably only relevant if you have relatives or roots to the following states: Florida, Alabama, Georgia, Kentucky, Mississippi, North Carolina, South Carolina and Tennessee.
The centre is open weekdays 9am-4pm. If you are thinking to visit you can find more information on their website.
Free Things to Outside Atlanta (Day Trip)
Chattachoochee River
If you don't mind a short drive, we would recommend visiting the Chattachoochee River. Some of the most beautiful spots near Atlanta are found along this river.
Here are some of the best spots for hiking along the river:
Sope Creek Trail (1.5 miles)
Cochran Shoals Trail (3 miles)
Vickery Creek Trail (4.7 miles)
Powers Island Trail (2.4 miles)
We would recommend either the Sope Creek trail and the Vickery Creek trail as you will find ruins of old textile mills that used to operate there.
If you are visiting in Summer, you might like to BYO your own tube and go tubing on the river.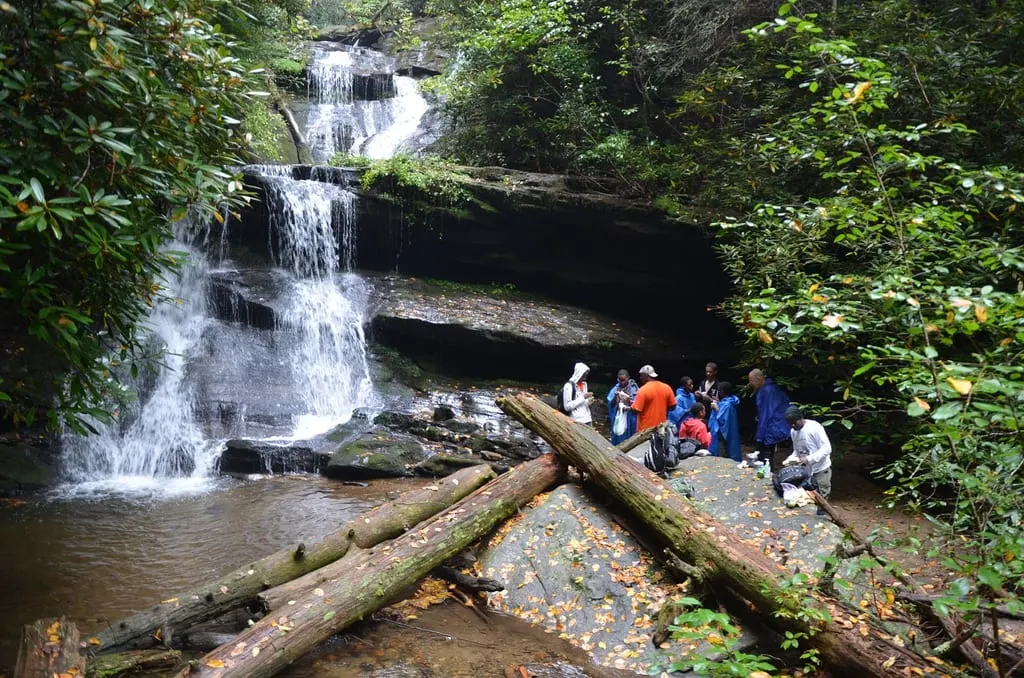 Kennesaw Mountain National Battlefield Park
Located a 40 minute drive outside of Atlanta, the Kennesaw Mountain National Battlefield Park is a very interesting place to visit for those interested in the Civil War.
Here you will find a museum, interpretive trails and monuments with interesting information about the Battle of Atlanta.
It is free if you have a National Park Pass, otherwise entry is pretty cheap at $5.
Noah's Ark
If you don't want to pay to visit the Atlanta zoo, I have a good alternative for you – Noah's Ark – a completely free wildlife rehabilitation center which honestly has some pretty cool animals!
Bears, exotic cats, lions and tigers call home to Noah's Ark.
An interesting story. A lion, bear and tiger (odd roomies) are all housed in one shelter together. They were found together in a basement of an Atlanta home in 2001 after a drug raid.
The center is open between Tuesday – Saturday 12-3pm. They ask you to call in advance if you want to visit.
Despite the fact that it is free to enter, they really appreciate donations if you do decide to visit.
Atlanta Farmer's Market
Who doesn't love visiting a good farmers market?
Atlanta Farmers Market is particularly good as it is held over 150 acres making it one of the largest farmers markets in the world!
At the farmers market you will find fresh produce as well as a full garden and retail center.
Buying something interesting costs but window shopping at the market is entirely free!
Stone Mountain Park
Stone Mountain Park is officially Georgia's most-visited attraction and it is only a 30 minute drive from Atlanta.
The park is popular as it is home to he world's largest piece of exposed granite caused by an upwelling of magma 300-350 million years ago.
Hiking to the top is one mile (1.6 kilometers) in length. Pack a picnic lunch to enjoy the views at the top!
One of the most popular free events at Stone Mountain is the incredible laser shower where lights and lasers are projected on the mountain. They do a particularly cool fourth of July show! Check out more information on their website.
It is free to enter but there is a $15 parking fee.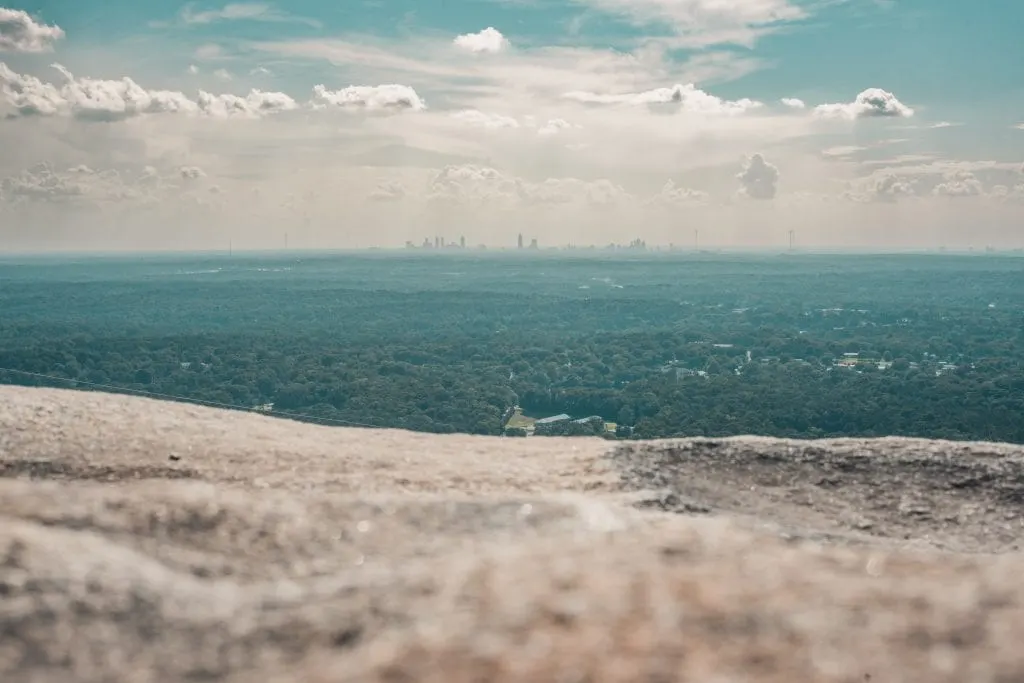 Arabia Mountain Heritage Area
If you love the great outdoors, you might like to make a trip to the Arabia Mountain Heritage park.
The area is only a 25 minute drive East of Atlanta is entirely free to visit!
In the heritage park you will find stunning mountain summits, spanning meadows and glassy lakes.
It really is a sight for sore eyes and so close to downtown Atlanta!
Autrey Mill Nature Preserve and Heritage Center
Located around 40 minutes from downtown Atlanta, the Autrey Mill Nature Preserve and Heritage Center is a family favourite in Atlanta as it offers over 46 acres of lush countryside and 3 miles of fun trails.
Don't miss the Visitor Centre at the property as it is not a usual visitor center bur has over 30 different animals to see and learn about inside!
Best part is it is entirely free to visit!
Around 1.5 hours from Atlanta is the Bavarian inspired town of Helen, GA.
You don't need to spend a dime (except gas) to visit Germany – or at least a German style town. You certainly don't need to pay for a Rhine River Cruise.
Some of the attractions in town are a plain rip-off ($12 for a pretzel?!) but wandering the streets and admiring the half-timber houses is free!
If you can spare a night here, we would recommend staying a night or 2 in Helen Georgia to soak up the culture. Click here for the best deals during your dates.
Money-Saving Atlanta Tip
If you do want to do something outside the free activities but are on a budget?!
Here is a money saving tip for you that will allow you to conserve money but see some of Atlanta's best attractions (like the Coca Cola Museum, CNN Studios, Georgia Aquarium etc).
We would highly recommend the Atlanta CityPass as it will save you heaps of money.
What you get with the Atlanta CityPass:
Georgia Aquarium
World of Coca-Cola
CNN Studio Tours
Atlanta Zoo OR National Center for Civil and Human Rights
Fernbank Museum of Natural History OR College Football Hall of Fame
How the Atlanta CityPASS works:
It is super easy to purchase the CityPASS online. Once you purchase the pass, you receive a QR code that you can use either on your phone or printed on paper.
When you visit the attractions, simply scan your QR code at the ticket booth. Once you scan, the attraction will provide you with a ticket and and you are all set to go in!
How much money does the CityPASS save you?
What we like most about the CityPass is the money savings!
The total cost to enter all of these attractions separately would cost $129.43, but using the Atlanta City Pass the cost is only $76. That's a 41% saving!
The other thing we love about the CityPASS is the ability to skip the line. At most attractions, the CityPASS allows you to skip the normal ticketing line which is pretty handy.
Book your Atlanta City Pass and get ready to see some of Atlanta's top sights!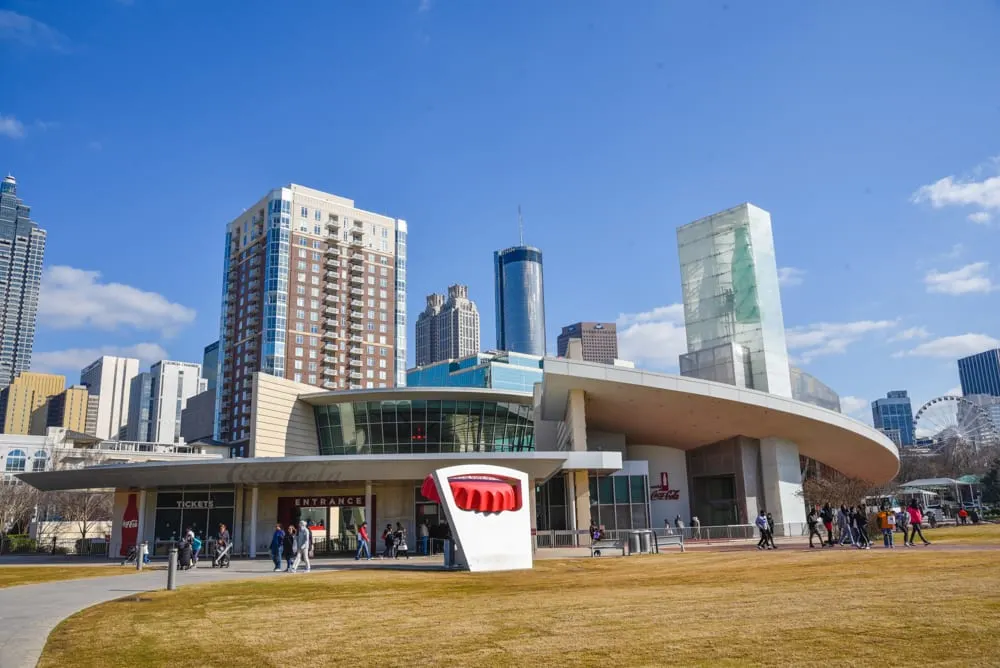 Budget Friendly Places to Stay in Atlanta
Parking can be expensive in downtown Atlanta ($30+ for valet parking) so if you are traveling on a budget and have your car with you, here are some good budget/mid range accommodation options in Atlanta:
We stayed at Hilton Garden Inn, which doesn't sound cheap but we were absolutely shocked by how cheap we could get a Hilton!
The rooms were lovely and the pillows were a-mazing so you might like to check it out to see if they have a good deal on your dates!
If you are on a romantic getaway in Georgia you might also like to check out our top picks for romantic hotels in Atlanta. To add further to the romance, we have also counted down the jacuzzi suites in Atlanta.
****
What is on the top of your list of things to do in Atlanta for free? If we missed anything cool, let us know in the comments below!
Looking for more Georgia Travel Inspo?
Save this to Pinterest!